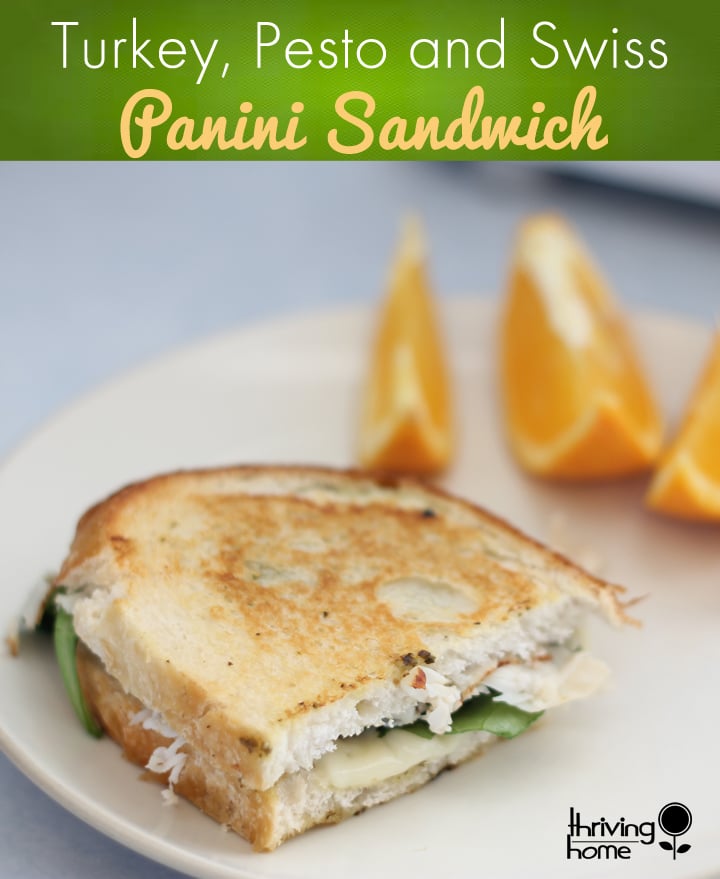 I don't know why I haven't shared this sandwich idea before. It's become a regular in my house. My husband recently told me it has moved into one of his all-time favorite meals I make. That's big time people. It's flavorful, filling, easy to customize, and uses up leftovers.
This Turkey (or chicken) pesto sandwich is REALLY easy. In short, here is how you make this sandwich-awesomeness.
The key is using sourdough bread. The sandwich is good with regular bread but is AWESOME with sour dough. I usually get mine from the bakery at HyVee. (Make sure the slice it for you!)
Here's how to make my favorite sandwich: Turkey Pesto Paninis:
Feel free to play around with the ingredients. In the pictures you can see that I threw some spinach on it. You can also add grilled onions and green peppers. I'm sure adding a little bacon wouldn't hurt anything either. 🙂
Lunch Fav: Turkey Pesto Paninis

Ingredients
Sourdough bread
Swiss cheese
Turkey or cooked chicken
Pesto
Butter
Instructions
Butter the outside of both pieces of bread that you will be using.
Start by spreading pesto on the inside of both pieces.
Add 1-2 slices of Swiss cheese.
Add turkey or chicken.
Heat skillet to medium-high heat.
Place sandwich on heated skillet. Leave long enough for cheese to melt or until the bread gets toasted to your preference.
When you flip it the first time, make sure to press down on the sandwich with a spatula. Do this a few times throughout cooking.
Feel free to play with the ingredients.
You might also like...