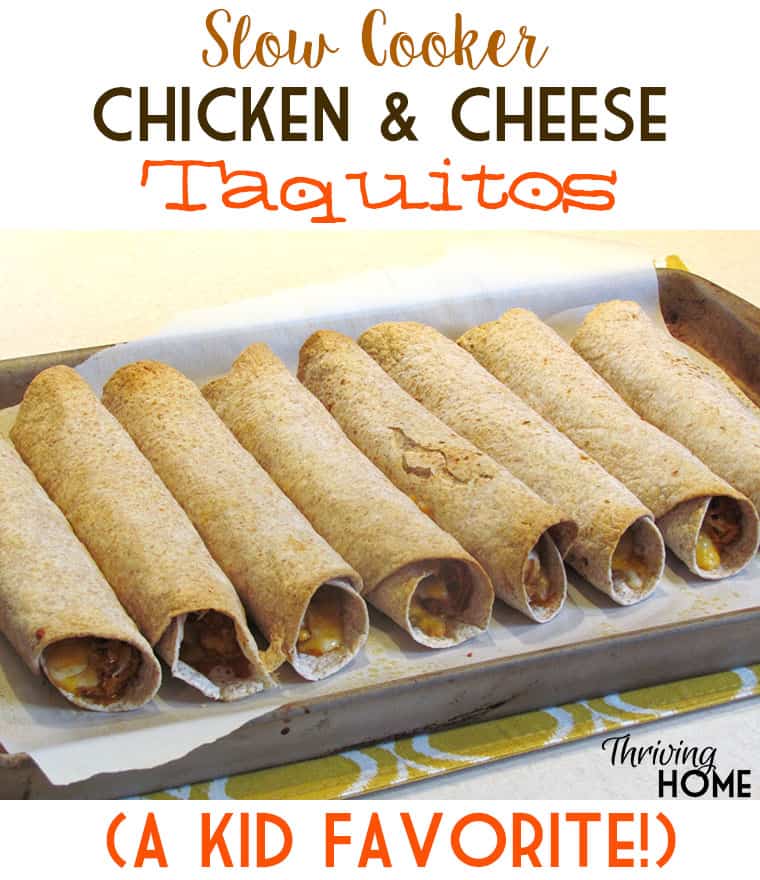 There is a short list of meals in my house that pleases all five of us. It seems like everyone has their own aversions and favorites, which can be exhausting sometimes. Can any moms out there relate??
While I really believe in presenting all kinds of foods to my kids and encouraging them to try new foods, sometimes the hubs and I just want peace around the dinner table. If I'm honest, we're just dog tired at the end of the day and not looking for one more kid "battle". (Can I get an amen!?) So, when I find a meal like Slow Cooker Chicken and Cheese Taquitos that pleases my whole family, I want to do a little happy dance. Here is a quick video to prove how easy this recipe is!

Here's another other great thing about Chicken and Cheese Taquitos. I didn't have to deal with raw meat…and all the subsequent dirty surfaces, dishes, and hands. This is a dump in the slow cooker and go meal for the the filling part, at least. Then, the rolling up and baking part just takes minutes. I also love that I can make these in advance and pop them in the oven right before dinner. Double this and freeze the extras, because it makes for a easy and whine-free (not to be confused with wine-free!) dinner.

Chicken and Cheese Taquitos
Serves:
8 taquitos (4 servings of 2 taquitos each)
Instructions
) In your slow cooker, place chicken breasts. Cover both sides of chicken with taco seasoning. Add water or broth.
) Cook on LOW for about 4-5 hours, until it shreds easily. Shred chicken and stir so the seasoning is evenly distributed.
) Add cream cheese and salsa to shredded chicken and stir until cream cheese is melted.
) Preheat oven to 400 degrees F.
) Arrange tortillas on a flat surface. Top each tortilla with an equal amount of chicken mixture, leaving a little room at the edges so the filling doesn't spill out. Top chicken mixture with about 2-3 tablespoons of shredded cheese. Roll up tortillas tightly.
) Place on a baking sheet, seam side down. Spray with cooking spray and bake 10-20 minutes, until cheese melts and they are golden brown.
) Serving suggestion: Top with salsa, sour cream or plain Greek yogurt, and/or guacamole.
Freezer Meal Instructions:
To freeze, complete the recipe through Step 5. Then, place rolled up tortillas in a freezer bag before baking and then freeze.
When ready to bake, you have 3 options:
- Preferred method: Thaw overnight in the refrigerator. Bake as directed.
- Defrost in the microwave. Bake as directed.
- Place frozen taquitos on baking sheet, cover with foil (so they don't brown too quickly), and bake at 400 degrees for about 25 minutes or until warmed through. Remove foil and bake about 5-10 more minutes until golden brown.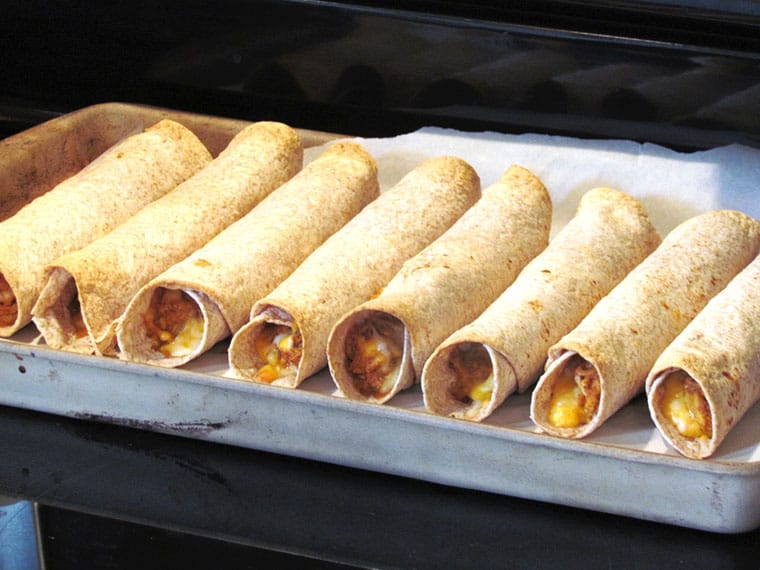 You might also like...