20+ Summer Boredom Busters (Screen-Free!)
Updated: 12/30/21
This post may contain affiliate or sponsored links. Please read our disclosure policy.
Home with kids and in need of screen-free activity ideas? We've got you covered. This list of 20 summer boredom busters will keep kids of all ages busy in a meaningful and fun way.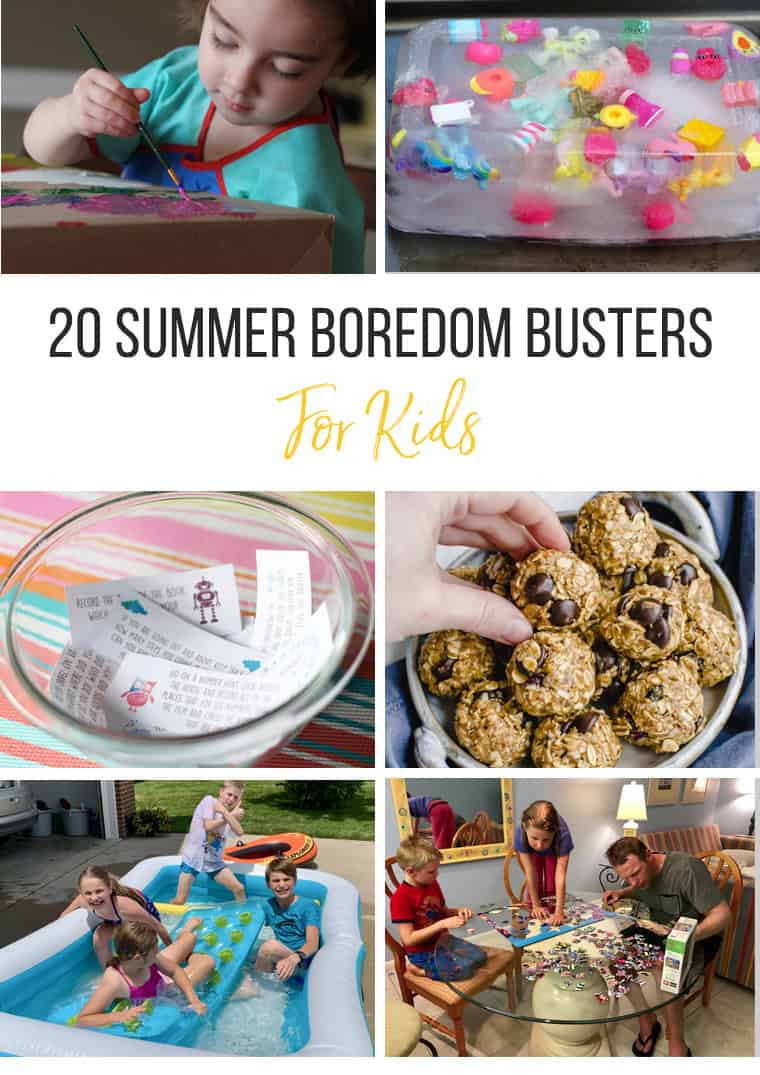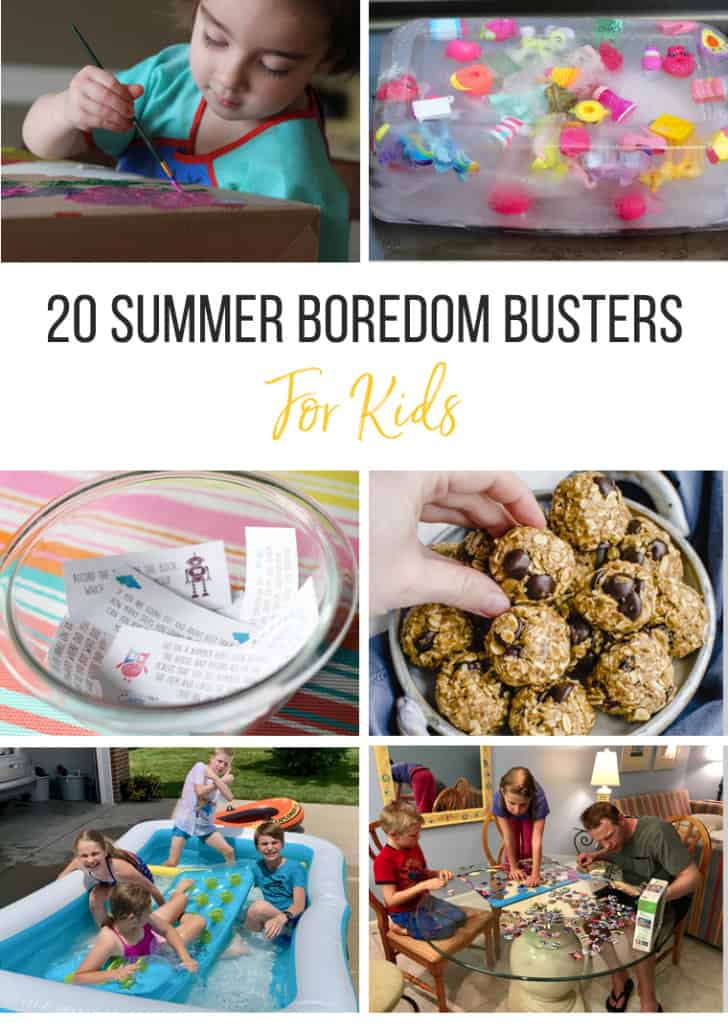 Before you jot down some boredom busters from this list, I encourage you to take these 3 Simple Steps to Prepare for Summer. Taking time to think and work through these steps each year changes our entire summer (for the better!).
20+ Summer Boredom Busters for Kids
Disclaimer: Some of the links in this post are affiliate links. We are a participant in the Amazon Services LLC Associates Program, a means for us to earn fees by linking to Amazon.com and affiliated sites. Here's our full disclosure.
1. Give your kid a box.
Seriously. I don't know what it is about boxes, but kids love them and their imaginations go wild when boxes are involved. Below are some ideas to do with boxes: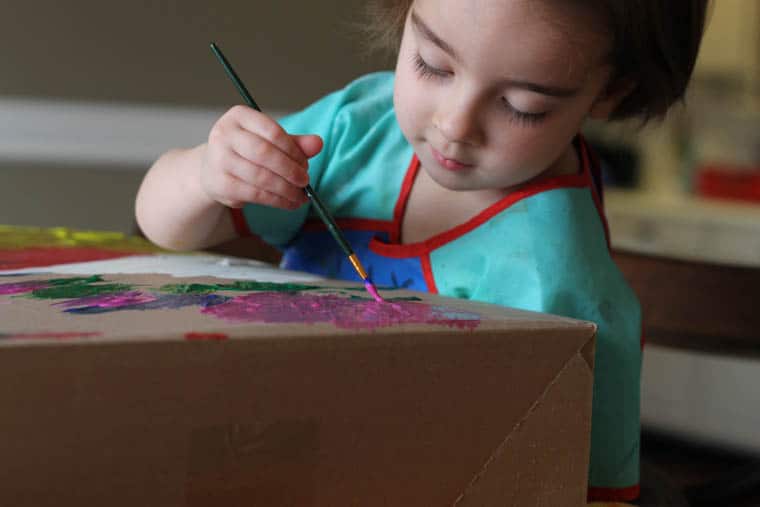 Give your kids paint brushes and washable paint and let them go to town decorating their box.
Build a fort. Use duct tape and scissors to connect the boxes and cut out windows.
Create a miniature house for dolls, a fort for super heroes, or an apartment for Barbies (like my 11-year-old daughter does). Use markers, glue on construction or scrapbook paper to the walls, cut out windows and doors, etc.
Draw a target in the center and use them for Nerf gun target practice indoors or outdoors.
Create furniture for American Girl or baby dolls (i.e. table, bed, dresser)
Connect the boxes to create a Box Maze/Tunnel. Again, duct tape and scissors required.
Have each kid create his or her own box car. See example below from about 8 years ago in my house. I used to push them around the kitchen in these. 🙂
2. Issue a loom band chain contest.
Our kids have spent hours a day on this fun activity! Order these loom bands (tiny rubberbands) and work together to weave the longest band chain. Each kid can create their own chain and then everyone connects theirs. Issue a challenge to another family (or another neighborhood!) and then measure the chain length at the end of a designated time period.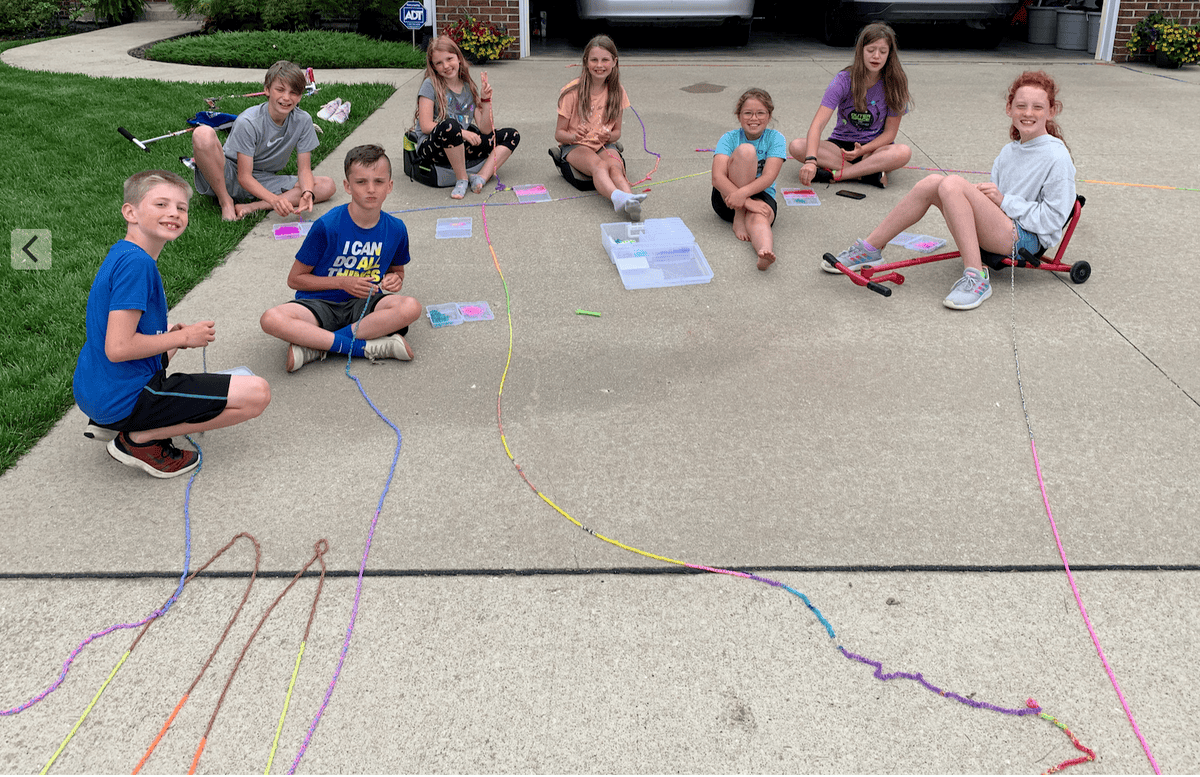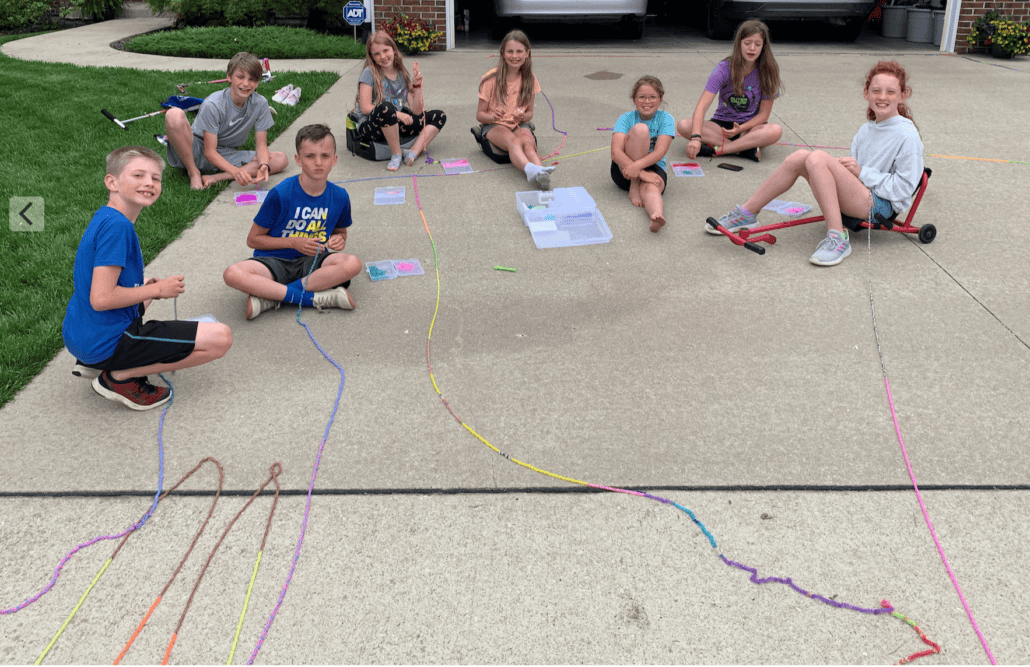 3. Wash the car (or bikes).
Throw the kids in their swimsuits and slather on the sunscreen. Then, give each child a bucket full of soapy water, old wash cloth, and access to the hose. My kids stay busy for a long time doing this one.
These no-bake healthy cookies are so easy that kids of all ages can help you make them (and eat them). What I love about this recipe is that is doesn't require baking, so kids can eat as they cook and each child can add what he/she likes to theirs. You can also have your kids make this for a neighbor or friend as a way to serve others. Just make sure they wash their hands well and don't lick their hands, utensils, or the cookies while cooking. That's the hard part!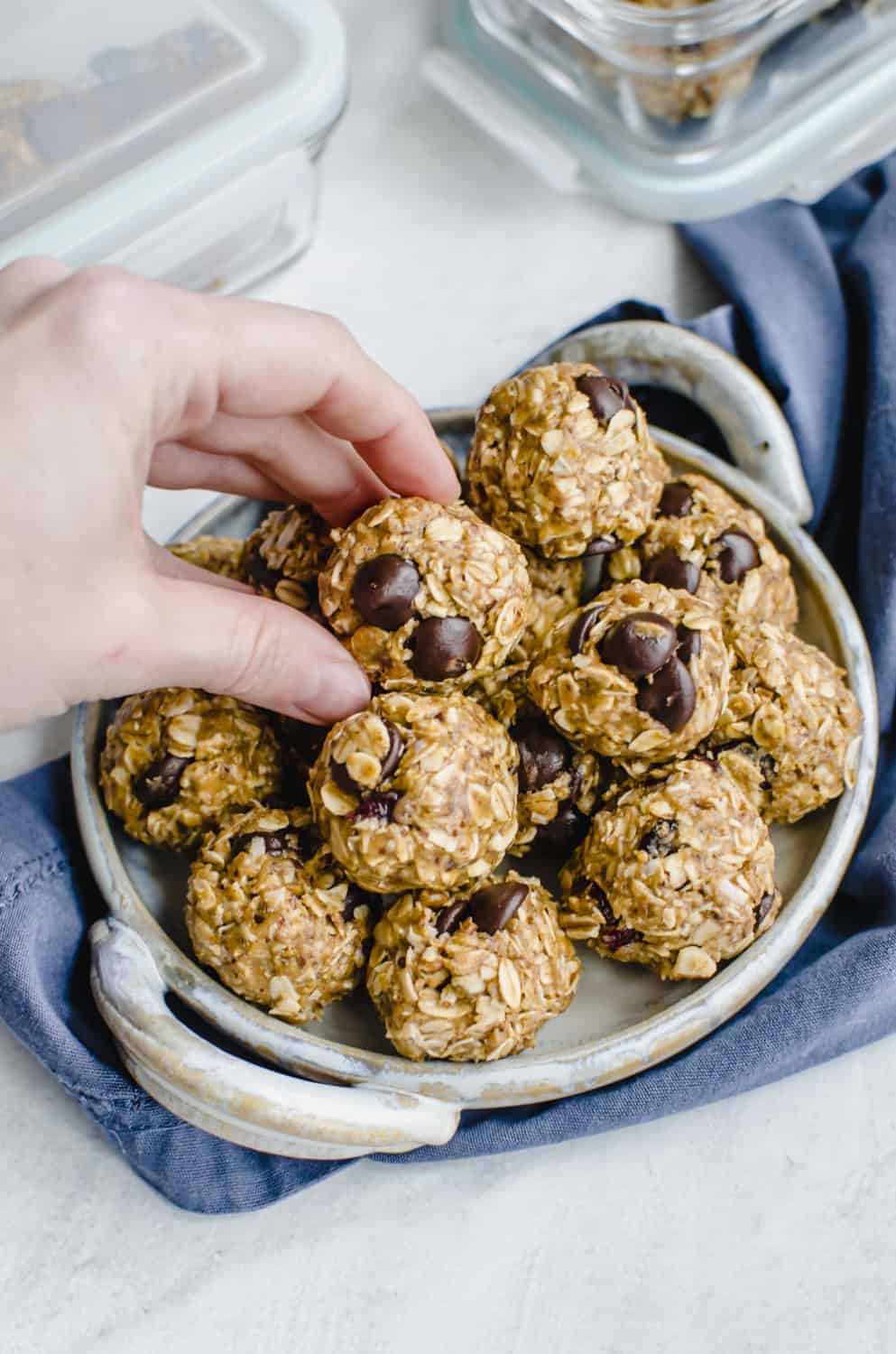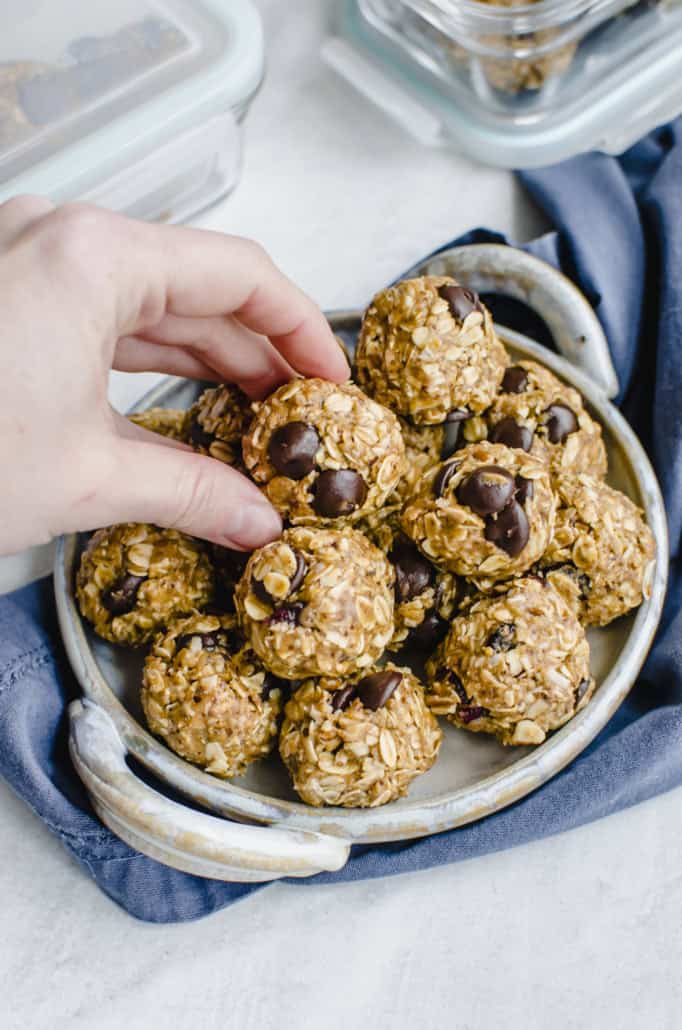 Making the play dough does require hands-on parent time. But, after that, give them some tools to work with at the counter while they play with their new play dough, such as:
plastic forks and knives
Mr. Potato Head pieces (so they can create their own characters)
cookie dough cutters
pizza cutter
paper plates (mine use these to make "food" for their "restaurant")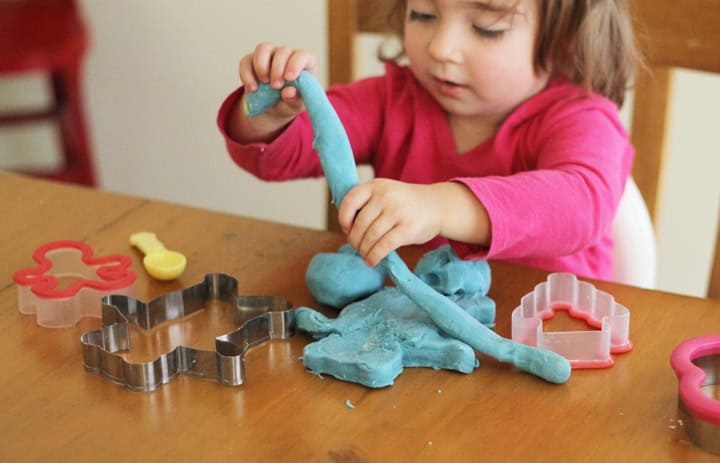 This activity will keep younger kids busy outside for quite sometime. Freeze little toys inside a large plastic container (make sure it's plastic so it can expand in the freezer!). Fill it with water about 3/4th of the way full, so it has room to expand. Once the block is frozen, pop it out and have the kids try to break out the trapped toys. Children can use a variety of tools for this "scavenger hunt" depending on their age, such as:
turkey baster or water bottle to spray water on it
meat mallet
plastic tools
real tools (screw driver, hammer, etc)
plastic utensils, like forks or spoons
salt – Use this as a science lessons to show how salt melts ice.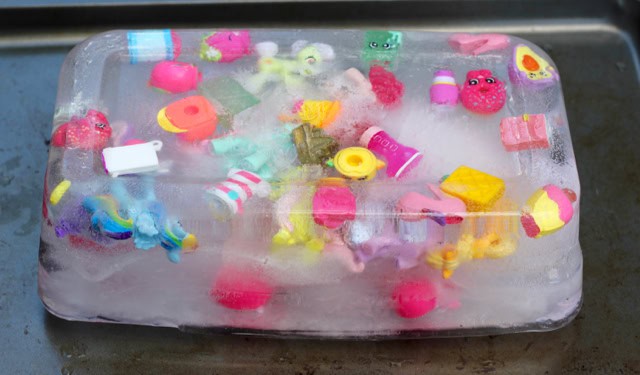 7. Give your kids old or broken machines and some tools.
Let them take apart old or broken machines like alarm clock, CD player, toaster and/or try to put it back together. It's been a big hit, and it's given them a chance to see how machines work through discovery on their own.
8. Start a summer journal.
Have each child decorate his/her own journal for the summer. Then, use our 30+ Summer Journal Prompts to inspire creativity and slip in some learning opportunities, as well. For older kids, you could let them start a private blog using Blogspot.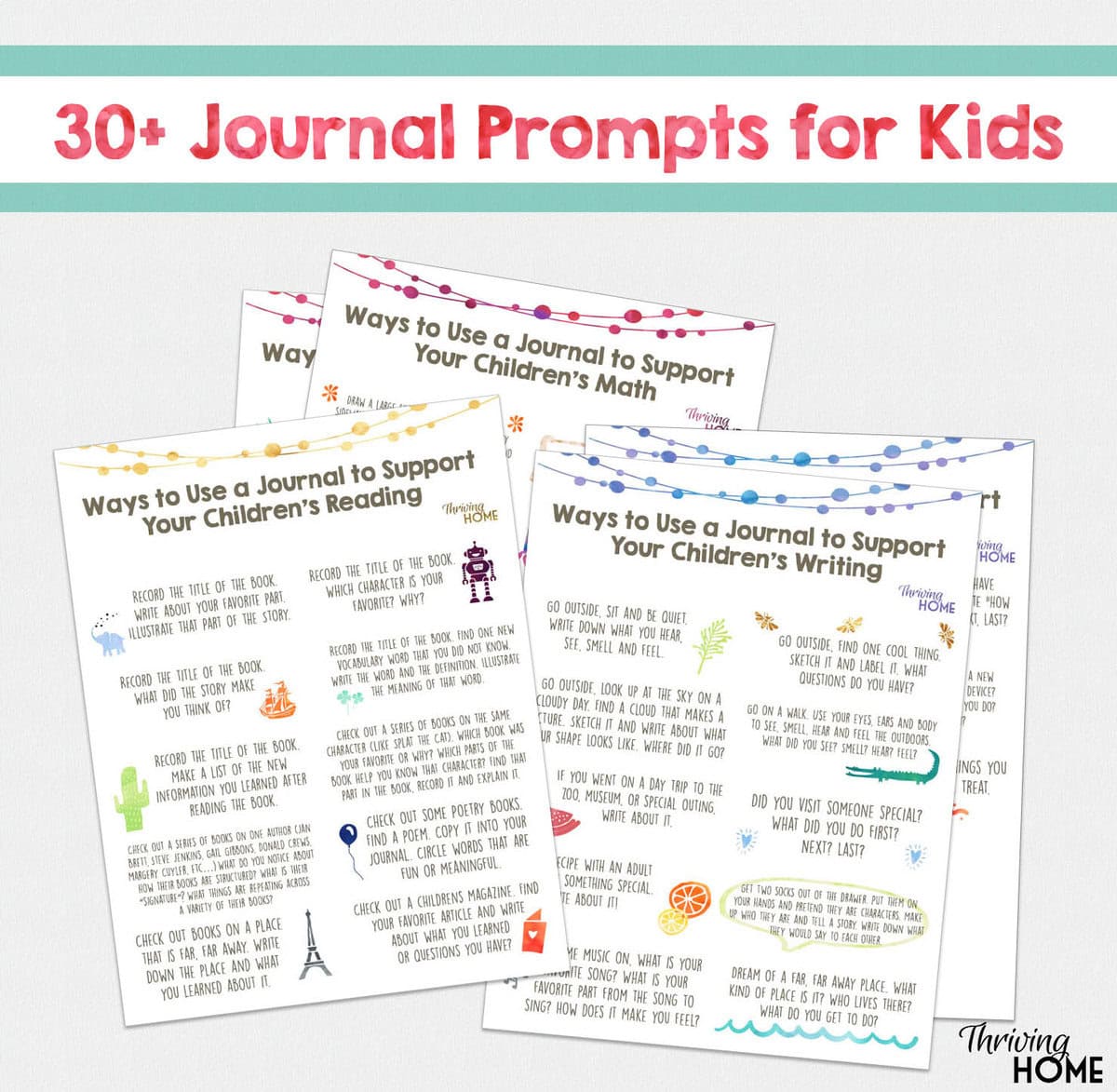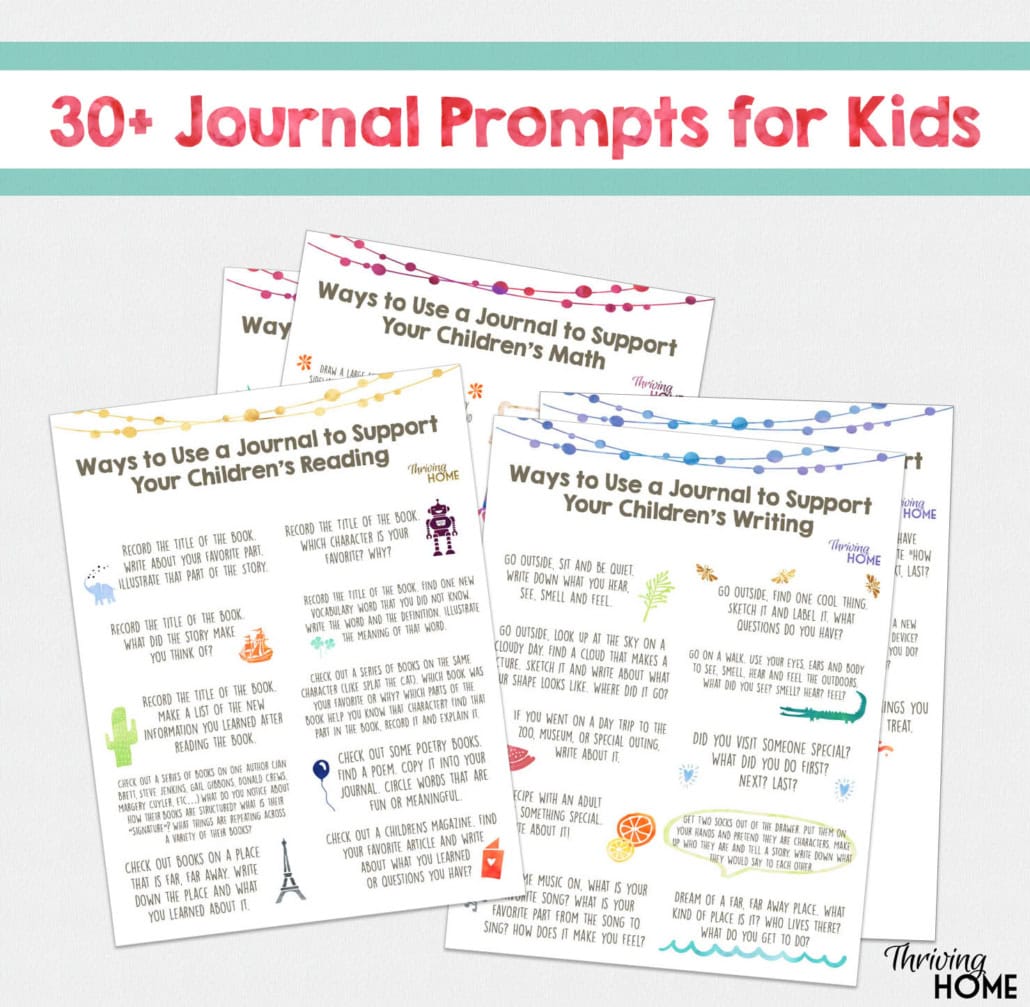 9. Do a puzzle together.
If you get the right puzzle–think about characters/themes your kids like and make sure the puzzle is just the right amount of difficult but not too difficult–most kids will at least try a puzzle with the family. We often have a puzzle on our living room table to work on in the evenings.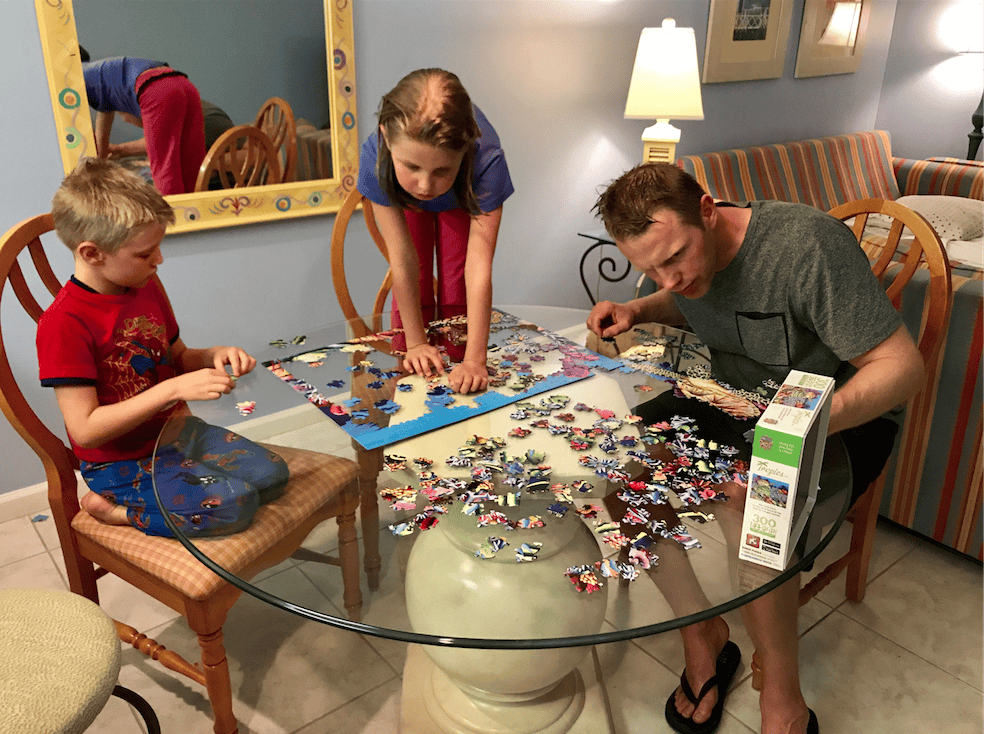 Here are some cool puzzles to get you started:
10. Start a garden in pots.
If you don't have a garden, no problem. Buy a few pots, some potting soil, and seeds or starter plants. With the help of your children, plant your "garden". Then let them be in charge of it all summer. Some ideas for planting in pots at the beginning of summer (in the Mid-West): herbs, cucumber, tomatoes, green beans, and peppers.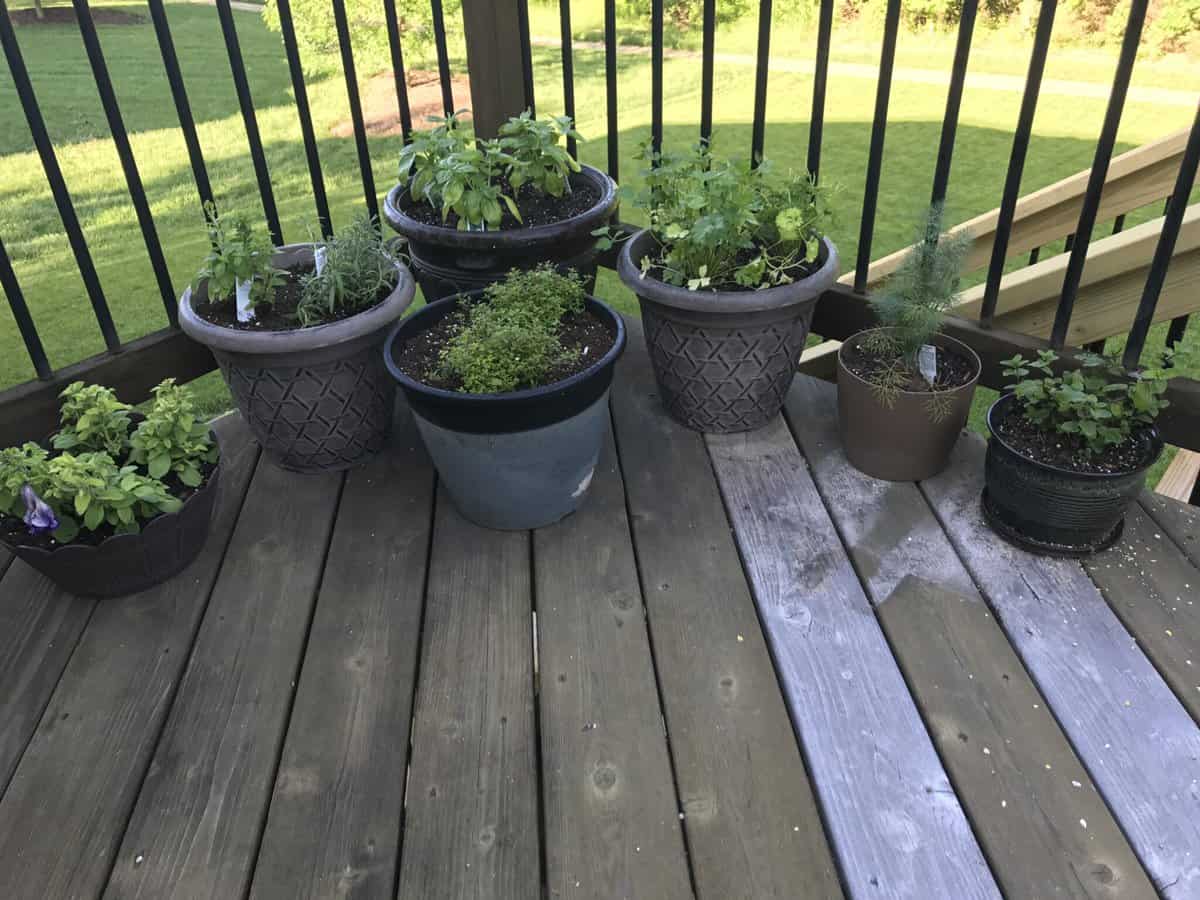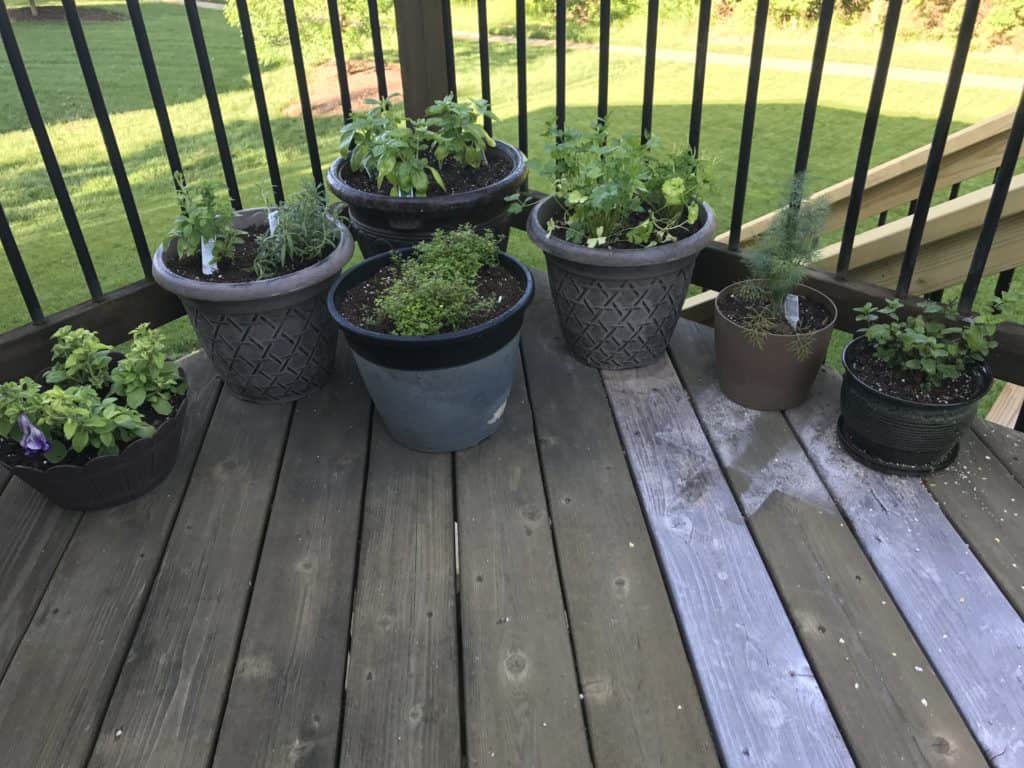 A garden not only teaches children responsibility but also about the life cycle of plants and where our food comes from. It offers an opportunity for them to try new foods and use their own ingredients in the kitchen, too. Believe me, it's very motivating to them!
11. Camp in the backyard.
Even if you're stuck at home, you can still set up camp in the yard. When we did this, the kids had SO.MUCH.FUN. We set up tents and a little campfire. We made S'mores, sang campfire songs, played games, and told silly ghost stories.
For younger kids: Set up the tent to play in during the day. Eat a picnic lunch, play cards, and read in your tent.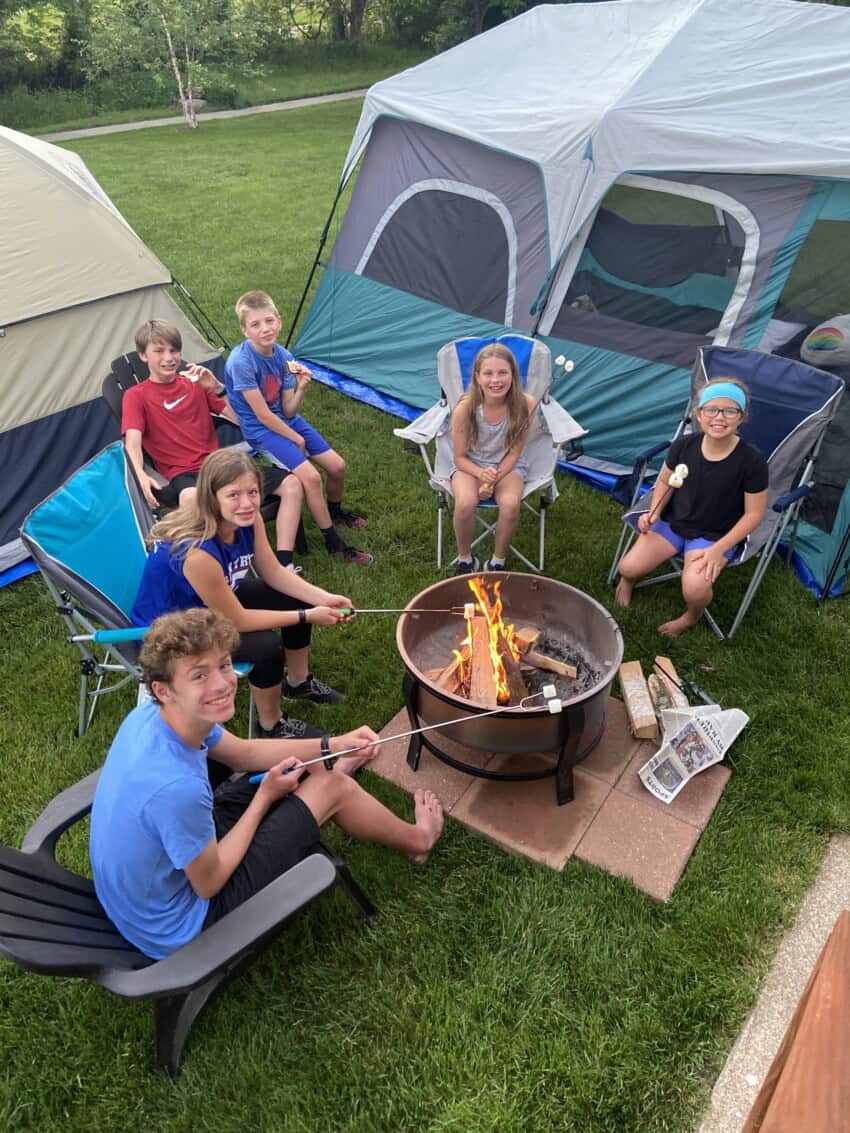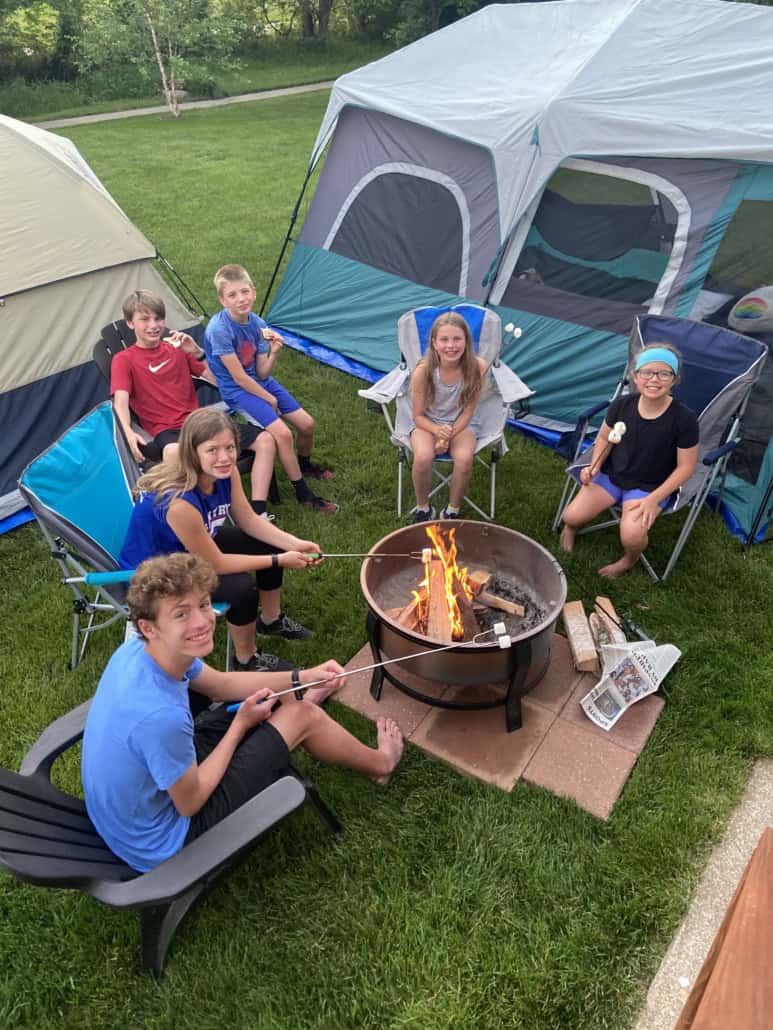 Help foster empathy in your child's heart as you discuss what it would be like to not have a home. Keep these bags in the car and be on the look out for people you could help over the summer. We've given out quite a few of these over the years, and we make sure to pray for the people we give them out to. I also included a sheet of paper with information about local shelters in town.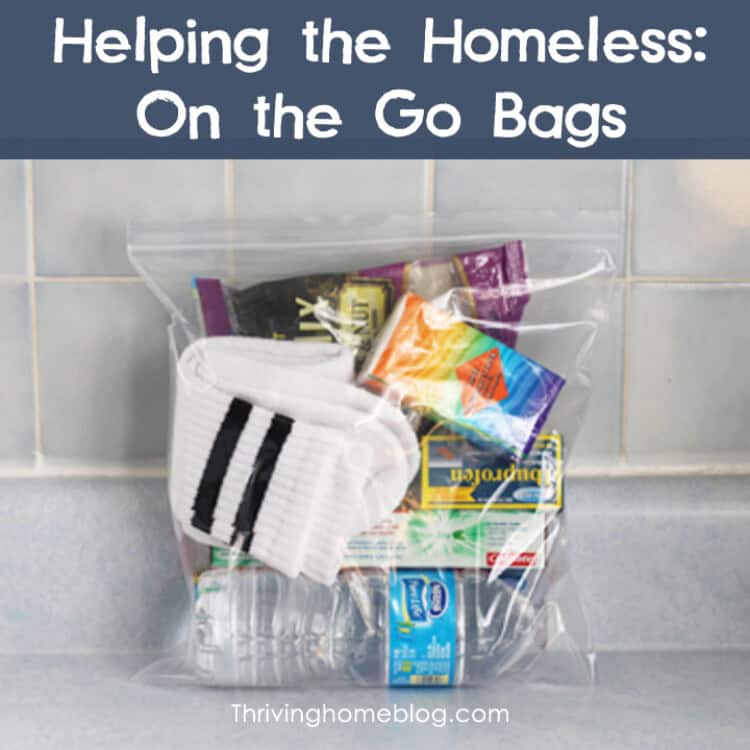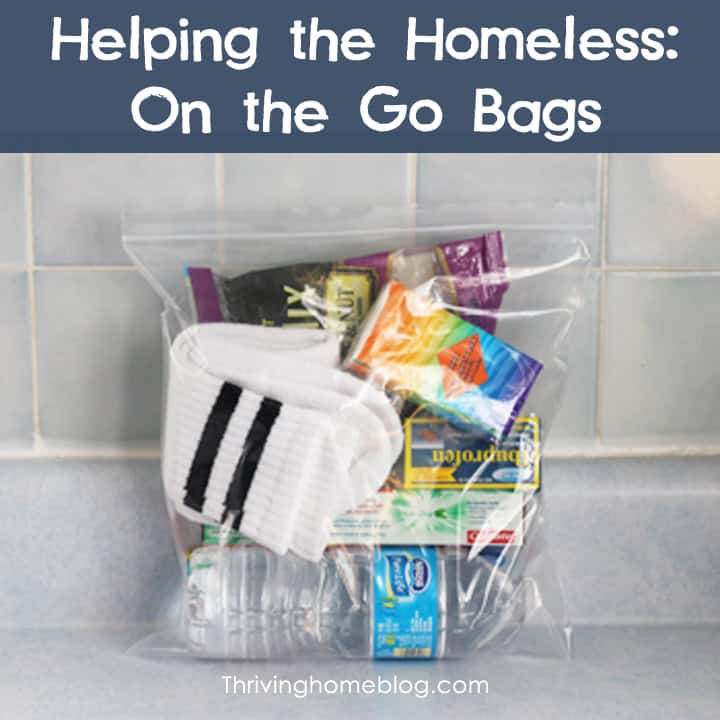 13. Invest in a bird feeder for your back porch.
Yes, we have become #birdnerds. I'm telling you, this cedar platform feeder has been one of the best and most enjoyable summer experiences for our whole family! My kids wake up each morning and open the blinds first thing so they can see the "little friends", as they call them. We use the free Merlin Bird App to ID the birds and learn more about them. As you can see, we didn't even bother attaching it to the deck. We get everything from sparrow families to cardinals to goldfinches to bluejays to all other kinds of birds.
Pro Tip: Make filling the bird feeder part of their weekly chores.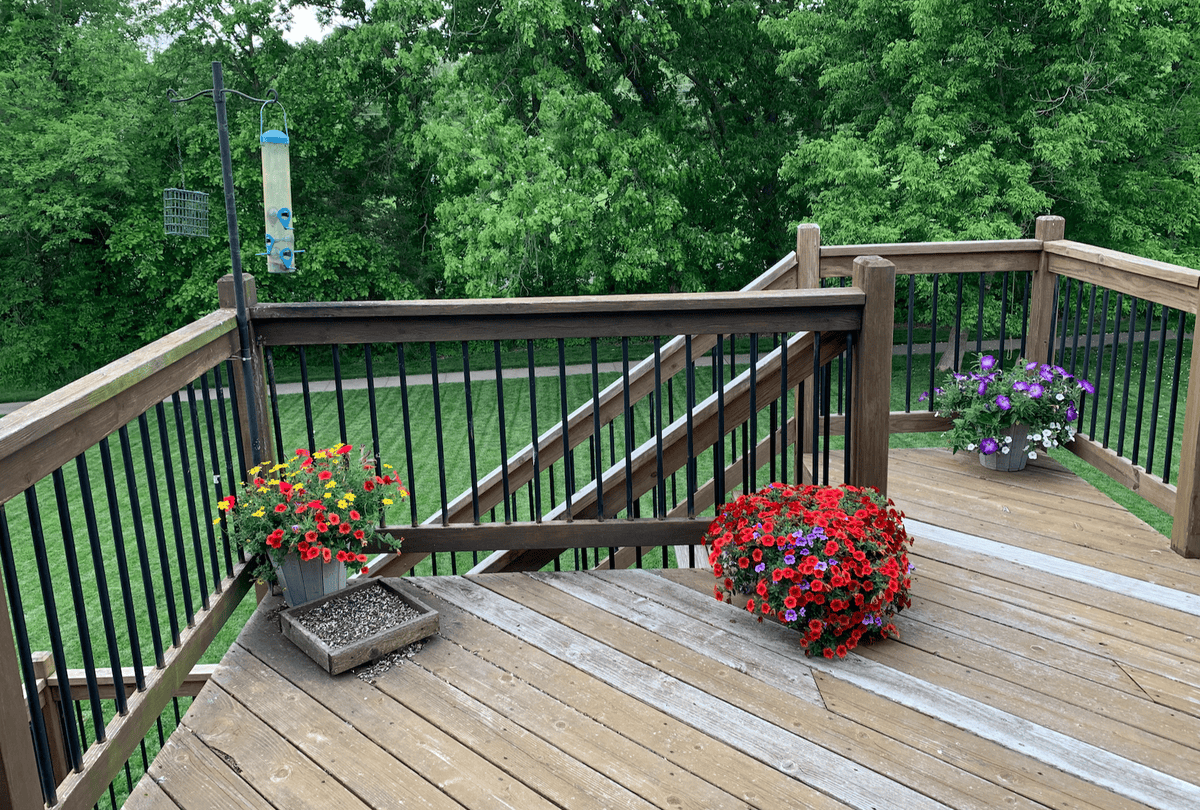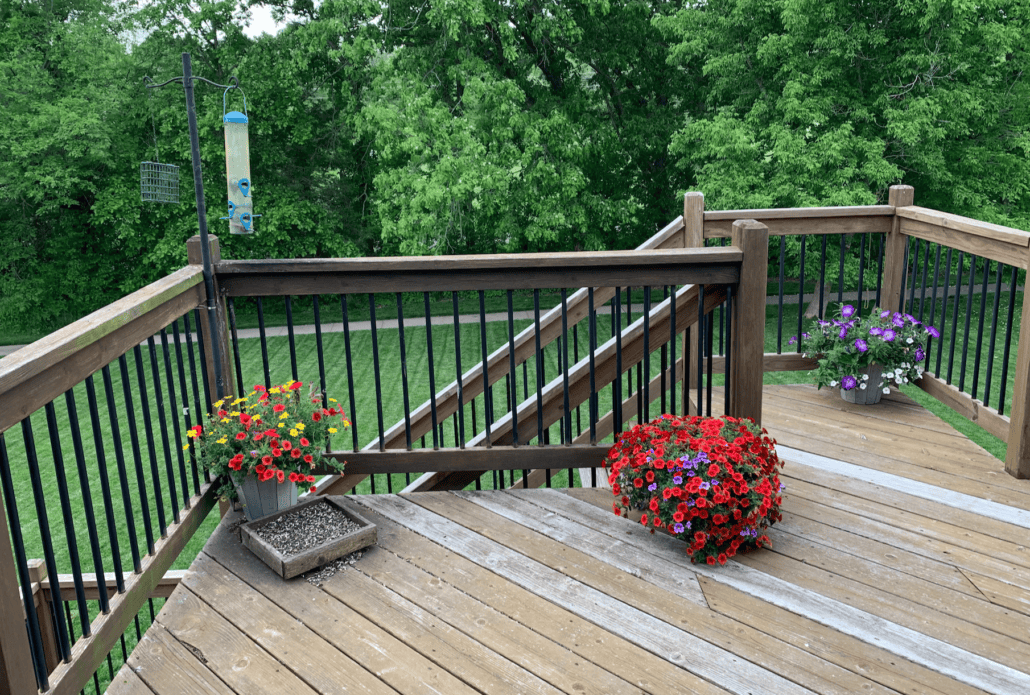 14. Watch movies together and discuss them.
We regularly use Common Sense Media to screen movies before watching them together and to get ideas for discussion topics. Here are a few excellent movies for families (with elementary and older kids) to consider watching and discussing:
Be sure to look these up on Common Sense Media first to make sure you're comfortable with them. Let us know if you have any other movie ideas in the comments!
15. Buy an inflatable pool. (You'll thank me.)
Polly and I both got our kids this cheap pool and our kids LOVE it. Be warned: it's huge when inflated and not the easiest to set up and take down. But, I just make my kids do all the set up and tear down work. They put rafts in it and play all sorts of games. All ages love it.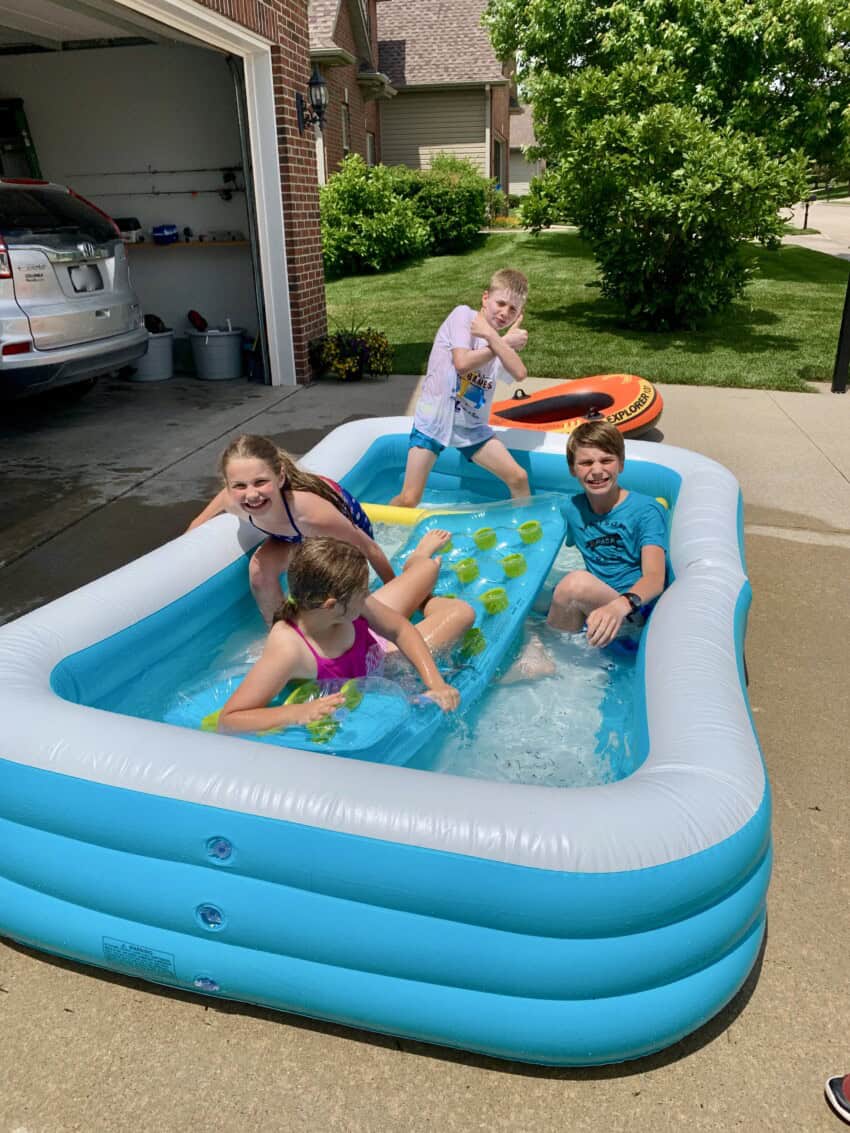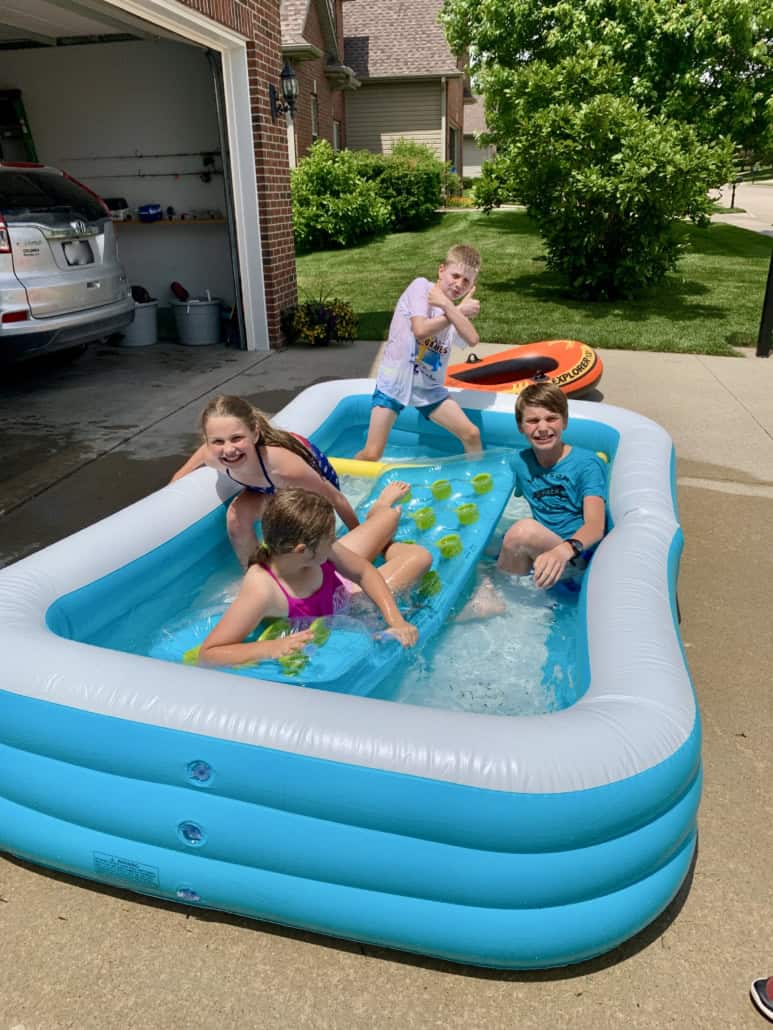 16. Play this fun Ball Toss Game on a rainy day.
Help your younger children learn to count by 10s (or whatever amount you'd like really). I can't tell you how many times this little game has helped redirect the "rainy day bickers".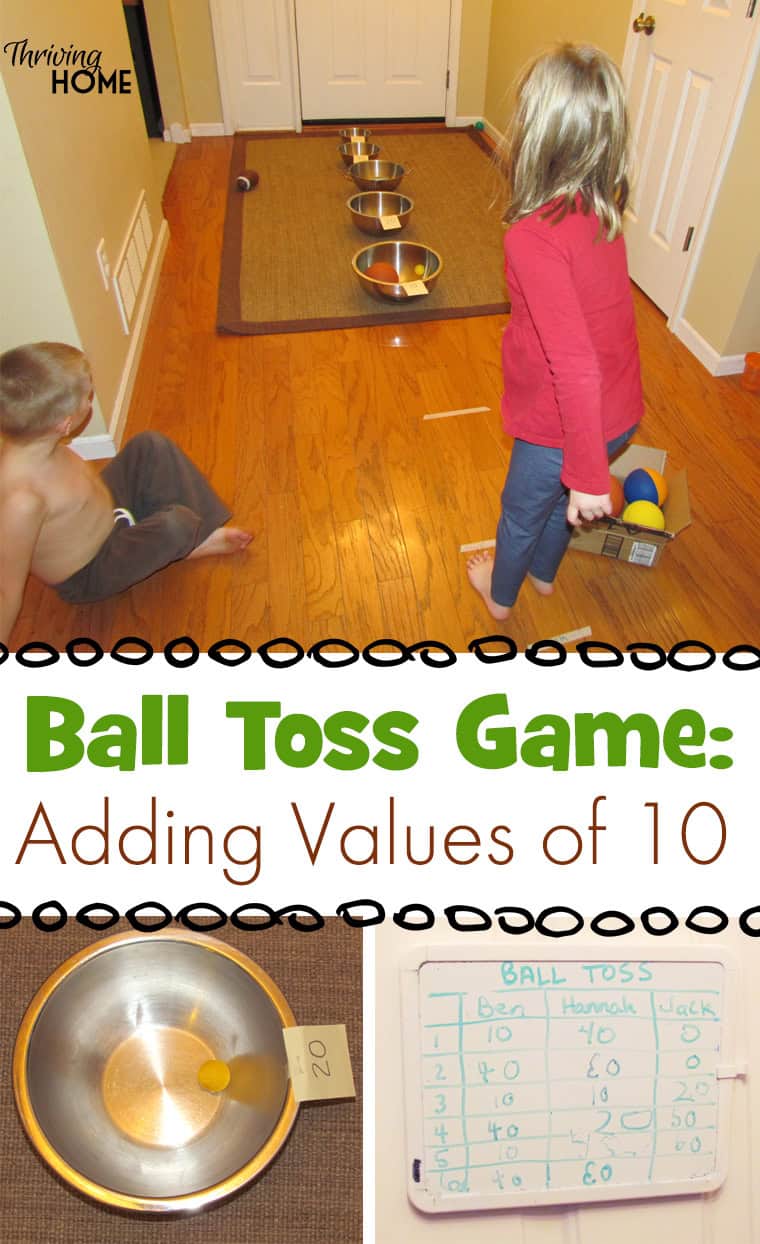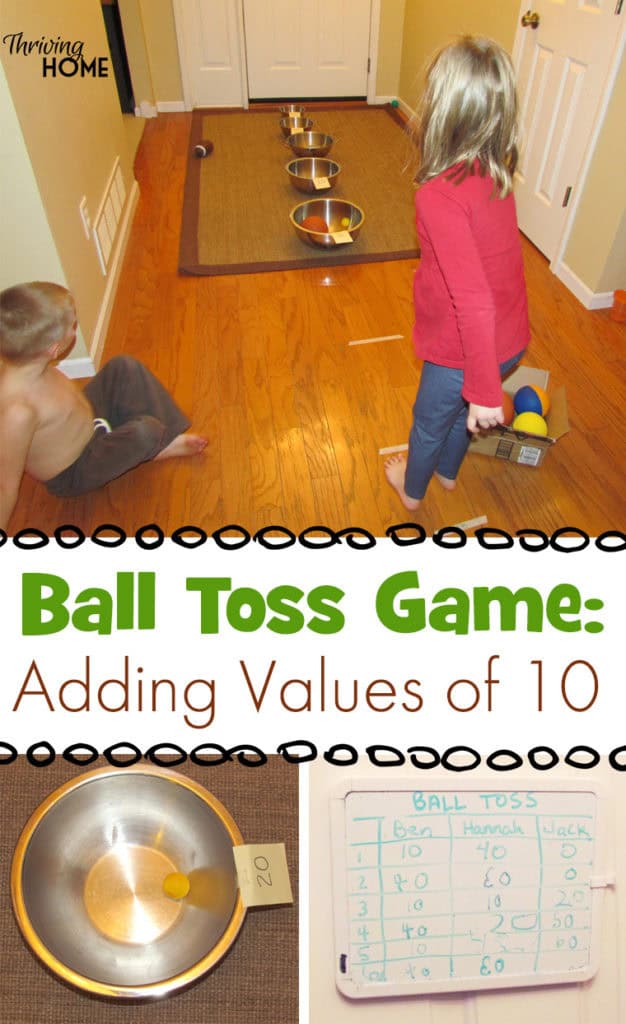 Even I found this engineering activity entertaining! Hand your kids a bag of mini marshmallows and a box of toothpicks and see what they construct. Your kids can try to figure out how to make a bridge or a skyscraper that can support its own weight. Or, make a hideout for their super heroes. The sky is the limit. And…then you can eat it. 🙂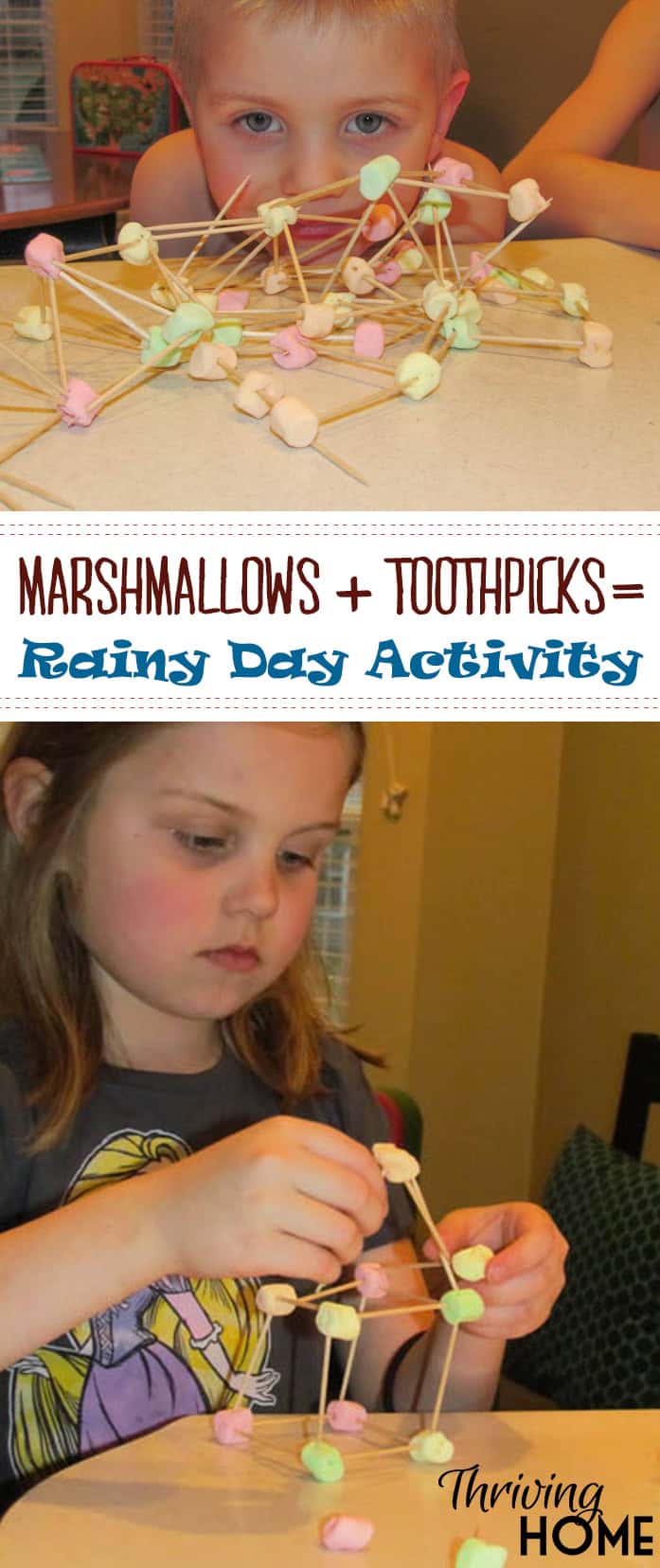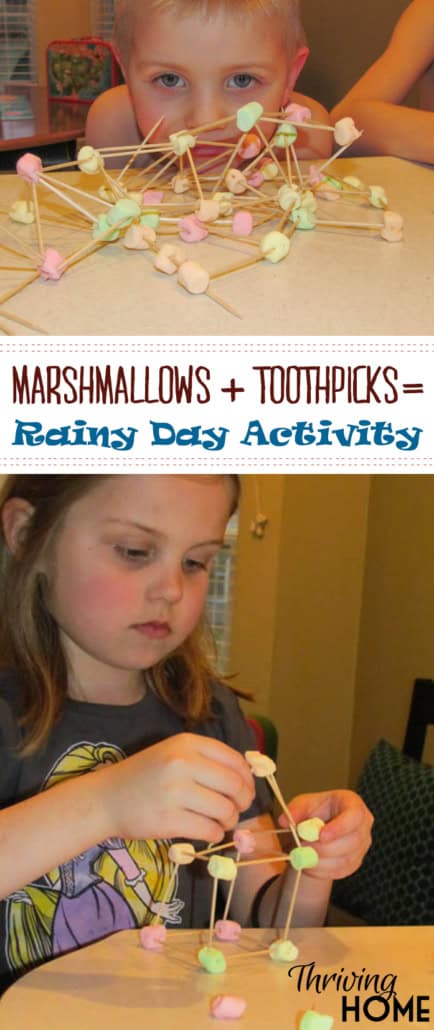 Audiobooks can provide hours of screen-free entertainment for the whole family. I've found they work best on road trips, which we won't have many of this year. But, we also listen a few times a week to one in the living room before bed. They can be fun to turn on while crafting or puzzling, too.
19. Go hiking with nets and buckets (and old shoes on).
This summer is the perfect time to explore new trails in your area! The kids and I use our nets like these and cheap buckets to collect and study (and then release) everything from butterflies to minnows to frogs and to crawdads.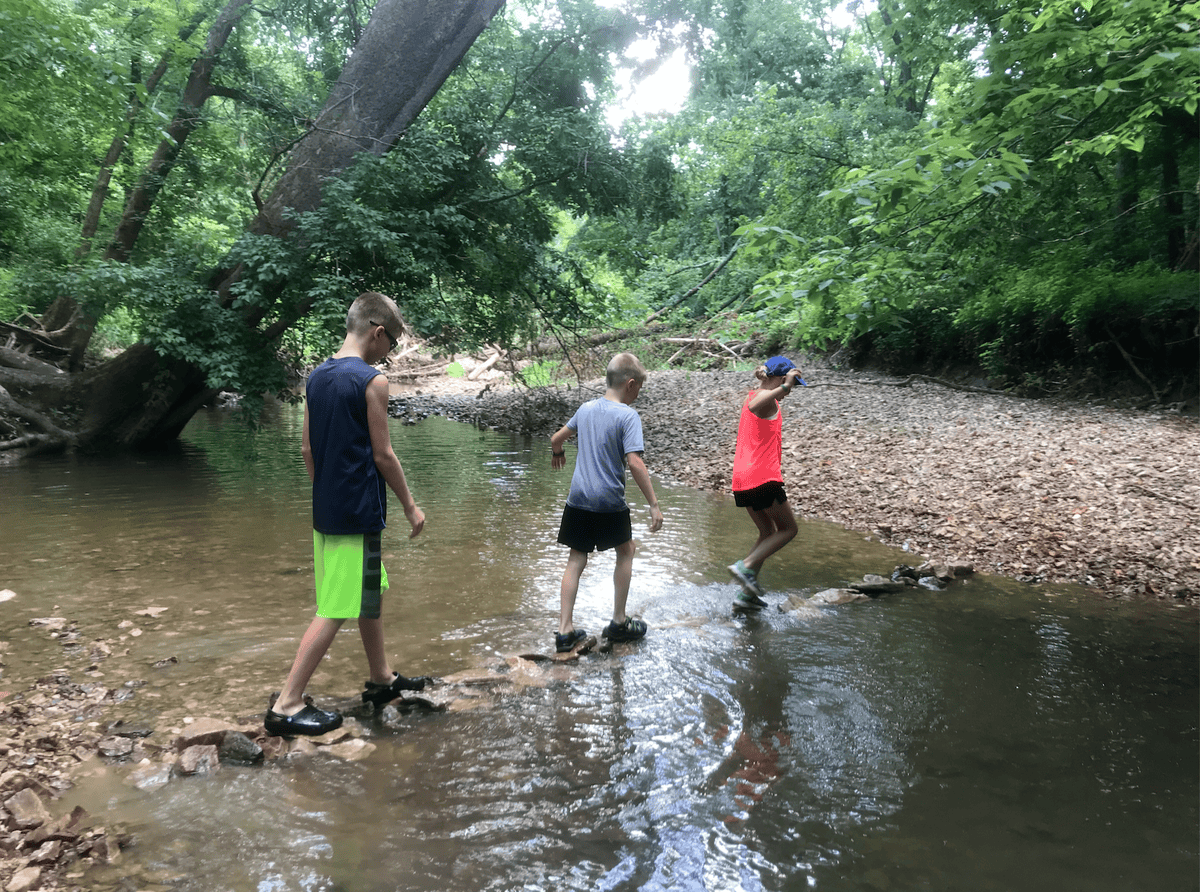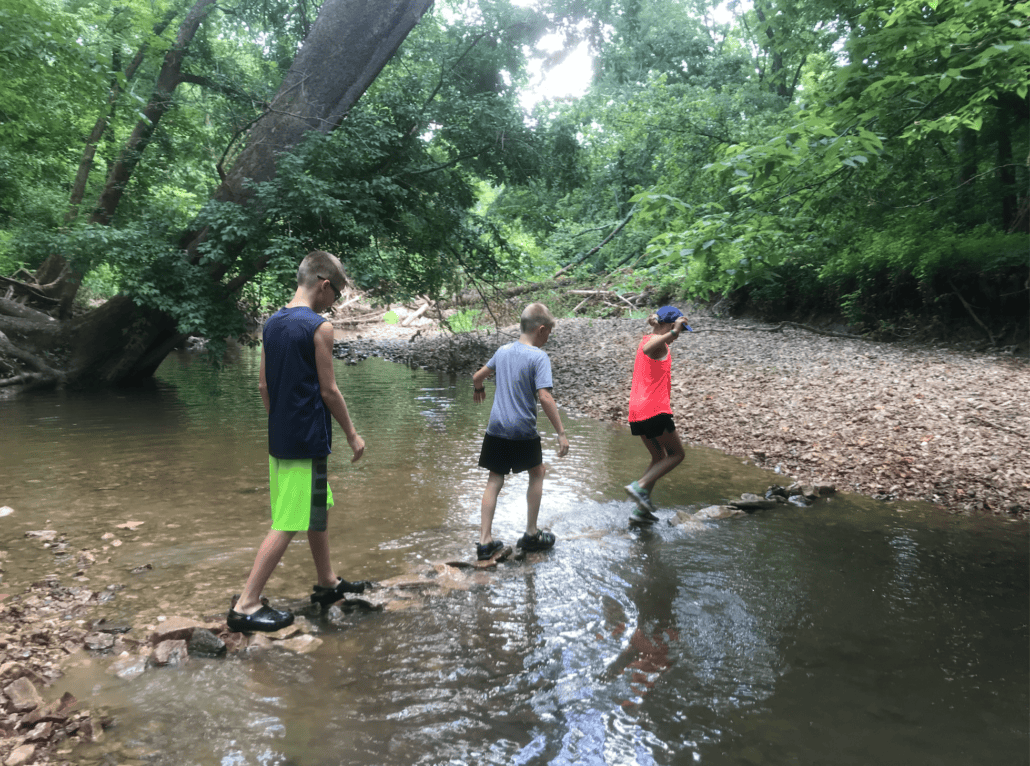 20. Challenge your kids to a read-off.
Create a fun reading challenge for your kids over the summer. We created one called the Classic Novel Challenge, where we challenged them to read 10 classic novels (that we helped them choose). The kids got to bake a treat of their choosing after completing each novel. After 10 books, we made a special dinner for them and they got a little prize. They were so motivated! I found them reading all over the place…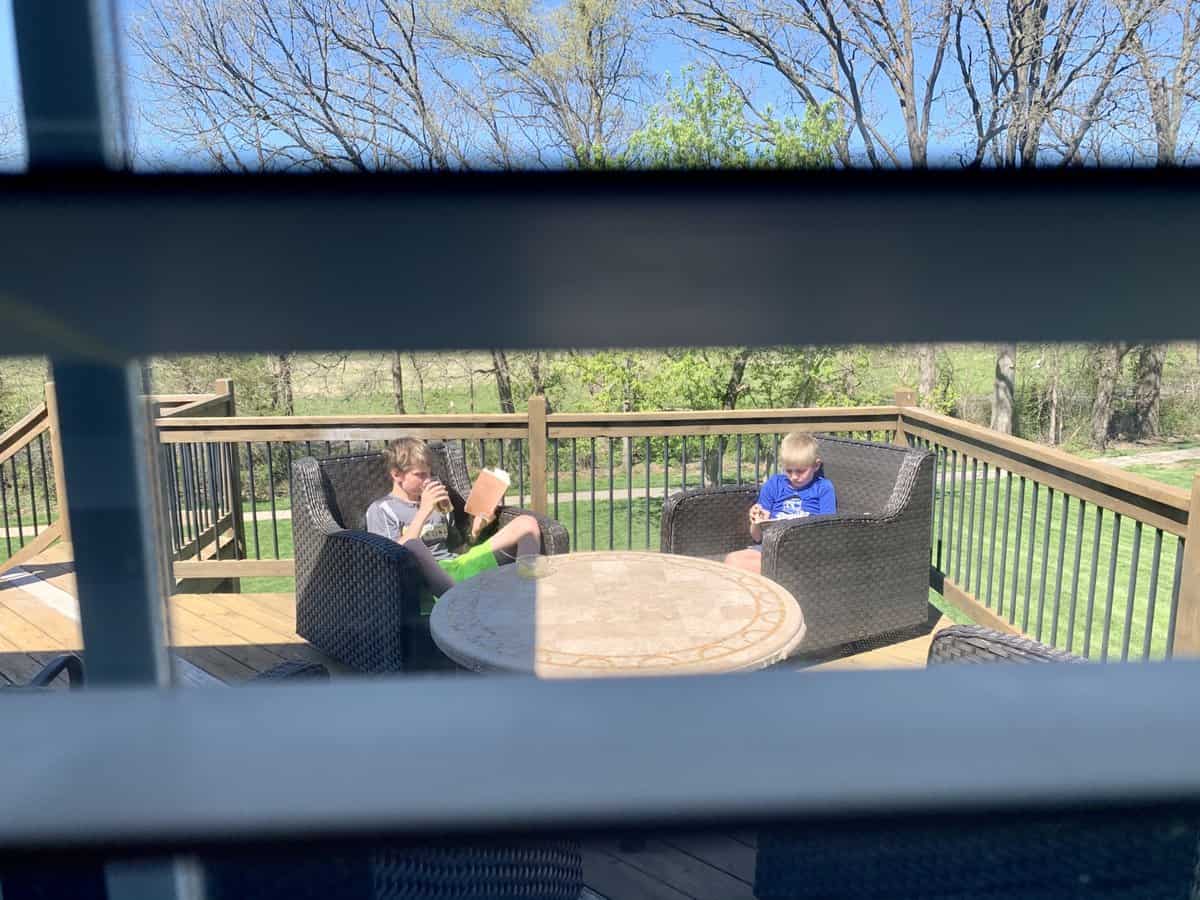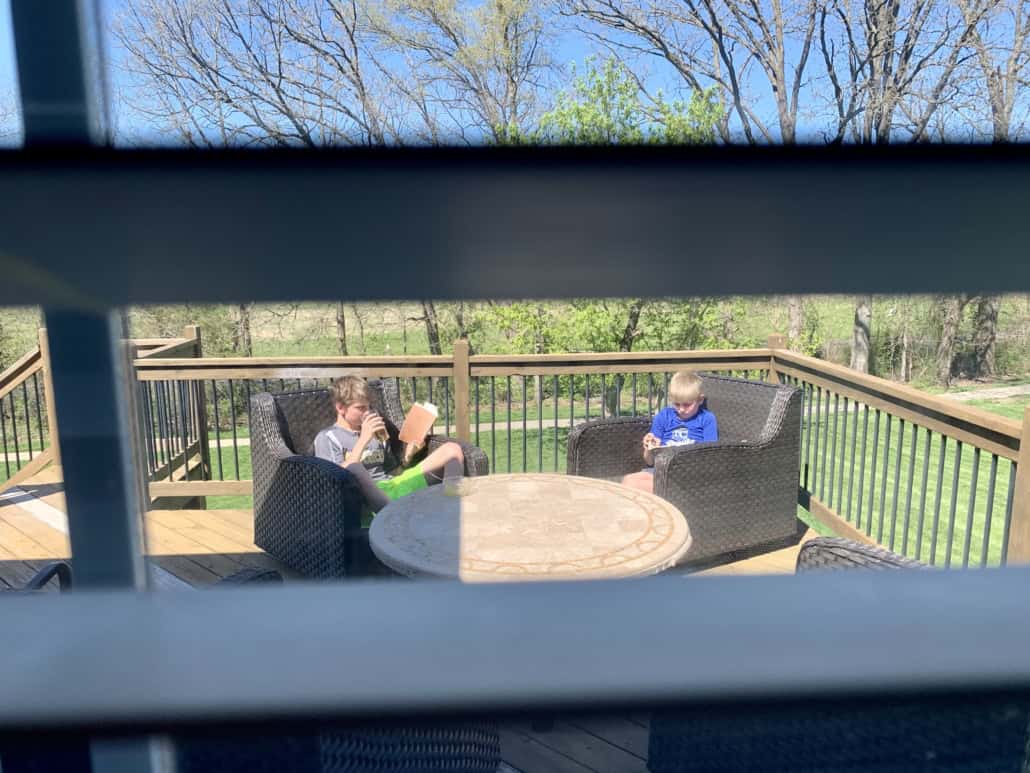 Have a younger reluctant reader? Try one of our 10 favorite read aloud book recommendations here…
21. Download and print our Road Trip Cards!
These 38 fun games and questions for the whole family don't have to be used in the car. They can be a great rainy day activity or something to do if it's too hot outside.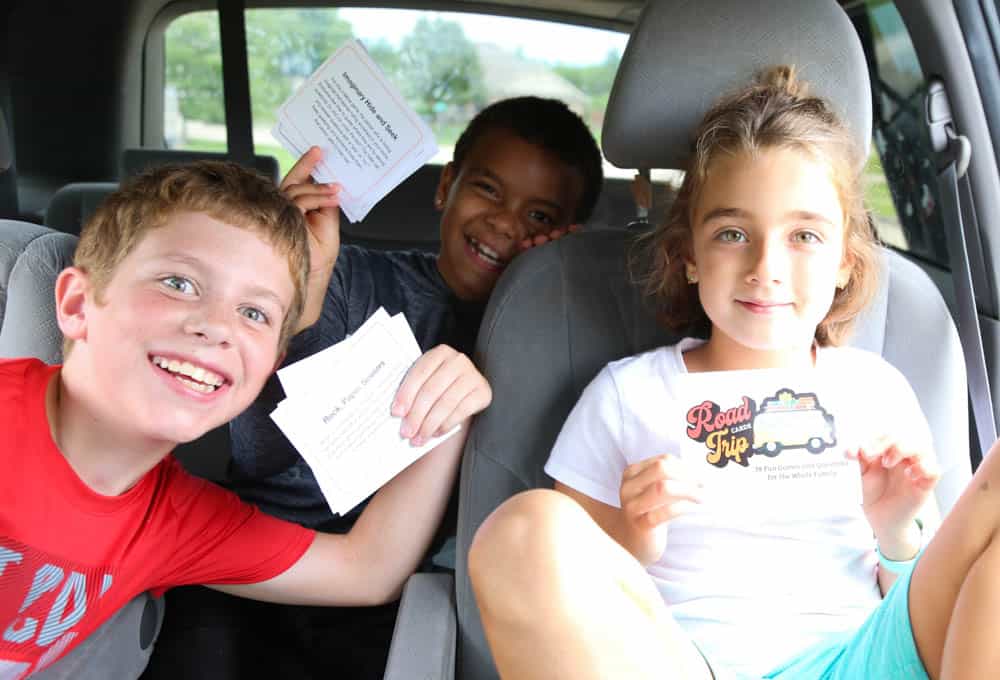 If you have some wooden blocks, pull them out and try to create this super easy catapult. Preschool and elementary kids will enjoy the challenge of storming the castle.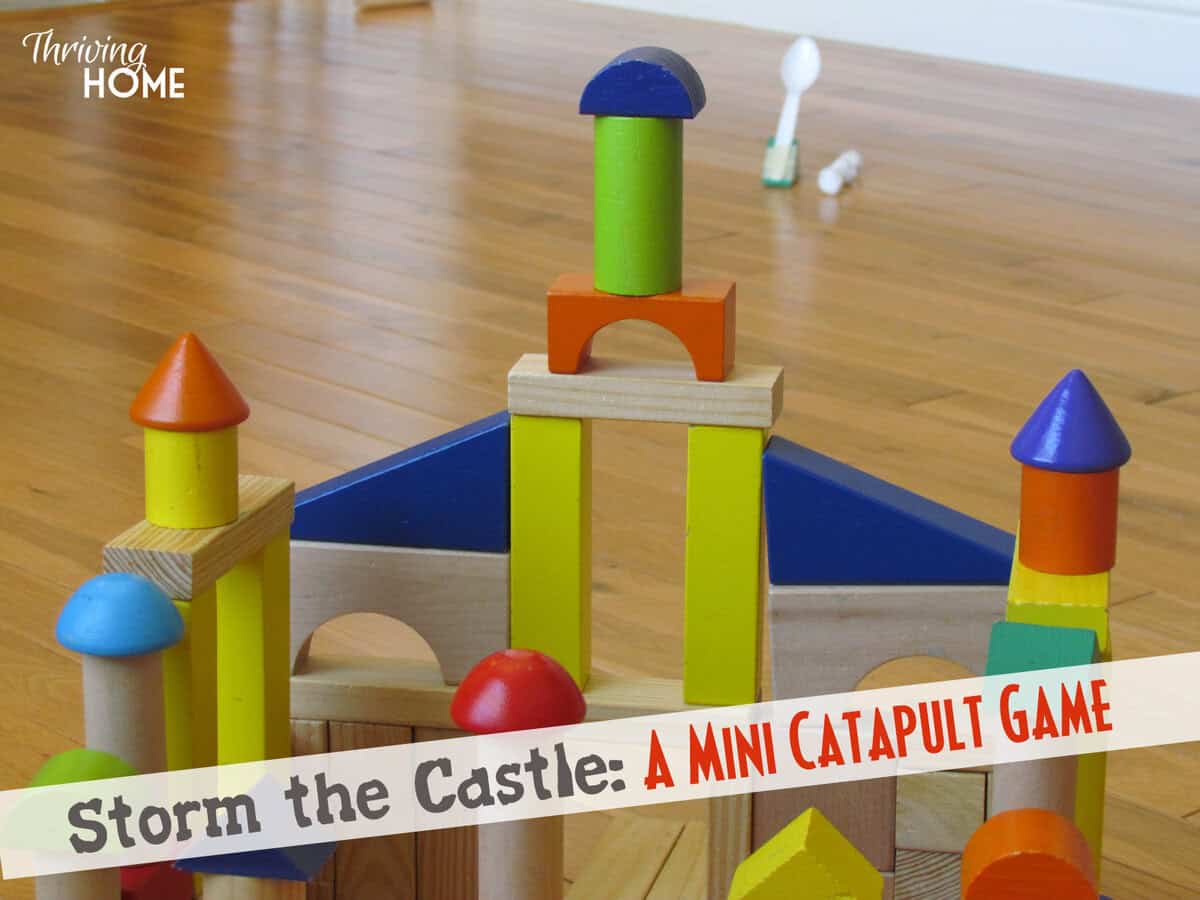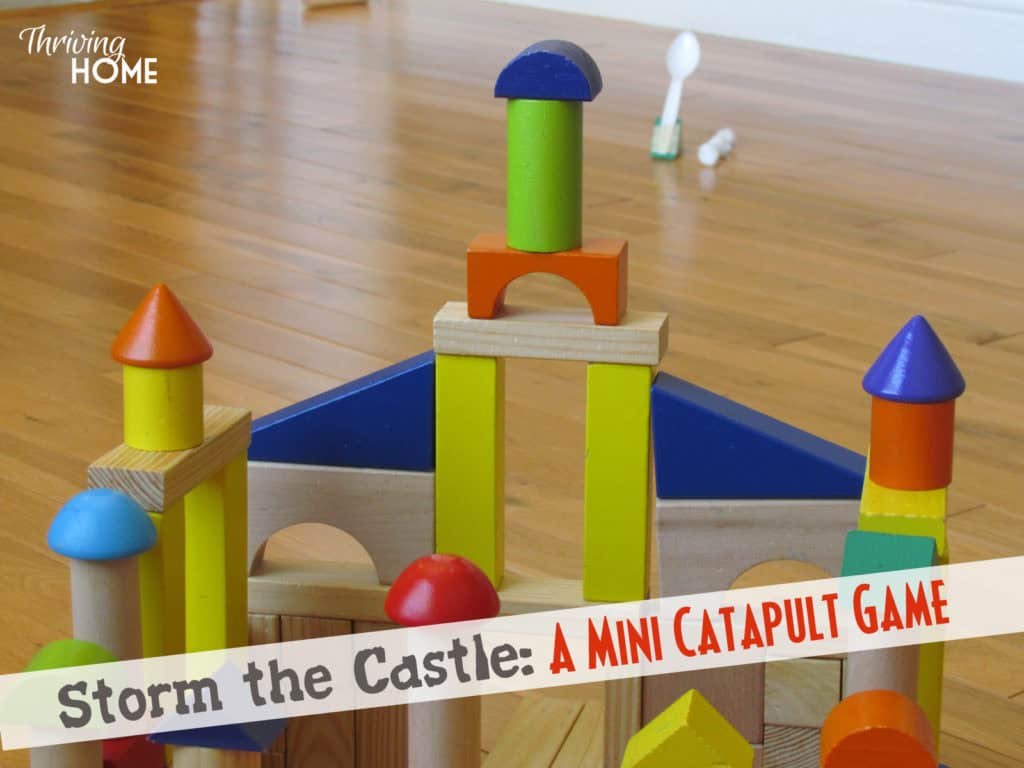 23. Stock up on a few new board games.
It's nice to have some new games on hand for rainy or super hot days. Polly and I have curated a collection of some of our favorites for younger and older kids here…
My daughter is a slime scientist and has many opinions on what is the best recipe. There are many variations out there (just check Pinterest). But, here is a pretty easy slime recipe that we've had good luck with over the years. You'll need 3 main ingredients: Elmer's glue, Borax, and food dye.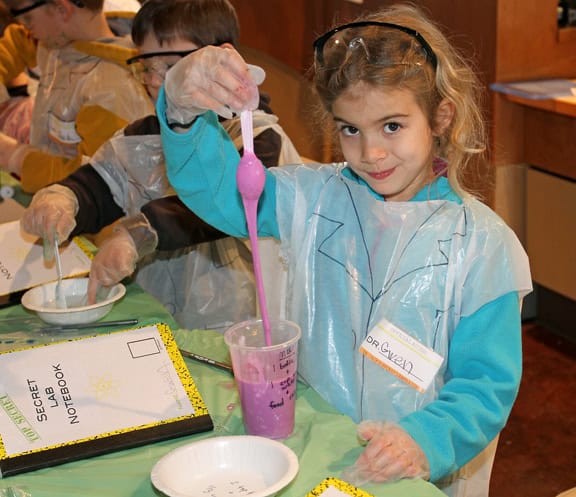 25. Invest in some fun learning toys.
Who says summer can't be a time of learning, too? From learning about electricity to logic puzzles and imaginative play, Polly and I have rounded up some of our favorite learning toys and resources here…