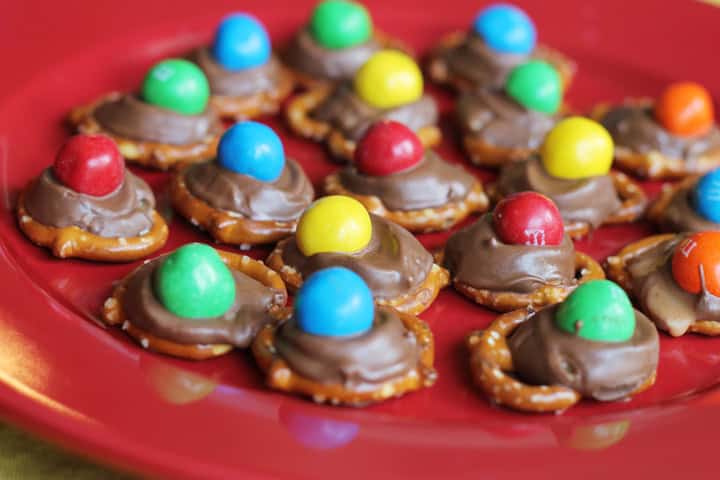 Lets go ahead and state the obvious. These are not healthy. In any way. If you're looking for a healthy, all-natural treat for your child's birthday party, look away. I said LOOK AWAY!
OK, you're still reading. Good. I like people who are OK with a tasty treat every now and then. Everything in moderation, right?
So let's state another obvious fact: These pretzel-rolo snack bites are AWESOME and addicting. They are dangerous, people. That is why they are a perfect treat for a party or get-together. That way you don't end up on the couch mindlessly eating them while you watch Breaking Bad with your husband. Wait, what? Who would do that…?
I digress. OK, moving on from my passive confessions.

ANYWAY, like I said, these Pretzel Rolo Bites are super easy to put together and make a great treat for birthday parties, graduation parties, or any other reason you need a sweet snack in massive numbers. I also like that they can be made ahead of time (even a day or two) and be stored in an airtight container until your party. Most treats can't stay fresh that long. Below you can see how easy these are to assemble:
Here is a shot of all of my pretzels and Rolos ready to go into the oven.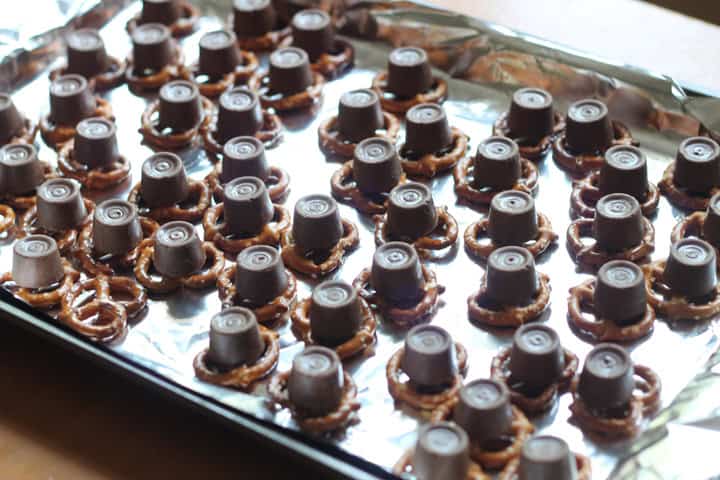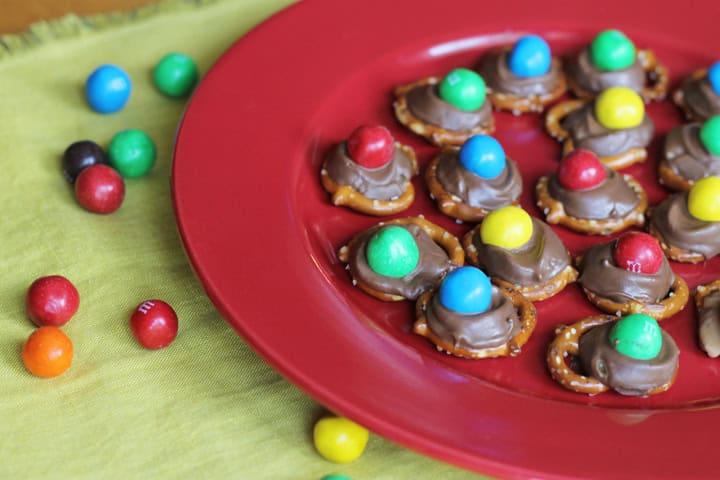 Pretzel Rolo Bites
Delicious, bite size Rolo pretzel treats. Takes just a snap to make them and can be made a few days in advance.
Ingredients
One bag of Rolos
½ bag small pretzels
1 bag of Preztel M&Ms OR Peanut Butter M&Ms
Instructions
Preheat oven to 350
Place pretzels on a baking sheet lined with parchment paper
Place one unwrapped Rolo on top of each pretzel
Cook Rolos and pretzels for about 2 minutes. Rolos need to be softened but NOT melting
As soon as you remove Rolos and pretzels from oven, gently press an M&M into the rolo.
Let cool (mine took over an hour before they were cooled down enough to solidify)
You might also like...