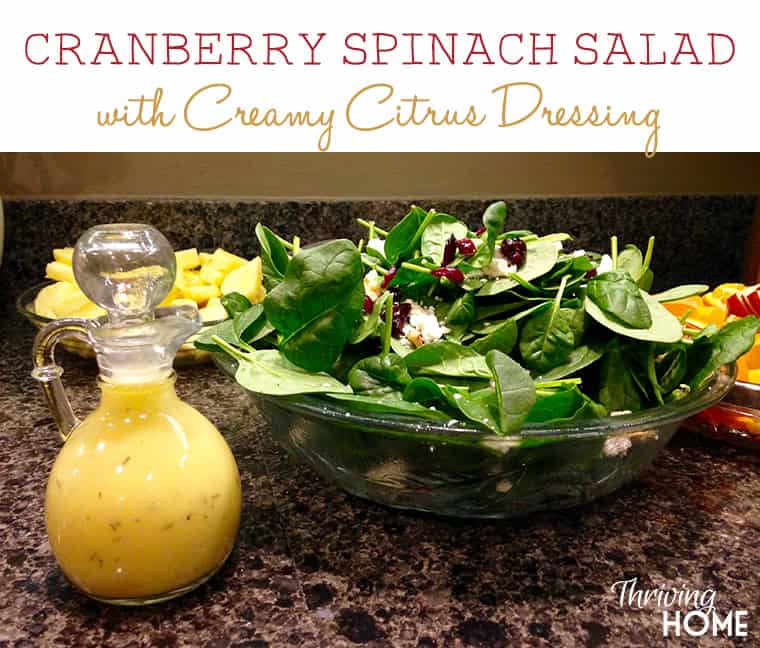 Ok, admittedly this colorful salad and dressing look somewhat humble from the snapshot. It was a family Christmas celebration at my parents' house, and I implored my mom to let me grab a quick shot of it before we dove in. I just know you are going to like her recipe, though. Our whole family sure did.
The dressing is just about perfect in my estimation–citrusy, light, yet creamy-tasting. A simple mix of baby spinach, dried cranberries, feta or goat cheese crumbles, and some toasted pecans was complemented well by the Creamy Citrus Dressing. Honestly, this is my favorite kind of salad–one that is topped with fruit, some good cheese, toasted nuts, and an interesting dressing.
I guess what I'm trying to say is that this is a darn good salad recipe that my mom passed on to me! (Someday I'll grab some better pics to convince you further. 🙂 )

Spinach Cranberry Salad with Creamy Citrus Dressing
Spinach, dried cranberries, goat cheese, and toasted pecans are the perfect winter salad match for this light and delicious Creamy Citrus Dressing.
Ingredients
Creamy Citrus Dressing:
1 teaspoon lemon zest
2 tablespoons lemon juice, freshly squeezed
2 tablespoons orange juice, freshly squeezed
1 tablespoon Dijon mustard
1 teaspoon honey, plus more to taste
¼ teaspoon fresh thyme leaves, chopped
¼ teaspoon salt
¼ cup extra virgin olive oil
Spinach Cranberry Salad:
8 cups baby spinach leaves, loosely packed
½ cup pecans, toasted and chopped
⅓ cup goat cheese or feta cheese, crumbled
½ cup dried cranberries
Instructions
Creamy Citrus Dressing:
Pour all ingredients in a mason jar. Close lid tightly and shake until combined. Refrigerate for up to two weeks.
Spinach Cranberry Salad:
Toss all ingredients together. Voila!
You might also like...