Baked Chocolate Steel Cut Oatmeal
This post may contain affiliate or sponsored links. Please read our disclosure policy.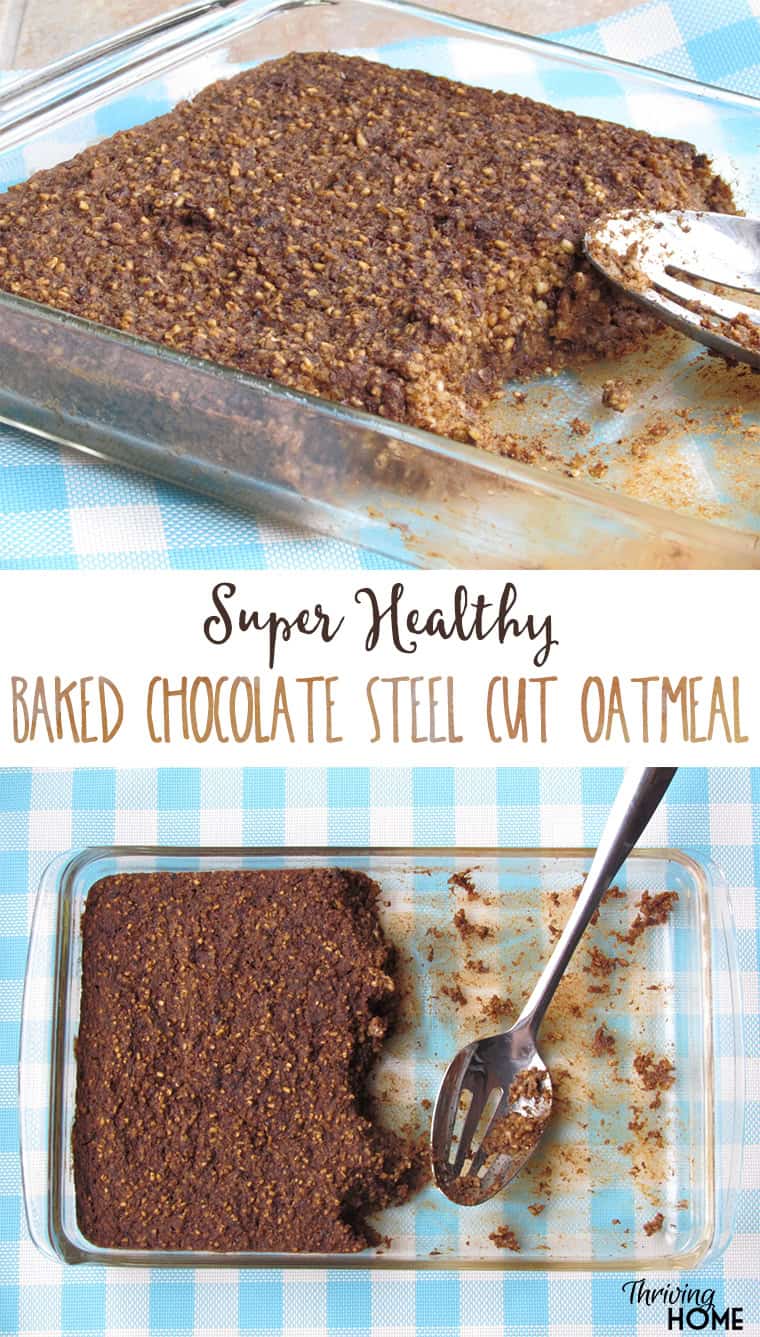 About the Recipe
After our first indulgent Thanksgiving feast (my first one to host in 37 years!) at our house and then a second indulgent feast with more family plus leftovers for every meal, we needed this recipe this morning. I call it my post-holiday breakfast cleanse. Ha! Are you with me?
We've been making baked oatmeal around my house for years. My kids down it like ice cream and I get to sneak in all kinds of nutrition. It's a well-rounded meal in one pan–whole grains, protein, calcium, and vegetables or fruit. Our favorites (using old-fashioned rolled oats) include Brownie Baked Oatmeal, Peanut Butter and Banana Oatmeal, and Apple Cinnamon Oatmeal.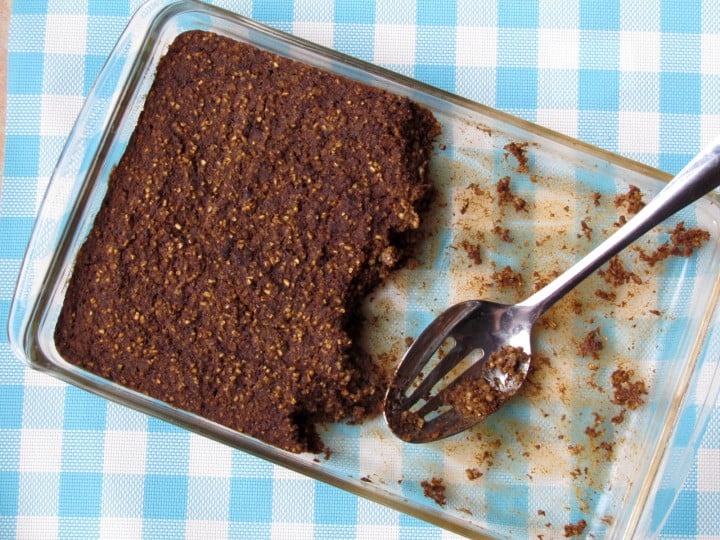 But…I've had quite a few people ask me over the years if these recipes can also be made with steel cut oats. The short answer is no. At least, you can't just sub it one-for-one with rolled oats. The longer answer is yes! You can make a baked oatmeal with steel cut oats. However, it requires more liquid, an overnight soak in the fridge, and a longer baking time. But, rest assured, it's not hard to put together.
Now for the good news! I recently developed this easy, super healthy Baked Chocolate Steel Cut Oatmeal recipe that is a delicious start to your or your kids' day. You won't believe what goodness lies within the chocolatey sweet walls of this make-ahead baked oatmeal recipe, including even some (gasp!) spinach. (With the help of a high-powered blender, you can sneak just about anything into this breakfast of champions.) Make it the night before, stick it in the fridge, and pop it in the oven in the morning.
But, let's back up for a moment to ask a few important questions.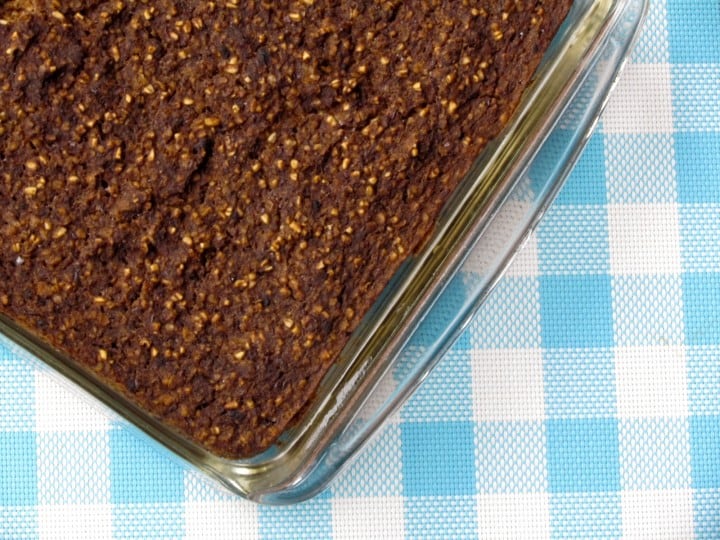 What are steel cut oats? Why are they healthier than old-fashioned or quick oats?
Oatmeal is one of the healthier breakfast items you can eat, offering up B vitamins, Vitamin E, protein, iron, calcium, and potassium. But there are differences in nutrition when comparing steel-cut oats to other varieties.
All oatmeal starts as whole groat oats, which are then processed to varying degrees. Steel cut oats are whole groat oats that have been cut up, but not steamed or rolled like thick-rolled or instant oats. Since steel cut oats do not go through as much processing as their counterparts, they are more intact and have less surface area, which slows digestion. This causes the stomach to work longer to break down steel-cut oats.
The glycemic index, a measurement of the rise in blood sugar, is only 42 for steel-cut oats compared with 66 for instant oatmeal. Steel cut oats also have more protein and calcium and twice the amount of fiber than old-fashioned and instant oats do. (source)
What makes this Baked Chocolate Steel Cut Oatmeal super healthy?
Well, you already know how great steel cut oats are for you. But now, let's take a look at all the other nutrition packed into my Baked Steel Cut Oatmeal:
Flaxseed: Read "Why eat flaxseed?".
Almond Meal: Along with ground flaxseed, almond meal (aka almond flour or ground almonds) is one of those health food staples I always have on hand to throw in recipes like this. With the same nutritional benefits as almonds, you're looking at adding additional protein, Vitamin E (a powerful antioxidant that serves to protect cells against damaging free radicals and support immune function), plus the B Vitamins, folate, and niacin. (source)
Fruits and Vegetables: I included an entire apple, banana, pumpkin puree, and spinach in the Baked Steel Cut Oatmeal. I can guarantee your kids will never know. The secret is using your blender to blend it seamlessly into the wet ingredients. This produce will add fiber, antioxidants, vitamins, and minerals. As your family gets used to it, you can always play around with adding more pumpkin puree or spinach to the mixture. Or, if you prefer more texture, you can leave the apples in small chunks within the batter.
Cocoa Powder: This provides a chocolate flavor without all the added sugar and fat of chocolate itself. It's also naturally full of antioxidants, fiber, iron, and magnesium. Look for "raw cacao" in the health food section to get the most benefit, but unsweetened baking cocoa will also add some nutrition. (source)
Cinnamon: This spice has been shown to be a natural anti-inflammatory food, plus it provides many more benefits. I always kick up the amount in recipes like this, so feel free to add more if you like the taste.
All-Natural Sweeteners: By now, we've probably all heard that sugar is our greatest enemy as Americans. It's in everything and causes inflammation that can lead to obesity, heart disease, cancer, etc. (source) By using honey and fruit in this recipe, the steel cut oatmeal is naturally sweetened with "real food" ingredients that also provide nutrition and fiber that help slow the digestion of the sugar. You can always cut back on the honey in this recipe to cut out more sugar and/or you can replace some of it with liquid stevia–a safe yet potent alternative sweetener. When serving, the fresh fruit on top provides even more sweetness. You can also add coconut sugar (what is it and why is it better?) or more honey, if needed.
Can I make it ahead of time and freeze it?
Absolutely! Baked Oatmeal is one of my go-to make-ahead freezer meals. In fact, I put my kids in charge of making it on Sunday nights sometimes, so that we can enjoy it at some point during the week. (Yes, it's that easy!) Either store it uncooked in the fridge for up to 3 days or just wrap it tightly in foil and plastic wrap before putting in the freezer. Then, make sure to thaw it most of the way in the fridge for 24-48 hours before baking. Keep in mind that you may have to increase your bake time if it's still really cold in the center.
What if I don't have a high-powered blender? Can I still make this recipe?
Yep. You'll just need to make a few adjustments. I would suggest chopping the apples and spinach up pretty finely before adding to the blender. It's also a good idea to blend up just the liquid part first and then add the fruit/veggies. Start your blender on low, pushing the ingredients down with a wooden spoon if needed. Slowly increase the speed until the ingredients are smooth.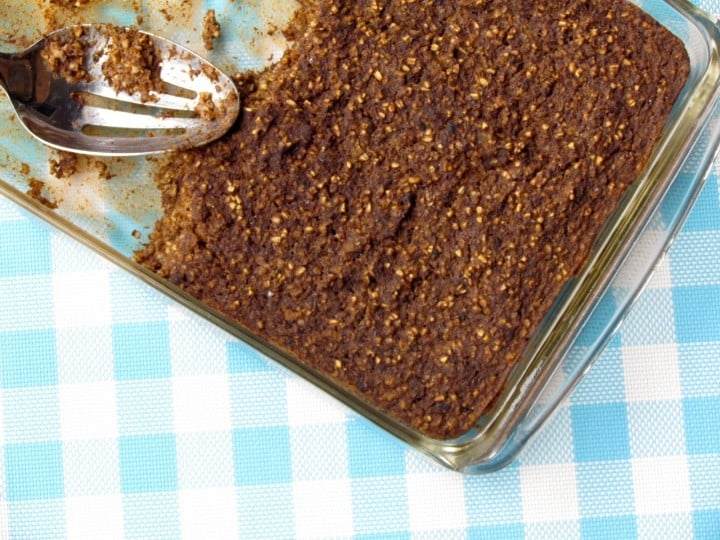 As I always say, save yourself time in the future and double this recipe now and freeze it. You never know when you'll need a "breakfast cleanse" during the holiday season. 🙂
More Baked Oatmeal Dishes You'll Love
If you enjoy baked oatmeal as much as our families do, give a few of these others a try. They all work well to freeze before baking, as well.
Did you make this? Snap a photo and tag us on Instagram at @thrivinghome so we can see your creations and cheer you on!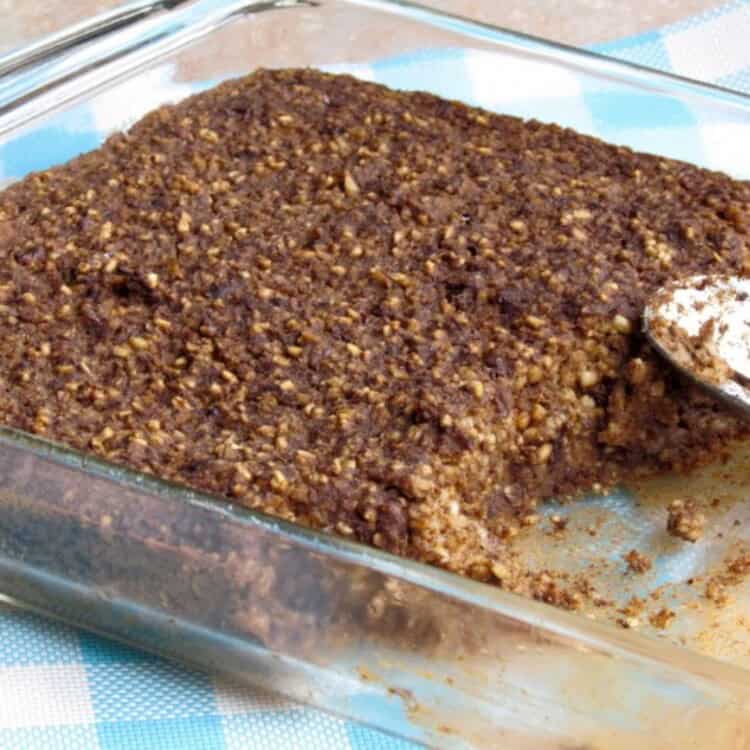 Super Healthy Chocolate Baked Steel Cut Oats
This easy super healthy Baked Chocolate Steel Cut Oatmeal includes whole grains, vegetables, fruit, protein and calcium. It's a delicious, wholesome way to start your day!
Prep:
20 minutes
Cook:
30 minutes
Total:
50 minutes
Ingredients
2 1/2

cup

steel cut oats

1/4

cup

ground flaxseed

1/4

cup

ground almonds (aka almond meal)

1/4

cup

cocoa powder

2 teaspoons

baking powder

3/4 teaspoon

salt

1/2 teaspoon

cinnamon

2

cups

milk (I used plain almond milk)

1/2

cup

honey

2 teaspoons

vanilla

1/2

cup

pumpkin puree

1

banana

1

apple, cut into chunks

1

cup

spinach
Optional for serving: fresh berries, milk, banana slices, almond slices
Before You Begin! If you make this, please leave a review and rating letting us know how you liked this recipe! This helps our business thrive & continue providing free recipes.
Instructions
Combine dry ingredients in a large bowl, stirring well.
Place all wet ingredients in a high-powered blender. Blend until completely smooth and spinach isn't visible.
Pour wet ingredients into dry ingredients and combine well. Pour mixture into a greased 9×13 pan.
Cover and sit in refrigerator overnight. (This step is important, as it softens the oats.)
Set baked oatmeal on counter while oven preheats to take the chill off. Preheat oven to 350°F. Bake for about 30 minutes, or until it doesn't move when you shake it. (Note: It will still be creamy inside but the top will be completely set.)
Serve warm with milk and fresh fruit on top. Add more sweetener if desired.
---
Notes/Tips
Freezer Meal Instructions:
To Freeze:
Prepare through Step 3. Wrap tightly in foil and plastic wrap and freeze.
To Prepare:
Thaw in the refrigerator for 24-48 hours. Bake as directed, adding extra time if needed, until center is set.