Easy and Cheap Science Birthday Party: A Complete Guide
This post may contain affiliate or sponsored links. Please read our disclosure policy.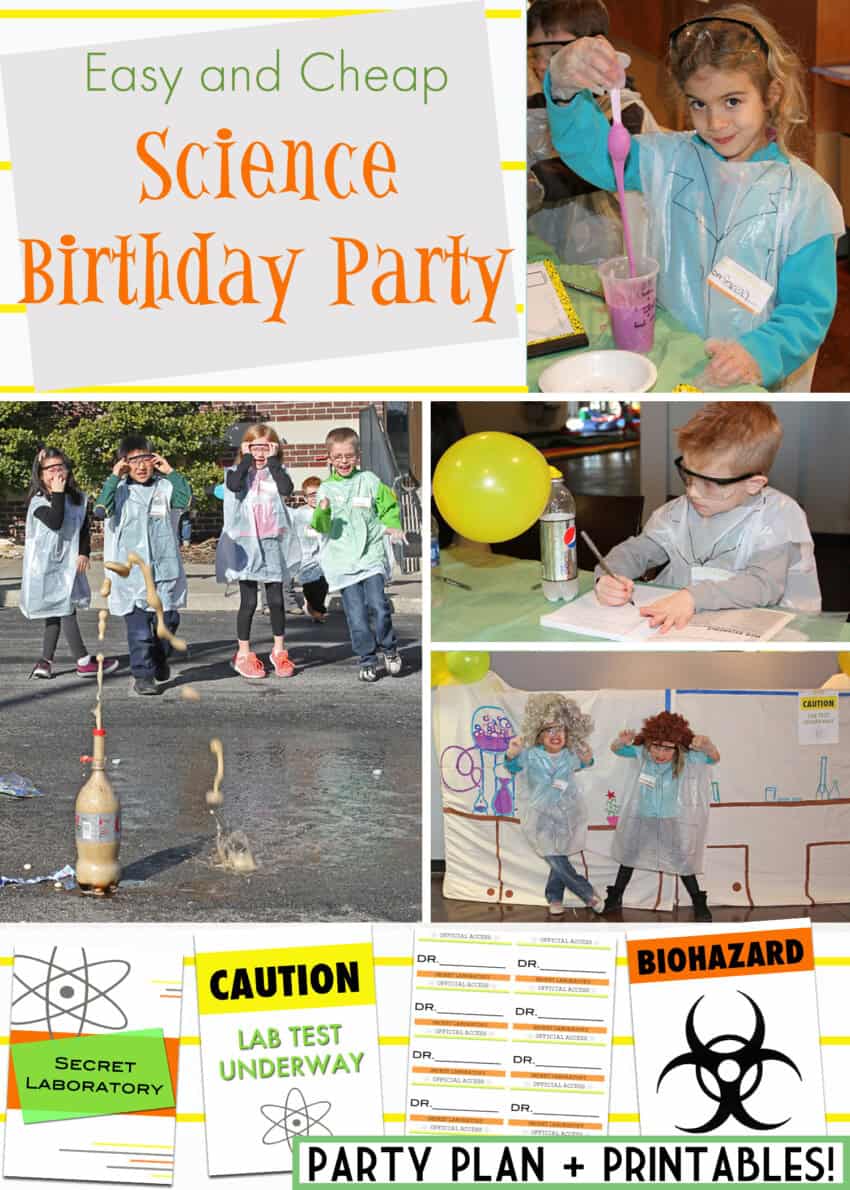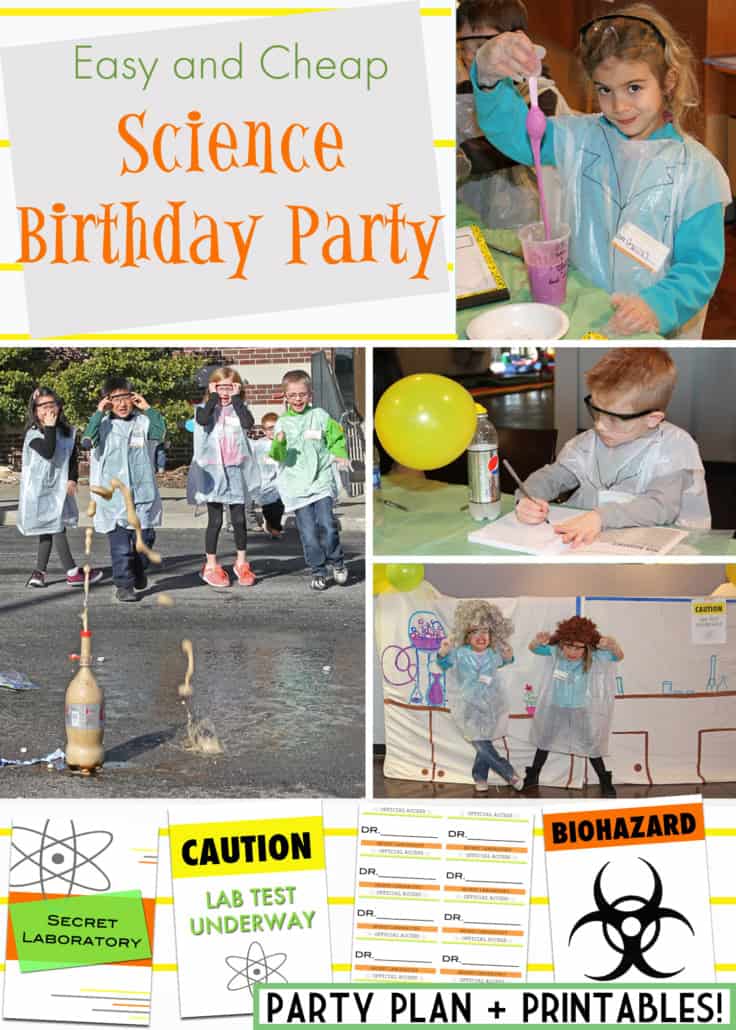 About the Science Birthday Party
Although a while back, I swore off a Pinterest birthday party for my kids, here I am. I found a pocket of creative time this past year and dove head-first into my 7-year-old son's request for a Science Birthday party.
I won't lie. The research and preparation took a long time. That's because I wanted to make it fun, cheap, and easy for anyone else to plan and run in the future. I'm not big on creating elaborate desserts and decorations when the children won't really notice. Instead, I wanted to create fun memories and be able to enjoy my son's party myself, not stress out about the cost or details.
So, Polly and I worked together to create an entire Science Birthday Party package that will take ALL the guess work out of the equation as you plan yours. You'll find a 1 hour and 30 minute Science Birthday Party plan for you below that will work for children ages 5-10. It includes:
the entire schedule for the party
a take-home bag idea full of cheap, reusable science items
a memorable picture moment + thank you card idea
3 easy, cheap, and fun science experiments
the easiest "cake" idea ever (no decorating required!)
a detailed supply list for each portion of the party
some inexpensive themed printables, including signs, name tags, and more!
My hope is that this Science Birthday Party article and our cheap Science Party Pack of printables are a one-stop-shop for your party planning. This should save you hours of time and lots of money!
The Science Birthday Party Schedule
Let's start with the schedule to give you an overview of the time. Then, below I've broken down and explained each portion of the Science Birthday Party in detail. Here's the bird's eye view of the event:
10 minutes – Children arrive and "check in". Pass out Scientist Kits, put on scientist outfits, have kids make name tags (they come in our printable Science Party Pack), write names and put finger prints on Secret Lab Notebook. Instruct kids to set their Scientist Kit bags at their spot at the table.
10 minutes – Dress up and take pictures at Science Lab Photo Booth.
10-15 minutes – Experiment #1: Blow Up That Balloon at tables. Clean up.
10-15 minutes – Experiment #2: Make Slime at tables. Clean up.
10 minutes – Experiment #3: Diet Coke + Mentos Explosion outside. (While kids are outside, have one adult set out the Cupcake Creations on tables.)
15 minutes – Sing Happy Birthday and make Crazy Cupcake Concoctions.
15 minutes – Open presents.
The Science Party Break-Down
1) Scientist Kits: Arrival and Take-Home Gift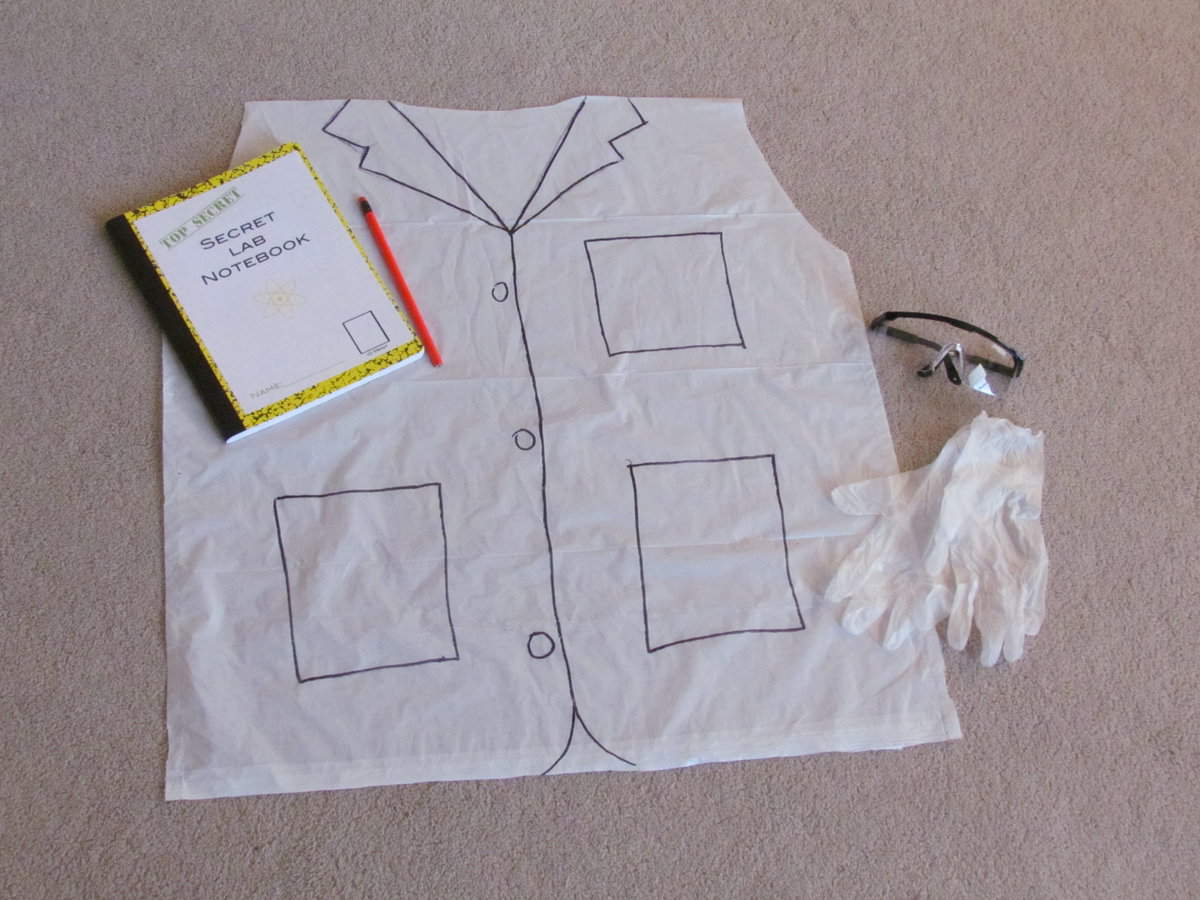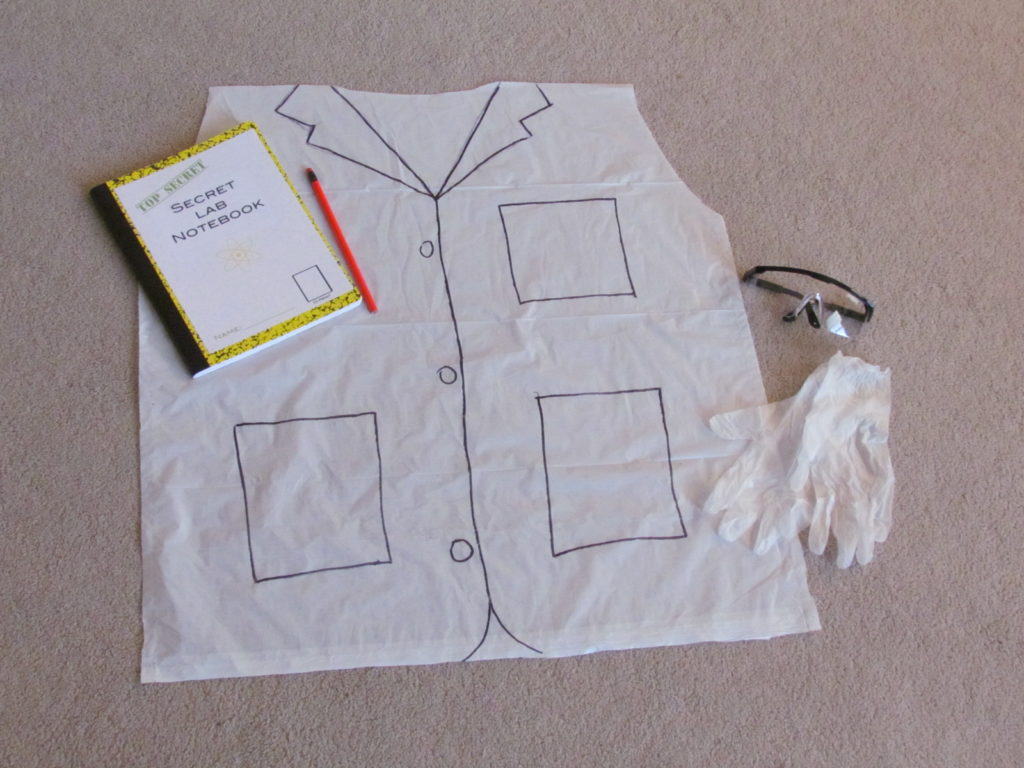 Move over junky candy and useless party bag toys! As children arrive, you will hand them their pre-made Scientist Kits with things they will actually use at the party. This doubles as the take-home gift (in addition to the slime they will make), so they can continue their scientific discoveries at home!
I had several parents tell me that their kids wore this cheap little costume all week after the party. And, all three of my kids still use their Secret Lab Notebooks and goggles from time to time.
HERE is a complete tutorial on putting together this easy Scientist Kit, including supplies, cost and how-tos.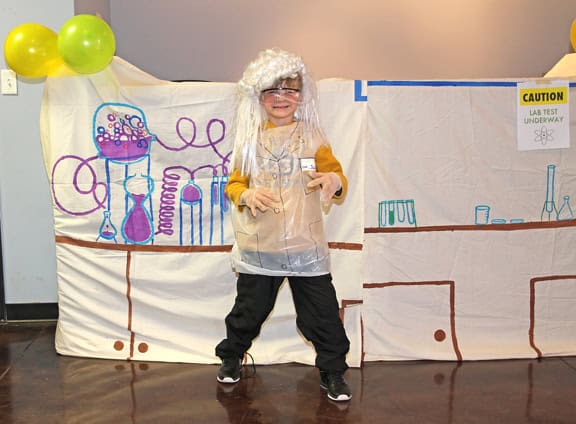 One of my favorite parts of the party was the photo booth. After the kids got their name tags and Scientist Kits, I sent them over to find more scientist gear (i.e. wigs) and get their photo taken in front of our simple set that looked like a Science Lab.
Stock a box full of wigs, a real lab coat, and any other funny props that would go with the science theme, so kids can dress up for their portrait shot. The photo booth pic makes for a great personal "thank you" email to families later.
Find out more details and see more pictures of the Lab Photo Booth HERE.
3) Easy, Cheap and Fun Science Experiments
For our party I did three experiments, which worked perfectly for my group of 17 kids ages 5-7. Seriously, they were awesome! (P.S. I don't recommend inviting that many young kids for a party like this, but we made it through with no injuries or emotional scarring!) You'll find all the explanations, supply lists, cost, and steps for the experiments at the links below.
If you want, dress up like a scientist yourself and have fun leading these! I sure did.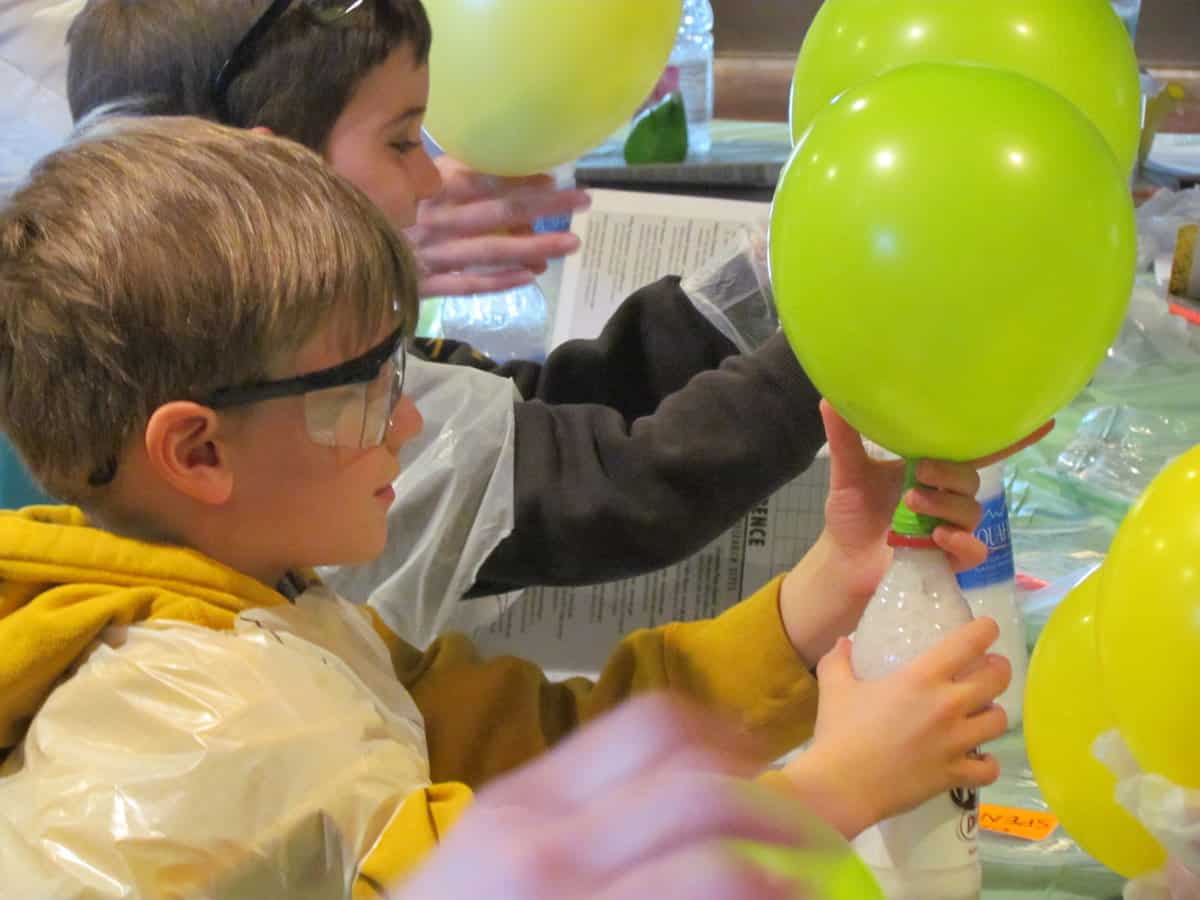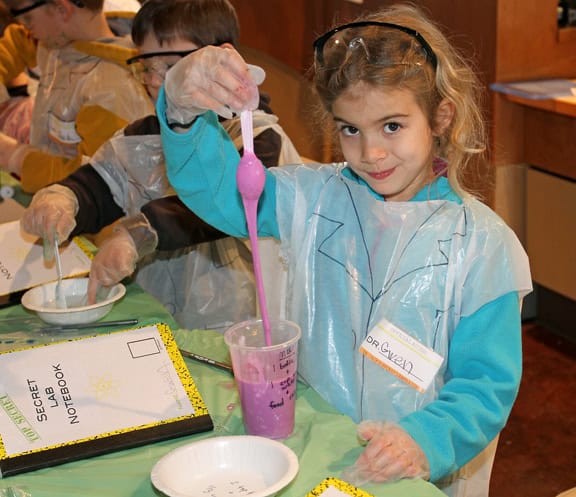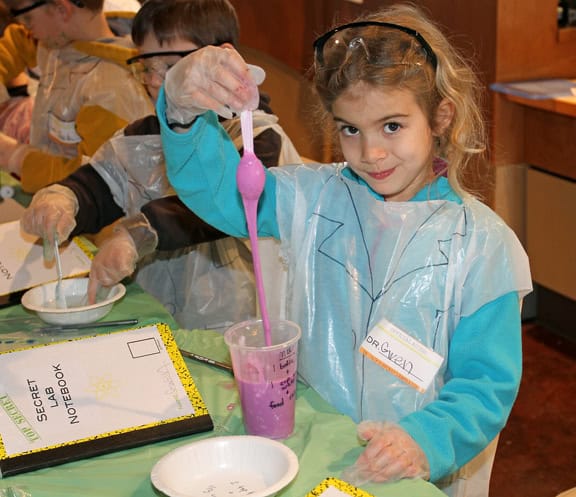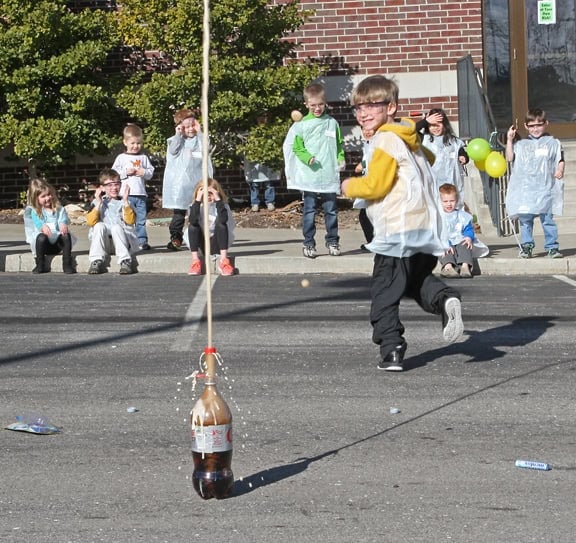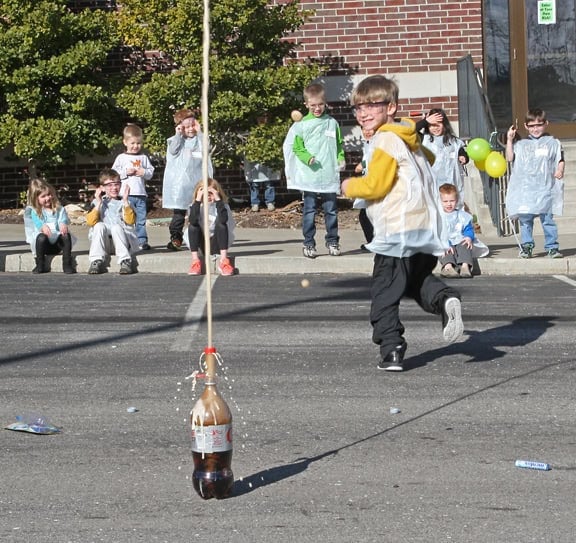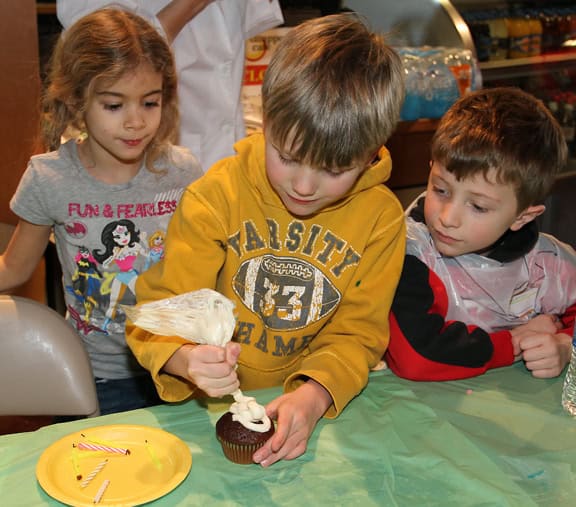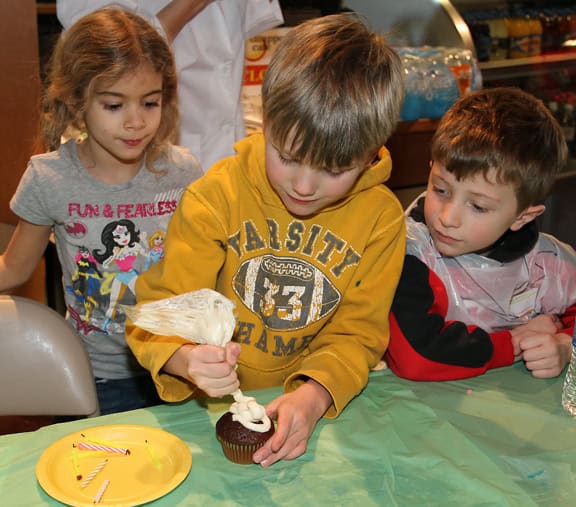 Like I mentioned above, I'm just not all that great at creating elaborate desserts, treats and decorations for birthday parties like so many Pinterest parties show. Wish I was! So I was thrilled when the kids were thrilled with the easiest birthday cake solution ever. Plus, it fit perfectly with our Science Birthday Party theme.
Read all about our Cupcake Concoctions HERE.
Cheap Science Party Signs, Name Tags & More
Last but not least, save more time and money with our easy and cheap decorations for the doors and walls of your party locale, plus official name tags and Secret Lab Notebook covers. Our Science Party Pack is only $4.99. Upon purchase, you will receive a download that includes these PDF files that you can print again and again:
Secret Lab Notebook front cover (8 1/2 x 11) – Learn more about how to use these HERE.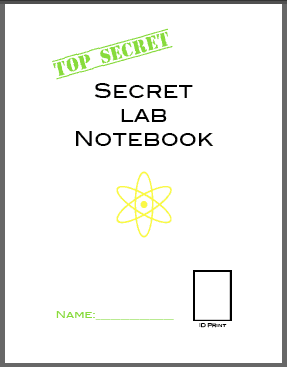 Official Access Name Tags – Use inside clip-on name badges like these, print on these Avery labels, or simply print on card stock and use safety pins to attach to shirts.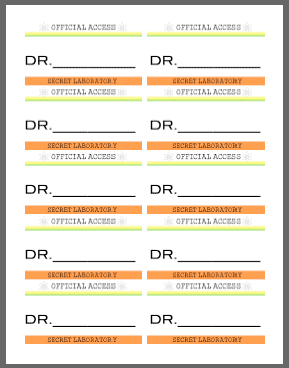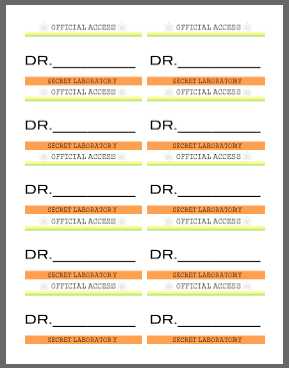 Science Laboratory sign (8 1/2 x 11)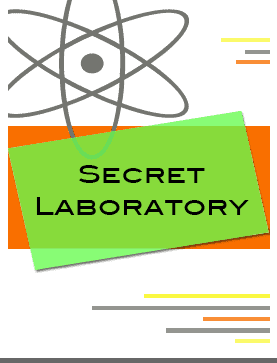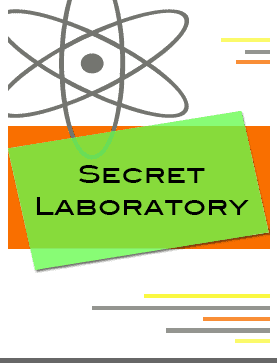 Atomic Waste sign (8 1/2 x 11)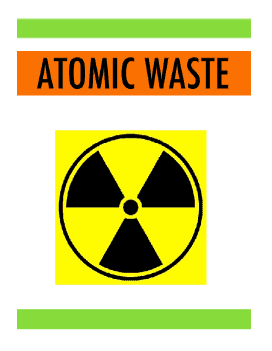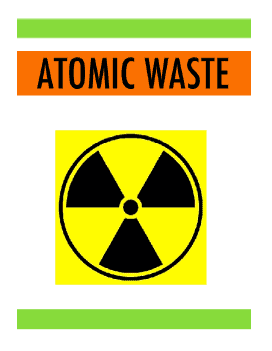 Biohazard sign (8 1/2 x 11)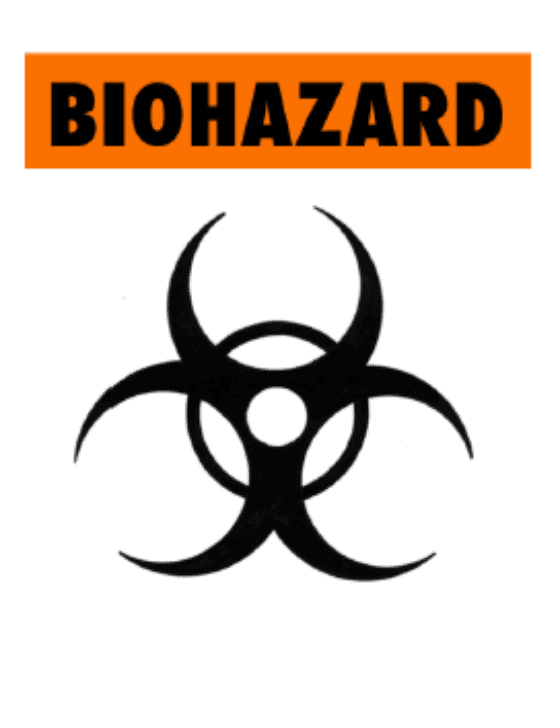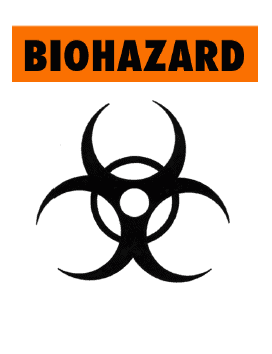 Enter at Your Own Risk sign (8 1/2 x 11)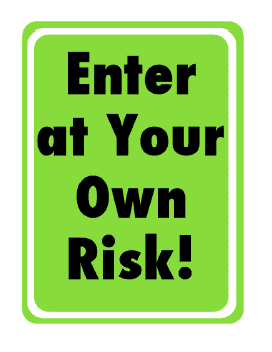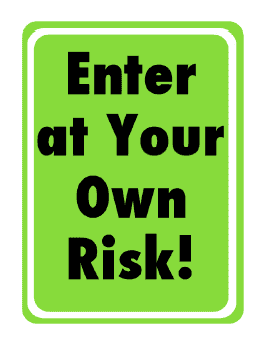 Caution: Lab Test Underway sign (8 1/2 x 11)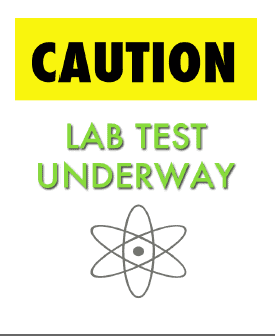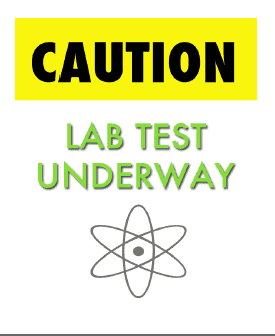 Print each of these as many times as you like so that you can cover your walls, tables, and doors with themed Science lab signs. What a deal!
Purchase our cheap Science Party Pack (only $4.99) now!