I stumbled on this snack bar recipe from How Sweet It Is a few days ago and knew I had to give these a shot. I had all the ingredients on hand so in the oven they went.
Oh. My. Goodness. I love these. They pack a lot of flavor and are REALLY filling. Especially when accompanied with a glass of milk (which you will need). What's crazy about these is that they don't have any oil or butter in the recipe but they sure taste like they do.
They make the house smell super yummy too. I guess it reved up my husband's appetite because he couldn't resist a little taste before I got my pictures.
I haven't done this yet but it would also be a good recipe to make up and freeze for later use or to give to a new mom. It's safe to say these were a Pinterest success and will be going into my recipe book.
Oatmeal Peanut Butter Snack Bar
Ingredients
1 cup whole wheat pastry flour
1 cup old fashioned oats
1 teaspoon baking soda
¼ teaspoon salt
½ cup brown sugar
¾ cups creamy peanut butter, like Skippy Natural
1 tablespoon vanilla extract
½ cup milk (I used vanilla almond milk)
⅓ cup mini chocolate chips
Instructions
1) Preheat oven to 350 degrees F
2) In the bowl of an electric mixer, add peanut butter and sugar and mix on high speed until fluffy, about 2-3 minutes. Add in vanilla extract and mix until combined.
3) Add in flour, oats, salt and baking soda, mixing on medium speed. The dough will look crumbly and you want the peanut butter mix to be broken up into clumps. Add milk with the mixer on low speed, and mix until a dough forms. Fold in chocolate chips.
4) Make sure dough is completely combined, and roll it into a ball with your hands. Place it in the middle of an 8×8 baking dish, pressing it to fit. Bake for 18-20 minutes, or until set and golden on top. Let cool completely, then cut into 9 squares.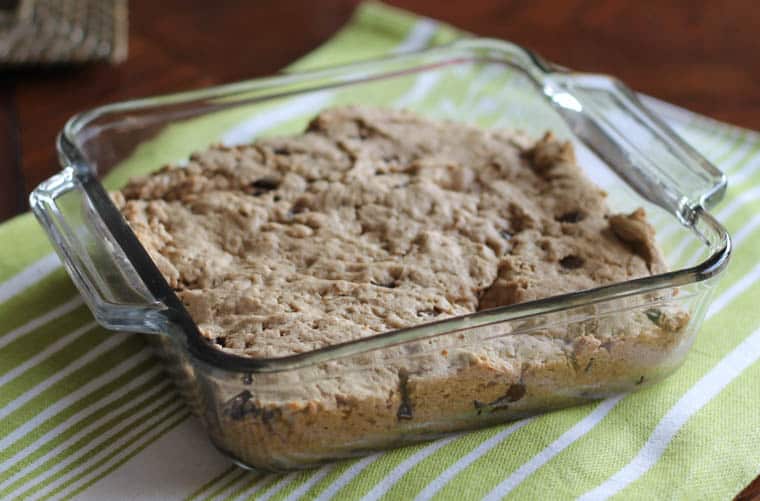 One last tip for you:
You can make the dough ahead of time and either refrigerate it or freeze it in a safe freezing dish like THIS ONE.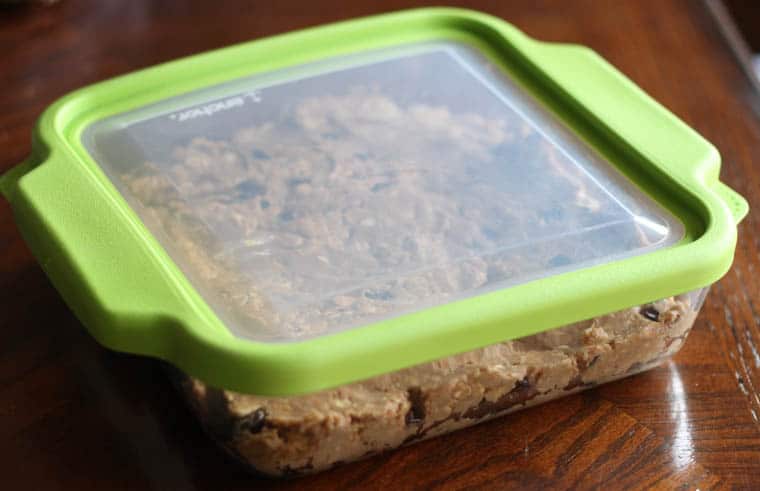 If you freeze it just let the dough thaw and bake according to instructions. I love this freezing dish because not only can I freeze in it but I can bake AND store food in it as well. Here is more on our recommended freezer containers if you're interested!
 Affiliate Disclosure:  Posts may contain affiliate links. If you purchase a product through an affiliate link, your costs will be the same but Thriving Home will receive a small commission. This helps cover some of the costs for this site. We appreciate your support!
You might also like...