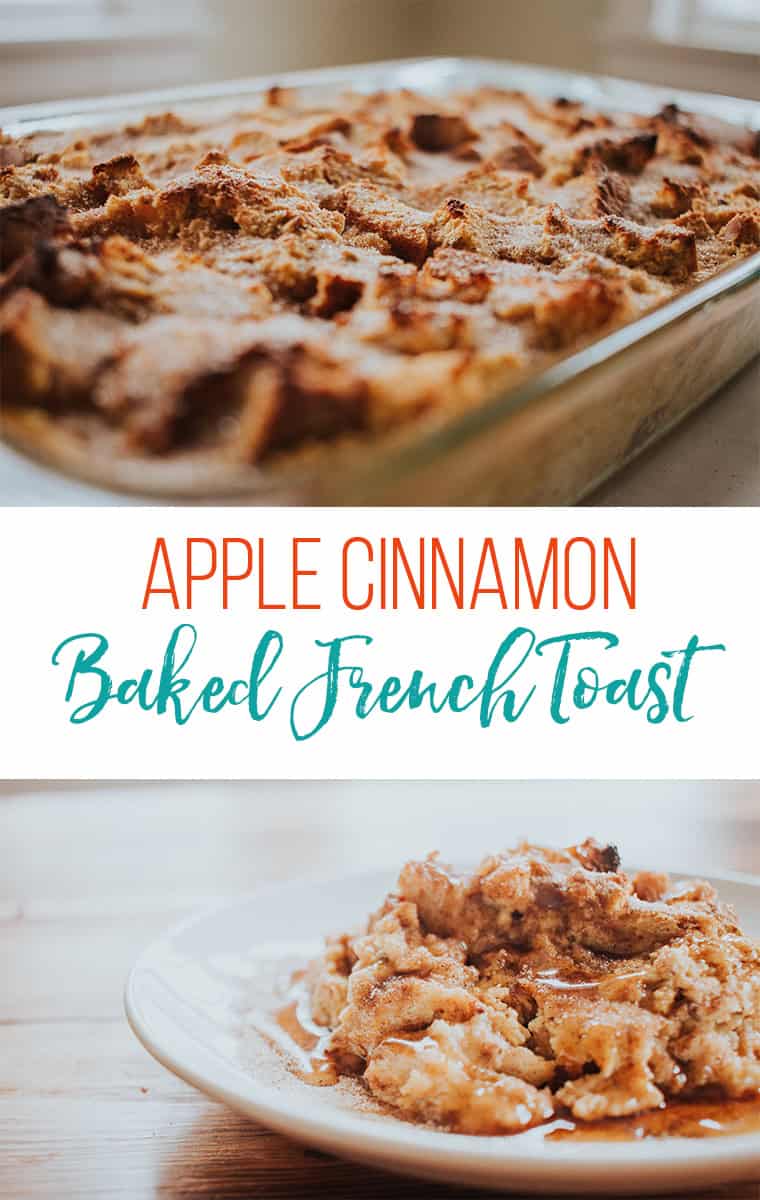 Ever wonder what to do with the heels of bread or crusts that your kids turn their noses up at? How about apples that are about to go bad?
You could make this recipe, if you have time to flip French Toast in a pan. Or…you could turn them into this delicious and healthy make-ahead Apple Cinnamon Baked French Toast that makes great leftovers. Did I mention this recipe only takes a few minutes to throw together the night before and you'll only dirty up your blender and a casserole dish? Apple Cinnamon Baked French Toast speaks my language!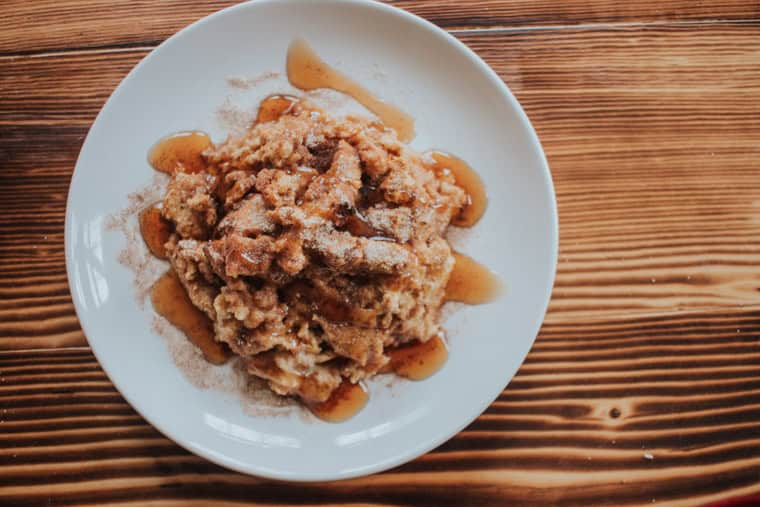 To make this healthy, I used a few tricks of my trade (like this one). I snuck in nutrition-packed real food pantry staples (almond meal, flaxseed, pumpkin puree, cinnamon) plus refrigerator staples (eggs and milk). To cut back on processed sugar, I used a little Stevia powder (an all-natural herbal sweetener sold as Truvia) and a little real maple syrup (look for Grade B, since it is the healthiest). These power-packed foods and tricks helped transform some old bread and apples into a cheap, real food breakfast casserole for the masses.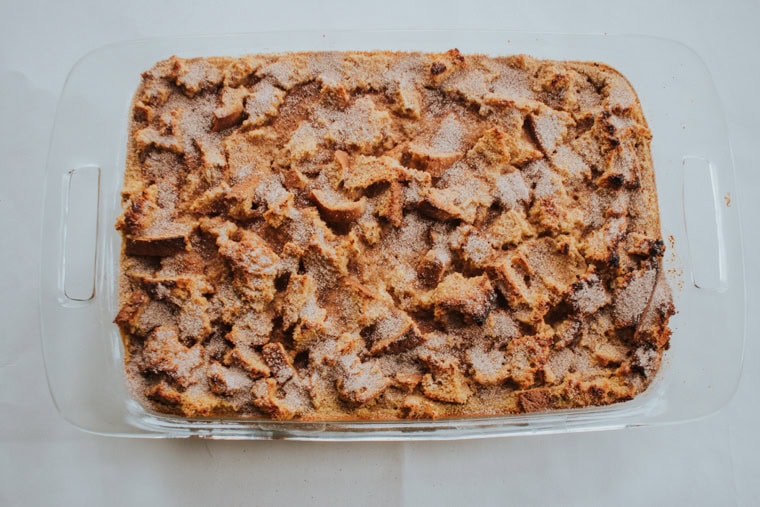 My kids came back again and again for more. It's a crowd-pleaser and a mom-pleaser because I know what's actually in it!
Print
Apple Cinnamon Baked French Toast
Author:

Prep Time:

10 mins

Cook Time:

35 mins

Total Time:

45 mins

Yield:

8-10
---
Description
How about a breakfast that only takes a few minutes to throw together the night before and only dirties up your blender and one casserole dish? Apple Cinnamon Baked French Toast speaks my language!
---
Ingredients
Enough whole grain bread, torn into pieces, to fill a 9×13 (about 10-12 pieces)
2 1/2 cups milk (I used almond milk)
2 packets dry Stevia (2 teaspoons) or 8 drops of liquid Stevia
1 1/2 teaspoons cinnamon
2 teaspoons real vanilla extract
8 organic eggs
1/4 cup real maple syrup
2 apples, cored and cut up
1/2 cup pumpkin puree (I usually double this and it's delicious.)
1/4 teaspoon sea salt
8 tablespoons organic butter or coconut oil, melted
1/4 cup almond meal or ground flaxseed
---
Instructions
Grease 9×13 pan or two 8×8 pans. Fill with bread pieces.
Put all other ingredients, except the almond meal/flax, in a high-power blender and blend until smooth.
Pour egg mixture over the top of the bread. Sprinkle the almond meal and/or flax on top for crunch.
Ideally, let sit in the refrigerator for 30 minutes or up to 24 hours, but it will work to bake immediately.
Bake at 375 degrees for about 35 minutes, or until the egg mixture is set and top is golden.
To serve, top with more butter and maple syrup or with yogurt and fruit.
---
Notes
Freezer Meal Instructions:
To Freeze:
Prepare french toast as directions state. Be sure to wrap it up tightly with plastic wrap and foil to avoid freezer burn. Store 1-2 months in freezer.
To Prepare:
When ready to eat, thaw in the fridge overnight. Bake at 375 degrees until warmed through and golden brown on top (about 35 minutes). It may take longer to bake if you don't thaw it completely. So keep an eye on the top. If it starts to get too brown, cover with foil until the casserole is heated through.