Caramelized Banana Oat Muffins
Updated: 11/13/20
This post may contain affiliate or sponsored links. Please read our disclosure policy.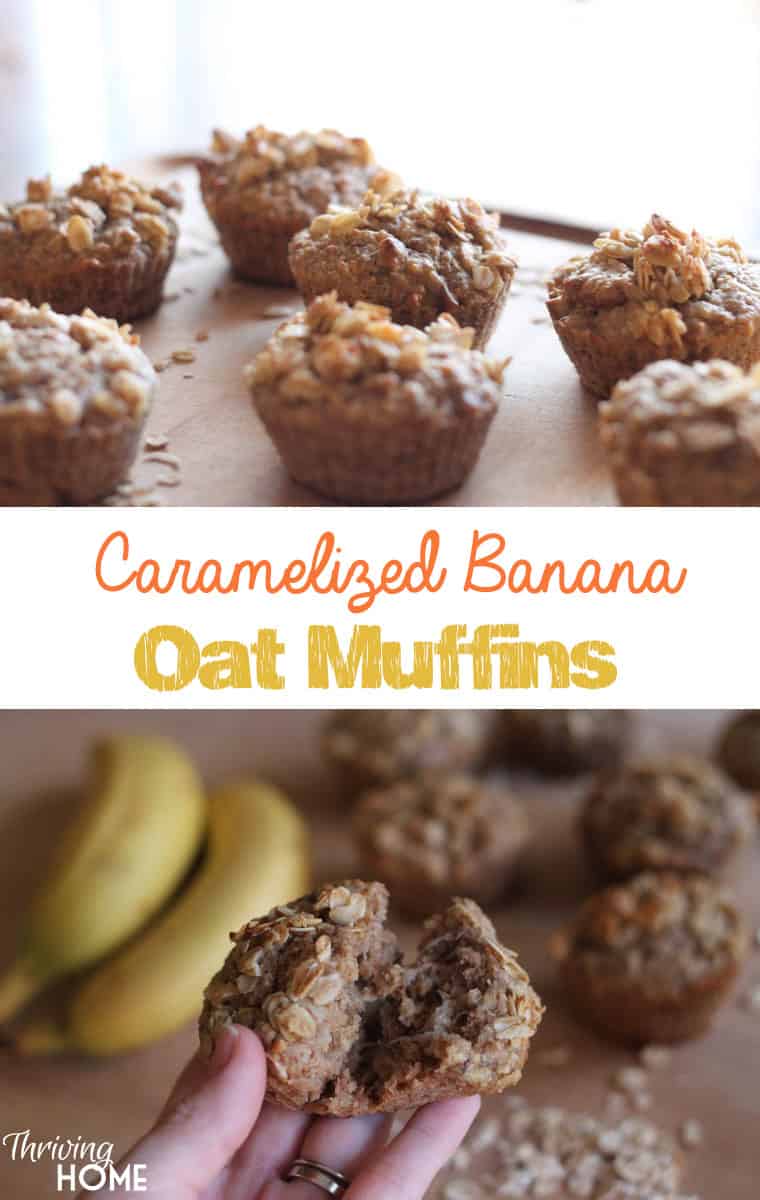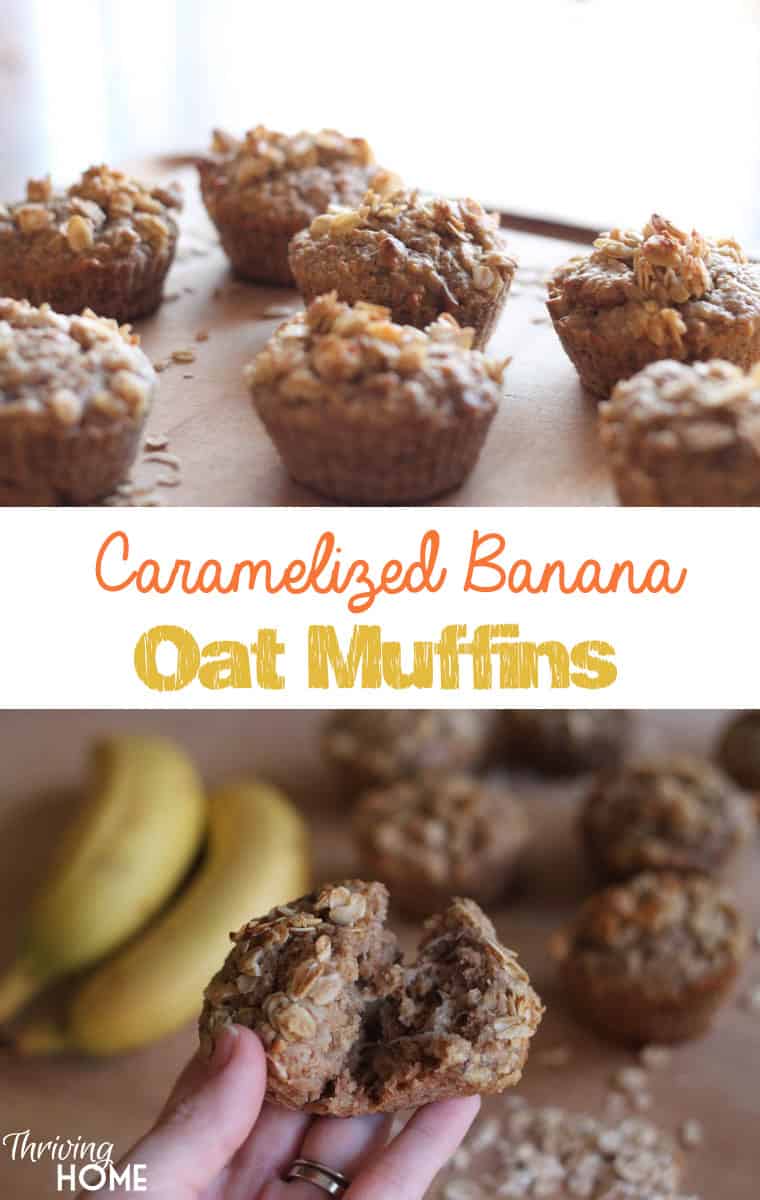 I love making muffins. Maybe it's because my figure somewhat represents one at the current time (i.e. 7.5 months pregnant) but for some reason I've been wanting muffins in the morning–and afternoon. OK maybe I had 2 for dinner the night as well. No regrets either. Call me a muffin snob but I want a recipe that will actually keep me full. I hate puttering out on energy at about 10am so I gravitate towards hearty recipes like our
zucchini flaxseed muffins
or
chocolate banana muffins
. I'm always on the hunt for new muffin recipes so when I saw this
caramelized banana oat muffin recipe
on Pinch of Yum, I pounced on it as quick as a two year old does when his toy is in the hands of another child. Or maybe just my two year old. I digress. I tweaked and subbed a few ingredients here and there and came out with a recipe that I for sure plan on making again. Here's how it all went down… (recipe at the bottom of the post). Rise and shine. Muffin making time. The first step to this recipe is to caramelize the bananas. As with most things in my life, my children wanted to be
right in the middle
of whatever I may be doing. So here we are–in all of our morning glory–me in my husbands shirt because I hardly have any that actually fit me (thank you baby bump).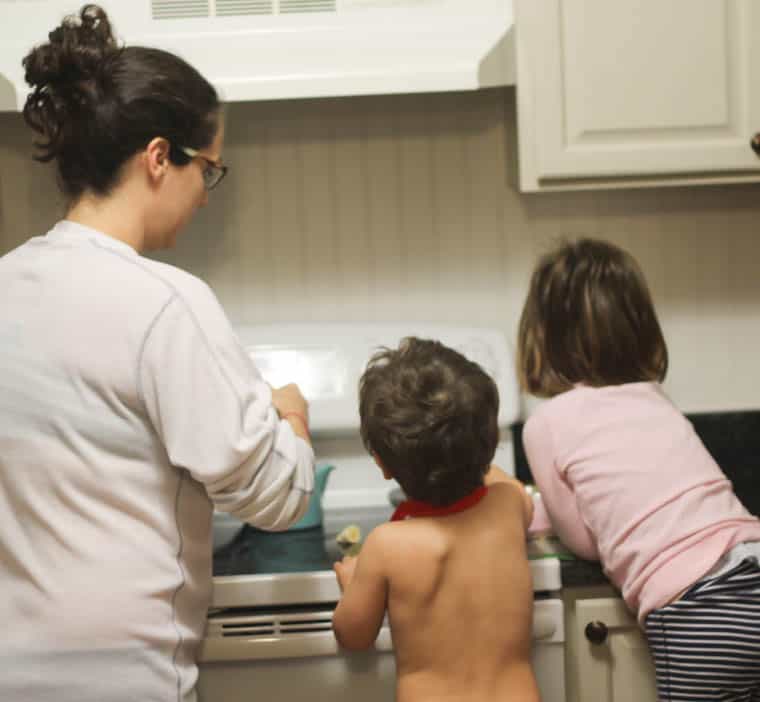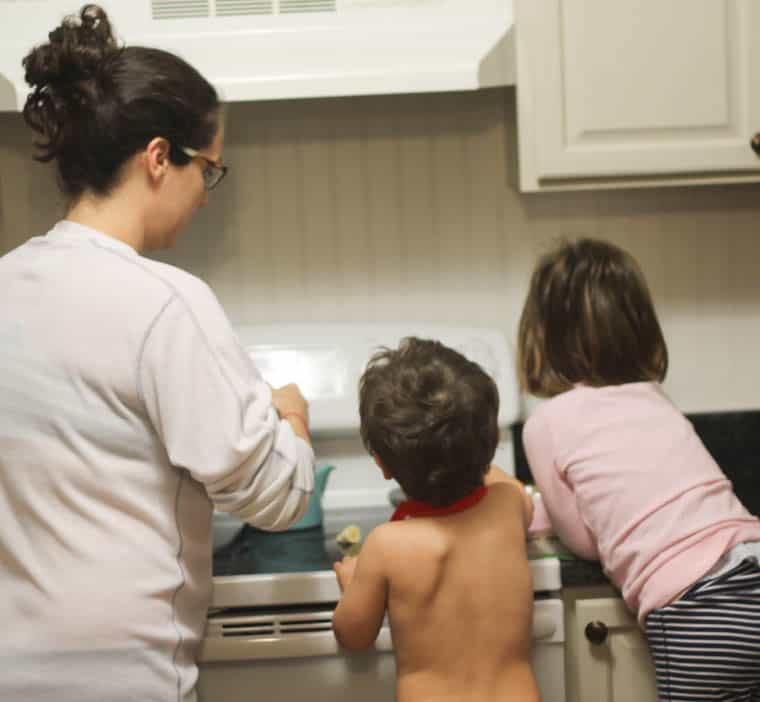 This actually turned out to be a great task for little hands. I sliced 4 bananas about 1/2 inch thick and my little helpers placed them on a foiled and greased
baking sheet
.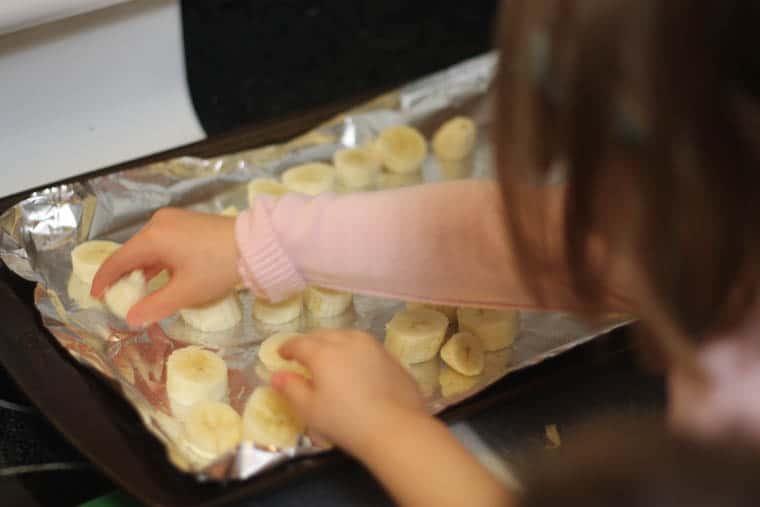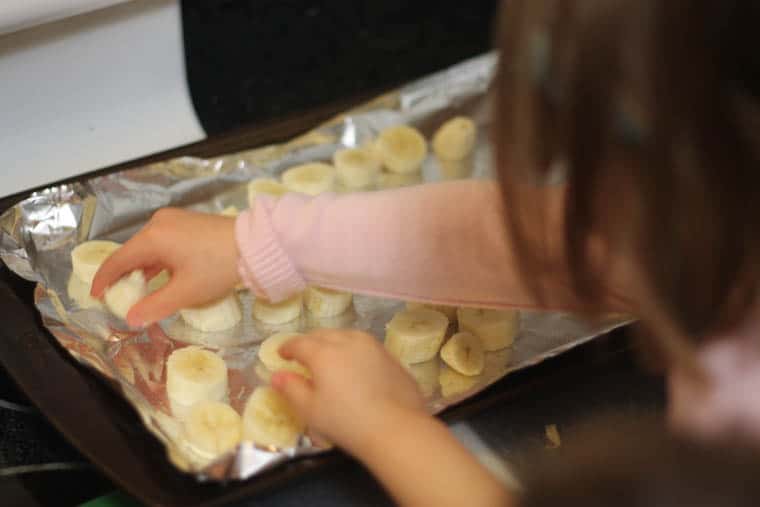 After baking them at 400 for about 15 minutes, they looked like this. I mean, gross right? Not quite the image of the beautifully caramelized bananas that I was envisioning. Regardless, I persevered through the recipe.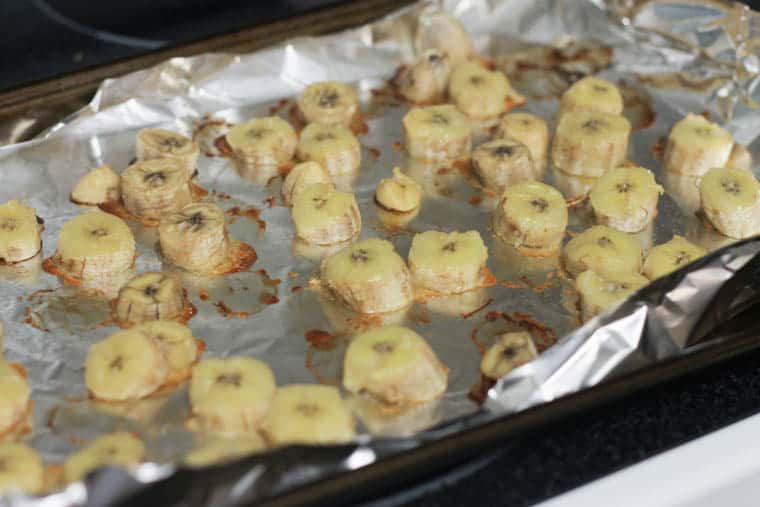 Next, it was time to make the oat flour. Don't be intimidated by this at all. Oat flour can simply be made in the food processor. I use the same technique for our
oatmeal pancakes
all of the time. Just dump them in and grind them up! It will end up yielding about 3/4 cup but that is totally fine. Don't add any more!


Now, in a large bowl mix together all of your dry ingredients minus the pecans (oat flour, whole wheat flour, flax seed, baking powder, salt, cinnamon, and nutmeg).
Then, you guessed it, in another bowl mix together all of your wet ingredients minus the bananas (half and half, yogurt, eggs, melted butter, maple syrup, vanilla).
Make a "well" in the middle of your dry ingredients and pour your wet ingredients into the well. Stir until they are
just
mixed together (probably about 15 times). Now fold in your mashed bananas and pecans. Stir just a few more times. Fill your muffin cups up about 3/4 full with this goodness. It's worth mentioning that I highly recommend using
silicone muffin cups
. I've hardly ever had problems with my muffins sticking to them and I find they are much easier to clean than a pan. Just sayin. Here is an iphone shot of mine before they went into the oven.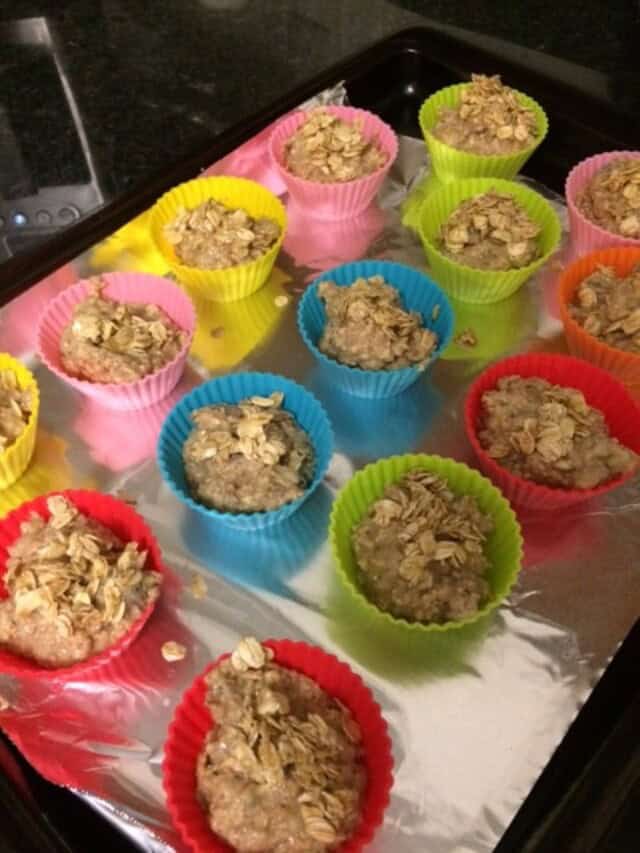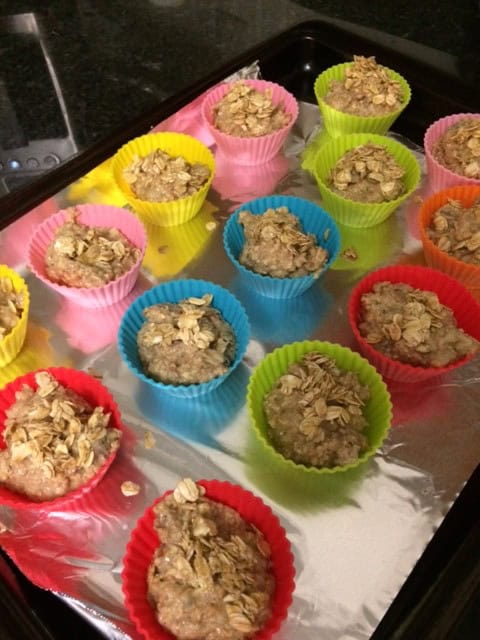 You can probably see that there is a topping sprinkled on top of the batter. I think this yummy topping is what makes this muffin extra special. It's super easy to whip up. Combine some oats, maple syrup and butter and you are in business.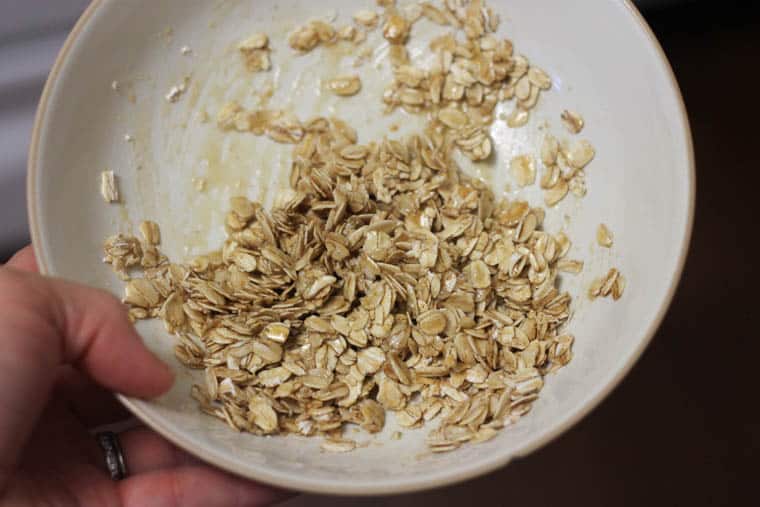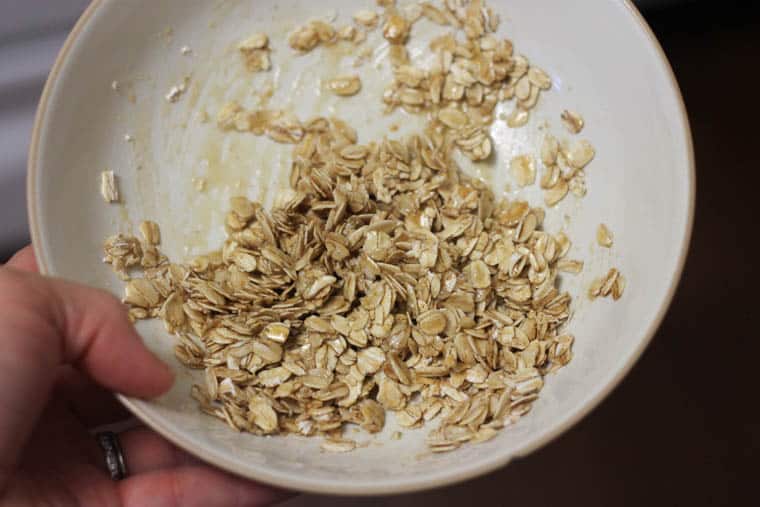 Time to bake! A 400 degree oven and about 15 minutes should do the trick. Just keep them in there until the tops start to brown and the muffins push back a bit when you gently touch the top. Let them cool a few minutes before removing them from the pan.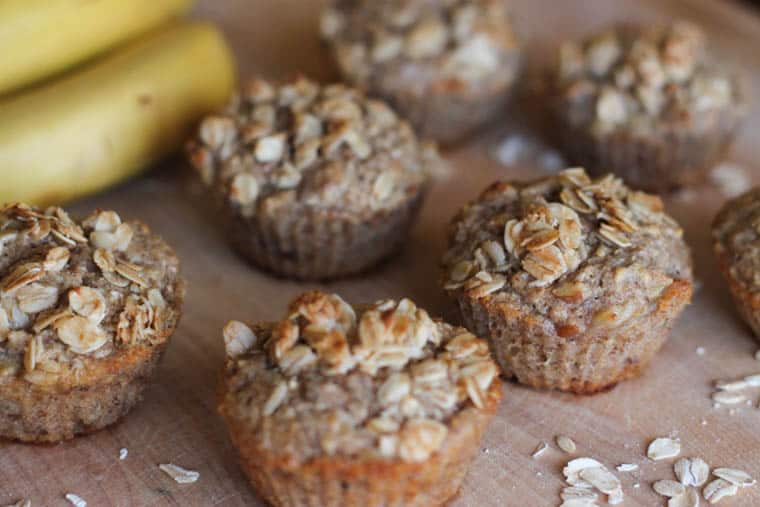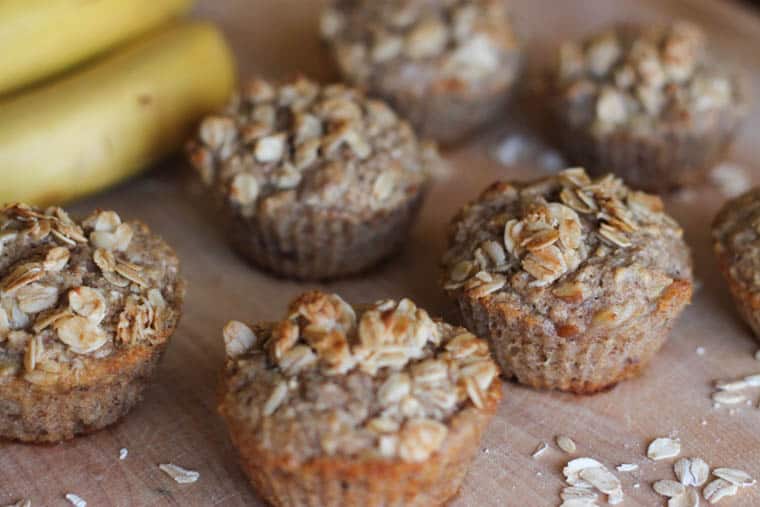 Then fend off your children as you attempt to take pictures of the final product. Oh wait, that's just me. #FoodBloggerProblems.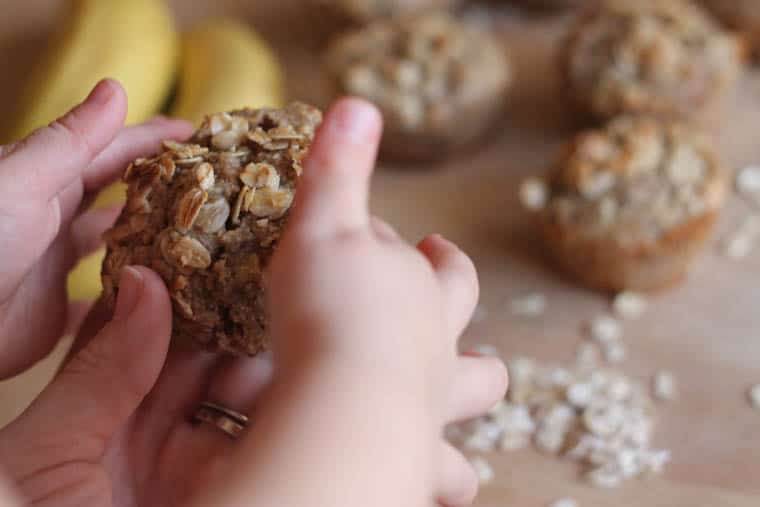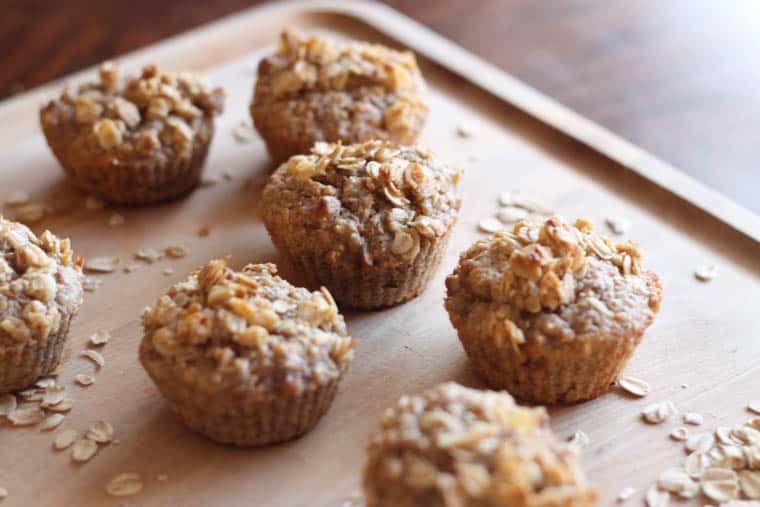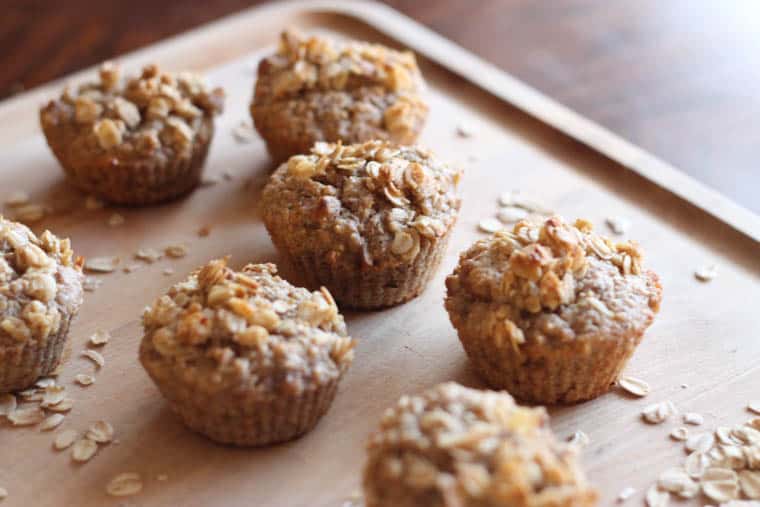 Make sure to check out
all of our other muffin recipes
we have in our recipe index. You shall not be disappointed in what you may find.
Happy muffin making!
Did you make this? Snap a photo and tag us on Instagram at @thrivinghome so we can see your creations and cheer you on!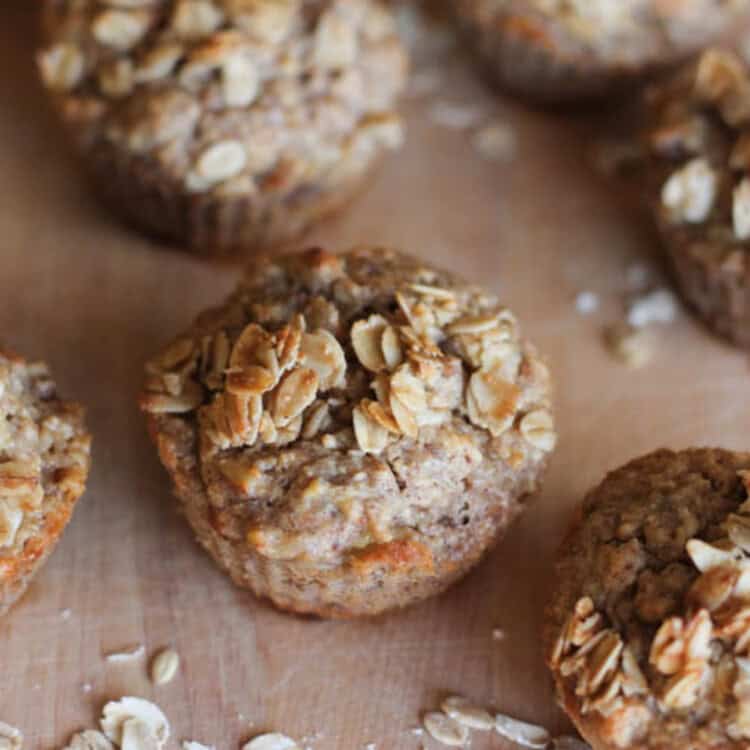 Caramelized Banana Oat Muffins
A delicious twist on the typical banana muffin recipe. These muffins have just the right balance of sweetness, heartiness and nutrition for a delicious, healthy breakfast. Freezer friendly too!
Prep:
20 minutes
Cook:
15 minutes
Total:
35 minutes
Ingredients
4

bananas, peeled and sliced (NOT overly ripe)

1 cup

oats, pulsed through a food processor until coarse flour forms

¼ cup

whole wheat flour

2 tablespoons

ground flax seed (can sub wheat flour)

2 teaspoons

baking powder

½ teaspoon

salt

¼ teaspoon

cinnamon

⅛ teaspoon

nutmeg

½ cup

half and half

¼ cup

Greek yogurt

2

eggs

5 tablespoons

melted butter

2

–

3

tablespoons raw honey or real maple syrup

1 teaspoon

vanilla extract

1/2 cup

chopped pecans or walnuts
For The Topping

⅓ cup

oats

1 tablespoon

melted butter

1 tablespoon

raw honey or real maple syrup
Before You Begin! If you make this, please leave a review and rating letting us know how you liked this recipe! This helps our business thrive & continue providing free recipes.
Preheat the oven to 400 degrees.
Slice the bananas into rounds about 1/2 inch thick.
After lining a baking sheet with aluminum foil, spray generously with nonstick cooking spray and place the bananas on the baking sheet.
Bake bananas for about 10-15 minutes, flipping once and removing from the oven when the bananas are deep golden brown on the outside.
Transfer bananas to a bowl and give them a good smash.
Break down the oats in a food processor until a flour-like meal is formed. (This took about 45 seconds for me.)
Combine all the dry ingredients (oat flour, whole wheat flour, flax seed, baking powder, salt, cinnamon, and nutmeg) in a large bowl. Stir to combine.
In a separate bowl, whisk the half and half, yogurt, eggs, melted butter, vanilla, and honey until smooth.
Make a well in the dry ingredients and add the wet to the dry.
Stir around the bowl until the batter is just barely combined (if you stir too much during this step, your muffins are going to have a gummy, chewy consistency).
Fold the caramelized bananas and pecans into the mixture, stirring just a few more times.
Transfer the batter to muffin cups. If you're using a pan, make sure to grease it well.
Mix the topping ingredients together and spoon over the muffins.
Bake for 13-15 minutes, until the muffins are puffed slightly and spring back when you touch the tops.
---
Notes/Tips
Freezer Meal Instructions:
To Freeze:
Bake muffins as directed in recipe. Let cool completely. Once cool, place in freezer safe bag or container for up to 3 months.
To Prepare:
Remove desired number of muffins from freezer. Let thaw in refrigerator overnight or warm slightly in the microwave.