Creamy Chicken and Wild Rice Soup
This post may contain affiliate or sponsored links. Please read our disclosure policy.
This Chicken and Wild Rice Soup recipe is a family favorite! It's creamy, comforting, and delicious. We'll walk you through each cooking step and ensure you end up with a crowd-pleaser soup that freezes well, too.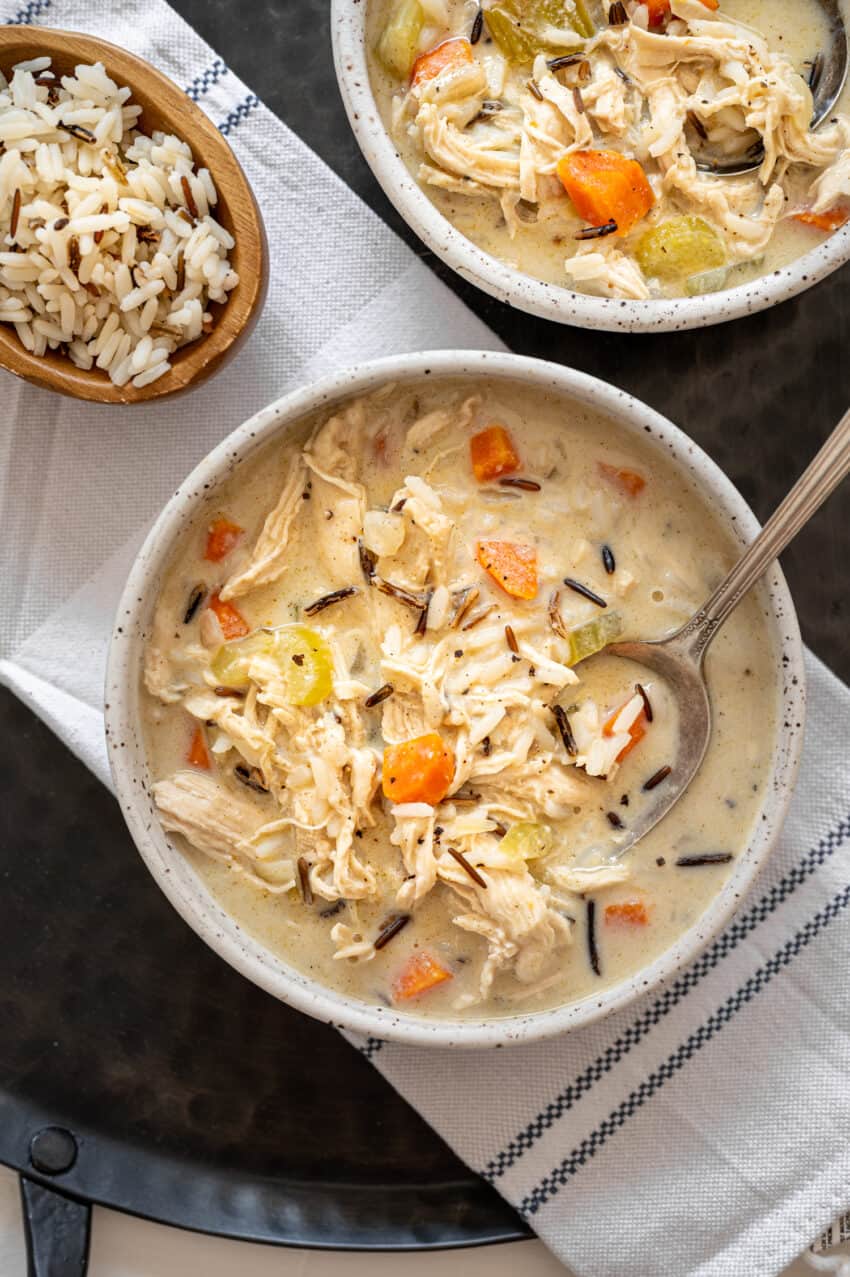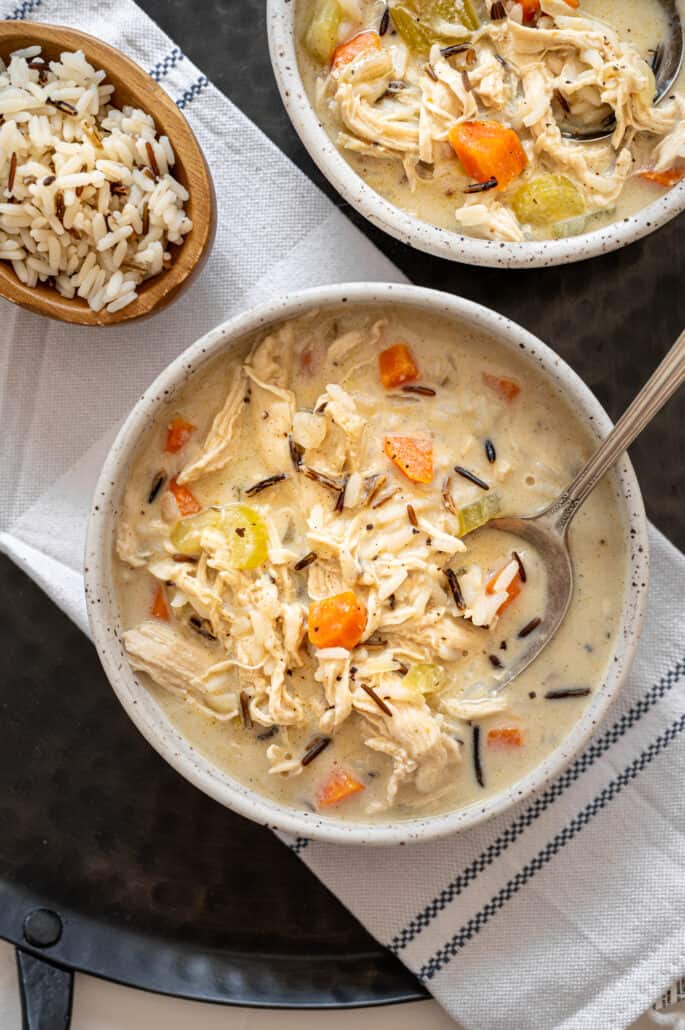 About This Recipe
Confession time. As I was getting ready to clean my stock pot after making this soup recently, I shamelessly used my hands to scrape, swipe, and lick every last bit of creamy goodness from the bottom.
Don't judge me until you try it. I think you'll understand. Keep this recipe close for football weekends, when company comes, or just to enjoy on a cold winter night while watching your favorite movie.
Cooking Tip: Mise En Place
Cooking is more enjoyable and effecient when you're prepared! So be sure to get organized ahead of time–also known as mise en place by the French.
Read through the recipe.
Set out your equipment and ingredients.
Prep any ingredients ahead that are required–like chopping veggies and cooking the rice.
As with most of our recipes, we aim to cook with real, whole food ingredients. Here's what you'll need on hand…
Butter – Ok, there's a good amount of butter in this soup, which makes for total yumminess. However, you can substitute olive or avocado oil for the butter when sautéing the vegetables.
Veggies: Includes onion, celery, carrots, and garlic. Consider the veggies a way to balance out all that butter. 🙂
Salt & pepper
Chicken broth – Store-bought or homemade chicken broth works.
Poultry seasoning
Chicken breasts – Here's where we get our poultry. Chicken thighs also work.
Whole wheat flour – We prefer white whole wheat flour for extra nutrition, but you can also use all-purpose flour or gluten-free 1:1 flour.
Whole milk – I've tested this using plain almond milk. It works but is definitely thinner and not as rich tasting.
Cooked wild rice blend – See my brand recommendation below.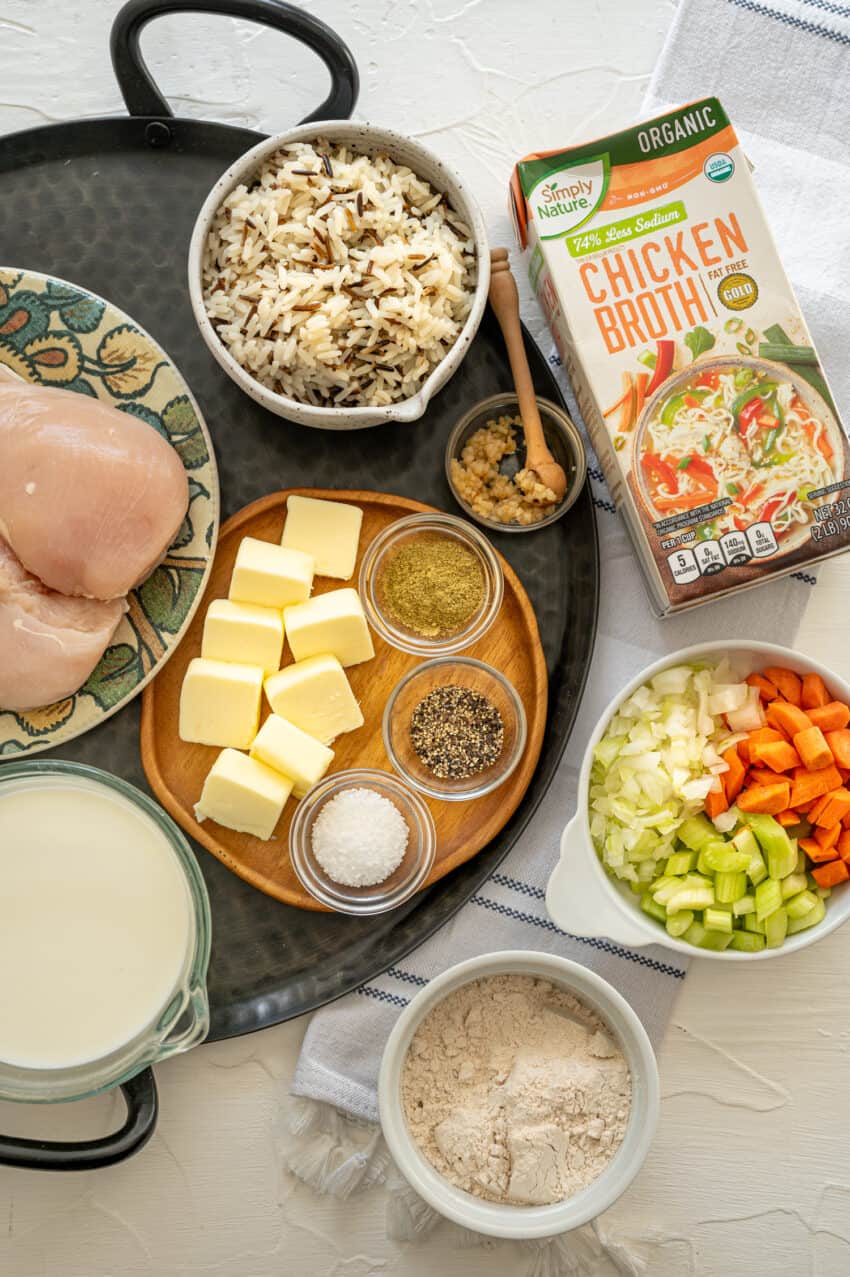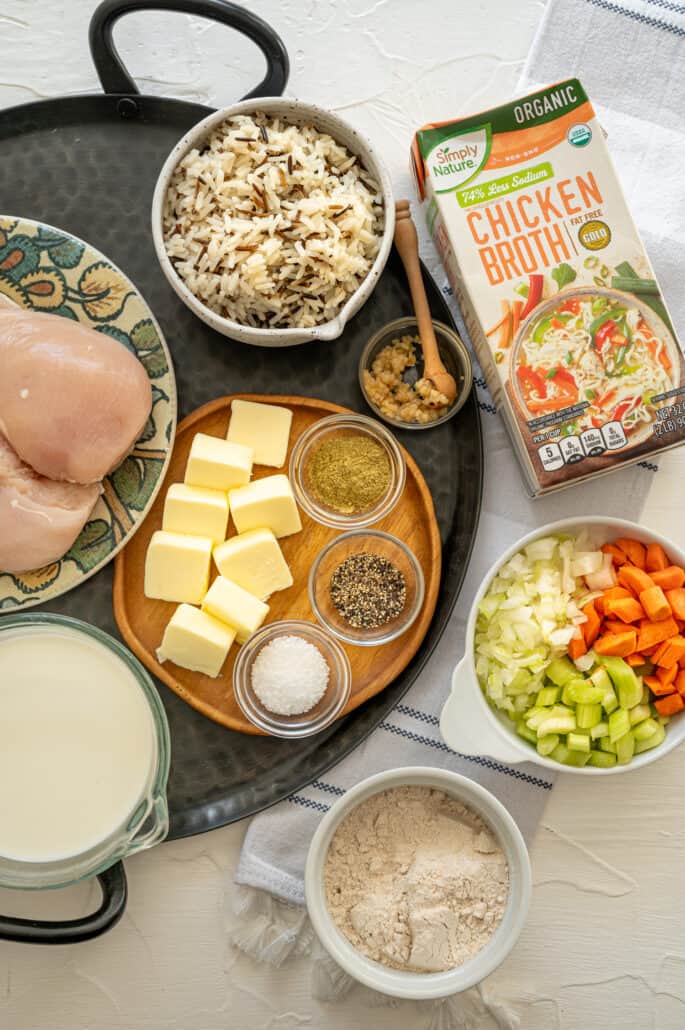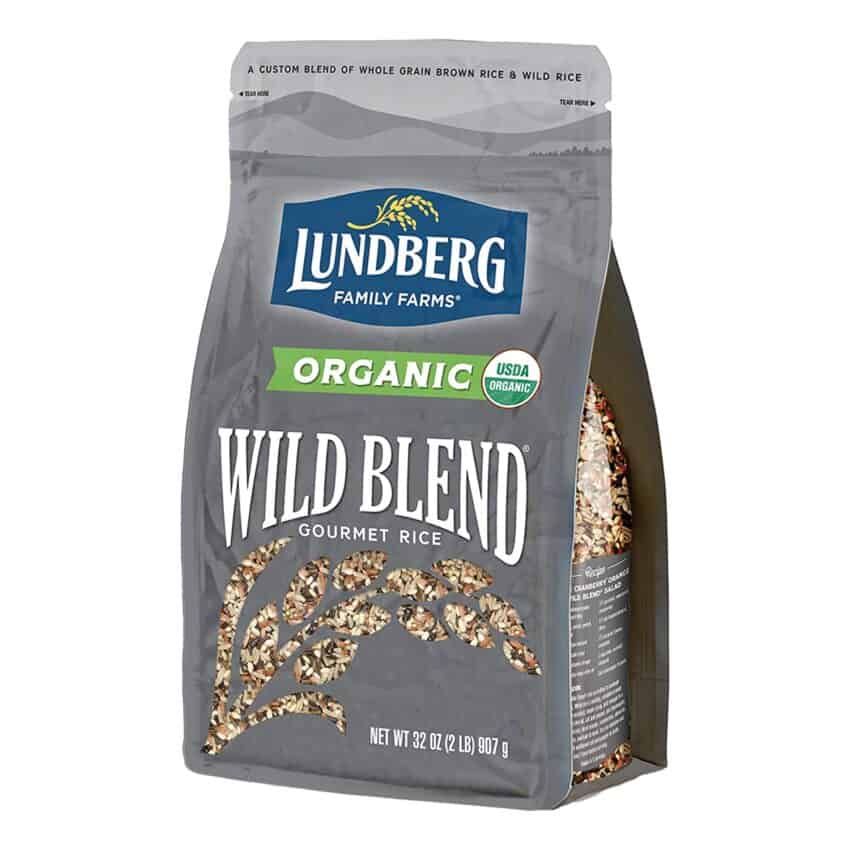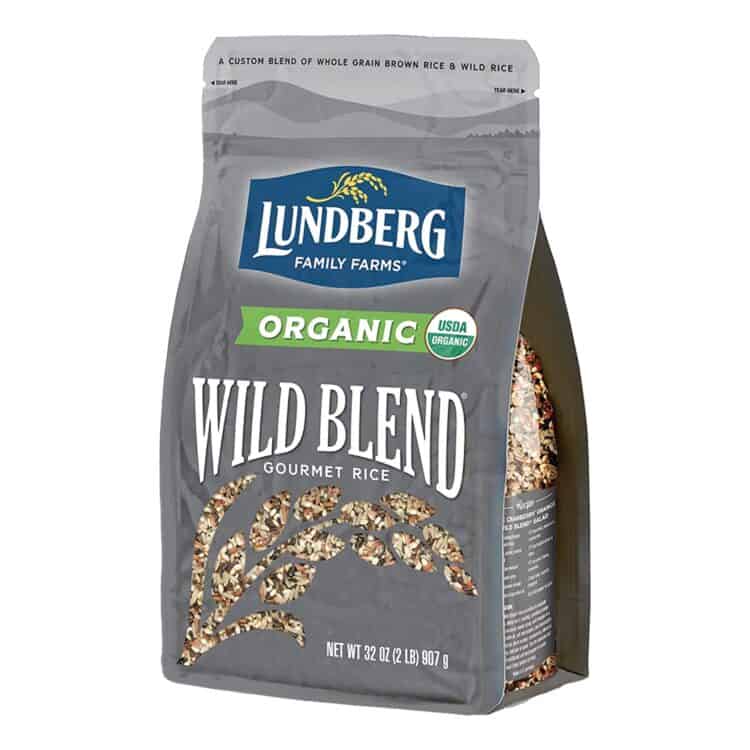 What Brand of Wild Rice Blend Should I Buy?
I highly recommend Lundberg Organic Wild Rice, as it's grown in California and is a brand that actively cares about avoiding dangerous arsenic levels in their rice. (Read more about how rice–especially when it's grown outside California, Pakistan, and India–is contaminated by arsenic here.)
Buy Lundberg Wild Blend Rice
Here's the kitchen equipment you'll need and what it's used for:
Sauce Pan – Use a 2-3 quart saucepan to make the wild rice in. The rice usually takes an hour from start to finish, so get this started first or make it ahead of time and store in the fridge (or did you know you can freeze rice?). Use this same pan later to make the butter/flour/milk mixture (aka: basic béchamel sauce) that will thicken the soup at the end.
Large wooden cutting board – A staple in my kitchen. Start by chopping all your veggies and having them ready to go on this board. You'll also use it later to shred the chicken.
Chef's knife – Be sure to sharpen it ahead of time. I use this cheap knife sharpener.
Bench Scrap – Also known as a food mover. I LOVE this little tool for moving chopped veggies or shredded chicken from the cutting board to the soup, but it's totally optional.
Stock Pot or Dutch Oven – 5.5 quart or bigger for the soup. If you're making a double batch (which you should!), grab an even bigger one. I use my 11 quart stock pot all the time for making big batches.
Whisk – To whisk the white sauce.
Wooden spoon – To stir the soup.
Tongs – To remove the chicken from the soup.
2 Forks – To fluff the rice and to shred the chicken.
Measuring cups and measuring spoons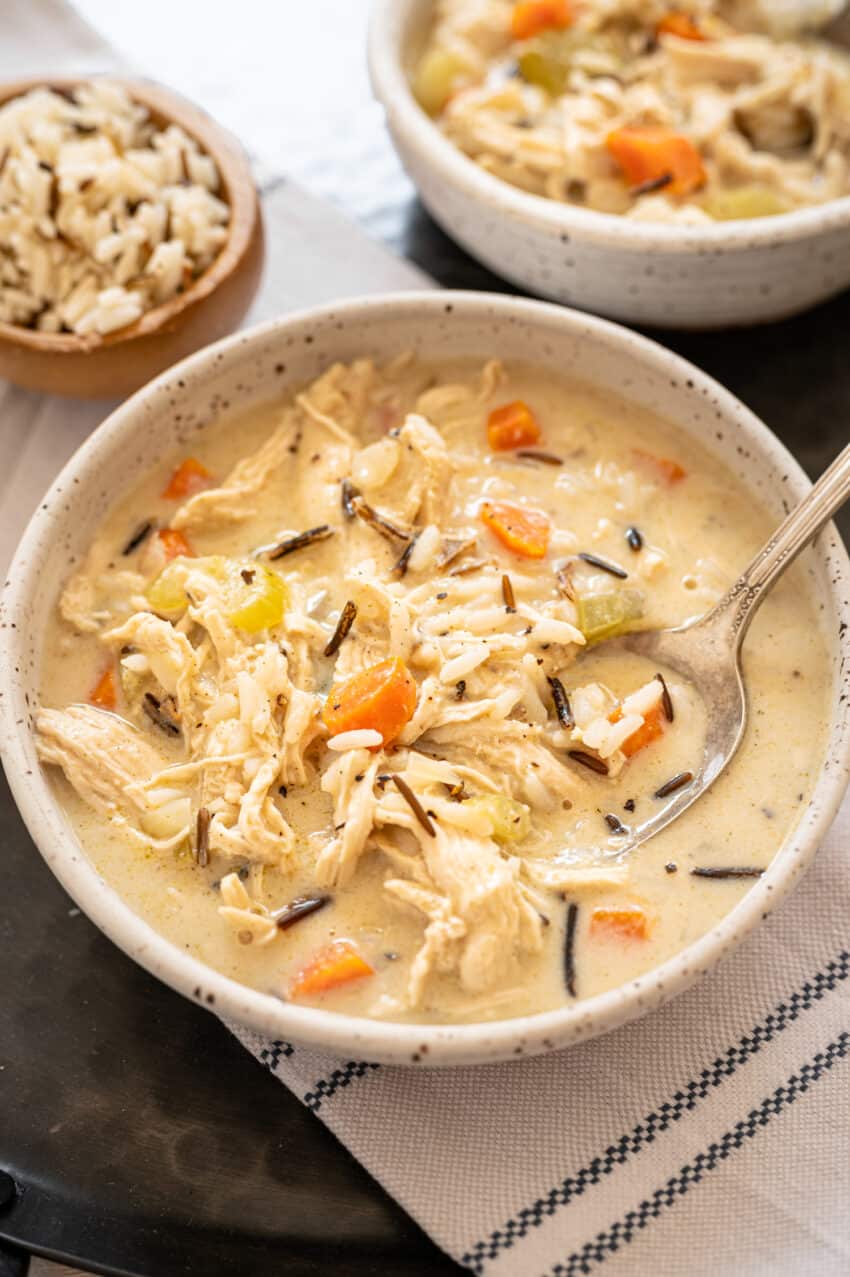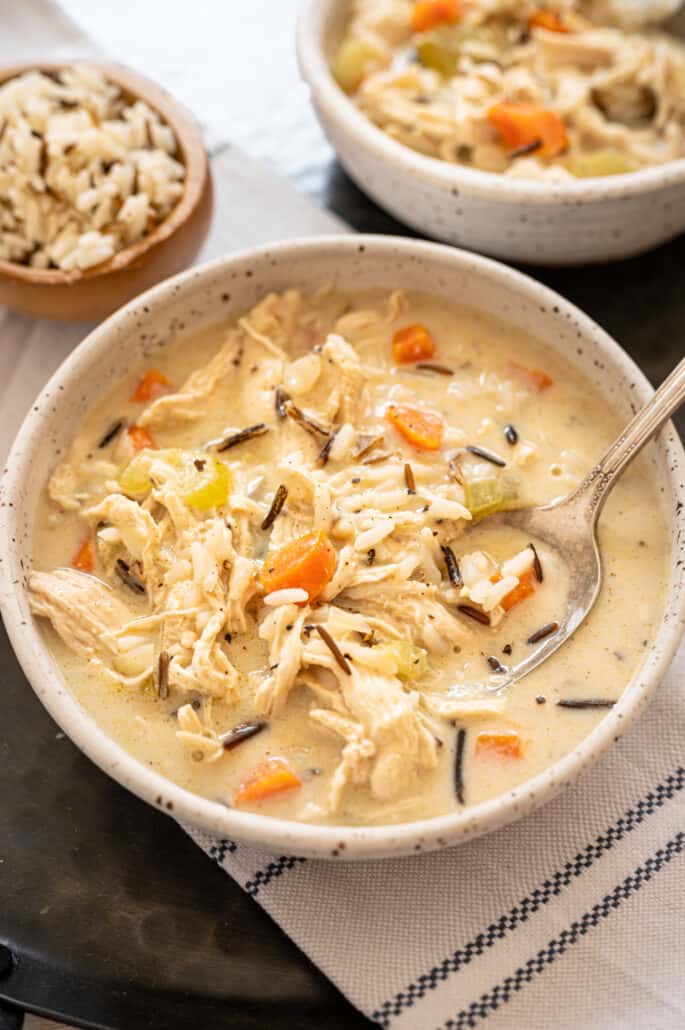 How to Make Chicken and Wild Rice Soup
Now that you know how to prepare, let's walk through how this soup will come together. The recipe below has more specific details.
In a large Dutch oven or pot, melt butter over medium-high heat. Add the onion, celery, carrots, salt, and pepper. Cook, stirring frequently, just until the vegetables are tender. Add the garlic for the last 30 to 60 seconds.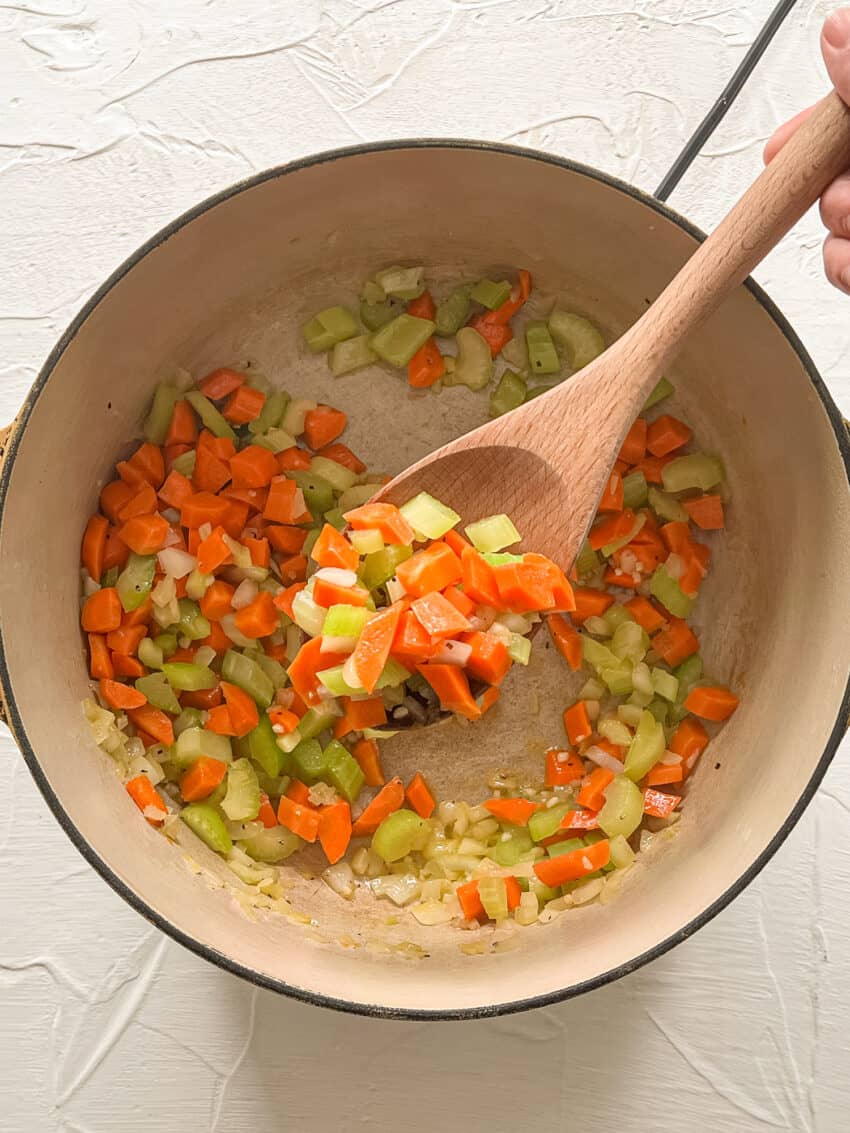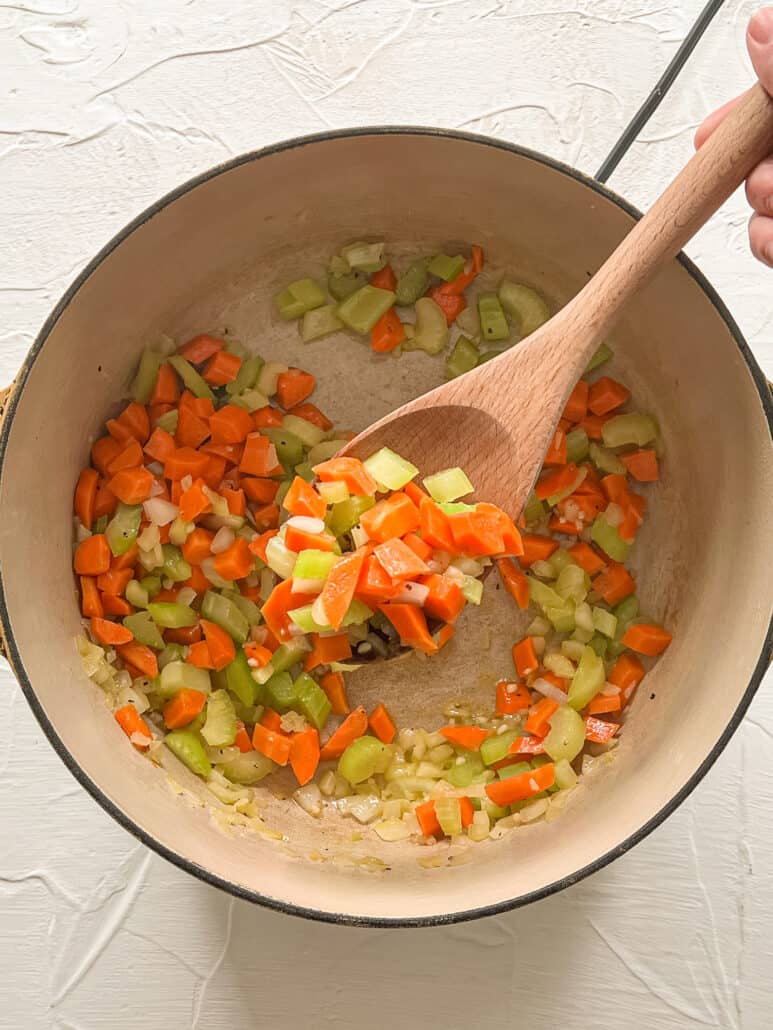 Add the Broth and Chicken
Stir in the broth, poultry seasoning, more salt & pepper, and the chicken breasts.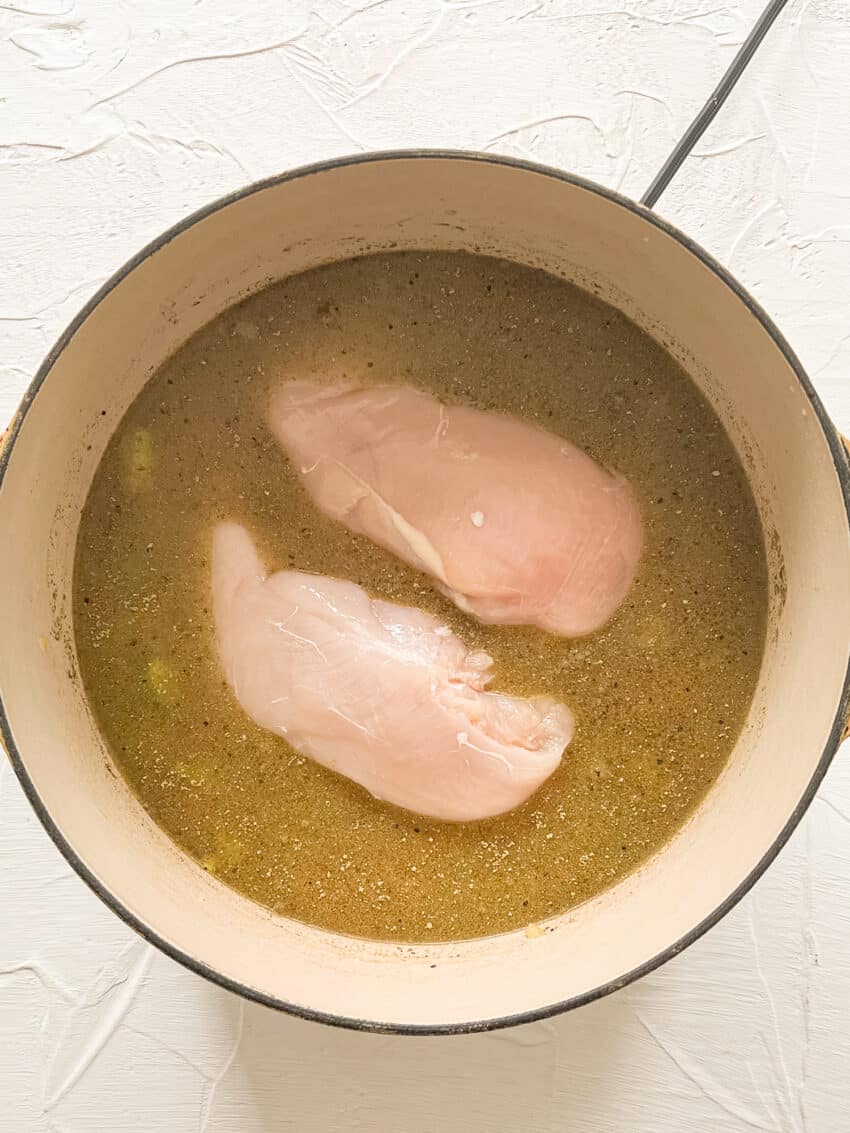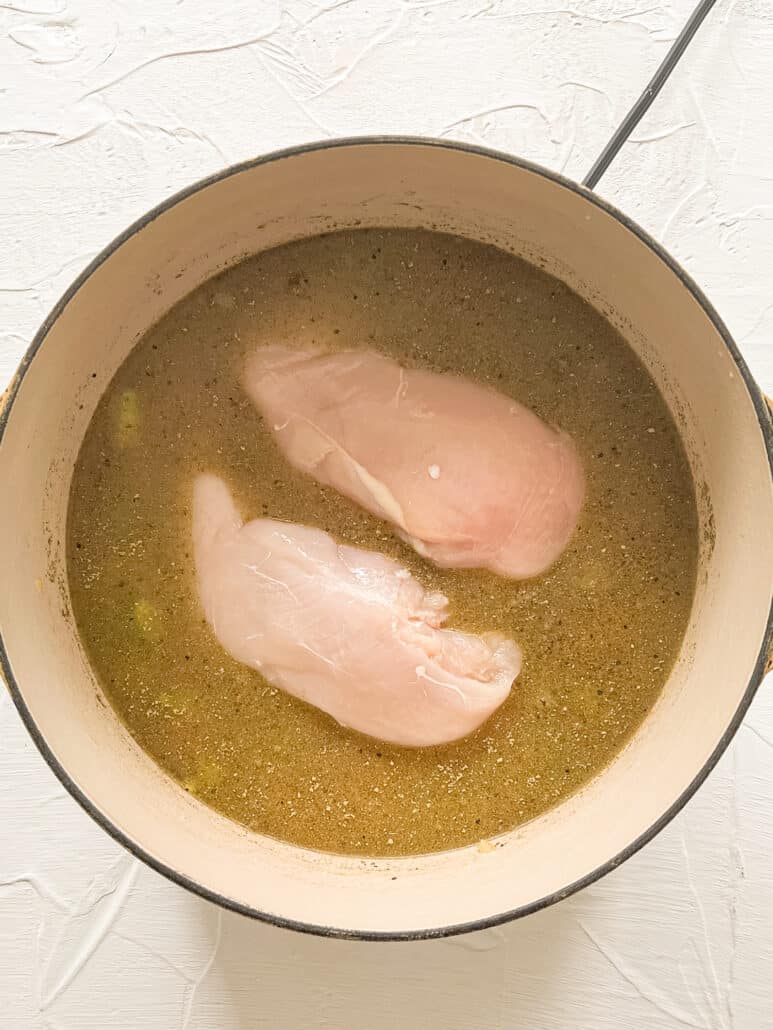 Bring to a boil and then reduce heat to a simmer. Simmer until chicken is fully cooked. (Stir the chicken breasts around occasionally for even cooking.) Remove and set aside the chicken to a cutting board and let rest.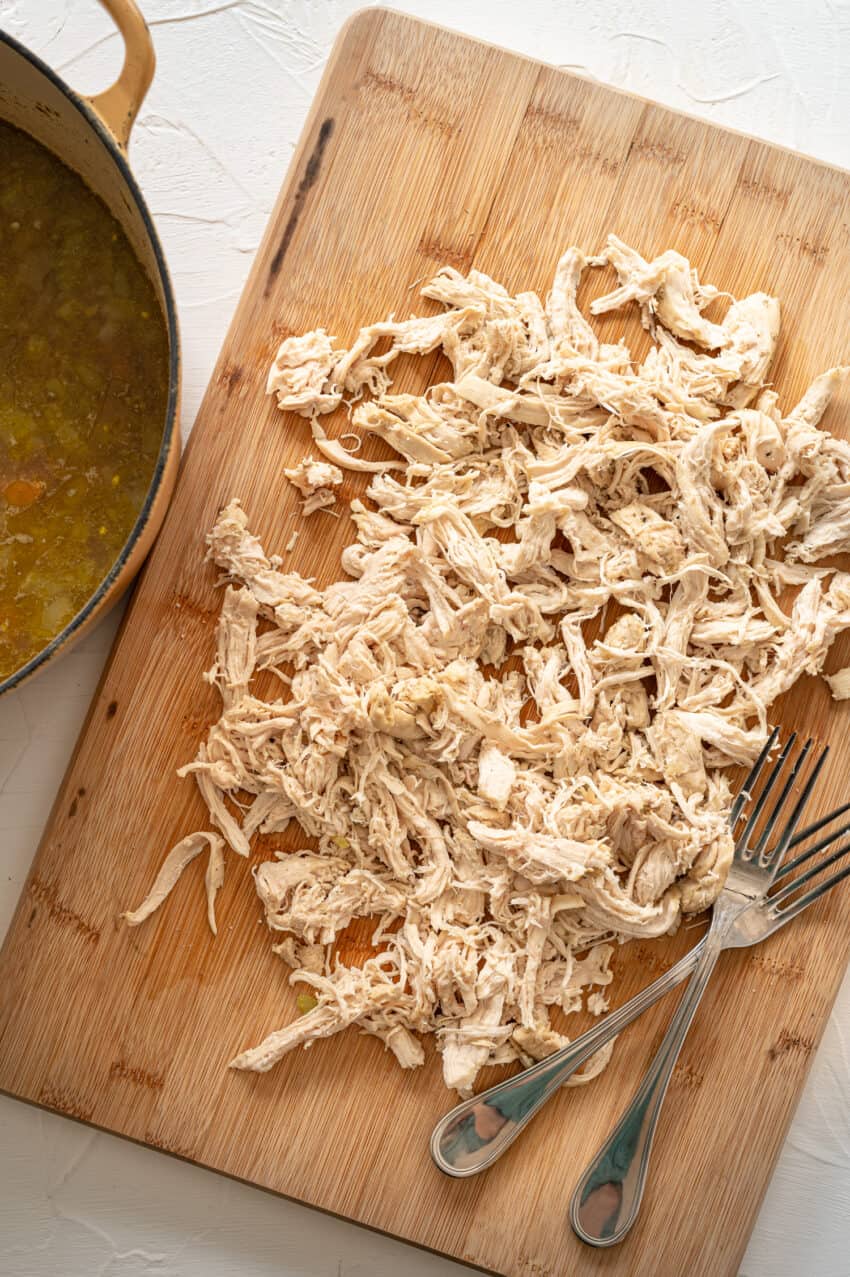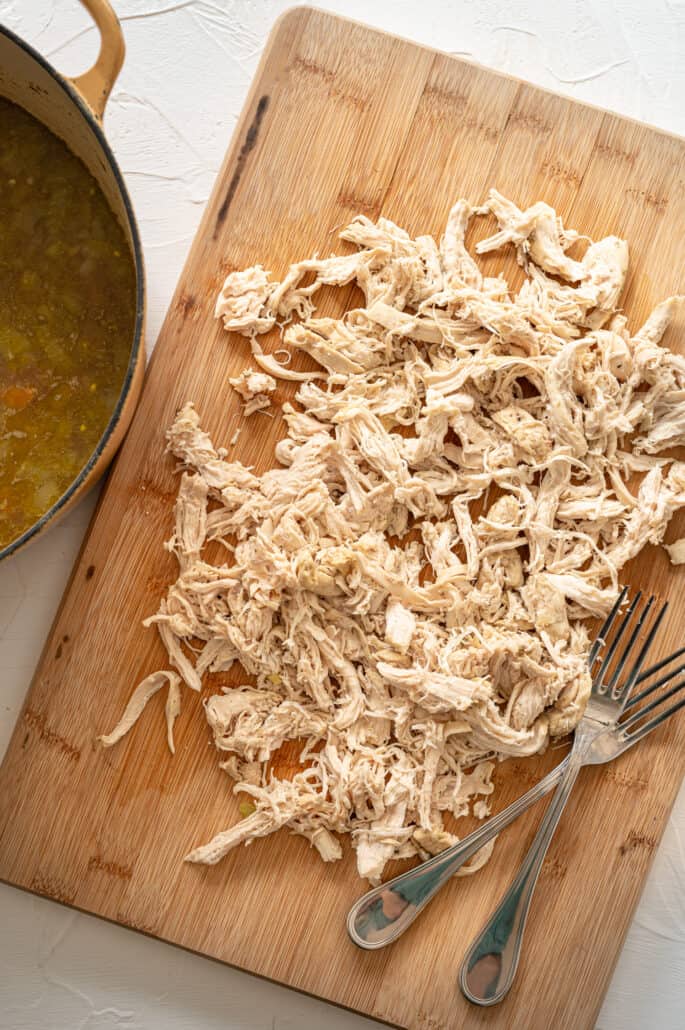 Make the Butter/Flour/Milk Mixture
While the chicken cooks, make the white sauce. In a medium pot, melt the remaining butter over medium heat. Stir in the flour and cook for 1-2 minutes, or until bubbly. Slowly pour in the milk while continually whisking. Increase the heat to medium-high and whisk constantly until the milk mixture thickens to the consistency of thin gravy.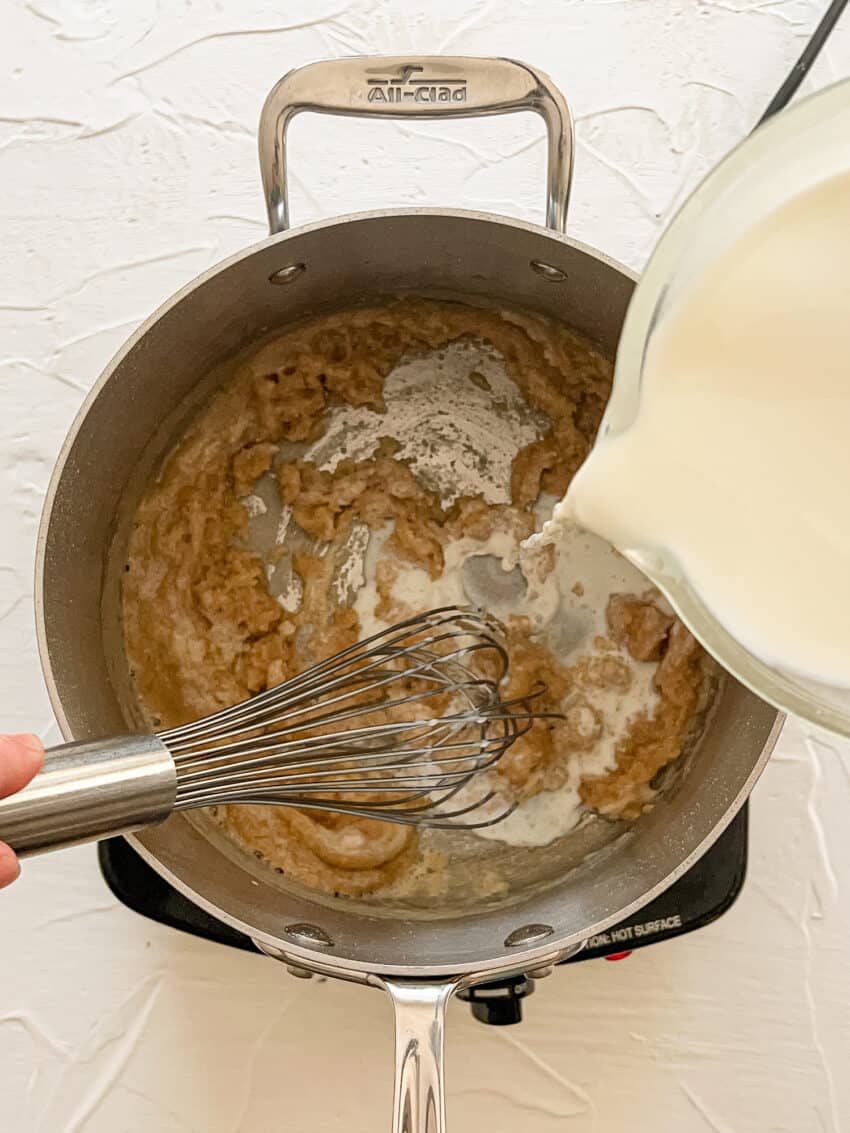 Add It All Together & Simmer
Add the thickened white sauce and prepared wild rice to the soup pot, stir, reduce the heat to medium low and simmer. Note: The white sauce will continue to get thicker the longer it sits, so it's important to add it to the soup right away. If soup is too thick, stir in more broth.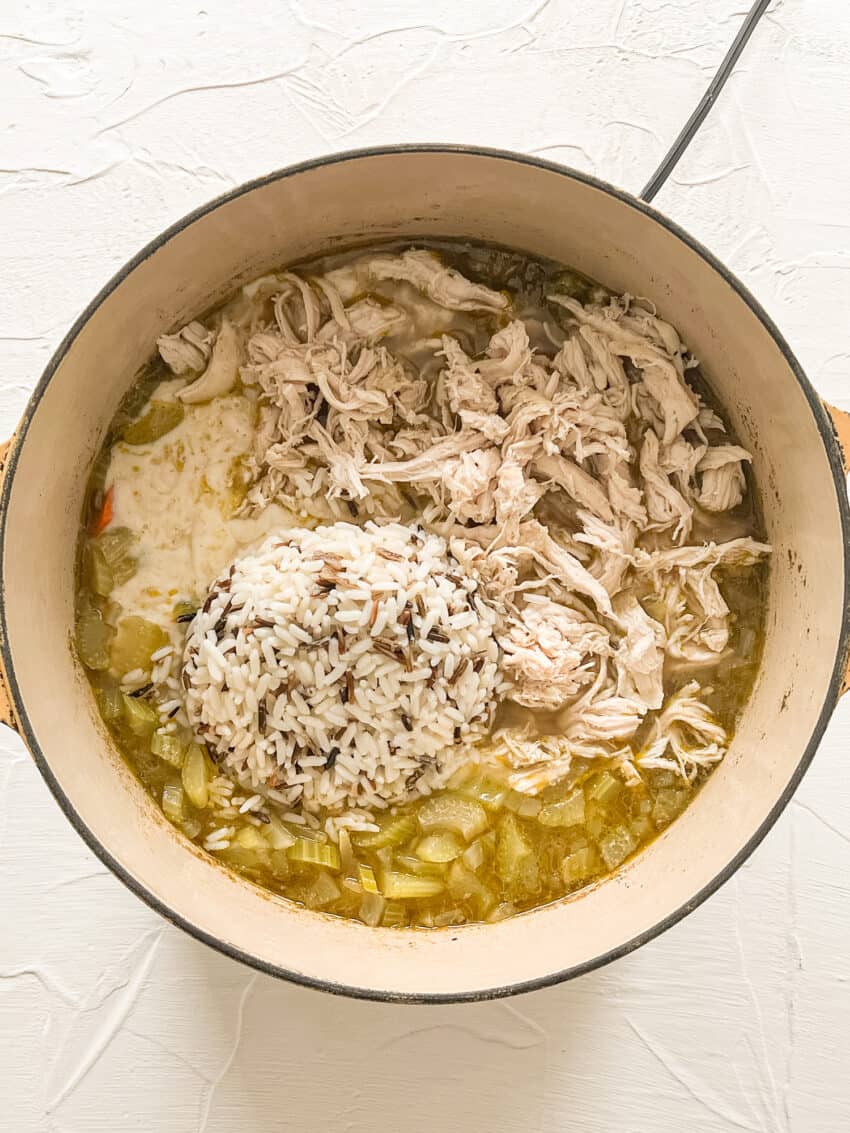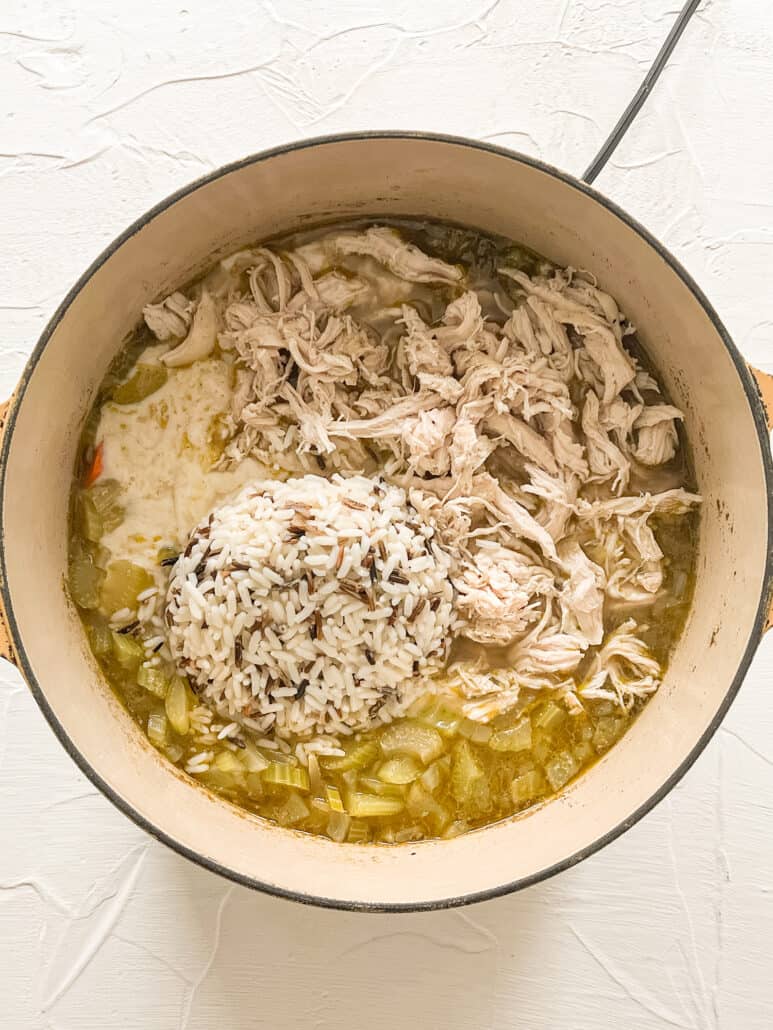 Using two forks, shred the chicken. Return the chicken to the pot and heat until warmed through, about 5 minutes. Taste and adjust the seasoning if needed.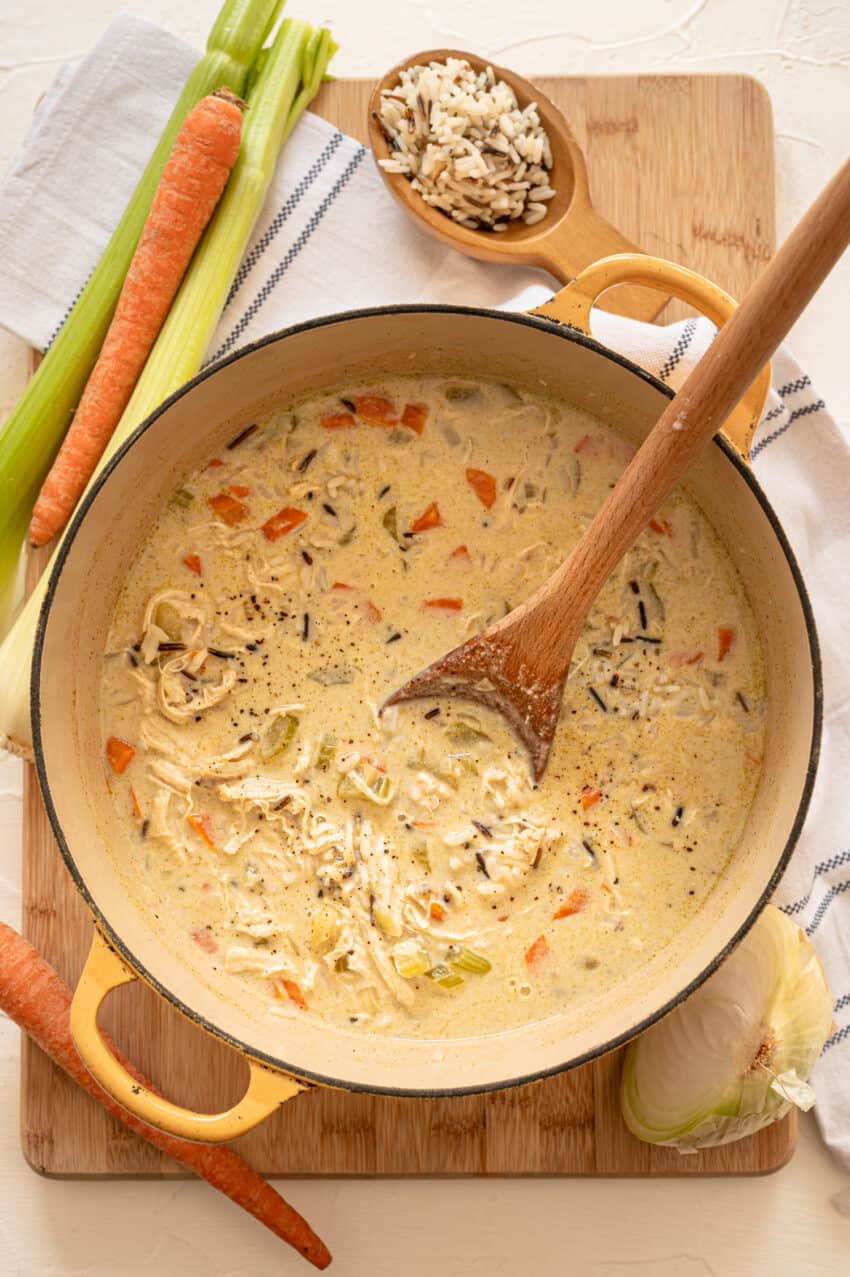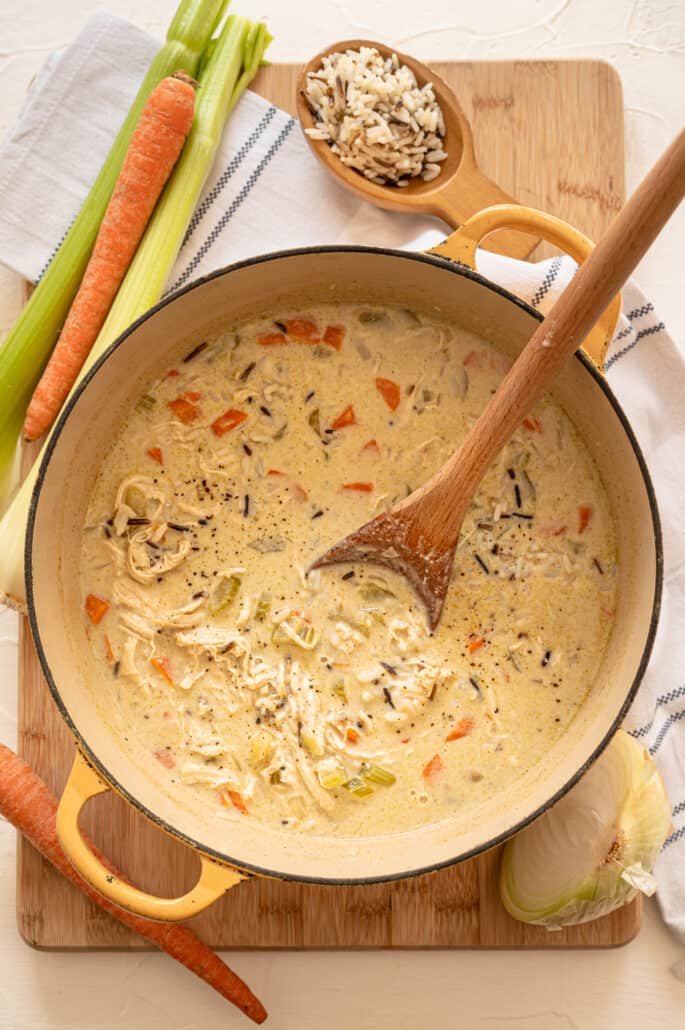 What to Serve with Chicken and Wild Rice Soup
Additions and Substitutions
As with most of our recipes on Thriving Home, we try to provide flexibility for your specific dietary needs. Try any of these substitutions or additions in this soup.
For gluten-free: Instead of wheat flour for the white sauce, use gluten-free 1:1 baking flour (like Bob's Red Mill brand).
For dairy-free: Use a plain, unsweetened non-dairy milk like almond milk and a plant-based "butter". It will not be nearly as rich-tasting, but it will work in a pinch.
Instead of chicken breasts, use boneless, skinless chicken thighs.
In place of the wild rice blend, try using cooked brown rice or any kind of white rice. FYI, I've tested this recipe with 100% wild rice (not a blend). The texture was too chewy for me.
For more veggies, simply double the amount of onion, celery, and carrots you chop. I do this frequently!
How to Freeze This Soup
As authors of two cookbooks and self-proclaimed "freezer cooking evangelists", we always try to share how to prep and freeze recipes like this soup, when possible. I personally love to freeze this one in small portions for lunches.
Freeze for Later: Cook and cool the soup completely. Freeze in a freezer bag or container, squeezing out all excess air and sealing tightly.
To Prepare from Frozen: Thaw in the refrigerator. Warm over medium-low heat, stirring occasionally. Add 1-2 more cups of chicken broth if too thick.
Tip: You can also freeze soup in individual servings in 2-cup Souper Cubes, 2-cup Pyrex containers, or 16 ounce mason jars. Be sure to leave 1 inch of head room for expansion at the top of the jars or the glass may break in the freezer. 
Check out our 70+ Best Freezer Meals for more ideas.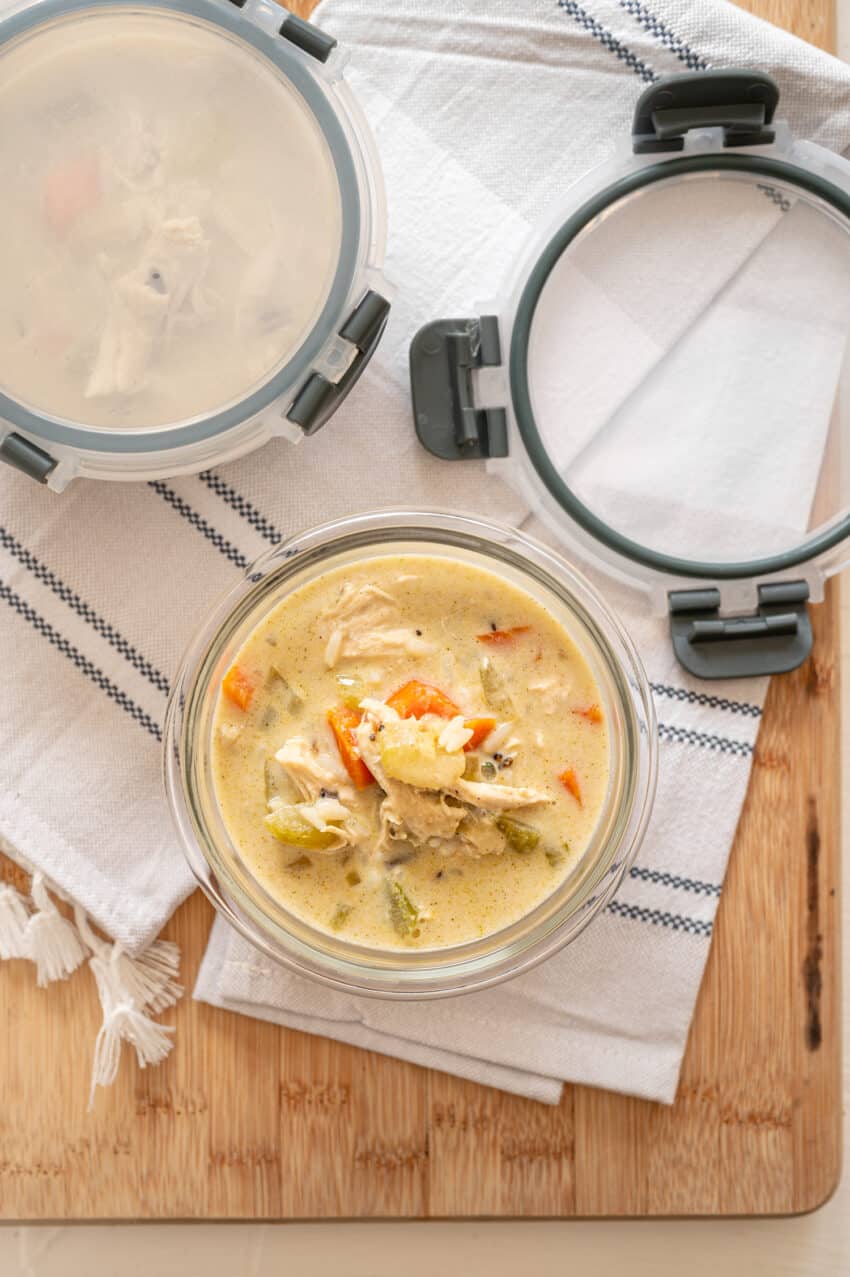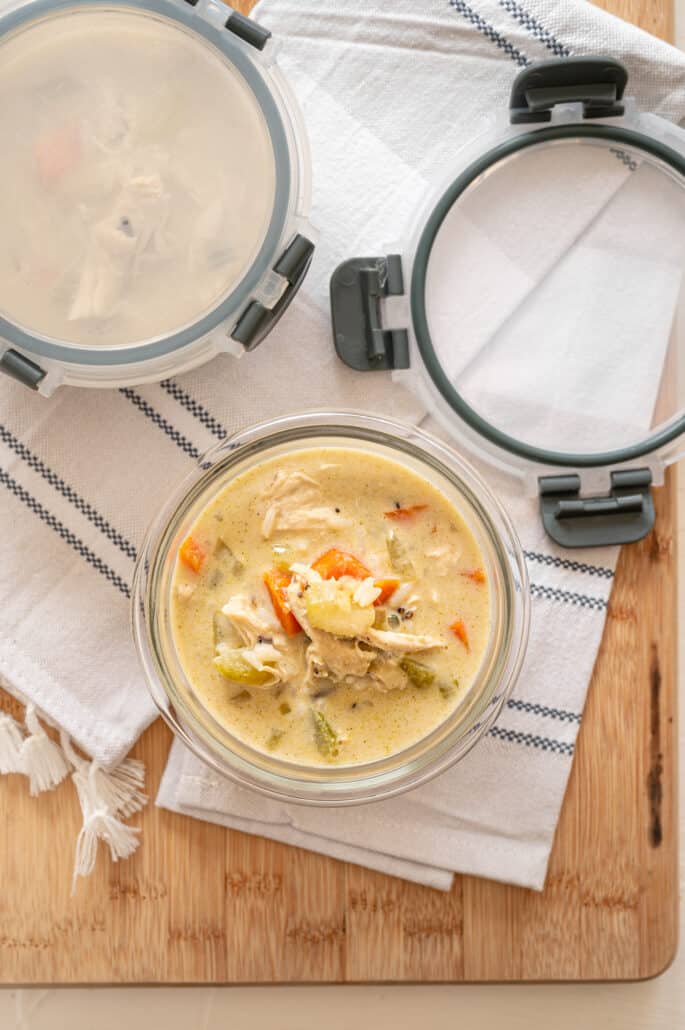 More Freezer-Friendly Soups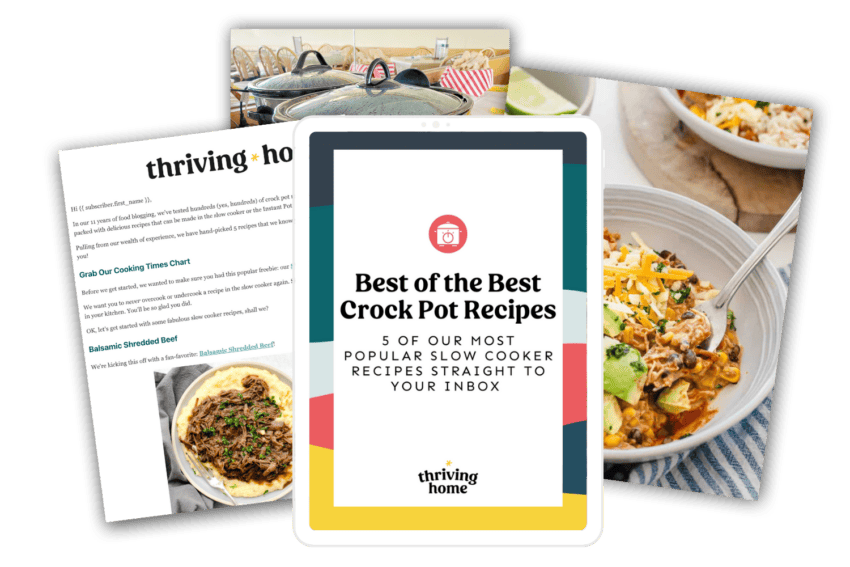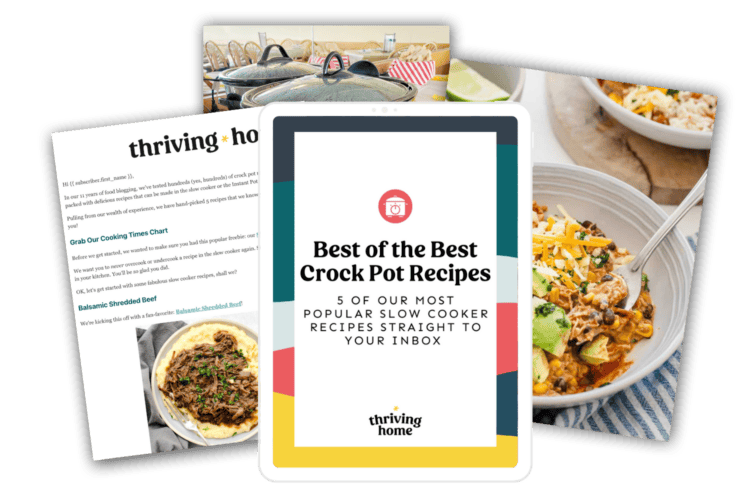 Want the Best of the Best?
Top 5 Slow Cooker Recipes
Sign up and get 5 days of our most popular slow cooker recipes sent straight to your inbox.
I'm so pleased to share this recipe with you today. I think this will become a go-to for you in the fall and winter!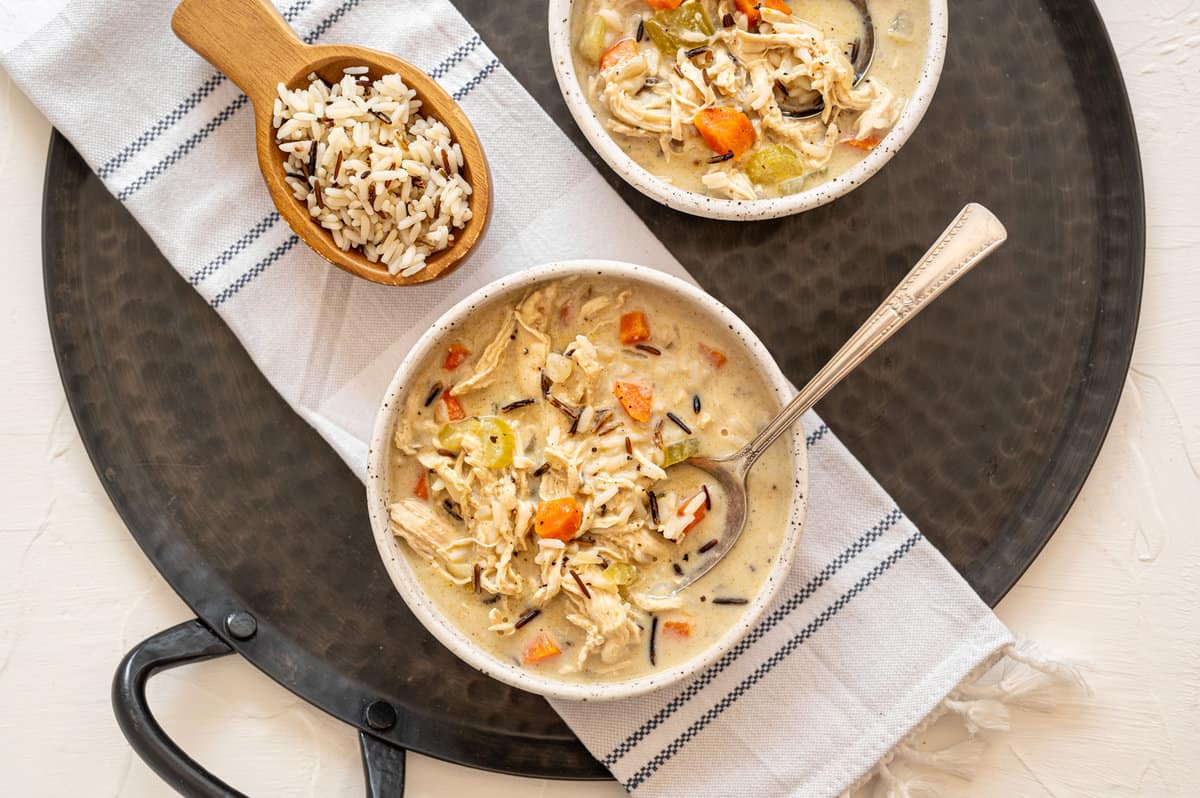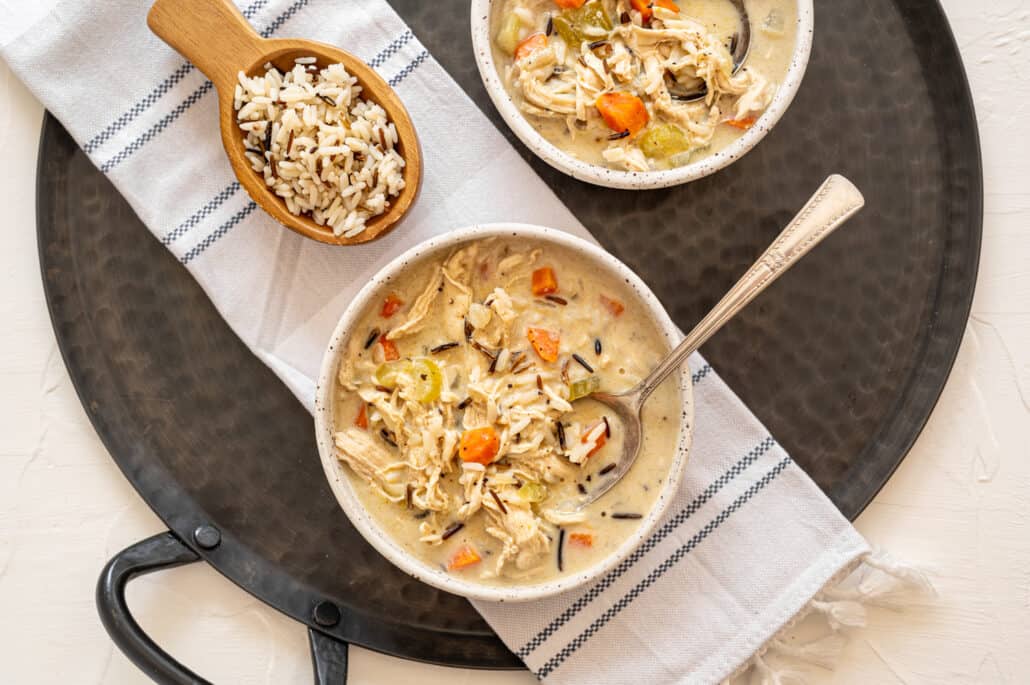 Did you make this? Snap a photo and tag us on Instagram at @thrivinghome so we can see your creations and cheer you on!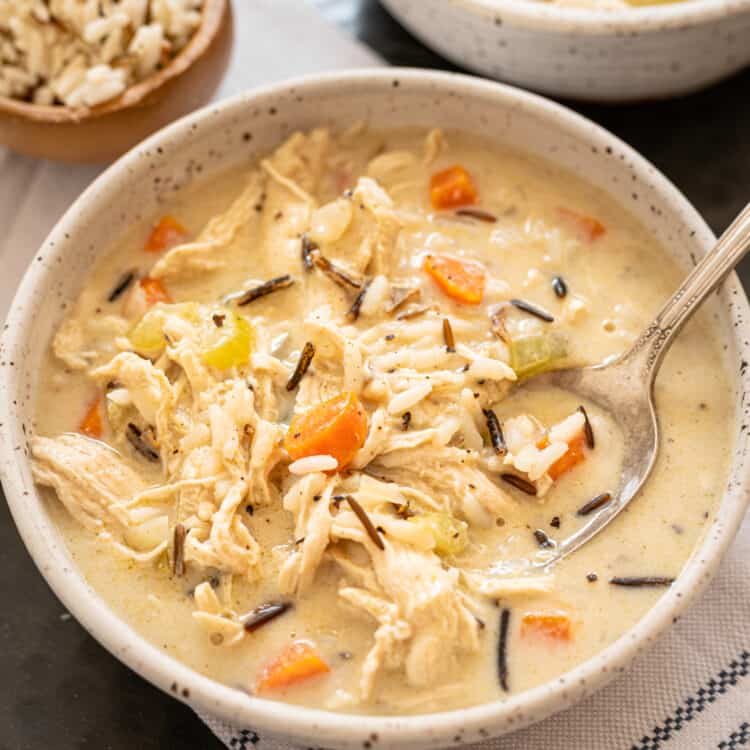 Creamy Chicken and Wild Rice Soup
This Chicken and Wild Rice Soup recipe is creamy, comforting, and delicious. We'll walk you through each cooking step and ensure it turns out as a crowd-pleaser soup that freezes well, too.
Prep:
20 minutes
Cook:
30 minutes
Total:
50 minutes