This post may contain affiliate or sponsored links. Please read our disclosure policy.
This Fried Catfish recipe is an easy dinner that the whole family will love. The cornmeal and whole wheat flour breading create a delicious crust that's kicked up with Old Bay Seasoning. Serve with our cajun-style Remoulade Sauce.
Or try our Catfish Nuggets recipe.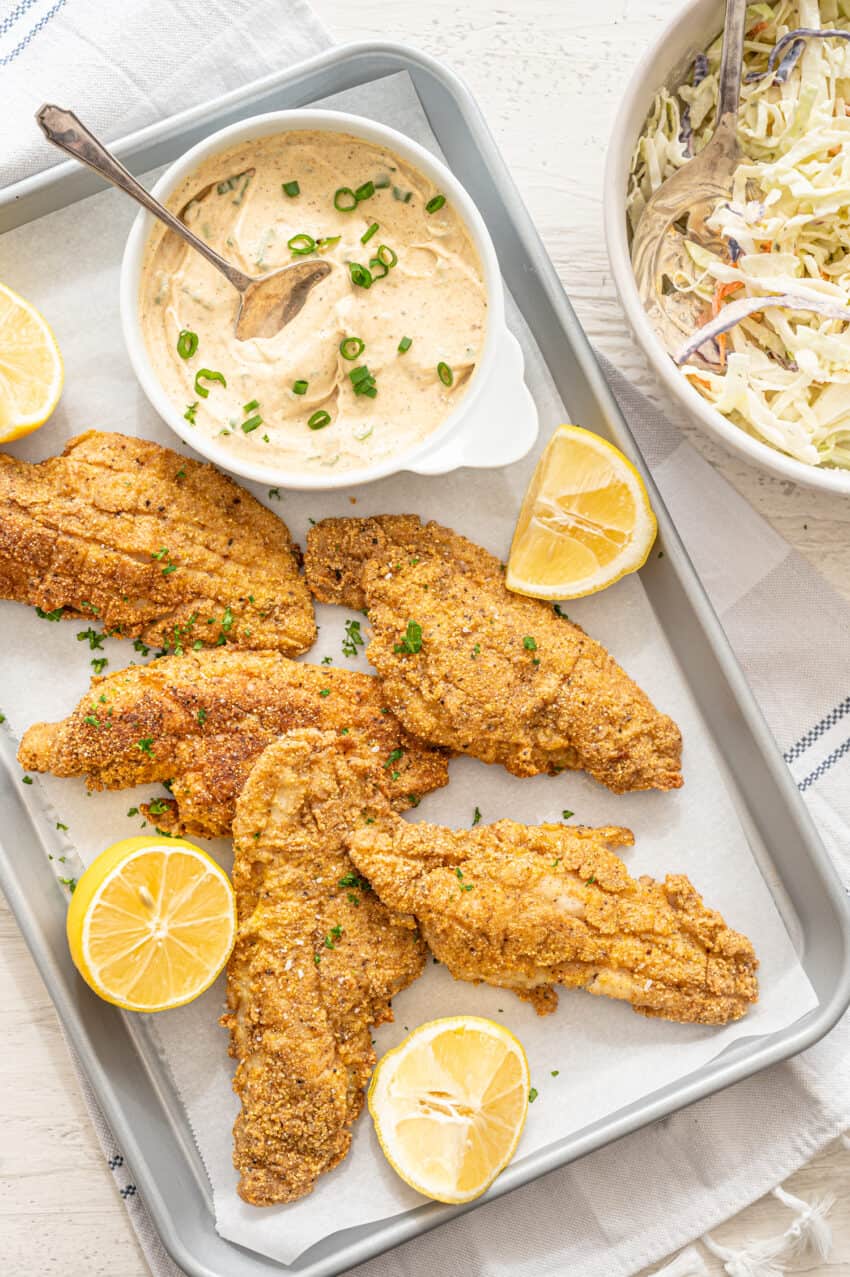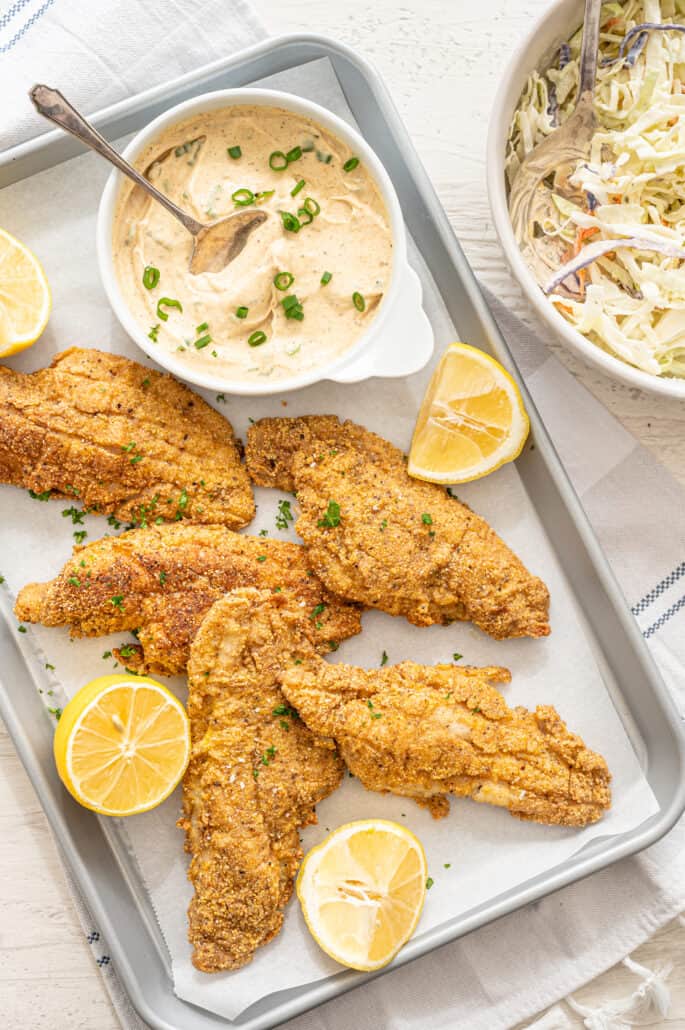 My Family's History With Catfish
Catfish in Missouri is not hard to come by–whether at the store or in the nearest pond. I grew up catching these mammoth creatures with my family and watching my dad take on the appalling job of cleaning them. My mom did a helluva job frying them up for us, too.
Nowadays, my 16-year-old son is quite the catfisherman. He spends many summer hours at our neighborhood pond. Sometimes I cave and let him bring home his catch for me to fry. The good news is that he doesn't mind doing the dirty work of cleaning it!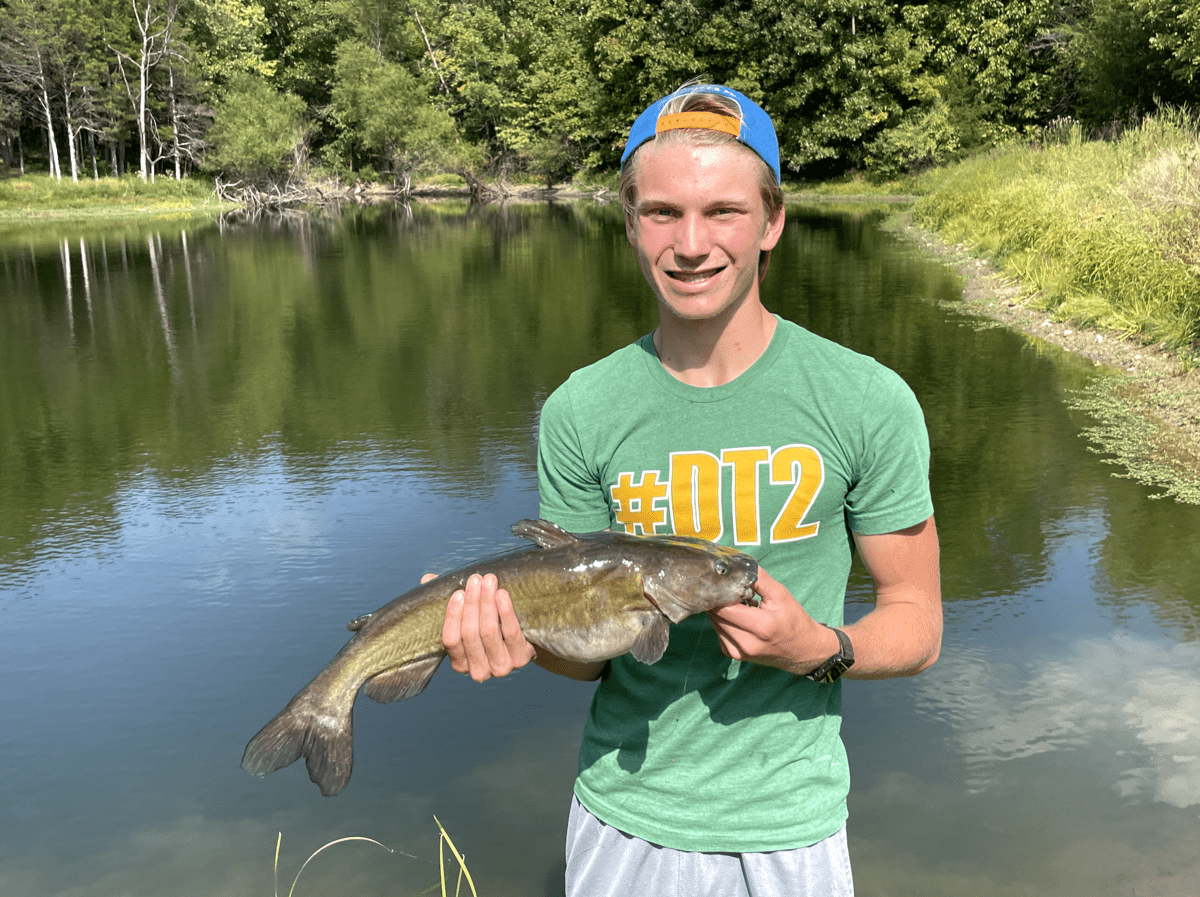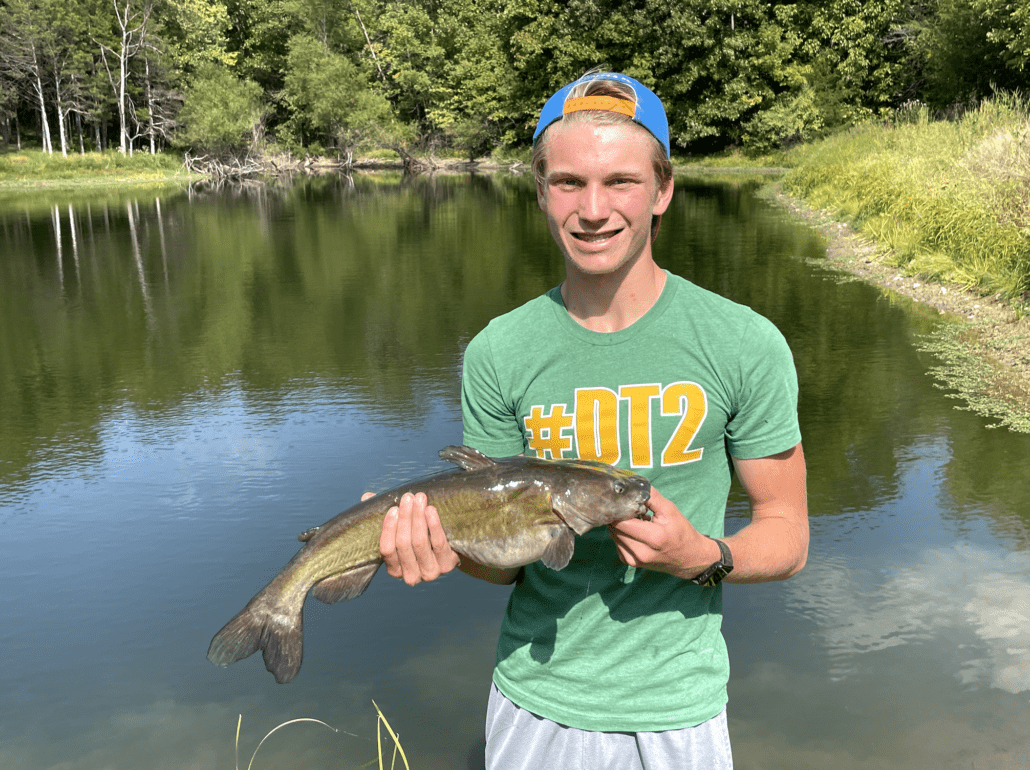 In 5th grade, his love of catfish went to a whole new level when he got invited to set up bank poles and spend the night on a sandbar in the middle of the Missouri River with his best friend. It just so happens his friend's dad was featured on this episode of MeatEater about bank pole fishing (and squirrel hunting). Cool, huh?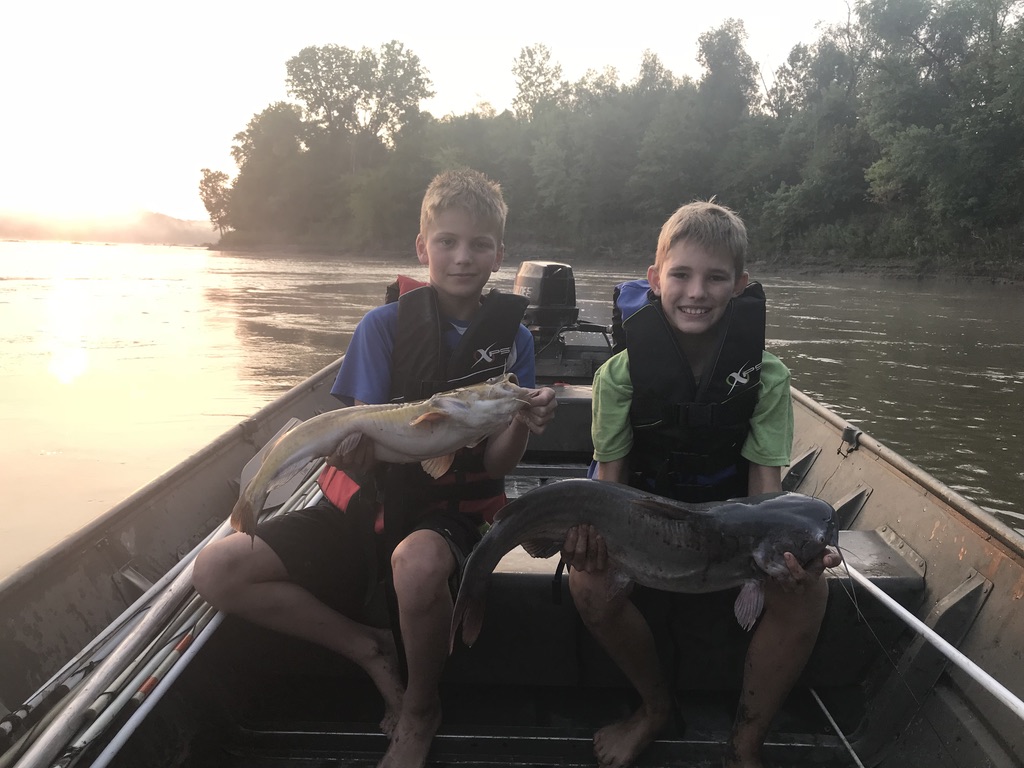 The boys even got to fry the catfish themselves over a campfire. Mud and fried catfish…mmmm. This was the most epic adventure in my son's life so far. 🙂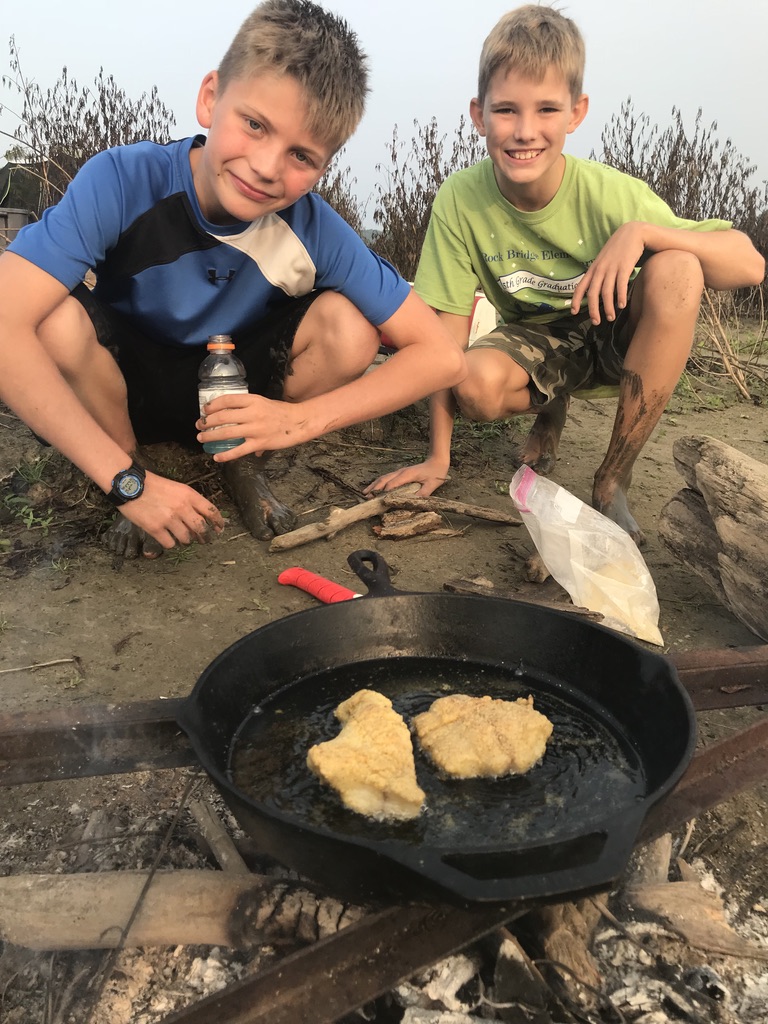 Needless to say, catfish is a thing in the Tiemeyer household and now a thing on Thriving Home, too.
About My Recipe
I've eaten and cooked my fair share of catfish over the years. While I don't mind a deep-fried piece of fish every once in a while, I prefer a little lighter version at home. So, I created this shallow pan-fried version with a wholesome and flavorful breading and our cajun-style Remoulade Sauce for dipping.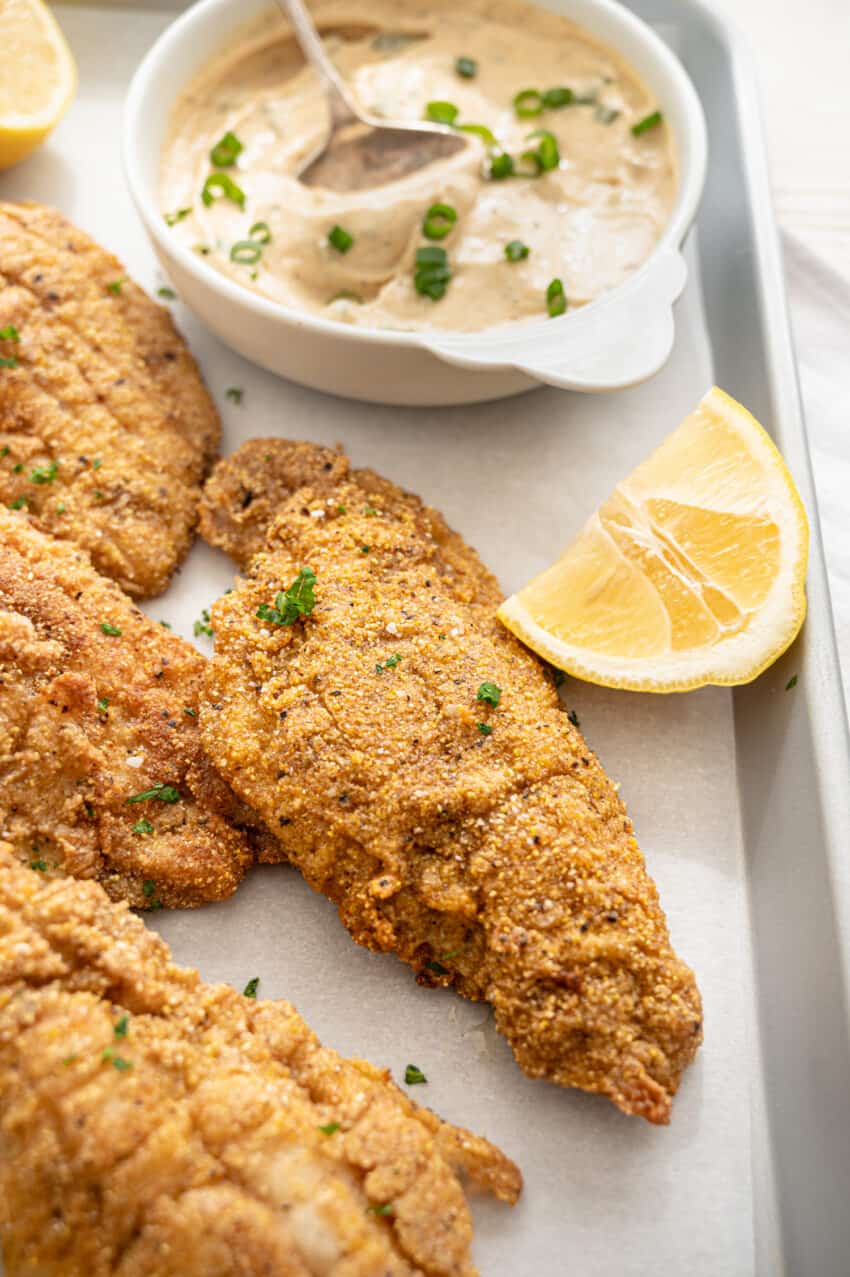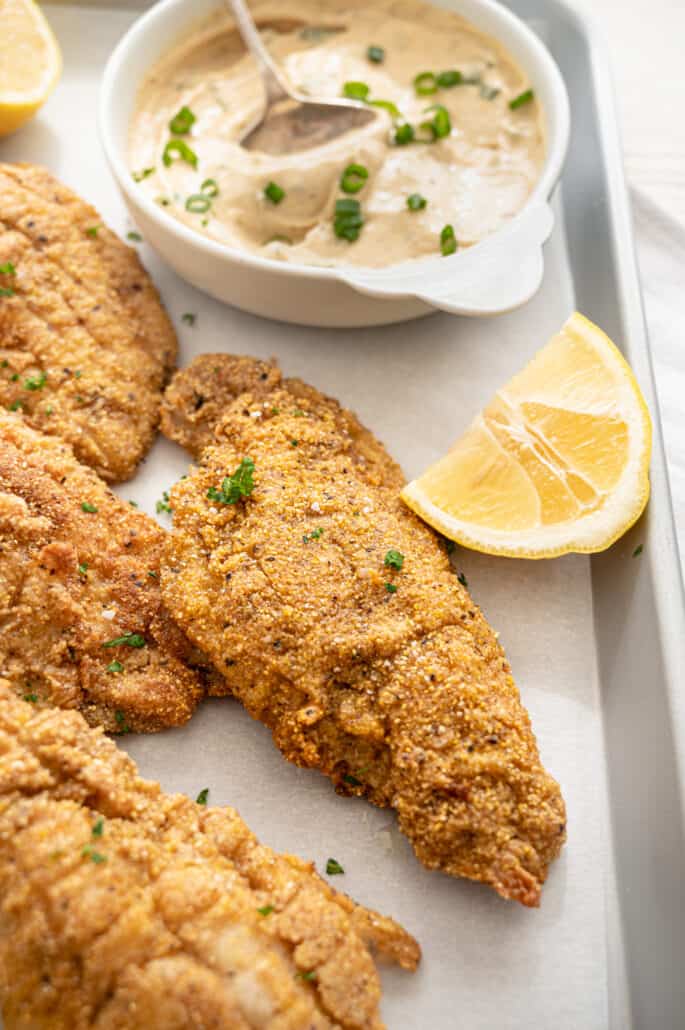 This fish is crispy on the outside and moist on the inside (and NOT dripping in oil). It's the only way I make it now, and my family members are big fans.
Here are the ingredients you'll need on hand:
White whole wheat flour or unbleached all-purpose flour
Fine cornmeal
Salt and pepper
Eggs
Avocado oil (sub: peanut oil or vegetable oil)
Catfish fillets
For serving: Lemon wedges and/or Cajun Remoulade Sauce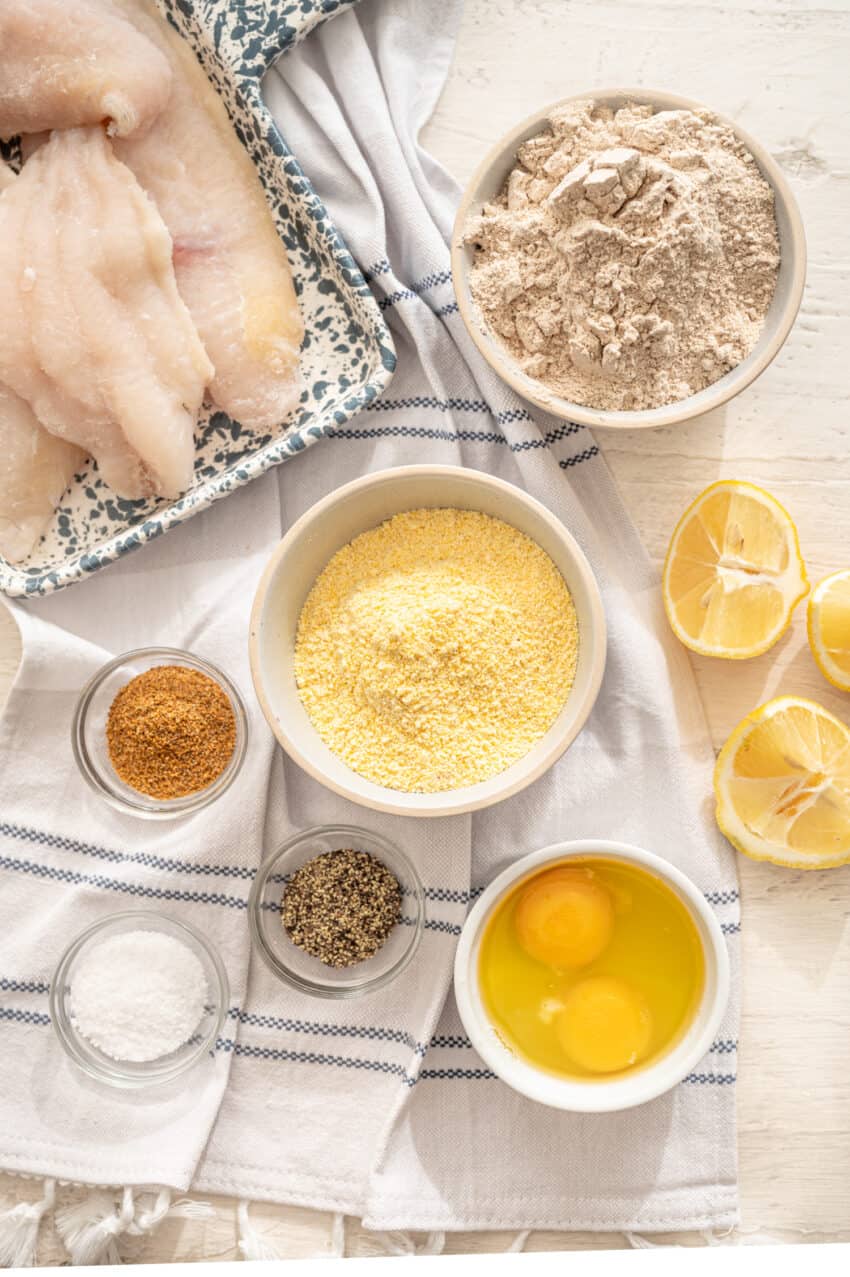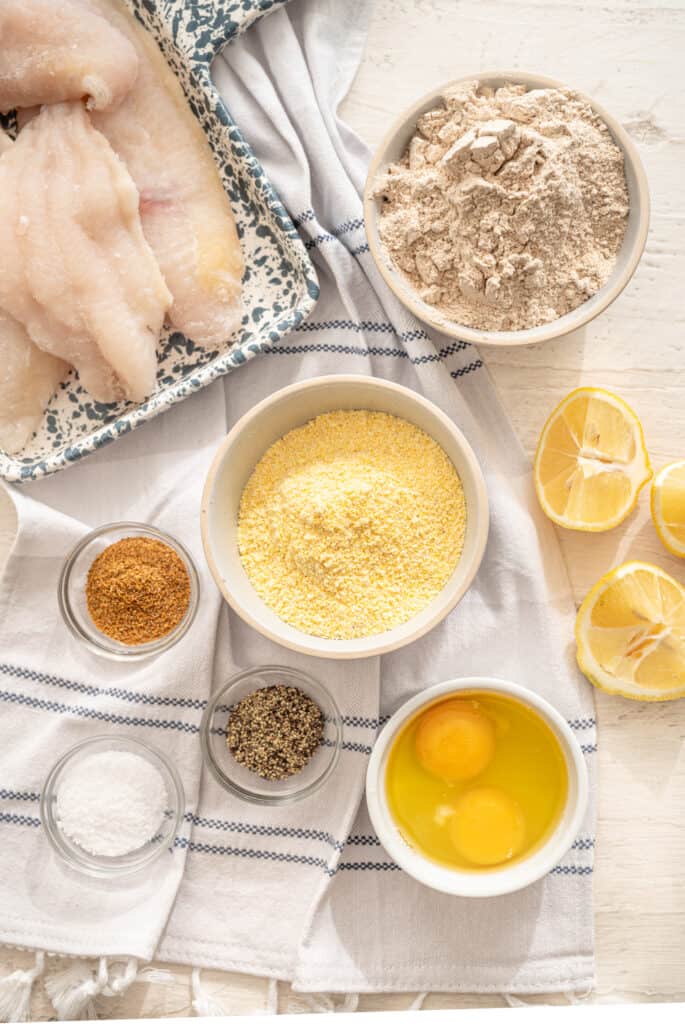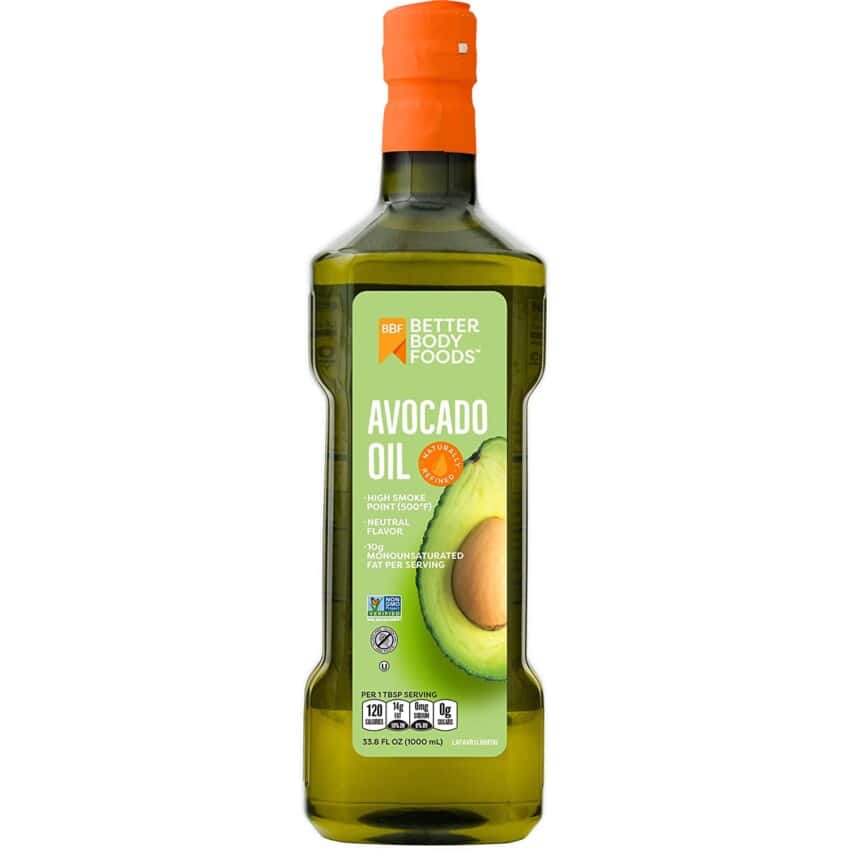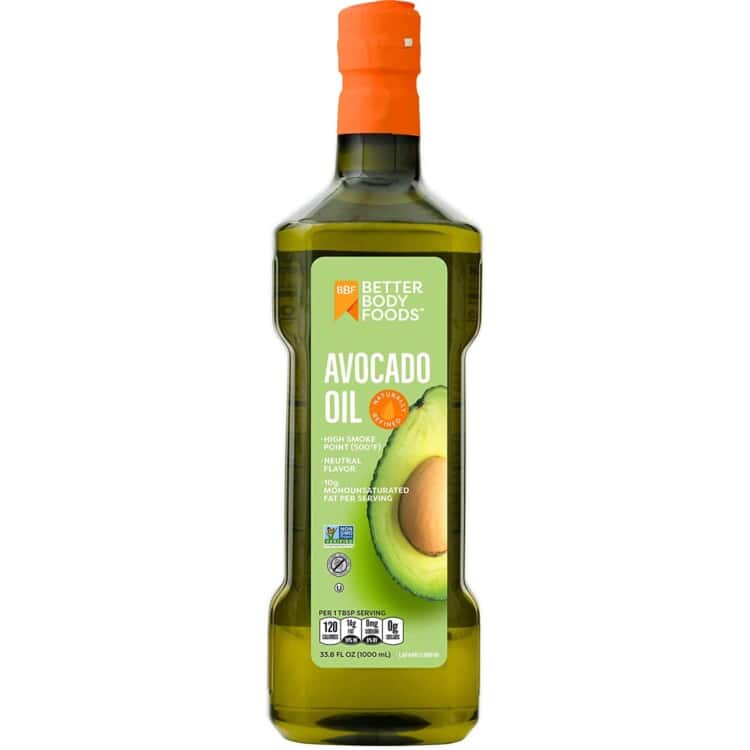 What Kind of Oil Should I Use?
I highly suggest using Avocado Oil for frying, because it has a high smoke point and is healthier than vegetable oil.
If you haven't fried catfish before, our 2-minute video will help you understand how this recipe works.
[adthrive-in-post-video-player video-id="3y7M8UZN" upload-date="2023-02-09T17:01:39.000Z" name="Fried Catfish Fillets or Nuggets" description="Fried Catfish fillets or nuggets are an easy dinner that the whole family will love. The cornmeal and whole wheat flour mix create a delicious and fiber-rich crust that is kicked up with Old Bay Seasoning, giving it that bayou flavor." player-type="default" override-embed="default"]
Pro Tips for Frying Fish
Now that you're familiar with the ingredients and basics of the recipe, take note of a few other keys to making this pan-fried catfish a smash.
Make sure all the skin and the dark fatty tissue under the skin is removed. I bet if you ask nicely, the butcher in your grocery store would do this nasty little job for you. 🙂
Add flavor at every step. Season the catfish well with salt and pepper and then season each part of the dredging/breading process.
Use a large Dutch oven. This is my go-to pan for frying catfish because it holds a steady heat and provides some protection from oil splatters, unlike my other metal pans which can get way too hot too fast. However, a large cast iron skillet can also do a great job.
Make sure the oil is the right temperature and keep it there. If it's not hot enough you'll have mushy, oily fish. If it's too hot, you'll burn the outside before the inside is done. Two ways to test: 1) it should be shimmering but not smoking, and 2) drop in a little breading and if it sizzles right away the oil is ready.
Don't overcrowd the pan. If you add too many fillets at a time, the oil temperature will drop and they won't get as crispy. So only fry 2 or 3 fillets at a time, making sure to leave room between them.
Serve with a squeeze of lemon on top and with your favorite dipping sauce. My kids just prefer plain ole ketchup. I love our easy Remoulade Sauce.
How to Cook Catfish
After you scroll through this step-by-step overview, you'll be all set to use my detailed recipe at the bottom of this article.
Set a wire rack over a rimmed baking sheet.
Then, set up your breading station:
Dish #1: Whisk together flour, cornmeal, salt, pepper, and Old Bay seasoning in a shallow dish.
Dish #2: Whisk together eggs, a little water, salt, and pepper.
Dish #3: Whisk together flour, salt, and pepper.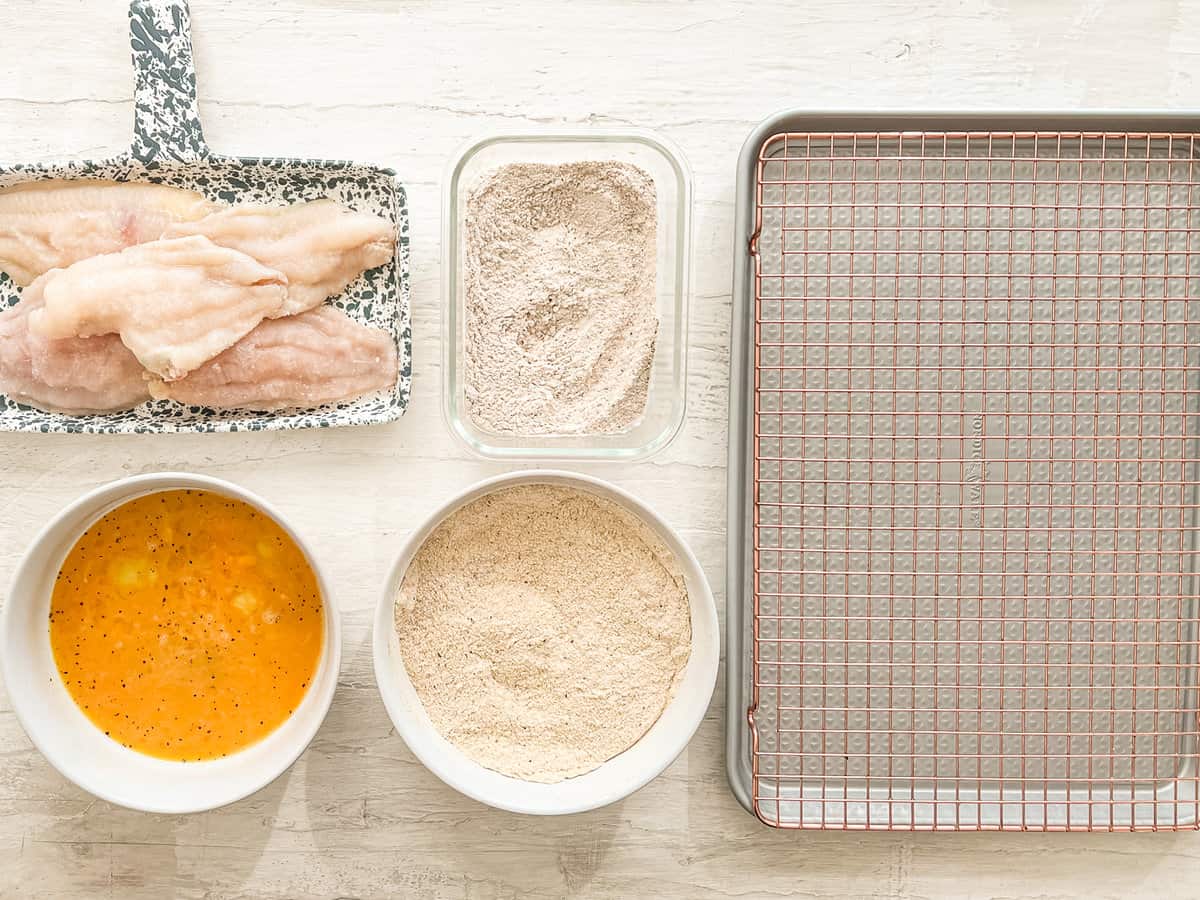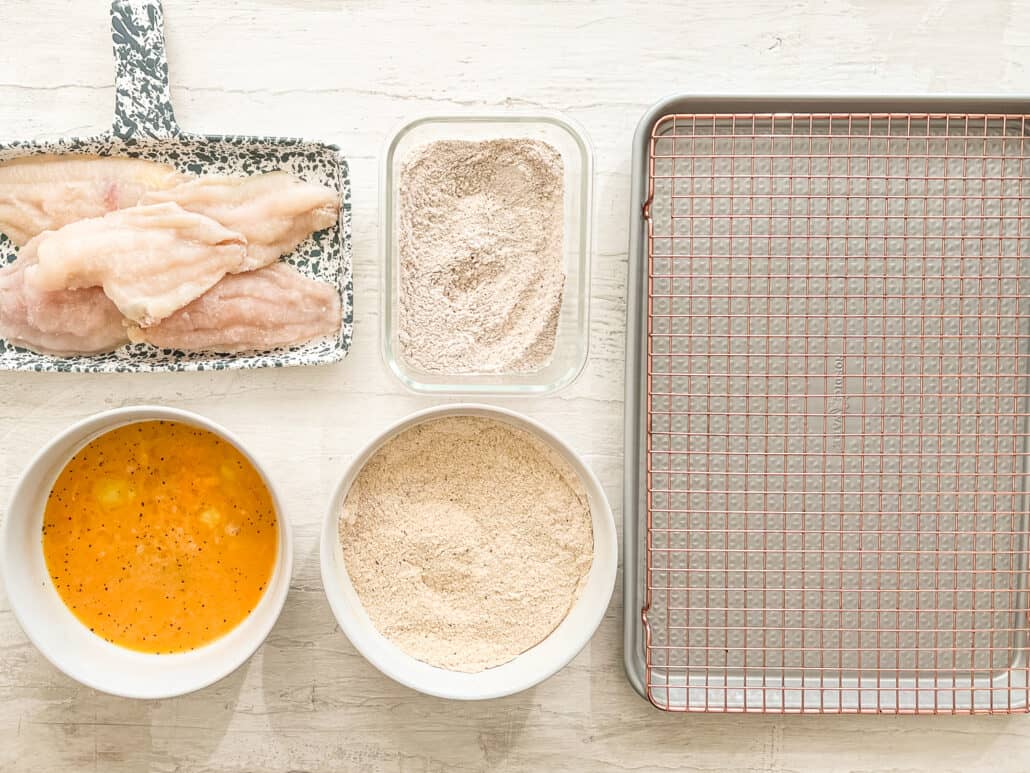 Dredge the Catfish Fillets
Dry the catfish fillets with a paper towel. Season lightly with salt and pepper on both sides. Dredge the catfish on both sides in the flour, then the eggs, and finally coat with the cornmeal mixture on both sides. Lay on the wire rack and finish dredging all the fillets.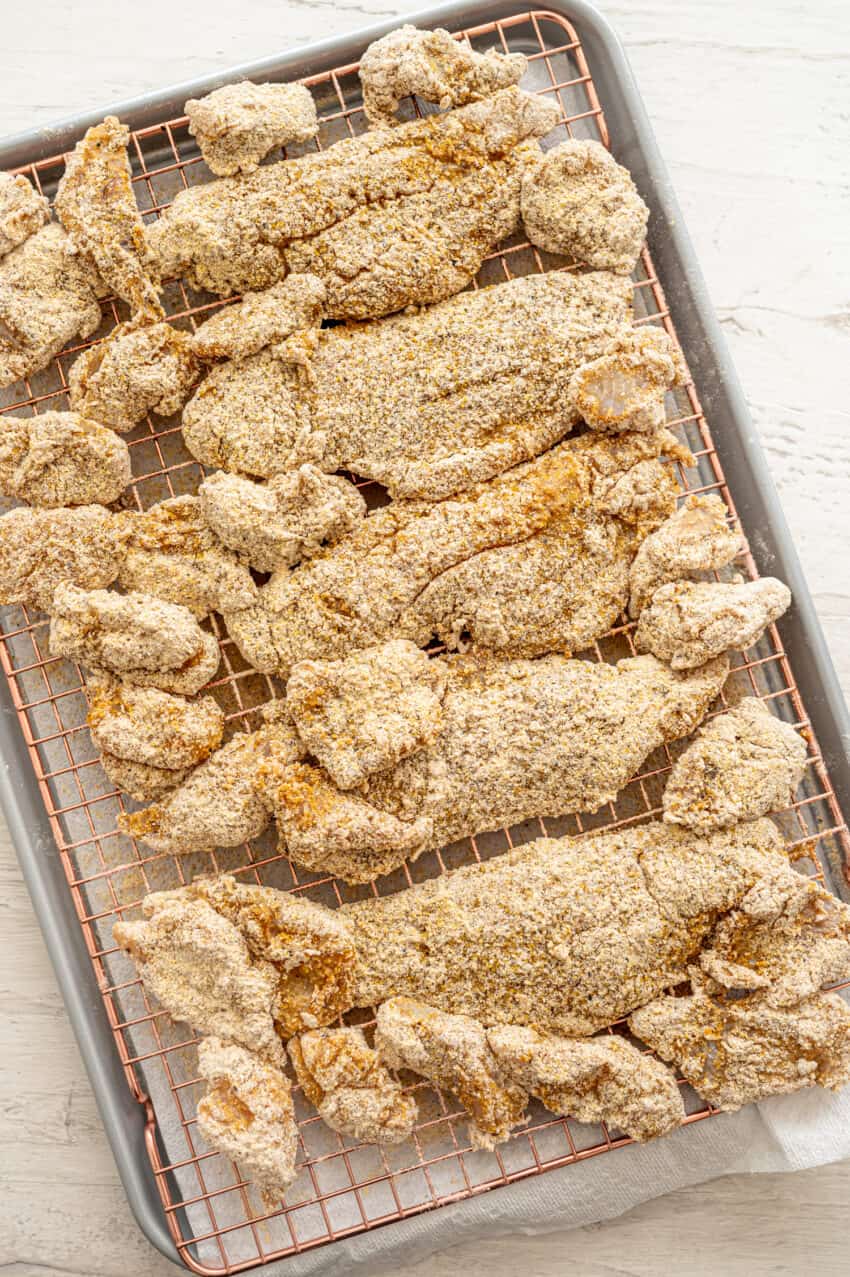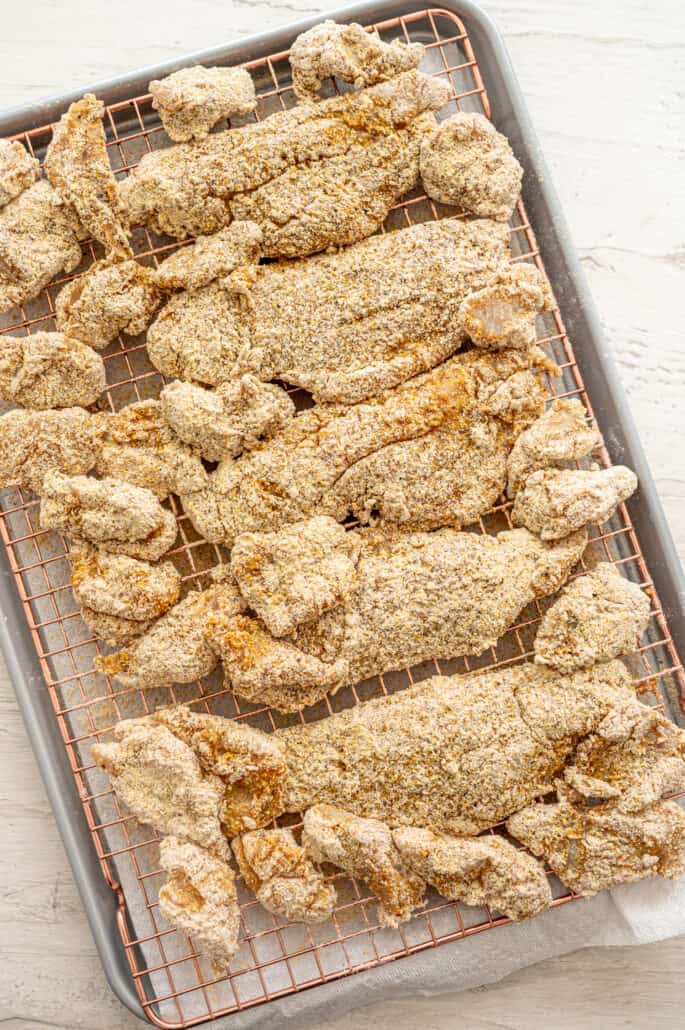 Pan-Fry the Catfish in Batches
In a large, heavy-bottomed Dutch oven or cast iron skillet, add just enough oil to cover the bottom in a thin layer. Heat the oil over medium-high heat until shimmering.
Important: The oil is ready when you drop some of the cornmeal mix in and it sizzles right away. The oil should not smoke, but it will come close. Adjust the heat as necessary.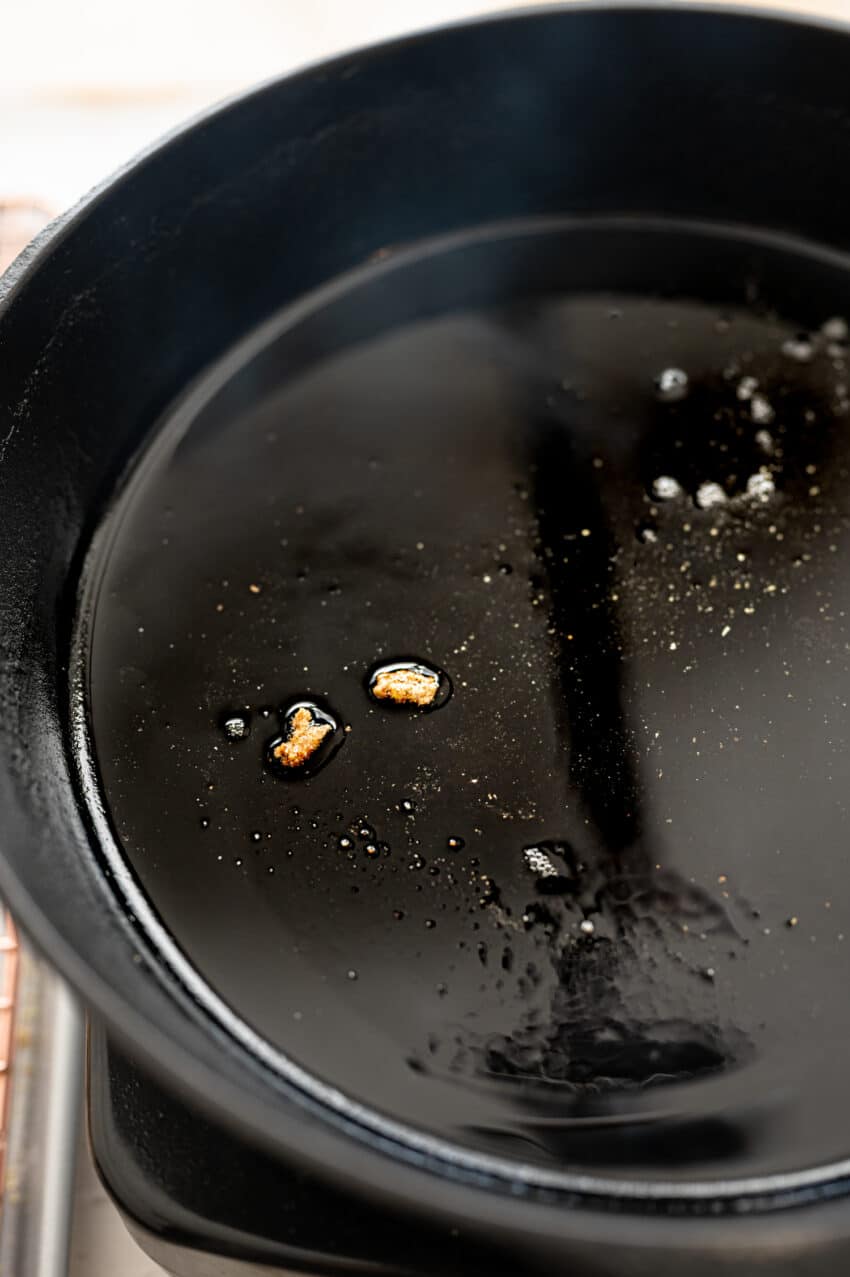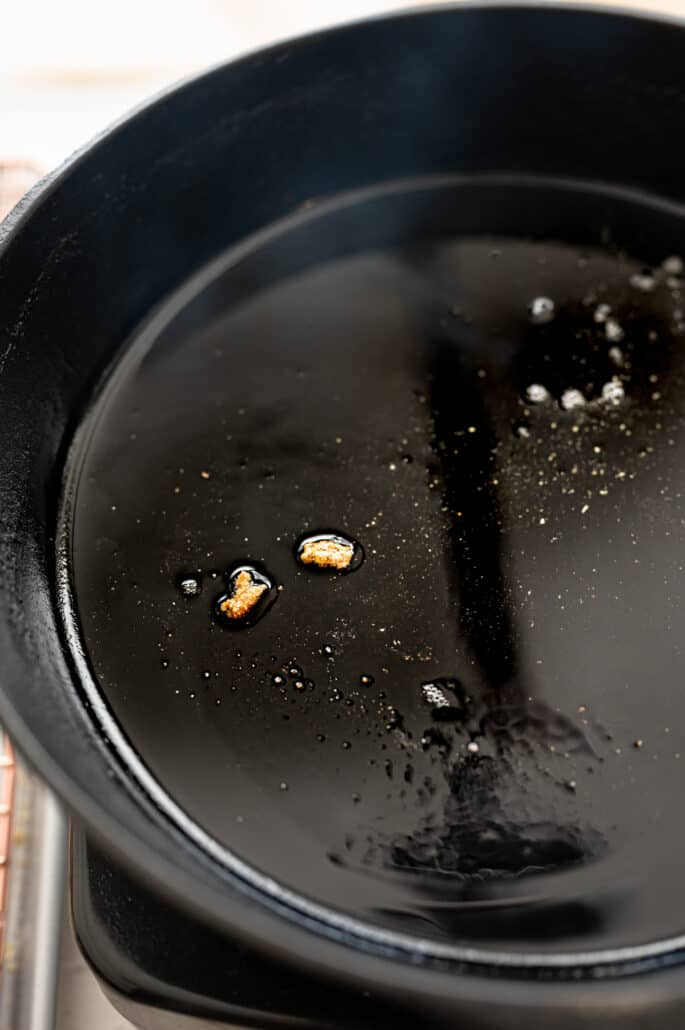 Using tongs and working in batches, carefully place catfish fillets in the bottom, making sure they do not touch. Pan fry for about 2-3 minutes on each side, or until golden brown. Fish is done when it flakes easily with a fork and is no longer translucent in the middle.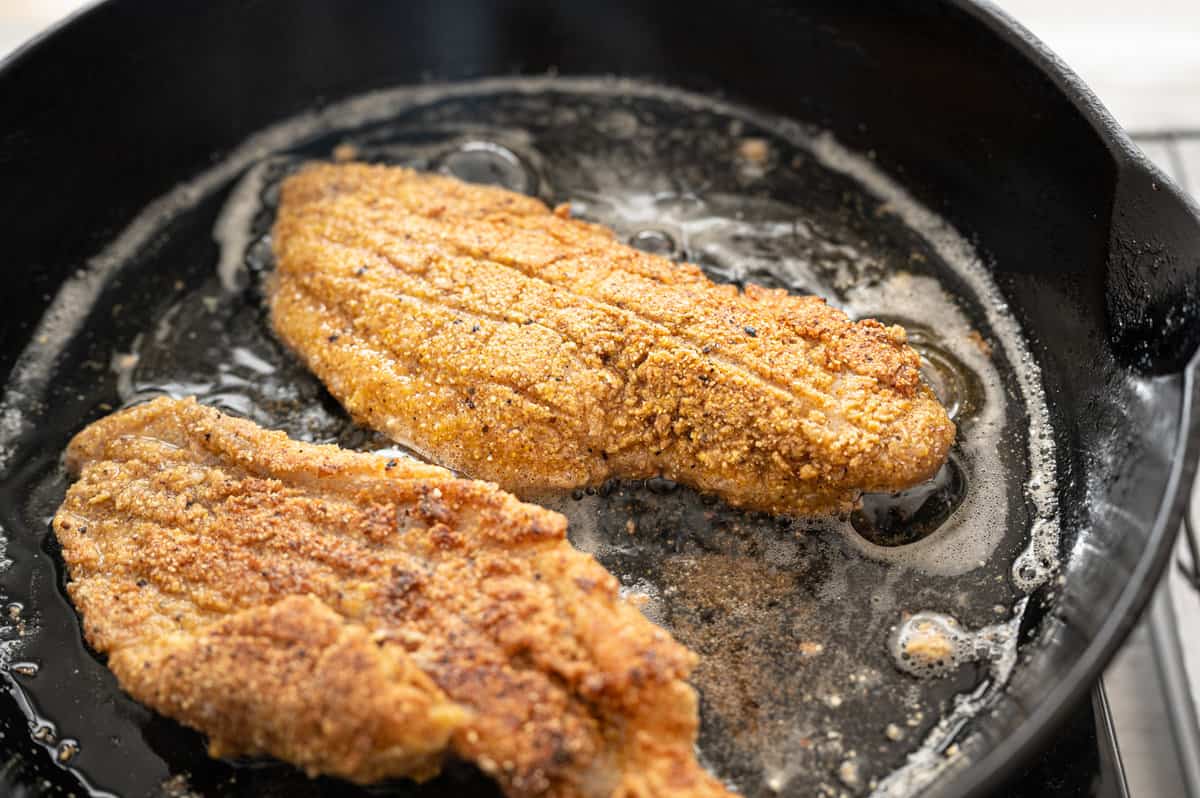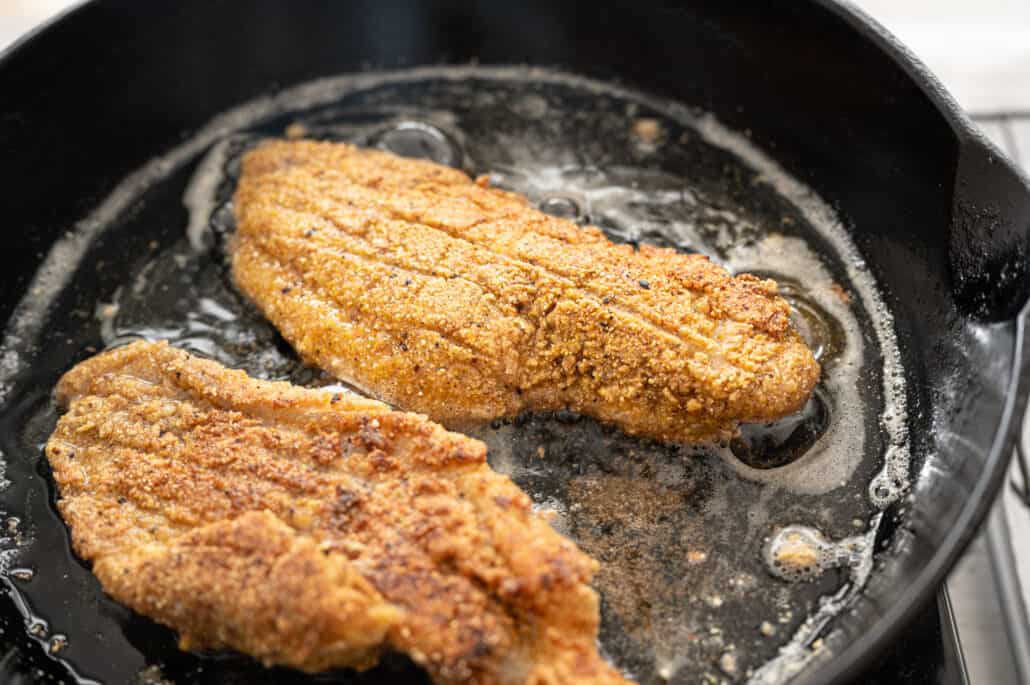 Set on a plate or pan that is lined with paper towels. Add more oil and adjust the heat in between batches as needed.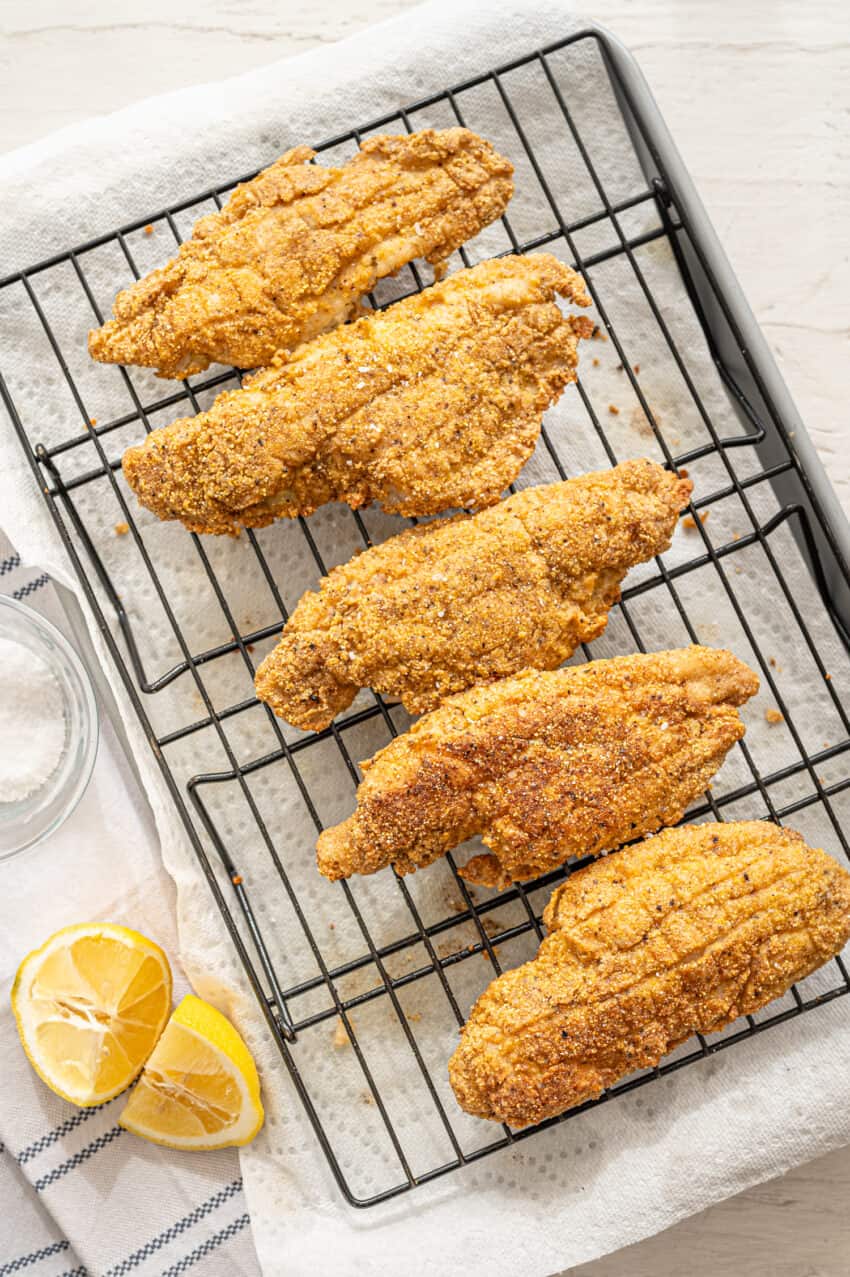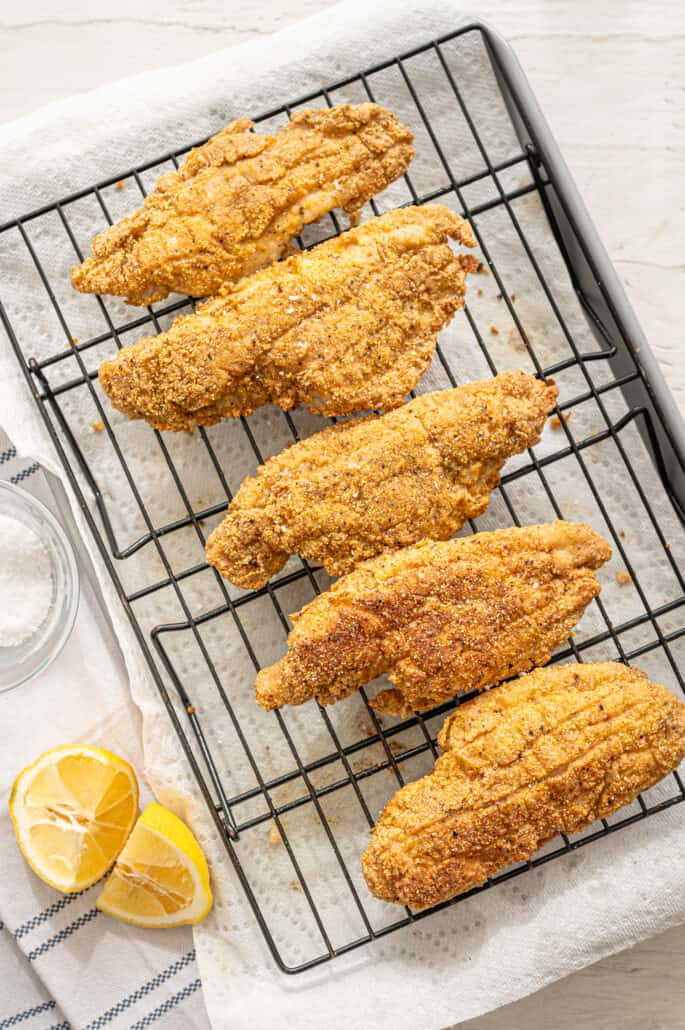 Serve immediately with a squeeze of lemon and Cajun Remoulade Sauce.
Tip: To keep catfish warm in between batches, put it on a sheet pan in a 200°F oven.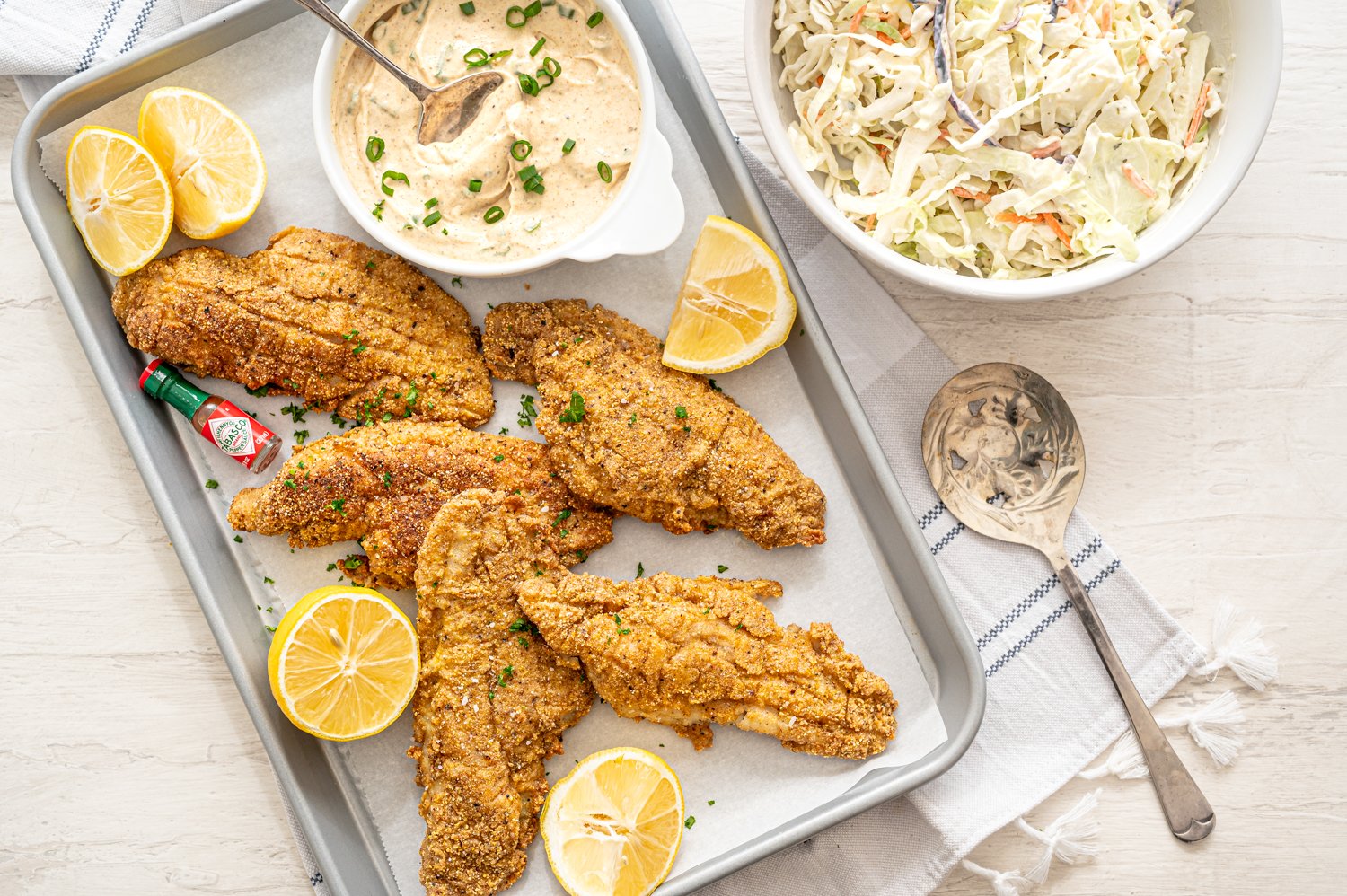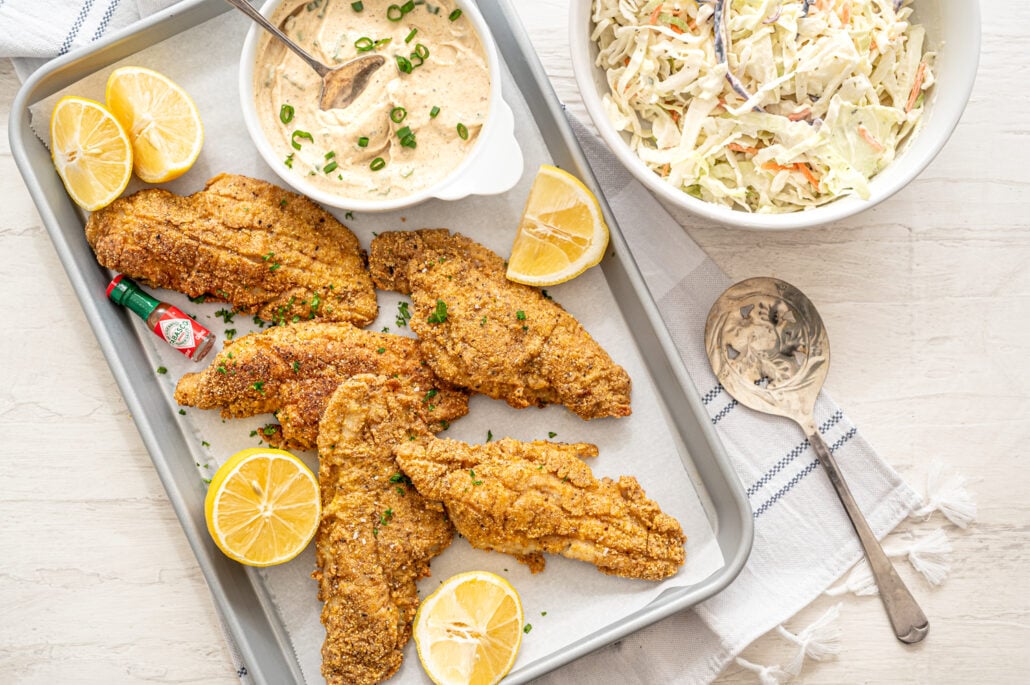 What to Serve with Fried Catfish
Here are some side dishes that would be delish with fried catfish.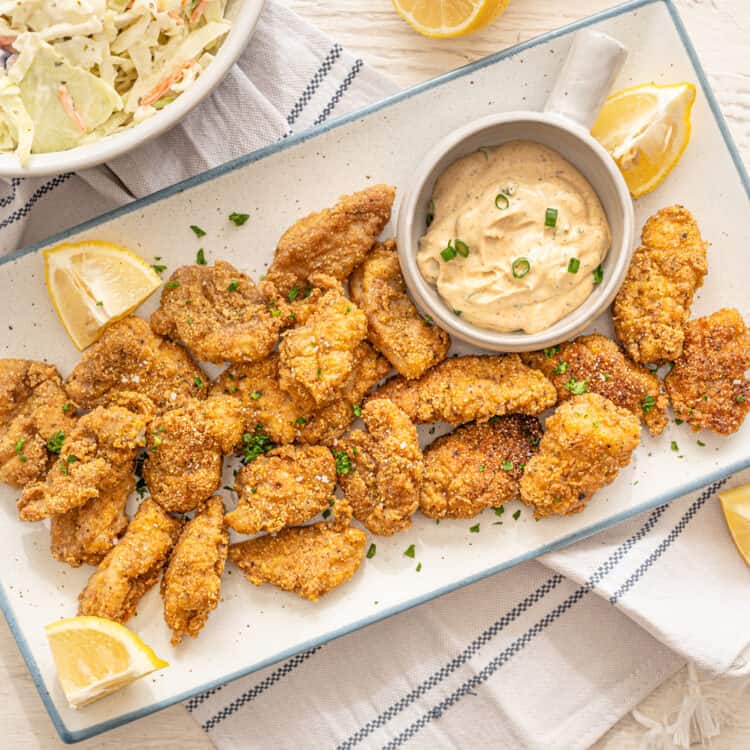 Did you make this? Snap a photo and tag us on Instagram at @thrivinghome so we can see your creations and cheer you on!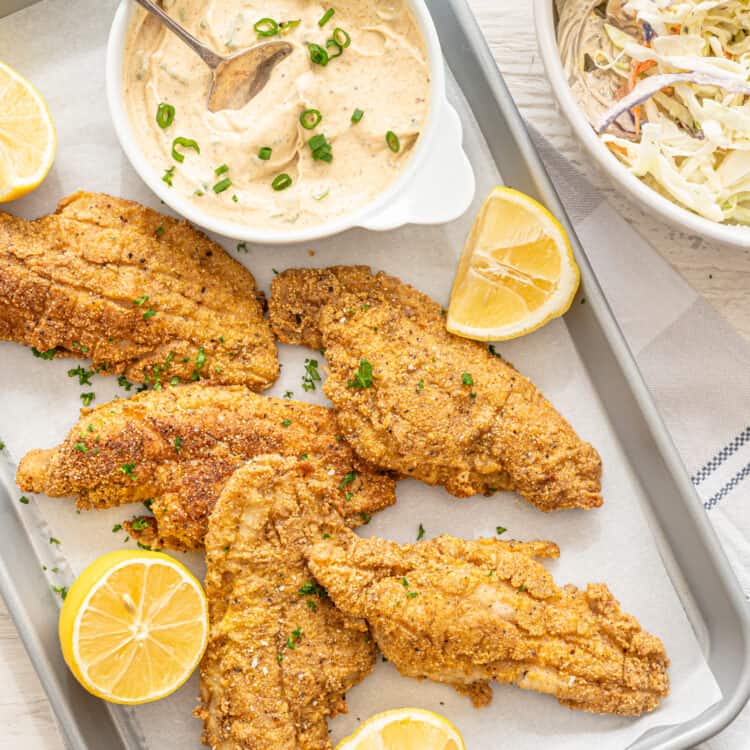 Fried Catfish
This Fried Catfish recipe is an easy dinner that the whole family will love. The cornmeal and whole wheat flour breading creates a delicious crust that's kicked up with Old Bay Seasoning. Serve with our cajun-style Remoulade Sauce.
Prep:
15 minutes
Cook:
15 minutes
Total:
30 minutes