Pan-Fried Catfish Fillets or Nuggets
Updated: 1/26/23
This post may contain affiliate or sponsored links. Please read our disclosure policy.
Fried Catfish fillets or nuggets are an easy dinner that the whole family will love. The cornmeal and whole wheat flour mix create a delicious and fiber-rich crust that is kicked up with Old Bay Seasoning, giving it that bayou flavor.
Believe it or not, this Fried Catfish cost me just under $5 to put together and my whole family loved it. Let's just say that catfish in mid-Missouri is not hard to come by. I don't fry foods very often, so this shallow pan-fried version was a treat for my crew.
In fact, my son is quite the catfisherman (is that a term?). He loves to bring home his catch for me to fry.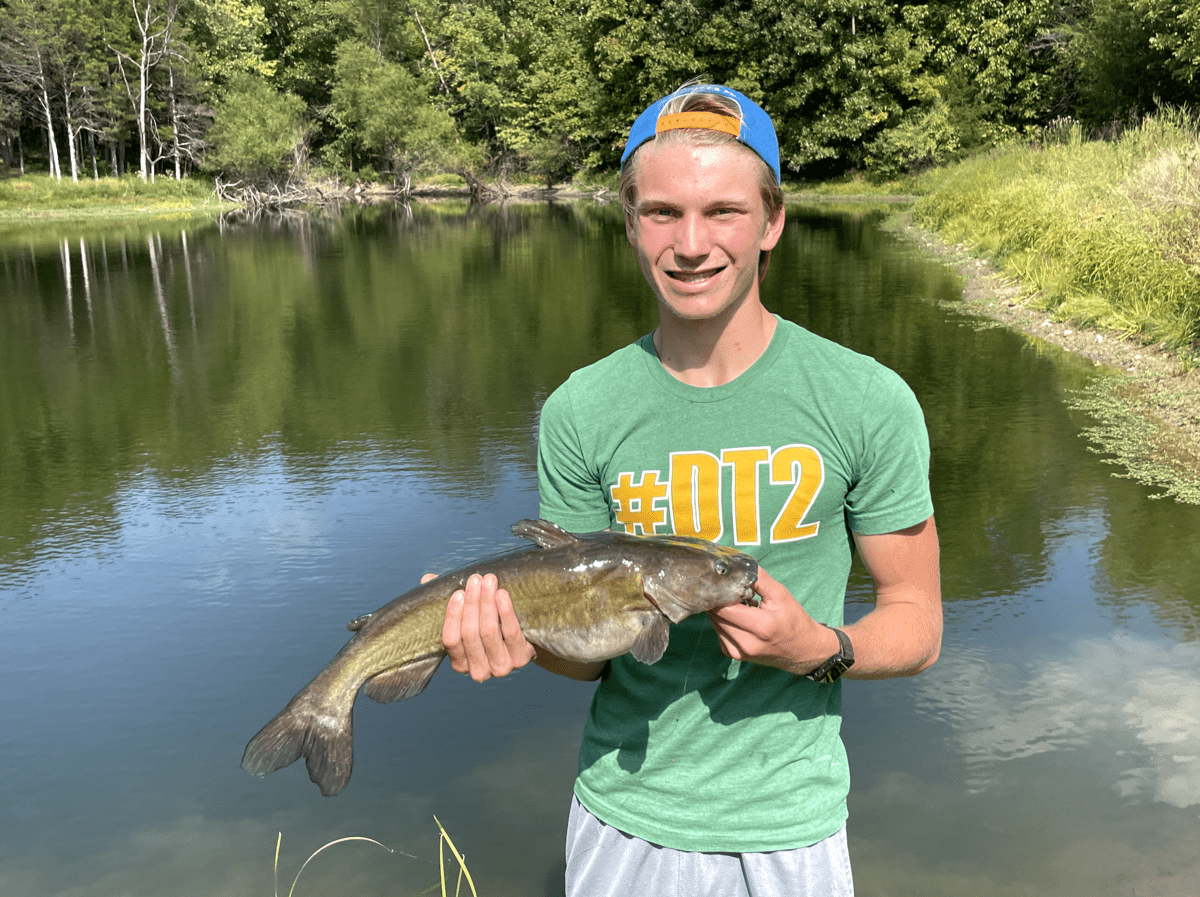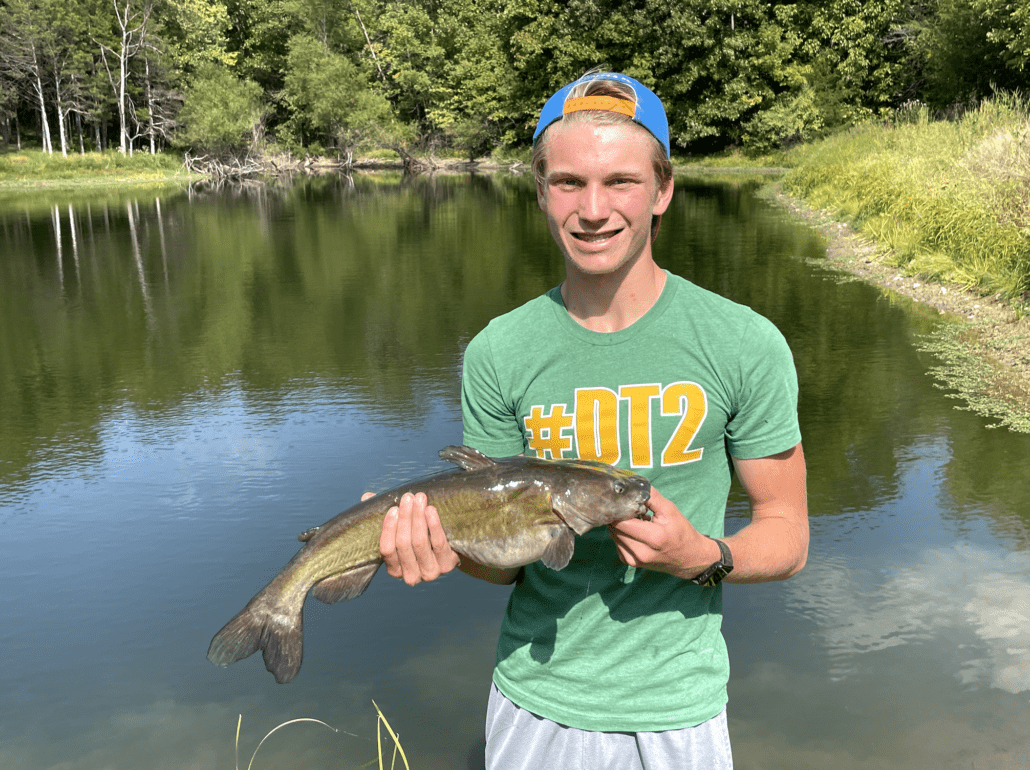 To give these catfish fillets layers of flavor and a crispy texture, you'll bread it by dredging in a flour mixture, egg mixture, and finally a cornmeal mixture before pan frying in a high-heat oil.
Here are the ingredients you'll need on hand:
White whole wheat flour or unbleached all-purpose flour
Fine cornmeal
Salt and pepper
Eggs
Avocado oil (sub: peanut oil or vegetable oil)
Catfish fillets
For serving: Lemon wedges and/or your favorite seafood dipping sauce
Tips for Making Fried Catfish
Now that you're familiar with the ingredients, take note of a few other keys to making this pan-fried catfish a smash:
Make sure all the skin and the dark fatty tissue under the skin is removed. I bet if you ask nicely, the butcher in your grocery store would do this nasty little job for you. 🙂
Add flavor at every step. Season the catfish well with salt and pepper and then season each part of the dredging/breading process.
Use a large Dutch oven. This is my go-to pan for frying catfish because it holds a steady heat and provides some protection from oil splatters, unlike my other metal pans which can get way too hot too fast. However, a large cast iron skillet can also do the job.
Make sure the oil is the right temperature and keep it there. If it's not hot enough you'll have mushy, oily fish. If it's too hot, you'll burn the outside before the inside is done. I highly suggest using Avocado Oil for frying, because it has a high smoke point and is healthier than vegetable oil.
Serve with a squeeze of lemon on top and with your favorite dipping sauce. My kids just prefer plain ole ketchup.
How Do I Make Catfish Nuggets Instead?
If you're wanting to serve up some fried catfish nuggets, it's so easy to do! Simply cut the filets into 1.5-inch chunks and just follow the recipe instructions. Kids love them!
Can You Freeze Fried Catfish?
No and yes. As a freezer cooking expert (we've published two cookbooks and have been featured in People magazine, on Hallmark Channel, and more), I can safely say you cannot freeze fried catfish. It will get mushy and gross when thawing.
However, like our Parmesan Crusted Tilapia recipe, you CAN bread these fillets, flash freeze them (set on a sheet pan and freeze until solid), and store in a freezer bag. Then, thaw them in the refrigerator on a baking rack set over a sheet pan (cover the fillets with plastic wrap). Fry according to the recipe.
What to Serve with Fried Catfish
Here are some side dishes that would be delish with fried catfish.
Did you make this? Snap a photo and tag us on Instagram at @thrivinghome so we can see your creations and cheer you on!
Pan-Fried Catfish
Pan-Fried Catfish is quite the catch for dinner time with the family.
Prep:
15 minutes
Cook:
10 minutes
Total:
25 minutes
Ingredients
1

cup

white whole wheat flour or unbleached all-purpose flour, divided

1/2

cup

fine cornmeal
Salt and pepper

1 teaspoon

Old Bay Seasoning (or more to your preference)

2

large eggs
Avocado oil (sub: peanut oil or vegetable oil)

1 1/2

pounds

catfish fillets cut into smaller pieces, skin and dark fatty tissue under the skin removed (ask butcher to do this)
For serving: lemon wedges and/or your favorite seafood dipping sauce
Before You Begin! If you make this, please leave a review and rating letting us know how you liked this recipe! This helps our business thrive & continue providing free recipes.
Set a wire rack over a rimmed baking sheet.
Place 1/2 cup flour and the cornmeal in a shallow dish. Add 1 teaspoon salt, 1/4 teaspoon ground black pepper, and the Old Bay Seasoning. Whisk until combined.
In a second shallow bowl, whisk the eggs with a splash of water. Season lightly with salt and pepper.
In a third dish, add the other 1/2 cup of flour. Season lightly with salt and pepper.
Dry the catfish "nuggets" or fillets with a paper towel. Season lightly with salt and pepper on both sides. Dredge the catfish on both sides in the flour, then the eggs, and finally coat with the cornmeal mixture on both sides. Lay on the wire rack and finish dredging all the fillets.
In a large, heavy-bottomed Dutch oven or cast iron skillet, add enough oil to cover the bottom in a thin layer. Heat the oil over medium-high heat until shimmering. Important: The oil is ready when you drop some of the cornmeal mix in and it sizzles right away. The oil should not smoke, but it will come close.
Using tongs and working in batches, carefully place catfish fillets or nuggets in the bottom, making sure they do not touch. Pan fry for about 2-3 minutes on each side, or until golden brown. Set on a plate that is lined with paper towels. Add more oil and adjust the heat in between batches as needed.
Serve immediately with a squeeze of lemon and your favorite dipping sauce. Tip: To keep catfish warm in between batches, you can put it on a sheet pan in a 200°F oven.