This post may contain affiliate or sponsored links. Please read our disclosure policy.
This Slow Cooker Teriyaki Chicken Thigh recipe is easy, tasty, freezer-friendly, and made in the crock pot. Shred up those tender chicken thighs and serve it over rice for a delicious, filling dinner. For a dump and go crock pot freezer meal, it doesn't get much better!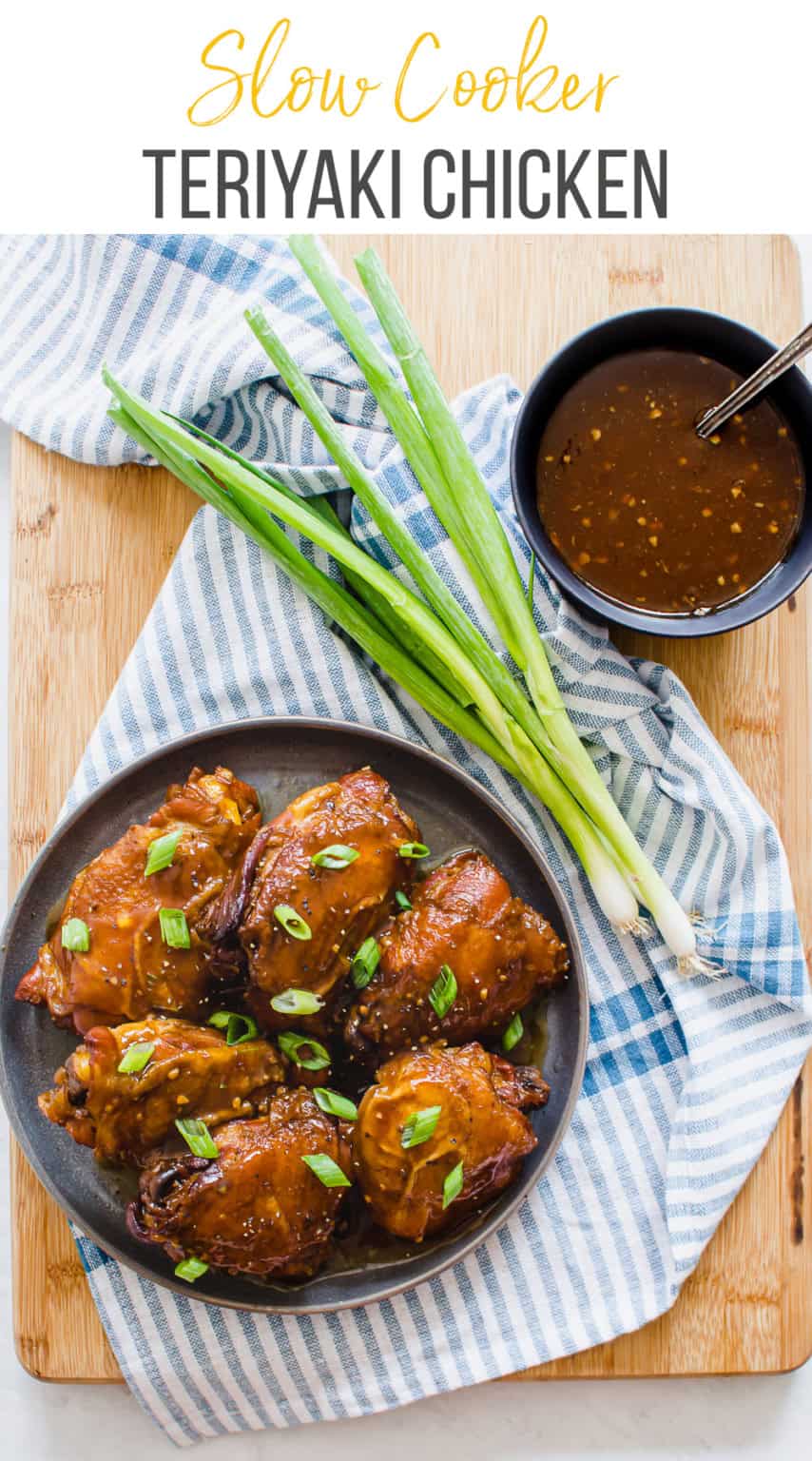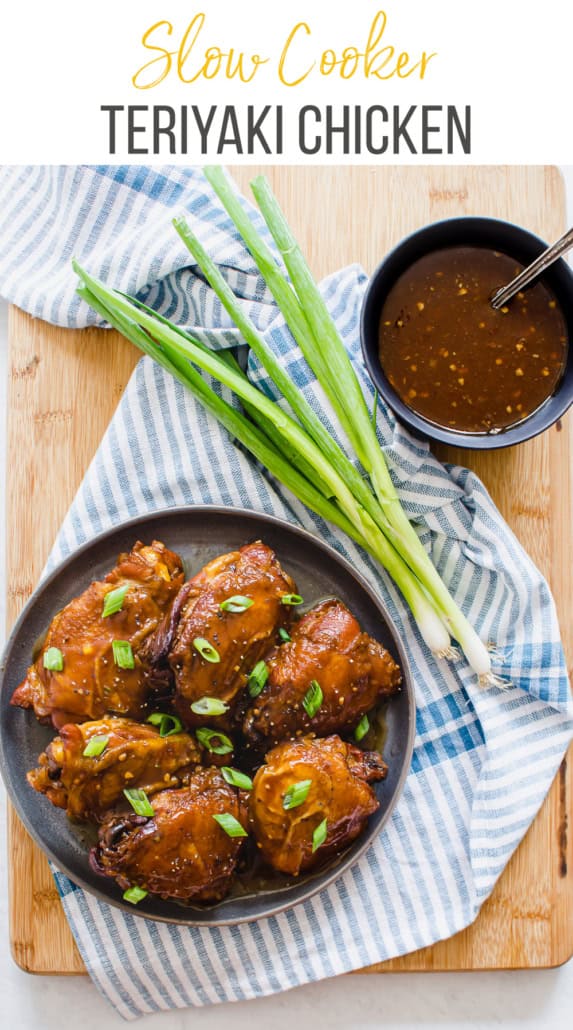 Oh man, were these Slow Cooker Teriyaki Chicken Thighs good. Yes, I do repeat. This is a GREAT SLOW COOKER RECIPE. I have tried one too many slow cooker recipes that have failed to impress me, but this one is a keeper.
Ingredients
The ingredients are simple. I bet you have most of them at home already! Here is what you'll need…
Olive or avocado oil to saute the onions
1/2 onion, diced – We found that this needs to be sautéed in order to be done when the chicken is done. If not, you'll have crunchy onions!
Garlic cloves, minced – Shortcut: 1-2 teaspoons pre-minced garlic
Soy sauce – Gluten-Free Option: Use coconut aminos or gluten-free Tamari Soy Sauce
Honey
Brown sugar
Rice wine vinegar
Bone-in, skin-on chicken thighs (This is where we get our favorite organic chicken.) – You can also use boneless, skinless thighs!
Cornstarch – To thicken the sauce at the end.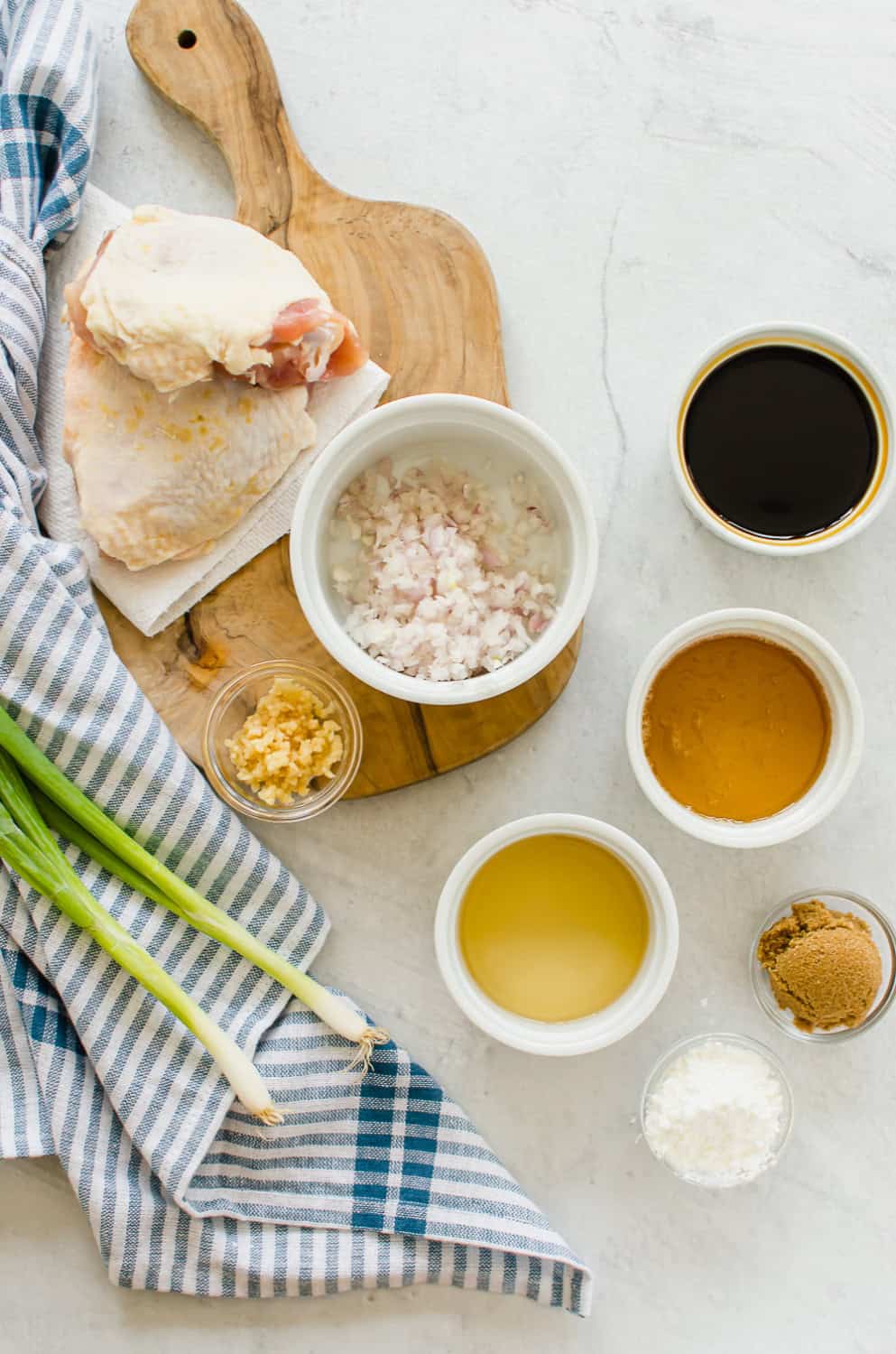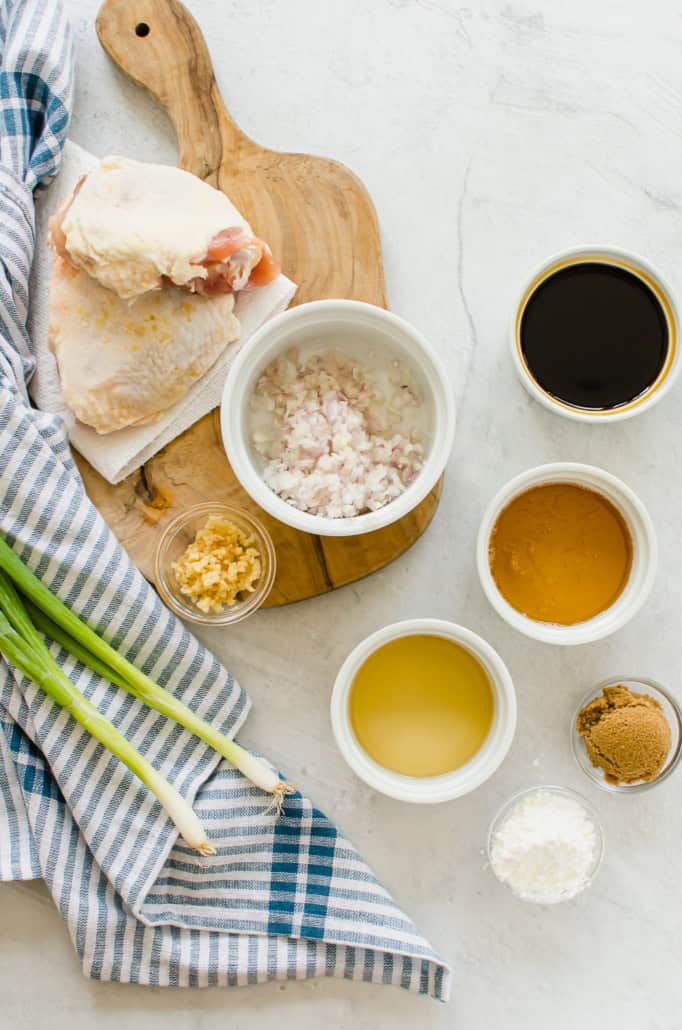 That's it! In fact, watch this short video to see how easily Teriyaki Chicken Thighs come together:
How Long Do I Cook Chicken Thighs in the Slow Cooker?
There is a lot of misinformation out there about how long to cook chicken in the slow cooker. After testing hundreds and hundreds of slow cooker recipes for our cookbooks, we have nailed down the perfect cooking times for all the most common cuts of meat. In fact, we created a free, printable slow cooker cooking times chart. You can download it and print it off to have on hand for the future.
When it comes to chicken thighs, we have found it's always best to cook them on Low and only for 3-4 hours at the very most. While chicken thighs can cook a bit longer than chicken breast, they will definitely start to dry out after that amount of time cooking.
If you're looking for a baked chicken thigh recipe, try out our Italian Baked Chicken Thighs. They are easy & delicious!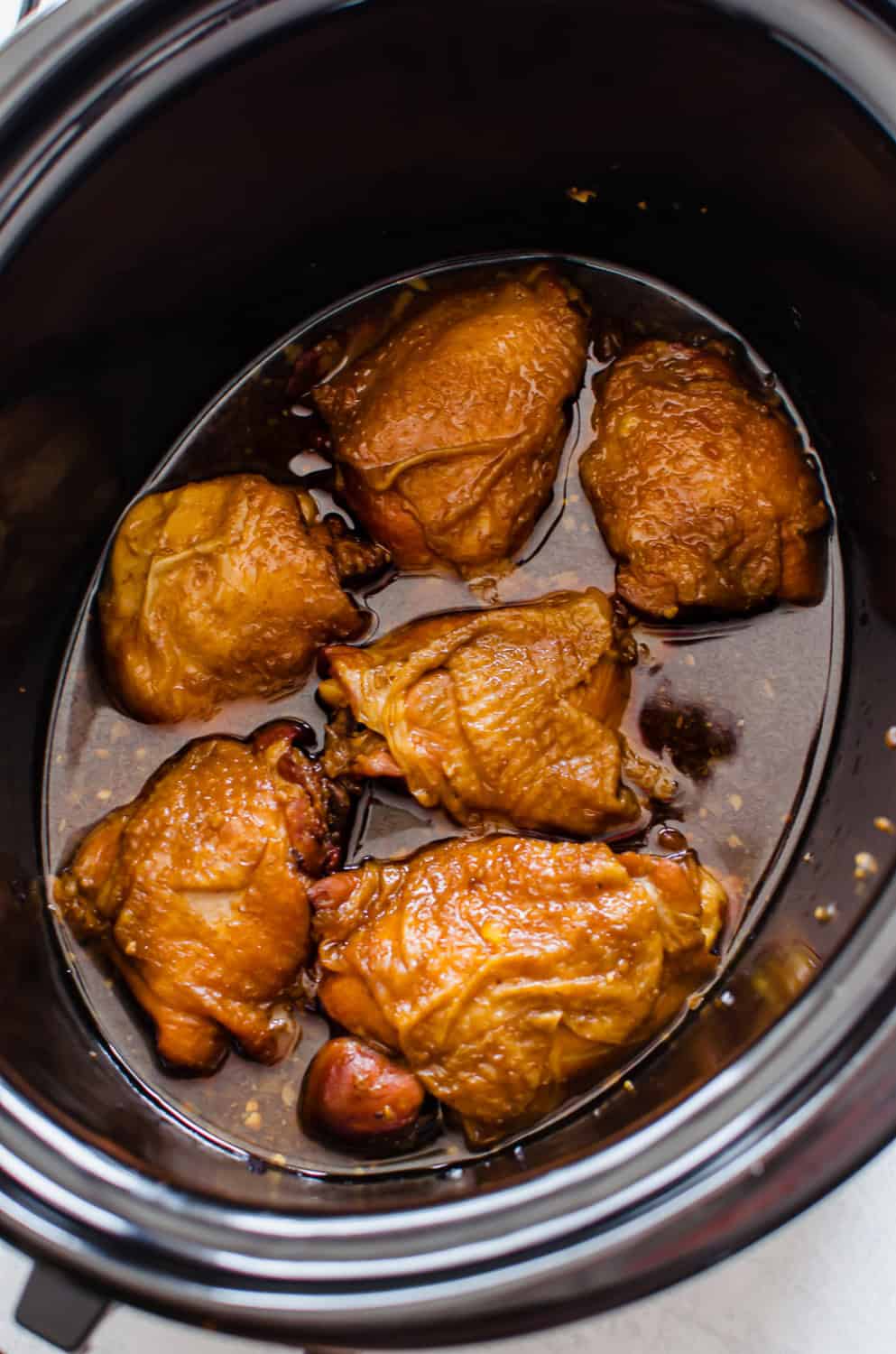 Can you freeze Chicken Teriyaki Thighs?
It's no secret we are big fans of freezer meals around here. In fact, we have 2 freezer meal cookbooks, 1 Hour Freezer Prep Sessions, and even a round-up with 70+ freezer meal recipes that you will love!
So yes, we have included freezing instructions on Chicken Teriyaki Thighs!
To Freeze For Later: Place the raw chicken thighs and all of the marinade ingredients (except for the cornstarch) into a gallon-sized freezer bag. Seal and freeze.
To Prepare From Frozen: Thaw using one of these safe methods and then cook as directed.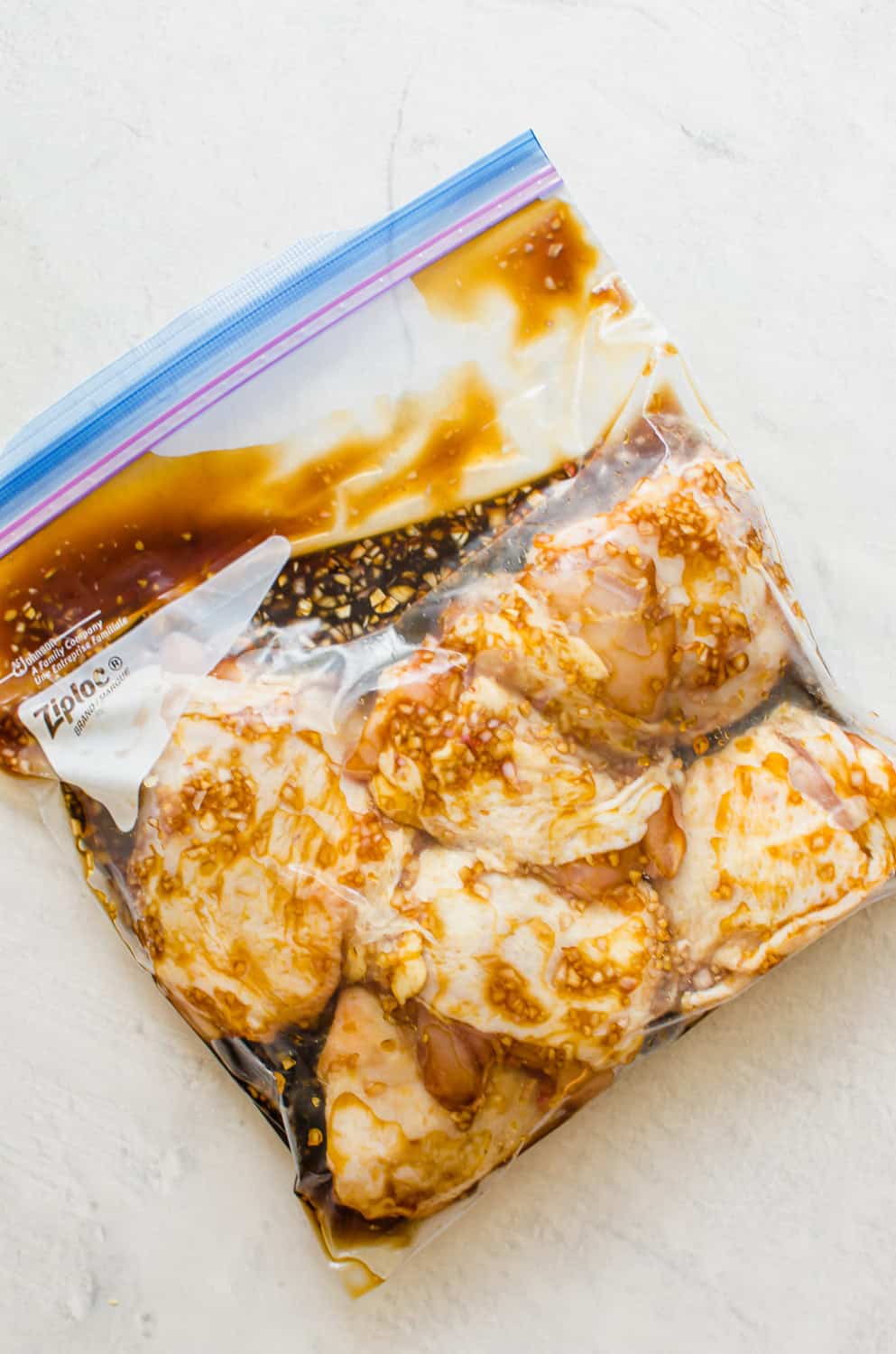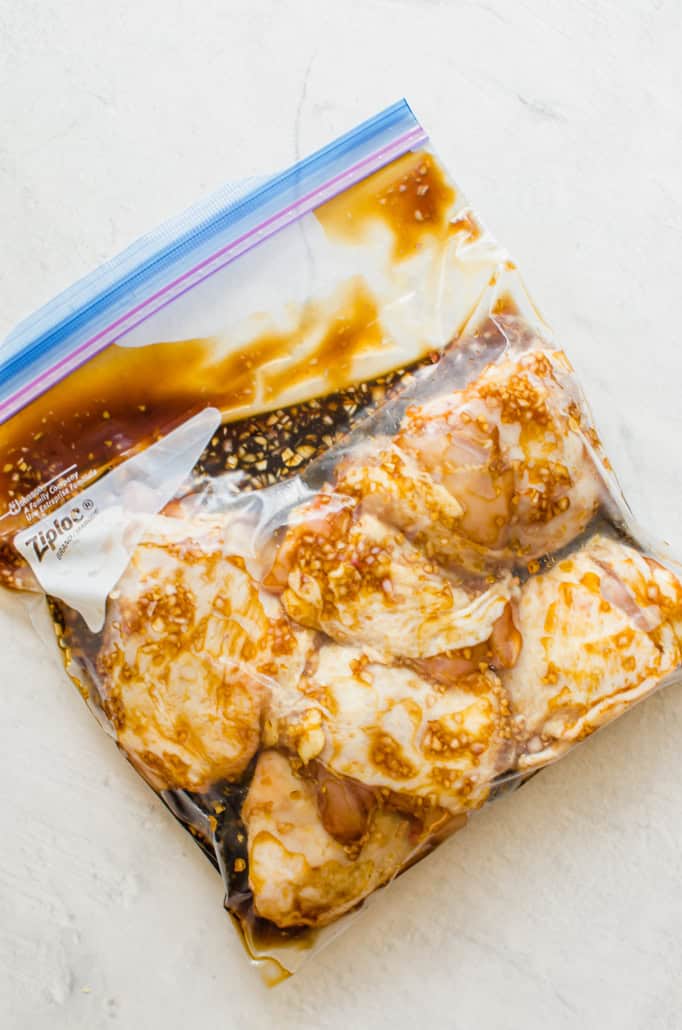 Can I add vegetables to this meal in the slow cooker?
While you can for sure add vegetables to the recipe in the slow cooker, I'd recommend giving them a quick saute on the stove instead and then stirring them in at the very end. That way they stay fresh and crisp. When cooked in the slow cooker, vegetables can get a little soggy.
I also love to serve it over a bed of brown rice.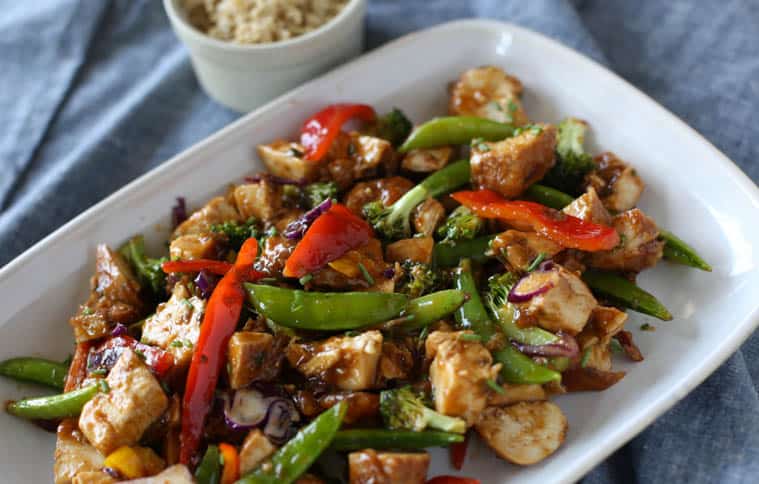 Can I Make this in the Instant Pot?
We love recipes that can be made both in the Instant Pot or the Slow Cooker. Teriyaki Chicken Thighs will work great for both.
Instant Pot Instructions:
Place the sauce ingredients and chicken thighs (not the cornstarch) inside the Instant Pot, being mindful not to stack if possible.
Lock and seal the lid.
Using the manual function, cook at high pressure for 6 minutes if using boneless chicken thighs (15-20 for frozen) OR 12 minutes for bone-in chicken thighs (17-22 for frozen) and then quick release the pressure. (Check to make sure the chicken is done, which means no more pink inside and/or registers 165°F internally.) Read How Long to Cook Chicken Thighs in the Instant Pot for more information.
Optional: Preheat the broiler. Place the cooked thighs, skin side up, on a rimmed baking sheet. Broil for a few minutes until the skin is crispy.
More Instant Pot Cooking Information
How long to cook chicken thighs in the Instant Pot
How long to cook frozen chicken thighs in the Instant Pot
Can I use other cuts of chicken instead of thighs?
You bet! Just use our cooking times chart to navigate how long to cook the chicken for in the slow cooker.
Did you make this? Snap a photo and tag us on Instagram at @thrivinghome so we can see your creations and cheer you on!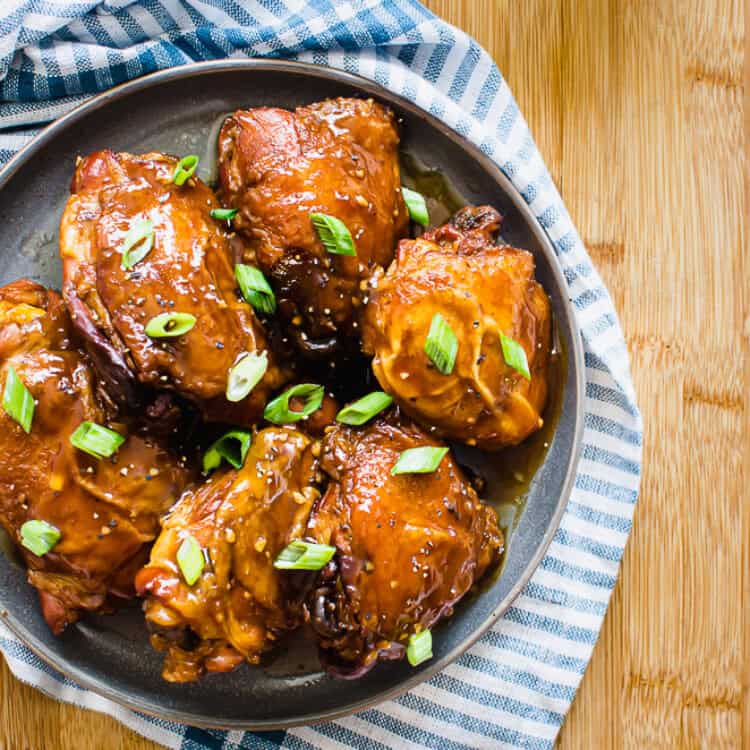 Teriyaki Chicken Thighs
This fast, healthy chicken teriyaki dinner will thoroughly impress your family and friends. The best part – it's made in the slow cooker, so you have very little work to do!
Prep:
10 minutes
Cook:
5 hours
Total:
5 hours 10 minutes
Want More Slow Cooker Freezer Meals?
We have an amazon collection of make ahead crock pot meals. Here is a great round up of 25+ Slow Cooker Recipes to get you started!