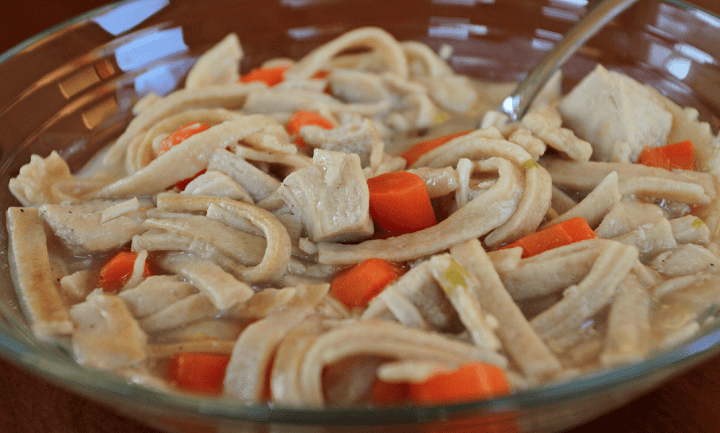 The kids and I wanted to make a meal and cards for a friend who was feeling under the weather today.  By the way, I'm learning (thanks to some amazing friends I have who do this) that serving others alongside my kids is the best way to teach them to think of others.  So, I tweaked my previous Chicken Noodle Soup recipe, made some Honey Whole Wheat Bread, and cut up some fruit for her and our family, while the kids worked on cards.
We l-o-v-e-d this version of the soup.  It was creamy, hearty, and comforting.  The keys are seasoning each step of the way, making a rue, and using the good kind of egg noodles (not the healthy, whole wheat ones unfortunately).
New and Improved Chicken Noodle Soup
Makes: 8 servings
6 T olive oil, divided
3 cooked chicken breasts, diced (I use Smart Chicken)
3-4 medium organic carrots, chopped
2 medium parsnips, chopped
1 medium onion, chopped
2 celery ribs, chopped (I didn't have this on hand today)
3 sprigs of fresh thyme
Dash of garlic powder, onion powder, and S and P (to season chicken and vegs)
3-4 garlic cloves, minced
3 T flour (I used whole wheat)
10 cups (80 oz) organic chicken broth
9 oz uncooked egg noodles (I used an Amish brand, not whole wheat)
1 tsp. dried basil
1 tsp. dried oregano
1 bay leaf
more salt and pepper, to taste
In a large stock pot, heat 3 T olive oil over medium to med-high heat. Season chicken "to taste" with a bit of garlic powder, onion powder, salt and pepper.  Cook chopped chicken until no longer pink (maybe 4-5 minutes).  Remove and set aside.
Add 3 T oil.  Throw onion, carrot, parsnip, celery, thyme, and garlic in and season lightly with salt and pepper.  Cook until just tender, about 4-5 minutes. Remove and set aside.
Whisk in 3 T of flour and a splash or two of chicken broth for about 2 minutes (until it forms a golden brown paste).  (Note: the point of this step is to cook the flour a bit and create a thickening paste to the broth.) Whisk in the rest of chicken broth a little at a time, making sure lumps don't form.
Add vegetables, bay leaves, basil, oregano, S and P (go shy on this since you can add more at the end) and let simmer for 5-10 minutes.
Add egg noodles.  Bring back to a boil and turn down heat to a simmer.  Cook noodles a little less than the package recommends, so you don't overcook them.
Add chicken in when there is about 5 minutes of cooking time to go.  Note: don't boil them, because it could make them tough. Remove bay leaves and adjust seasoning as needed.
Note:  If you plan to freeze this recipe, be sure to under cook your noodles by a few minutes.
Linked to: