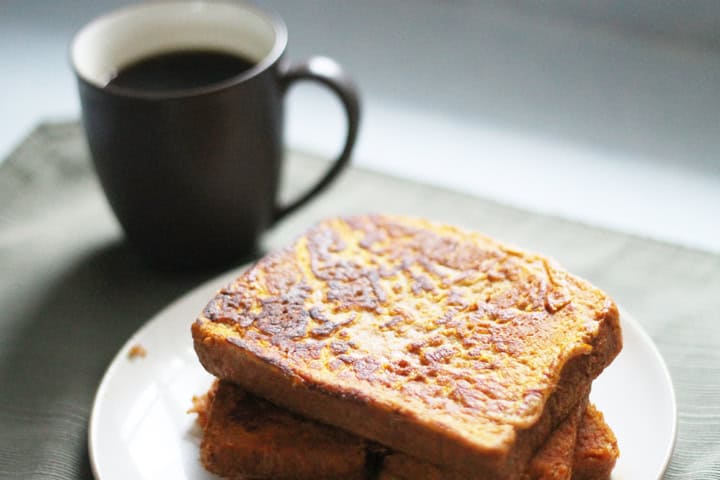 Oh! How I love pumpkin in the fall…and french toast all the time.  So does my family.  That's why Pumpkin Whole Wheat French Toast was born.
Pumpkin Whole Wheat French Toast is such a nutritious and hardy way to start your day. And, like most of our recipes, it's super easy to whip up. Plus, if you eat a breakfast like this one or one of these healthy breakfast ideas, science says you might just lose weight, too. Nice way to kick off fall, huh?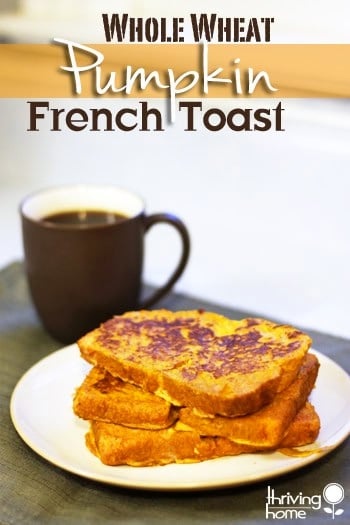 Pumpkin Whole Wheat French Toast
Whip up a bit of fall into your french toast batter and enjoy some extra nutrition at the same time with this recipe. A family favorite in our house!
Ingredients
4 eggs
¼ cup milk
½ cup pureed pumpkin (canned or fresh)
½ tsp cinnamon
1 tsp real vanilla
a pinch of salt
8 bread slices (stale is fine)
Serving suggestion: butter and real maple syrup
Instructions
Preheat a large pan or griddle over medium low heat.
Whisk egg, milk, pumpkin, cinnamon, vanilla, and salt in a shallow dish.
Grease the pan (I prefer organic butter or coconut oil). When a few water drips sizzle in the pan, it is hot enough to begin.
Dip bread slices one at a time in the batter, turning them over to get them completely soaked. Give them a minute to really soak in the goodness!
Cook the battered bread slices for about 2 minutes on each side. The french toast is done when both sides are golden brown and there is no more visible raw egg.
Serve with butter and real maple syrup.
Notes
Freezer Meal Instructions:

To freeze:
Make french toast, let cool completely, and store in tightly sealed freezer bag or container.

To prepare:
Toast on the "defrost" setting until warmed through. Or toast on regular setting and microwave in 10 second increments to warm all the way through.
You might also like...