I am SO excited to share this recipe with you guys!
I stumbled on this pumpkin spiced latte recipe and thought it'd be a great drink to serve to my small group that comes to my house each week.
It was a hit! Just ask some of the girls who tried it…
A few other reasons I will be making multiple batches of this slow cooker pumpkin spiced latte recipe are:
It made my house smell SOOO good. Its scent was a warm-vanilla-cinnamon-pumpkiny aroma. It was better than any fall candle that I have bought!
It served 15+ girls. It's a great recipe for large groups.
It was super easy to make and used REAL ingredients. No syrups.
I made it a 2 hours before the group got there so I wasn't scrambling to put it together as people arrived.
The taste was marvelous. It was warm and sweet with a hint of pumpkin flavor. It really does rival a coffee shop's pumpkin latte.
Who doesn't love to warm up with a special cozy drink with a bunch of girls?!
OK, I've blabbed on enough about my new favorite crock pot recipe. Here it is!
Serves 10-15 people
Crock Pot Pumpkin Spiced Latte
Ingredients
6 cups of milk (I used whole)
4-6 cups of strongly brewed coffee
½ cup of pumpkin puree
½ cup of vanilla extract
½ cup of sugar
2 teaspoons of cinnamon
3 cinnamon sticks
Instructions
In your crock pot, combine the milk and coffee.
Whip together the pumpkin, vanilla, sugar and cinnamon and pour into the crockpot.
Mix together well.
Toss in 3-4 cinnamon sticks.
Cover the crockpot, and cook on high for 2 hours.
*If you don't have a large group, you could easily halve the recipe.
**I've been told that heating up the leftovers doesn't work so well
Like this recipe? You might "fall" for these healthy pumpkin recipes too…
Healthy Pumpkin Chocolate Chip Muffins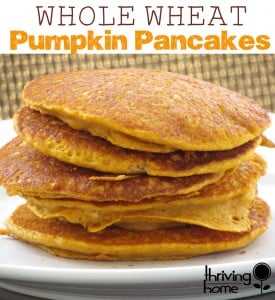 Whole Grain Pumpkin Banana Nut Bread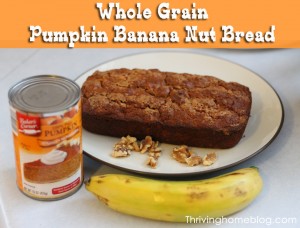 Make sure to pin this recipe and follow Thriving Home's Pinterest boards for more recipes like this one!
Find all of our healthy, kid-friendly and easy recipe here!
Have our latest recipes sent straight to your inbox. Sign up for our weekly email here.
You might also like...