Here's my husband's and my favorite enchilada recipe.  If you want to go lighter on the cheese, these enchiladas are really quite good for you.  With the chicken, beans, vegetables, and whole wheat tortillas, you're getting some great lean protein, fiber, vitamins and minerals.  If you're making this for kids, you may want to pull back on the spice a bit.
What kind of containers do you store freezer meals like this in?
We highly recommend using a BPA-free container or dish. While it may be easier to buy the disposable Glad ovenware containers, it really makes sense to stock up on some quality, safe dishes that you can bake AND store in. After searching long and hard, I highly recommend using these containers from MightyNest:
Glass Baking Dish with Lid (6 cup)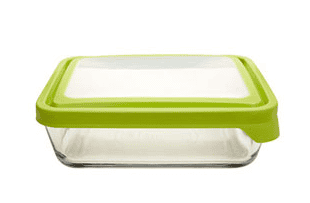 Glass Baking Dish with Lid (3 Quart)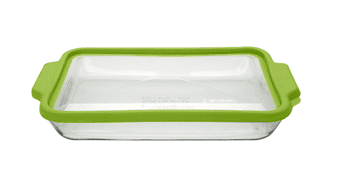 A few reasons I like these:
Glass is a natural, non-porous material.
Glass cookware doubles as food storageware.
Glass is easy to clean and dishwasher safe.
The clear lid allows easy visibility to your food.
Because they are oven and microwave proof, you can cook, heat, and store your food all in one dish.
Flat top allows for easy stacking.
They are VERY affordable.
Swing by MightyNest to check these and more great kitchen products out.
Homemade Taco Seasoning
These chicken, bean, and veggie enchiladas will provide your family with some lean protein, fiber, vitamins and minerals.
Ingredients
1½ teaspoon chili powder
¼ teaspoon garlic powder
¼ teaspoon onion powder
¼ teaspoon crushed red pepper flakes
¼ teaspoon dried oregano
¼ teaspoon paprika
1 teaspoon ground cumin
½ teaspoon sea salt
½ teaspoon black pepper
Instructions
Combine the ingredients and use according to your taste in the enchilada recipe.
Cheesy Chicken and Black Bean Enchiladas
These chicken, bean, and veggie enchiladas will provide your family with some lean protein, fiber, vitamins and minerals.
Ingredients
2 teaspoons olive oil
¼ cup chopped onion
2 cloves garlic, minced
1 pound boneless, skinless chicken breasts, cut into 1-inch pieces
1 (15-ounce) can black beans, rinsed and drained
1 (4-ounce) can diced green chiles
⅓ cup prepared salsa, mild, medium or hot
homemade taco seasoning (see recipe below)
½-1 cup red enchilada sauce
4-6 (8-inch) whole wheat tortillas
1⅓ cups shredded Monterey Jack and or Cheddar cheese
Instructions
Preheat oven to 400 degrees F. Coat a 9x9 casserole dish with cooking spray.
Heat oil in a large skillet over medium heat. Add onion and garlic and saute 2 minutes. Add chicken and saute 5 minutes, until golden brown and cooked through. Add taco seasonings to the meat mixture.
Stir in black beans, green chiles, and salsa and simmer 5 minutes, until sauce thickens and reduces.
Put half of the enchilada sauce on the bottom of a 9x9 casserole dish. Arrange 4-6 tortillas on a flat surface. Top each tortilla with an equal amount of chicken/bean mixture and 1-2 tablespoons cheese. Roll up tortillas and place side by side in a shallow baking dish. Add remaining enchilada sauce to the top. Then, top tortillas with remaining shredded cheese.
Bake enchiladas 15 minutes, until cheese is golden.
Notes
Freezer Meal Instructions:
To Freeze:
Freeze the enchiladas before baking in an airtight freezer safe pan. You can store them in the freezer for up to 3 months.
To Prepare:
Thaw enchiladas in the refrigerator for approximately 24 hours. Follow cooking instructions as listed in the recipe. If the enchiladas are somewhat frozen when cooking, cover them in foil so they don't burn on the top.
You might also like...