This post may contain affiliate or sponsored links. Please read our disclosure policy.
A simple marinade plus a sweet glaze and crunchy topping make this Baked Dijon Wild Salmon recipe a winner for all ages.
I'm always on the scout for new wild salmon recipes, especially ones that my whole family will enjoy. That's because there are few foods that are better for us than this omega-rich, protein-rich food!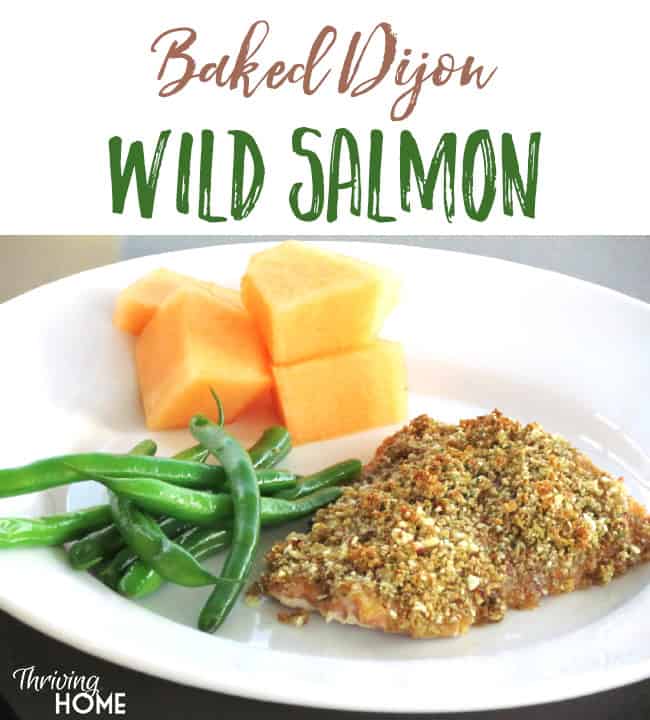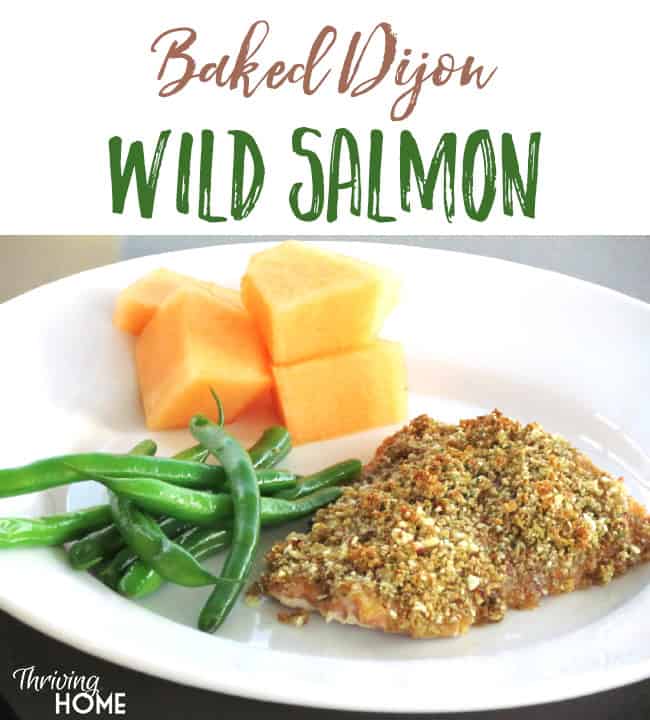 How to Make Baked Dijon Wild Salmon
This Baked Dijon Wild Salmon recipe begins with a simple marinade that the fish sits in for an hour or less. Then, you'll add a yummy glaze to the top and end with a crunchy whole-grain topping. These three fast steps transform this piece of fish, creating the perfect combo of salty, sweet, and crunchy. For the non-fish lover in your life, this recipe minimizes the sometimes fishy taste of salmon.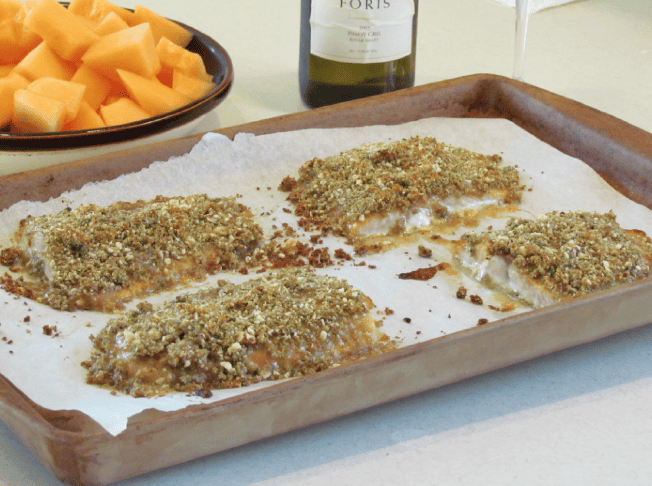 A Word of Caution When Buying Salmon
Be sure to buy WILD salmon, NOT farm-raised salmon. That's because many studies have shown there are 10 times as many PCBs in farmed fish.
Basically, that's a reflection of how much pesticides, antibiotics, other contaminants are used in raising these farmed fish. There's higher pesticide levels in the farmed fish….They actually raise these farmed fish (with large numbers in pens) … You actually have to give them antibiotics. And a lot of the PCBs and toxins are all part of the farming process that are used to try and keep these fish free of disease….sometimes even inject fish like salmon with red dye or pink dye to make them look more pink, more like their wild counterparts.

– Dr. Sanjay Gupta
Wild Salmon is readily available and affordable in most grocery stores now, but the tastiest Wild salmon I've had is from ButcherBox. It's where I get all of my meat because they offer affordable, healthy (and delicious!) meat from small farmers that is delivered to my doorstep on my schedule. (Cancel any time.)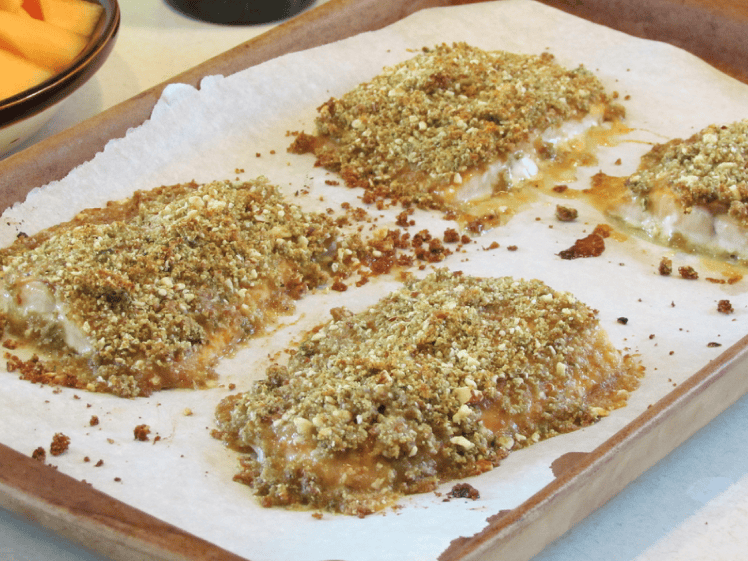 What to Serve with Baked Dijon Salmon
With Baked Dijon Salmon as the centerpiece of your meal, all you need are a few simple, healthy sides. Here are a few ideas:
Steamed green beans
Your favorite fruit (i.e. cantaloupe, grapes, berries)
More Salmon Recipes You May Like
Here are a few more salmon recipes from our collection you might enjoy…
Did you make this? Snap a photo and tag us on Instagram at @thrivinghome so we can see your creations and cheer you on!
Baked Dijon Wild Salmon
This baked dijon salmon recipe is a nice combination of salty, sweet, and crunchy…which definitely minimizes the sometimes fishy taste of salmon.
Cook:
15 minutes
Total:
15 minutes
Ingredients
4

(4-ounce) salmon fillets
Marinade:
2 tablespoons

olive oil

1 tablespoon

honey

1 tablespoon

soy sauce

1

garlic clove, minced
Glaze:
1/4

cup

butter, melted

3 tablespoons

Dijon mustard

1 1/2 tablespoons

honey
Crunchy Topping:
1/4

cup

dry bread crumbs (I throw 1 or 2 whole wheat bread pieces in my food processor for this)

1/4

cup

finely chopped pecans (or almonds) (again, just toss a handful of nuts in the food processor)

4 teaspoons

finely chopped fresh parsley

1/4 teaspoon

salt

1/8 teaspoon

pepper

1

lemon, for garnish (optional)
Before You Begin! If you make this, please leave a review and rating letting us know how you liked this recipe! This helps our business thrive & continue providing free recipes.
Instructions
Make It Now:
Mix together all ingredients for marinade in a small bowl. (Freezing instructions begin here.)
Pat dry salmon filets and set in casserole dish or cookie sheet with sides. Pour some marinade over each filet and rub on both sides. Cover with lid and put in fridge for about an hour (no longer than that).
Preheat oven to 400°F (200°C).
In small bowl, stir together melted butter, mustard, and honey. Set aside.
In another bowl, mix together bread crumbs, pecans, parsley, salt and pepper.
Brush each salmon fillet lightly with honey mustard mixture. Then, liberally sprinkle the tops of the fillets with the breadcrumb mixture.
Bake salmon about 12 to 15 minutes in the preheated oven, or until it flakes easily with a fork. Do not overcook! In fact, I would take it out when the center is still a little undercooked. Cover with foil and let it "carry over cook" for a few minutes the rest of the way.
Season with salt and pepper to taste, and garnish with a wedge of lemon.
Freeze For Later: Follow recipe through step 1. Place the marinade in a small freezer container or bag and seal. Follow Steps 4 and 5. Place the glaze and crunchy topping in separate freezer bags or containers and seal. Freeze the salmon, marinade, glaze, and topping together as a meal kit. Store for up to 3 months.
Prepare From Frozen: Thaw everything. Then, marinate fish in the refrigerator for up to an hour. Preheat the oven to 400°F. Follow steps 6-8.