Healthy Homemade Chef Boyardee Pasta
Updated: 4/20/22
This post may contain affiliate or sponsored links. Please read our disclosure policy.
Skip the canned junk and make this delicious and nutritious pasta dish for your family instead. So much sneaky nutrition in this one-pot wonder!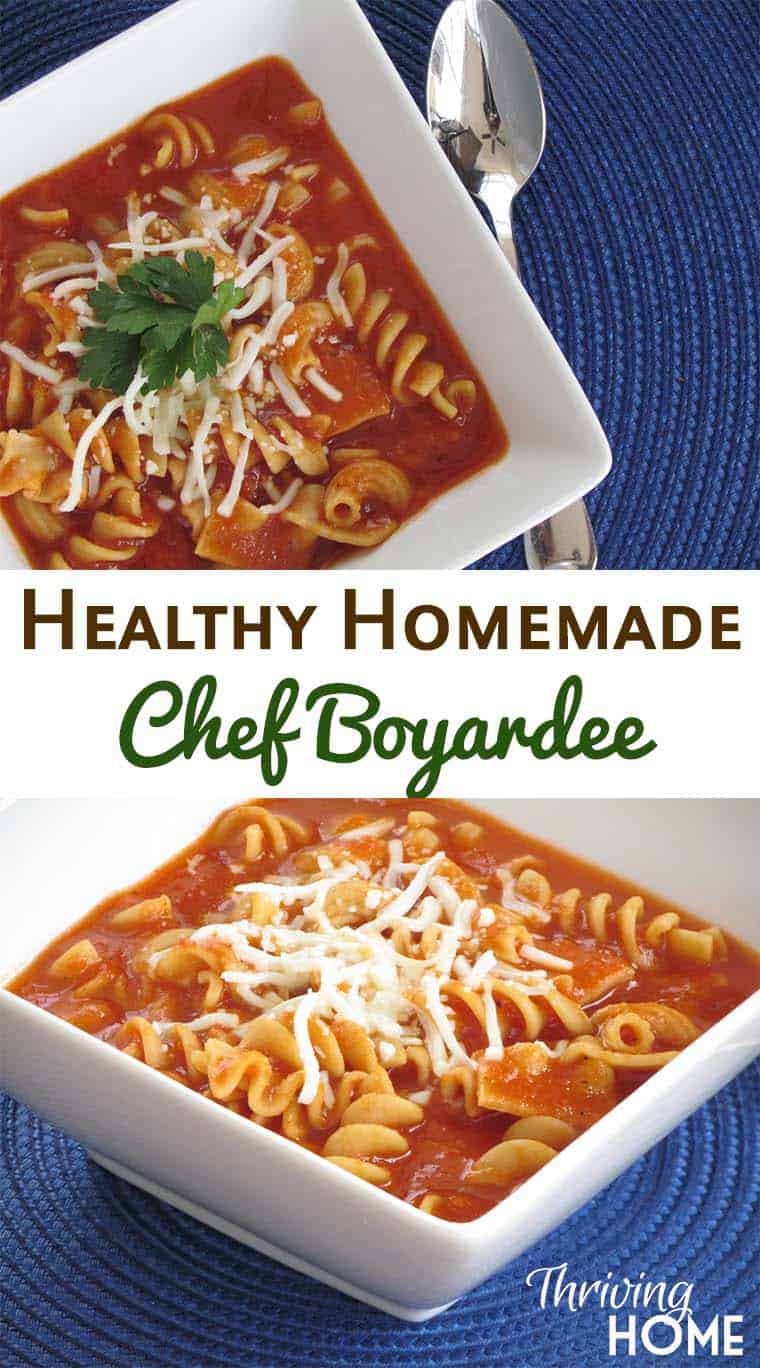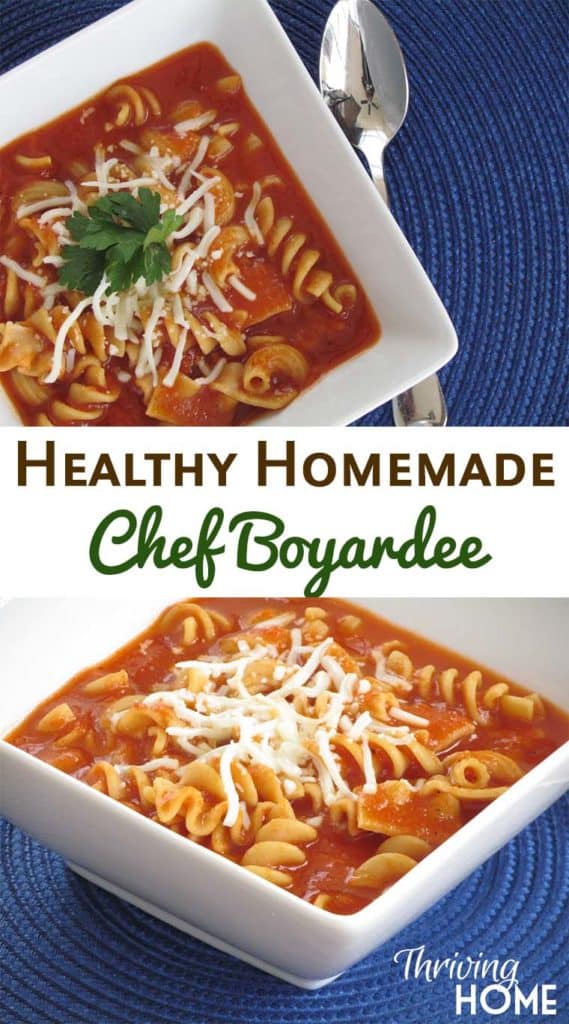 Quick vote: What was your canned Chef Boyardee pasta of choice as a kid?
a. Spaghetti and Meatballs
b. Beefaroni
c. Beef or Cheese Ravioli
Me? I was a Beef Ravioli kid all the way. But, alas, I know too much these days about what goes into a canned product like that to enjoy it, much to my husband's chagrin sometimes.
If you want to know more about what's in this kid favorite, you might check out this post. Or take my word for it and make something that tastes far better and is full of good-for-you, recognizable ingredients. This Healthy Homemade Chef Boyardee Pasta has the same saucy deliciousness and comforting pasta that we grew up on, but it knocks the socks off the canned junk.
With the use of the blender, you'll remove any noticeable vegetable chunks for keen little eyes and also easily whip up this flavor-rich pasta sauce. You can certainly add in some browned ground beef after blending the sauce, if your family prefers a meaty sauce. But, I loved the texture as is. The end result is somewhere between a plate of pasta and a bowl of tomato soup with pasta in it.
Voila! I give you Healthy Homemade Chef Boyardee Pasta.
Did you make this? Snap a photo and tag us on Instagram at @thrivinghome so we can see your creations and cheer you on!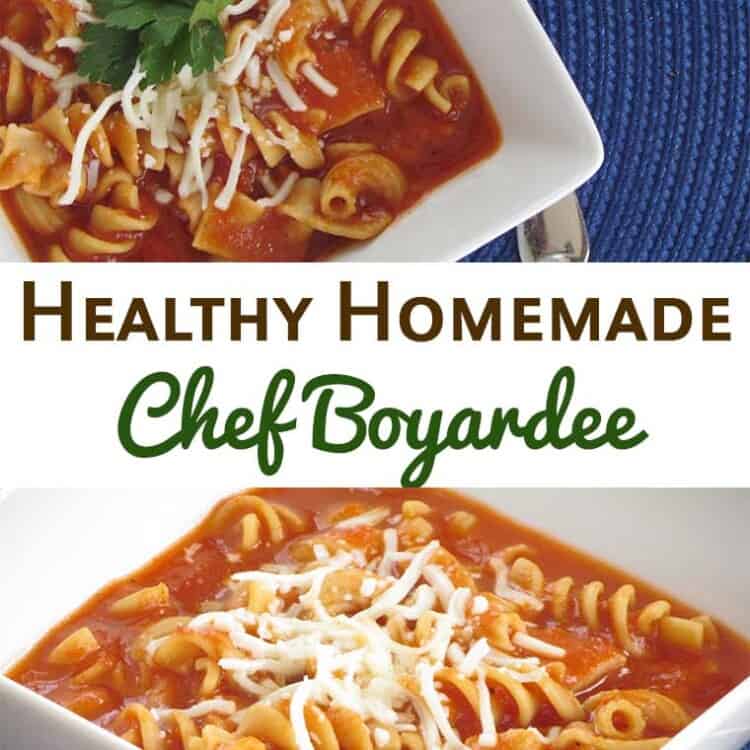 Homemade Chef Boyardee Pasta
Skip the canned junk and make this delicious and nutritious pasta dish for your family instead. So much sneaky nutrition in this one-pot wonder!
Prep:
20 minutes
Cook:
20 minutes
Total:
40 minutes
Ingredients
8 cups

(or

2

cartons) organic chicken broth

1

(28 ounce) can organic tomato sauce

1 tablespoon

tomato paste

1

bay leaf

1/2

onion, chopped

1

large carrot, peeled and chopped

2

garlic cloves, minced

1 teaspoon

sugar

1/2 teaspoon

dried oregano
Salt and pepper, to taste

6 ounces

of whole wheat pasta, like rotini, elbows or broken up lasagna noodles
Optional: shredded Parmesan cheese or mozzarella cheese
Before You Begin! If you make this, please leave a review and rating letting us know how you liked this recipe! This helps our business thrive & continue providing free recipes.
Stir together all ingredients EXCEPT the pasta in a large pot. Bring to a boil and reduce to a simmer, stirring occasionally for 10-15 minutes, or until carrots and onions are softened and sauce has reduced some. Remove the bay leaf.
Using an immersion blender or carefully spooning mixture into blender, blend sauce until smooth. Note: Be sure to fit lid tightly and hold down with a kitchen towel, if using an upright blender.) Return sauce to the pot. Taste and season and add more salt and pepper, as needed.
Bring sauce up to a simmer again. Stir in the pasta. Simmer and stir occasionally until pasta is tender, usually about 8-10 minutes. Taste and adjust seasoning again.
Serve warm in a bowl with shredded Parmesan or mozzarella on top.