This post may contain affiliate or sponsored links. Please read our disclosure policy.
This Homemade Chex Mix recipe is easy to whip up, makes your home smell ah-maze-ing as it bakes in the oven, and is an addictive snack food that has proven to be a crowd favorite for decades. The recipe comes from my grandma and its secret sauce is the key to its deliciousness.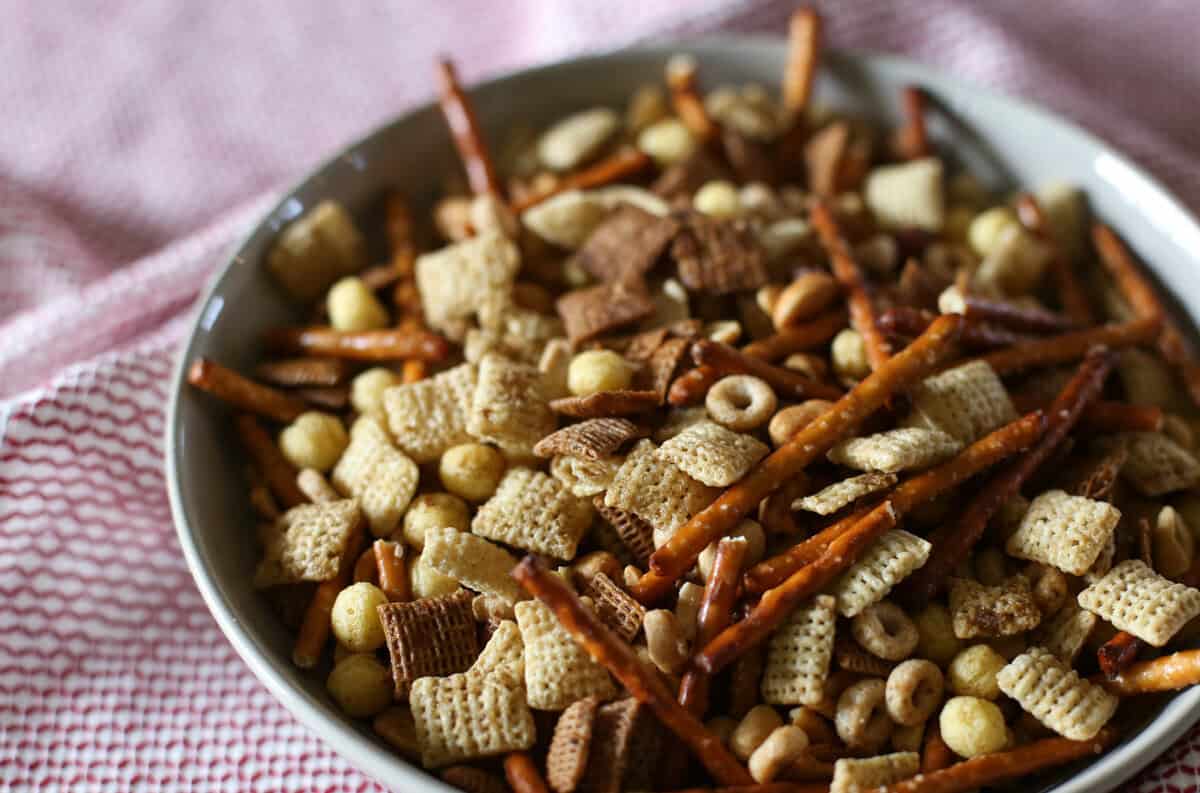 The History Behind the Family Recipe
I'm almost a little hesitant to share our "TV Mix" recipe.
No, not because of its addictive nature and unmatchable flavor.
Not because it makes a HUGE batch and is easy to store, give away, or bring to a large group get-together.
Nor for the reason that it will make your house smell AMAZING and your mouth water when it's cooking in the oven. Nope. None of those reasons.
The reason I'm hesitant is because, similar to our Apple Butter, it's a somewhat secret family recipe that we make EVERY Fall. I guess we've never declared it a secret but I don't know of anyone else who makes this "TV Mix" as we like to call it.
This yummy snack was originally a recipe of my grandma's. I remember her always having it out and ready at family gatherings. I'm so glad my mom snagged the recipe and perfected it. I even have the original recipe card from her!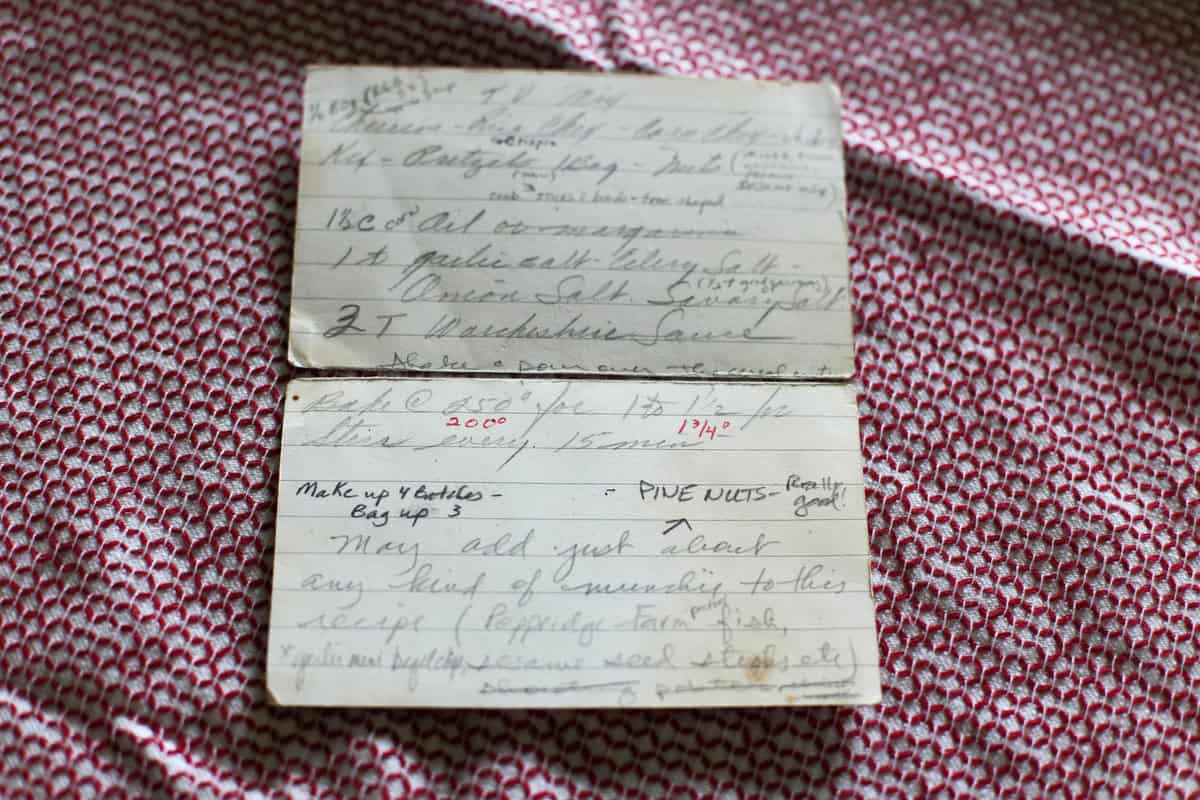 I love that we can carry on the family tradition of making the TV mix together.
In fact, we recently got together to make a batch. Look how easily it comes together!
Be warned, once you make your own Chex Mix, you'll never go back to the store bought. Same goes for Homemade Pesto, Slow Cooker Marinara Sauce, and Homemade Granola.
Ingredients
Here is what you will need to make homemade Chex Mix.
Tip – use the extra Chex to make Puppy Chow!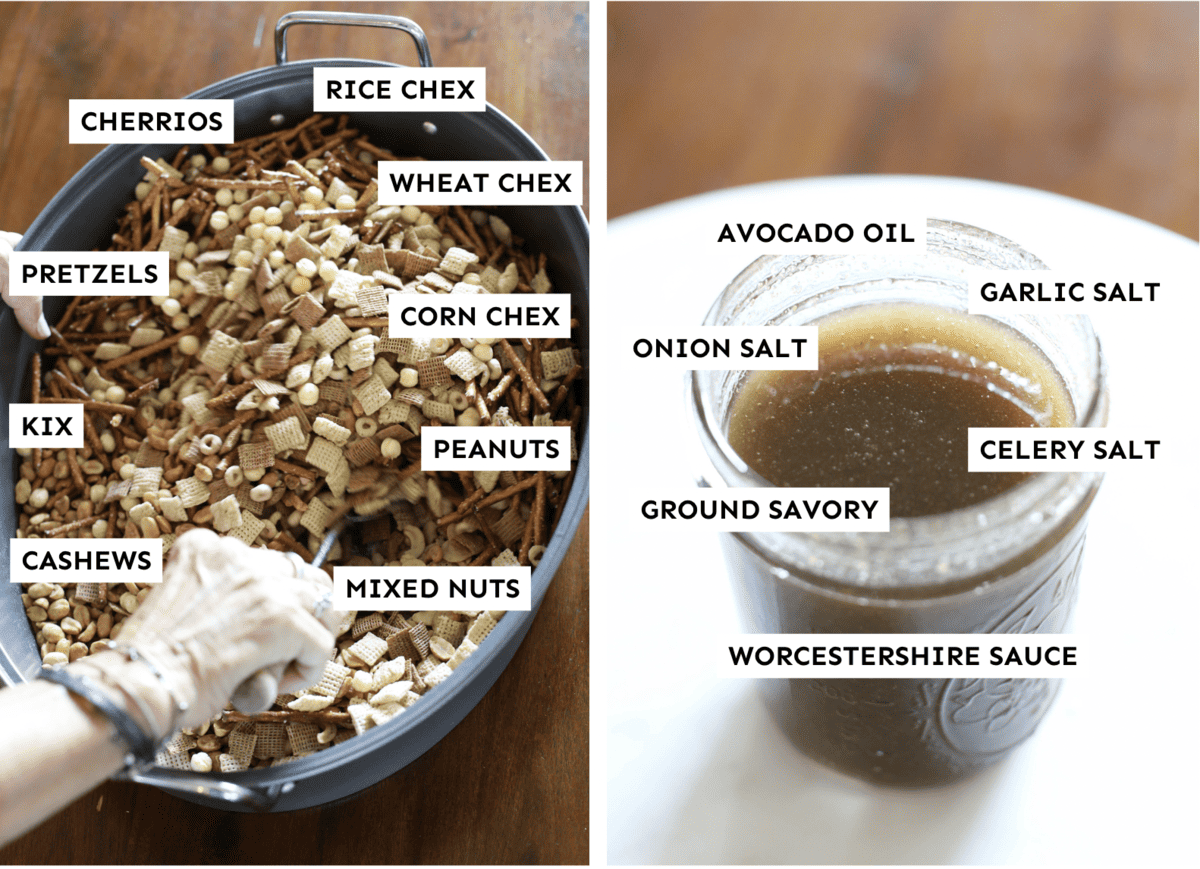 Ingredient Notes:
You can add just about any kind of munchie to the cereal mixture. Some examples we've used in the past are: Crispix, pretzel fish, crushed garlic bagel chips, sesame seed sticks, pine nuts, etc.
Ground Savory can be hard to find. You can substitute thyme if you need to. You can easily get it on Amazon as well.
How to Make Homemade Chex Mix
Start by mixing all the dry ingredients together in a large roasting pan.
Next add all of the sauce ingredients to a jar and give it a good shake. Drizzle it over the mix and toss until thoroughly mixed in.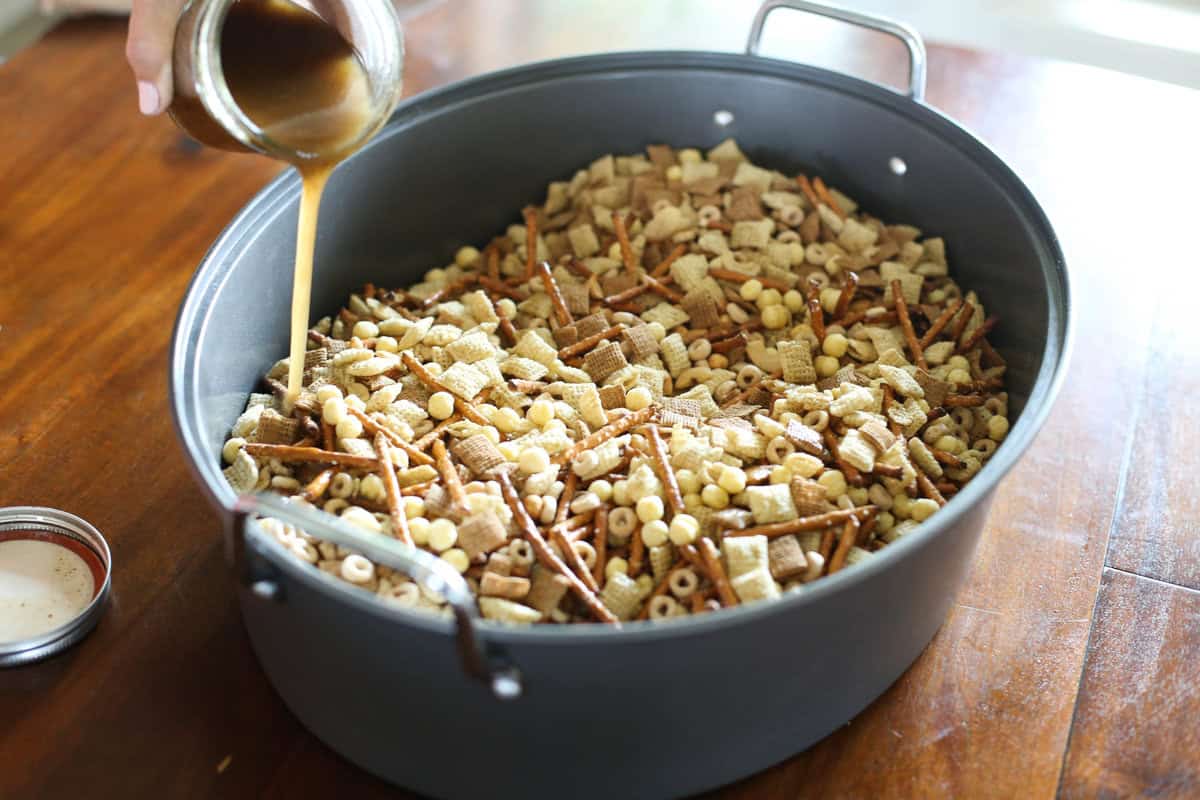 Time to bake it! This is the best part because it smells SO dang good once it gets going.
The mix does need to be stirred every 15 minutes, but it will be worth it, I promise. If you don't stir it, parts of the mix will get burnt.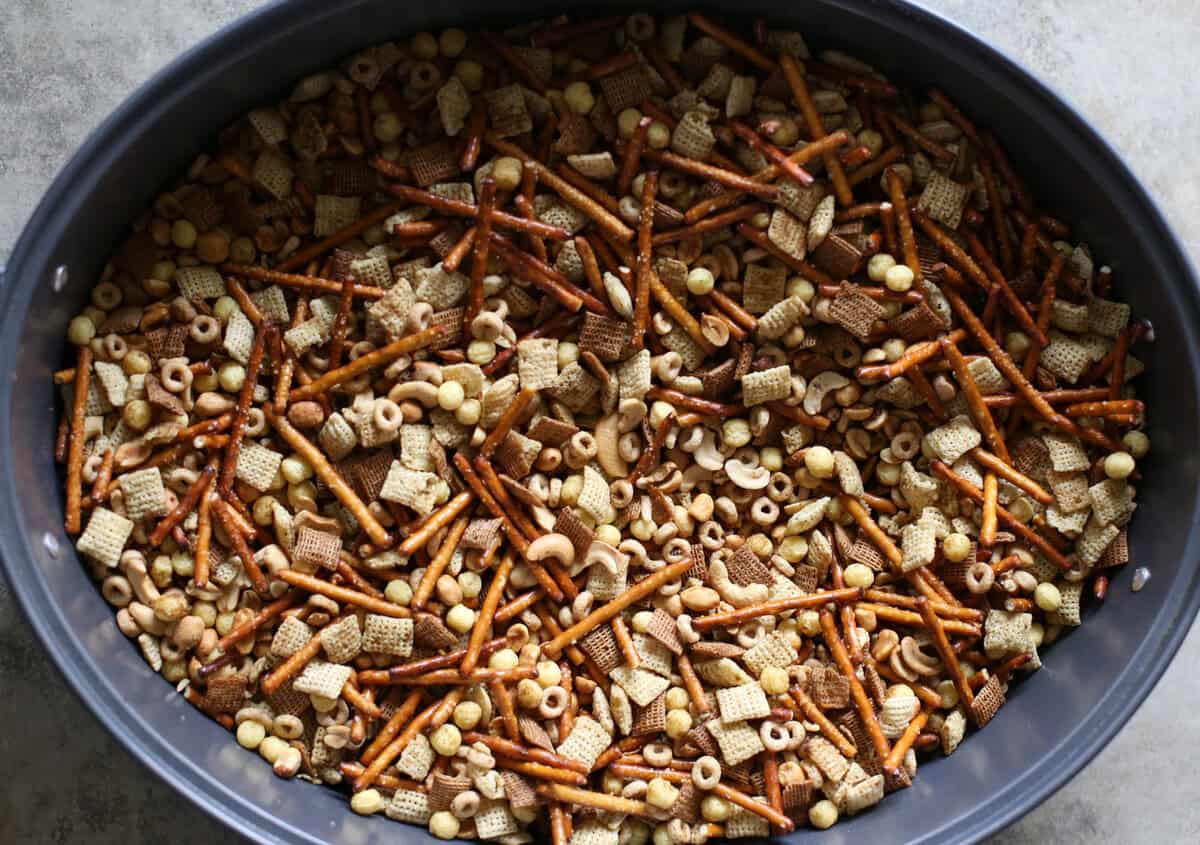 How to Store Homemade Chex Mix
Chex Mix is best at room temperature. I like to store mine in jumbo ziplock bags or in a large Tupperware container.
If stored properly, it will be good for 3-4 weeks.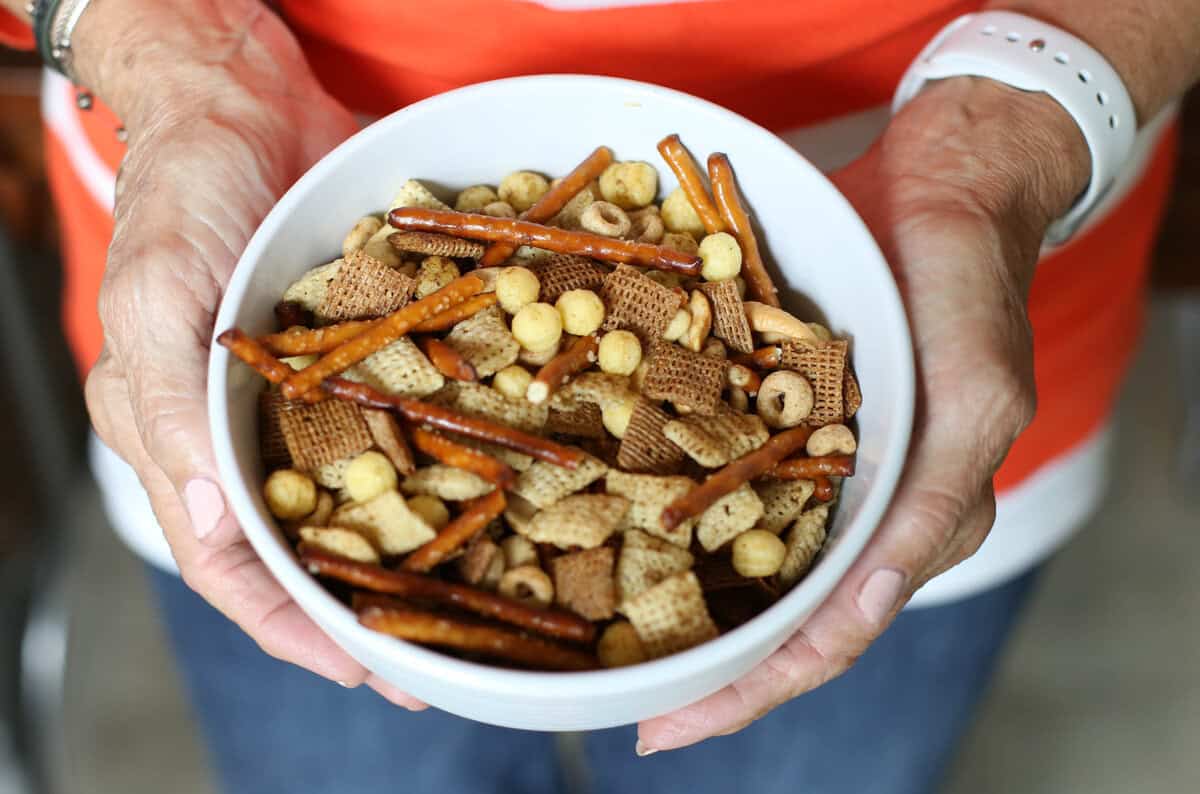 FAQs
Can I substitute vegetable oil or butter? I don't have any corn oil on hand.
Any kind of neutral cooking oil like vegetable oil or avocado oil will work. We haven't tested it with butter, but I'm afraid it could burn.
What kind of roasting pan do you use?
The roasting pan I recommend for this is a rectangular or oval-shaped, deep, and wide pan with sturdy handles. They are typically 16-18 inches. It's the same one I use to roast a chicken or turkey.
Can I customize the ingredients?
Yes! You can easily swap out the crunchy ingredients in this recipe. Just don't mess with the sauce that goes over it.
More Snack Ideas You Might Like
Did you make this? Snap a photo and tag us on Instagram at @thrivinghome so we can see your creations and cheer you on!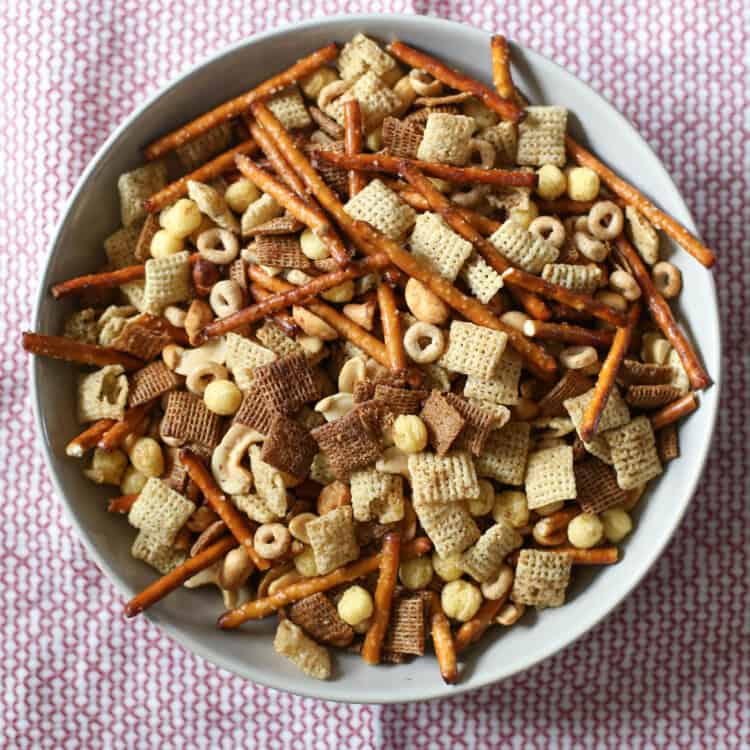 Homemade Chex Mix
This Homemade Chex Mix recipe has been a family hit for years! Throw a batch together for your next large gathering. Your guests won't be able to get enough!
Prep:
20 minutes
Cook:
1 hour 30 minutes
Total:
1 hour 50 mins
Ingredients
3

cups

of Cheerios

3

cups

of Rice Chex

3

cups

of Wheat Chex

3

cups

of Corn Chex

3

cups

of Kix

1

regular bag of stick pretzels

1

(8 oz.) can mixed nuts

1

(8 oz.) can peanuts

1

or

2

cups

cashew halves
Sauce Ingredients
1 1/2

cups

corn oil (sub: avocado oil)

3 tablespoons

Worcestershire sauce

1 teaspoon

garlic salt

1 teaspoon

onion salt

1 teaspoon

celery salt

1/2 teaspoon

ground savory (sub: ground thyme)
Before You Begin! If you make this, please leave a review and rating letting us know how you liked this recipe! This helps our business thrive & continue providing free recipes.
Instructions
Preheat the oven to 250°F.
In a large roasting pan, combine cereals, pretzels, and nuts.
In a mason jar or small bowl, combine oil, Worcestershire sauce, garlic salt, onion salt, celery salt, and savory in a mason jar or small mixing bowl. Shake or stir well.
Pour the sauce over mixture and stir well to combine.
Bake for 1 – 1 1/2 hours, stirring every 15 minutes
Let cool completely before storing.
---
Notes/Tips
I use two wooden spoons to stir the mix. This helps it get thoroughly tossed. 
You can swap out any of the crunchy ingredients. Just don't mess with the sauce. 
Chex Mix stores well in an airtight container. It will be good for 3-4 weeks. 
It's fun to use holiday-themed pretzels around the holidays.