Instant Pot Baby Back Ribs
This post may contain affiliate or sponsored links. Please read our disclosure policy.
Imagine making fall-off-the-bone ribs in under an hour! It's possible with this amazing Instant Pot Baby Back Ribs recipe. Get ready to make tender, sticky, caramelized ribs in less than 60 minutes.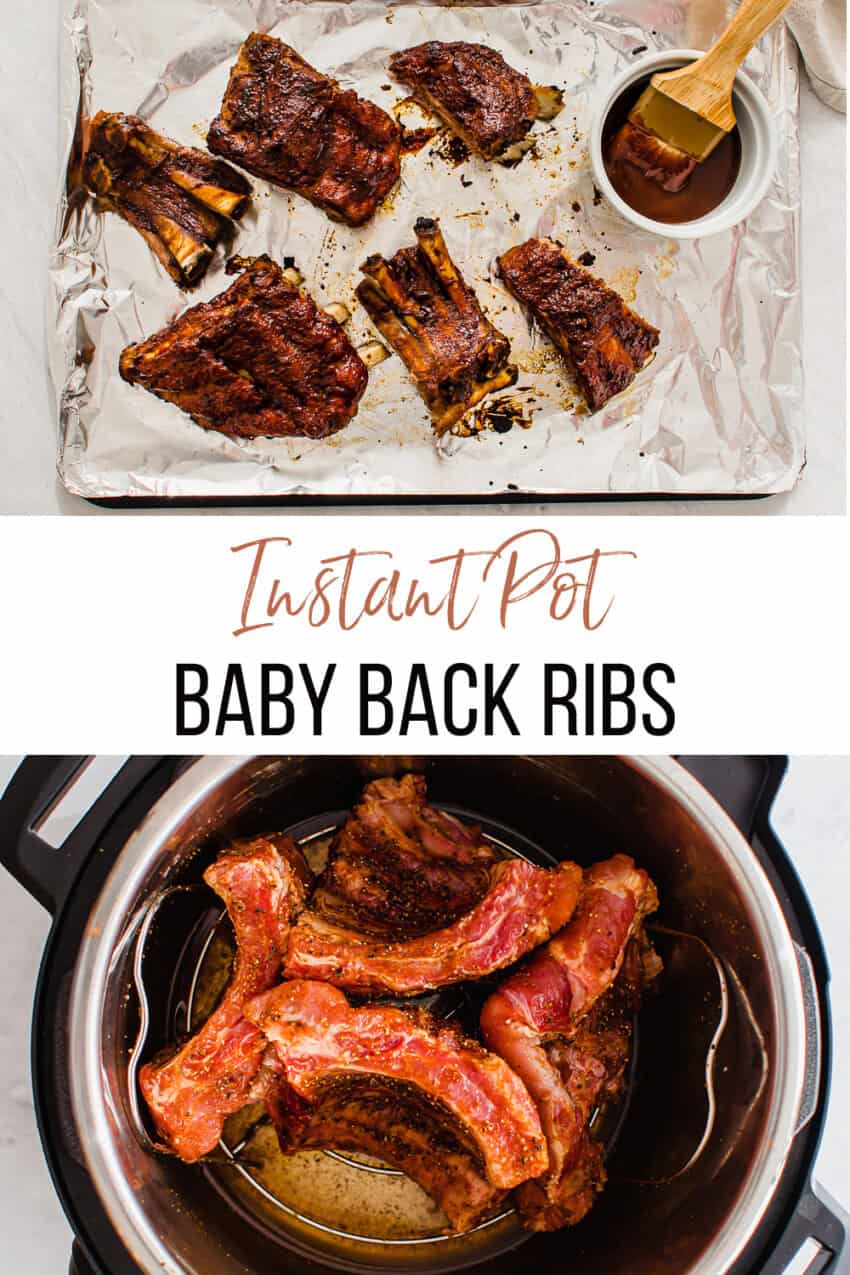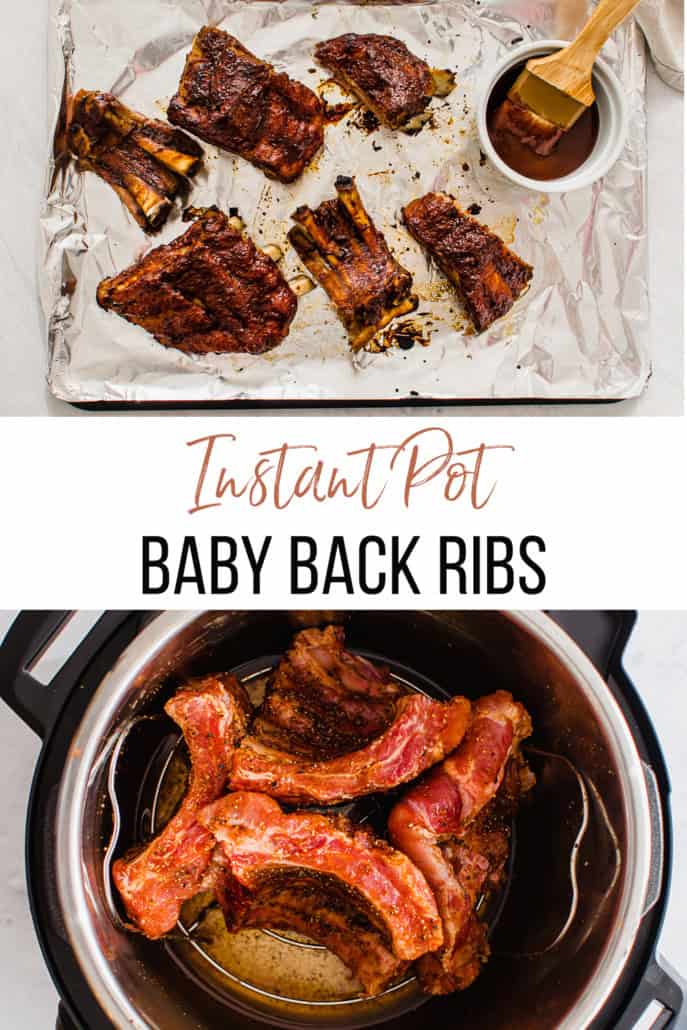 Why These Are the Best Instant Pot Ribs
I'm gonna skip the humble brag talk and get to the point, friends. I really do think this is the best Instant Pot baby back ribs recipe out there and here's why:
We have tested the heck out of this recipe! We know the timing is correct in the Instant Pot because we became pressure cooker experts while writing and researching our cookbook, From Freezer to Cooker.
They are well-loved by our families. I make this recipe about every other month for my family because they request it so much. All ages go for this recipe!
Layers of flavor and the perfect texture. With our special rub, homemade BBQ sauce, and clear cooking instructions, we think these are the tastiest baby back ribs out there!
Simple to make. In minutes you can whip up our simple rub and have your ribs in the Instant Pot. Set it and forget it. Then, at the end, you'll pop them under the broiler to crisp up. Anyone can make delicious ribs this way!
Includes freezer meal instructions. When baby back ribs go on sale, stock up and make one batch for dinner and one for the freezer for another night using our expert instructions. Such a great use of your time!
What Ingredients Do I Need?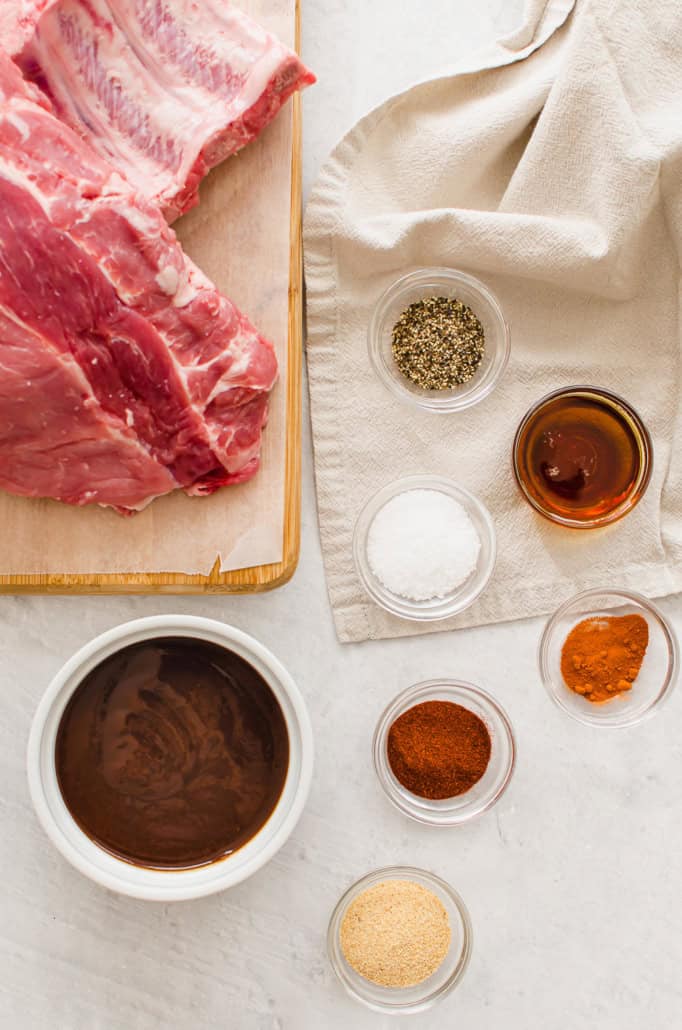 This pork ribs recipe only requires a few pantry staple ingredients…
Baby back ribs – You can use another kind of pork ribs, but we've tested this recipe with baby back ribs several times and found that they result in fall-apart-tender ribs every time. Two racks (about 2 to 2 1/2 pounds each) will fit in a 6- or 8-quart Instant Pot. Look for them to go on sale and stock up! You can freeze them until you're ready to use.
Our special rub – This includes salt (which tenderizes the meat), ground black pepper, garlic powder, paprika, cayenne, and pure maple syrup. These combine to make a paste that you'll rub all over the ribs. Bonus: Place the rubbed ribs in the fridge for 24-48 hours before pressure cooking to enhance the flavor and tenderness of the meat.
BBQ sauce – We recommend using our simple Killer Homemade BBQ Sauce. It's so easy to make and full of real food ingredients that just taste better than store-bought. But, we will look the other way if you need to take a shortcut from the store. Just be sure to look at the ingredients and try to avoid anything full of high fructose corn syrup and other additives that you don't recognize. I really like Stubb's BBQ Sauce because it's all-natural and quite tasty.
Tips for Making Instant Pot Baby Back Ribs
Keep just a few key tips in mind when preparing ribs in the Instant Pot, and you'll end up with fall-off-the-bone tender ribs with the perfect outside texture.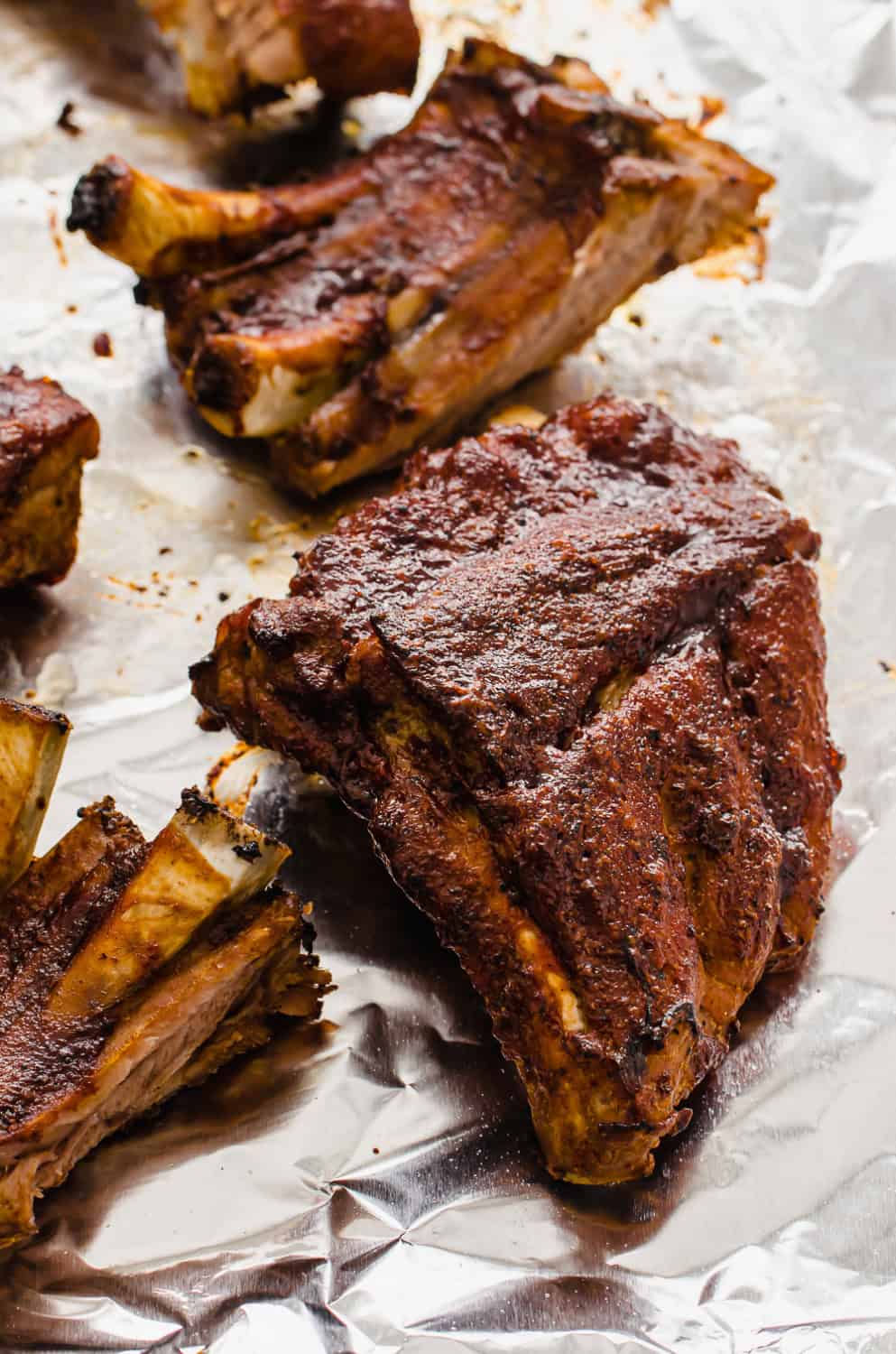 Know your ribs. Baby back ribs or spare ribs? We prefer baby back, personally. That's because they are a bit leaner, have less bone and fat, and are the most tender. But, spare ribs or St. Louis style ribs (trimmed-down spare ribs) would work just fine. It's really your choice.
Use a dry rub for seasoning. This adds a deeper layer of flavor under the sauce. If you have time, wrap the rubbed ribs tightly in plastic wrap and place in the fridge or 24 hours before slow cooking. Doing this allows the salt and other seasonings to get deep down in the meat, seasoning and tenderizing it even more.
Arrange them in the Instant Pot the right way. Place the halved racks of ribs in a teepee formation (see image below), rather than just stacking them on top of each other. This allows for the steam to get all around them and cook them evenly.
Make your own sauce. You can use store-bought sauce, but we personally don't love that most of them are filled with HFCS and other additives. Plus, our Killer Homemade BBQ Sauce takes minutes to make and is tastier and healthier than most store-bought versions!
Broil and brush with sauce before serving. Yes, the Instant Pot gets your ribs tender, but they will lack the caramelized edges and sticky glaze unless you broil and brush them with sauce at the end. This step only takes minutes and adds the flavor and texture of grilled or oven-baked ribs. You can use also use the broiler to reheat ribs if you've made them ahead of time.
Let them rest. After broiling, tent with foil and let your ribs rest for about 10 minutes so the juices can redistribute throughout the meat.
How Long to Cook Ribs in the Instant Pot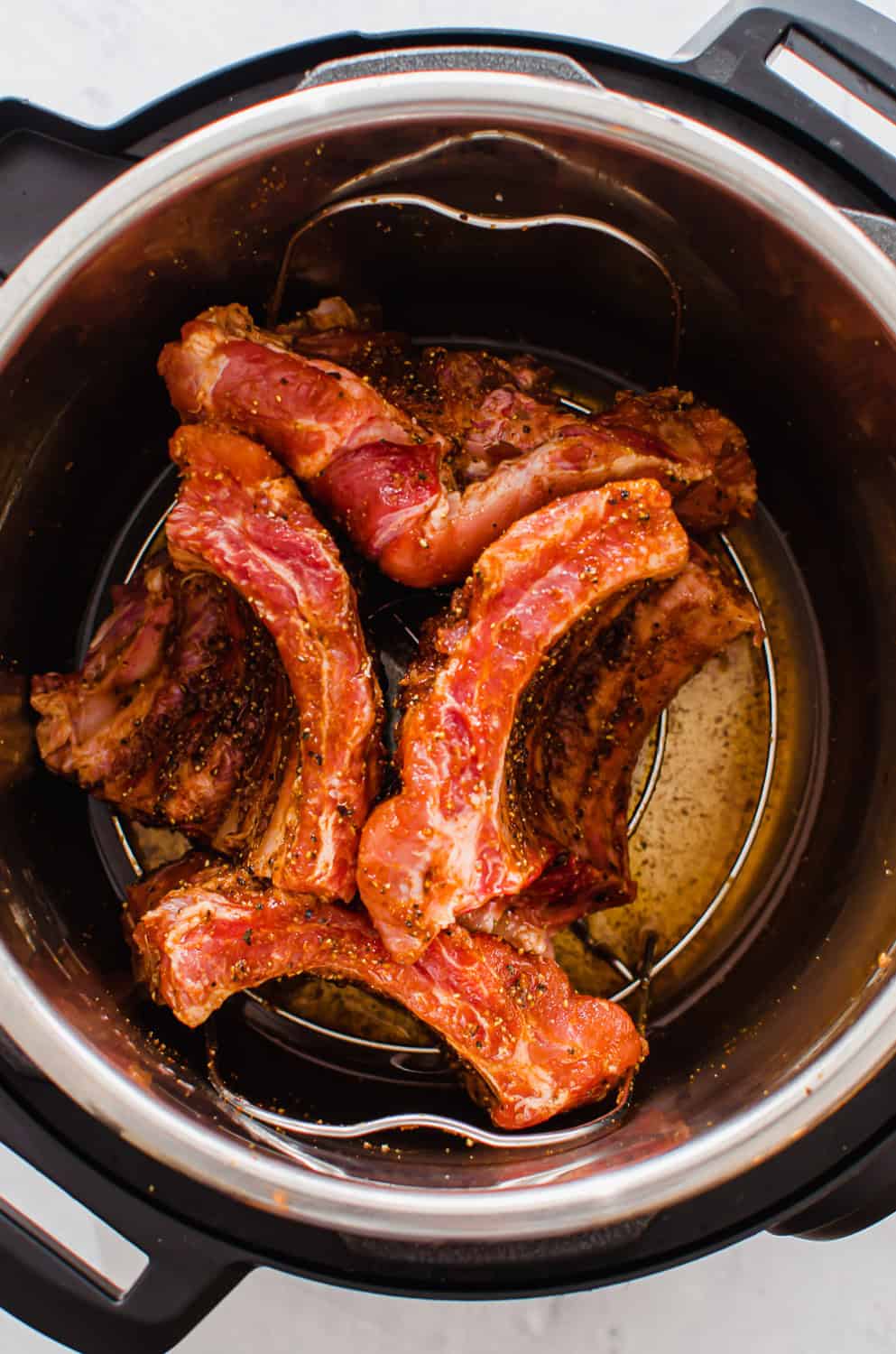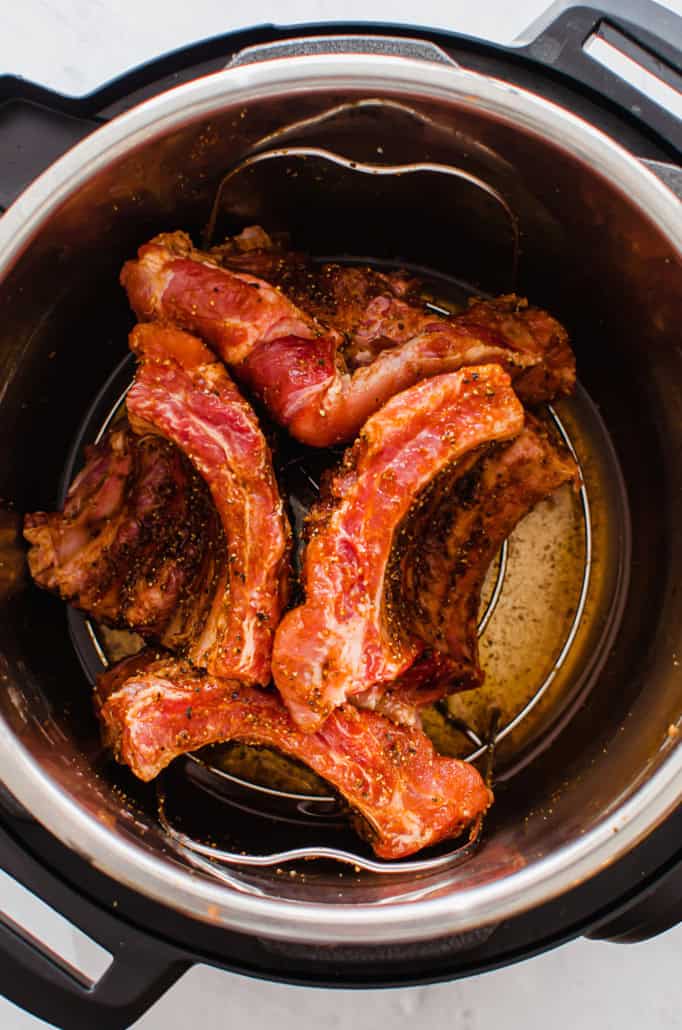 Our many tests while writing our cookbook, From Freezer to Cooker, revealed that the perfect amount of time to cook baby back ribs in the Instant Pot is 30 minutes at high pressure. Then, use a quick release of the rest of the pressure.
Now, while the ribs will be very tender after pressure cooking, the key to making them crispy and caramelized is to then baste them with BBQ sauce and broil for a few minutes at the end. Follow our recipe and you'll be good to go!
Grab Our Free Instant Pot Cooking Times Chart
We've tested hundreds of Instant Pot recipes for our cookbook, From Freezer to Cooker, and learned the optimal cook times for all kinds of foods. Some of them were surprising to us! We put all of our intensive research and testing knowledge into one nice, neat cooking chart for you! Download it for free here and never overcook or undercook an Instant Pot meal again…
Can You Freeze Ribs?
Yes! You can freeze ribs easily before they are cooked.
The key to freezing raw ribs is to make sure they are wrapped tightly with several layers of plastic wrap and foil or freezer paper to keep air from reaching the meat. If wrapped tightly with several layers and placed in a deep freeze in a constant frozen state, frozen ribs can maintain good texture for 9-12 months.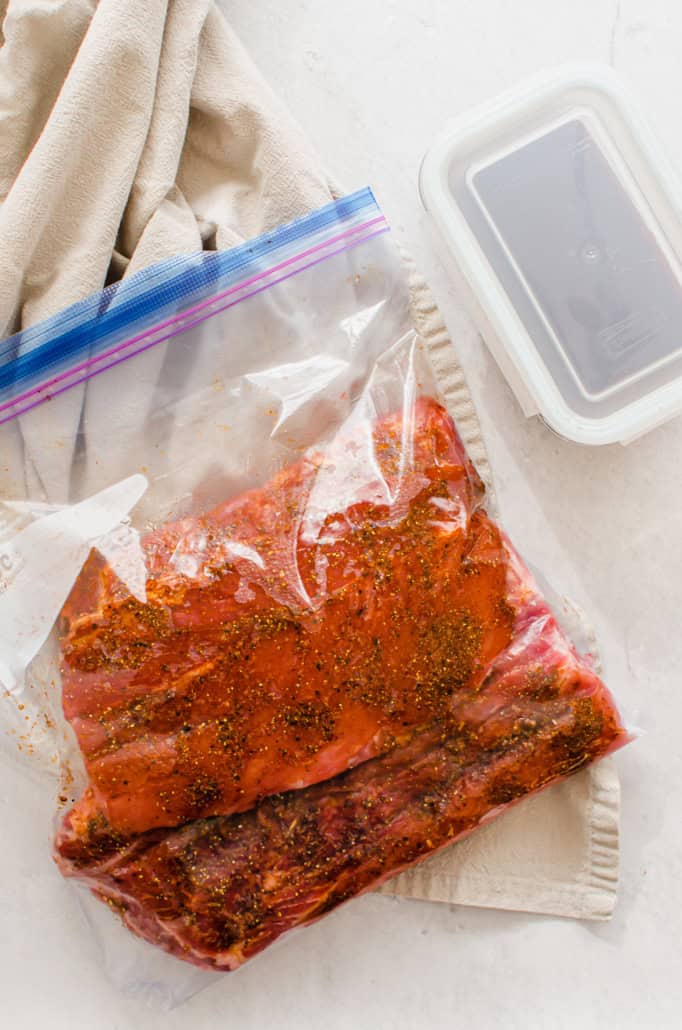 If you want to make this Instant Pot Baby Back Ribs recipe into a simple freezer meal to have on hand for dinner another night, here's how to do that.
Freeze For Later: Make the rub and cover both sides of the racks of ribs in the paste. Either cut the racks in half and place in a gallon-sized freezer bag OR wrap in several layers of plastic wrap and foil. Seal tightly and freeze.
Prepare From Frozen: Thaw using one of our safe thawing methods. Cook according to the recipe instructions. (We do NOT recommend cooking from frozen in the slow cooker.)
How to Serve Instant Pot Baby Back Ribs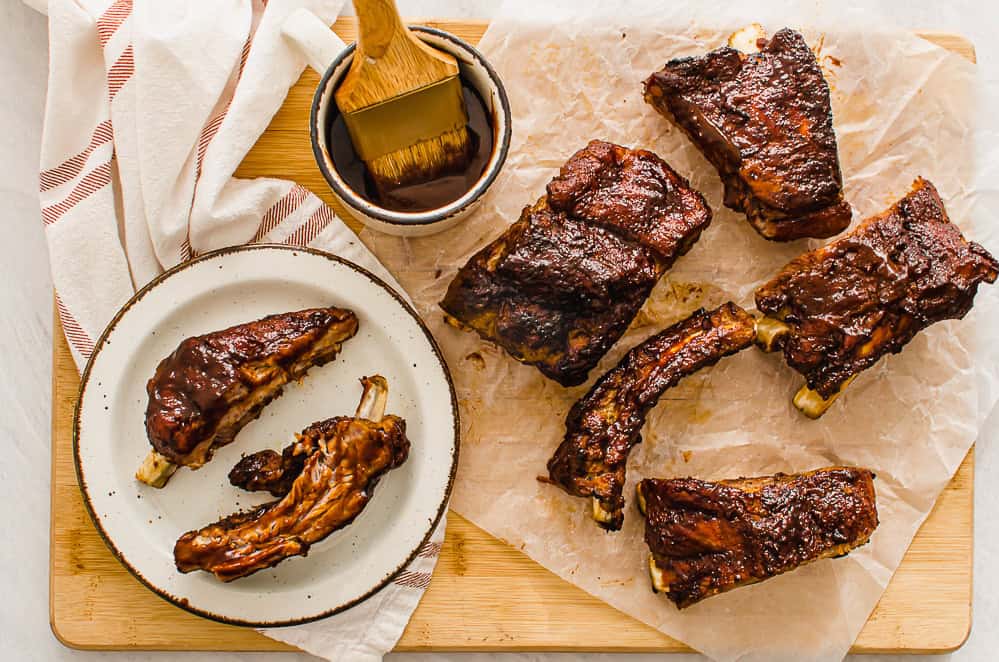 Cut ribs into individual pieces and serve with extra BBQ sauce on the side. Here are a few of our favorite side dishes that can go with these ribs…
Tangy feta cheese, toasted sliced almonds, sweet strawberries, fresh pineapple, and creamy avocado pair well with the sweet and tangy balsamic dressing.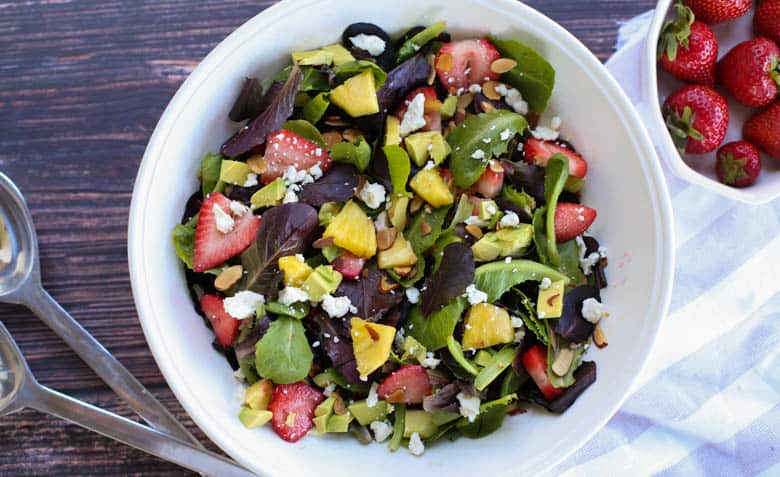 You can make this delicious casserole ahead of time and pop it in the oven while the ribs cook. It's soooo yummy.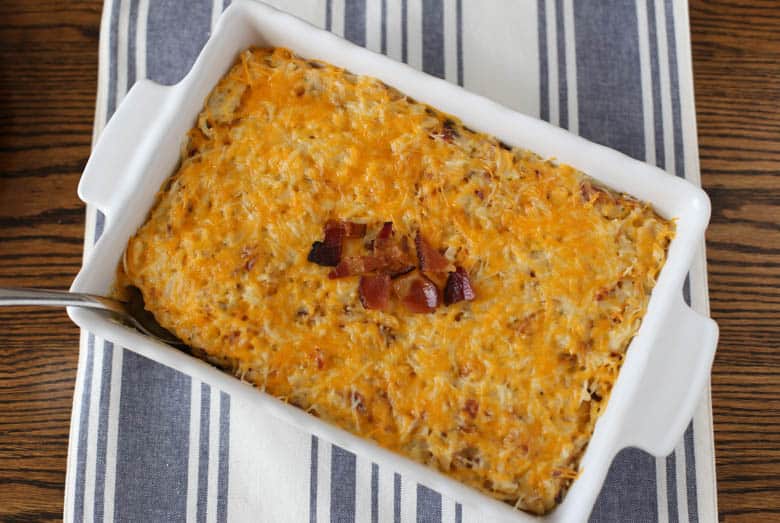 BOTTOM LINE
If you follow our tips and recipe, you can be assured to whip up some super tender and tasty baby back ribs in under an hour using your pressure cooker. Stock up on ribs when they go on sale and freeze until you're ready to use them. Enjoy!
Did you make this? Snap a photo and tag us on Instagram at @thrivinghome so we can see your creations and cheer you on!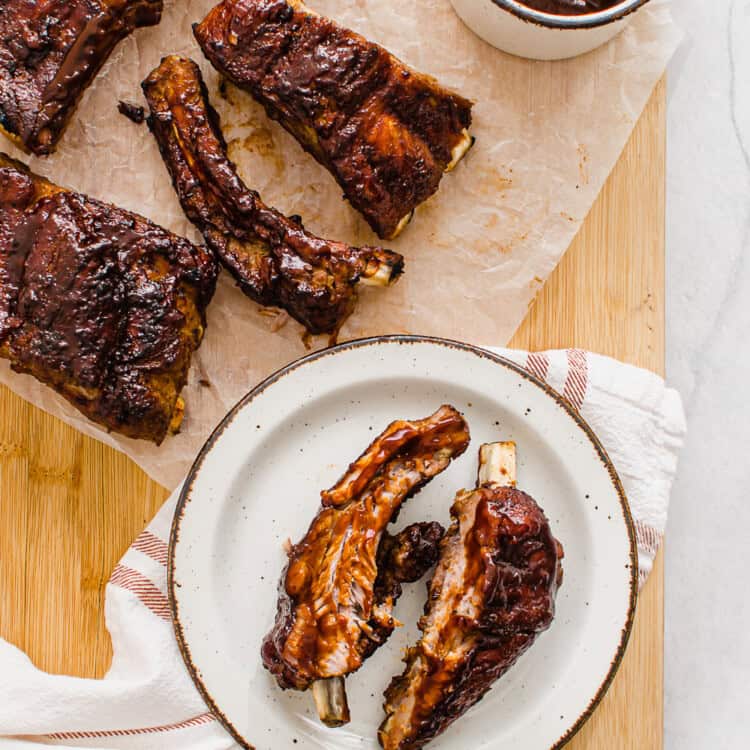 Instant Pot Baby Back Ribs
Imagine making fall-off-the-bone ribs in under an hour! It's possible with this amazing Instant Pot Baby Back Ribs recipe. Get ready to make tender, sticky, caramelized ribs in less than 60 minutes.
Yield:
6

servings (4-5 ribs per serving)

1

x
Prep:
10 minutes
Cook:
30 minutes
Total:
40 minutes
Ingredients
1 tablespoon

salt

2 teaspoons

ground black pepper

2 teaspoons

garlic powder

2 teaspoons

paprika

1/4 teaspoon

cayenne

2 tablespoons

pure maple syrup

2

(2 – 2 1/2 pounds each) racks pork baby back ribs, trimmed

1

–

2

cups

BBQ Sauce, our homemade recipe or store-bought (we like Stubb's BBQ Sauce)
Special Equipment Needed: 
steamer rack/trivet for the Instant Pot
Before You Begin! If you make this, please leave a review and rating letting us know how you liked this recipe! This helps our business thrive & continue providing free recipes.
Instructions
Make It Now:
In a small bowl, use a fork to stir together the salt, black pepper, garlic powder, paprika, cayenne, and maple syrup to make a paste.

Pat the ribs dry with paper towels, cut each rack in half (making four equal portions), and rub the paste over all sides. (Freezing instructions begin here.)

Pour 1 cup water into the 6-quart Instant Pot (or 1 1/2 cups for an 8-quart IP). Place a steamer rack in the pot and arrange the seasoned ribs on the rack, standing them on end in a tepee form. This formation helps the steam to get in and around all the ribs for even cooking. Lock and seal the lid. Cook at high pressure for 30 minutes, then quick release the pressure.

Position the top oven rack about 6 inches below the broiler. Preheat the broiler. Line a rimmed baking sheet with foil.

Using tongs, transfer the ribs to the prepared baking sheet, meaty-side down. Brush the ribs with some of the BBQ sauce on the top side. Broil for 2 to 4 minutes, until they start to brown. Flip, brush with more sauce, and broil for 6 to 10 minutes more, until well browned, brushing with sauce every few minutes.

Tent with foil and let rest for 10 minutes. Serve with the remaining BBQ sauce.
Freeze For Later: Follow steps 1 and 2. Place the seasoned ribs in one or two gallon-size freezer bags or round containers. Seal and freeze. Place the BBQ sauce in a smaller freezer bag or container. Seal and freeze alongside the ribs.
Prepare From Frozen*: Thaw. Follow steps 3 through 6. *We have found that this recipe cooks unevenly from frozen in the Instant Pot. Because of this, we recommend thawing and cooking from fresh for best results.
---