This post may contain affiliate or sponsored links. Please read our disclosure policy.
Peaches are a quintessential summertime treat. When perfectly ripe, they are juicy, fragrant, and bursting with natural sweetness. Fortunately, the joys of peach season can be extended. By harnessing the power of freezing, you can enjoy perfectly ripe peaches all year round. We'll walk through the steps of how to freeze peaches so you can use every last bit of this amazing fruit.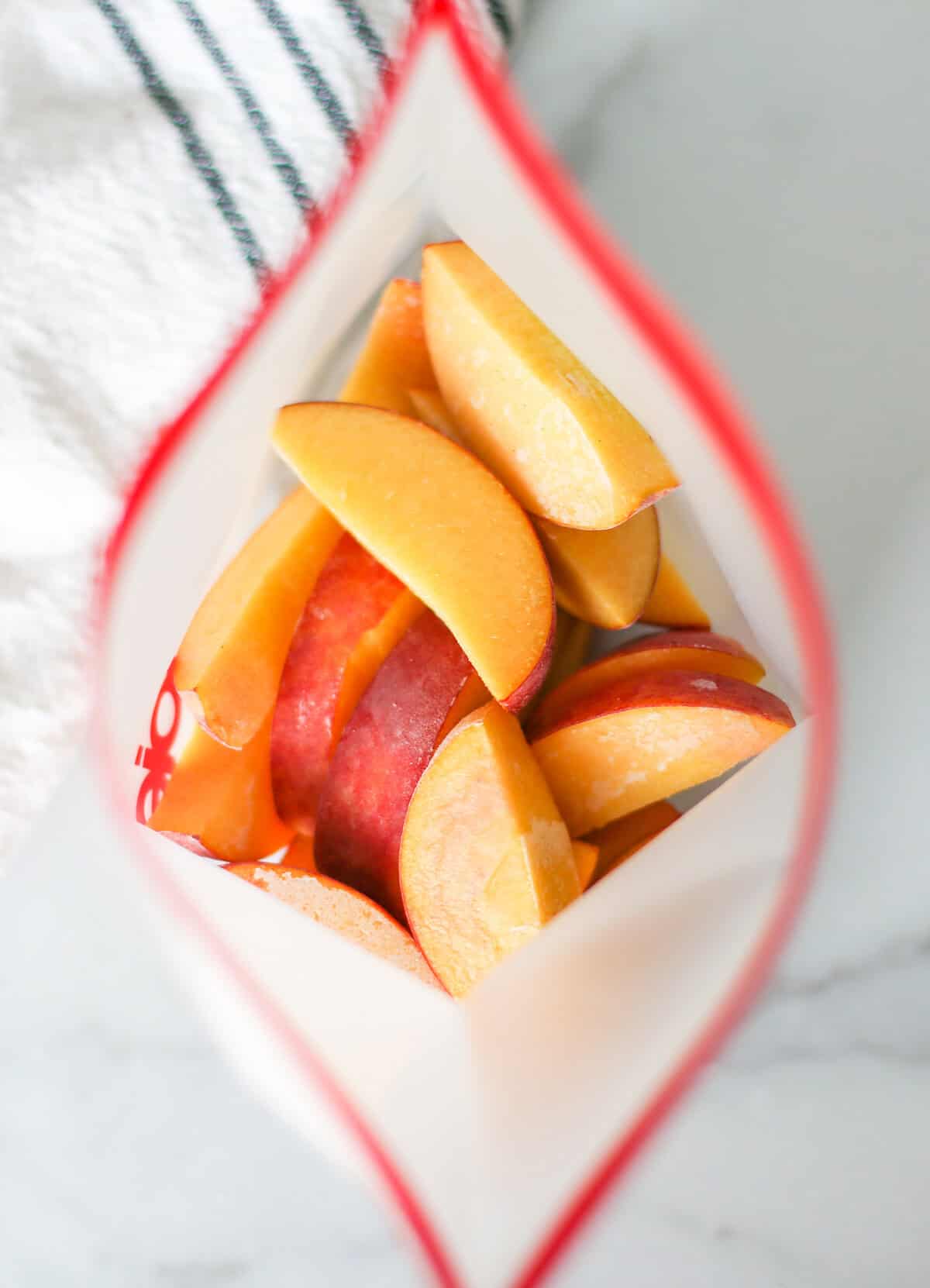 Why Freeze Peaches?
Some fruits and vegetables can be eaten all year long and taste just fine, even when shipped quite a ways to the store.
Peaches do not fall into this category. There are only a few months of the year peaches are in season. They are absolutely delicious in this short window. The good news is that you can buy them in bulk and stock the freezer with them!
I do this every year and hope you can use this hack as well.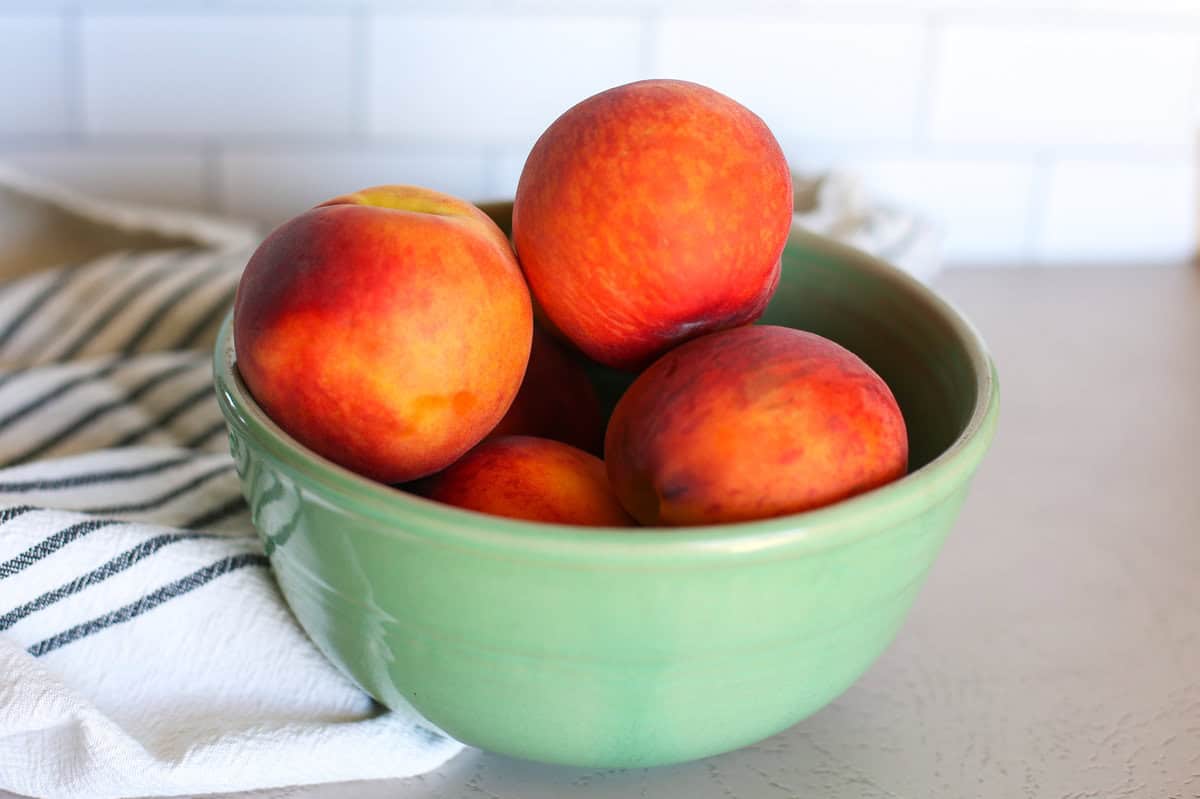 Do I Need to Peel Peaches Before Freezing?
I almost never peel peaches before freezing them.
Since I primarily use frozen peaches in smoothies, overnight oats, or desserts like our Peach Crisp, peeling isn't necessary. The peel provides a pop of color and some added nutrition.
BUT, some will make a case for peeling peaches before freezing. In fact, I made a video about how to easily peel peaches for freezing almost 10 years ago!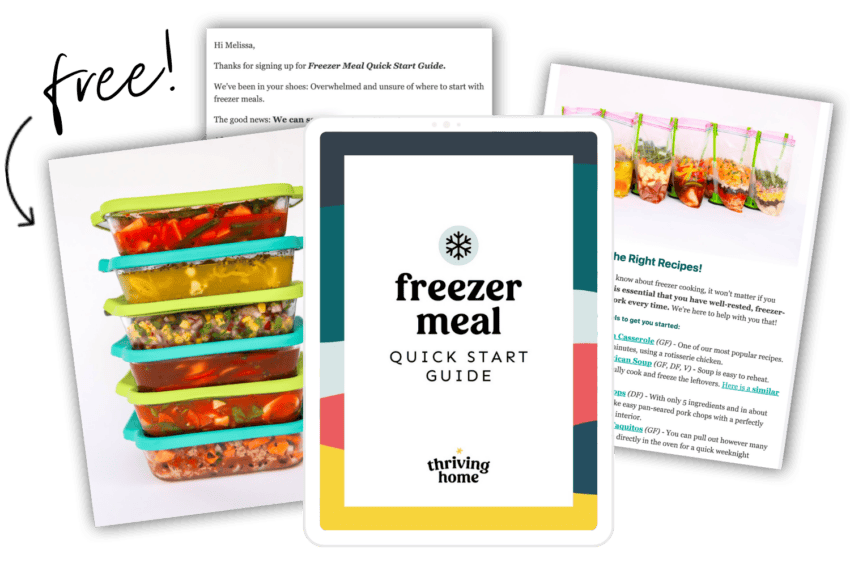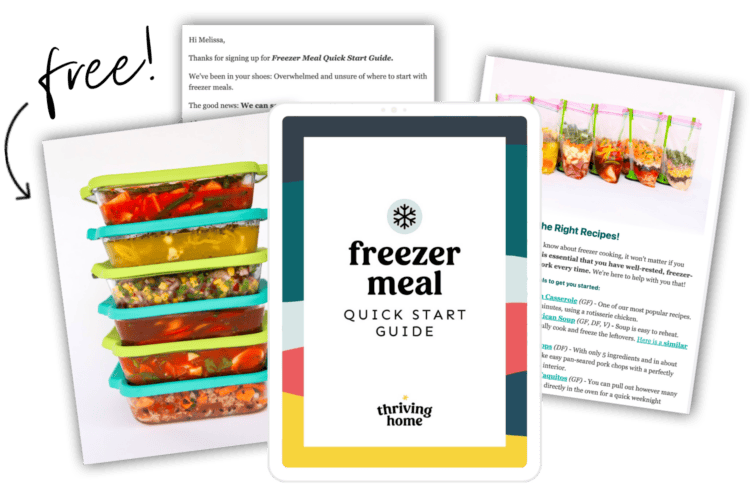 Start Here!
Freezer Meal Quick Start Guide
Get the best of the best recipes, tutorials, and freezer meal expertise straight to your inbox. A $9.99 value for free!
Step-by-Step: How to Freeze Peaches (Without Peeling)
The freezing technique is simple and similar to how to freeze bananas or how to freeze green onions.
Slice Peaches and Remove Cores
Use a sharp knife and slice the peach into small pieces. This doesn't have to be pretty. Remove the core and discard.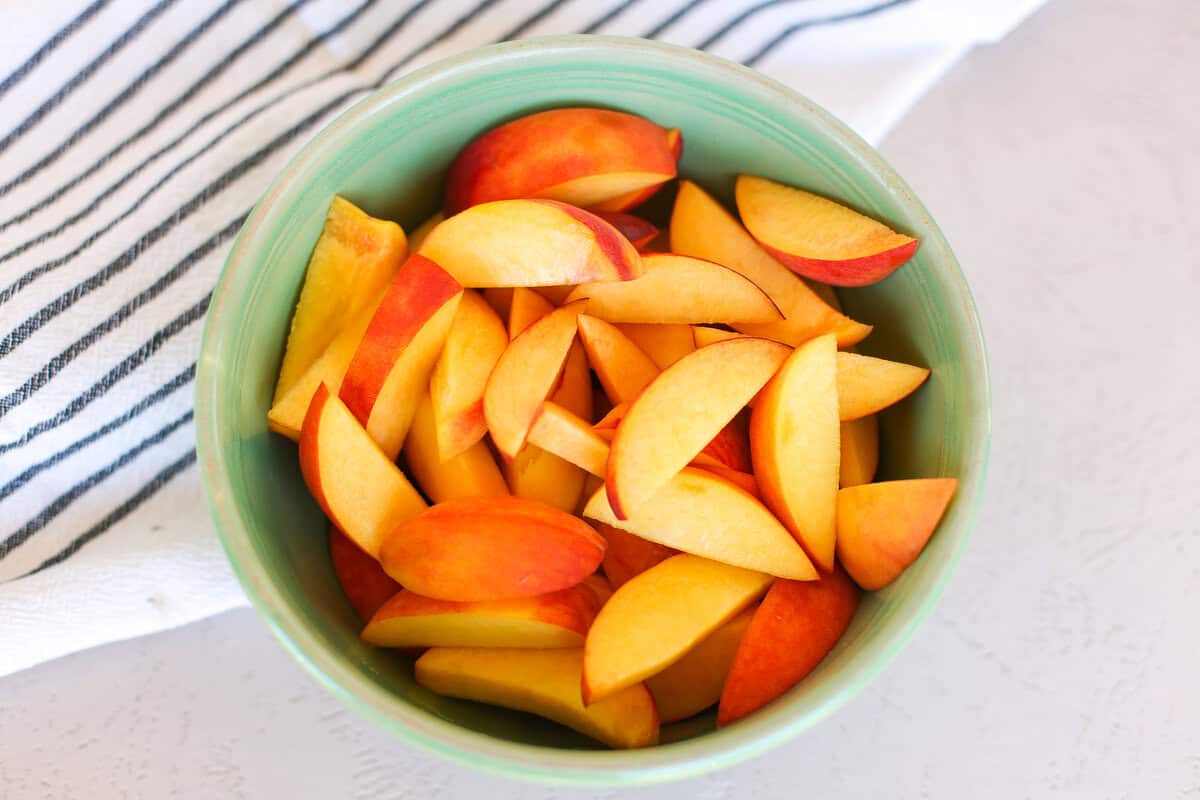 Place Peaches on Parchment Lined Baking Sheet
I like to use parchment paper to make clean-up easier. You can always use a silicone mat too.
Line the peaches up so they aren't touching. This makes them easier to move into a freezer container in the next step.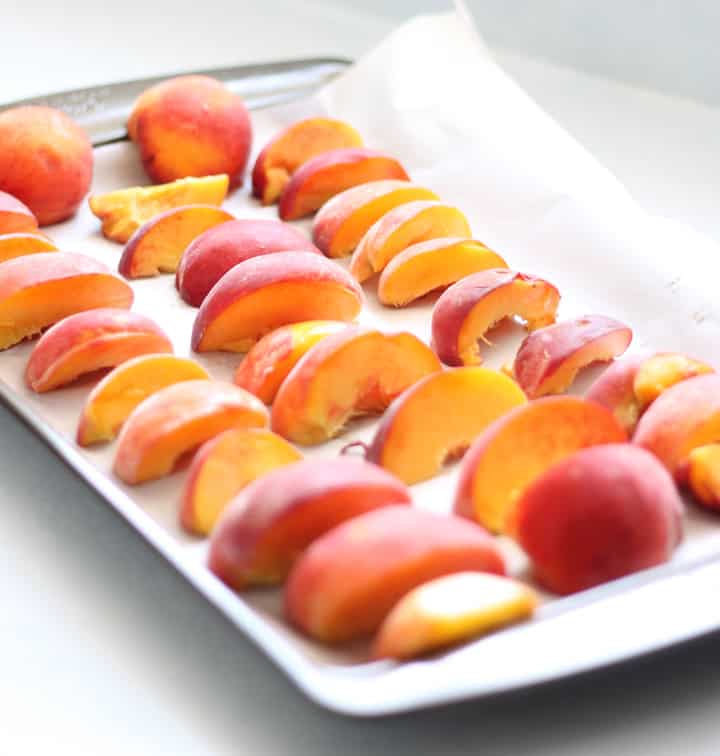 Flash freeze means simply placing the baking sheet in a freezer and letting the peaches freeze until they are hard enough to move to a freezer container. This takes 1-2 hours.
We use flash freezing in many of our freezer meals, such as Baked Italian Meatballs, English Muffin Pizzas, or when freezing cookie dough.
Move Frozen Peaches to Freezer Container
Since air is the enemy of freezer meals, select a container that will allow minimal air exposure to the peaches. I prefer to use reusable freezer bags for frozen produce.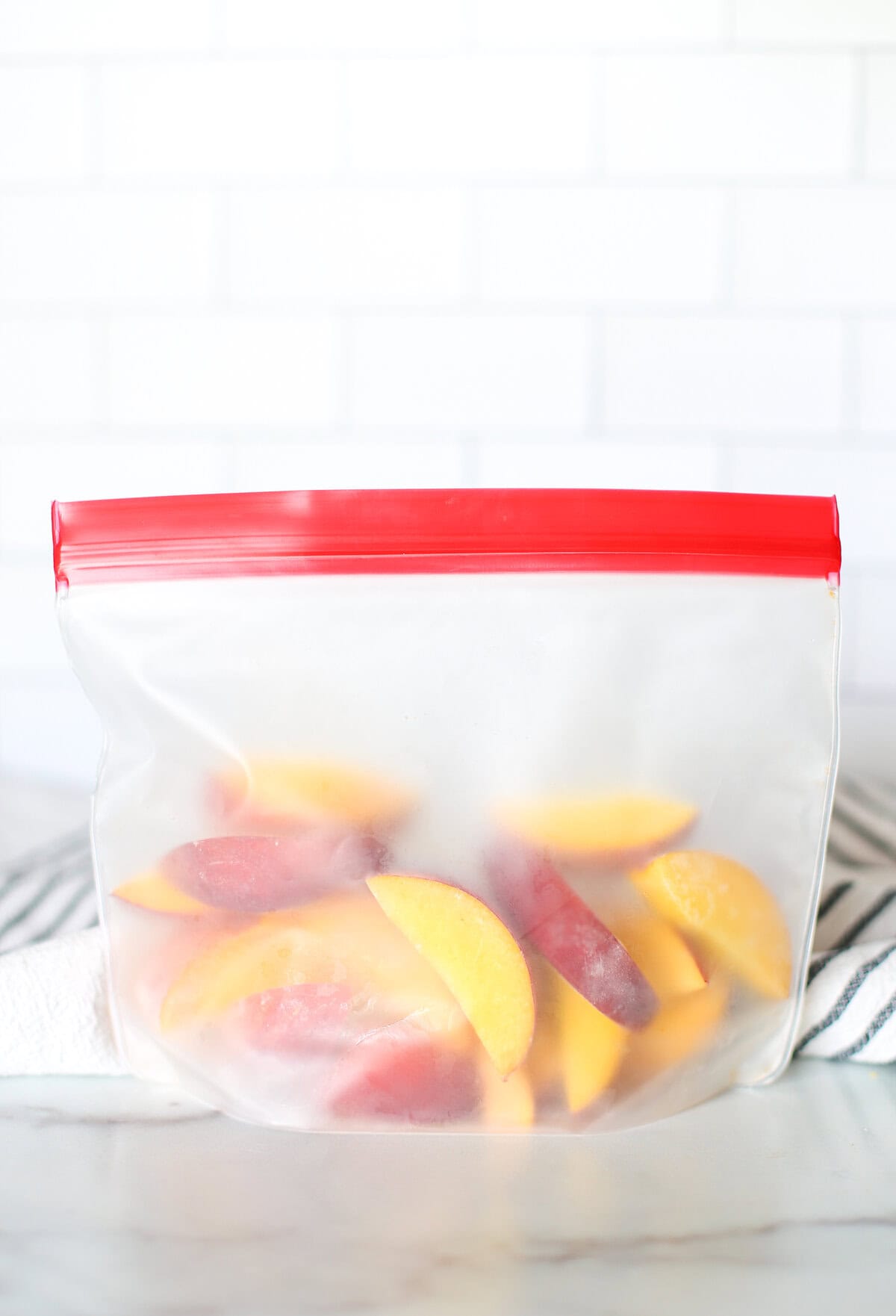 FAQs
Here are common questions and our answers about how to freeze peaches.
How long will peaches last in the freezer?
If you can freeze them with minimal air exposure, peaches will last anywhere from 6-12 months in the freezer. They will be safe indefinitely, but they will begin to get freezer burn after an extended stay in the freezer.
Yes, the texture of peaches will change a bit after freezing and thawing. Because of their high moisture content, they will be a bit mushier than before they were frozen. The taste will not change though.
Which type of peach is better for freezing?
There are two main types of peaches—freestone and clingstone. This refers to how much the flesh of the peach "clings" to the pit. If you are stocking up on peaches for the freezer, you want to look for freestone peaches. This variety makes it MUCH easier to remove the pit.
Freezer Tip
If you have the option, use freestone peaches for stocking up the freezer. They are easier to process.
Can I freeze peaches without sugar?
Absolutely. If they are in season, they will be naturally sweet.
What freezer container do you recommend for frozen peaches?
I like to use reusable freezer bags for freezing produce. Here are the freezer containers we use and recommend.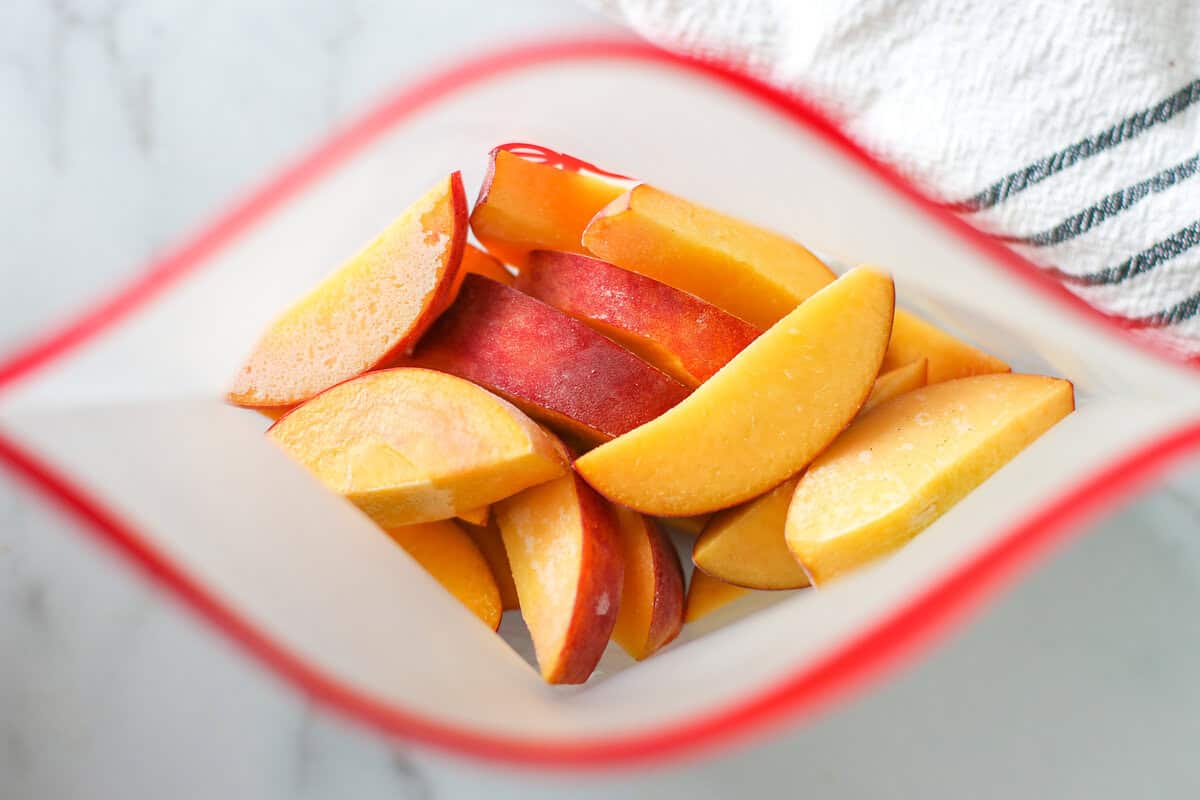 Ways to Use Frozen Peaches
Peach Recipes Our Readers Love
Did you make this? Snap a photo and tag us on Instagram at @thrivinghome so we can see your creations and cheer you on!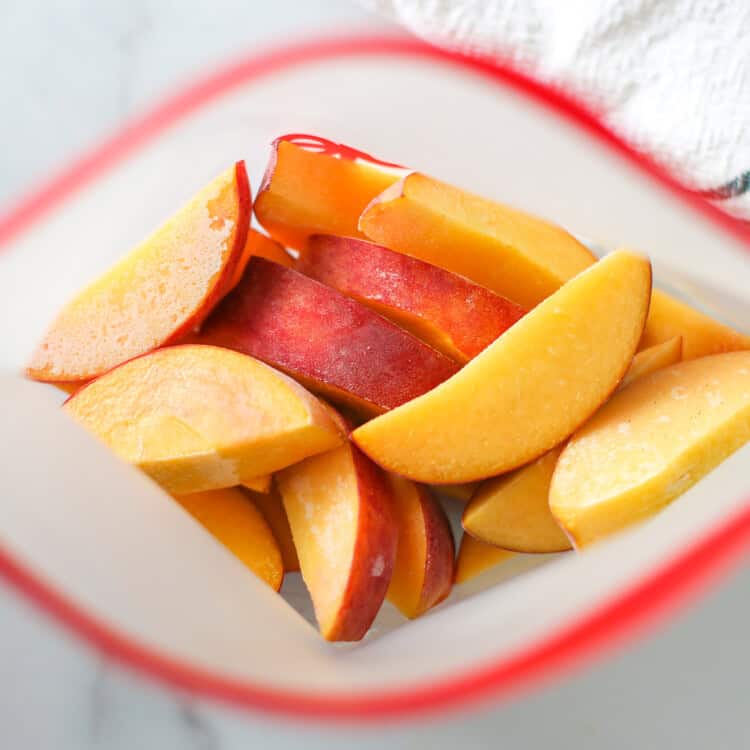 How to Freeze Peaches
Do you have an abundance of fresh peaches? Try this simple method for freezing them so you can eat them all year long!
Prep:
10 minutes
Cook:
0 minutes
Total:
10 minutes
Ingredients
freestone peaches (any amount)
Before You Begin! If you make this, please leave a review and rating letting us know how you liked this recipe! This helps our business thrive & continue providing free recipes.
Instructions
Optional but not necessary: You can peel the peaches using the method in the article above.
Cut peaches in half and remove the pits.
Slice the peaches. 
Place the slices in a single layer on a baking sheet lined with parchment paper. Make sure they don't touch.
Place the sheet pan in the freezer for 1-3 hours, until they are frozen solid.
Once the peaches are frozen, transfer to a freezer safe bag or container. Store 6-12 months.
---
Notes/Tips
Use freestone peaches for easier processing.
No need to peel peaches before freezing.