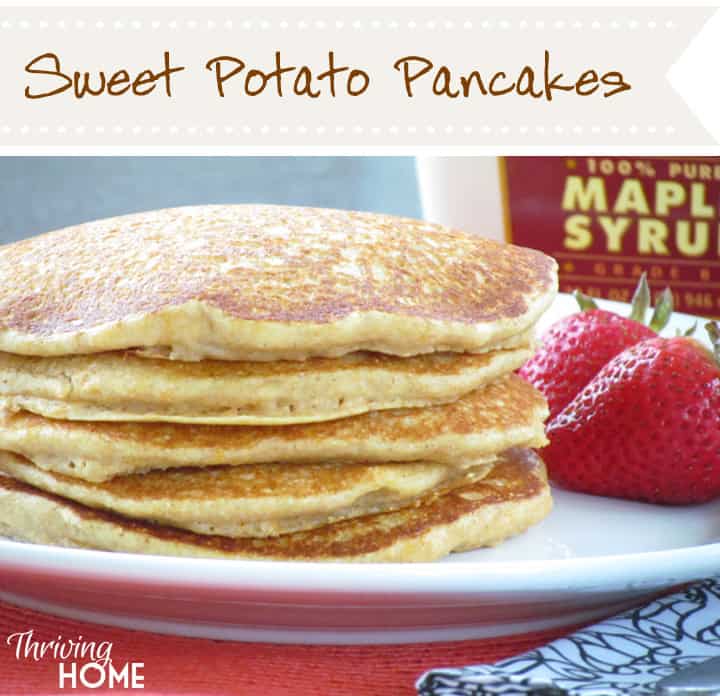 These Sweet Potato Pancakes are whole grain pancake perfection, if you ask me (well, it's hard to beat these Pumpkin Pancakes). Plus, you might know my affinity for sneaking veggies in to my kids' favorites. So win-win pancake recipe here. In fact, I tripled the batch for dinner tonight, fed them to my fam, and then froze another two batches for more quick breakfasts. Freezer meal instructions included below and 60+ more freezer-friendly recipes HERE.
Seriously Sweet Potato Pancakes
Serves:
Makes: about 12 pancakes
Ingredients
½ cup all-purpose flour
1½ cup whole wheat flour
4 teaspoons baking powder
1-2 tablespoons brown sugar (I use 1 tablespoon of organic whole cane sugar)
1 teaspoon cinnamon
pinch nutmeg
¼ teaspoon salt
2 cups milk
4 teaspoons melted butter or coconut oil, plus more for greasing skillet
2 whole eggs
1 sweet potato, cooked until tender, peeled and mashed
1 teaspoon vanilla
Instructions
1) In a large bowl, whisk together the dry ingredients: flours, baking powder, brown sugar, cinnamon, nutmeg, and salt.
2) In a small bowl, whisk together the wet ingredients: milk, butter/oil, eggs, mashed sweet potato, and vanilla.
3) Add the wet ingredients to the dry ingredients. Stir just until combined, but do not overmix. Let the batter rest for about 5 minutes.
4) Cook batches in buttered skillet over medium-low to medium heat until bubbles form on the surface, then turn over and cook until golden brown. Watch pancakes closely so they don't burn. They cook quickly!
5) Serve with butter and maple syrup.
Freezer Meal Instructions:
Cook fully, cool completely and store in a freezer bag. When ready to eat, just pull them straight from the freezer, stick them in the toaster, and then microwave for 10-20 seconds if still cold in the middle.
You might also like...