How to Freeze Green Onions/Scallions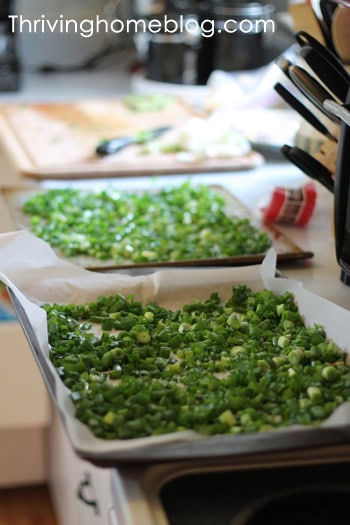 So, this is one of those posts that many of you will chuckle at and think, "You didn't know that?"
I am here to tell you that, no, I did not know that you could freeze and save green onions for later use. So for those of you out there, like me, this post is for you.
This year, my backyard garden has given us a CRAZY amount of green onions. They are bigger than I've ever seen in a grocery store and I simply didn't know what to do with them all. I mean, look at these crazy things!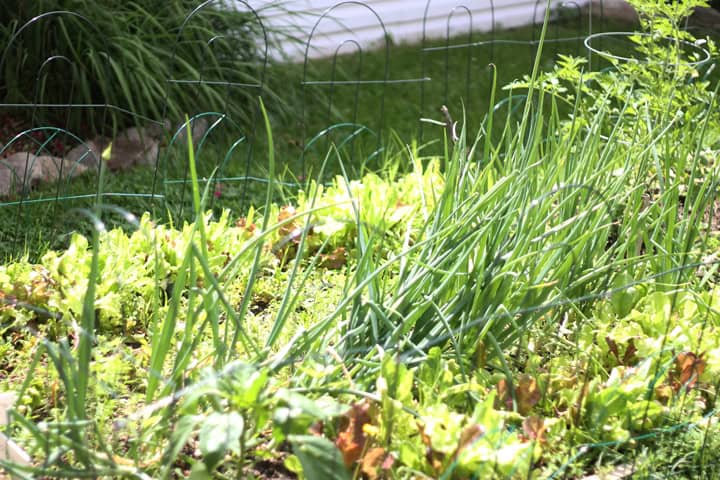 I was about to throw them in the compost when I ran the question past my dad, the gardener extraordinaire, of what I should do with so many leftover scallions (green onions and scallions are the same thing, FYI). He informed me that you could chop them up and freeze them for later use. Duh.
So that's what I did today. I yanked out a TON of onions, washed them off, chopped them up, and froze them!
Want to save some leftover onions in the future? Read on, my thrifty friends!
How to Freeze and Store Green Onions
First step is to wash your veggies. Use a combination of white vinegar and water to soak or rinse your produce. One study says use 3 parts water to 1 part vinegar. Another said use 10 parts water to 1 part vinegar. I usually use somewhere between those two recommendations.
Mine were out of the garden so I didn't have to worry about pesticides but I did have to spray some dirt off and make sure I didn't freeze any bugs along with my onions.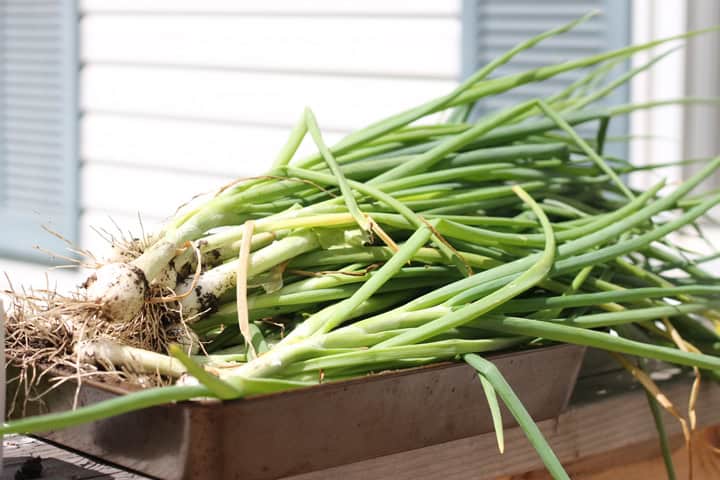 Next, chop up your onions.  I first chopped off the roots, then cut the bulb off, and froze those in a separate bag. After removing any dead growth, I choppy-chopped away!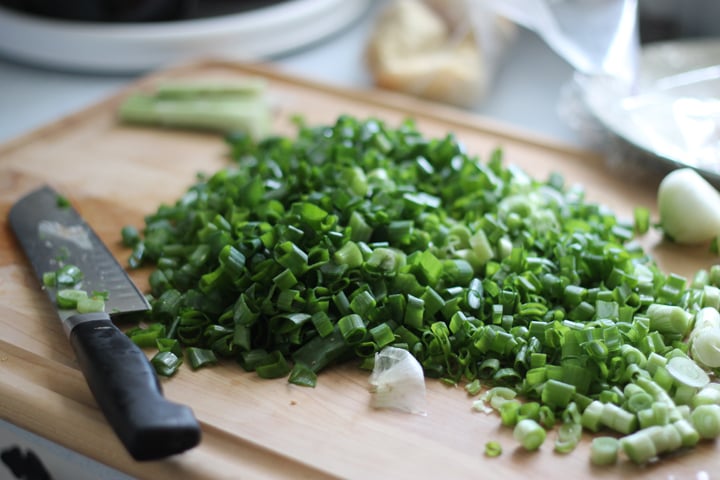 Lastly, spread out chopped onions on cookie sheet. I laid some parchment paper down (to make for easier removal later) and spread them out as best as I could. I then stuck both sheets of onions in the freezer. I do this so they aren't all clumped up and frozen together.
After they had been in there for a few hours, I moved them all to a Ziploc bag. (I've read that saving them in an empty water bottle is handy too!)
Since freezing onions will cause them to lose their crisp texture, I plan to only use these in future cooking (not on salads or anything where you'd want a crisp onion). So these would be good for soups, marinades, omelettes, fried rice, etc.
I'm excited that I don't have to throw away my garden onions any more!
https://thrivinghomeblog.com/wp-content/uploads/2013/06/chopped-green-onions-e1405347084928.jpg
280
420
Polly Conner
https://thrivinghomeblog.com/wp-content/uploads/2019/10/thrivinglogo.png
Polly Conner
2013-06-17 05:52:26
2019-11-01 20:28:55
How to Freeze Green Onions/Scallions