Instant Pot Chicken Taquitos
This post may contain affiliate or sponsored links. Please read our disclosure policy.
This kid-friendly Instant Pot Chicken Taquitos recipe will become your new weeknight dinner best friend. With the help of the Instant Pot, dinner is done in a flash. The creamy chicken filling wrapped up in a crispy tortilla is a crowd-pleaser.
"I make these all the time and keep plenty on hand for quick and easy dinners." ⭐️⭐️⭐️⭐️⭐️
– Aime L.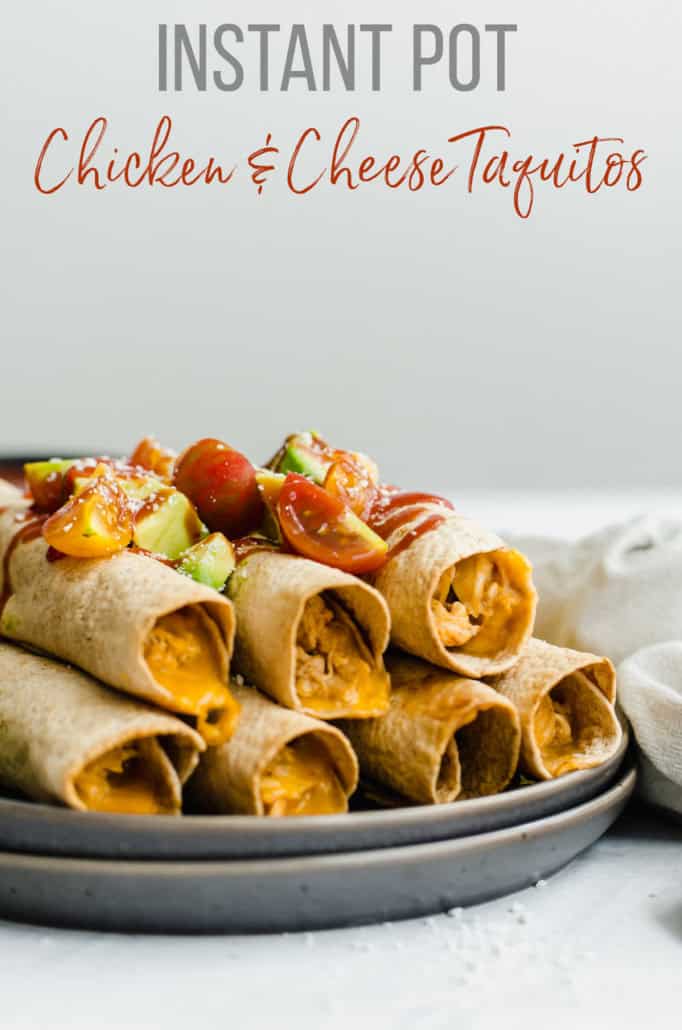 What We LOVE About Instant Pot Chicken Taquitos
Quick Dinner: If you missed the window for the slow cooker Chicken Taquitos version of this recipe, you can still make it in the Instant Pot in time for dinner. This recipe only takes 7 minutes of pressure cook time (or 15 minutes with frozen chicken). Now, keep in mind that it will take some time for your Instant Pot to build pressure first (about 10 minutes for fresh chicken and 20 for frozen).
Can Use Frozen Chicken Breasts! We've all been there…dinner time is rapidly approaching and all we have on hand are FROZEN chicken breasts. I've got good news, though. Unlike the slow cooker, you can cook frozen meat directly in the Instant Pot. Unfortunately, the USDA says it's not safe to put icy ingredients in a slow cooker. It keeps the food in the "danger zone" for too long, a temperature range where bacteria flourishes. Not worth the risk! So, if you are working with frozen chicken breasts, Instant Pot to the rescue!
Make Ahead and Freeze: Once you've rolled up your taquitos, you can either cook them right away or freeze them for later. We give you detailed instructions for how to do this below. Be sure to double this recipe so you can make the best use of your time in the kitchen. You'll thank yourself in the future when you've got dinner already done for another night!
Cooks Directly From Frozen: The AMAZING thing about this particular freezer meal recipe is that you can take out however many taquitos you want from the freezer and cook them DIRECTLY FROM FROZEN. This is the perfect solution for those busy weeknight meals.
All Ages Love It! We've heard over and over from readers and recipe testers on our team for From Freezer to Cooker how much their entire family loves this recipe.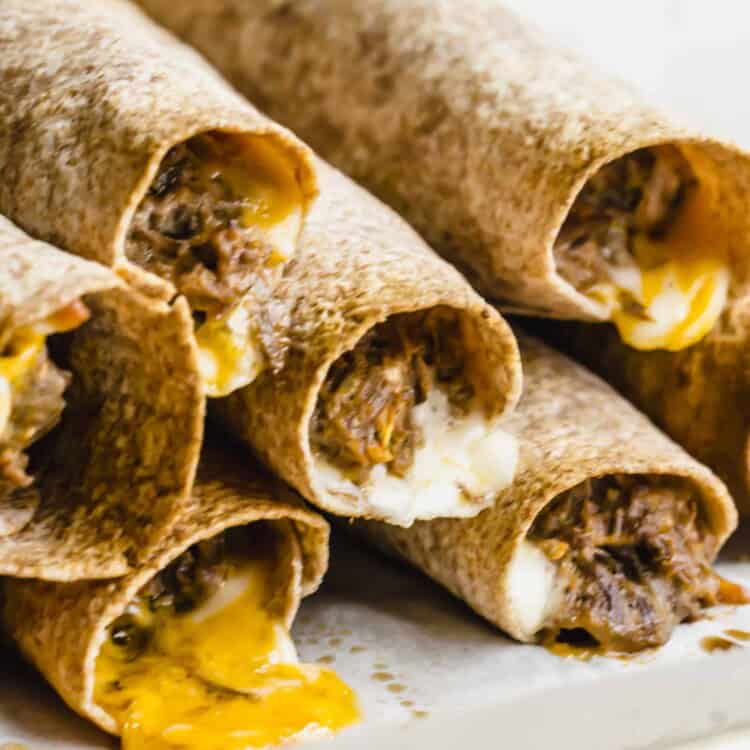 More Taquito Recipes
If you like taquitos, be sure to check out our beef taquito recipe. It's made a in a similar way and is also freezer friendly.
See Beef Taquitos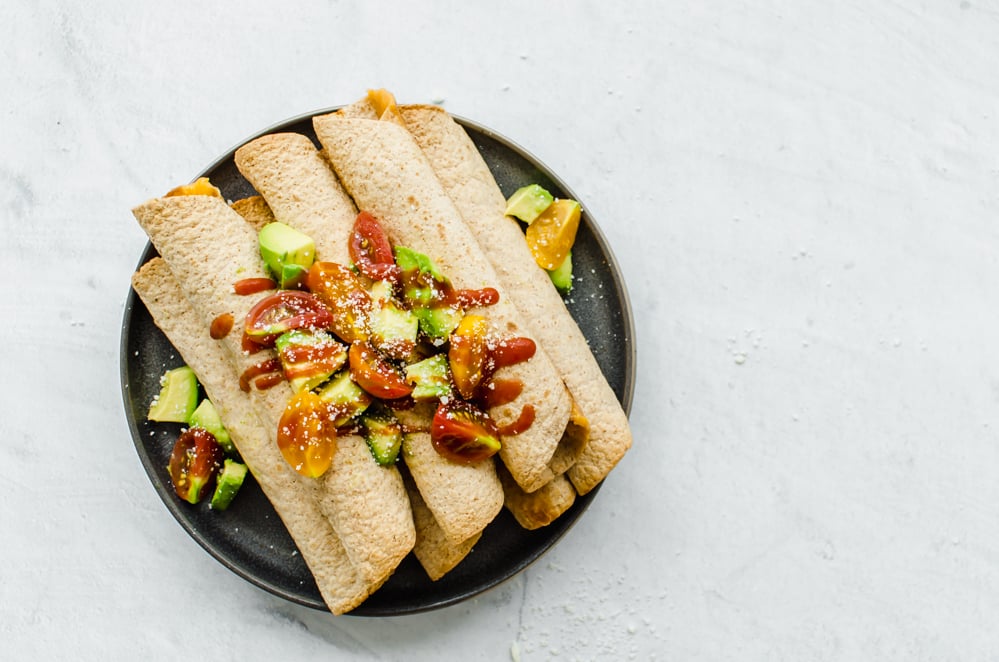 Step-by-Step Instructions
Step 1: Season the Chicken
You are going to LOVE how simple this is. Start by placing your chicken breasts in the Instant Pot and then seasoning with some taco seasoning (try our Homemade Taco Seasoning). Then, add some chicken broth.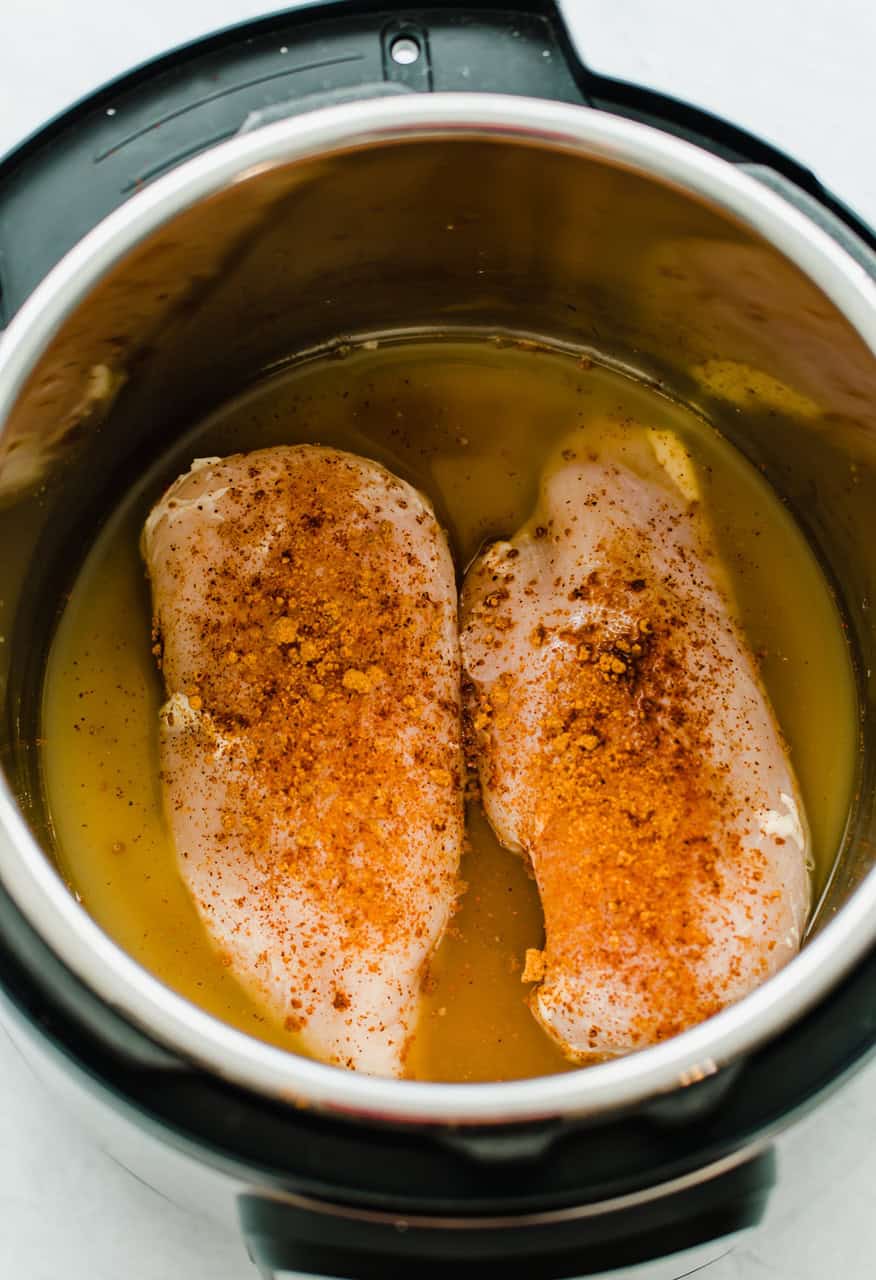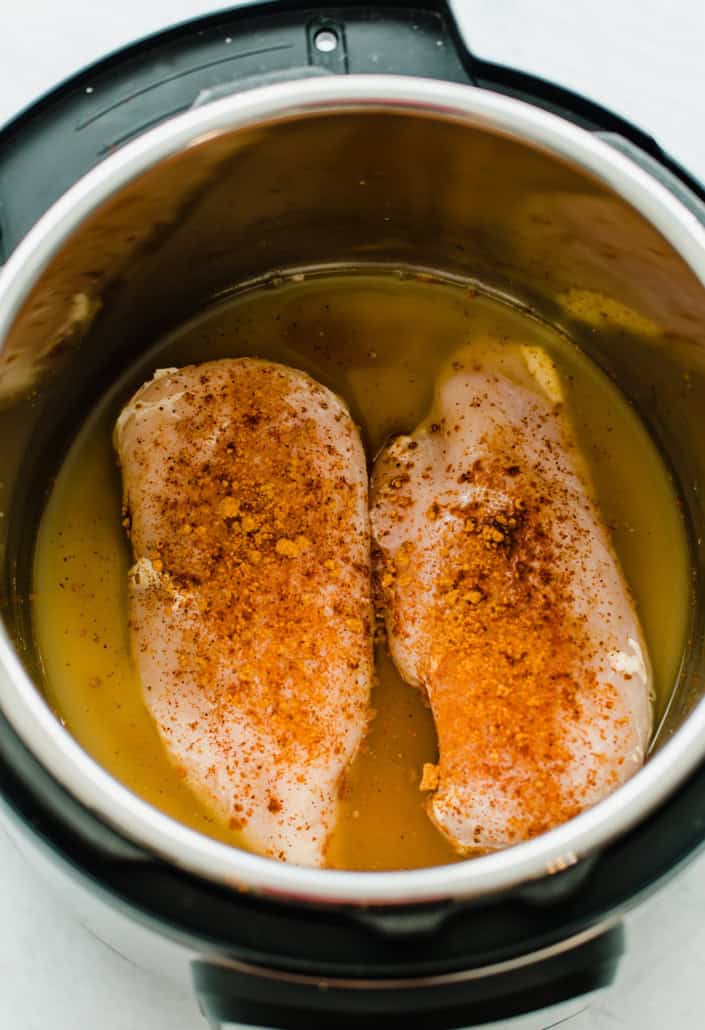 Step 2: Pressure Cook the Chicken
Now here's the key: Do not overcook your chicken! If you follow our recipe, you're good to go. But…be sure to download and print off our Instant Pot Cooking Times Chart that we spent two years developing for our cookbook. This guide will help you pressure cook both fresh and frozen meals perfectly! It's our gift to you!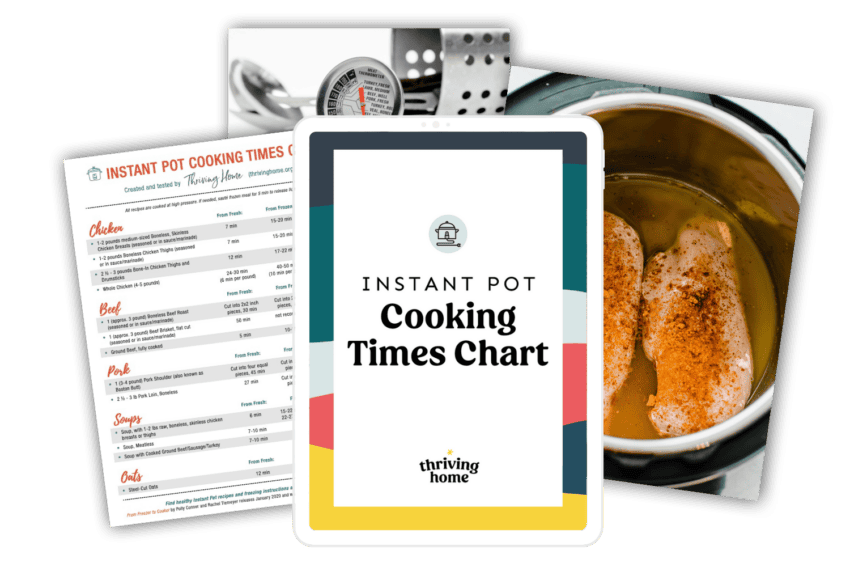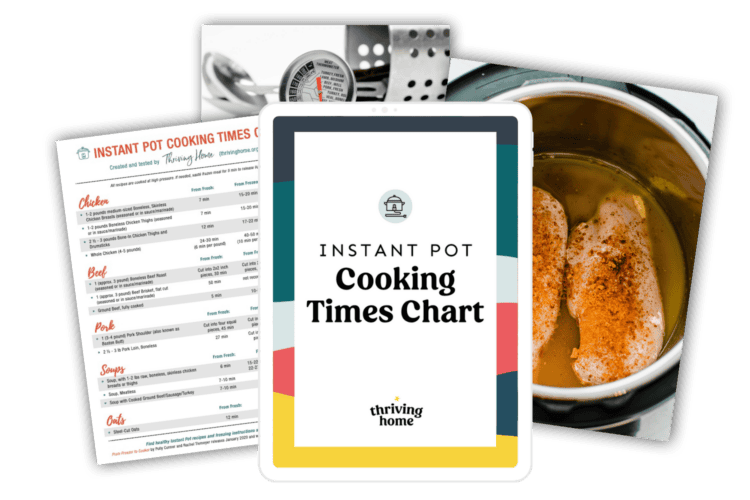 A Must Have for Instant Pot Users
Instant Pot Cooking Times Chart
After testing hundreds of Instant Pot recipes, we have honed in on the best timing and methods for cooking different types of meals in the Instant Pot.
Step 3: Make the filling
Once that chicken has cooked, grab two forks and give it a good shred. Return it to the Instant Pot and stir it around with the broth. Add cream cheese and salsa and stir until it's nice and creamy.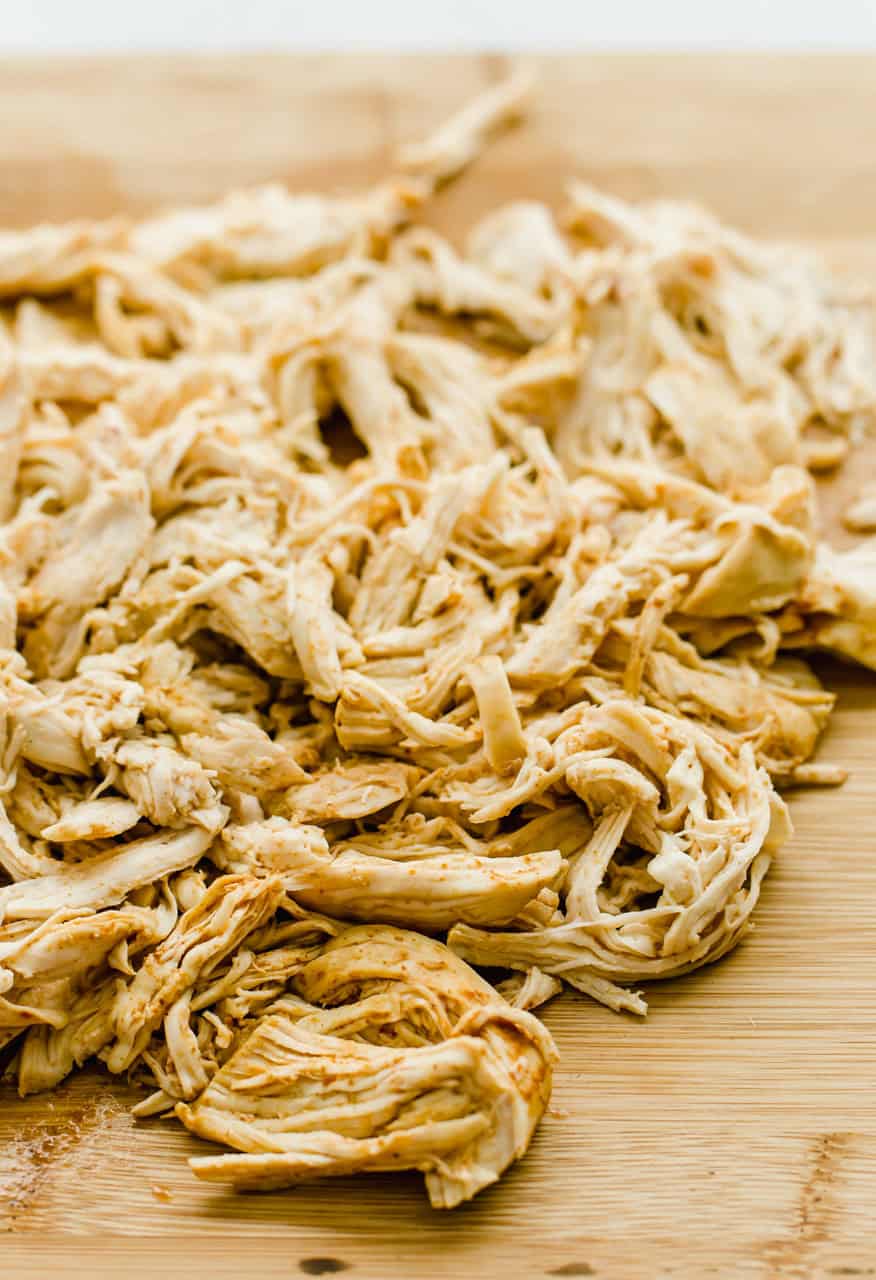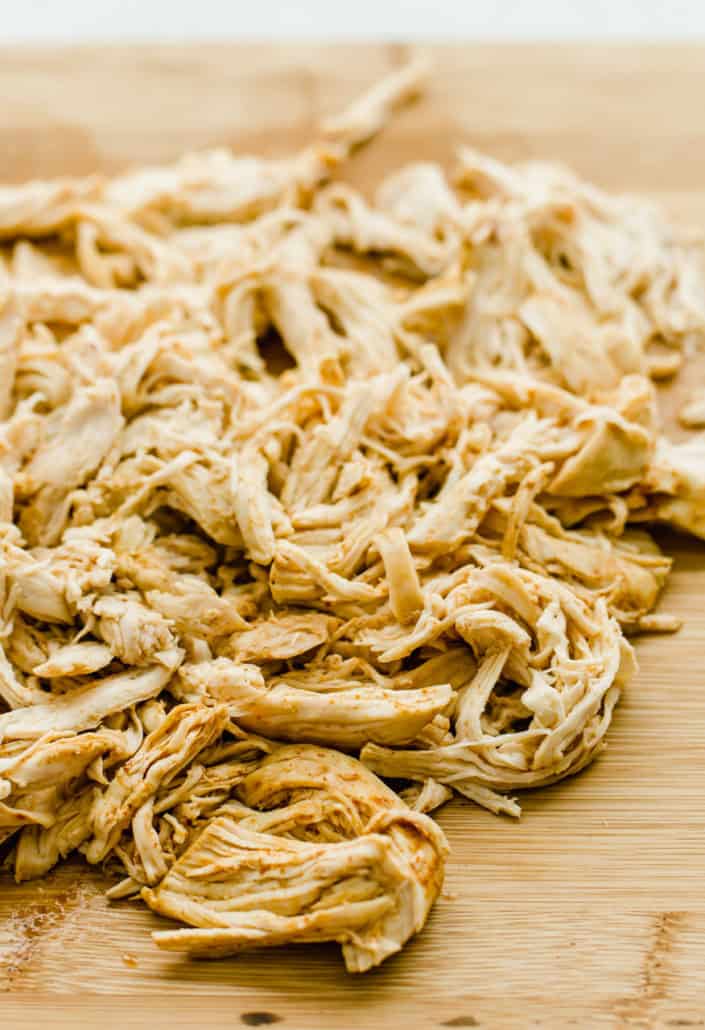 Step 4: Wrap up the Taquitos & Bake
Next, add a scoop of chicken mixture and some shredded cheese in each tortilla. Tightly roll them up and place them seam-side down on the baking sheet.
Pop the rolled up taquitos in the oven until they are melty and golden brown.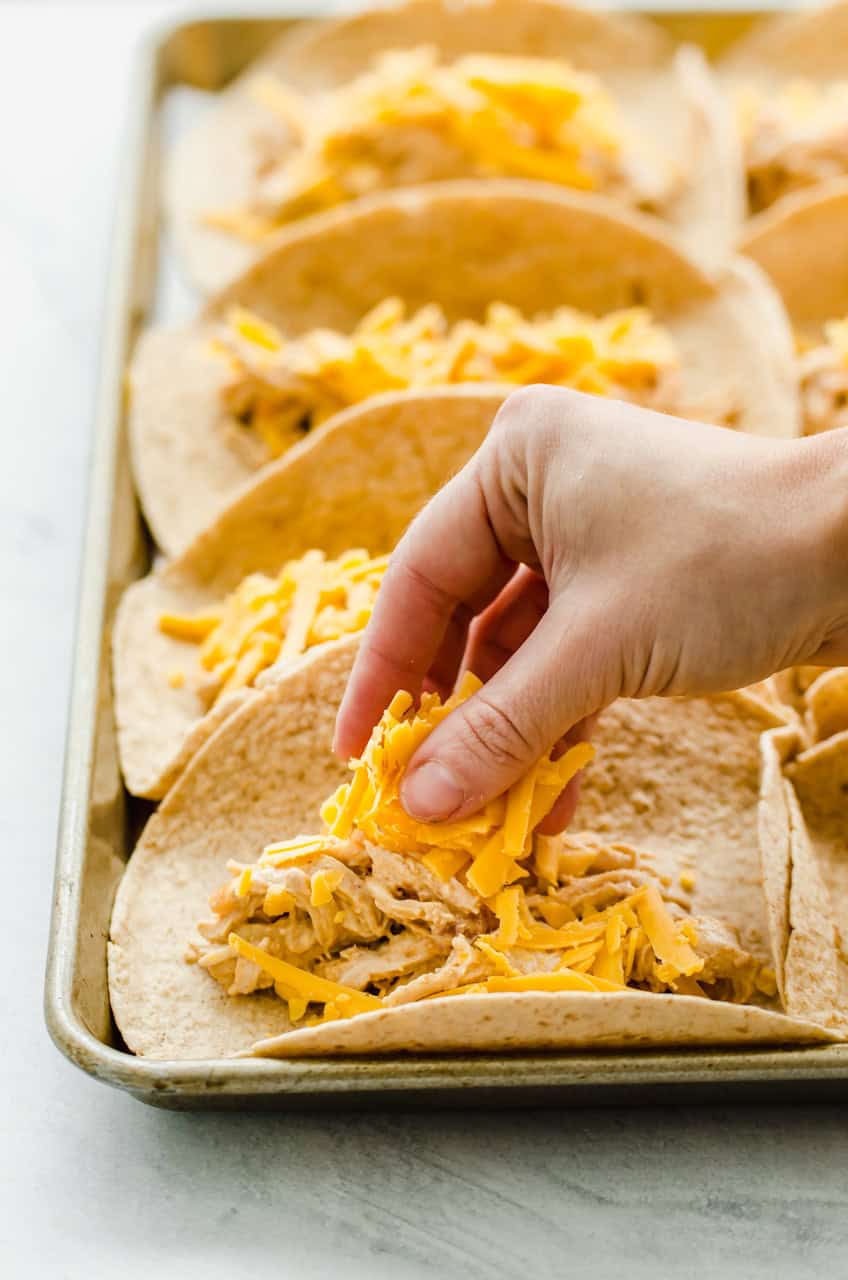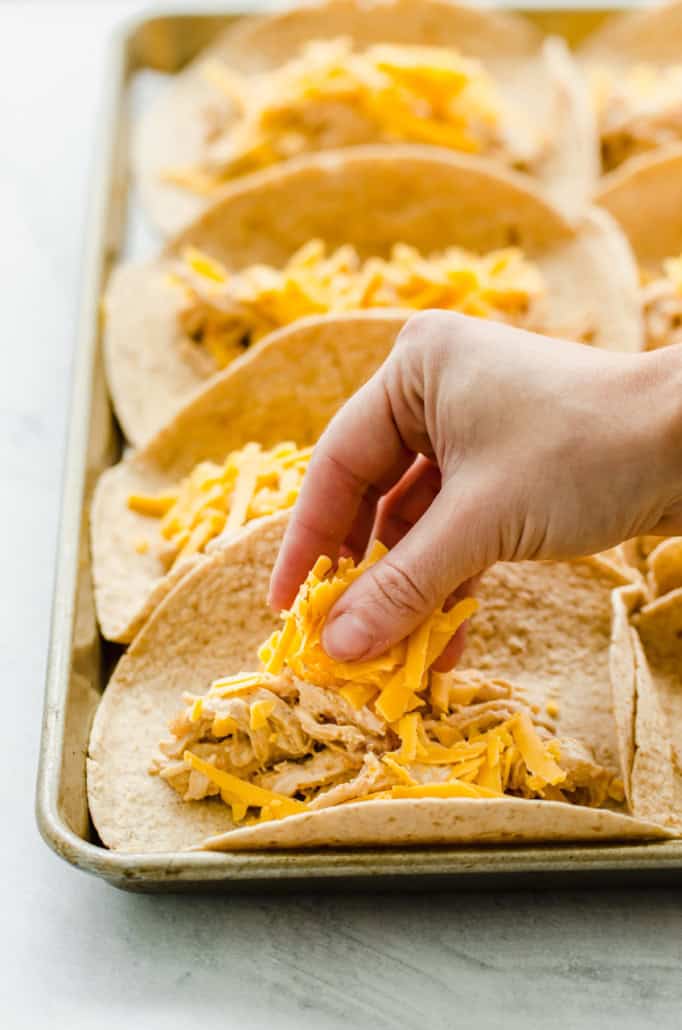 How to Freeze Taquitos
Freeze It For Later: Place rolled up tortillas side-by-side in a single later in a gallon-sized freezer bag. Seal tightly and freeze.
Prepare From Frozen: When ready to bake, you have two options:
Method 1 (Thawed): Thaw overnight in the refrigerator or in the microwave using the defrost setting. Bake as directed, beginning with Step 6.
Method 2 (From Frozen): Follow Steps 6-8, but cover the frozen taquitos with foil after spraying them with cooking spray. Then, bake for about 25 minutes or until warmed through. Remove the foil and bake another 5-10 minutes, until golden brown.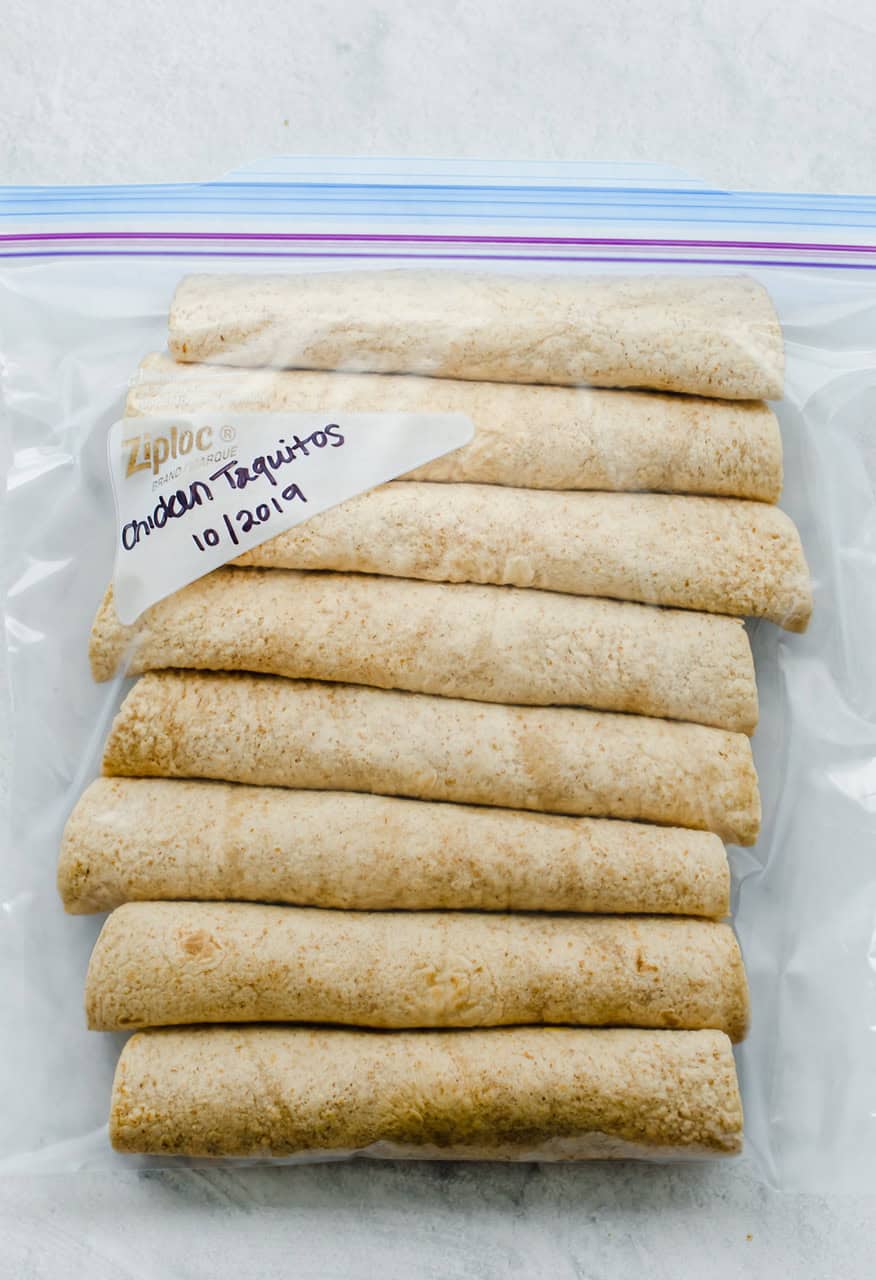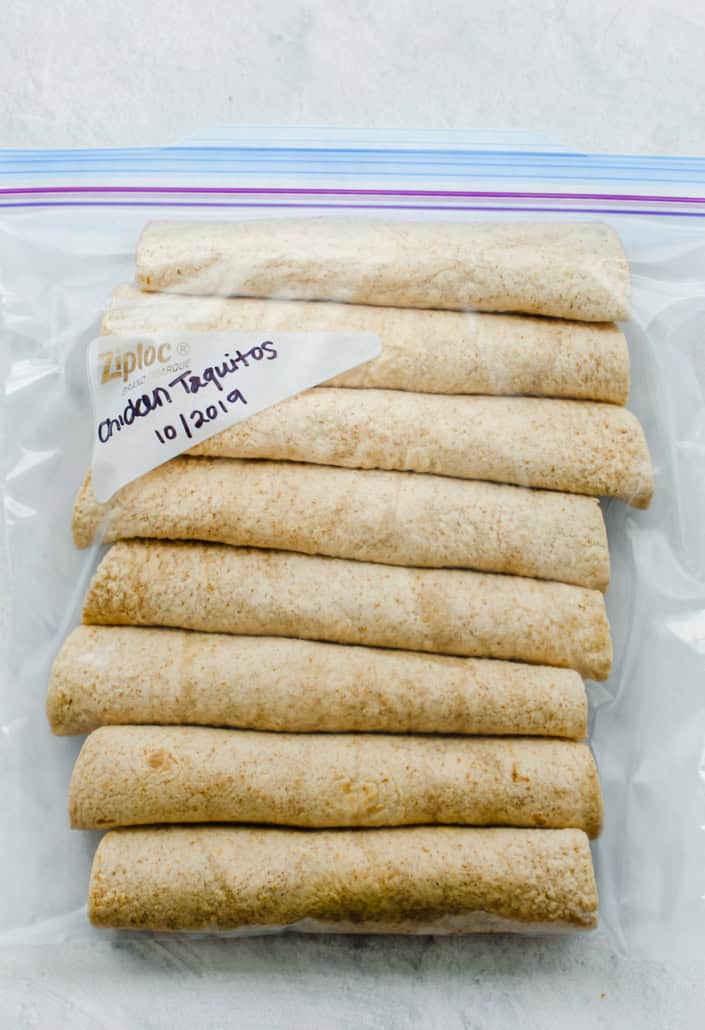 Q: Am I supposed to drain off the liquid after shredding the chicken before adding the cream cheese and salsa?
A: Depending on the type of chicken and salsa you used, the consistency can vary. I usually drain off some of the liquid if it's too soupy. It should be fairly thick.
---
Q: Is there a way to bake the chicken instead of using the Instant Pot?
A: Definitely. Preheat oven to 400°F. Place chicken in a casserole dish or on a rimmed baking sheet. Bake uncovered for about 20-25 minutes, until done.
---
Q: Can I cook these straight from frozen?
A: Yes! Cover the frozen taquitos with foil after spraying them with cooking spray. Then, bake for about 25 minutes or until warmed through. Remove the foil and bake another 5-10 minutes, until golden brown.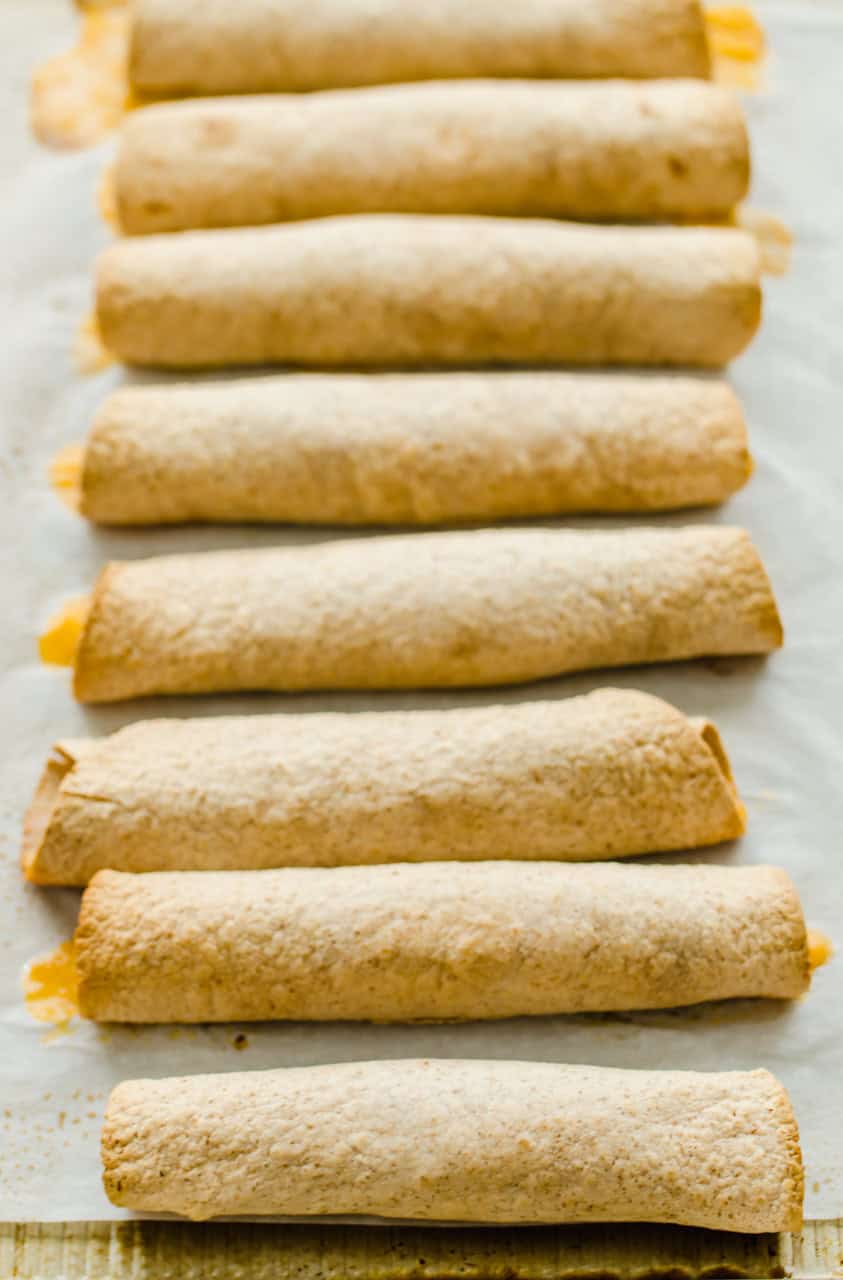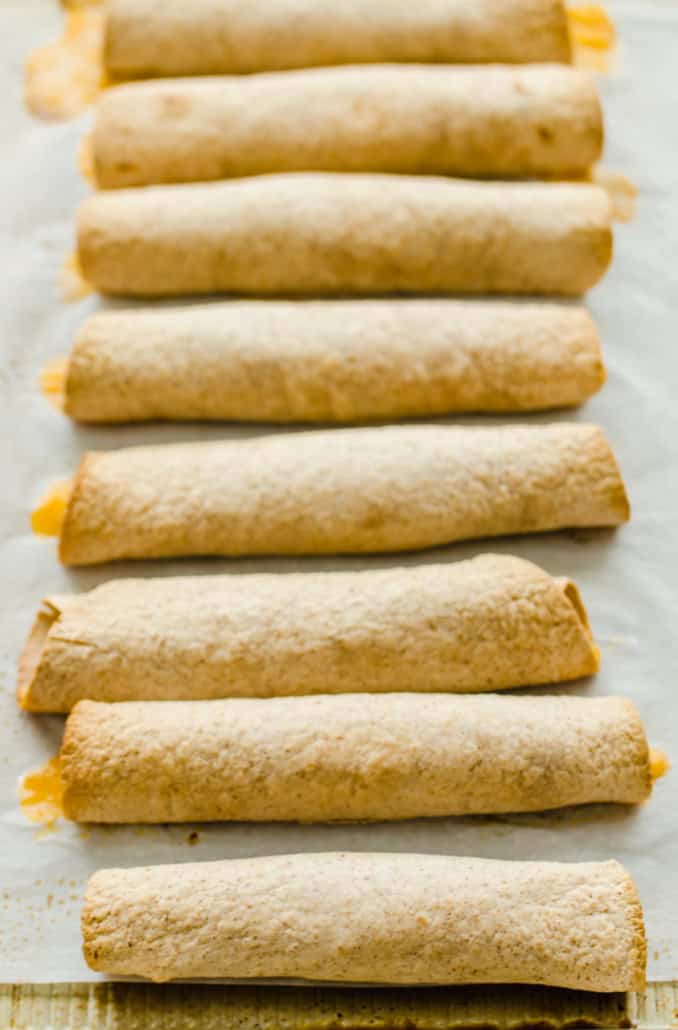 Side Dish Ideas for Taquitos
We love Mexican recipes! Here are a few that would pair well with Taquitos.
See 25+ Mexican Recipes
Tip: Freeze Leftover Tortillas
Did you make this? Snap a photo and tag us on Instagram at @thrivinghome so we can see your creations and cheer you on!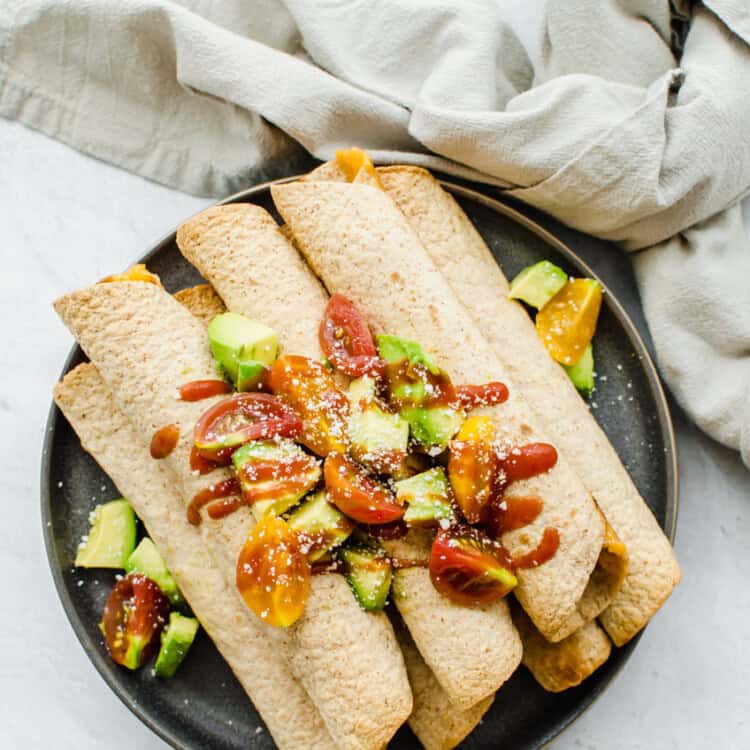 Instant Pot Chicken and Cheese Taquitos
With just a few simple ingredients, this kid-friendly Instant Pot chicken dinner takes minutes to whip up. It's also freezer-friendly and goes straight from the freezer to the oven!
Yield:
4

servings (2 taquitos per person)

1

x
Prep:
5 minutes
Cook:
40 minutes
Total:
45 minutes
Before You Begin! If you make this, please leave a review and rating letting us know how you liked this recipe! This helps our business thrive & continue providing free recipes.
Instructions
Make It Now:
Place chicken breasts in your Instant Pot. Cover both sides of chicken with taco seasoning. Add the broth. Lock and seal the lid.
Cook for 7 minutes at high pressure. (If chicken is frozen, cook for 15 minutes at high pressure.) Use a quick release when the time is up or you can use a natural release, if you have time. (Note: The chicken is done when it registers 165°F internally or has no more pink inside.)
Preheat oven to 400° F. Line a rimmed baking sheet with parchment paper or foil.
Shred the chicken in the pot with two forks and stir it with the broth so the seasoning is evenly distributed. Add cream cheese and salsa to the shredded chicken and stir until the cream cheese is melted.
Arrange tortillas on a flat surface. Top each tortilla with an equal amount of chicken mixture. (Important tip: Drain off the extra liquid from the chicken as you remove it from the pot; I just used two forks to transfer it to the tortillas.) Leave a little room at the edges so the filling doesn't spill out. Top the chicken mixture with 2-3 tablespoons of shredded cheese. Roll up tortillas tightly. (Freezing instructions begin here.)
Place the rolled tortillas on the baking sheet, seam side down. Spray the tops with cooking spray. You can also sprinkle any remaining cheese over the tops, if you like. Bake 15-20 minutes, until cheese melts and they are golden brown.
Serving suggestion: Top with salsa, sour cream or plain Greek yogurt, and/or guacamole.
Freeze For Later: Complete the recipe through Step 5. Then, place rolled up tortillas in a freezer bag or freezer container (BEFORE baking) in a single layer. Separate the single layers with parchment paper. Seal tightly and freeze.
Prepare From Frozen: When ready to bake, preheat the oven to 400°F. Place frozen taquitos on a baking sheet that is lined with parchment paper or foil. Cover them lightly with a piece of foil (so they don't brown too quickly). Bake for about 25 minutes or until warmed through and cheese is melty. Remove foil and bake about 5-10 more minutes until golden brown on top. (Note: You can use the broiler to crisp them up at the end for about 2 minutes, if desired. Watch them closely so they don't burn.)
---
Notes/Tips
You can also make this recipe in the Slow Cooker. Find the recipe here.
Download and print our free Instant Pot Cooking Times chart here. Learn more about our rigorously-tested Instant Pot cookbook, From Freezer to Cooker, here.
We get our meat from ButcherBox*.  The chicken is organic and curated from small, trusted farms. We highly recommend this service to source DELICIOUS and HEALTHY meat—like uncured bacon, grass-fed beef, and wild salmon—and have used it for years ourselves.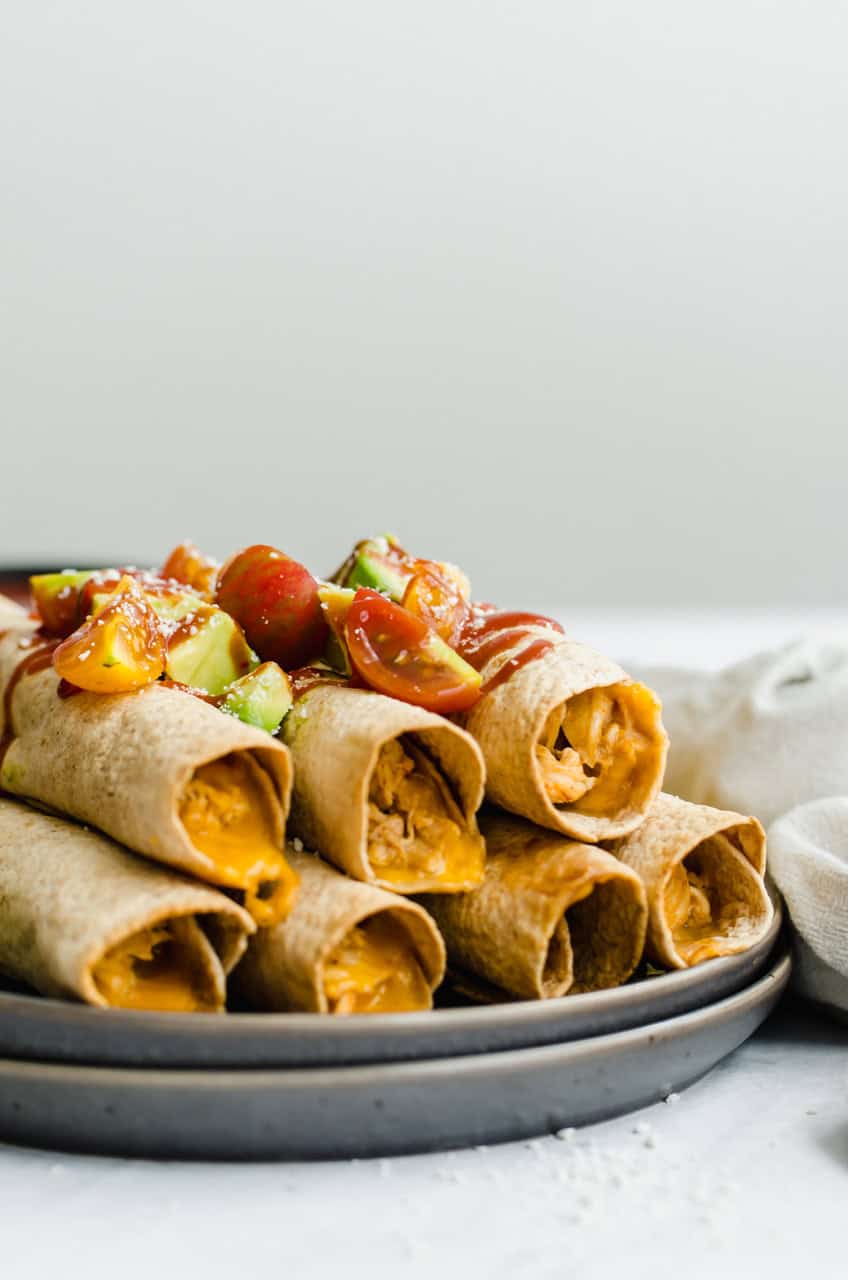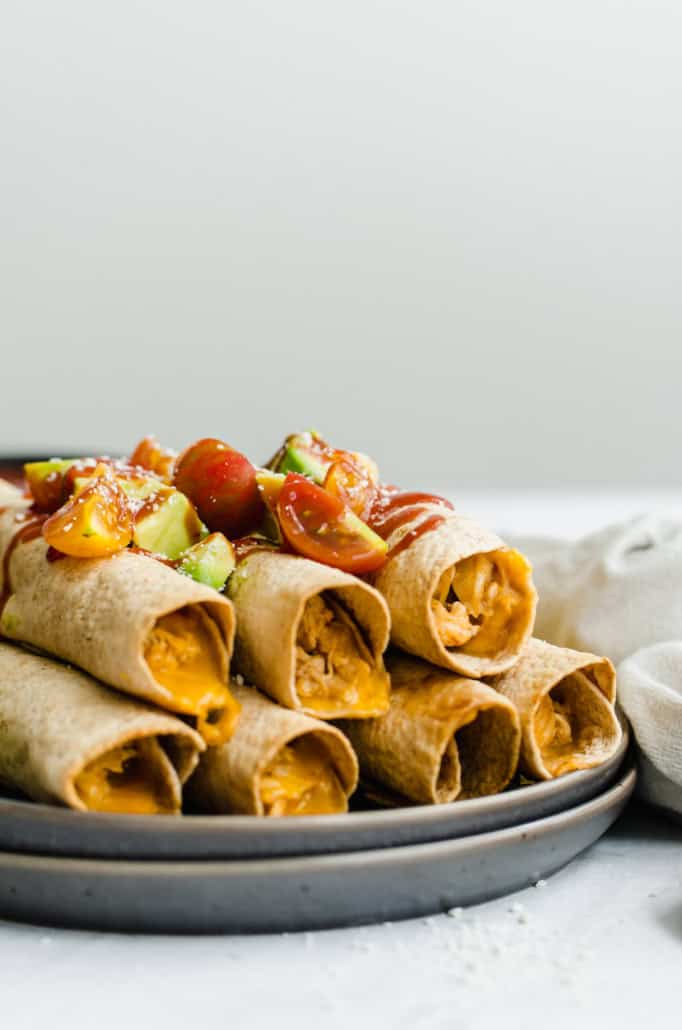 Want More Freezer Meals for the Instant Pot?
We've got you covered. Hop over to this post highlighting 20+ Best of the Best Freezer Meals for the Instant Pot. It includes freezer meal instructions for EVERY recipe plus tons of pro tips and tricks we've learned over the years.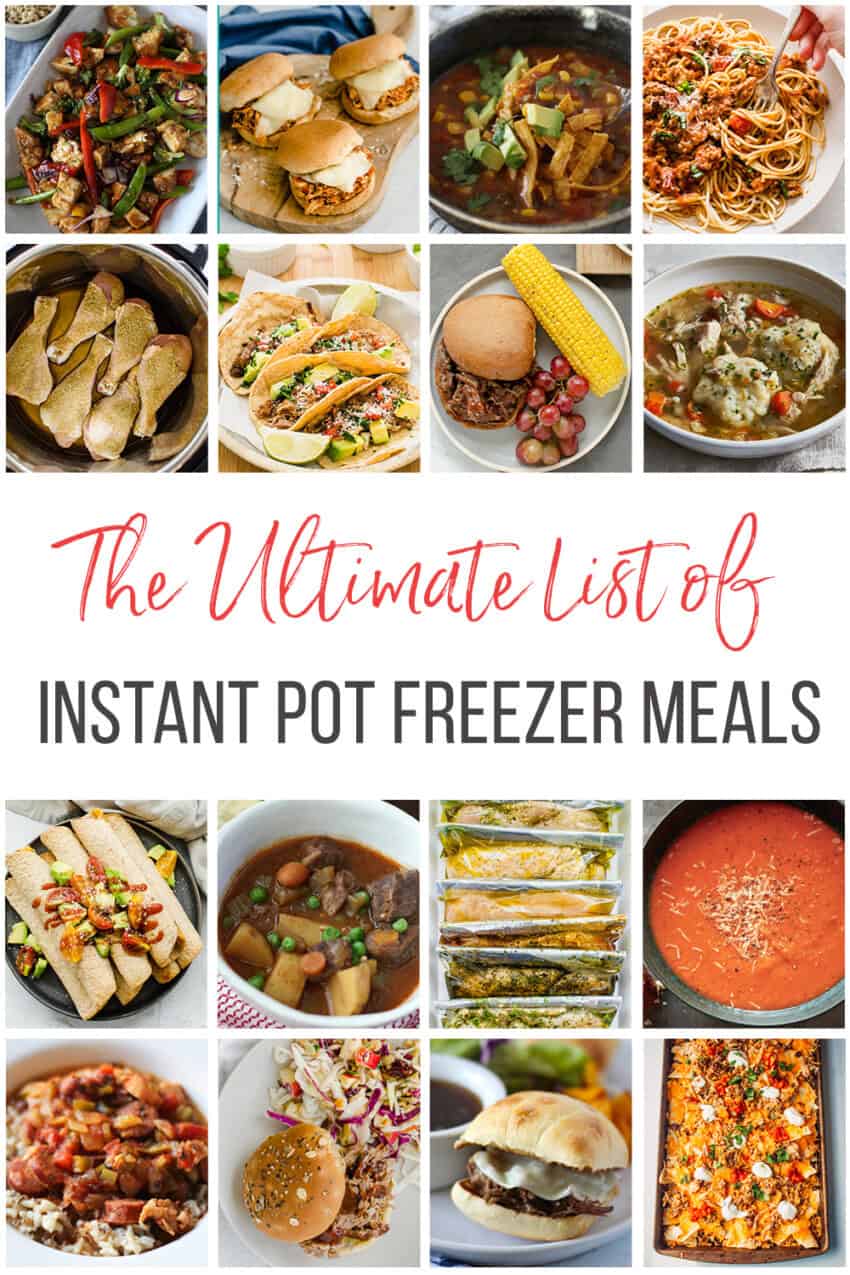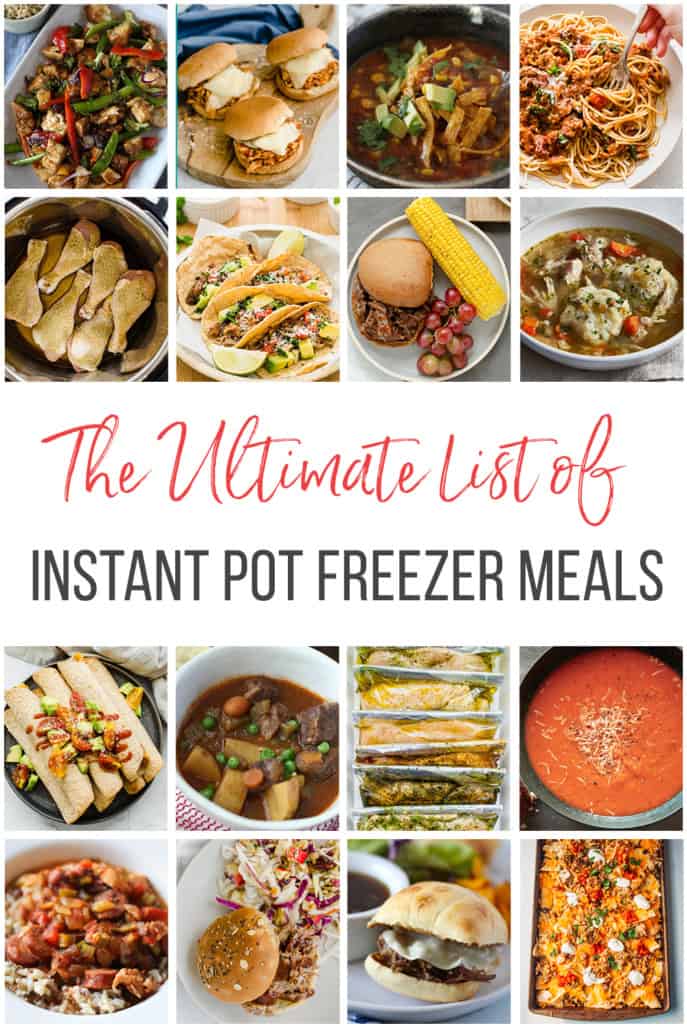 ---