Don't waste your summer with kids at home. It's never too late to think about how to use these summer months intentionally. Here's how to create intentional summer goals that will make a difference in their lives.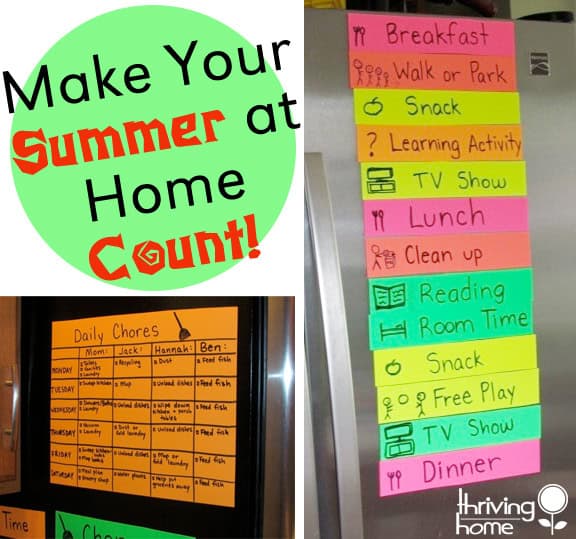 Ah, summer. For many of us, the word is synonymous with any number of good things: long, sun-drenched days, vacations, going to the pool, the smell of freshly cut grass, baseball, etc. But the summer months also offer a great chance for parents to help their kids grow and develop in an intentional way.
As you read today's post, keep in mind that each family's goals will be different given all the variables, including the age of kids, work responsibilities, summer school, etc. And remember that reality sometimes falls short of even the best intentions. It's a lesson we're taught regularly at our house! Some of the following post is borrowed and updated from my original 2013 summer goals post here.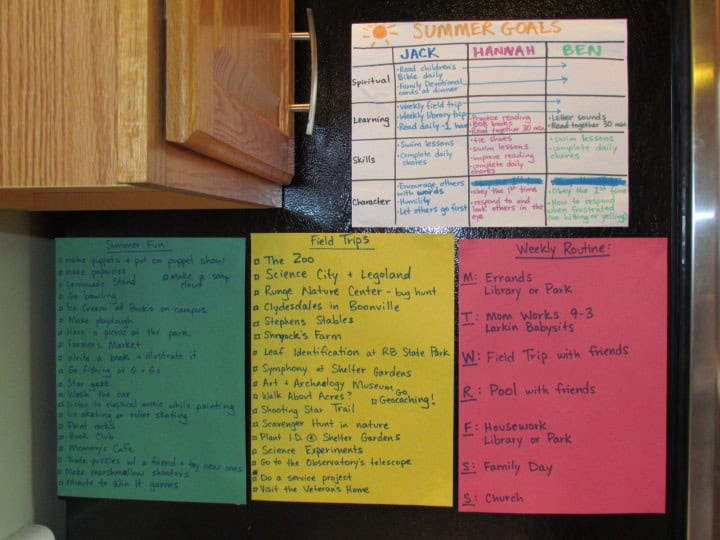 I love the idea of using summertime with my kids in a way that makes a lasting impact. But when it comes to parenting, if we don't have some goals in mind for our kids–whether long-term or short-term–it's easy to lose sight of where we are going. It's easy to waste the precious little time we have with these young souls in our charge. (I'm speaking from a "guilty as charged" place myself!)
That's why it's helpful to think through some specific goals for our summer with our children. Here are a few things I've learned over the years about that process and what our goals are for Summer 2015. (Plus, I've made some updated editorial comments to this article in 2018, so you can see what actually worked for us!)
Ask Yourself Big Picture Questions
This summer think about developing your child as a whole person: spiritually, physically, mentally, and emotionally. Start by praying for wisdom (James 1:5) about what your children need and for God to guide your goal-making process. Then ask yourself some of these questions as you develop summer goals:
If you could see your child grow in one or two particular areas, what would those be?
What is one or two routines you'd like your family to learn? (For instance: reading the Bible, doing chores around the house, establishing reading time, learning to swim, etc.)
What is a new experience or activity you could try?
What books would you like to read to your children?
Narrow Down Your Goals
One thing to keep in mind is not to have too many goals, otherwise you're likely to get discouraged and not follow through. Plus, having too many goals can lead to too many activities and not enough flexible time. We need to leave time for our kids to play and use their imaginations on their own, as well as for spontaneous teaching moments, times of discipline, sick kids, and the other inevitable but oh-so-important "non-planned for" events of the day.
Make Measurable Goals
It's also helpful to make your summer goals concrete and measurable. You should be able to answer periodically throughout or at the end of the summer whether or not you made progress toward each goal. In fact, last summer I posted our goals on the fridge and periodically asked the kids how they thought they were progressing. Here are last year's goals on the fridge…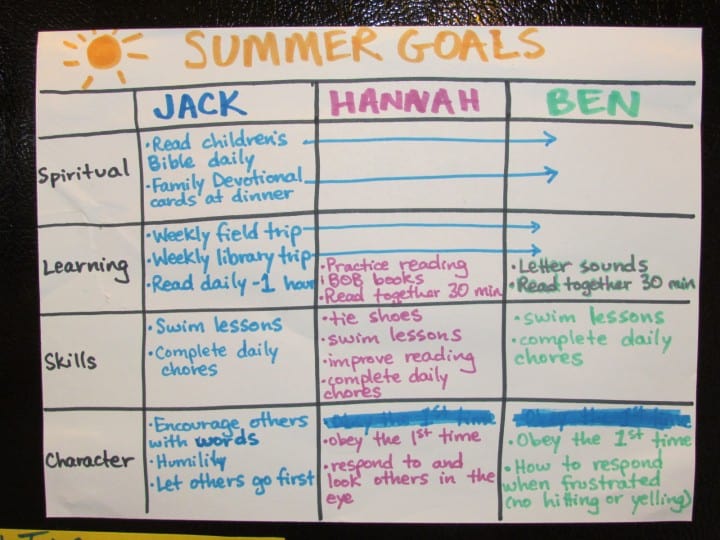 Example: Summer 2015 Goals for My Kids
Every family is completely different when it comes to our children's needs and what you as a parent are gifted at doing. We usually have some general goals for everyone and then a few specific individual goals (i.e. learn how to ride a bike, etc). But, just to give you an example, our Summer 2015 goals for our children (ages 4, 6, and 8) are these…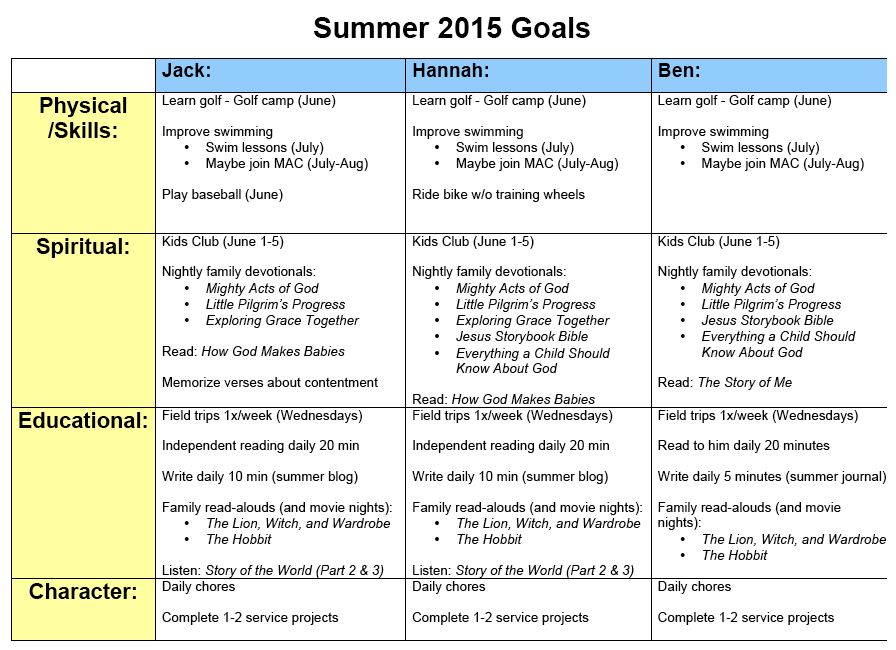 Now the next and perhaps hardest step is figuring out how to implement these goals!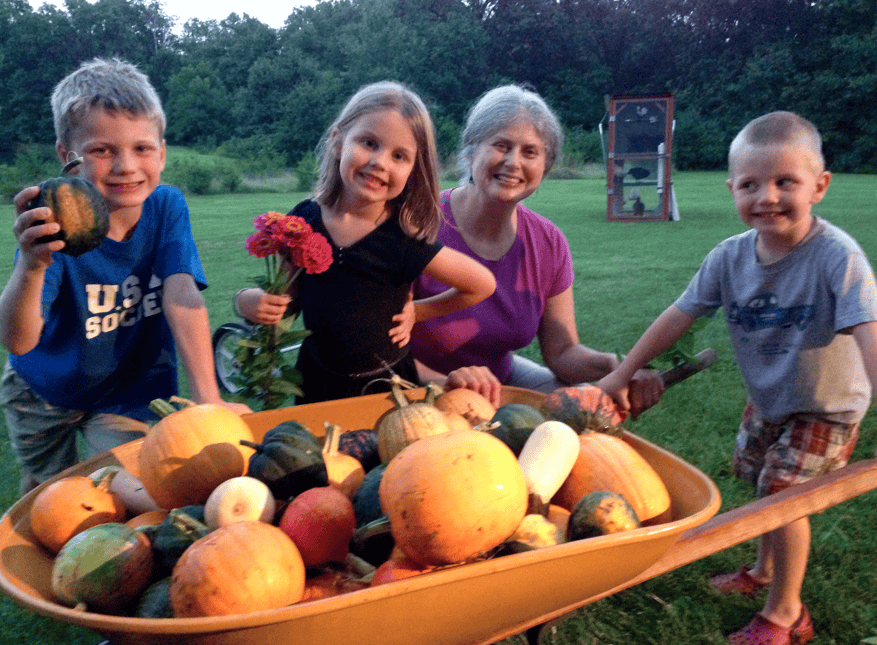 How will you execute your summer goals? (LOTS of practical ideas here!)
So after you come up your goals and have your challenges/limitations in mind, think through a system, resources, and/or basic supplies that will help you stay on target. Here's what I've planned to put into place and have bought so far.
Tentative Weekly Schedule
I want our weeks to have a natural routine and flow for the most part, because I know this helps my kids have expectations for each day. This also helps me have a simple idea of what we're doing each day ahead of time and stay motivated.  Here's a photo of our simple "big picture" week day schedule: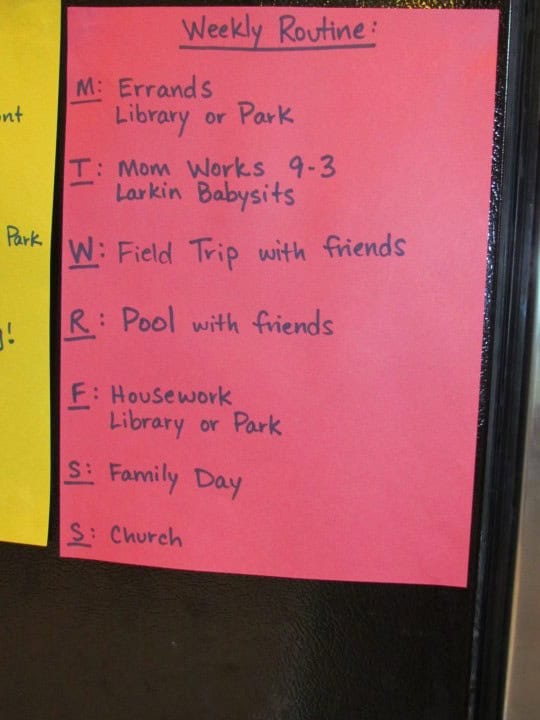 Daily Fridge Schedule
Nerd alert, but I'm super excited about this magnetic fridge schedule I made this week! This schedule will change daily, based on that day's events, and give the kids and me direction for the day.
To make this, I tried to think of the activities and main events that will usually be included in our summer daily routine. I think I made about 20 or so. First, cut out strips of poster board and write out each your activities on each strip. I added a picture (pay no attention to my sad attempts at drawing) to each one so the non-readers could understand the flow of the day as well as the readers. Lastly, add small magnet pieces with adhesive on the back to each one, so you can change the schedule up each day.
(Editorial update on 6/2018: We used this schedule for many, many years. My kids LOVED this thing. Totally worth the time to make.)
Chore Chart
Before we leave for any fun adventures (or have any screen time), the kids have to complete their daily chores. Check out a list of age-appropriate chores for kids and how to make your own Chore Chart here. It's changing my life so far! 🙂
Editorial update from 6/2108: I've updated this chart year after year and now offer the kids a small allowance at the end of each week for completing their daily chores every morning with a good attitude. They also help me clean the house once a week by each taking an assigned portion. This is part of the allowance deal, as well. I'm telling you right now…life.changing. Plus, it's teaching my children to work hard and be a part of contributing to our family.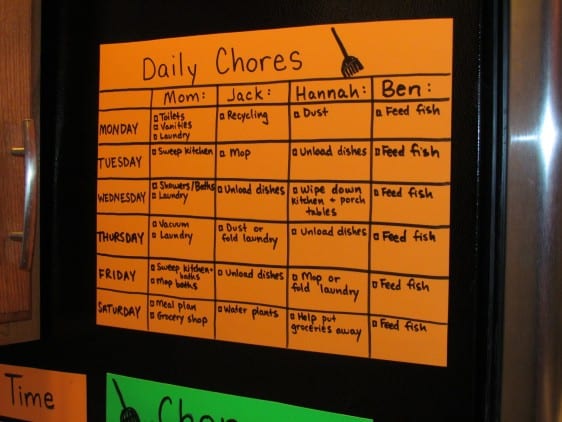 2018 Update: Here is this year's laminated daily chore checklist. You can see how the responsibility for each child has increased over the years. This has worked so well, especially starting them at a young age and making this an expectation every summer. Each kid has the same daily chores, but my expectations get higher with their age. The older ones have more plants to water, more dishes to unload, a bit more house cleaning load, etc.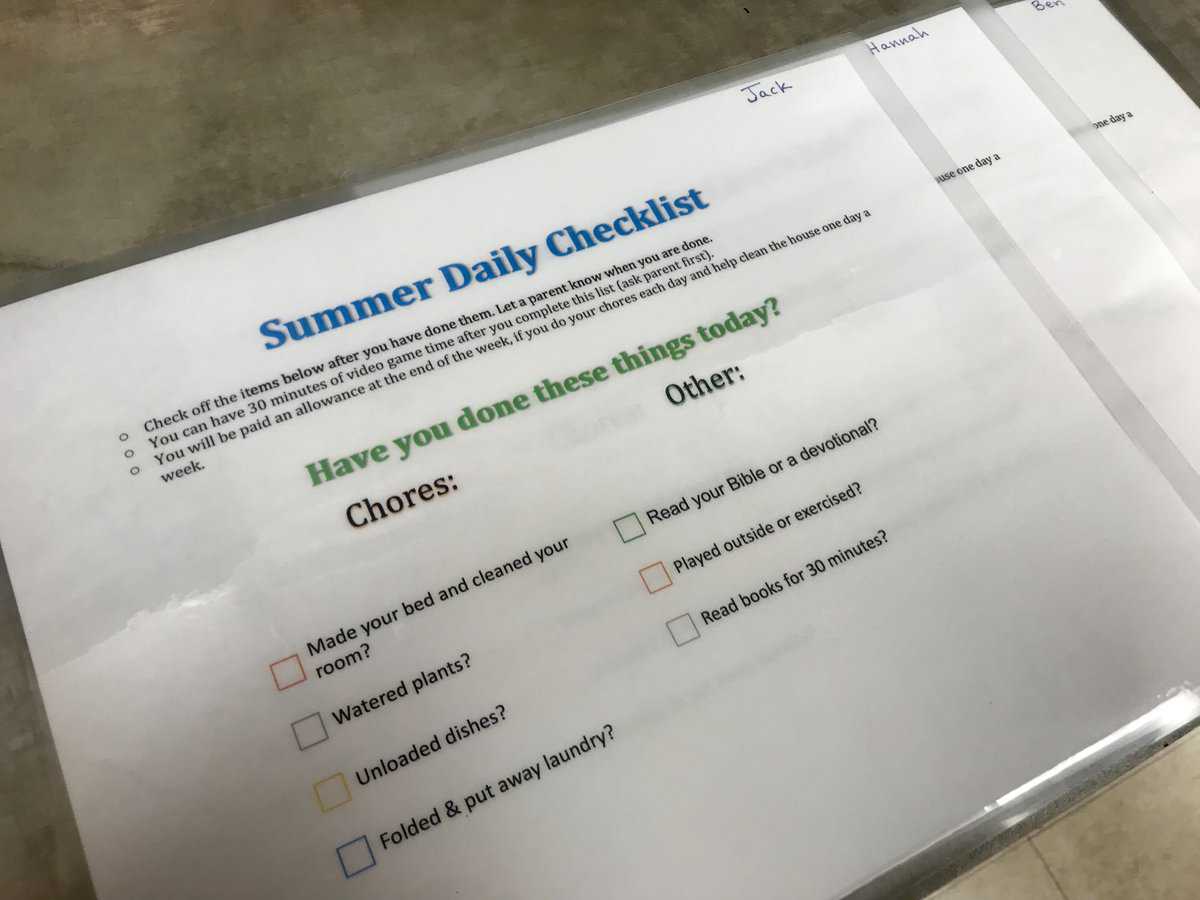 Ideas for Local Field Trips
Like I mentioned above, I want to take one learning-type field trip a week. So, my friend, Kelley and I brainstormed some local friend trip ideas. Here's what we came up with to try but more ideas from you are welcomed!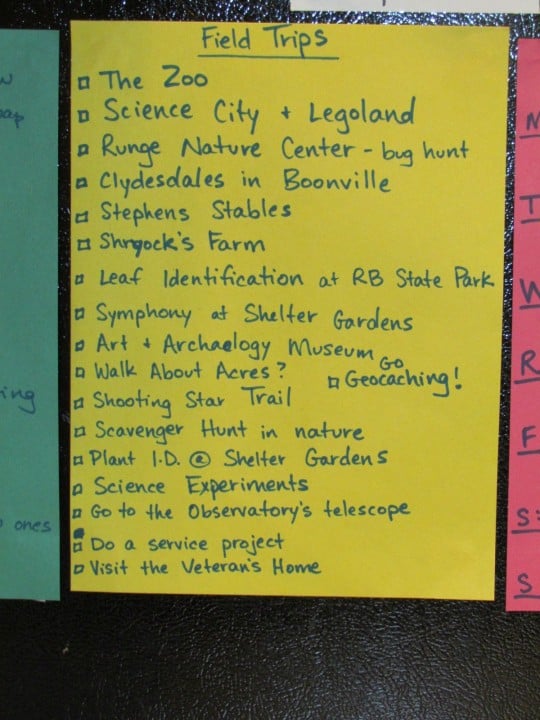 We also brainstormed some bucket list ideas, too.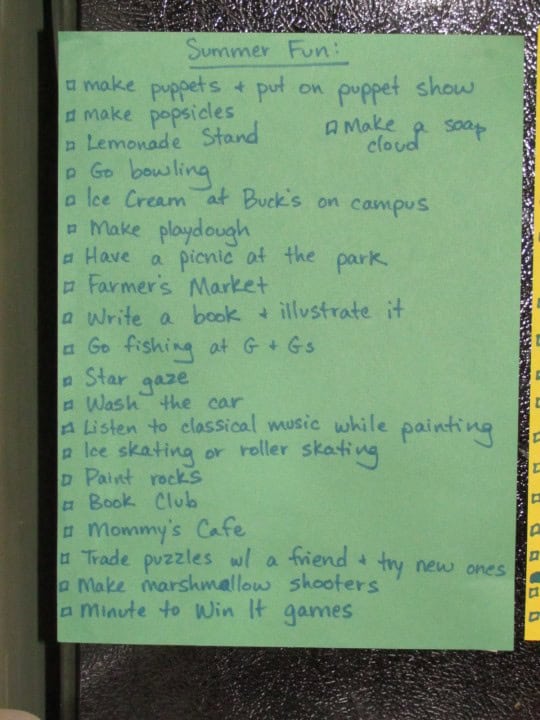 Use Dinnertime Wisely
Time around the table is one of the best ways to be intentional in the summer. Did you know that studies show that children who grow up regularly eating meals with their families are more successful in almost every way—socially, academically, physically, and emotionally–than those who don't?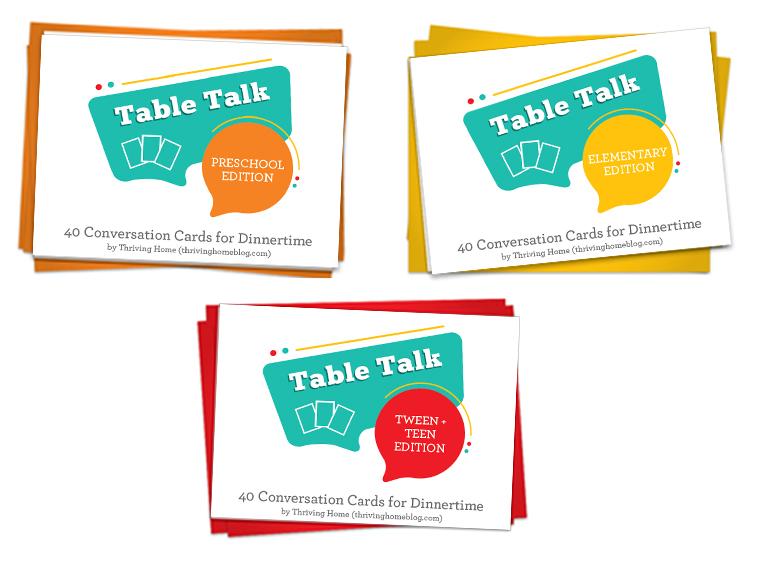 Family meal time seems to be a predictor of:
Healthier eating habits
Increased vocabulary and literacy skills in children
Better grades and improved peer relationships at school
Higher satisfaction in parents' relationships
Decreased risk behaviors in teens, such as alcohol and drug use, eating disorders and teen pregnancy
Lower incidence of depression and anxiety in both children and adults
Intriguingly, the single most common developmental denominator cited by Fortune 500 CEOs is that they grew up regularly eating family dinners!
Polly and I have both found that asking great questions around the table is a quick, fun, and often meaningful way to connect after a long day. That's why we created these printable Table Talk cards to use at dinner time.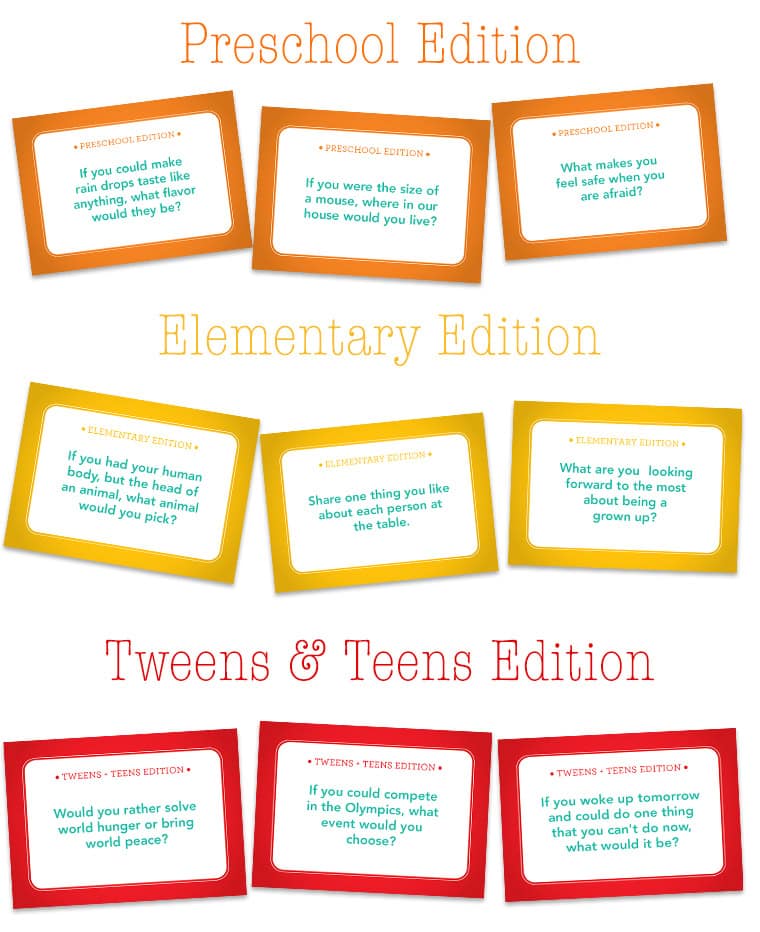 You can purchase these fun cards–we've got a Preschool edition, Elementary edition, and Tweens/Teens edition–right now and download them to use tonight! Our purchase all three sets for the best deal of all.
Learn more about Table Talk Cards here. 
Summer Reading List
I stocked up on some books for the summer and beyond. We'll also make trips to the library periodically to get picture books, as well. Below are the chapter books I just bought through Scholastic Books and/or at garage sales. Also, here are some recommendations for The Best Children's Bibles, some of our Favorite Family Devotionals, and our Top 10 Toddler books.
Stuart Little
– We loved Charlotte's Web as a read aloud, so I can't wait to tackle this one with the kids.
The Boxcar Children Books 1-4
– My 4 and 6-year-olds are obsessed with these books right now!
Little House on the Prairie series
– We read Little House in the Big Woods last year a little at a time and we all learned a lot. I think we'll do the same with Little House on the Prairie next.
Pippi Longstocking
– I remember this being a fun read as a kid and thought my daughter might enjoy it.
Art and Other Misc Summer Supplies
I restocked our art box and toy closet with new and fun supplies. Here are some ideas to stock yours with:
construction paper
good quality markers
stickers
stamps and ink pads
pipe cleaners (my kids come up with all kinds of creations with these)
embroidery thread (for making bracelets)
beads (for making necklaces and bracelets)
Do A Dot Paints (These are my favorite paints for preschoolers! Very little mess and very fun to use!)
water color paints and brushes
sidewalk chalk
bubbles
journals (for writing stories or as a nature notebook on walks)
age-appropriate learning workbooks (I found cheap ones at Aldi, garage sales, and the dollar store)
an egg timer (for timing Clean-Up Time, Reading Time, Room Time, and time-outs)
Fun Summer Learning Activities
Now, if your plan for the day fails at some point and you're scrounging for an idea, you might try one of these 20+ Preschool Summer Learning Ideas.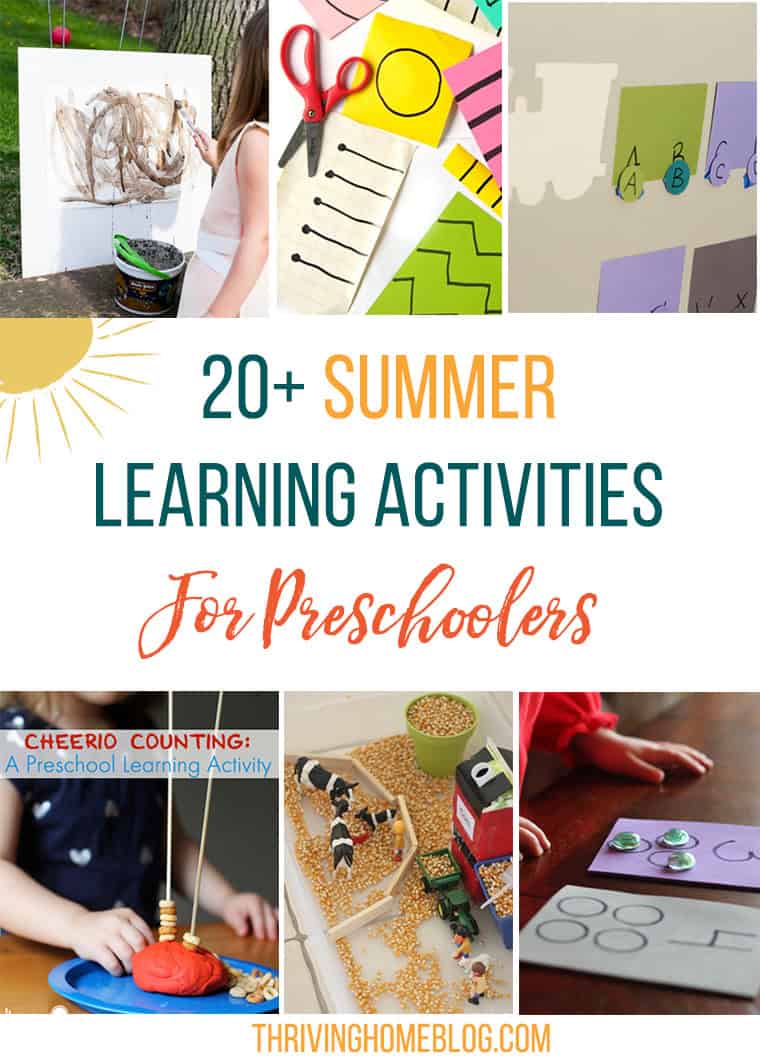 Or try one of these 20+ Elementary Summer Learning Ideas. All of these are tried and true by Rachel's family!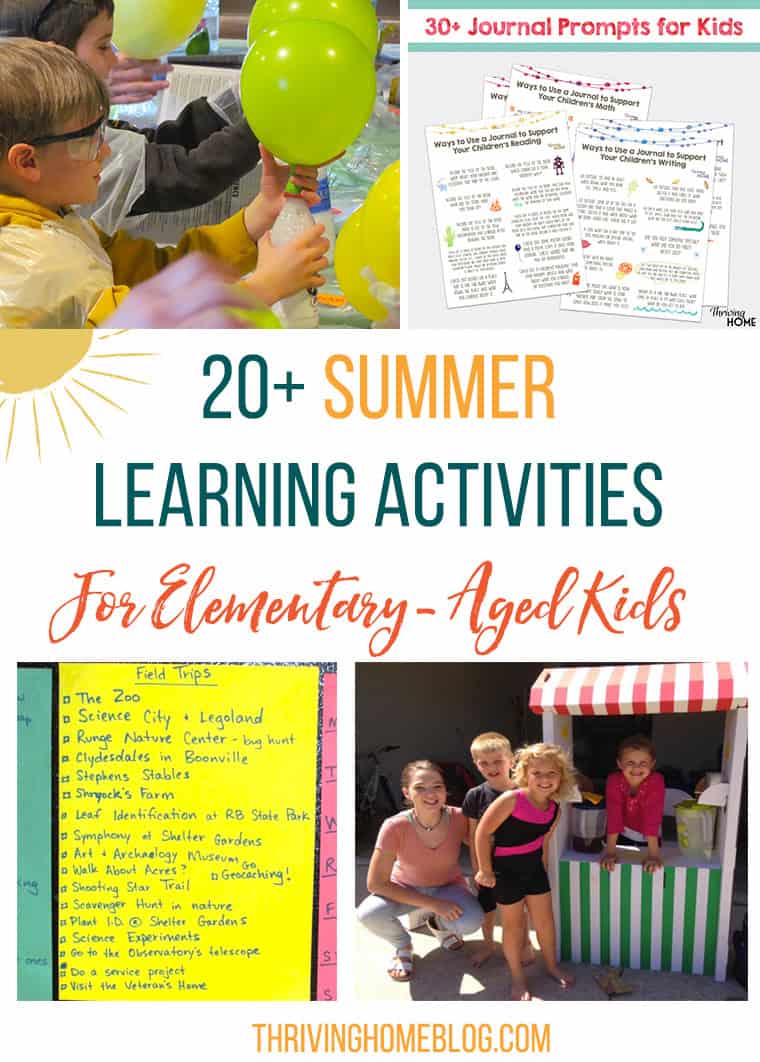 Make-Ahead Meals Means More Time with Kids
Want to know one last secret that I've been doing for the past decade that saves me loads of time?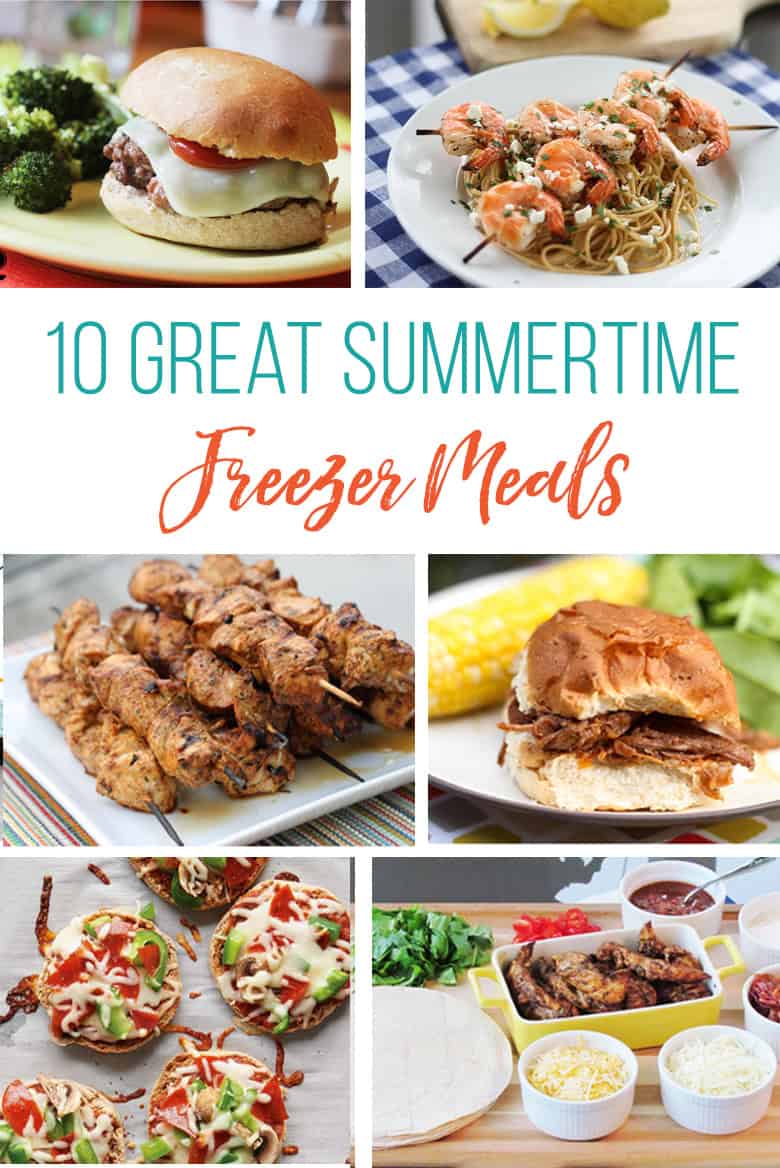 I've been making freezer meals on my own and/or swapping them with friends in my Freezer Club each month. In fact, we gather 10 Best Summertime Freezer Meals here and 30+ Kid-Friendly Freezer Meals here.
2018 Update: I also had a Summer Freezer Party with my friends last summer. That's a great place to start!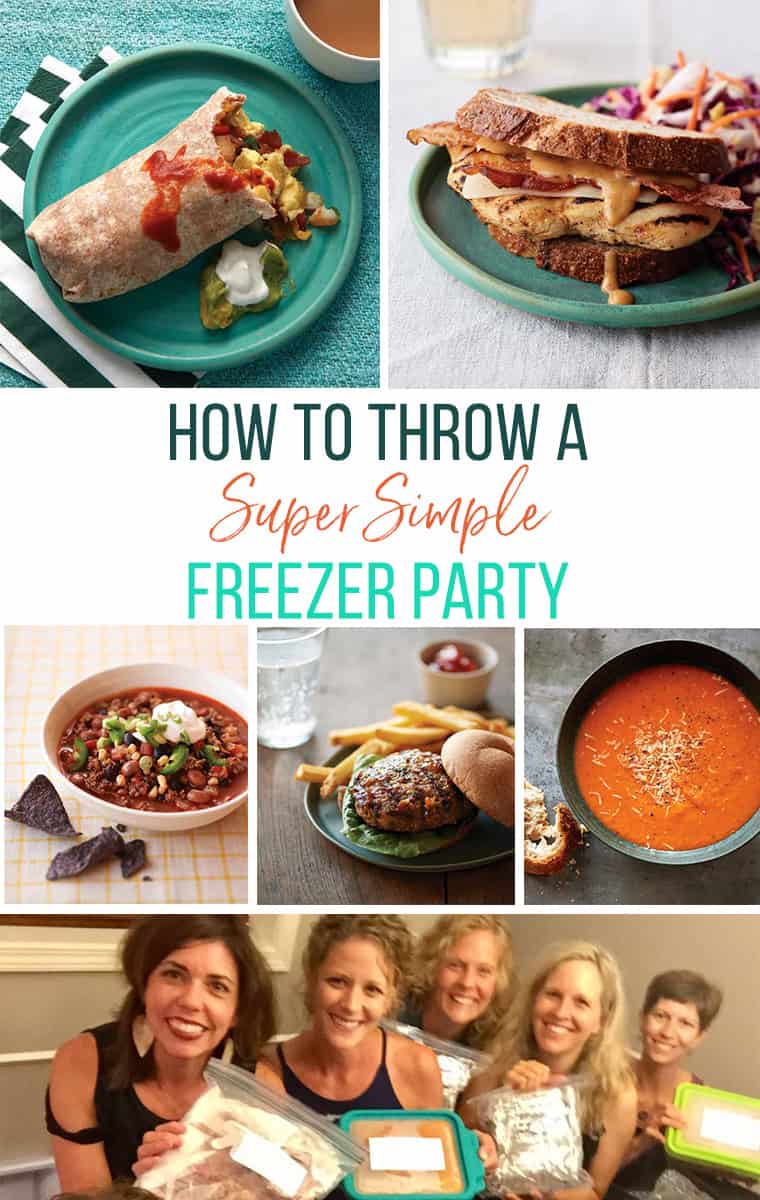 If you've got a busy summer planned, I encourage you to give this a shot. It's such a relief to know I don't have to cook every night of the week in order for my family to eat healthfully and to save money. And…that leaves more time for mommy to play with and teach kids all summer long!
Our very best recipes of all (which you won't find on our blog) are in our new cookbook From Freezer to Table. We hear moms tell us again and again that our book has changed the way they cook–less stress, less money, and more time with family!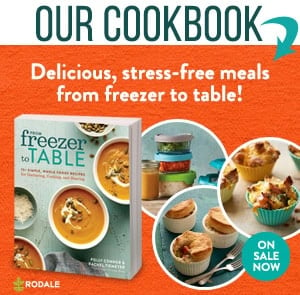 There you have it. No one can say I didn't have a plan in place!
Now, I personally know many of the amazing moms who read this blog and I'm confident there are many more whom I don't know. And, I really do want to know…WHAT ARE YOU DOING WITH YOUR KIDS THIS SUMMER??? Please share.