Throw a Freezer Meal Party: Why We are Loving These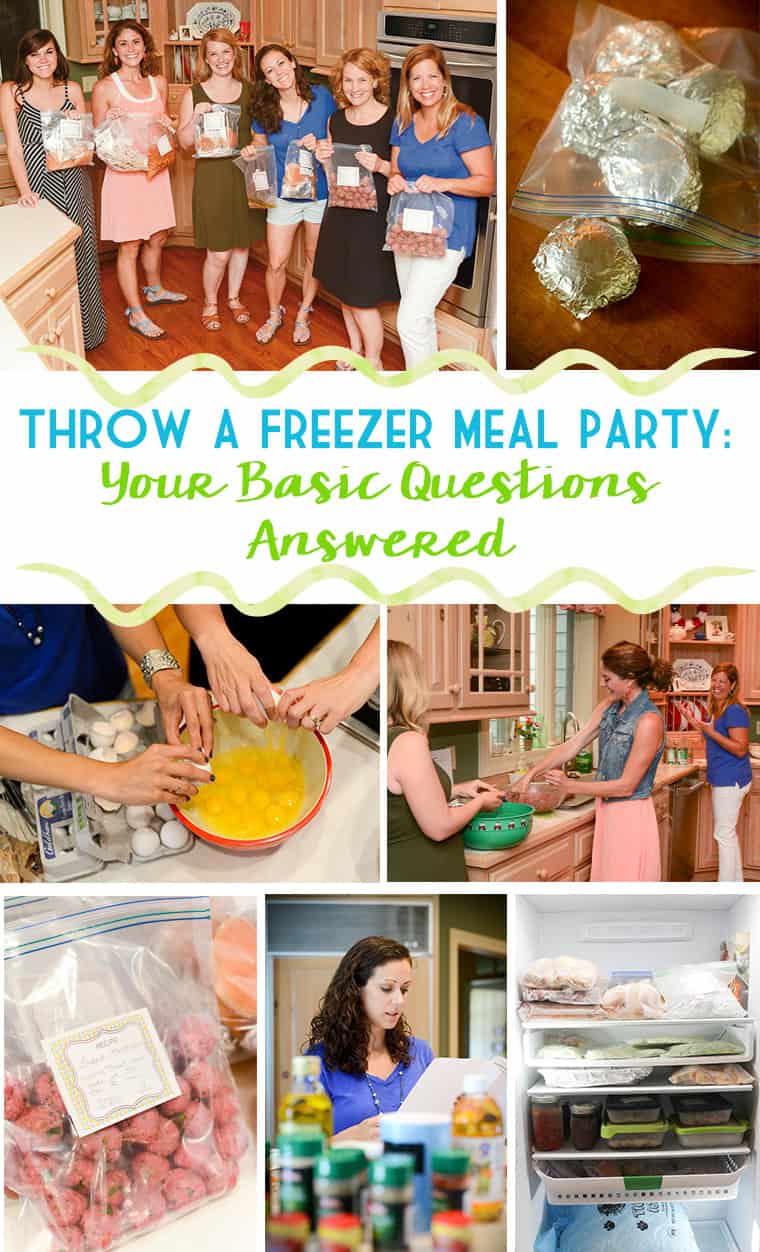 Last night, we wrapped up our second freezer meal party in just two weeks. Thanks to these freezer cooking parties, we both currently have freezers stocked with 12 healthy, home-cooked, delicious recipes that will feed our families for weeks. (Cue the angelic voices from the skies).
"Wait. What's a freezer meal party?" you may be asking.
Well friend, glad you asked.  We're pretty excited to tell you more about this newer concept of a one-time Freezer Meal Party. It has been a huge help to our families and we are pretty convinced it would be a great help to you, no matter your stage in life.
Because let's face, it. It is HARD to make home cooked meals every night. Kids are crabby. Parents are tired. And when convenience food is so… convenient, it's tempting to go that route.
Enter, freezer cooking parties.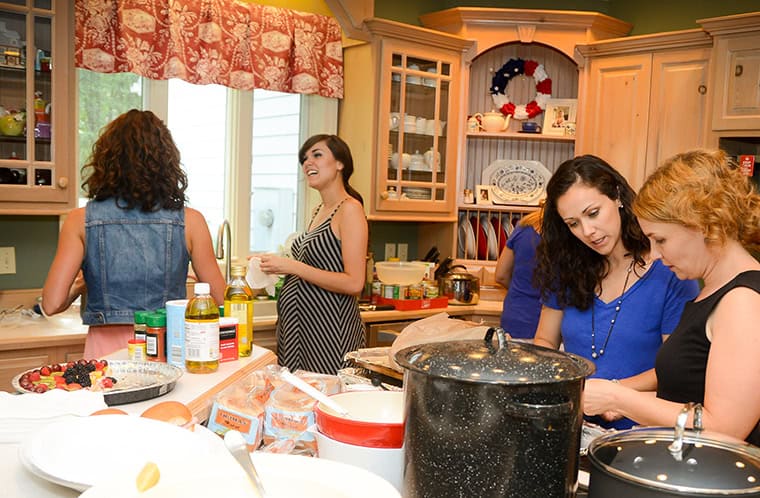 What is a Freezer Meal Party?
So you might be wondering, what exactly IS a freezer meal party?
A freezer meal party is when a group of friends come together to prepare, cook and package freezer friendly meals for their homes and families. With multiple recipes made in bulk, participants all go home with a variety of freezer meals that they can use for months to come.
Benefits of a Freezer Meal Party
There are many unexpected benefits that come from hosting a freezer meal party. The benefits that come from working as a collective are invaluable.
It's an excuse to spend an evening with friends. As a mom of littles, it's hard to find time to hang out with people I enjoy and not be interrupted 15+ times by sibling squabbles or spilled milk. Setting aside a night to come together and to have something to work on together was the perfect excuse to have a girls night. I got to catch up with  much-loved friends AND make meals for my family. I can't think anything I'd rather multitask doing.
Variety. I know I'm not alone in that I tend to cook the same types of food over and over again in a regular rotation. I stick to what I know and breeze past recipes and ingredients I'm not familiar with. However, when cooking 6 different recipes with friends who all have different tastes and preferences, it is inevitable that I'm going to go home with recipes I normally wouldn't try. I like learning how to make new recipes and give my family a little more variety.
Learn from each other. When you cook with other people, you will inevitably learn something new. Everyone brings a different set of skills and experience to the table and when you team up to make a recipe, tips and tricks are passed on.
Save money. Buy in bulk, baby. It is usually cheaper to buy most ingredients in bulk than it is to buy them in smaller quantities. This is especially true for meat. In the long run, we all saved some money by buying ingredients in large quantities and then split up.
Save Time. A freezer meal party tends to run about 3 hours long. This shakes out to be about 30 minutes a meal. In contrast, if I were to make these meals at home by myself the cooking time and clean up would be much longer. Plus, think of all the time this saves on all those little grocery store runs throughout the week. Having freezer meals really will save me loads of time in the long run.
How do I throw a freezer meal party?
We are so glad you asked! Reason is, this week we have deemed as "Freezer Meal Party Week" on Thriving Home. We have a fabulous line up posts that will walk you through exactly how to throw a freezer meal party of your own.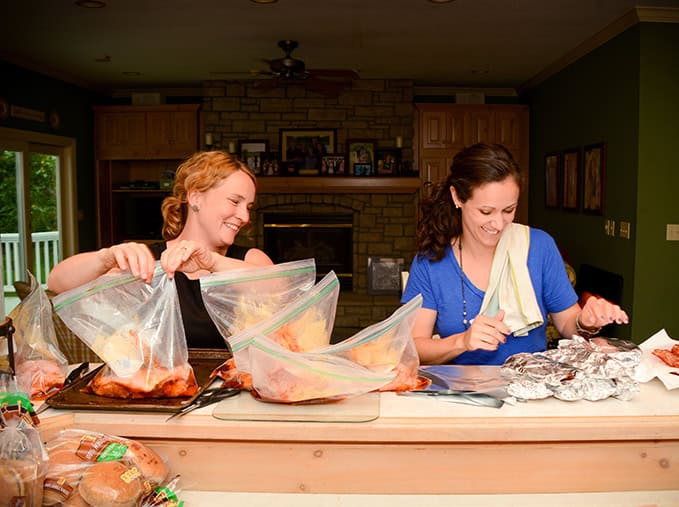 Coming up this week:
How to Prepare for a Freezer Meal Party
This post will provide you with party plans that include recipes and even shopping lists. It will also walk you through other party details to plan and prepare for.
How to Host a Freezer Meal Party
This post will actually take you through the process of the event. From setting up cooking stations to tips on how to make your party fun, you will find loads of valuable information.
How to Freeze and Thaw your Meals
So you've made all of these delicious freezer meals. Now what? We will walk you through various freezing methods and share valuable freezer storage tips.
Our Top 20 Favorite Freezer Meals
After years of freezer cooking, we've both found our favorite recipes that we tend to go back to over and over again. In this post, we will feature our all-time top 20 favorite freezer meals.
We hope you jump on board and follow this series all week!
https://thrivinghomeblog.com/wp-content/uploads/2015/08/Screen-Shot-2015-07-23-at-7.19.37-PM.png
525
1057
Polly Conner
https://thrivinghomeblog.com/wp-content/uploads/2019/10/thrivinglogo.png
Polly Conner
2015-08-02 02:00:00
2015-08-10 09:47:20
Throw a Freezer Meal Party: Why We are Loving These