This post may contain affiliate or sponsored links. Please read our disclosure policy.
Chicken Spaghetti is an easy, cheesy, make-it-again-soon-please casserole that your whole family will love. We teach you how to make it fresh AND how to prep it ahead to be a freezer meal.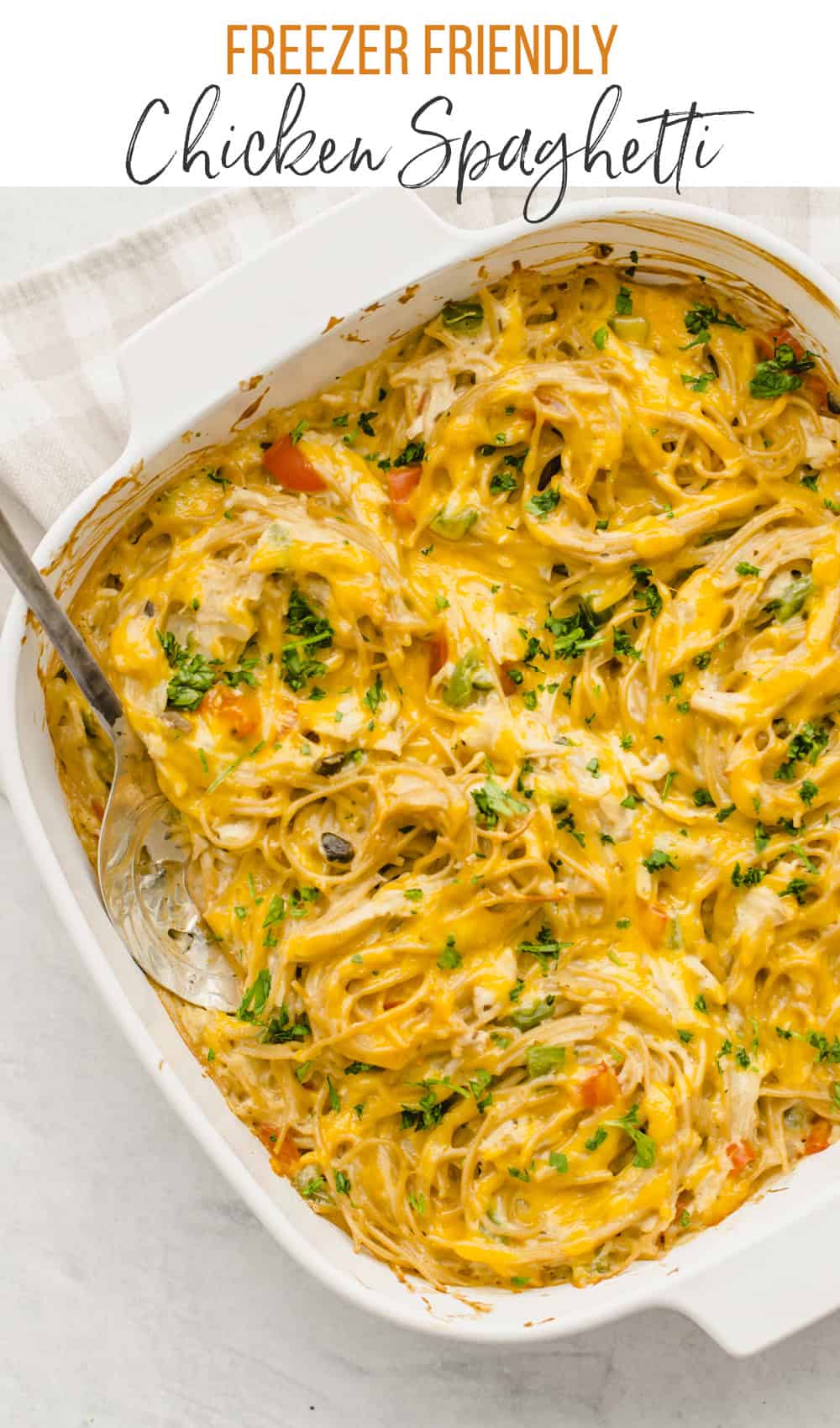 Why Chicken Spaghetti Is a Family Favorite
When I made this chicken spaghetti recipe for the first time last week, my husband ate it for about 5 meals in a row and proceeded to ask me to make it again the next week.
My kids eagerly scarfed it down as well. Tonight's batch ended up on about every area of exposed skin on my 18-month-old, but I take that as a sign he liked it.
Dishes that include veggies, protein, and things like rice or pasta all in one are such a time saver! We have several that are kid-friendly, and quick like Chicken Penne Pasta, Cheesy Chicken and Rice Casserole, and Easy Chicken Fried Rice.
Needless to say, this recipe is a keeper! It's a great meal for groups of people too!
Ingredients for Chicken Spaghetti
Here's what you'll need to make this dish:
Spaghetti or thin spaghetti noodles – I prefer to use whole wheat.
Cream of mushroom soup – Use organic soup, if possible, to avoid additives and preservatives. Or, use our Homemade Cream of Chicken Soup instead.
Cooked chicken – Use store-bought rotisserie chicken to save time.
Chicken broth or stock – Here is how to make your own.
Chopped veggies – Chop them finely by hand or in a food processor, if they will throw picky eaters off.
Seasonings – You probably have all of these in your pantry.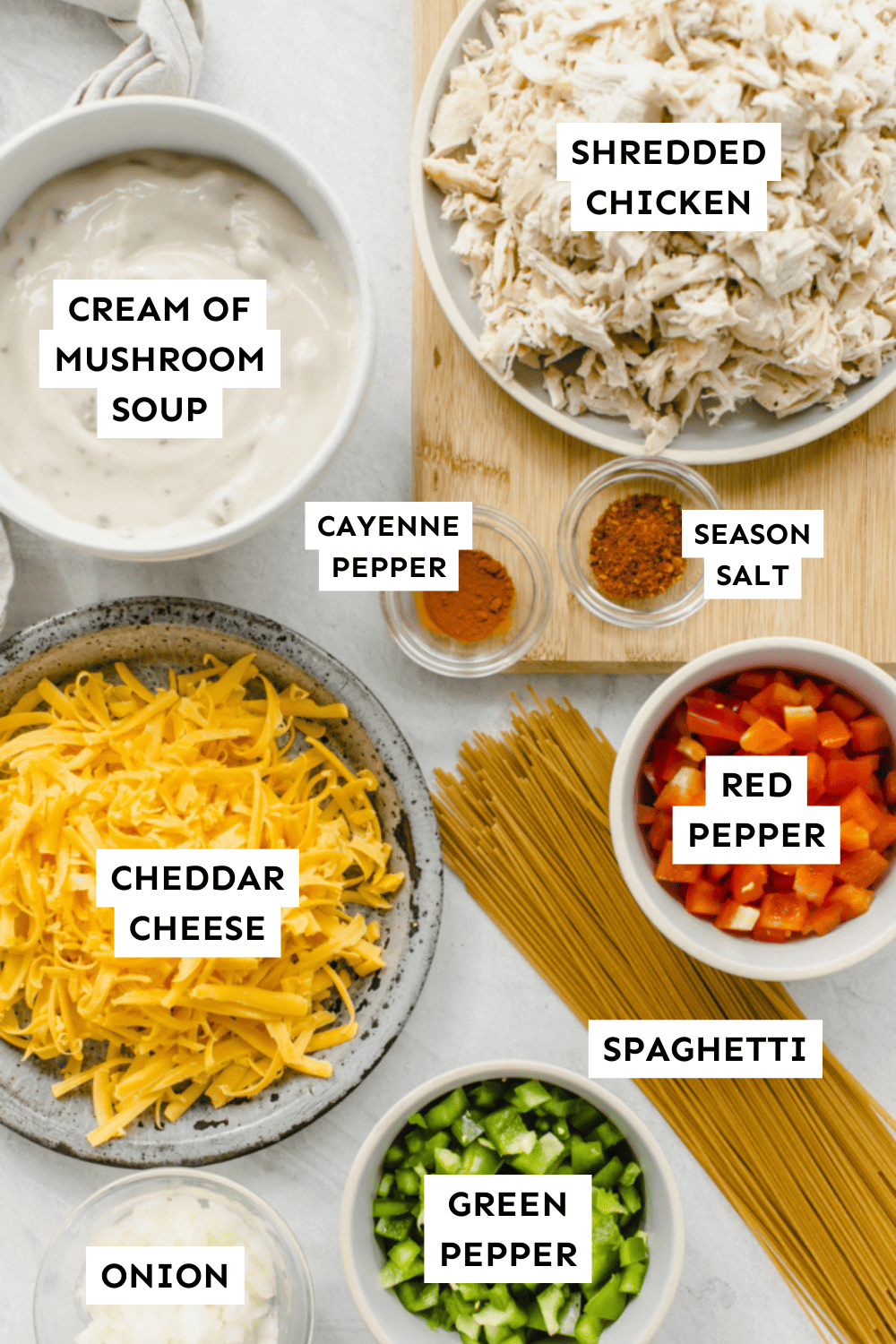 Step-by-Step Overview of the Recipe
This is a great beginner recipe or weeknight dinner when you don't have much time. Here's how to make it step-by-step.
Cook the pasta according to the package instructions, until al dente (slightly undercooked). Undercooking it keeps it from getting mushy while baking. This is especially important to do if you are going to make this a freezer meal.
While it cooks, preheat the oven and grease the casserole dish(es) with cooking spray.
Chop and Saute the Veggies
While that pasta is cooking, this is also a great time to chop and saute those veggies. Multitasking is your friend for this recipe.
In a large mixing bowl, gently stir together the cooked pasta, cream of mushroom soup, chicken broth, chopped/shredded chicken, veggies, seasoning, and only 1 1/2 cups of shredded cheese.
Now please take note of this: Add in only 1 1/2 cups of the cheese. I always get moving too fast and add it ALL in at this point. You need some to sprinkle over the top so restrain yourself!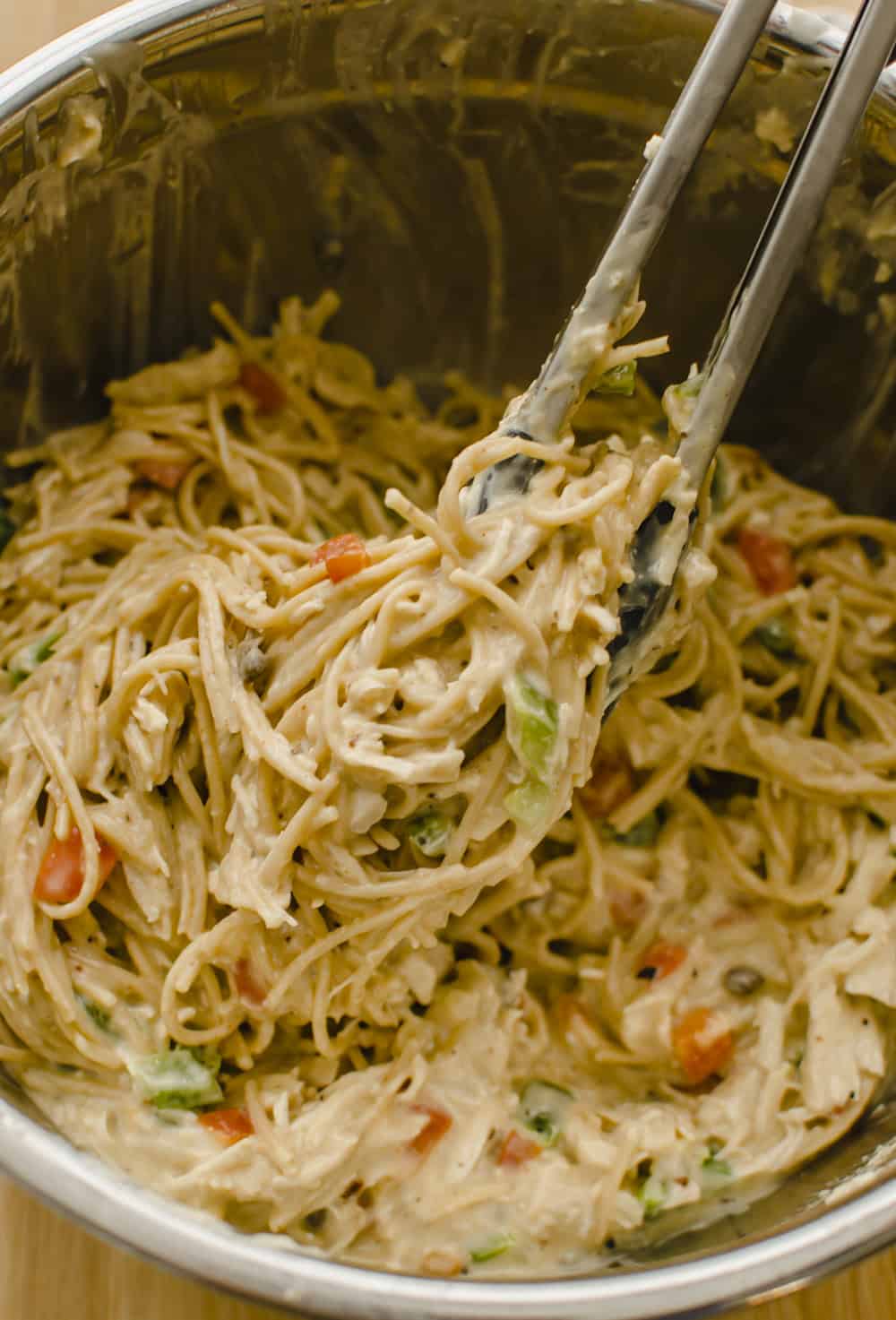 Here it is all mixed up. Yum. Or yuck. Not sure.
Either divide the mixture between two 8×8 dishes or put it all in one 9×13 dish. Top with remaining cheese. Assuming you listened to my warning above about not mixing in all of the cheese, that is.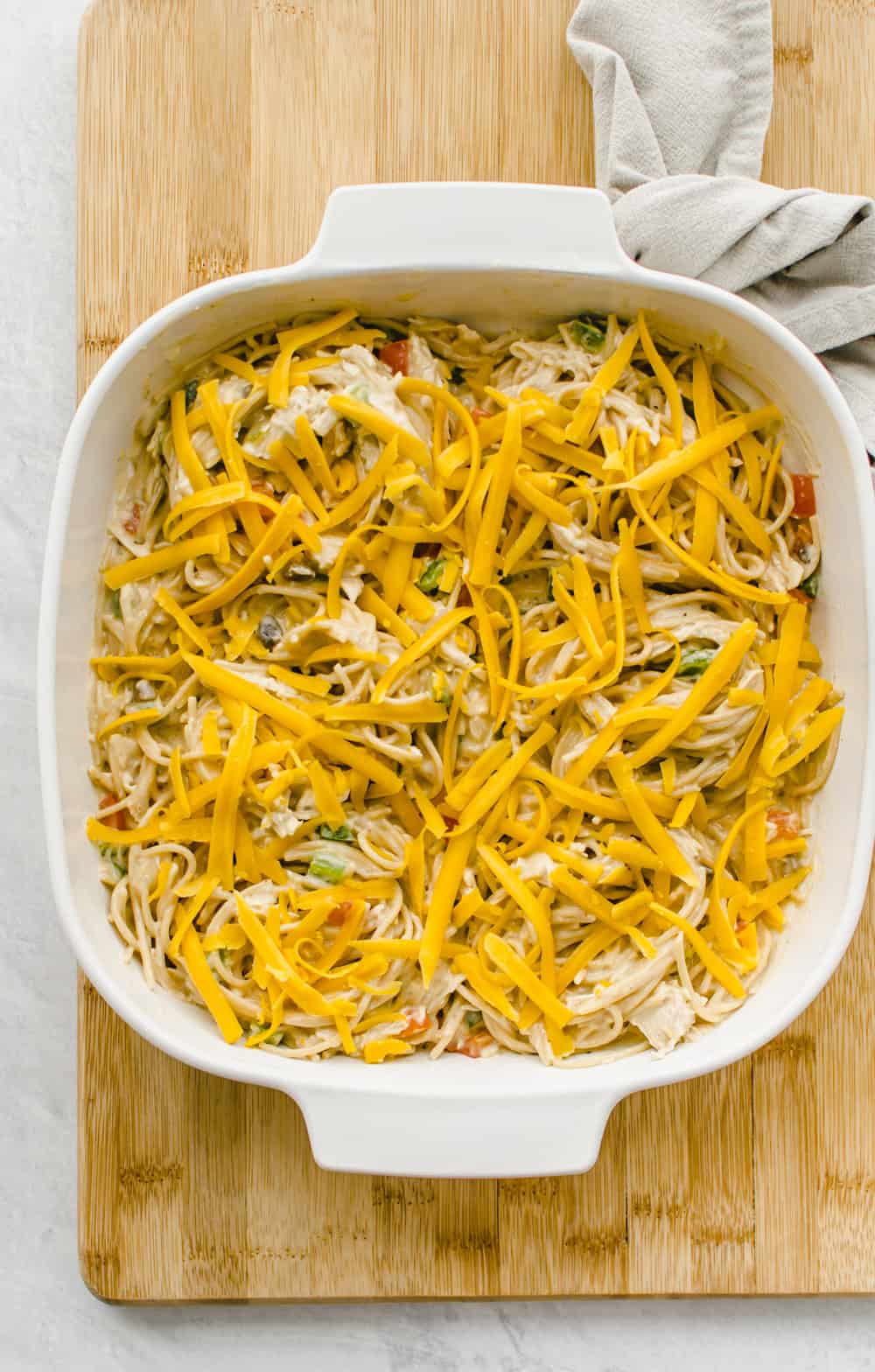 Bake in a 350°F oven for 40-45 minutes, until the edges are bubbly. If the top begins to get too brown, cover with foil. Remove and let cool slightly. Serve warm.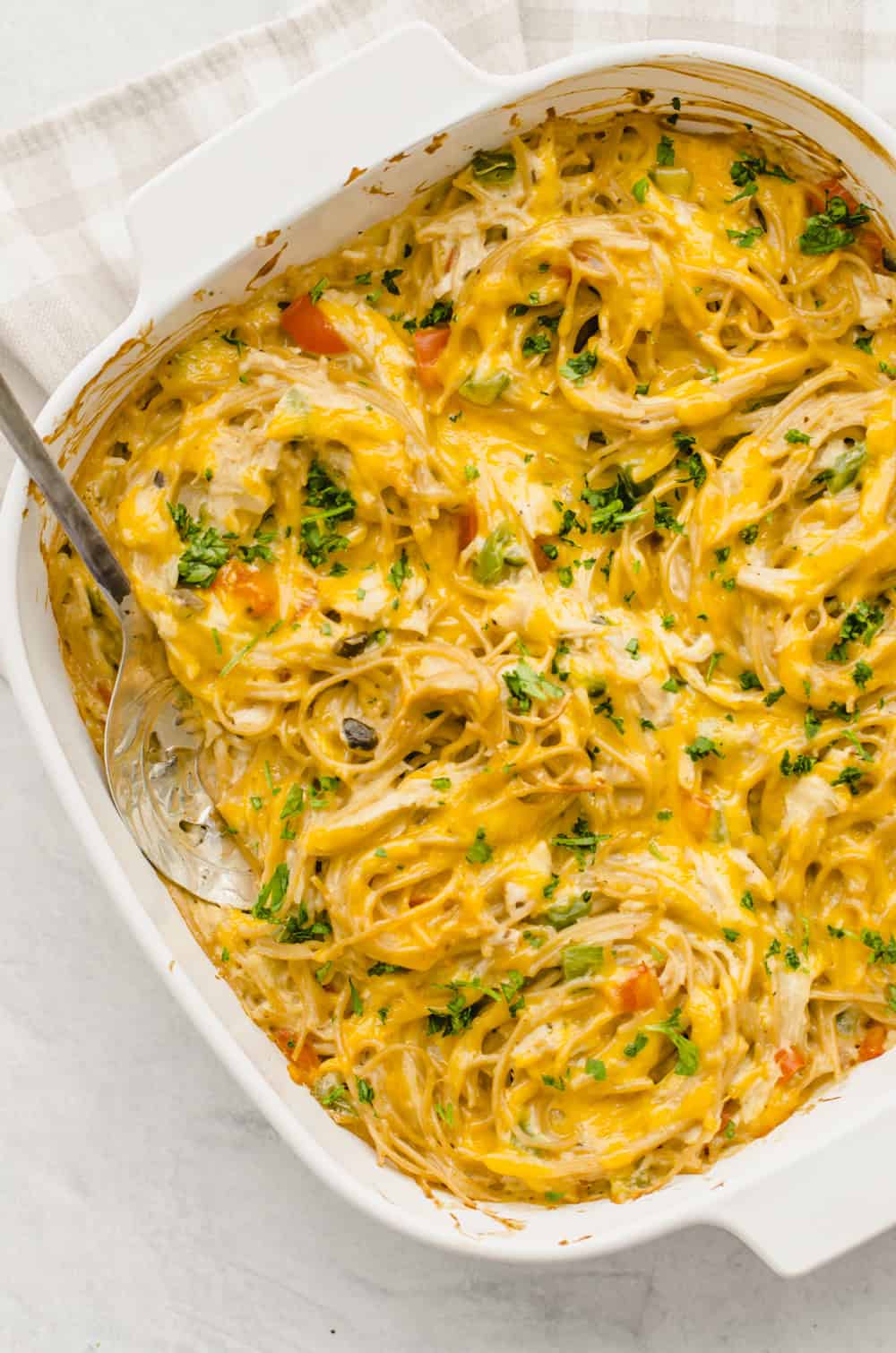 Can You Freeze Chicken Spaghetti?
In our 15+ years of freezing cooking experience and recipe testing for our cookbooks, we've learned that casseroles like chicken spaghetti work very well to freeze. However, make sure to use our pro tips to ensure it comes out tasting just like a fresh meal.
Tip #1: Freeze Before Baking
While you can freeze a casserole after baking, we highly recommend the opposite. Prep the casserole up until the point of baking and then freeze it, if you want the dish to taste fresh after being in the freezer.
Tip #2: Reduce Air Exposure
We always teach that air is the enemy of good freezer meals. So be sure to wrap your casserole very tightly in a few layers of plastic wrap and/or foil. If using an air-tight lid on your casserole dish, we recommend placing a layer of foil over the surface of the casserole, as well. Packaging a freezer meal well will result in a great dinner on the other end of it's stay in the freezer.
Tip #3: Thaw the Right Way
Lastly, thawing the meal fully in the refrigerator will yield the best results. Give your casserole at least 24-48 hours to thaw completely. Then, when you're ready to bake it, set it on the counter for about 30 minutes before placing in the oven to help it come up to room temp.
If you want the quick version of how to make it a freezer meal kit, use the following instructions.
How to Freeze as a Meal Kit
Freeze For Later: Follow Steps 1-5 (do not bake). Cover the casserole dishes with a few layers of plastic wrap and foil. Squeeze out any excess air and freeze.
Prepare From Frozen: Thaw. (Here are three safe ways to thaw freezer meals.) Follow step 6. If it's still slightly frozen in the middle, you'll just have to cook it longer than the recipe calls for or defrost a bit in the microwave before baking. Cover it with foil if the top gets too brown in the oven.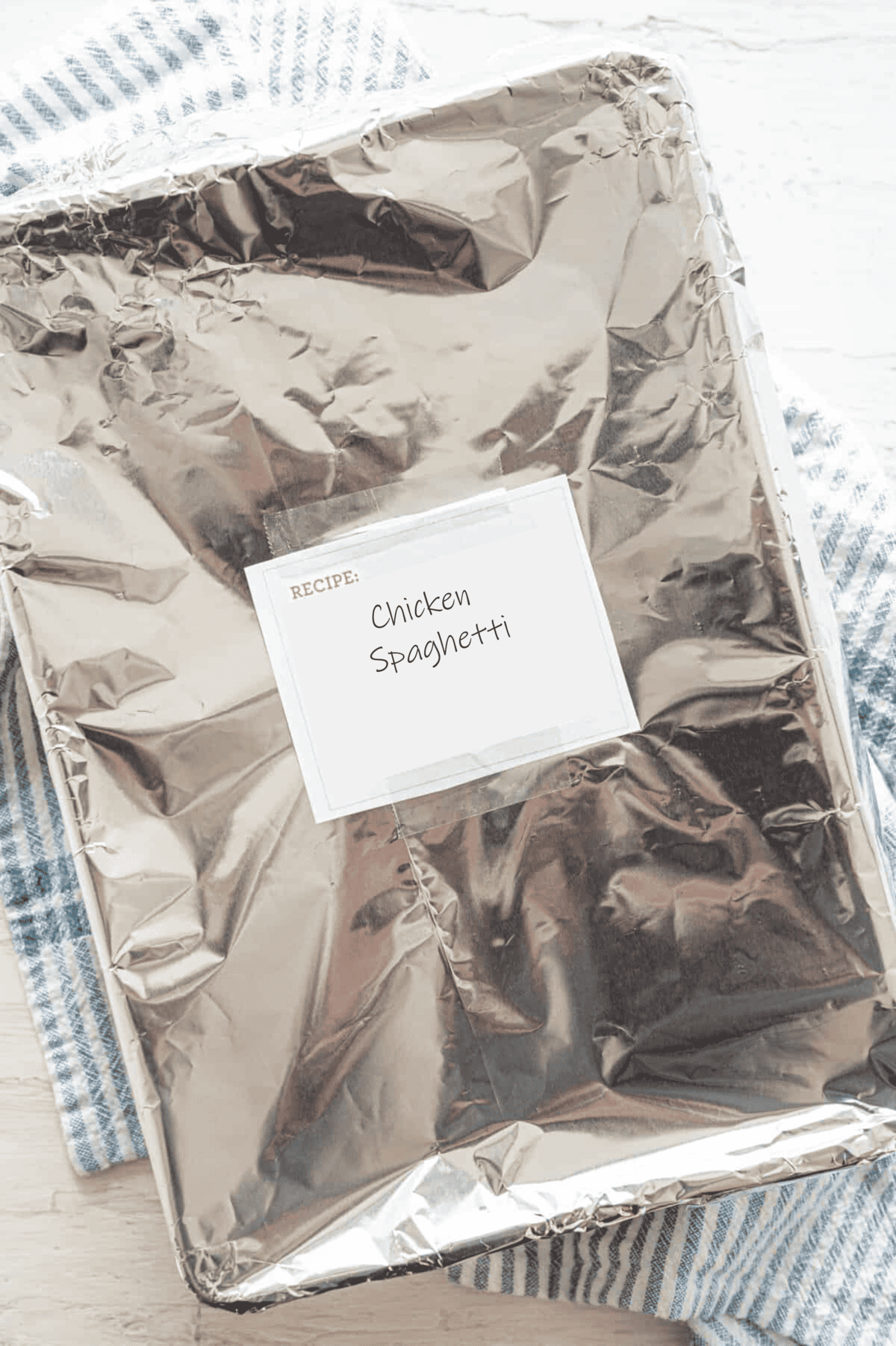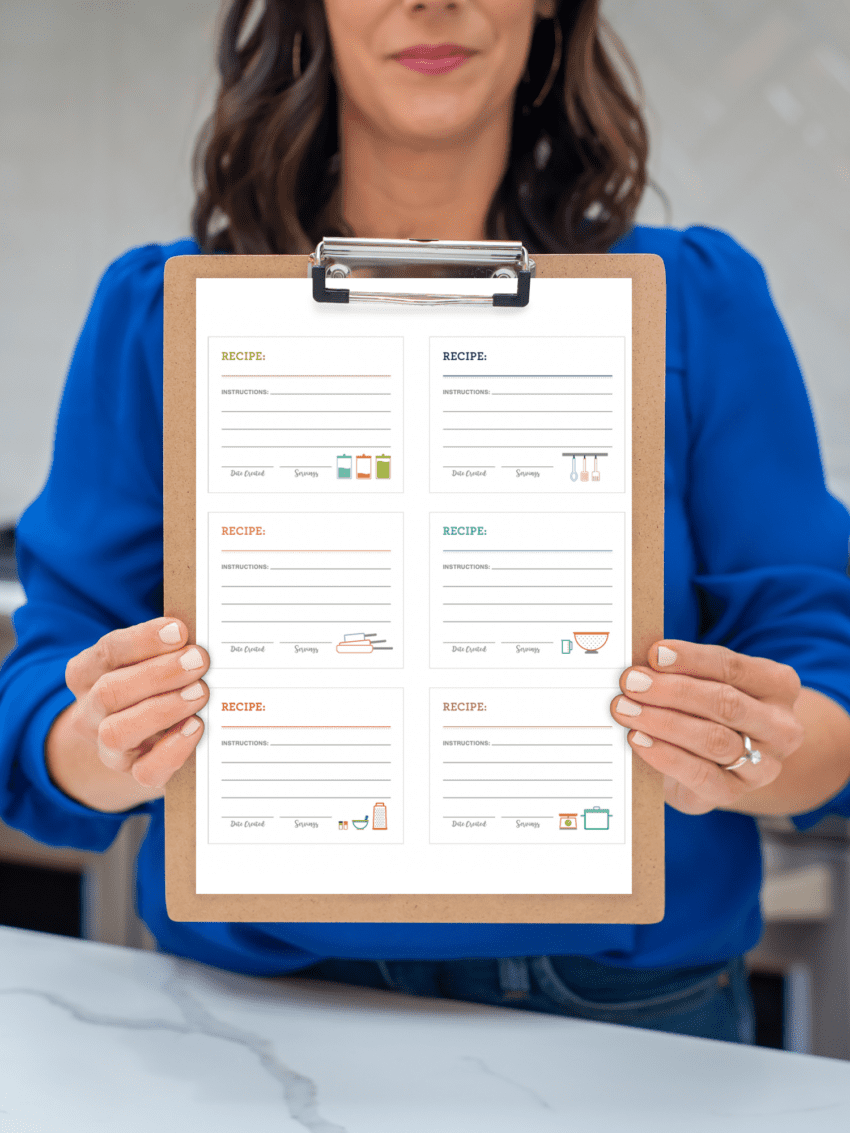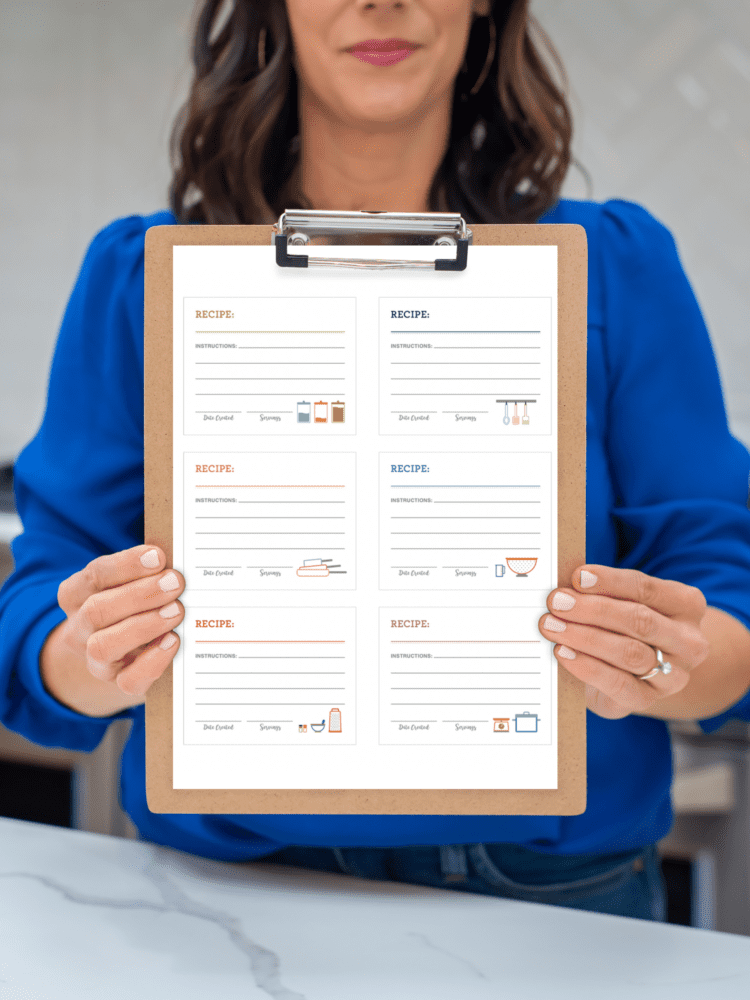 Our Gift to You!
Free Freezer Meal Labels
Keep track of freezer meals the easy way with our printable freezer meal labels.
Can I use different types of cheese?
Yes! While melty shredded cheddar is a standard of this kind of casserole, try experimenting using other cheeses, such as Pepper Jack for a little kick of heat, Gruyere for a more gourmet casserole, or even goat cheese or feta cheese crumbles. This casserole is very forgiving, so don't be afraid to experiment a bit.
What kind of chicken should I use?
This recipe calls for cooked and diced/shredded chicken (white or dark meat) as an ingredient. Rotisserie chicken from the store is a smart shortcut. One whole chicken usually yields about 4 cups shredded chicken. Or, you can 1) use our fast cooking instructions in the recipe notes, 2) cook chicken in the Crock Pot, or 3) cook chicken in the Instant Pot ahead of time.
Can I prepare the casserole in advance?
This casserole is a great one to prepare in advance. After prepping but before baking it, you can store it in the refrigerator for up to 3 days or in the freezer for up to 3 months.
What kinds of vegetables can I add to the casserole?
I used bell peppers and onion. But, feel free to swap out any of these for what you have on hand. Finely chopped and sautéed carrots, celery, broccoli, cauliflower, sweet potato, parsnips, turnips, green beans, and more would work!
Is this casserole freezer-friendly?
Absolutely! Like all our freezer meal recipes, we offer freezing instructions for the best result. We've learned that it's ideal to freeze casseroles like this one before baking so they turn out tasting fresh. After putting the casserole together but before baking it, tightly wrap the dish in a few layers of plastic wrap or foil, pressing out any air. Freeze for up to 3 months.
Can I cook this casserole from frozen?
In my 15+ years of freezer cooking experience, I've found that cooking casseroles that are frozen solid can yield sub-optimal results. Oftentimes, they turn out dry and overcooked on the edges while still cold in the middle. The best option is to thaw this casserole completely in the refrigerator for 24-48 hours (or in a pinch use the defrost setting on the microwave) and then bake according to the recipe directions.
What to Serve with Chicken Spaghetti
Here are so tasty side dishes to serve with your casserole:
More Chicken Casseroles to Try
If you like this casserole, you're sure to love some of these other favorite chicken casseroles:
Be sure to throw Chicken Spaghetti on your menu plan soon and remember to double it so you can have one in the freezer for later. Done and done!
Did you make this? Snap a photo and tag us on Instagram at @thrivinghome so we can see your creations and cheer you on!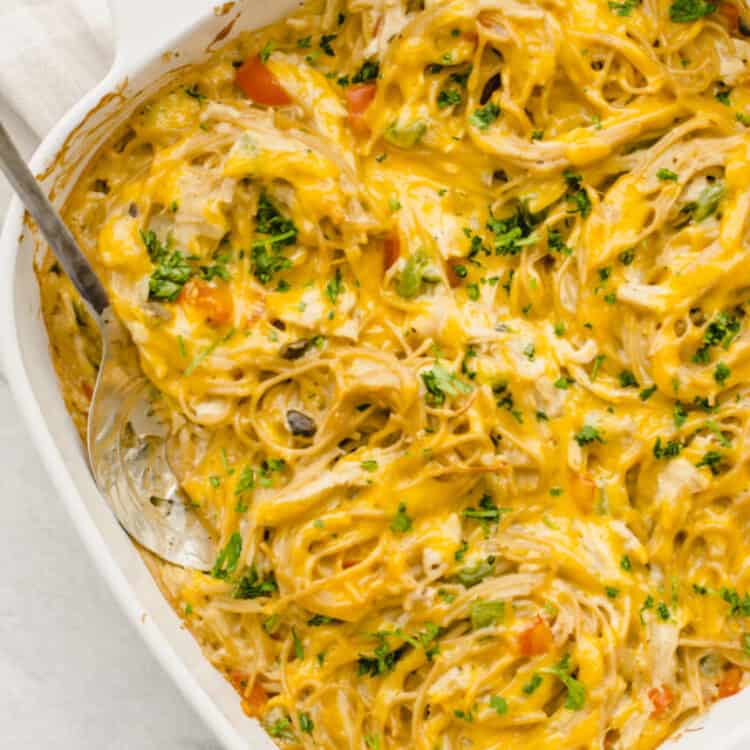 Chicken Spaghetti
This freezer-friendly Chicken Spaghetti recipe will keep your family coming back for more deliciousness. 
Prep:
20 mins
Cook:
30 mins
Total:
50 mins