This post may contain affiliate or sponsored links. Please read our disclosure policy.
These moist, flavor-packed Gluten Free Meatballs are a weeknight meal staple in our house. They are done in about 40 minutes and make everyone happy. If you prep ahead using our freezing instructions, this meal is even faster!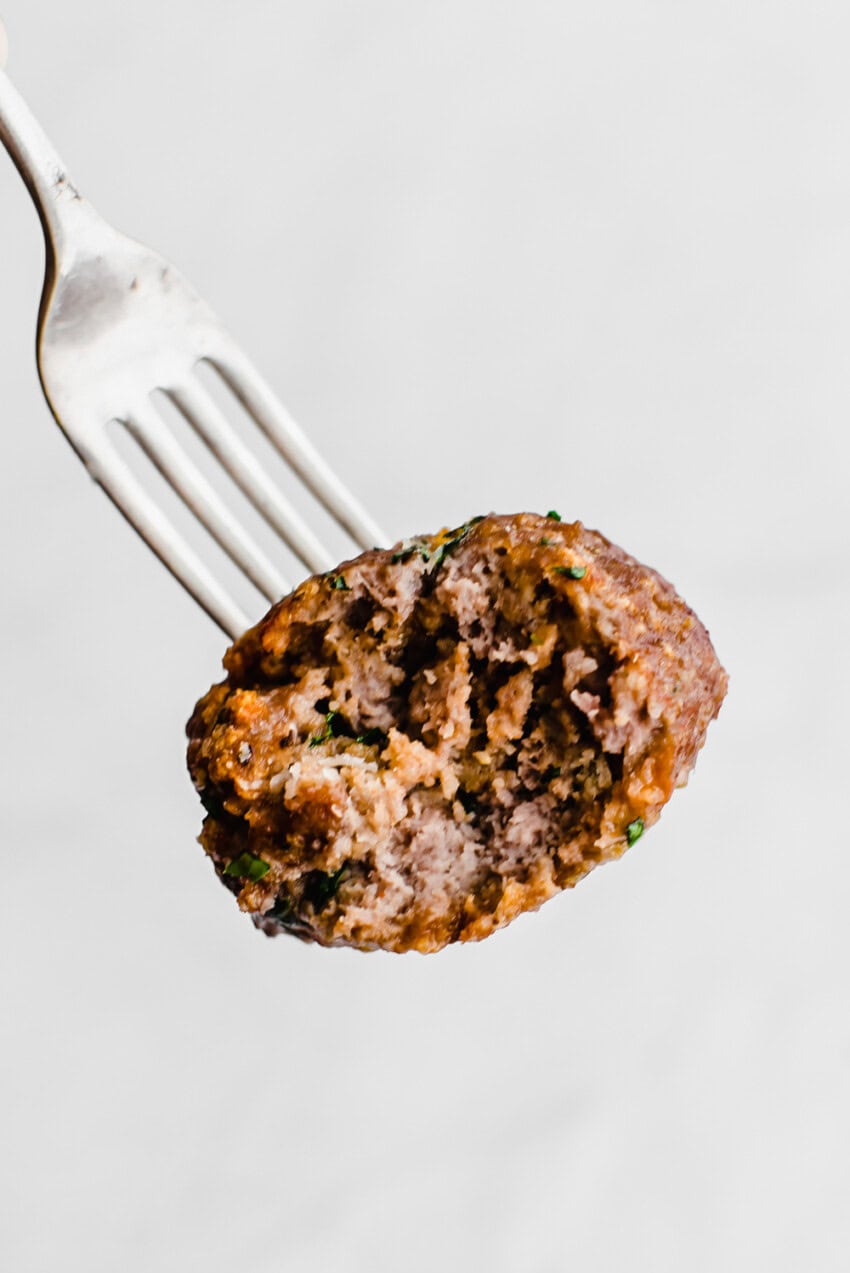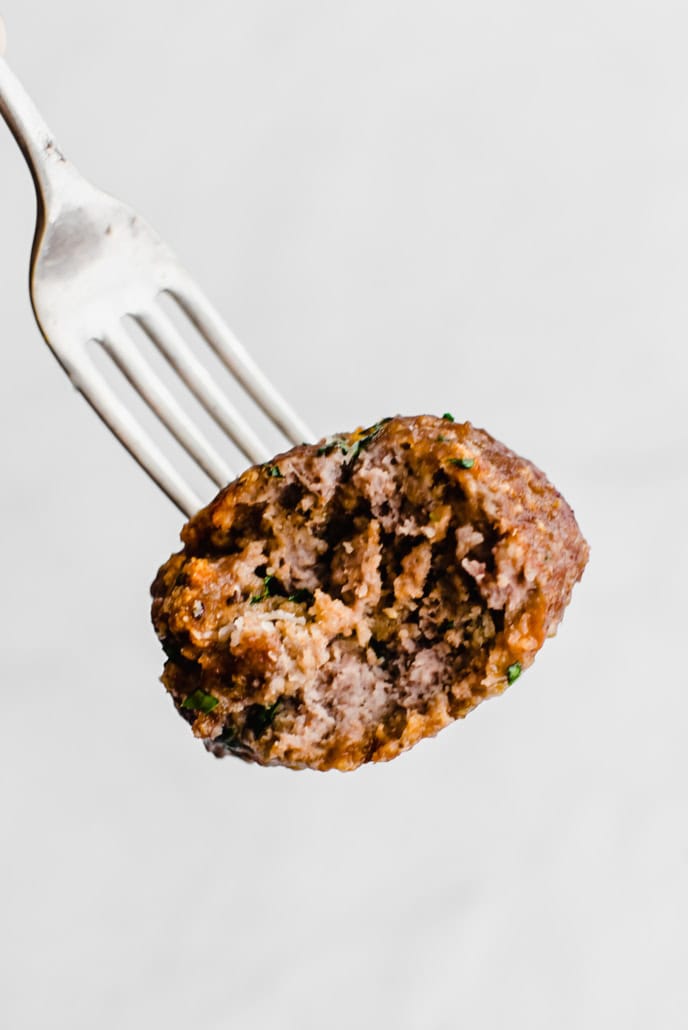 4 Reasons to Make This Recipe
Fast: Perfect for busy weeknights. If you prep them ahead of time, dinner is even quicker!
Moist and Delicious: My kids go gah-gah over these and many of them get eaten straight from the sheet pan before they ever make it atop gluten-free spaghetti with homemade marinara sauce or on a Meatball Sub.
Freezer-Friendly: This is one of the best meals to double and freeze a batch for later. Use our freezing instructions in the recipe.
Less Mess: We skip the messy, greasy method of searing on the stovetop. Just pop these directly in the oven for crispy, perfectly cooked meatballs every time.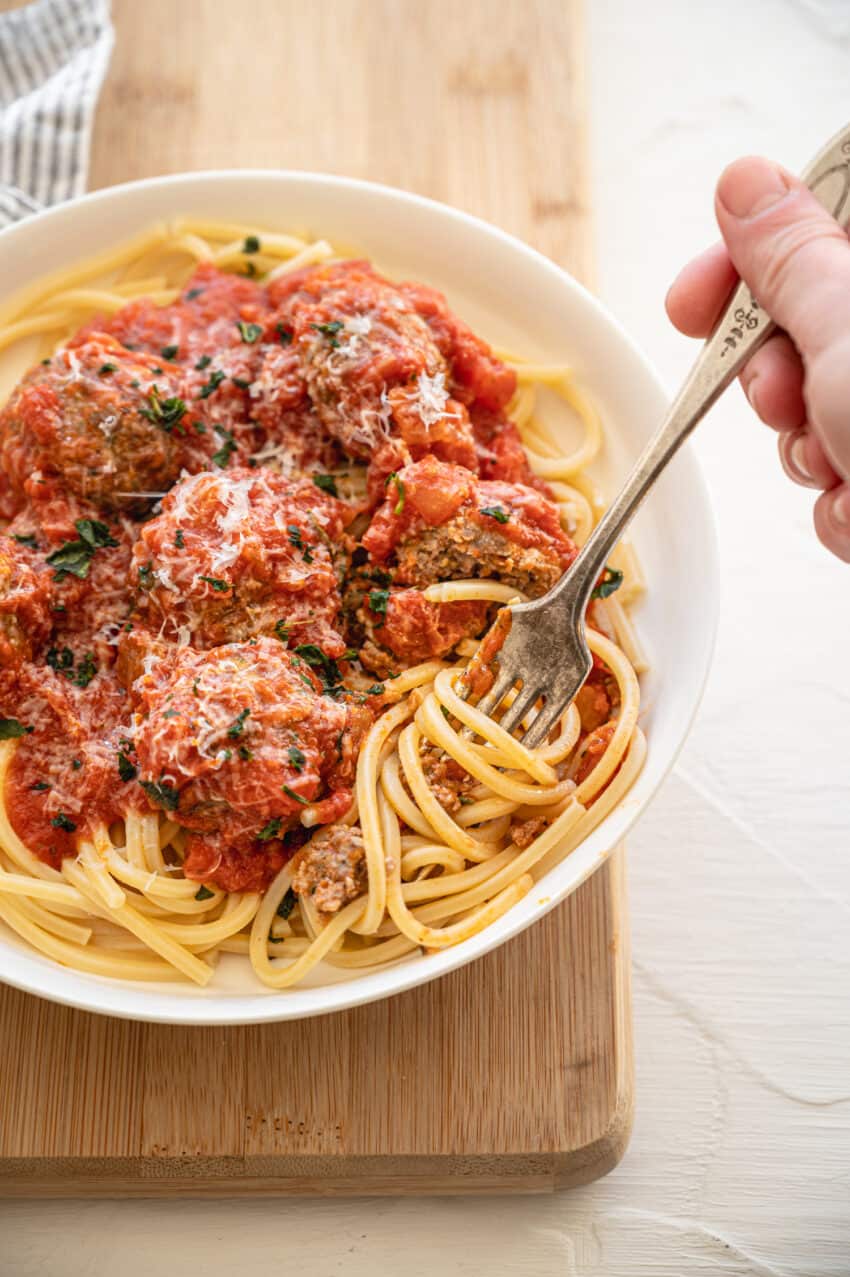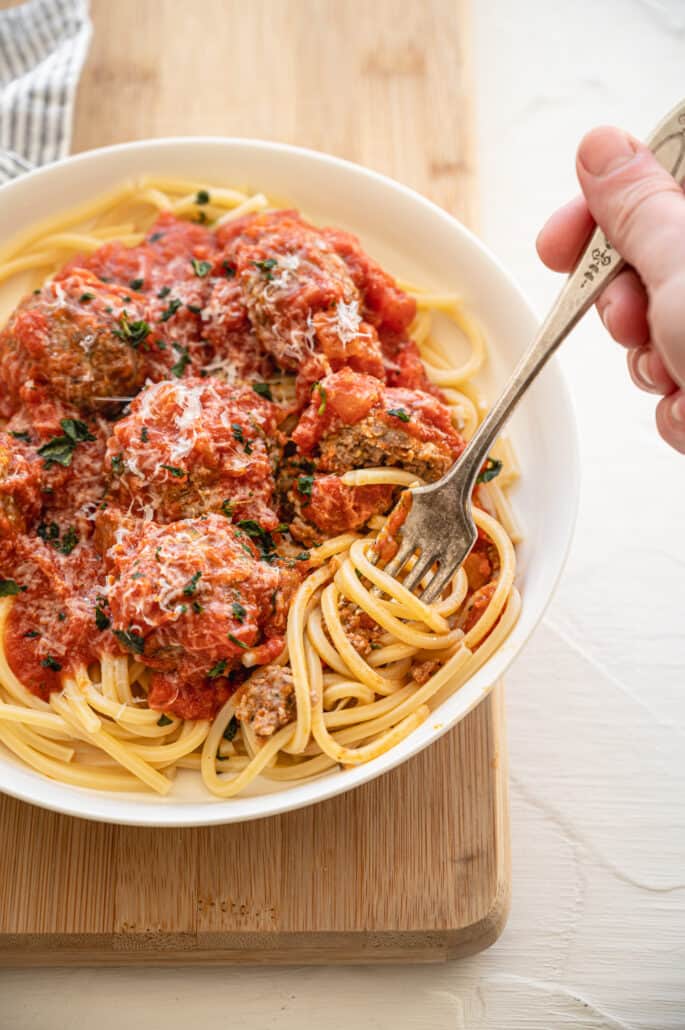 I'd suggest doubling this recipe, so you can make an extra batch for the freezer (see instructions below). Here are the ingredients that will pack as much flavor as possible into your meatballs:
Lean ground beef – I use grass-fed, grass-finished ground beef from ButcherBox for these, but you could also use ground turkey.
Gluten-free bread crumbs – I definitely suggest making your own gluten-free bread crumbs. It's so fast and easy! Or use your favorite store-bought brand, although I still haven't found one I love.
Grated Parmesan cheese – This adds saltiness and savoriness and acts as a binder in addition to the bread crumbs.
Egg – Be sure to beat before adding to the meat mixture.
Milk – Helps to add moisture. Plain, dairy-free milk works fine.
Ketchup – Adds some extra flavor and moisture to the meat mixture. I recommend using organic.
Garlic powder – I use the powder form so you don't bite into a chunk of garlic in the meatballs.
Italian Seasoning – This dried herb blend often includes oregano, rosemary, basil, savory, thyme, marjoram, and sage. Crunch it in your hand before adding to the mixture.
Salt and pepper – Key to adding the right balance of flavors.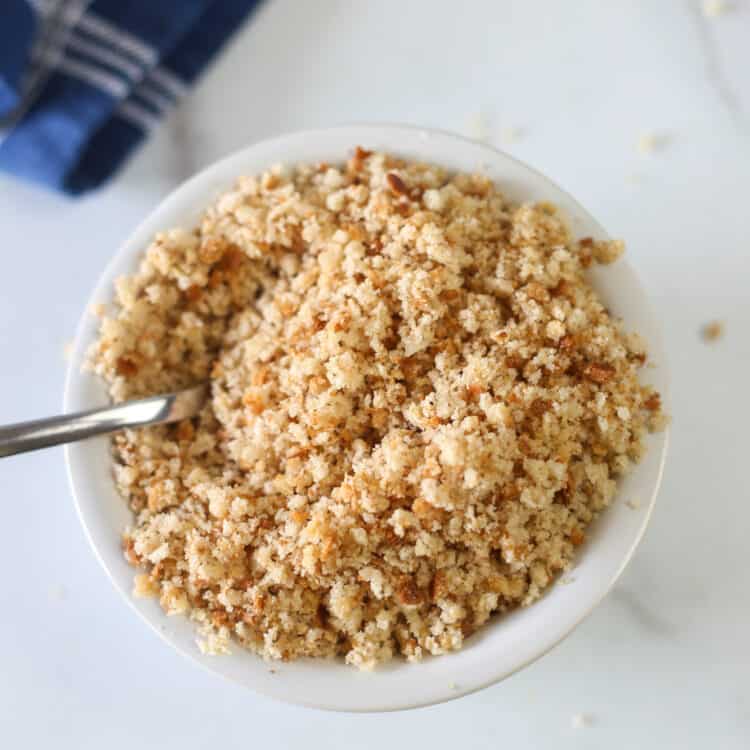 DIY: Gluten Free Bread Crumbs
The key to making these meatballs gluten free is the bread crumbs you use. We have a very easy method for making your own at home from your favorite loaf of gluten free bread.
Gluten Free Bread Crumbs
How to Make Gluten Free Meatballs
I promise, this recipe really couldn't be easier. I also promise that doubling this recipe and freezing one batch for later will be a really good decision. 🙂
Preheat oven to 350°F. Line a sheet pan with parchment paper or foil. (You can also place a rack on top of a rimmed sheet pan, so the grease can drip below if you prefer.)
Using clean hands, gently combine all ingredients in a medium bowl.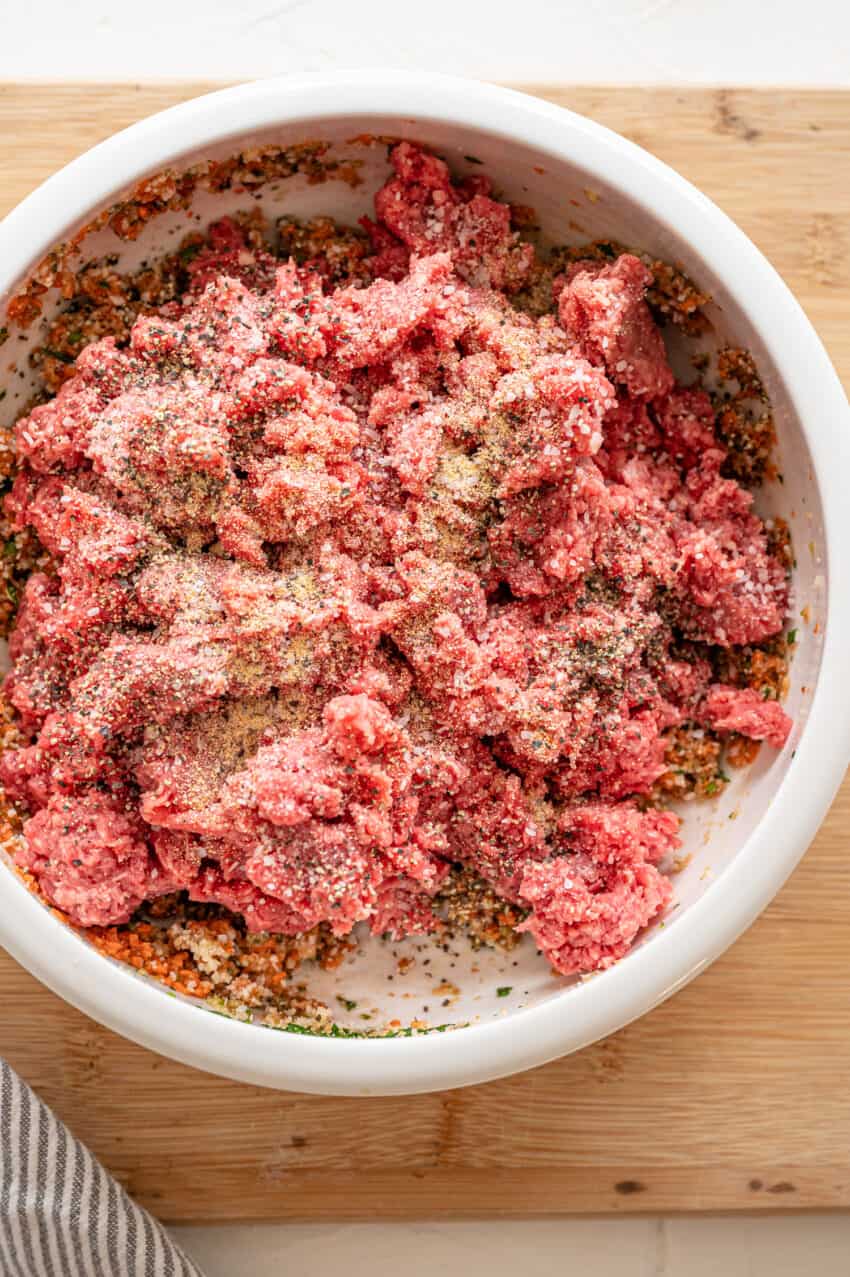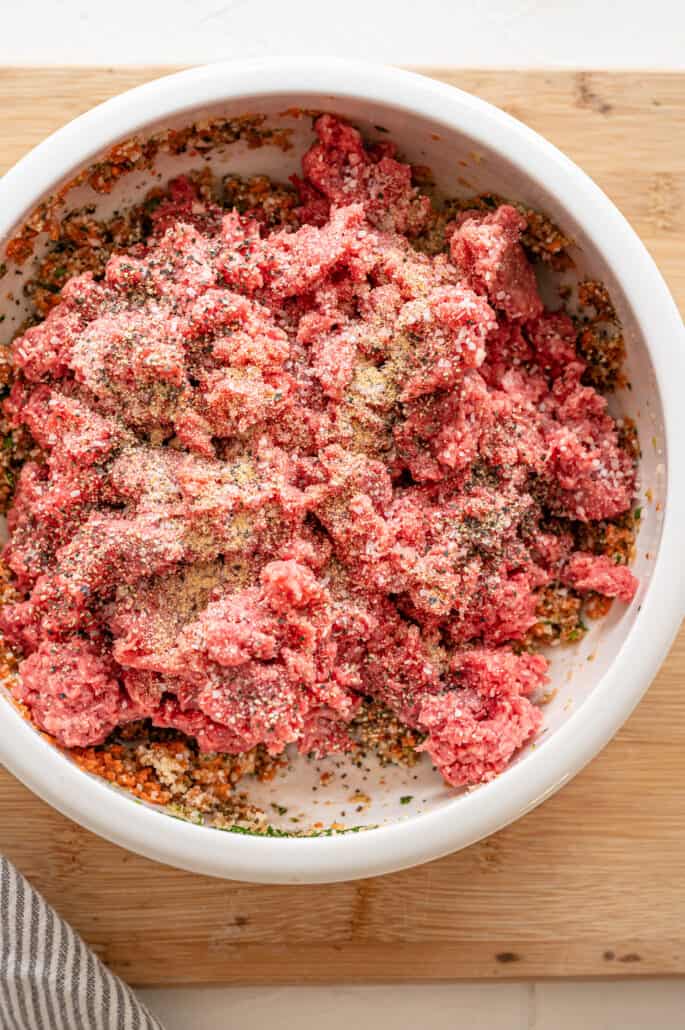 Use a medium dough scooper or a spoon to scoop and then roll about 1 1/2 inch meatballs. Line up meatballs on the sheet pan, leaving room between each.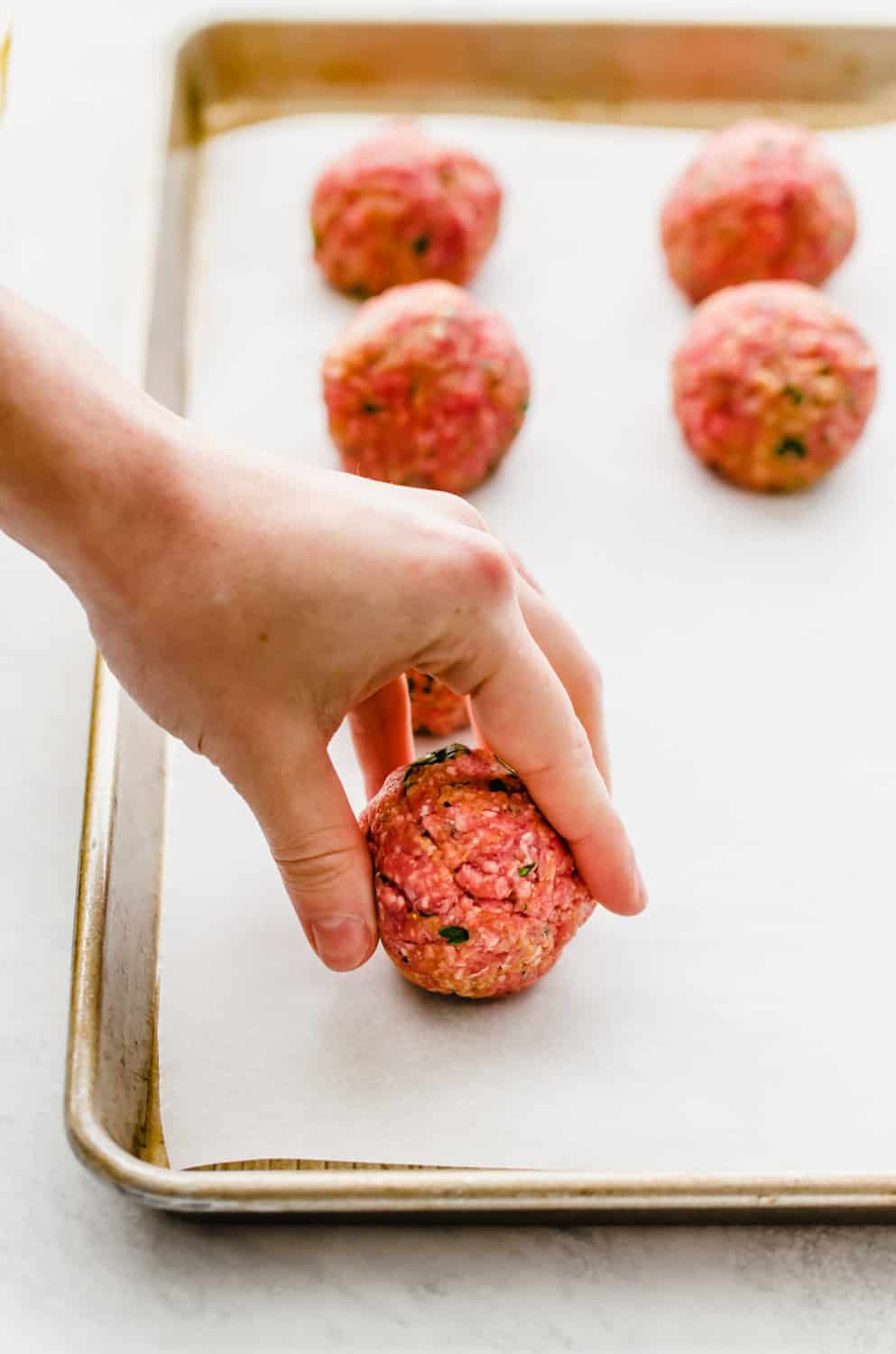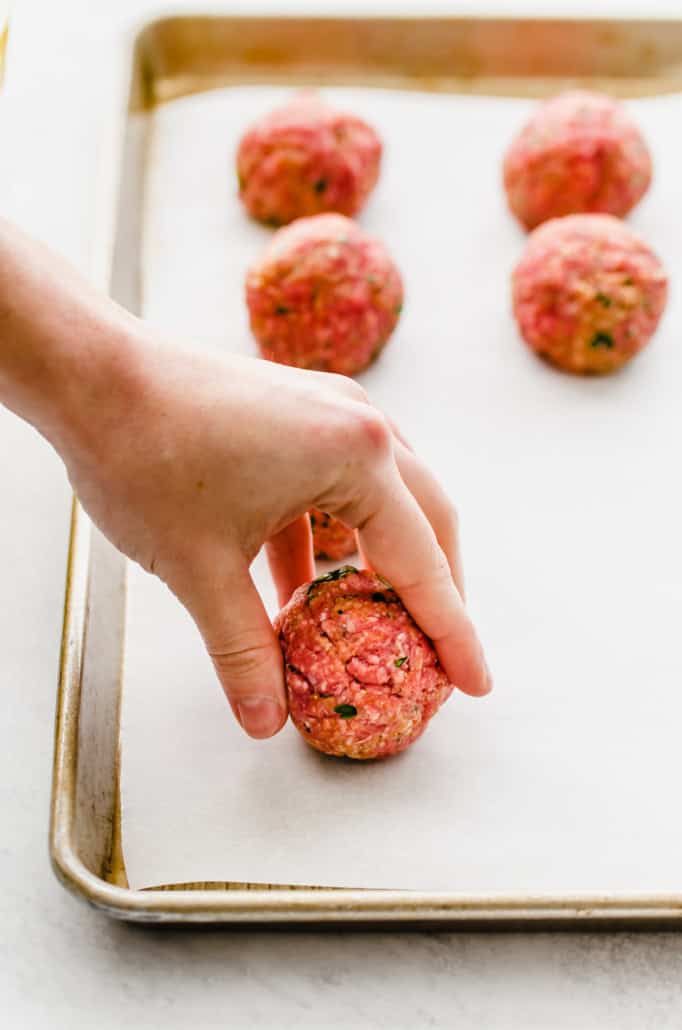 Bake for about 20 minutes or until no longer pink inside (160°F internal temperature).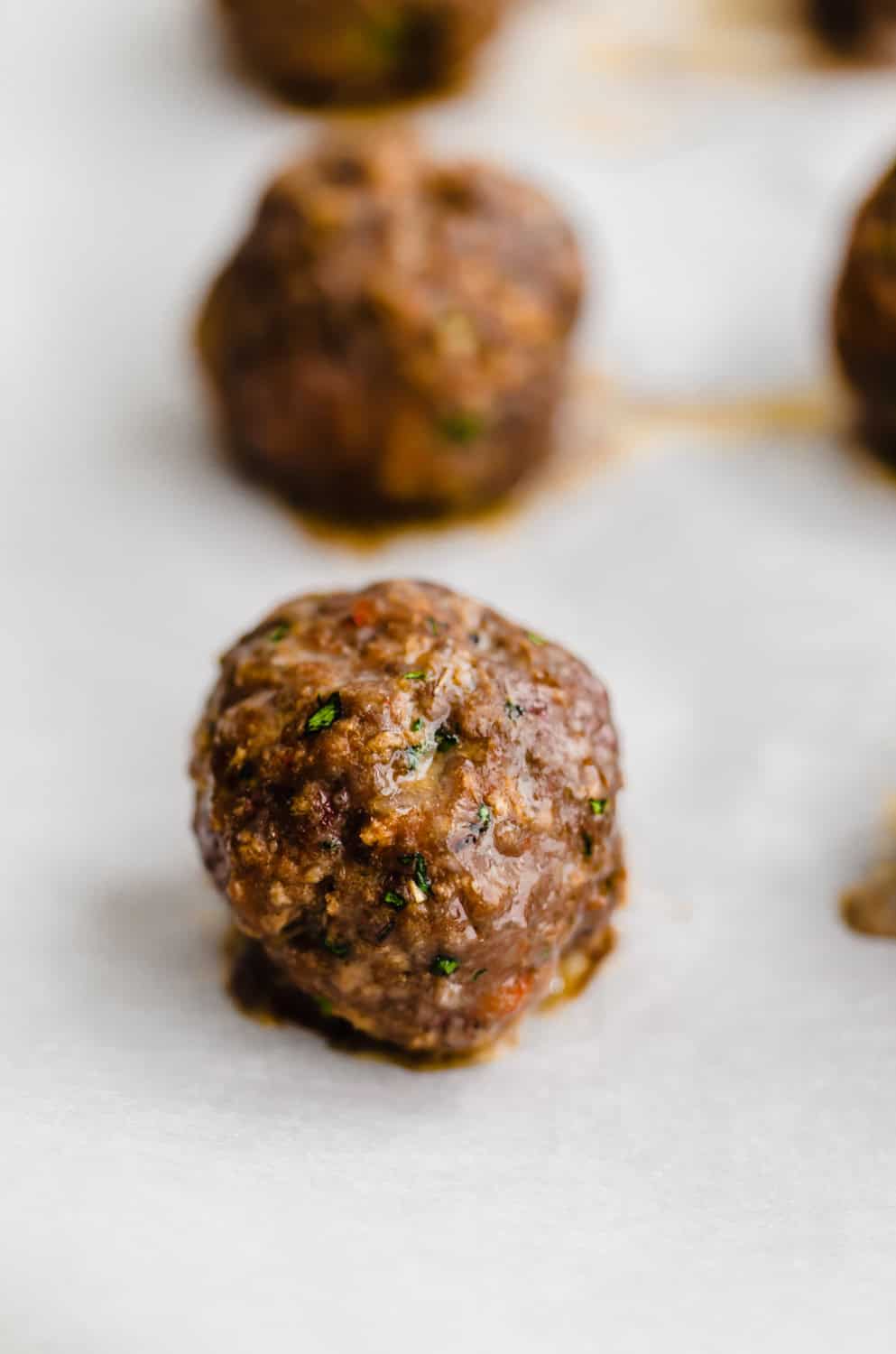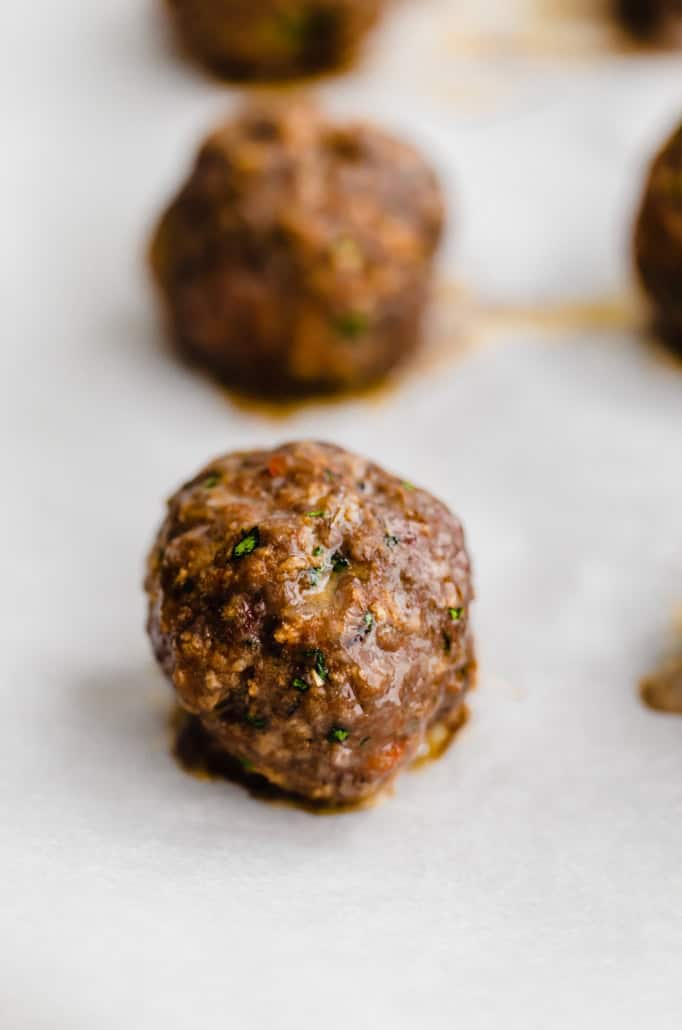 Optional: Serve with warm Marinara Sauce or Pesto on the side for dipping, over gluten-free spaghetti with marinara, or on a Meatball Sub (use GF sub rolls).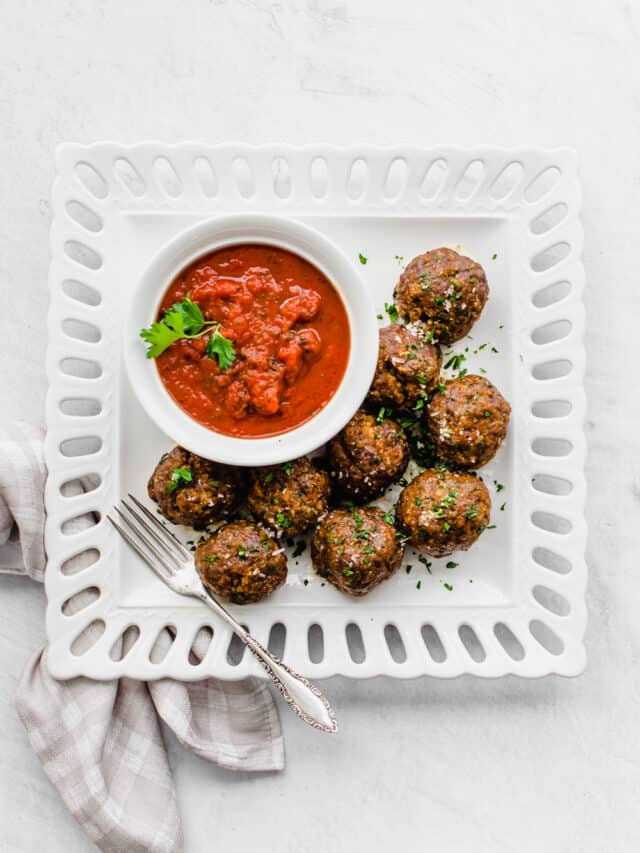 How to Freeze Gluten Free Meatballs
One of the best parts about this meatball recipe is that it is freezer-friendly. Meatballs work beautifully to assemble and then freeze before baking for a meal down the road.
Below is one way to freeze these meatballs, but sure to read our whole article about Freezing Meatballs: Raw or Cooked for more expert tips.
Freeze For Later:
Line a sheet pan with parchment paper or foil and line up the rolled, uncooked meatballs on the pan. Flash freeze uncooked meatballs by placing on the sheet pan (or in a baking dish) in the freezer for about an hour or so.
Once they are frozen, dump the meatballs in a gallon-sized freezer bag, seal, and place in freezer.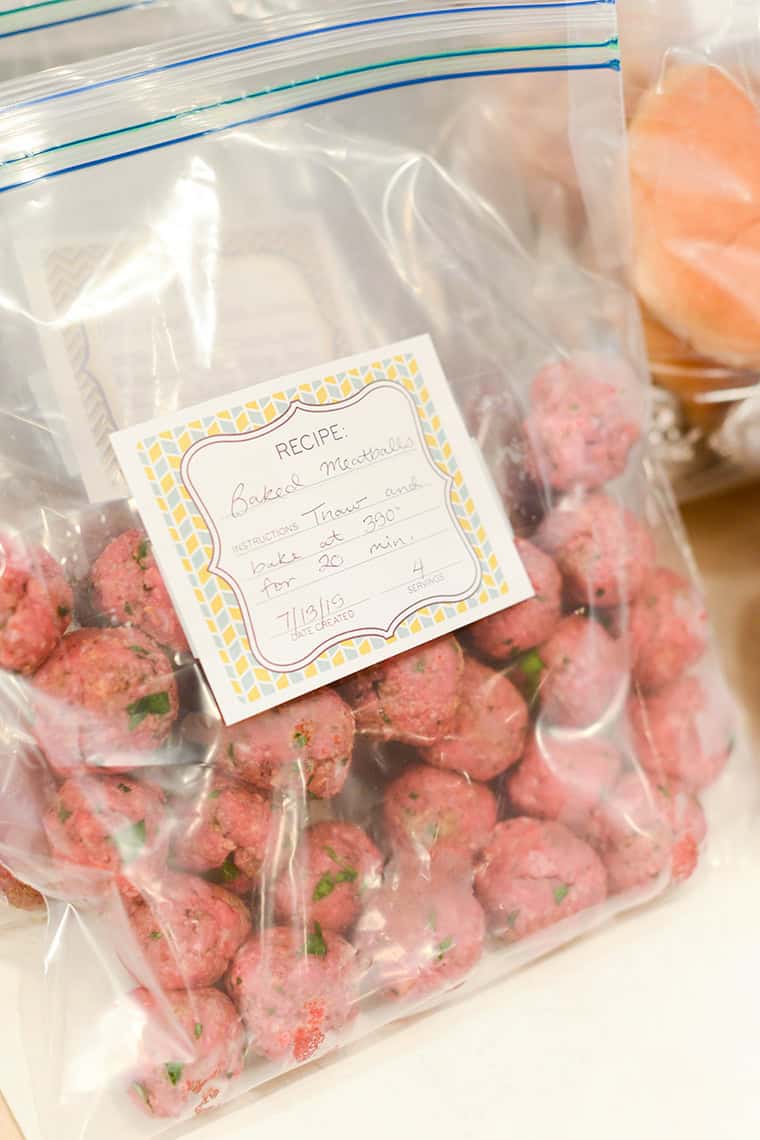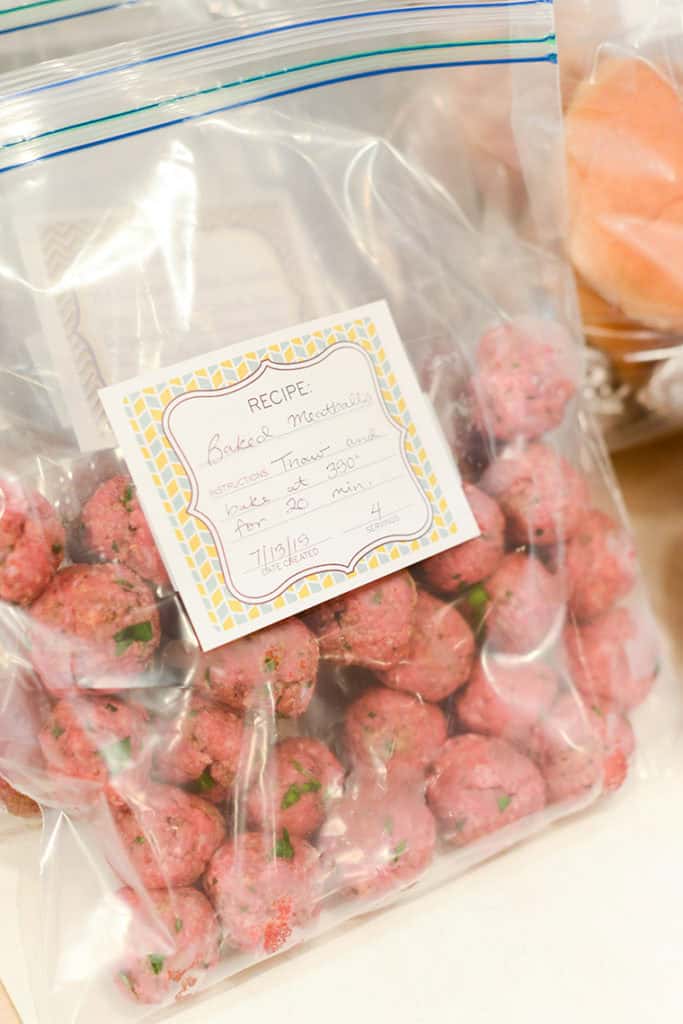 Prepare From Frozen:
Thaw meatballs using one of these safe thawing methods. Cook according to instructions.
The beauty of freezing meatballs is that you can now pull out as many as you need for future meals. No need to bake them all at once. These can be a great freezer meal for 1-2 people.
What to Serve With This Recipe
Whether you serve these as a Meatball Sub or on top of gluten free pasta with Marinara Sauce, these side dish ideas would go well with it.
How Long to Bake Meatballs?
The length of time it takes to bake meatballs can vary depending on the size, the ingredients, and the oven temperature. As a general guideline, 1 1/2-inch round meatballs should be baked at 350°F (175°C) for 20-25 minutes. Note: Larger meatballs will likely require additional cooking time, while smaller meatballs may be done a bit quicker.
One way to make sure you bake your meatballs perfectly is to use a meat thermometer. They are done when the internal temperature is at least 165°F (74°C), which is the minimum safe temperature for ground meat according to the USDA.
Gluten Free Meatballs are a simple, healthy, and delicious weeknight meal. Your family will love this recipe!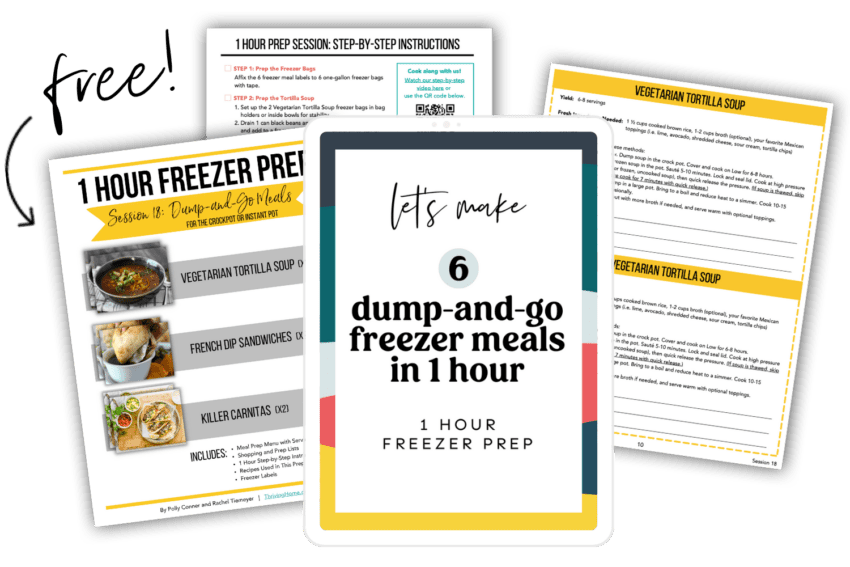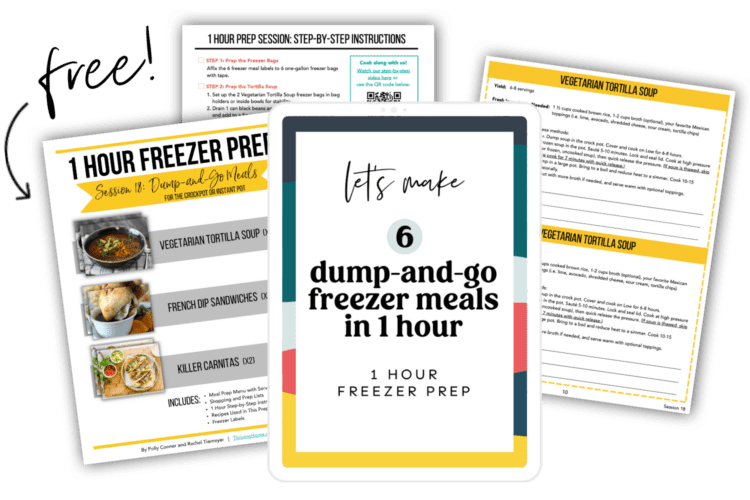 Make 6 Dump-and-Go Freezer Meals in 1 Hour!
Try a 1 Hour Freezer Prep Session ($6.99 value) for FREE!
Includes:
Shopping & equipment lists
Step-by-Step instructions & video tutorial
Serving suggestions & dietary substitutions & more
Did you make this? Snap a photo and tag us on Instagram at @thrivinghome so we can see your creations and cheer you on!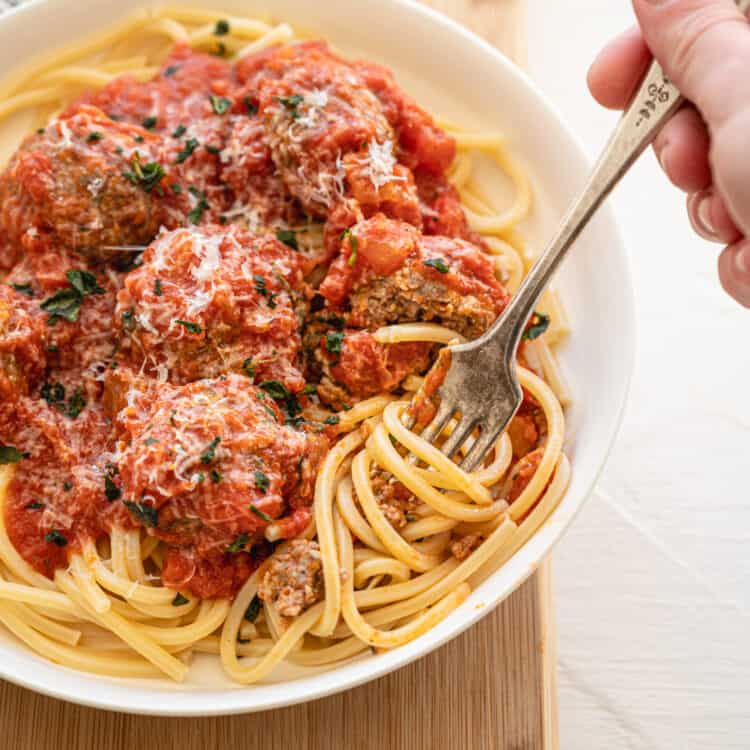 Gluten Free Meatballs
Gluten Free Meatballs are simple, healthy, and a delicious weeknight meal. Your family will love this recipe!
Yield:
4

–

6

servings (about 25

1

–

1/2

inch meatballs)

1

x
Prep:
20 minutes
Cook:
20 minutes
Total:
40 minutes
Some photos by Whitney Reist of Sweet Cayenne.