Gift Ideas for a 5 Year Old Boy
Updated: 11/13/20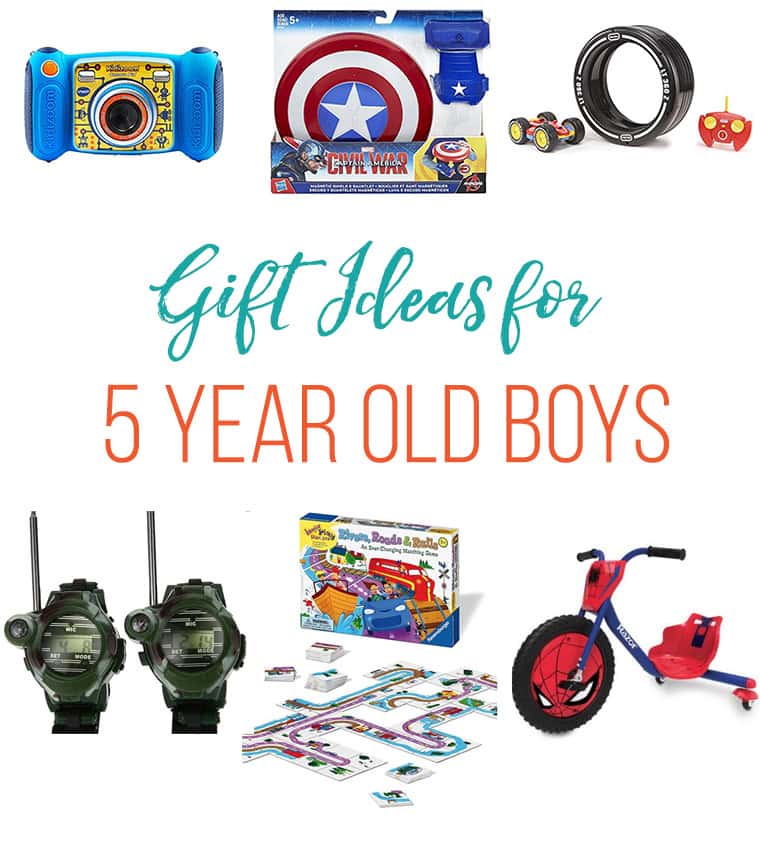 My Ty-Guy turned five a few weeks ago. Looking back at his birth story, I am flooded memories from that day and totally sound cliche when I say that it went so fast.
Long days, short years. Another cliche but oh-so-true statement.
As with every birthday that comes, I find myself surfing the internet for gift ideas. Since I'm pretty sure I'm not alone when it comes to the birthday gift scramble, I thought I'd create a roundup of great gift ideas for five year old boys.
Note: We are a participant in the Amazon Services LLC Associates Program, an affiliate advertising program designed to provide a means for us to earn fees by linking to Amazon.com and affiliated sites. Read our full disclosure policy here.
My 5 year old just isn't quite ready for the little legos. He loved these construction vehicles and I loved that there aren't a bunch of itty bitty legos floating around his room. And if grandma's giving the gift, here's a bigger version of this set!
Alphabots: My son's preschool had a set of these and they were the first thing he would play with when got there. Think, mini transformers that turn into little letters. We have all sorts of fun with these.
Razor RipRider 360: This toy has been quite the hot commodity in our neighborhood. Since it's back wheels turn in all directions, it can turn on a dime and be quite the thrilling ride. By far my son's favorite toy that he got.
Wrist Walkie Talkies: The name explains it all but my kids have had so much fun using these around the house and outside. They've prompted quite a bit of imaginary play!
Excavating Sets: While these don't last long, they are always a hit. The kids get to chip, hammer, and brush away the "rock" to find the fossil hidden inside.
Trouble: I'm pretty sure this game has been played in our home every day for weeks on end. It took my son a few rounds to catch on but now he's a Trouble hustler.
Rivers, Roads, and Rails: This was a gift that someone gave my son and it's great! Every time you play, it's a different experience and my son loved that he was creating tracks, roads, and rivers.
Little Tikes Tire Twister: Our babysitter spoiled our son with this and it's been a huge hit. The car can go by itself or put in this wheel to run around in.
Magnetic Shield: My son loves that he can wear this Captain America shield. This makes for some great imaginary play!
Kidizoom Camera: Both my daughter and son have used these cameras over and over and over again. In addition to taking photos and videos, they have a few simple games on them as well.
Hopefully this can get some ideas churning for you if you are in need of some five year old gift ideas.
If your kiddos are on the younger end, here are some ideas for two year old boys!