Holiday Gift Guide: Ages 0-2
Pssst… We are continually adding to these guides! Be sure to scroll to the bottom to see recommendations that aren't in the image!
With three kids apiece, we've been through our share of toys. The last thing we'd want is for you to waste your money and have more stuff that your kids won't use. With the help of some mama friends, we've pulled together the best of the best ideas for you in this gift guide for 0-2 year olds.
Note: If you bookmark any of these ideas for later, we'd be so thankful if you came back to this page and go through our link when you are ready to purchase. We only get credit if you make a purchase through our link. We appreciate your support SO much!
Make sure to hop over and browse around our other 2020 Holiday Gift Guides!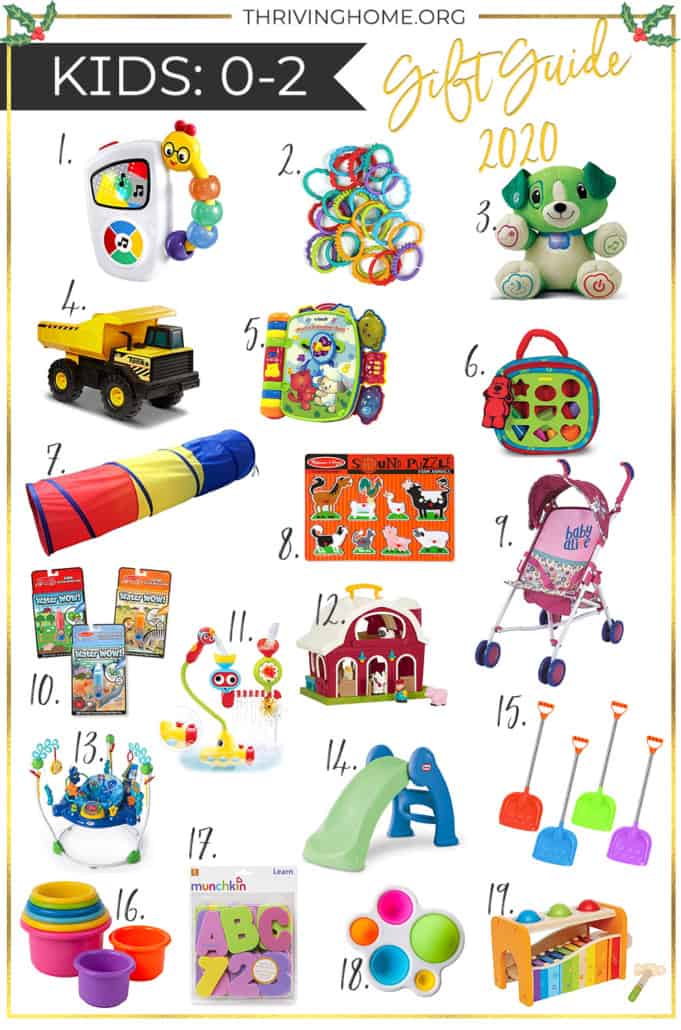 Disclaimer: Some of the links in this post are affiliate links. We are a participant in the Amazon Services LLC Associates Program, a means for us to earn fees by linking to Amazon.com and affiliated sites. Here's our full disclosure.
Kids: 0-2 Gift Guide
1. Baby Einstein Take Along Tunes Musical Toy – A hugely popular toy for kids. Great to throw in your purse! It's also an entertaining toy that isn't annoying to parents. WIN!
---
2. Bright Starts Lots of Links – Flexibly, bendably versatile for moments that need it. Another great item to throw in your purse.
---
3. LeapFrog My Pal Scout – 40+ learning songs, melodies and lullabies, for active daytime fun. Lots of ways to have fun with this little guy.
---
4. Metal Dump Truck – Out of all of the trucks we own, the dump trucks get the most action. Hint: metal trucks seem to be favored among the kids. I think it's because the noise it makes when rocks and materials are dumped in and out.
---
5. VTech Rhyme and Discover Book – A great car toy. Kids like all of the buttons and the loud click that happens when you turn the pages.
---
6. Take Along Baby's First Blocks – A classic toy for a good reason. It's so fun to see kids begin to figure out how shapes work. Easy to store all of the pieces too.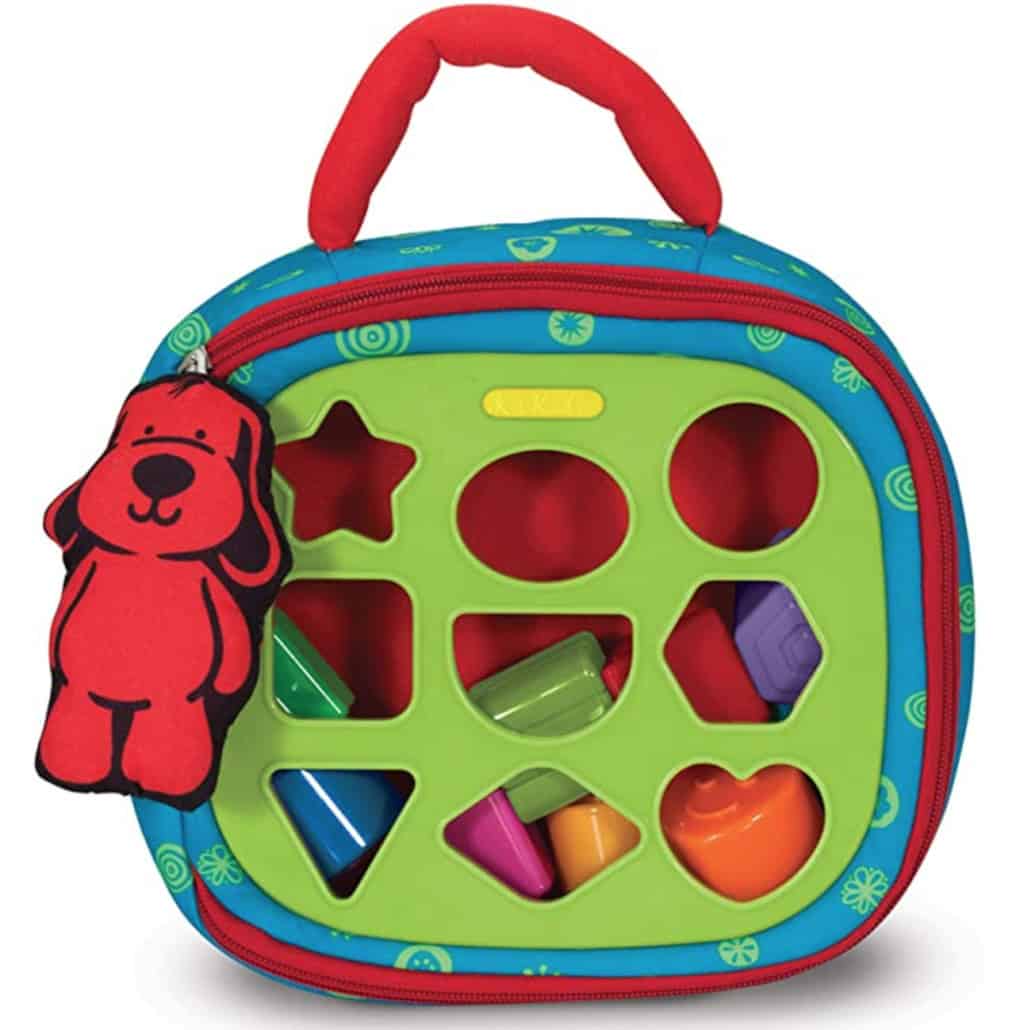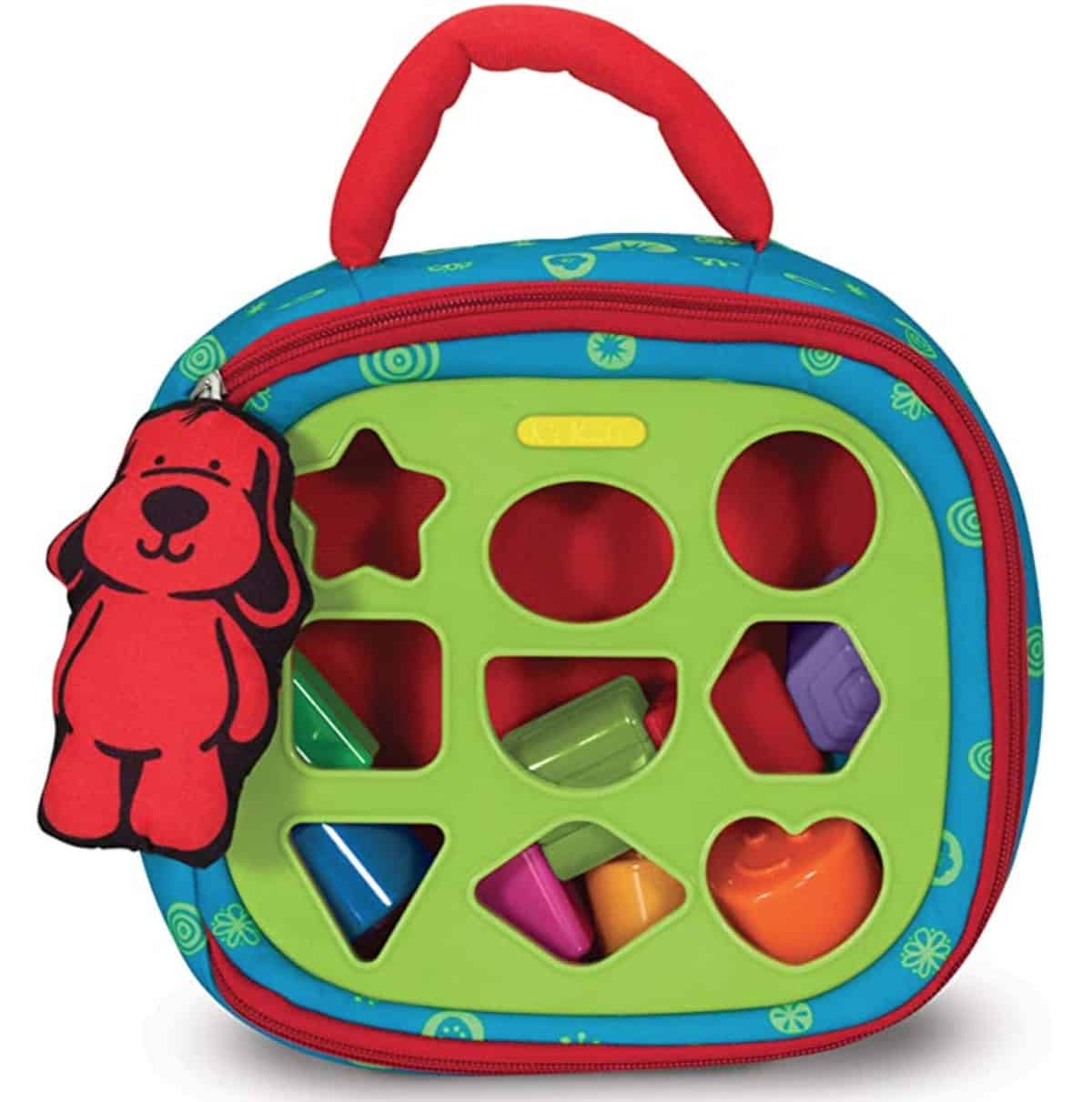 ---
7. Play Tunnel – Great for all ages but the fun can start as soon as they can crawl. My kids had a lot of fun in these!
---
8. Sound Puzzles – Place a puzzle piece correctly in the puzzle board to hear realistic sounds. We had all three types and these were used over and over again.
---
9. Stroller for Baby Dolls – I don't know why kids love these but they just do! My daughter's baby stroller went with us on SO many walks when she was little.
---
10. Water Wow Books – We have gone though SO many variations of these. My preschooler still loves to play with them. They make a great car activity or even a, "Please do something in one place while I make dinner," activity.
---
11. Bath Toy – Submarine Spray Station – Water is drawn through the submarine to create a steady stream of water. No need to keep the bath faucet on!
---
12. Play Farm – We had a variation of this for our kids and all three loved it. This is a great price point too!
---
13. Baby Einstein Neptune's Ocean Discovery Jumper – A big ticket item but something you'll be so glad you have.
---
14. Little Tikes Junior Play Slide – Used this inside during the winter months and outside in the summer. A huge hit!
---
15. Snow Shovel – On a last minute whim, I got these for my kids when they were youngsters and they were the Christmas morning favorite! (Obviously for the older end of this age group.)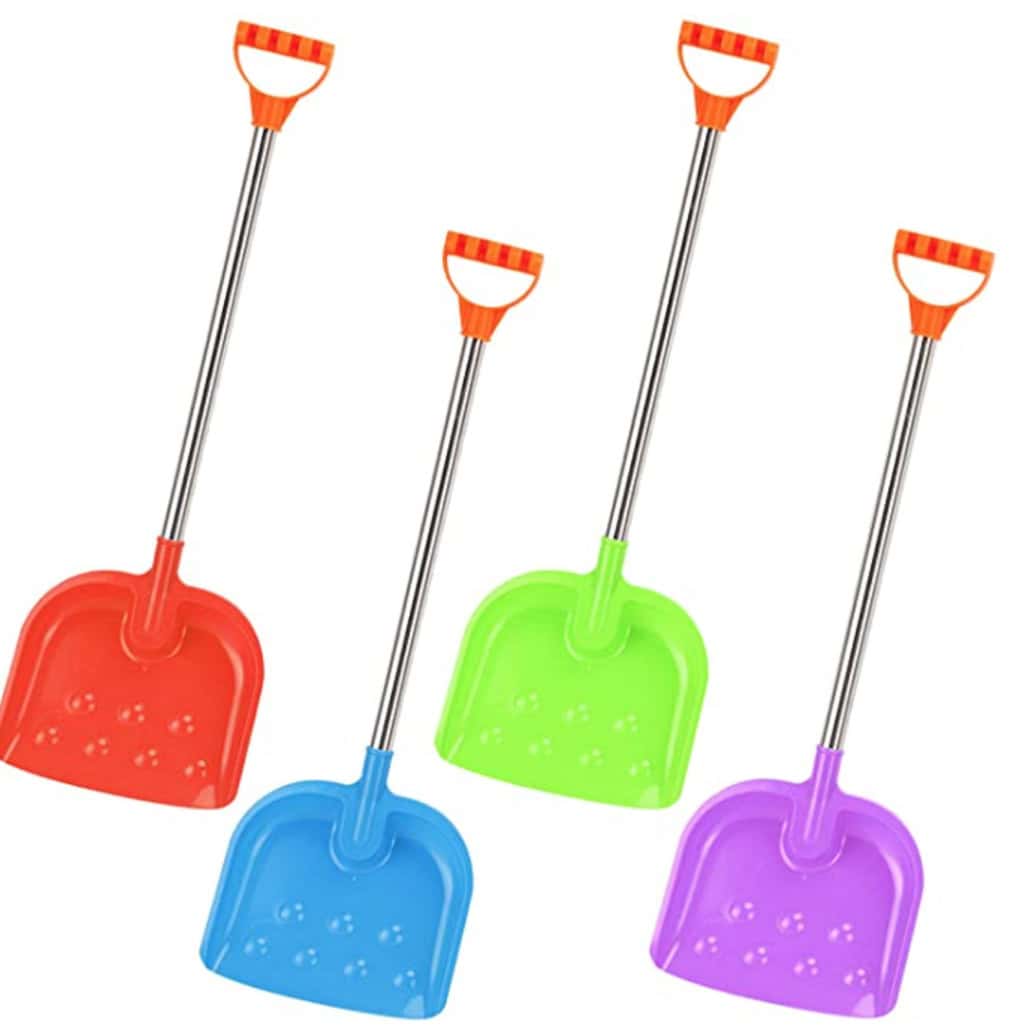 ---
16. First Years Stack Up Cup Toys – These are a must for little ones. My kids used these over and over and over again! I love that they have little holes in the bottom for bath play too. For such a great price, you'll get so much play out of something so simple and cheap!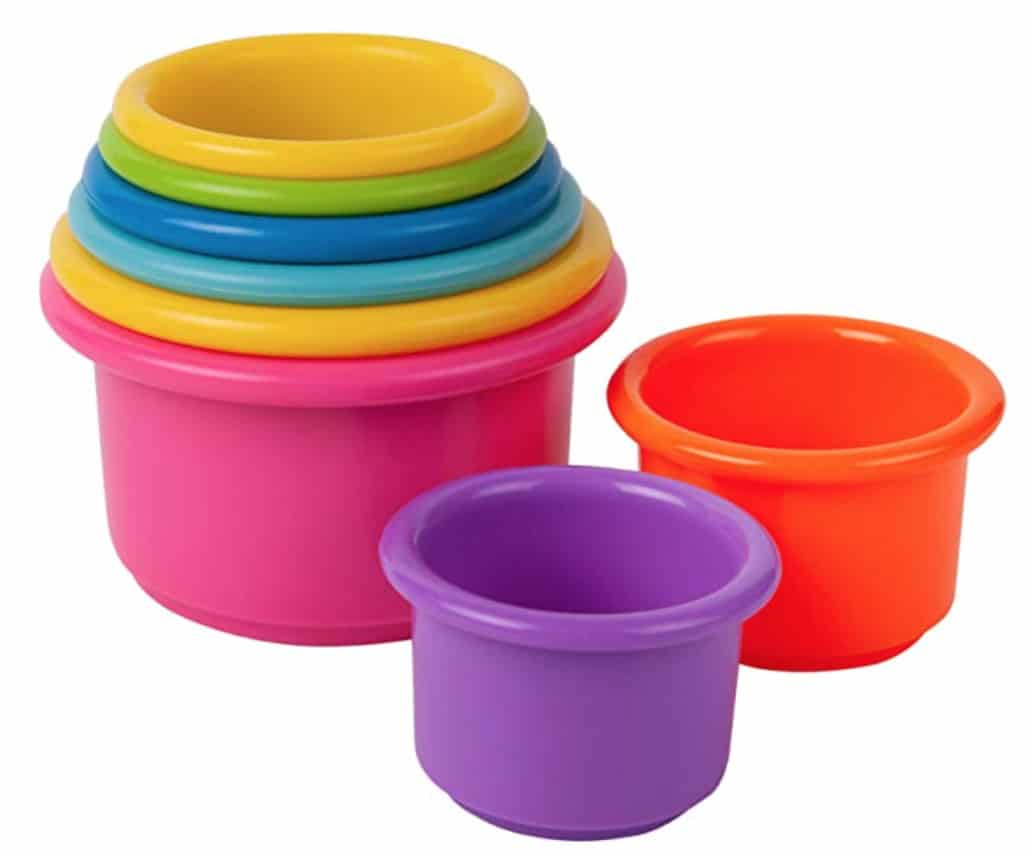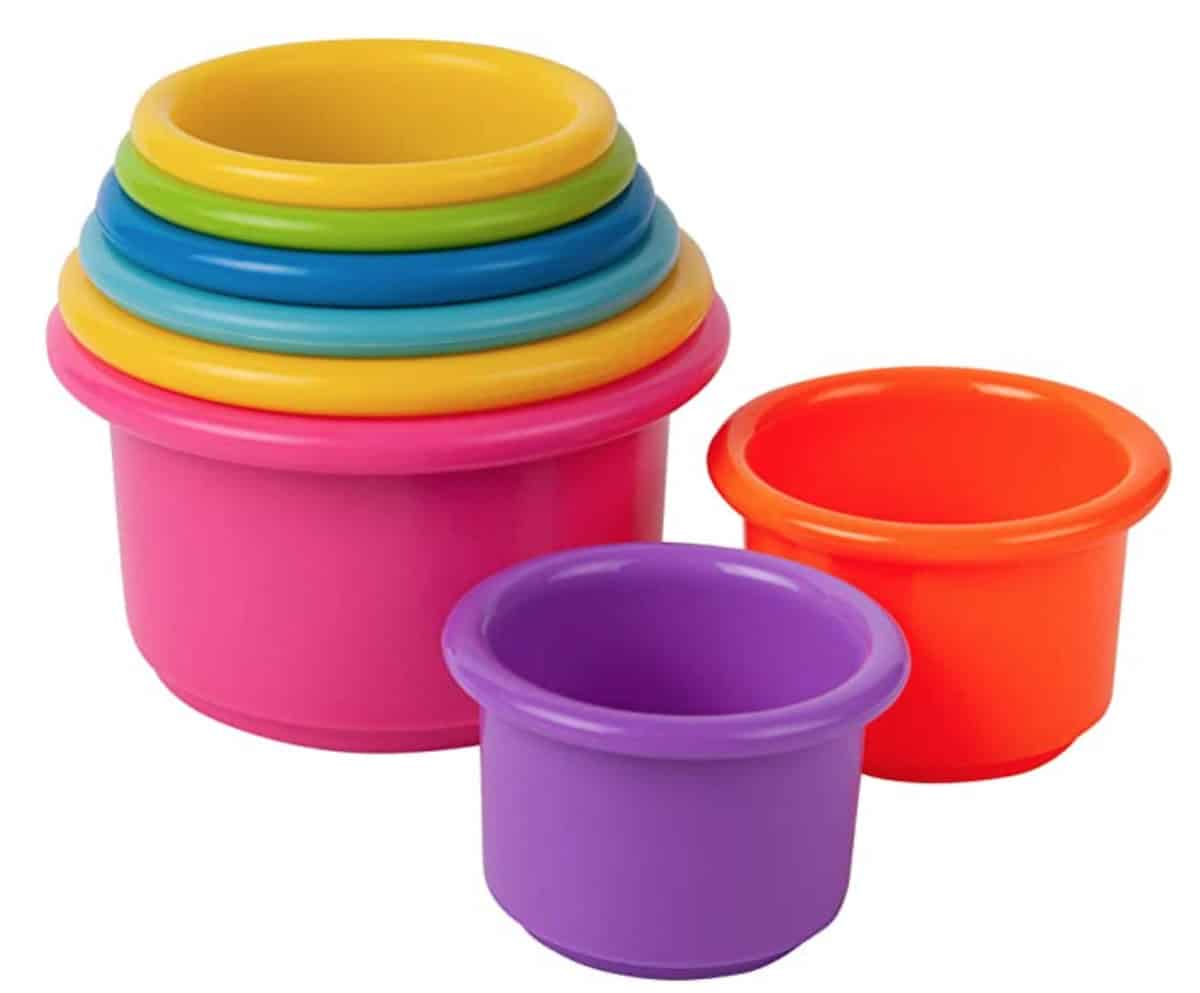 ---
17. 36 Bath Lettehttps://shopstyle.it/l/bpAY9rs and Numbers – I got a set of these when my children were in this stage and they are STILL around. It's one of those toys that grows with the kids!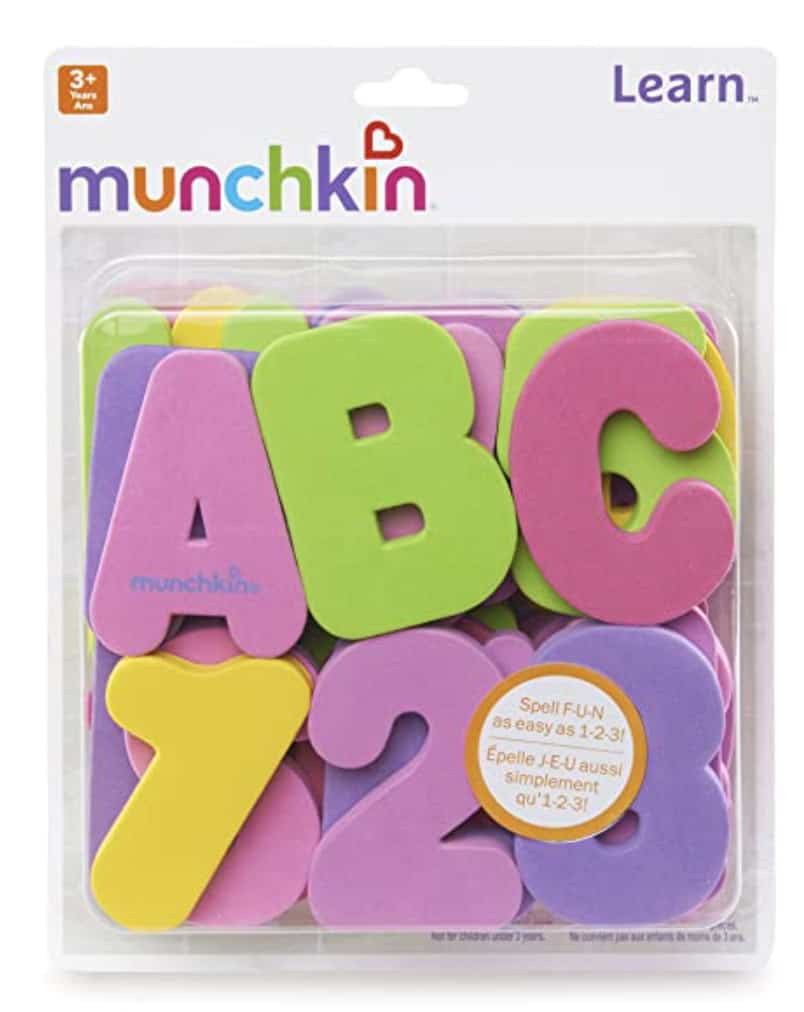 ---
18. Dimple – Little hands love these! Features 5 vibrant Silicone Bubbles built into a plastic frame that they can push, pop, poke, and grab. Perfect sensory delight!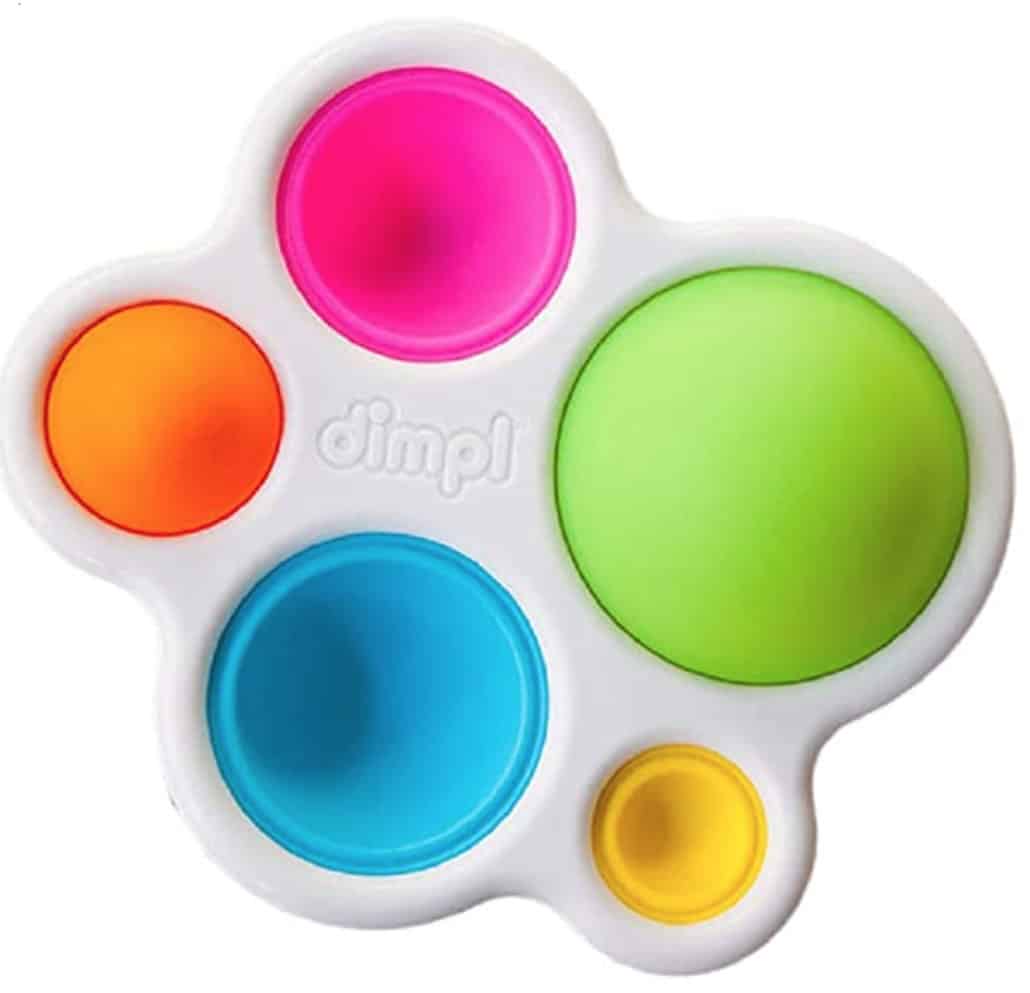 ---
19. Hape Pound & Tap Bench with Slide Out Xylophone – Award Winning Durable Wooden Musical Pounding Toy. Sorry, parents. Kids this age love stuff like this! Their little brains love a big cause-effect toy!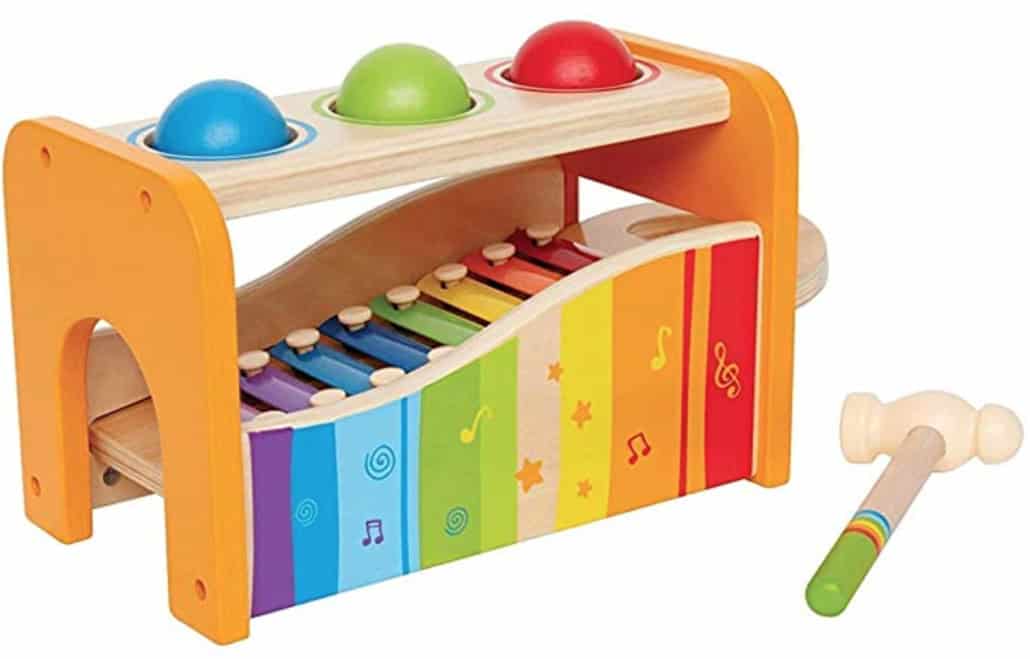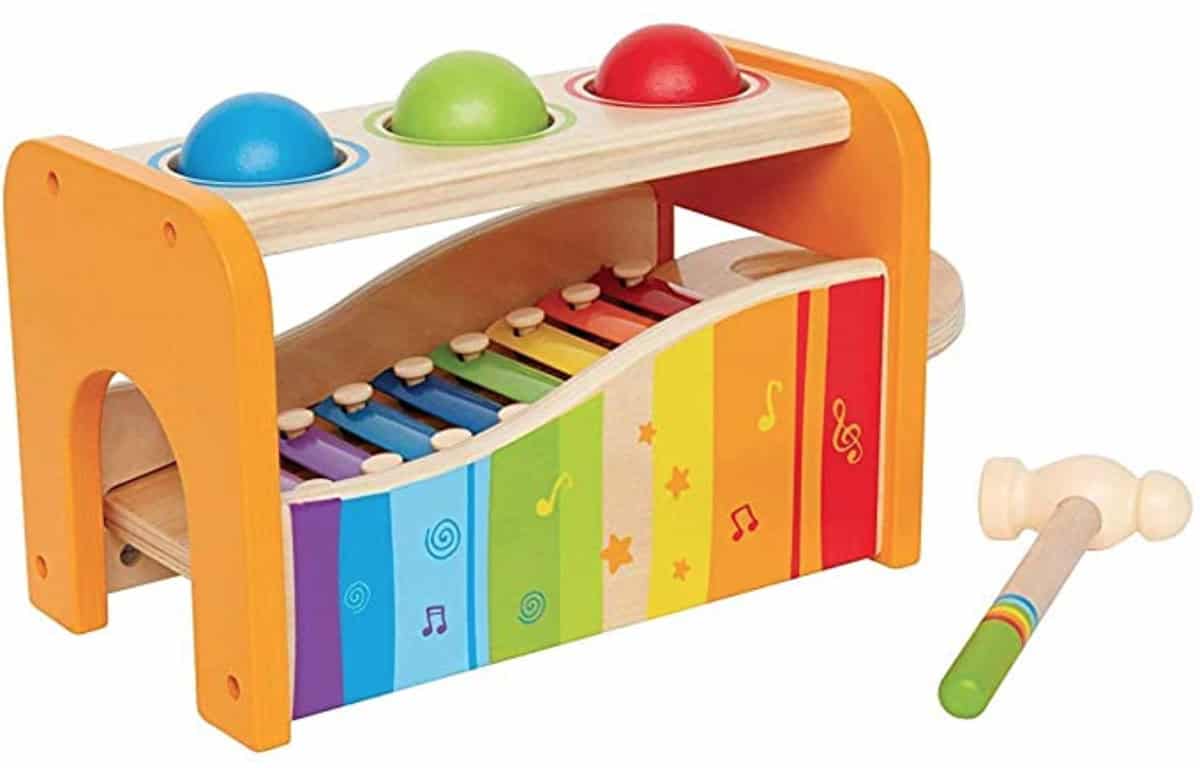 ---
20. Push Around Buggy – All three of my kids LOVED this little buggy. It's a great alternative to the stroller for little ones.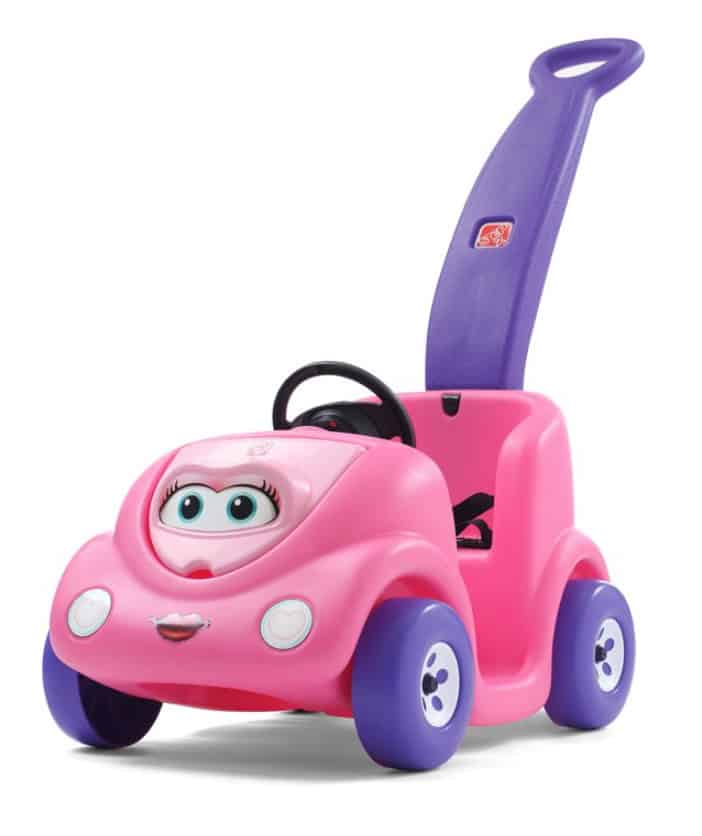 ---
Toddler Swing – We had one of these hanging under our deck for YEARS. Kids love them! My kids, who are way too old for it now, still ask about it!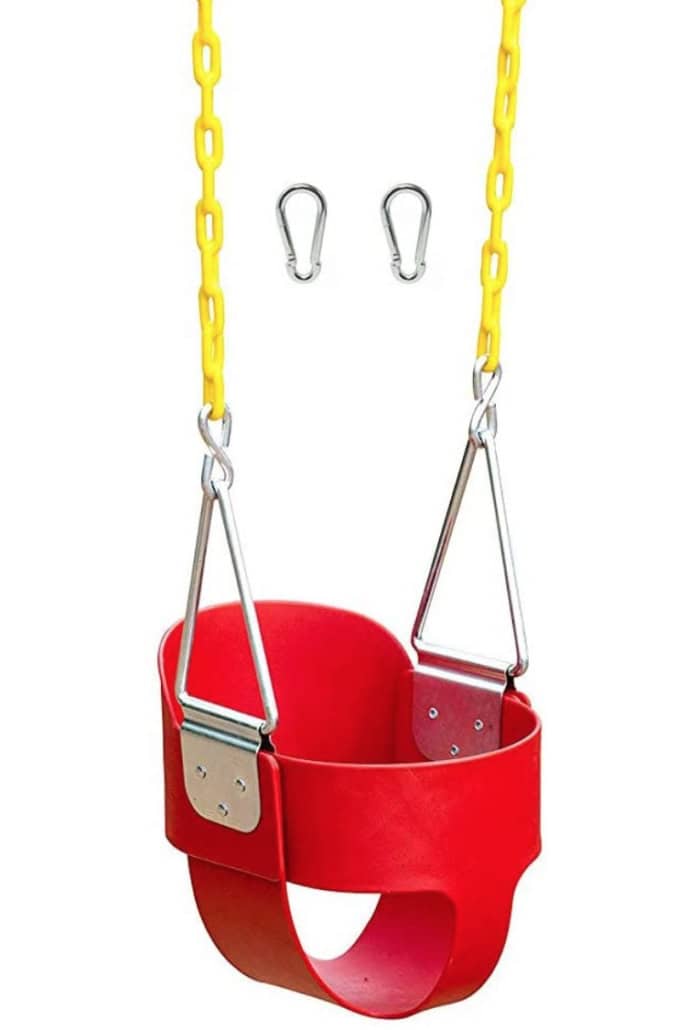 ---
Inflatable Bounce Toy – I got this for my youngest son when he was about 1.5 years old and it was a huge it. I thought for sure it'd pop quickly but was so surprised by it's durability! It even survived older kids bouncing and boinging around the house with it.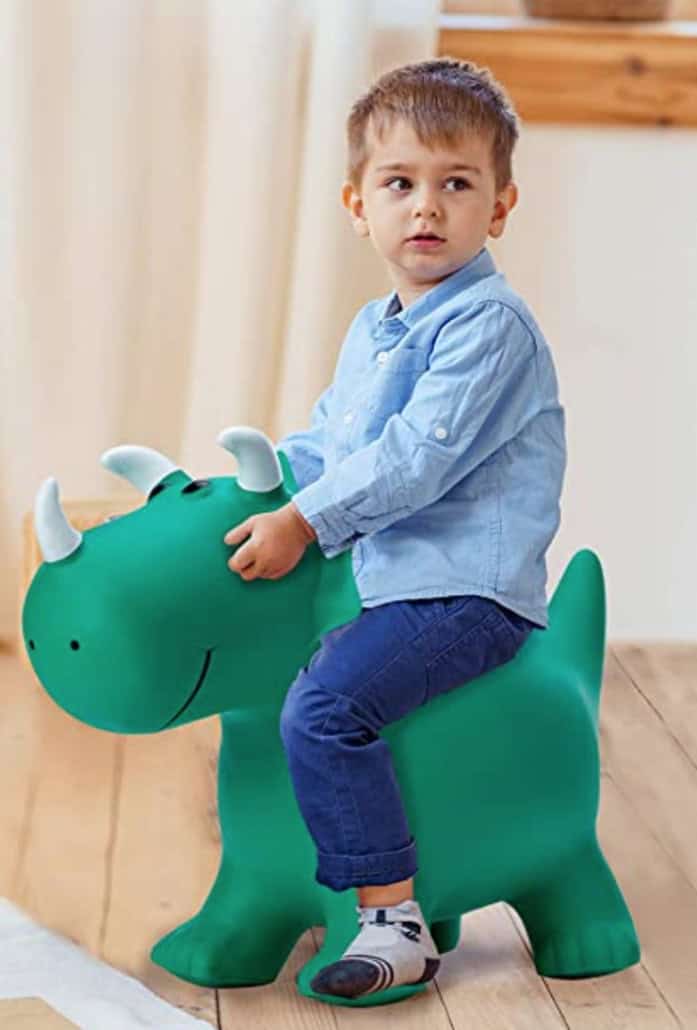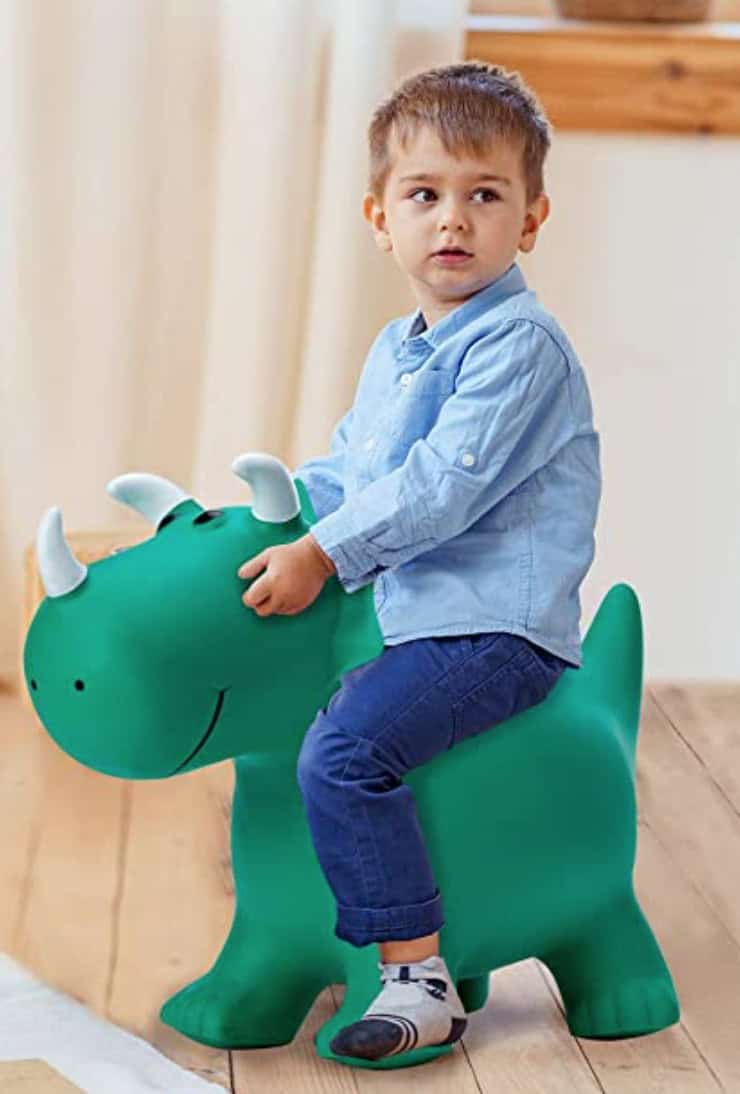 More Ideas:
Stocking Stuffer: 15 Animals!
Stacking Toy from Melissa and Doug – Great for eye/hand coordination.
This push toy has been a hit kids!
Looking for some book ideas? Check out our Top 10 Toddler Books.
---
---
Note: If you bookmark any of these ideas for later, we'd be so thankful if you came back to this page and go through our link when you are ready to purchase. We only get credit if you make a purchase through our link. We appreciate your support SO much!
https://thrivinghomeblog.com/wp-content/uploads/2020/08/0-2-Gift-Guide-for-IG.jpg
2160
2160
Polly Conner
https://thrivinghomeblog.com/wp-content/uploads/2019/10/thrivinglogo.png
Polly Conner
2020-10-21 01:00:42
2021-01-07 10:29:00
Holiday Gift Guide: Ages 0-2