This post may contain affiliate or sponsored links. Please read our disclosure policy.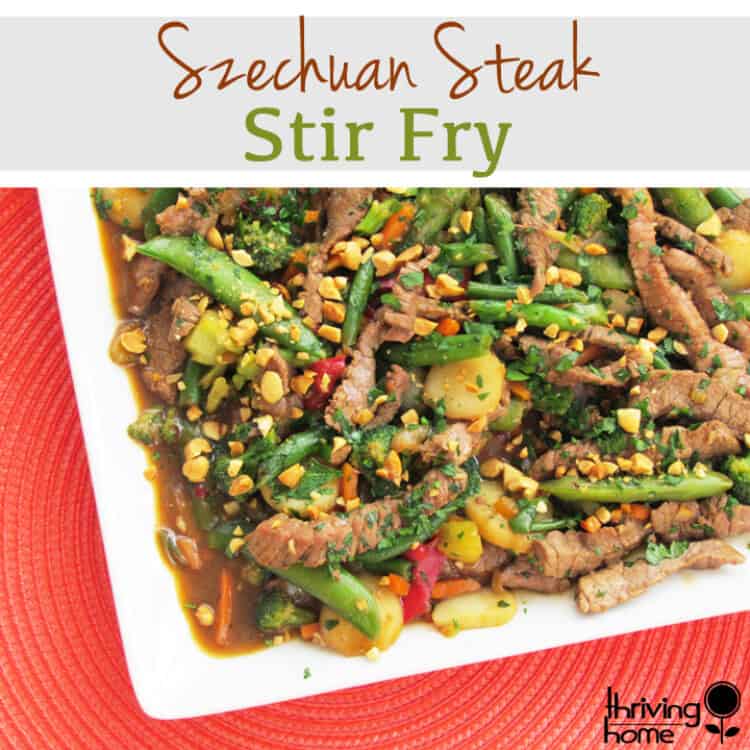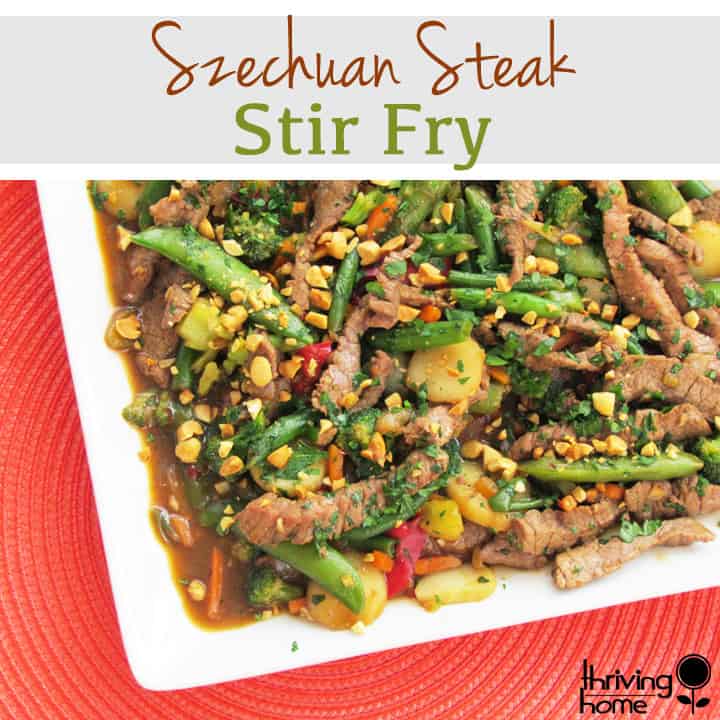 Is anyone like me and have a freezer full of beef? This summer, some friends and I went in together to purchase a grass-fed cow. It's a great way to go if you have a deep freeze and like beef.
Locally-raised, grass-fed beef is incredibly healthy. In fact, it's the only kind of red meat I'll ever buy again. Plus, it's a huge cost savings to purchase it in bulk like this and you're supporting a local farmer. You get various steaks, roasts, ground beef, and, yes, even a few weird parts. Overall, I think it's the way to go.
Now the challenging part to having a ton of beef around is using it up!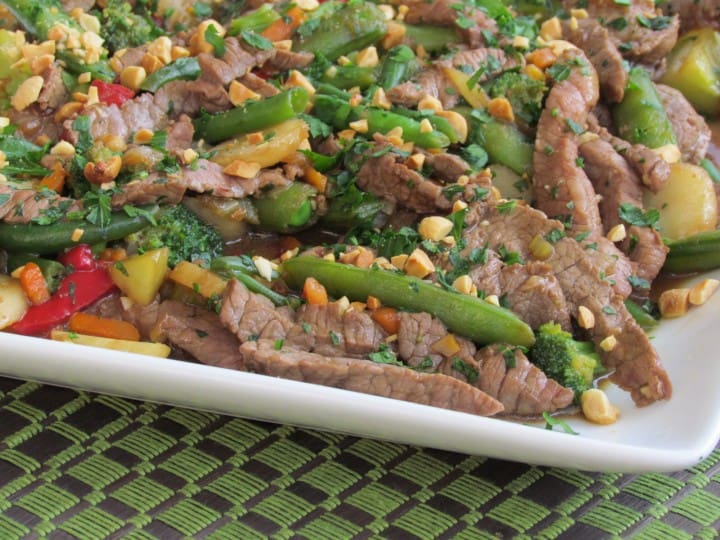 This Steak Stir-Fry recipe is one of my Freezer Club's favorite beef meals. A big shout out to my friend, Shelly M, for the original recipe! It's got a ton of flavor and is easy to make.
I usually serve it over brown rice for some added fiber. Freezer meal instructions are included below. If you have questions, let me know!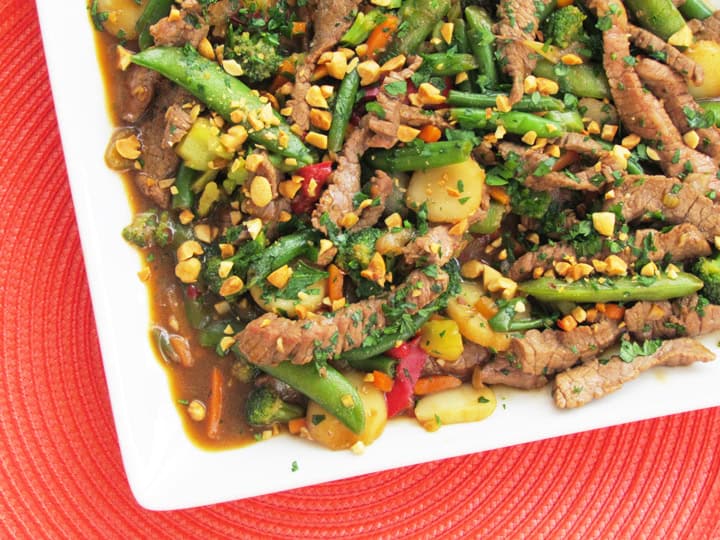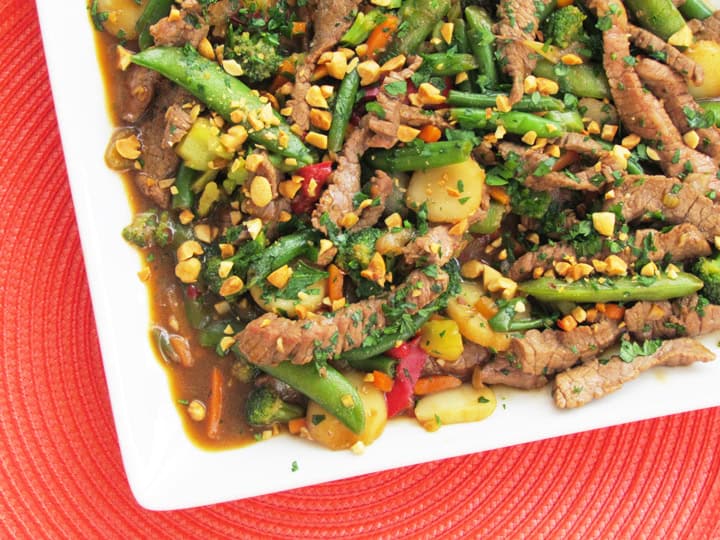 Did you make this? Snap a photo and tag us on Instagram at @thrivinghome so we can see your creations and cheer you on!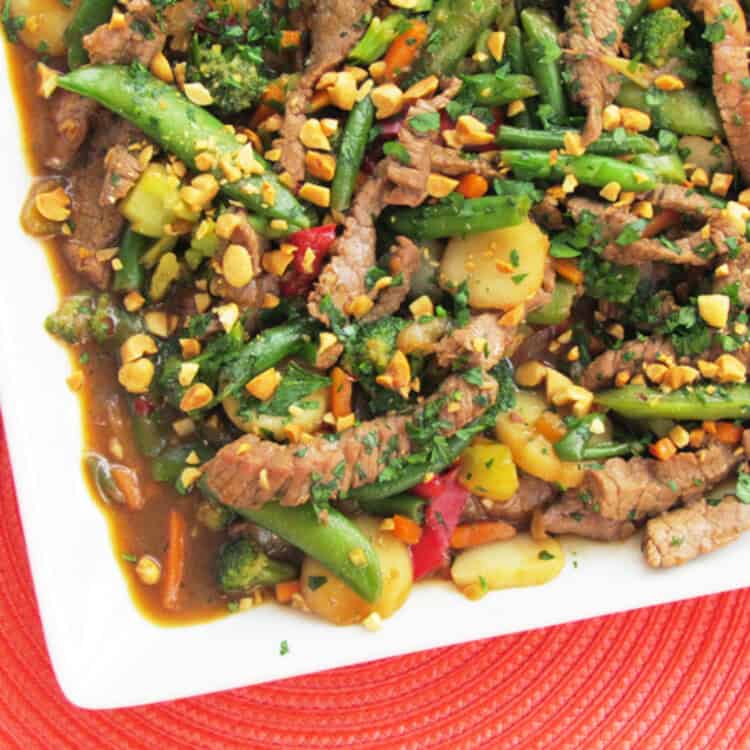 Easy Steak Stir Fry
This very quick and easy meal rivals any Asian take-out stir-fry. Serve over brown rice for some added fiber.
Prep:
15 minutes
Cook:
10 minutes
Total:
25 minutes (plus 30-60 minutes marinade time)
Ingredients
1/4

cup

low-sodium soy sauce (sub: gluten-free coconut aminos)

1 tablespoon

sesame oil

2 tablespoons

brown sugar

2

garlic cloves, minced

1/4 teaspoon

red pepper flakes

1

lb

. steak (any kind), sliced thin, 1-2" long pieces

1/4

cup

water

2 teaspoons

cornstarch

1 tablespoon

vegetable or peanut oil

1

(14-16 ounce) package frozen stir-fry vegetables (

3

–

4

cups veggies)

1/3

cup

chopped fresh cilantro, for serving (optional)

2 tablespoons

chopped dry-roasted peanuts, for serving (optional)
Lime wedges, for serving
Before You Begin! If you make this, please leave a review and rating letting us know how you liked this recipe! This helps our business thrive & continue providing free recipes.
Instructions
Make It Now:
Make Marinade: Combine garlic cloves, red pepper flakes, soy sauce, sesame oil, and brown sugar in a large zip-top bag. Close bag and shake well to combine. Add steak to bag and put in fridge to marinate for 30-60 minutes.
Make Thickener: Whisk together the water and cornstarch in a bowl. Set aside.
Saute Veggies: Heat oil in large skillet (or wok) over medium-high heat. Add vegetables and stir-fry for about 5 minutes, just until crisp-tender (do not over cook). Remove to plate.
Cook Beef: Add beef and marinade to hot pan. Cook just until meat is cooked through (do not over cook). This only takes 1-2 minutes.
Combine: Return vegetables to pan and toss with meat and sauce. Bring sauce to a simmer. Then add water/cornstarch mixture to thicken sauce. After sauce thickens (after about a minute or so), remove from heat.
Serve: Serve in bowls over rice and top with cilantro, peanuts, and a squeeze of lime juice.
Freeze For Later: Place the marinade and steak in a large freezer bag and seal. Freeze alongside the frozen stir fry vegetable bag.
Prepare From Frozen: Thaw the steak/marinade, but do NOT thaw the frozen veggies! Follow Steps 3-6.
---
Notes/Tips
It's important to slice the steak thinly. It's easiest to do this while the steak is partially frozen or very cold.
Gluten-Free Version: Use coconut aminos in place of the low-sodium soy sauce.
If you want to use fresh veggies instead of frozen, replace with fresh, quick-cooking veggies like bell pepper strips, julienned carrots, and snow peas or sugar snap peas.