Instant Pot Mexican Chicken
This post may contain affiliate or sponsored links. Please read our disclosure policy.
This budget-friendly, comforting Instant Pot Mexican Chicken is a one pot wonder just like our Crockpot Mexican Chicken.
Seasoned, moist, shredded chicken is combined with black beans, corn, and cream cheese to make this comfort dish stretch a long way. Serve over brown rice with your favorite Mexican toppings for a nutritious meal the whole fam will enjoy.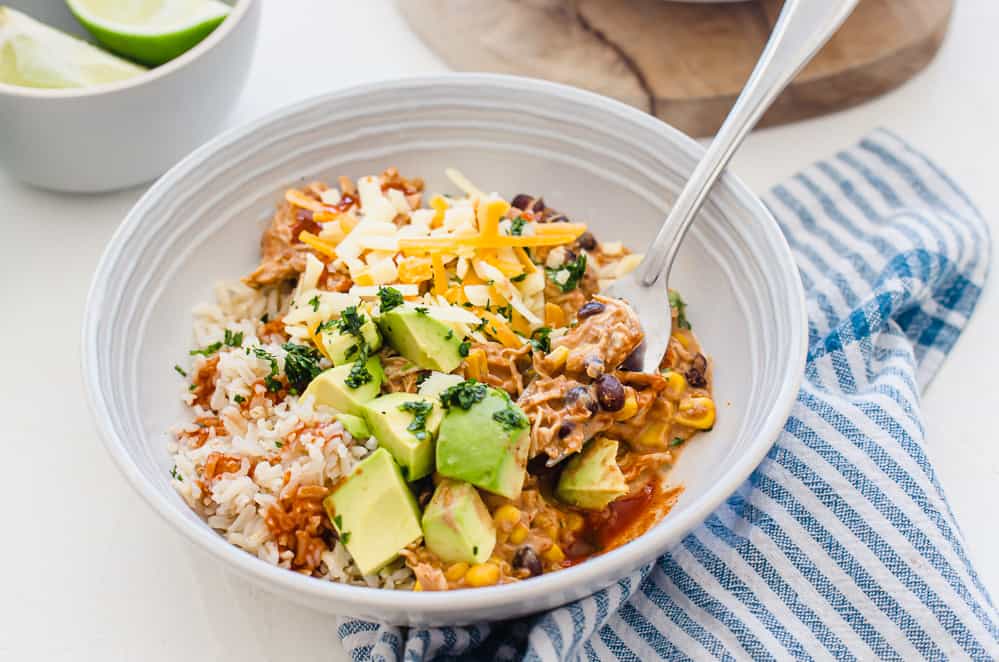 Ingredients
The beauty of this recipe is you only need 7 ingredients, which might already be in the fridge and pantry. This dish is full of protein, fiber, and flavor.
Chicken broth – For a little added liquid to make sure the Instant Pot comes to pressure.
Boneless, skinless chicken breasts – You can use chicken thighs instead.
Salsa – Use your favorite all-natural salsa from the store. I LOVE Mateo's Gourmet Salsa and have seen it at Walmart and Publix so far.
Canned black beans – Rinse and drain.
Canned corn – Rinse and drain. You could also use frozen corn.
Taco seasoning – Either make your own using our easy Homemade Taco Seasoning or buy some at the store. I use McCormick's brand or Pioneer's gluten-free taco seasoning.
Cream cheese – I've only tested it with full-fat cream cheese. (If you try using low fat cream cheese, let me know in the comments how it works for you.)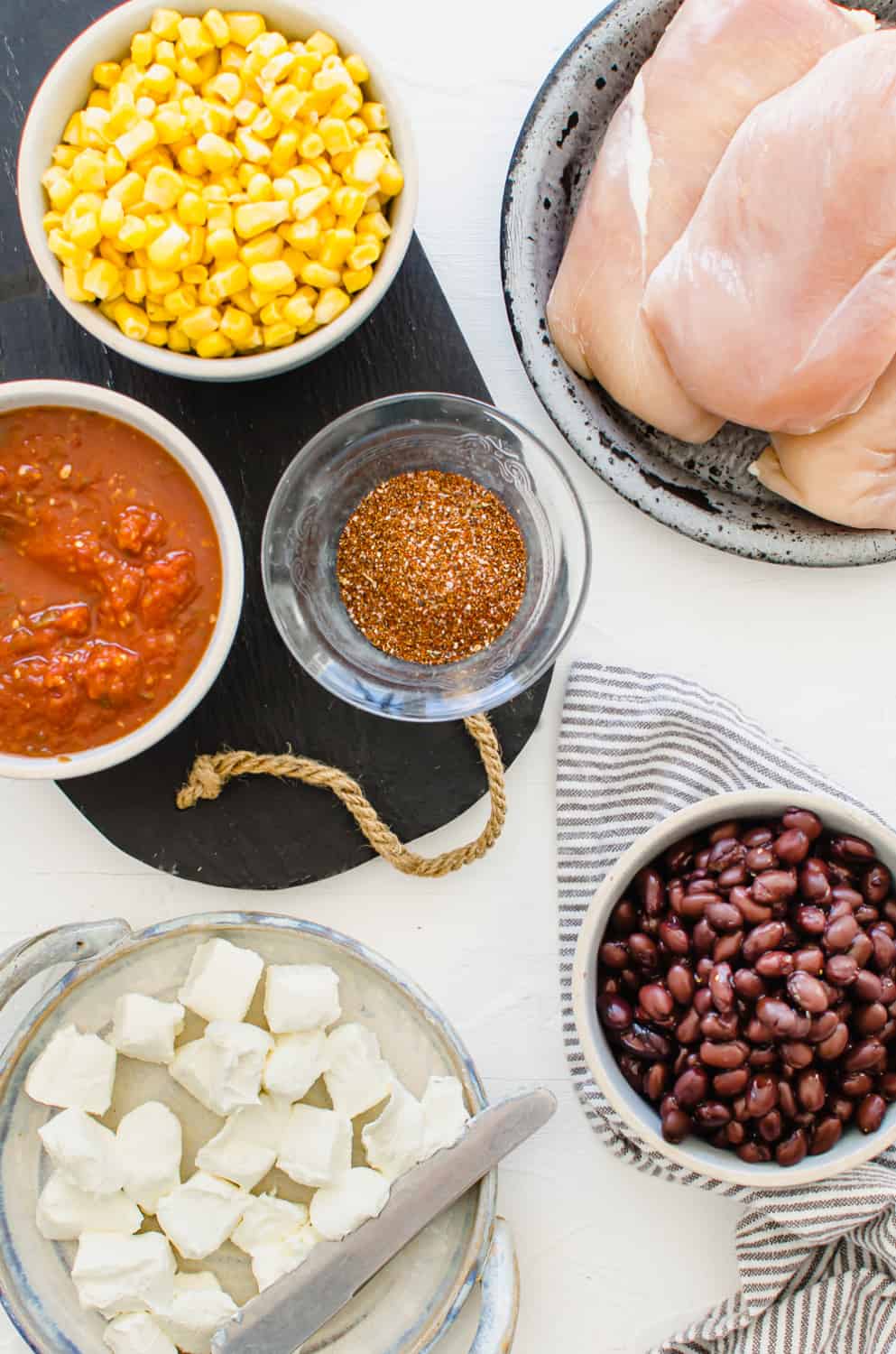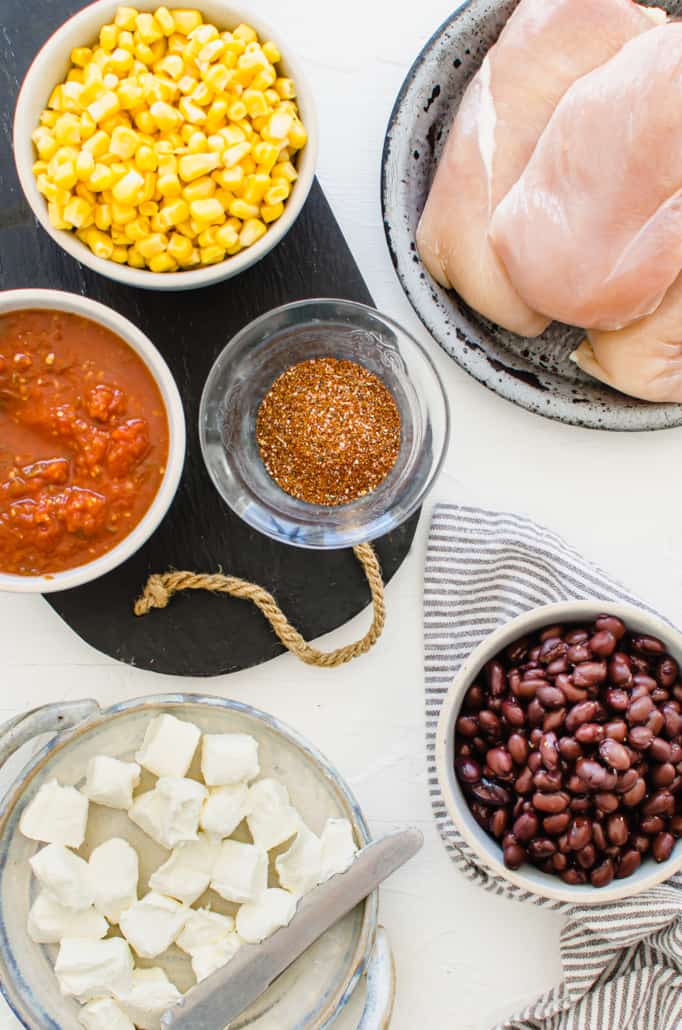 Sneaky Nutrition Tip: If you'd like to add some (tasteless) extra nutrition, stir in a 1/2 – 1 cup of canned pumpkin, butternut squash puree, chopped spinach, or frozen cauliflower rice.
How to Make Instant Pot Mexican Chicken
You are going to LOVE how simple this Mexican Chicken recipe is.
Step 1: Add Ingredients to Instant Pot
In an Instant Pot, add broth, salsa, and taco seasoning. Stir until well combined. Nestle the chicken into the mixture and spoon some of the liquid on top of each piece.
Dump the drained black beans and corn on top of the chicken.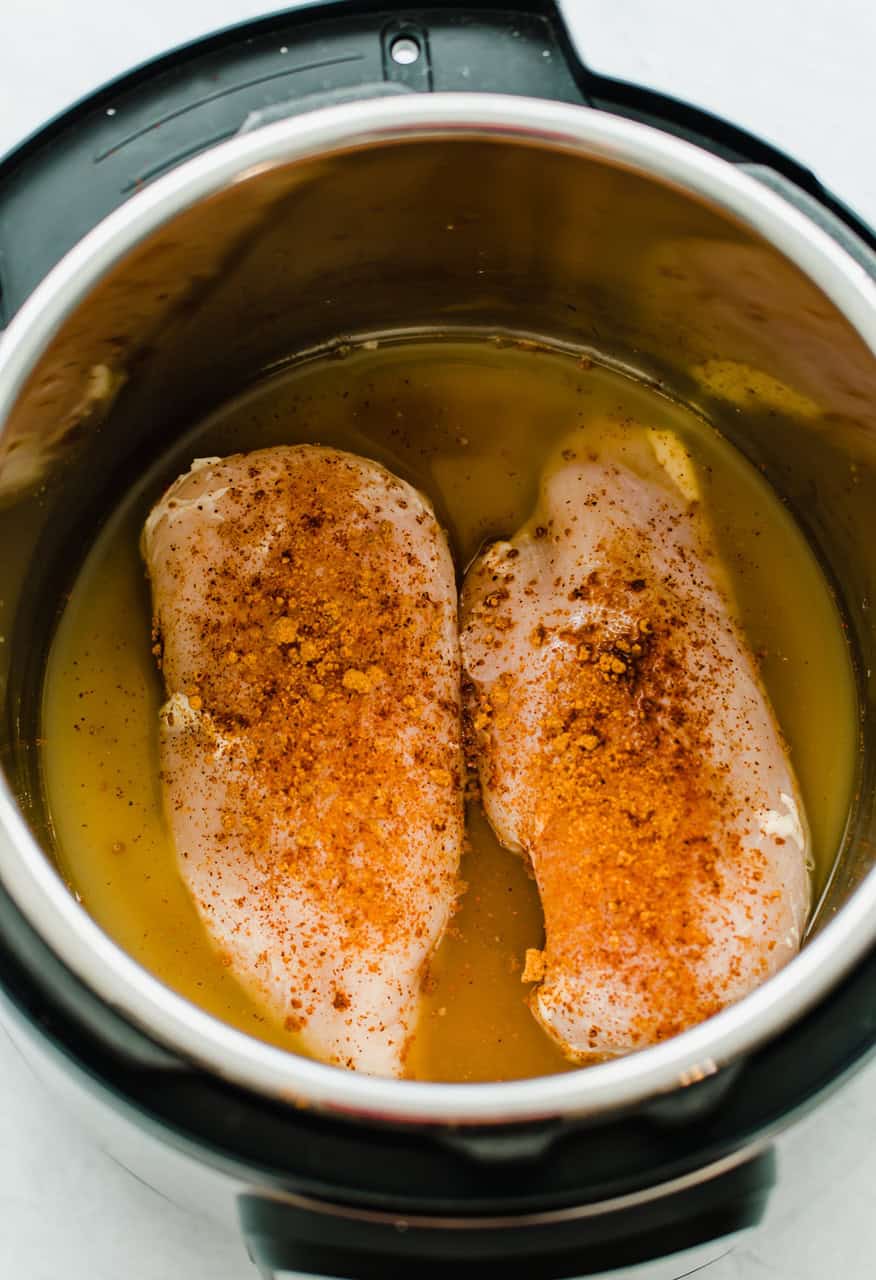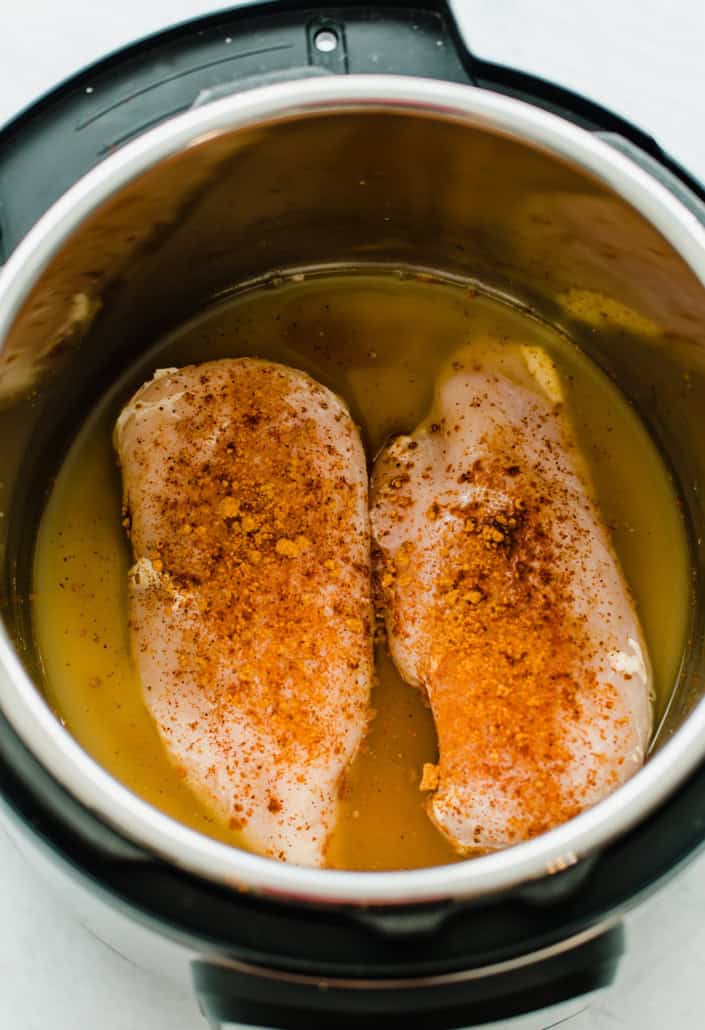 Step 2: Pressure Cook the Chicken
Lock and seal the lid. Cook on high pressure for 7 minutes. Then, turn the knob to do a quick release of the pressure. Make sure the chicken is done (165°F internally or no longer pink inside).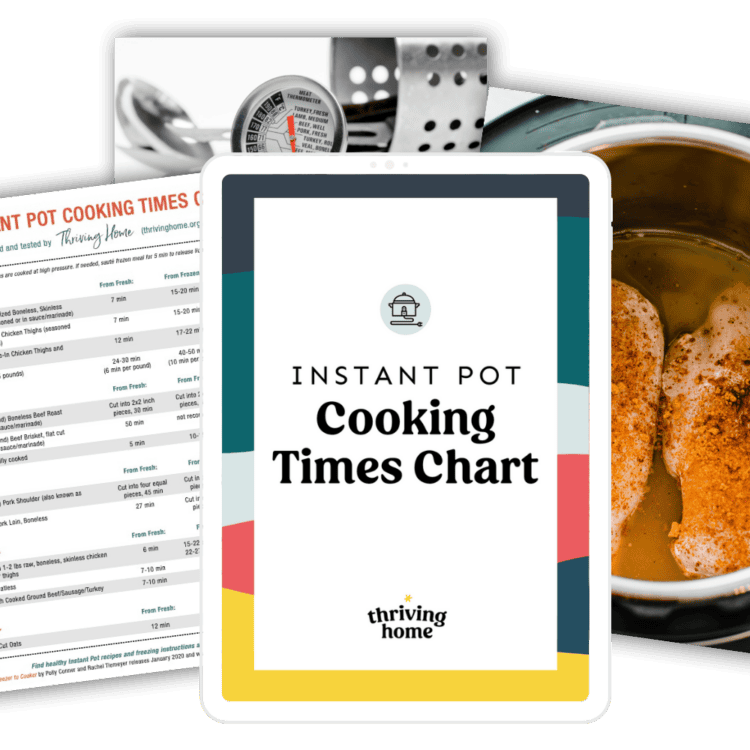 Tip: How Not to Overcook Your Chicken
Now here's the key: Do not overcook your chicken!
If you follow our recipe below, you're good to go. But be sure to download and print our Instant Pot Cooking Times chart that we spent two years meticulously developing for our cookbook.
This guide will help you pressure cook both fresh and frozen meals of all kinds perfectly! It's our gift to you!
Get Instant Pot Cooking Times Chart
Step 3: Shred the Chicken
Once the chicken is done, remove it to a wooden cutting board. Use two forks to shred it. Or here's a shortcut for shredding your chicken.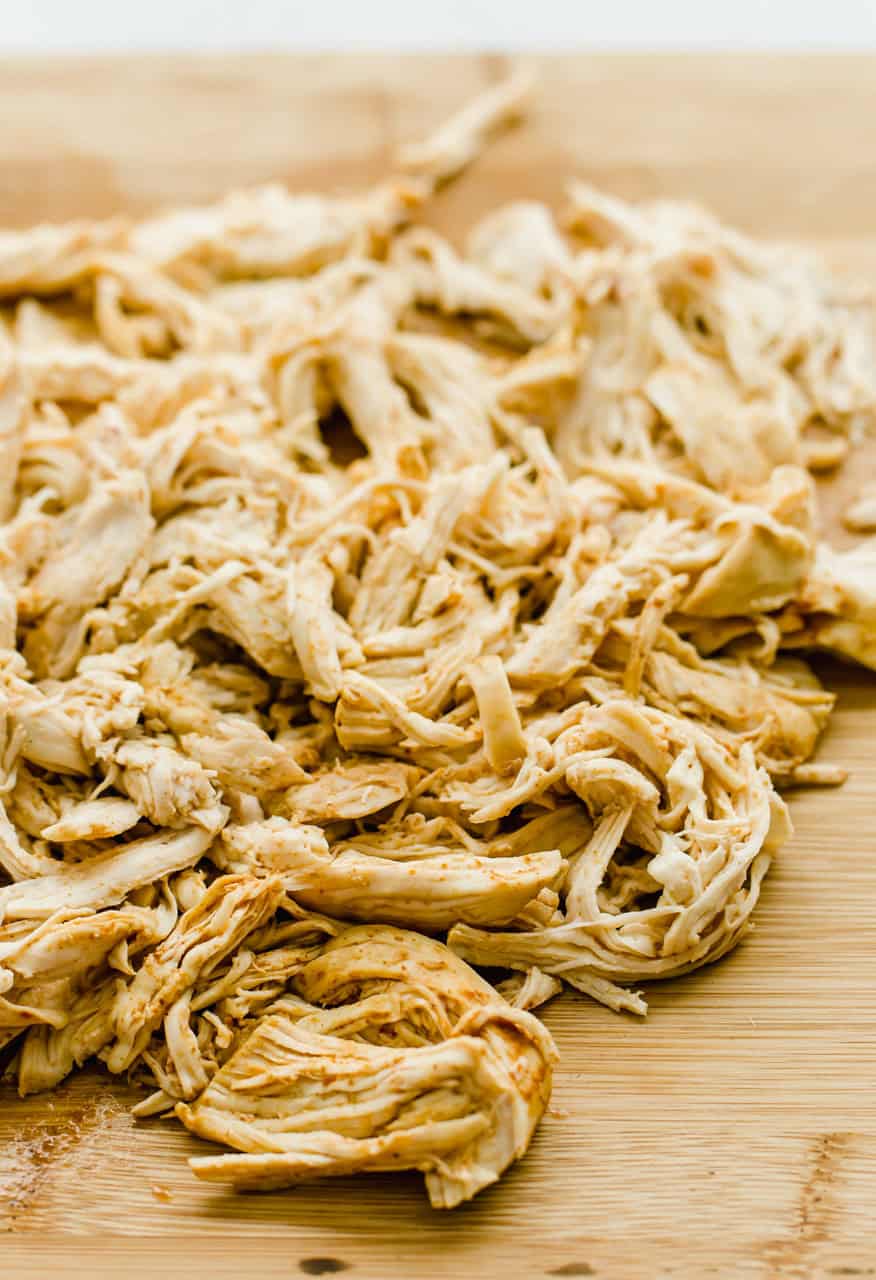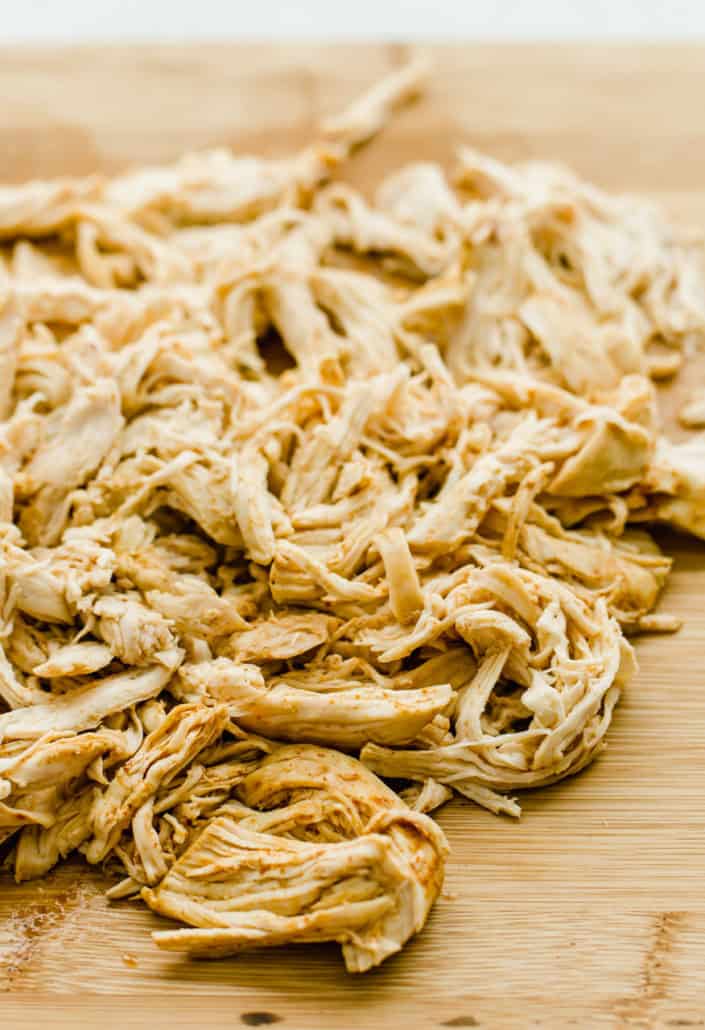 Step 4: Stir in Cream Cheese
Add the chicken back to Instant Pot. Stir in the cubed cream cheese until it melts and blends into the mixture.
Below is what the slow cooker version looks like when it's all stirred together. Imagine this in your Instant Pot. 🙂
Step 4: Serve
Serve warm over brown rice and top with your favorite Mexican toppings (see ideas below).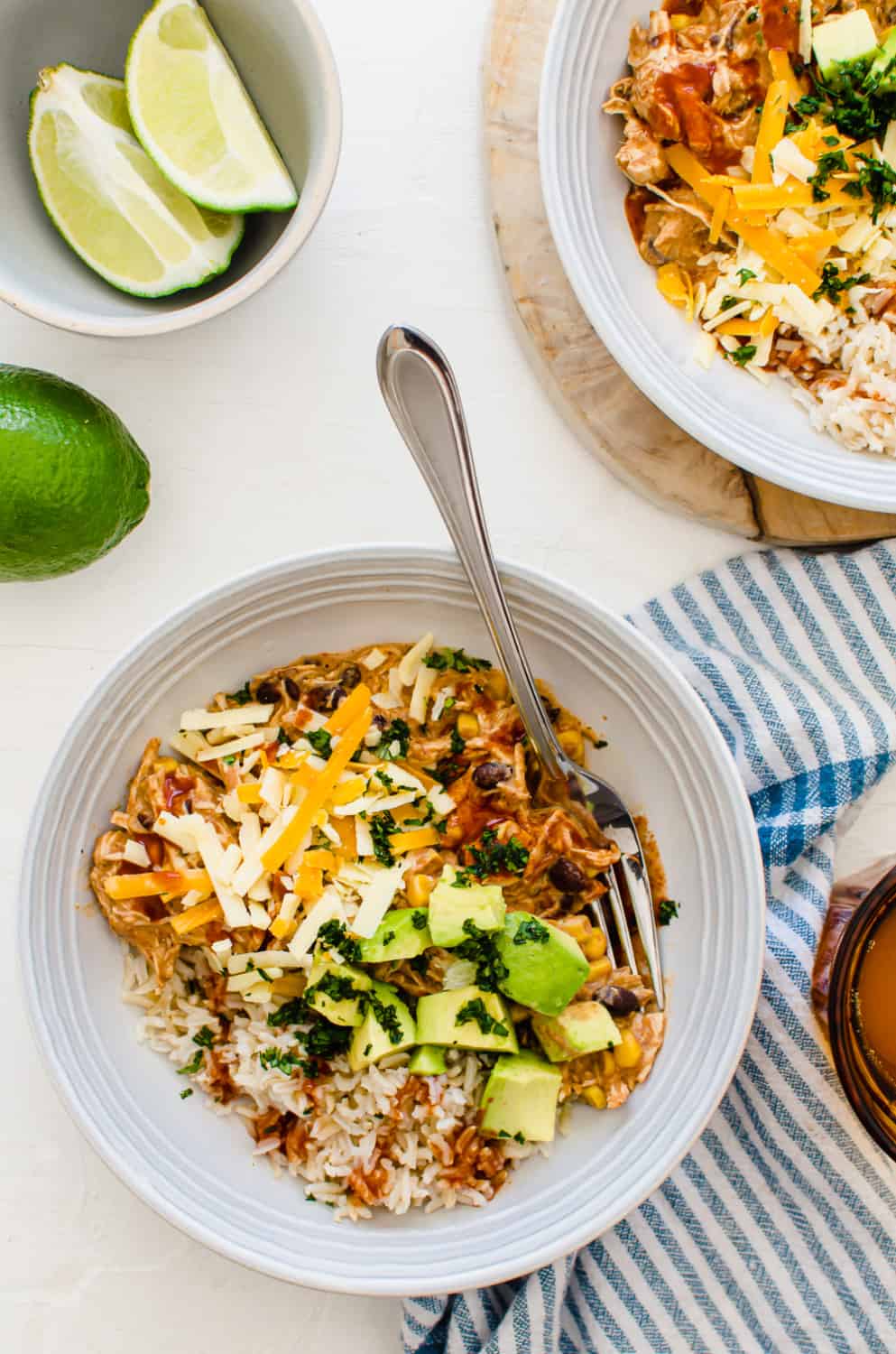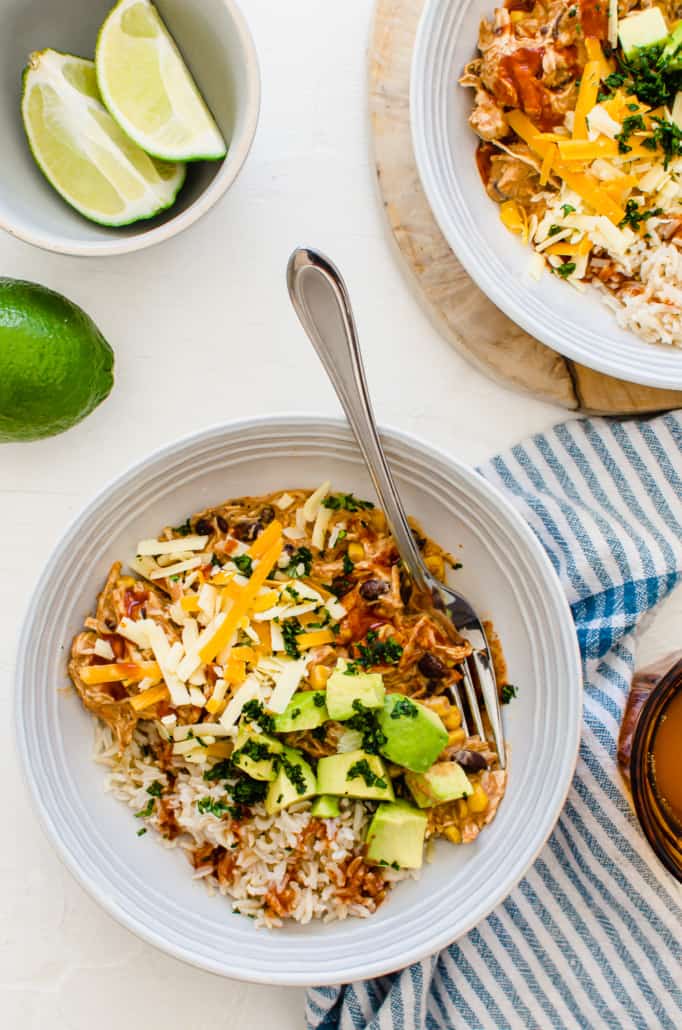 It's soooo creamy and comforting. Leftovers are great reheated, as well.
Make It a Freezer Meal Kit
This meal works well to prep and freeze ahead of time. You can cook it FROM FROZEN in the Instant Pot, which is amazing. Here's how:
To Freeze: Place the chicken, taco seasoning, salsa, broth, corn and beans in a gallon-sized freezer bag. Seal and freeze in a round container that's the shape of the Instant Pot (you can even freeze it in the pot itself and then remove the meal). Try not to stack the chicken but instead place it flat in the bottom of the round container. If you'd like to make this a meal kit, freeze a bag of cooked brown rice along with the chicken mixture.
To Prepare From Frozen: Place the frozen meal in the Instant Pot. Turn on the "Saute" function and cook for 5-10 minutes until some liquid is released. Press "Cancel". Lock and seal the lid and pressure cook for 15-20 minutes. Use a quick release of the pressure. Check to make sure the chicken is done. Then follow Steps 3-5 of the recipe, shredding the chicken and stirring all the ingredients together to serve.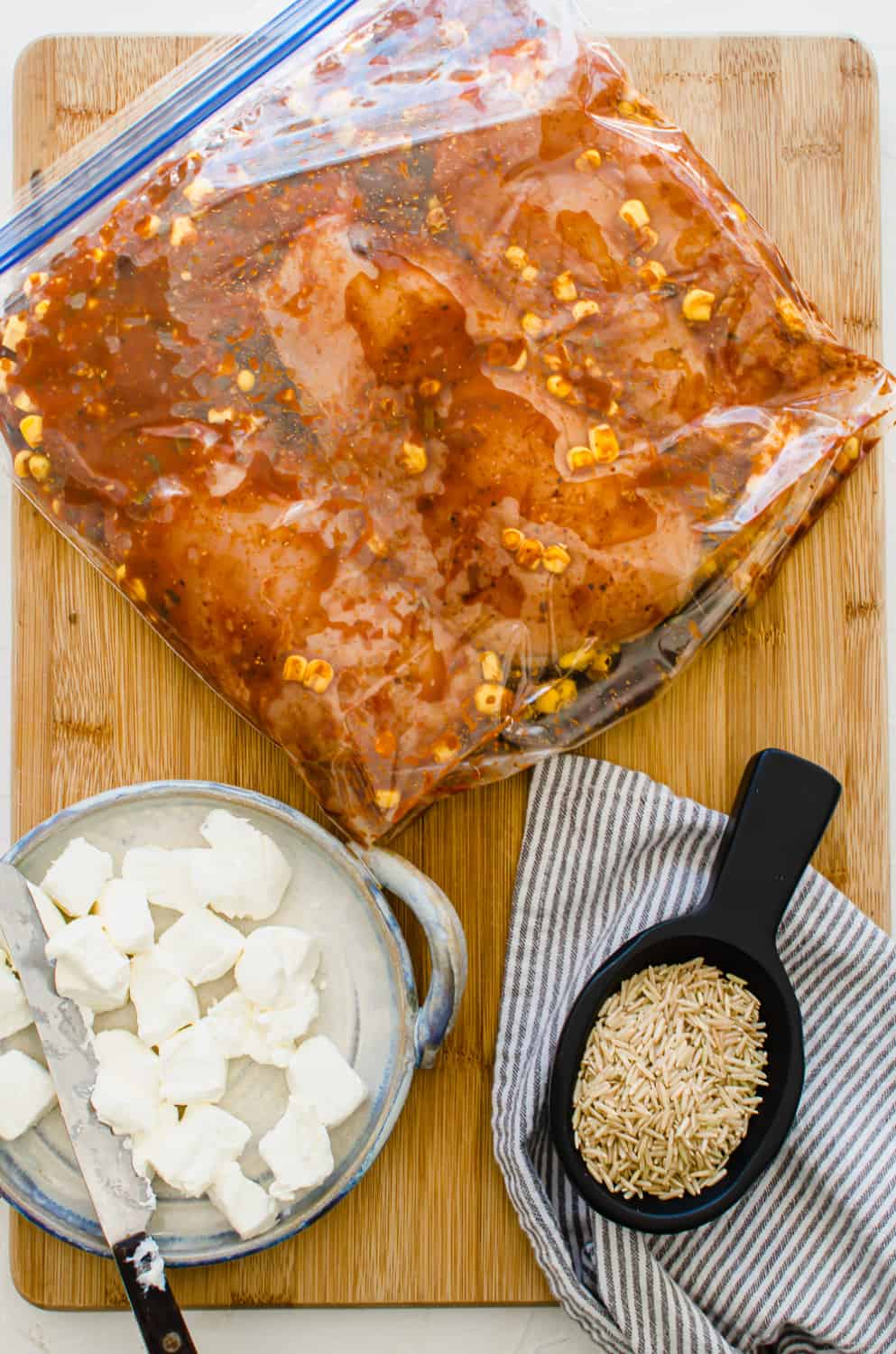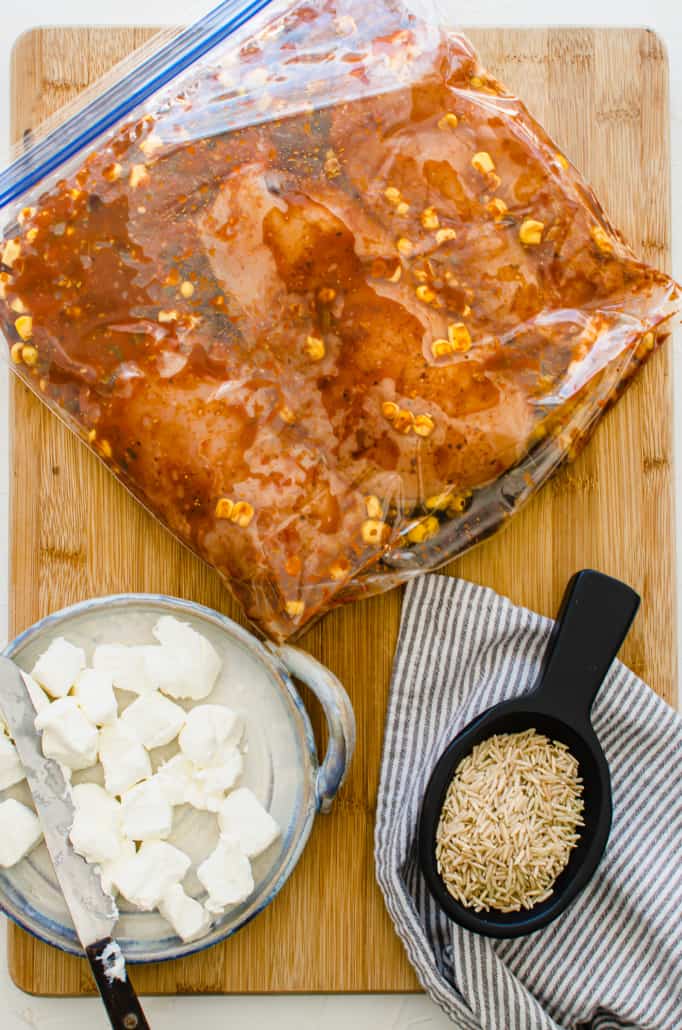 Topping Ideas
As a mom, I love a recipe that is a one-pot-wonder, like this one, and that can be customized for each family member. Set out a variety of toppings and let your crew go to town. Here are some ideas:
shredded cheddar cheese (how to quickly shred your own cheese)
diced avocado
lime wedges
chopped cilantro
diced jalapeños
diced red onion
shredded lettuce
chopped black olives
sliced green onion
What to Serve with Instant Pot Mexican Chicken
While I consider this recipe a one-pot-wonder by the time you add all the toppings, I do think you can add some other Mexican-inspired side dishes to stretch the meal even farther. Here are a few ideas:
More Instant Pot Chicken Dinners
If you like this one pot wonder, we think you'll enjoy these other Instant Pot chicken recipes.
Alright, and now it's time to enjoy a fiesta in your mouth…
Did you make this? Snap a photo and tag us on Instagram at @thrivinghome so we can see your creations and cheer you on!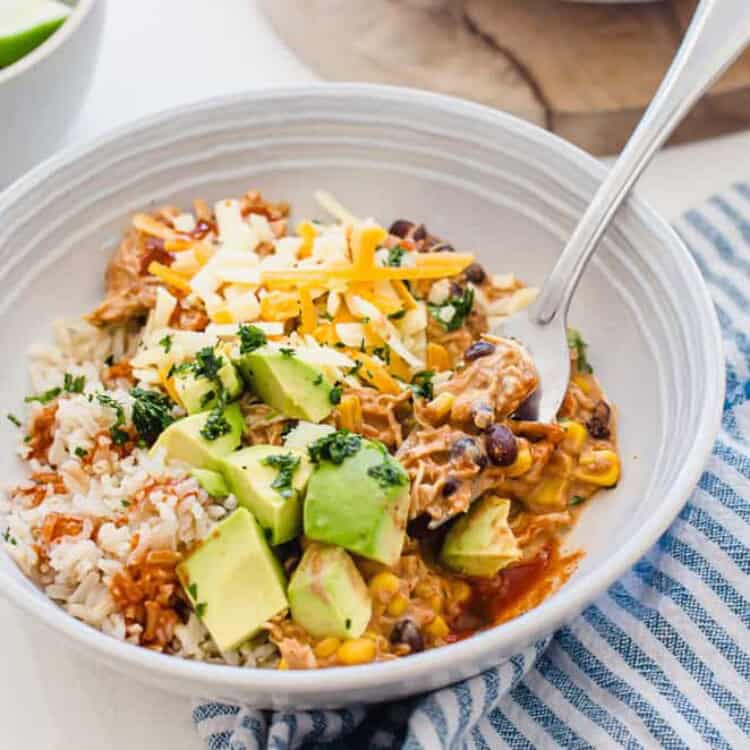 Instant Pot Mexican Chicken
Creamy shredded chicken with beans and corn make for a delicious, healthy, and EASY meal served over brown rice.
Prep:
10 minutes
Cook:
7 minutes
Total:
17 minutes