15+ Ways to Use a Rotisserie Chicken
Rotisserie chicken might be the most economical and healthy store-bought shortcut you can find. Let me show you what to do with rotisserie chicken. I used two from the store to create multiple meals to feed my family and fill my freezer!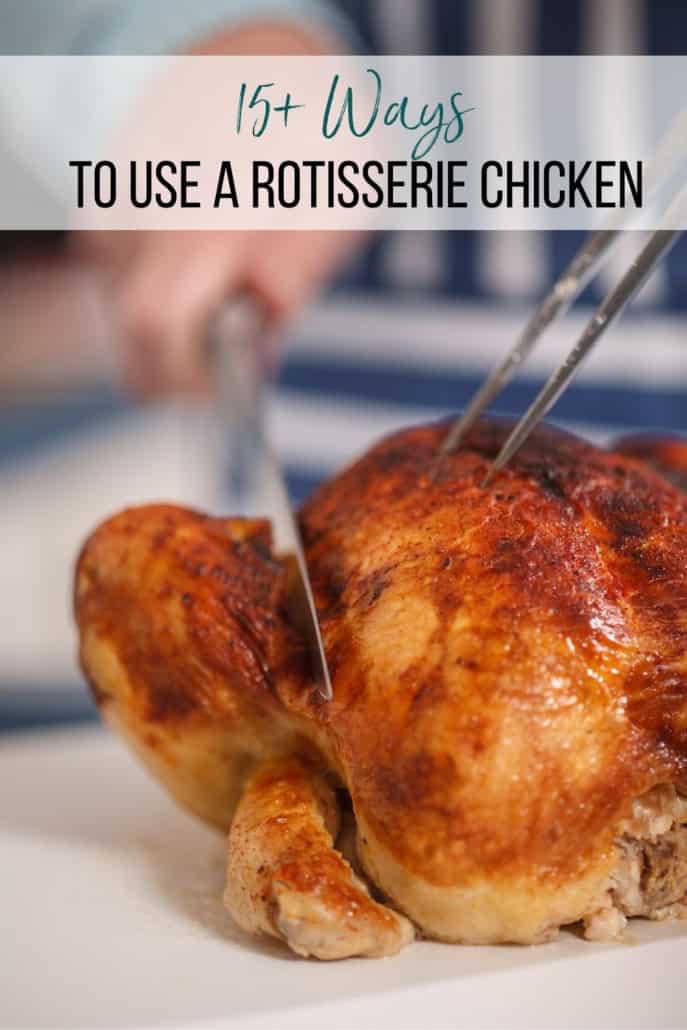 Affiliate links included.
Last weekend, I bought two large rotisserie chickens from our local Hy-Vee for $6.99 each. Out of those two chickens ($14 total), I fed my 5 person family two nights in a row AND filled our freezer with multiple meals AND made 5 quarts of Homemade Chicken Stock. Talk about a budget-friendly, healthy short-cut!
FAQs About Rotisserie Chicken
Before we begin, I wanted to address a few questions you may have about this amazing short-cut ingredient.
Where can I find rotisserie chicken? Most grocery stores have either hot or cold whole cooked chickens in the deli area. However, if you can't find one, make your own using our oven roasted whole chicken recipe or our slow cooker whole chicken recipe. The good news is that making your own will save you money and your home will smell amazing!
What can I serve with a rotisserie chicken? I often pick up one or two chickens from the store on busy nights and serve with Boiled Baby Potatoes and a vegetable like Roasted Broccoli (this is a completely gluten-free meal, btw). While you're at the store, grab two chickens and use the second one for some of the recipes below.
How do I prep a rotisserie chicken for other recipes? Simple remove the skin and start pulling the chicken off the bones. Then, on a cutting board, use two forks to shred it. Tip: We've found it easiest to pull the meat off the bone while the chicken is warm.
How much shredded chicken will each rotisserie chicken yield? Expect to get about 3-4 cups of shredded meat from a medium to large bird. One chicken can often make two family meals, using the recipes below.
Can I freeze rotisserie chicken? Yes! Just shred the meat, place it in an air-tight freezer bag, squeeze out any excess air, write how many cups are in the bag, and freeze. (You can freeze the carcass, too, so you can use it to make chicken stock later!) When you're ready to use it, just thaw it in the refrigerator overnight or use one of these safe thawing methods.
What should I do with the chicken carcass? Don't throw it away! Once you've pulled off all the meat, throw the chicken carcass in your crock pot or in a stock pot on the stove to make some seriously healthy and delicious bone broth. Read this post to find out how I made 5 quarts(!!) in my slow cooker from just two rotisserie chickens (and froze it for later).
What to Do With Rotisserie Chicken
Let me walk you through what I did with two rotisserie chickens, in case you want to take advantage of this store-bought hack. I was determined to get every last bit of goodness out of those dudes that I could. First, I pulled all the chicken off of the carcasses. I got 4 cups from each large chicken, for a total of 8 cups.
From those 8 cups of cooked chicken and 2 leftover carcasses, here's what I did and what you can do…
One of the chickens–4 cups of shredded or cubed chicken–provided enough to create two batches of this comforting, family-friendly soup. Just stir the shredded chicken into the recipe at the end, while the tortellini is cooking. We ate one last night and then I froze the other batch for another night (before cooking it or adding in the tortellini).
2. Freeze Pulled Chicken for More Recipes.
Because I ran out of energy and time, I froze the remaining 4 cups of chicken to use later. Yes, you can freeze fully cooked, pulled chicken! Be sure to package it in an air-tight freezer bag or container. The less air exposure it has, the better the texture will be on the other end of freezing it.
Use pulled rotisserie chicken in some of these ways:
1. My Favorite Cobb Salad – You can make all the components of this salad over the weekend, store them in the fridge, and eat on it all week long. The dressing is to die for!
2. BBQ Chicken Sandwiches – Add some shredded chicken and our Homemade Killer BBQ Sauce (or your favorite store-bought sauce) to a bun for a super simple sandwich.
3. Chicken Parmesan Casserole – With 5 main ingredients, you can whip up this kid-friendly recipe in minutes for dinner tonight and/or as a freezer meal for later.
4. Quick version of Southwest Chicken Bacon Wraps – Add the shredded chicken, cooked bacon, lettuce, tomato, shredded cheddar, and our Southwest Ranch Sauce to a tortilla.
5. Chicken Burrito Bowls – For a build-your-own bowl experience, top brown rice (or quinoa) with the chicken and all your favorite Mexican toppings.
6. Chicken Pesto Pasta – Make your favorite pasta (I like whole grain rotini). Toss the pasta and shredded chicken with pesto (our Homemade Pesto is hard to beat!). Top with freshly grated Parmesan cheese.
7. Toss in our Asian Slaw – Delicious and healthy weeknight meal!
8. Chicken Spaghetti – A fan favorite casserole. Easy to make ahead and freeze.
9. Chicken & Pesto Wraps – Stir the chicken, some feta crumbles, and Homemade Pesto together in a bowl. Add to a multigrain wrap with other toppings like spring lettuce mix or arugula, halved cherry tomatoes, or roasted red pepper strips.
10. Make Ahead Lunch Wraps – These healthy, freezer-friendly burritos are perfect when you're on-the-go. Just toss some chicken into this recipe, along with the rice, corn, beans, cheese, and salsa.
11. Use in Chicken Noodle Soup – Stir the shredded chicken into this recipe at the end while the pasta is cooking.
12. Use in Chicken and Dumplings – Stir into the stew at the very end after the dumplings are done.
13. Easy Chicken Quesadilla – Add chicken and shredded cheddar cheese to a tortilla, fold in half, and cook in a pan over medium heat until golden brown on each side. Serve with salsa, guacamole, and/or sour cream.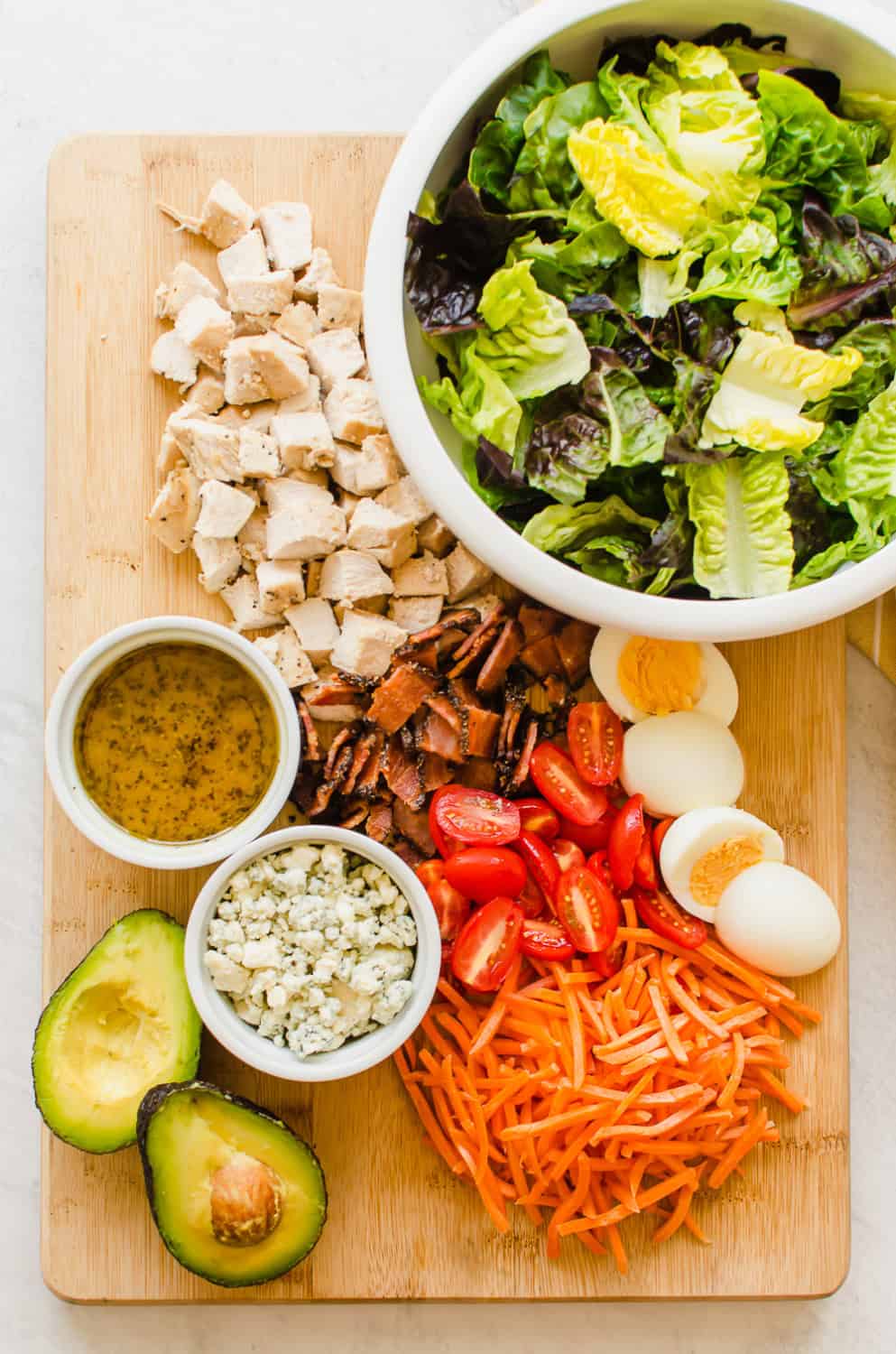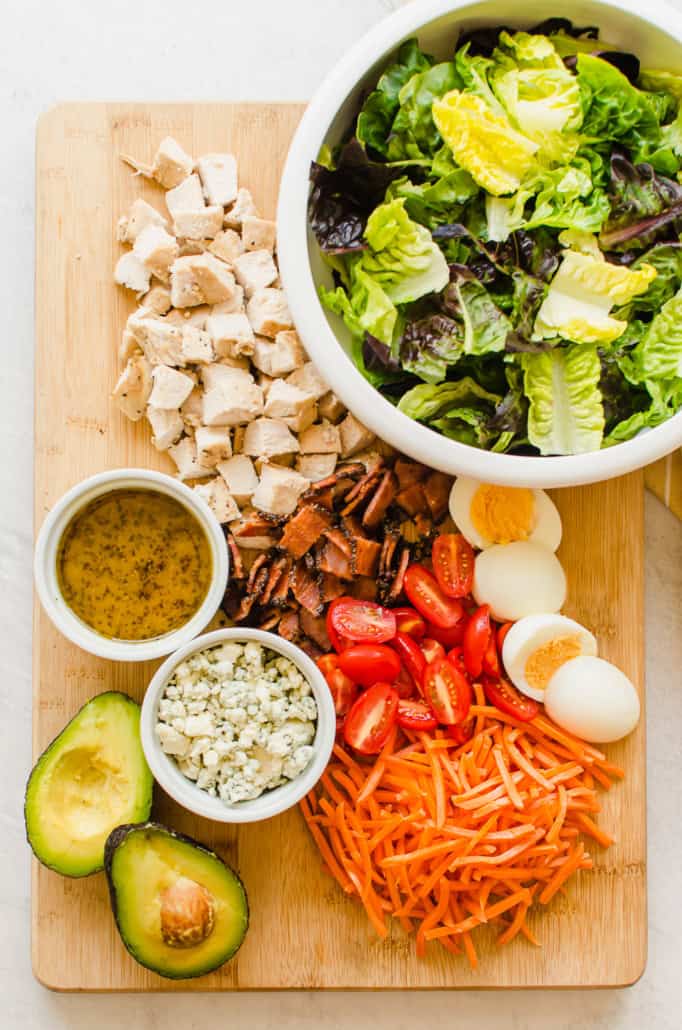 I got my money back from these chickens just by making this stock alone (20 cups total)!! Homemade stock contains no additives, preservatives, MSG, or added sugar. Plus, it tastes better and is much healthier.
Here's what I did after pulling off all the chicken.
How to Make Slow Cooker Chicken Stock:
I tossed the two chicken carcasses, skin and all, in my 6 quart crock pot (or you could do this in a very large stock pot) along with 10 cups of filtered water, 1 – 2 quartered onions, a handful of baby carrots, 2-3 chopped celery stalks, 5-7 smashed garlic cloves, some fresh parsley, some fresh rosemary, 2 bay leaves, a good pinch of salt, and a good dash of pepper. I honestly used what I had on hand for seasoning. You don't have to use fresh herbs, but I love the aroma, flavor, and nutrition they add.
I slow cooked the first batch for 8 hours.
Then, I placed a colander over a large glass mixing bowl and ladled all the liquid from the slow cooker into that bowl. Then, I divided the stock between two shallow freezer dishes, ending up with about 10 cups of rich, fragrant chicken stock.
Did you know you can reuse the same chicken carcass again (and again)? So, I added 10 more cups of filtered water to the same crockpot with all the solids left in it and slow cooked that stock overnight to repeat the process. This time it probably cooked more like 13 hours. Again, I ended up with 9 cups of stock. I strained, divided, and froze most of that stock, too.
For night two, I left 4 cups of the stock in the fridge to use in this super healthy, freezer-friendly soup. We ate half of the soup for dinner that night, along with Grilled Cheese Sandwiches.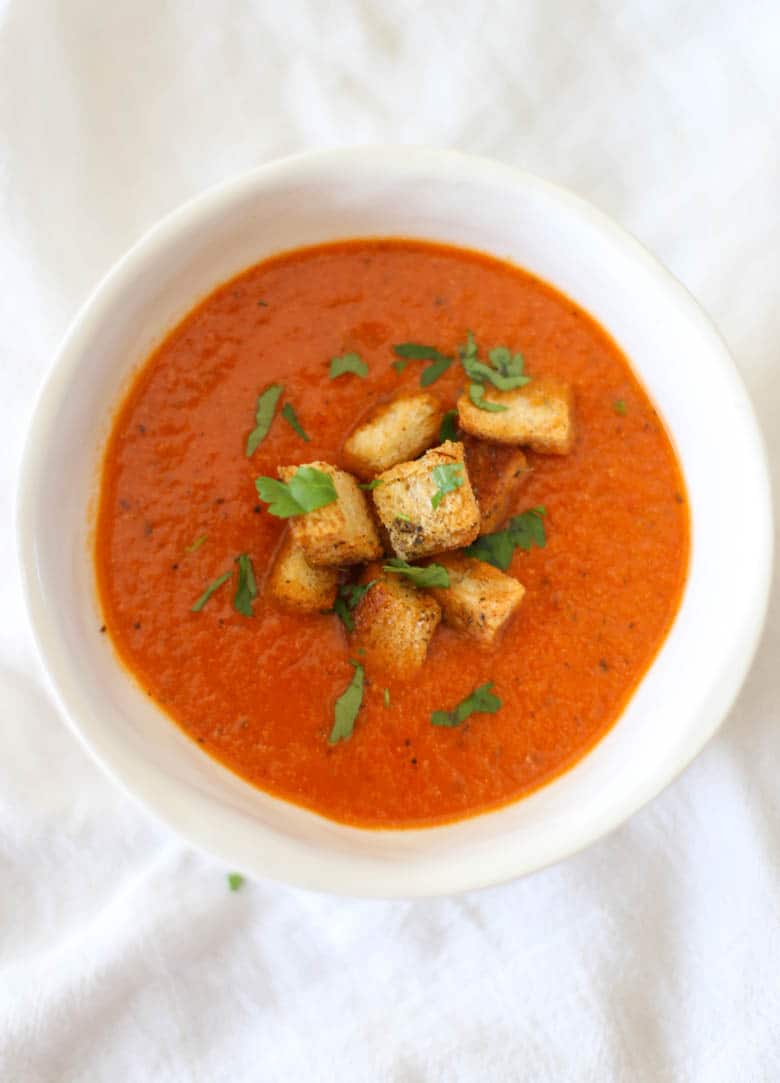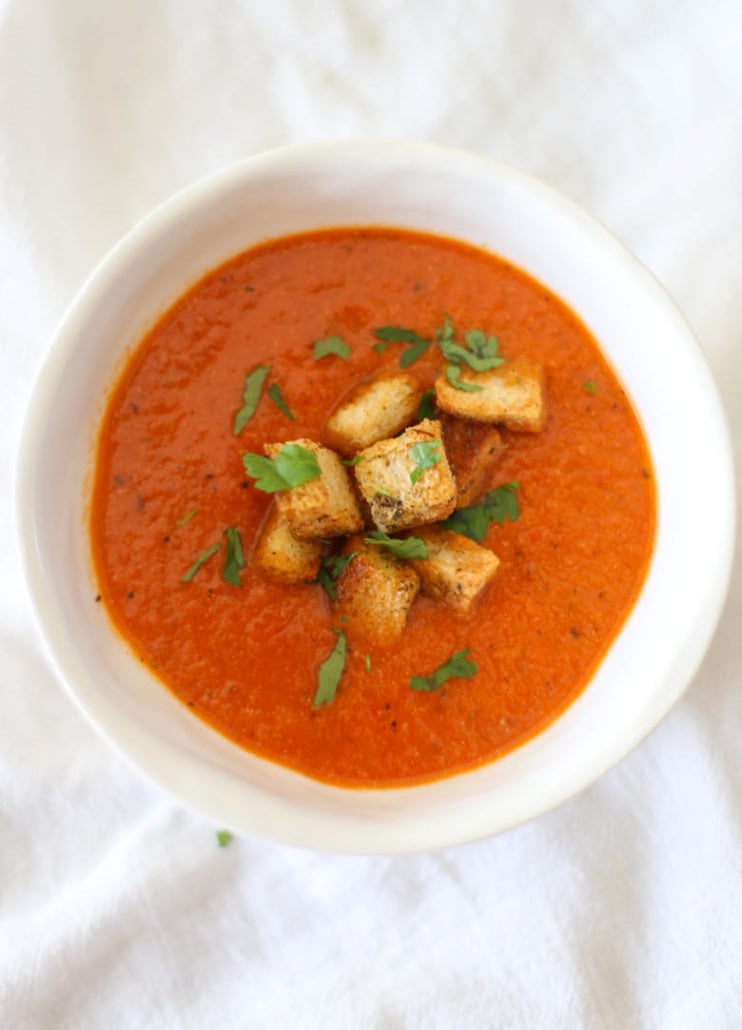 Then, I froze the rest of the soup in individual servings for my kids' lunchboxes. I freeze the soup in these 2 cup Pyrex freezer containers, warm them up in the microwave, and pour into this leak-proof thermos.
You can use this stock to make many of our other delicious soup recipes!
Bottom Line
Are you sold on this store-bought hack like I am? Rotisserie chicken is a fantastic way to save money, save time, and cook and freeze LOTS of real, healthy food!
https://thrivinghomeblog.com/wp-content/uploads/2021/09/Screen-Shot-2021-09-20-at-2.38.03-PM.png
1080
1672
Rachel Tiemeyer
https://thrivinghomeblog.com/wp-content/uploads/2019/10/thrivinglogo.png
Rachel Tiemeyer
2021-09-20 14:50:39
2021-09-21 15:34:17
15+ Ways to Use a Rotisserie Chicken