Zucchini Bread with Some Healthy Substitutions {Freezer Meal}
Updated: 11/18/20
This post may contain affiliate or sponsored links. Please read our disclosure policy.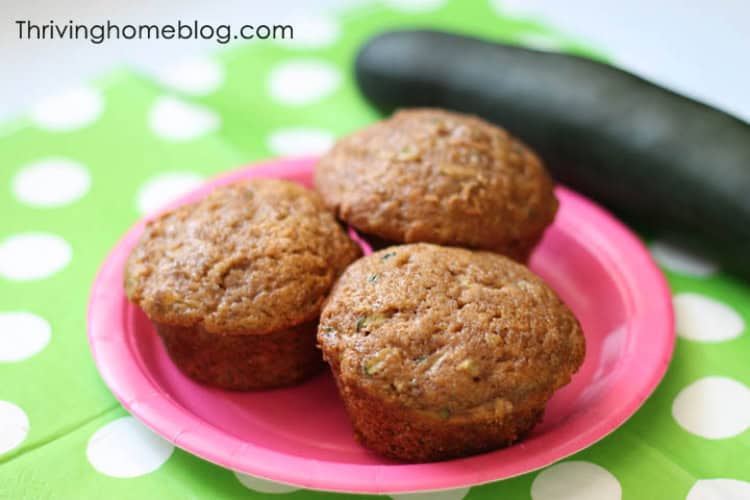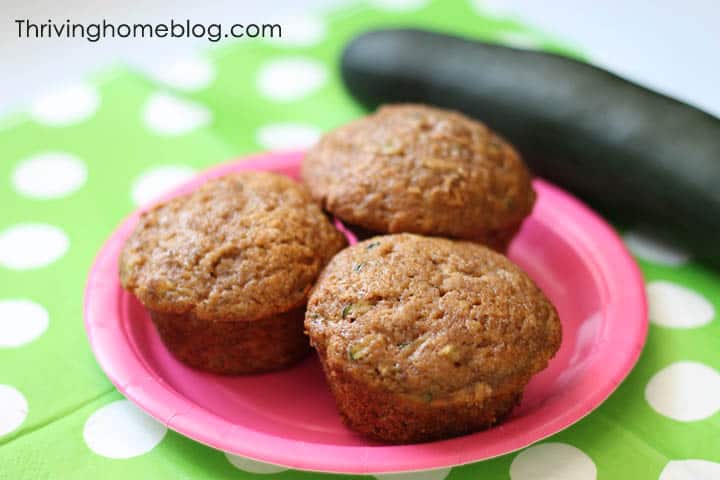 It's zucchini season! I've already picked 3 from my garden and I see a few more on the way. I want to make sure I put the zucchinis to good use so I've been trying to find healthy recipes that would help us use them up fast! I'll be honest, I used to HATE zucchini. I thought it smelled funny and was too slimy for my liking. However, over the years, I've grown to like it a bit more (especially when it's grilled with a little Parmesan cheese!). In addition to that, the more I learned about zucchini, the more I forced myself to like it and include it in recipes when I can. Here are a few facts about zucchini that you might find interesting.
Zucchini helps asthma, as it contains Vitamin C, which is a powerful antioxidant and has anti-inflammatory properties.
Zucchinis have high water content (over 95%), high nutritious value and contain a very low amount of calories, so they make the perfect snack item for people on a diet.
The vegetable contains useful amounts of folate, potassium, and vitamin A, necessary for proper functioning of the human body.
Zucchini contains Vitamin C and lutein, both of which are known to be good for the eyes.
Eating zucchini is known to help the body in supporting the arrangement of capillaries.
Regular consumption of the vegetable can help protect the body against colon cancer.
Zucchini is believed to be beneficial in preventing heart disease and related symptoms, such as high cholesterol.
The vegetable proves to be a good source of magnesium and phosphorus, the nutrients essential for building and maintaining healthy bones.
Zucchini is rich in vitamin C, another powerful antioxidant that can provide protection against cardiovascular disease.
Crazy how healthy zucchini is, isn't it!
Well, in an effort to find a way to sneak some zucchini into our food, I began to look up some zucchini bread recipes. However, as most yummy breads are, the recipe was loaded with empty calories. I'm always a little nervous to tinker with recipes. I don't want to waste an entire batch of something because I tried to make it a tad bit healthier. However, I was feeling adventurous and decided to play around with a
zucchini bread recipe
I snagged off of
allrecipes.com
. Well, the odds were in my favor that morning because I am proud to say that my healthy substitutes resulted in some DELICIOUS ZUCCHINI BREAD! As you've probably noticed, I cooked the bread in the form of muffins in order to make them easier to freeze. We are always looking for on-the-go snacks for my little lady so a zucchini muffin is ideal. She loves them too!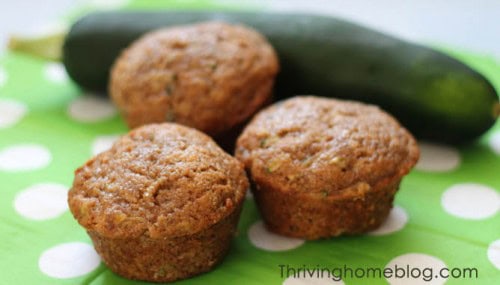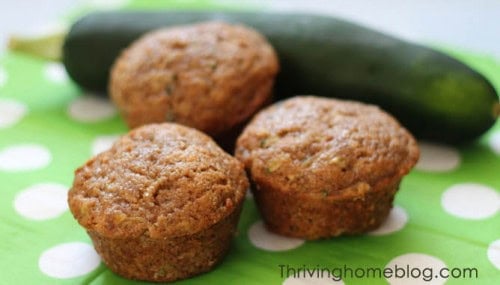 Hope you give these a shot! If you're looking for other recipes to use up those zucchinis, try out these:
Zucchini Succotash
Double Chocolate Zucchini Waffles
Zucchini Flaxseed Muffins
Here is a printable version of the
health(ier) zucchini bread recipe
Did you make this? Snap a photo and tag us on Instagram at @thrivinghome so we can see your creations and cheer you on!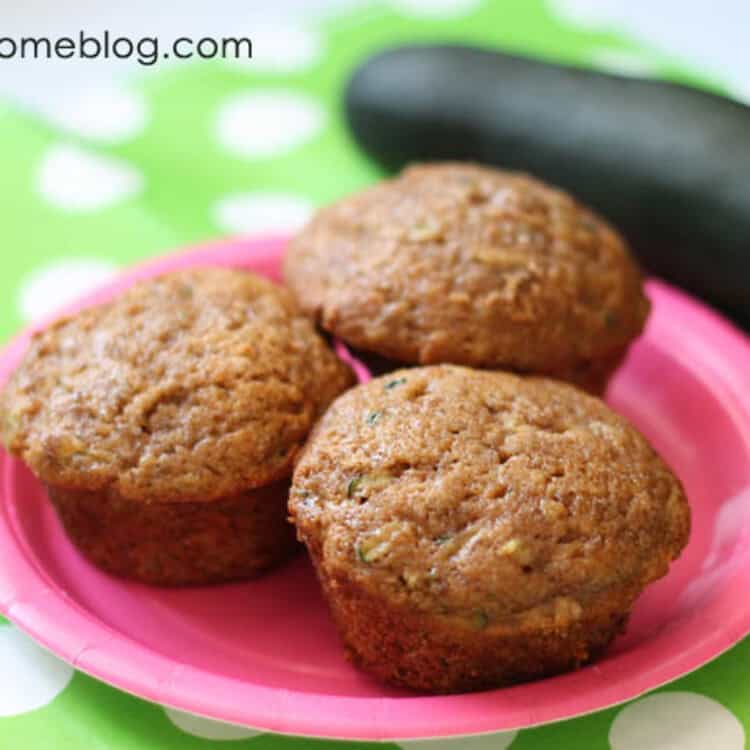 Zucchini Bread with Some Healthy Substitutions
Need a great recipe to use up some fresh zucchini? Try this healthier version of zucchini muffins (or bread) that is filled with flaxseed, whole wheat flour, and coconut oil.
Yield:
About

15

muffins

1

x
Prep:
20 minutes
Cook:
60 minutes
Total:
1 hour 20 minutes
Ingredients
1 1/2 cups

white flour

1/2 cup

ground flaxseed

1 cup

wheat flour

1 teaspoon

salt

1 teaspoon

baking soda

1 teaspoon

baking powder

3 teaspoons

ground cinnamon

3

eggs

1/2 cup

coconut oil (can sub vegetable oil if needed)

1/2 cup

apple sauce

2 1/4 cups

white sugar

3 teaspoons

vanilla extract

2 cups

grated zucchini

1 cup

chopped walnuts why eat walnuts?
Before You Begin! If you make this, please leave a review and rating letting us know how you liked this recipe! This helps our business thrive & continue providing free recipes.
Grease and flour two 8 x 4 inch pans or muffin tins. Preheat oven to 325 degrees F (165 degrees C).
Sift flour, salt, baking powder, soda, and cinnamon together in a bowl.
Beat eggs, oil, vanilla, and sugar together in a large bowl.
Add sifted ingredients to the creamed mixture, and beat well. Stir in zucchini and nuts until well combined.
Pour batter into prepared pans.
Bake for 40 to 60 minutes, or until toothpick inserted in the center comes out clean. Cool in pan on rack for 20 minutes. Remove bread from pan, and completely cool. (Since I cooked mine in muffin tins, it only took 23 minutes.)
---
Notes/Tips
Freezer Meal Instructions:
To Freeze:
Bake muffins or bread as directed in recipe. Allow to cool completely. Then place in freezer safe bag or container for up to 3 months.
To Prepare:
Thaw in refrigerator or microwave before serving.