(Looking for healthy freezer meal recipes? We have 70+ of our favorites HERE!)
Whenever I make my Roasted Whole Chicken and Vegetables (one my very favorite recipes), I sometimes have chicken leftover. So, I throw it in the freezer, along with leftover chicken from Crispy Baked Drumsticks (an oldie but a goodie) or Lemon-Garlic Chicken. When I've got a few cups of cooked chicken in the freezer, I'm ready to make this delicious Chicken Parmesan Casserole.
My family loves this simple recipe, because it's an old family favorite in a comfort-food form. I bet you have most of these ingredients on hand: tomato sauce, shredded mozzarella cheese, panko or whole wheat bread crumbs, and maybe a few fresh herbs. That's it. You can eat it by itself or serve it over pasta. It might be nice over a bed of rice, too.
Because this is one of our most popular recipes on the blog, we wanted to make it even easier for you to double this recipe and freeze one for later. Just print off the free meal label with cooking instructions and slap it on your frozen dish. Easy Peasy.

Look at these simple steps. Anyone can do this! Note: The recipe is for an 8×8 pan and the pictures below are in a 9×13. I did have to double the recipe to do this.
This delicious week night meal made for a whine-less dinner. Sure hope you enjoy it as much as Polly's little guy did.
The easy-to-print Chicken Parmesan Casserole recipe is below, but I wanted to mention that, as with so many of our freezer-friendly recipes, this Chicken Parmesan Casserole freezes wonderfully. Freezer meal directions are included at the bottom of the recipe. So be sure to make two and freeze one of them!
What kind of containers do you store freezer meals in?
Disclaimer: Affiliate links included below.
We recommend using a BPA-free container or dish. While it may be easier to buy the disposable Glad ovenware containers, it really makes sense to stock up on some quality, safe dishes that you can bake AND store in. After searching long and hard, we highly recommend and use these containers below. We both have collected a huge stash of them over the years!
8 inch Square Glass Baking Dish with Lid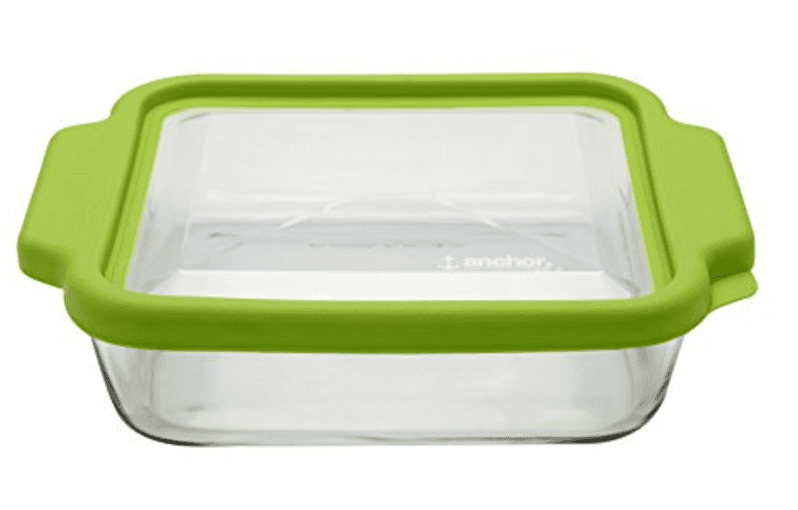 3 Quart Glass Baking Dish with Lid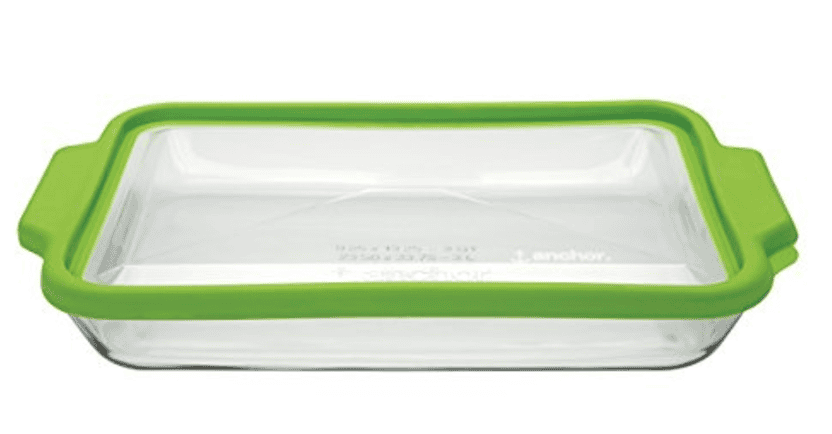 Here is a picture of them in use.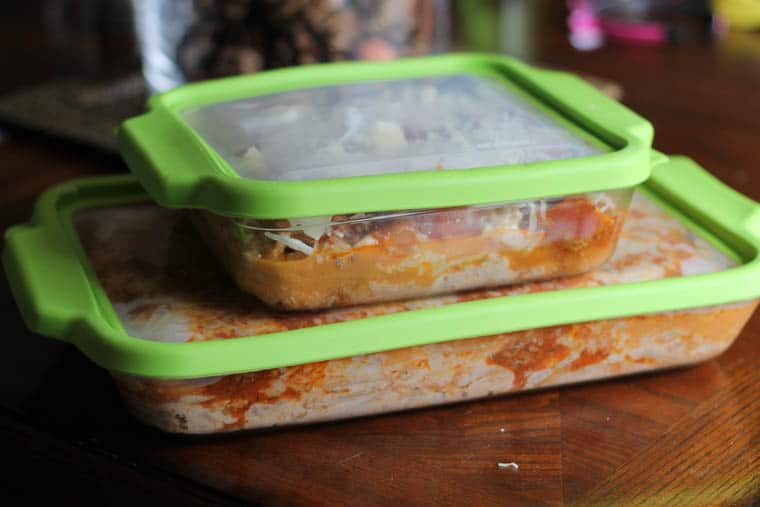 A few reasons I like these:
Glass is a natural, non-porous material.
Glass cookware doubles as food storageware.
Glass is easy to clean and dishwasher safe.
The clear lid allows easy visibility to your food.
Because they are oven and microwave proof, you can cook, heat, and store your food all in one dish.
Flat top allows for easy stacking.
They are VERY affordable.
Lastly, keep track of your meals with our handy freezer meals labels!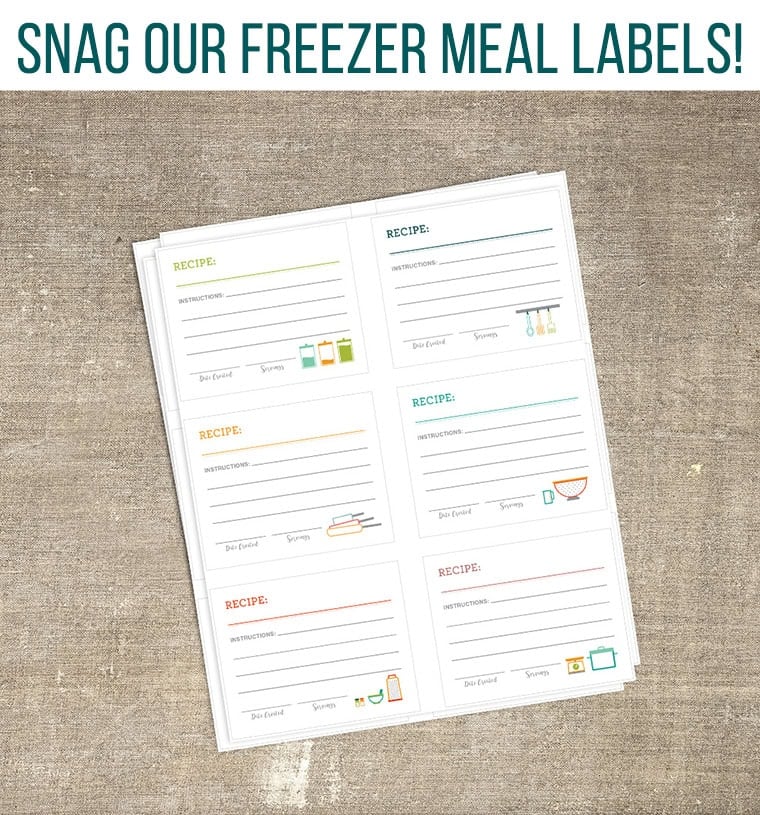 Check out our list of 70+ Healthy Freezer Meals here or pin it here!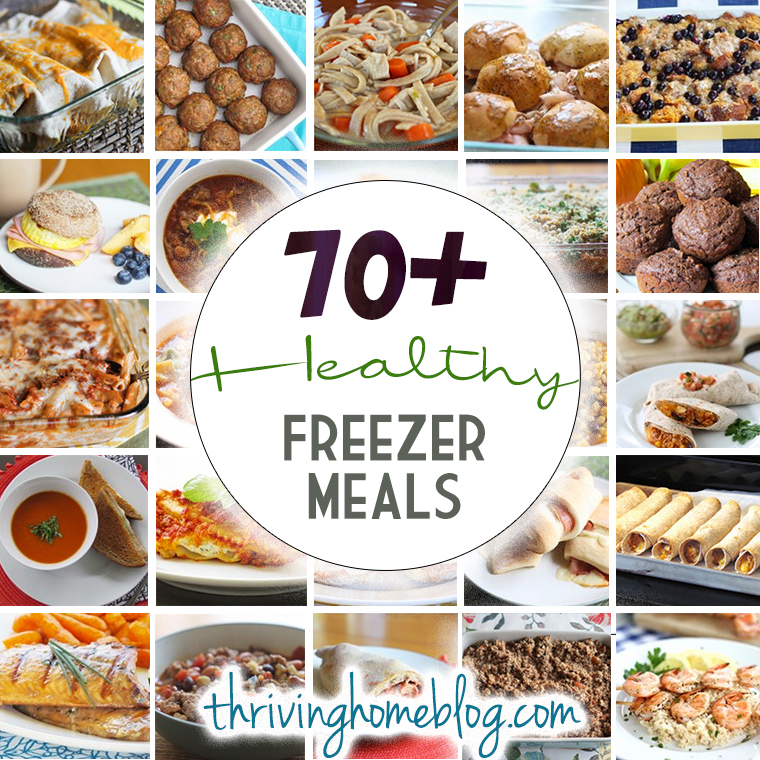 Chicken Parmesan Casserole Recipe
Chicken parmesan casserole. A family favorite that is super easy to make. This real food, healthy dinner recipe is also freezer friendly.
Serves:
one 8x8 casserole dish
Ingredients
4 cups (about 1.5 pounds) fully-cooked chicken, shredded or cubed
1 jar (28 ounces) of marinara sauce
½ cup shredded or grated Parmesan cheese
1½ cups shredded mozzarella cheese
1 cup panko or whole wheat bread crumbs (Here is how to make your own)
1-2 tablespoons olive oil
fresh, chopped herbs (parsley, basil, oregano, etc), to taste
salt and pepper, to taste
Instructions
Preheat oven to 350 degrees.
Grease an 8x8 casserole dish with cooking spray.
Layer the chicken in the bottom. Dump in the marinara sauce and mix with the chicken. Next, top with both cheeses until all the chicken is covered.
In a small bowl, mix the breadcrumbs, olive oil, fresh herbs and a dash of salt and pepper together.
Sprinkle the seasoned breadcrumbs over the top.
Bake for about 20-25 minutes or until golden on top and bubbling on the sides.
Notes
Freezer Meal Instructions:
To Freeze: Put casserole together and freeze it before baking.

To Prepare: Let it thaw in the fridge over night. If it's still slightly frozen in the middle, you'll just have to cook it longer than the recipe calls for or defrost it a bit in the microwave before baking. Cover it with foil if the top gets too brown in the oven.
You might also like...