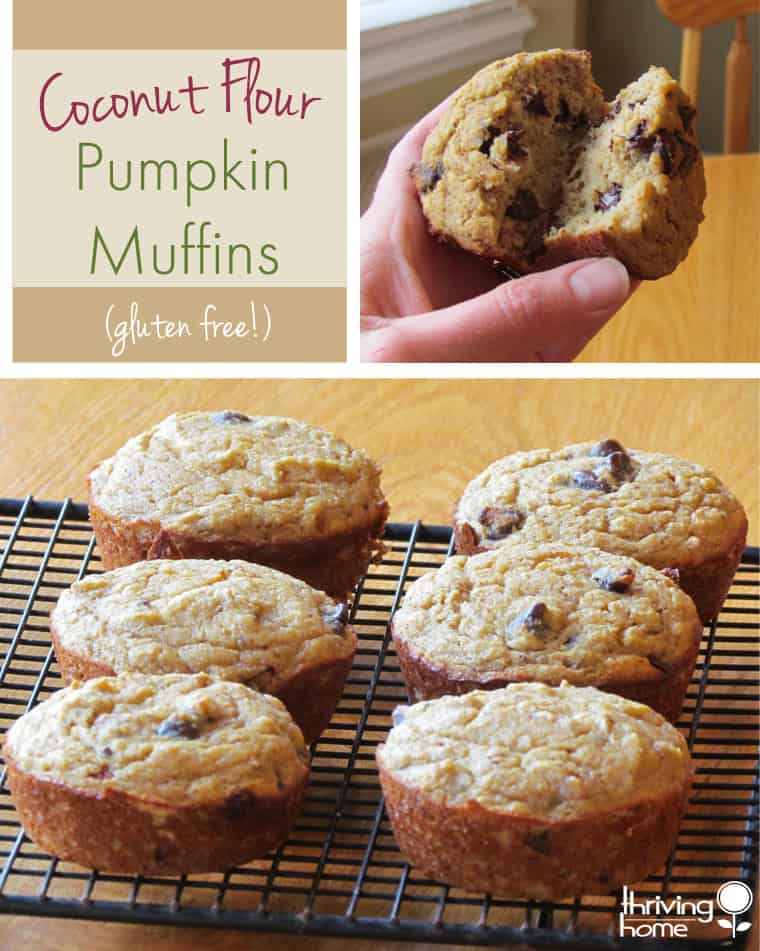 Republished and updated from September 2012
You may be wondering what the heck coconut flour is and why I would bother baking muffins with it. First off, these Coconut Flour Pumpkin Muffins are worth making simply because they are so good. Even my health-food-craze-resistant husband admitted such. But, beyond the delightful slightly coconutty taste and moist texture, lies some other key reasons to consider giving coconut flour a glance.
Why the Gluten Problems?
I'm becoming more and more convinced that we eat waaaay too much of the same thing.
I know, I know. Michael Pollan actually said that first. Or maybe he was just heard by the masses first. Pollan's point is that when we're eating processed foods, all we're eating is corn and more corn and more corn. But, I'm not just talking about processed foods. I think even families like ours who are trying to eat a real food diet consume too much of the same thing–namely wheat.
I've been wondering why it is that we've got skyrocketing numbers of children and adults alike with gluten allergies and intolerances now. I'm no expert, but could the gluten problems today be because we consume far too much wheat? Maybe our bodies aren't made to tolerate it in the mass quantities that we consume it.  My own family's diet is certainly focused around gluten-rich foods, whether it's bread, pasta, pancakes, pizza, or a baked good.
Now don't get me wrong. I'm not tossing good old whole wheat out the window. I think there is nutritional value to be found there. But, because I'm convinced we need wider variety in our diet, I've been experimenting with baking with different types of flours lately.
Why I Love Coconut Flour
Let me tell you why coconut flour is my newest obsession. It's high in fiber, high in protein, low in carbohydrates, and gluten-free. I was skeptical that it would bake up nicely, but it worked wonderfully in this Coconut Flour Pumpkin Muffin recipe I devised. Although slightly denser than a regular muffin, it still had a nice texture and great flavor. My husband declared that they were just as good as my regular ole yummy Pumpkin Chocolate Chip Muffins.
Perhaps I should warn you. When you first go to buy coconut flour in the natural food section or here
, you'll have a little sticker shock. But, the price isn't as bad as it seems at first glance. That's because you only need a 1/2 cup of coconut flour to produce 12 muffins. A typical wheat muffin recipe would require at least 1 and 1/2 cups.
Now, on to my family's newest favorite pumpkin muffin recipe…complete without gluten!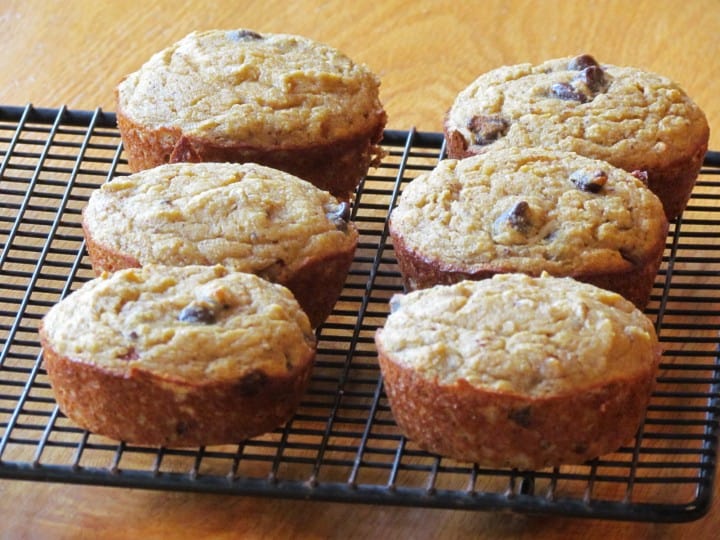 Pin It
{ 9 comments }