10 Healthy, Make Ahead Breakfast Ideas
Is a healthy breakfast possible on those chaotic weekday mornings? We've got you covered with 10 healthy, freezable breakfast ideas to make ahead and have on hand.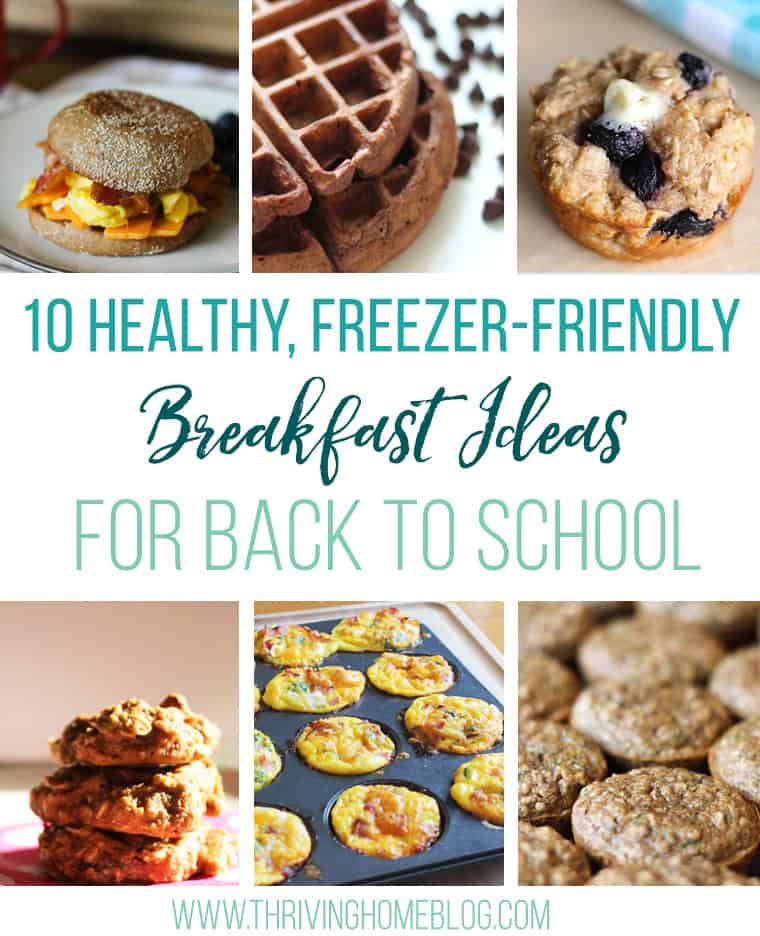 We started school again yesterday. It's hard to believe my babies are now in 1st, 3rd, and 5th grades–our last year all under one school roof for quite a while.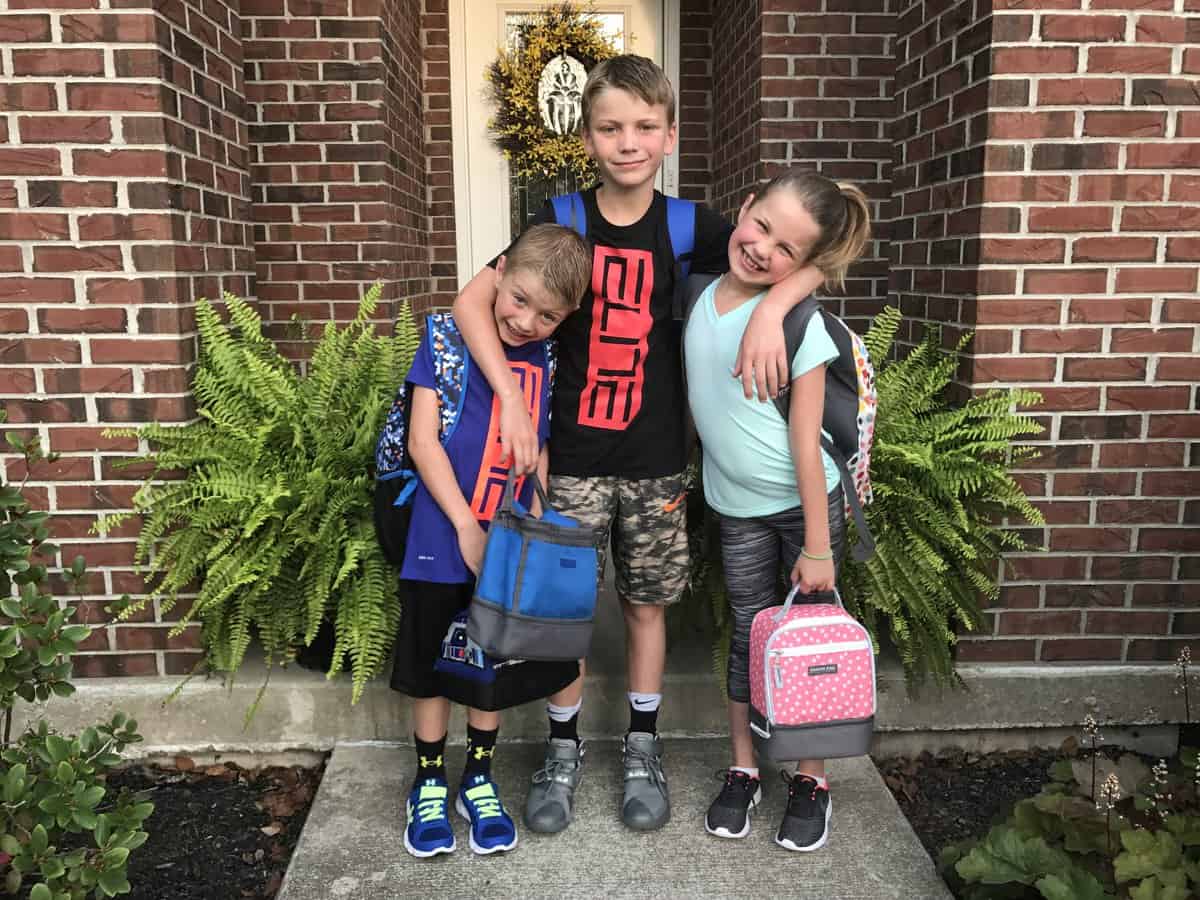 I don't know about your house but school mornings around here are a frantic race to get out of the door. With a 7:40 a.m. start time, I feel like I'm herding three zombies around all morning long, while also trying to get myself ready, unload the dishwasher, and make my husband something to take in the car for breakfast. As soon as I blow a kiss to all of them as they pull away, I oftentimes have to take a deep breath.
In the weekday morning chaos, sometimes a healthy breakfast can be the last thing on our minds, right? It's so tempting to pull out a sugary, carb-loaded cereal or pop tart for the kids or ourselves. But, we're dooming our blood sugar levels, brain capacity, and energy level when we do that. It's been said and proven many times over, but breakfast (a healthy breakfast full of complex carbs and protein) really is the most important meal of the day.
In fact, Polly and I just had the chance to do a 3 minute live TV segment in St. Louis sharing some of our favorite healthy, freezer breakfast recipes for school mornings and a little bit about our cookbook. Take a peek and maybe you'll get inspired (or you can point and laugh at us on live TV…totally fine).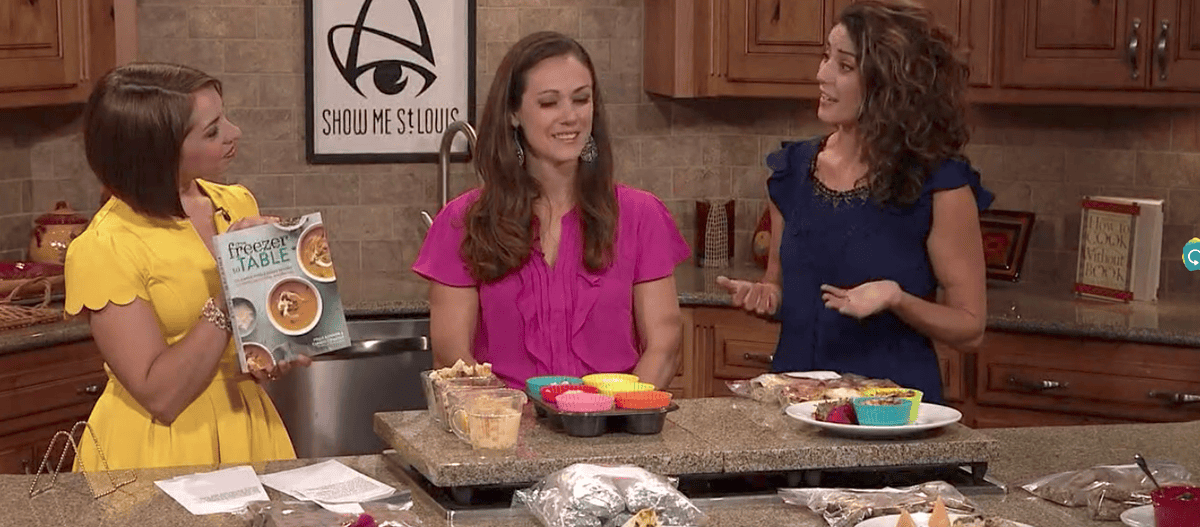 Like we said in our TV segment, Polly and I have both have learned that the best way to eat well in the morning is to prepare and freeze some healthy, kid-friendly breakfast items ahead of time to have on hand. Having freezer-friendly breakfast options available makes a great and happy start to the day!
10 Healthy, Freezer-Friendly Breakfast Ideas
Skip the Eggos and make and freeze these deliciously, nutritious waffles. They taste awesome. Plus, you are eating zucchini for breakfast. Yumminess + sneaky vegginess is my favorite kind of meal! Your kids will gobble these up. Top with a little peanut butter for added protein. No zucchini on hand? Try Whole Wheat Chocolate Pumpkin Waffles or Banana Brownie Waffles!
Freezer Tip: Make waffles in advance and freeze in a freezer gallon-sized bag. To reheat, toast on the defrost setting.
Pack in those fruits and veggies first thing in the morning with one of these delicious smoothies. Or try our family's Best Everyday Smoothie or my personal favorite, the Kale Me Maybe Smoothie (dairy free).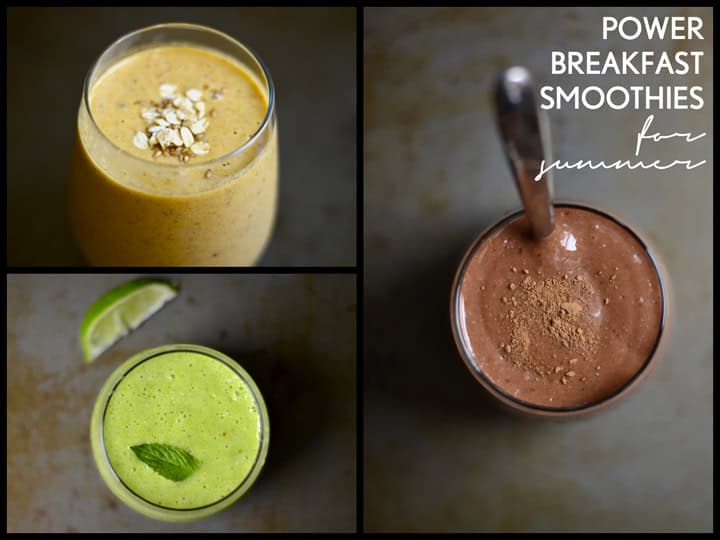 Freezer Tip: You can freeze leftovers in a glass container with a lid. Be sure to leave at least an inch of head room at the top. Set it in the fridge overnight for the perfect consistency the next morning.
It's no secret that we love baked oatmeal around here. Much like the Brownie Baked Oatmeal, Peanut Butter and Banana Baked Oatmeal, and Pumpkin Chocolate Chip Baked Oatmeal, this tastes like a dessert…except it's so good for you and filling. We serve it warm with milk and banana slices or strawberries on top.
Freezer Tip: I usually make two 8×8 pans and freeze one before baking for later. When ready to eat, I thaw it in the fridge overnight and bake as directed.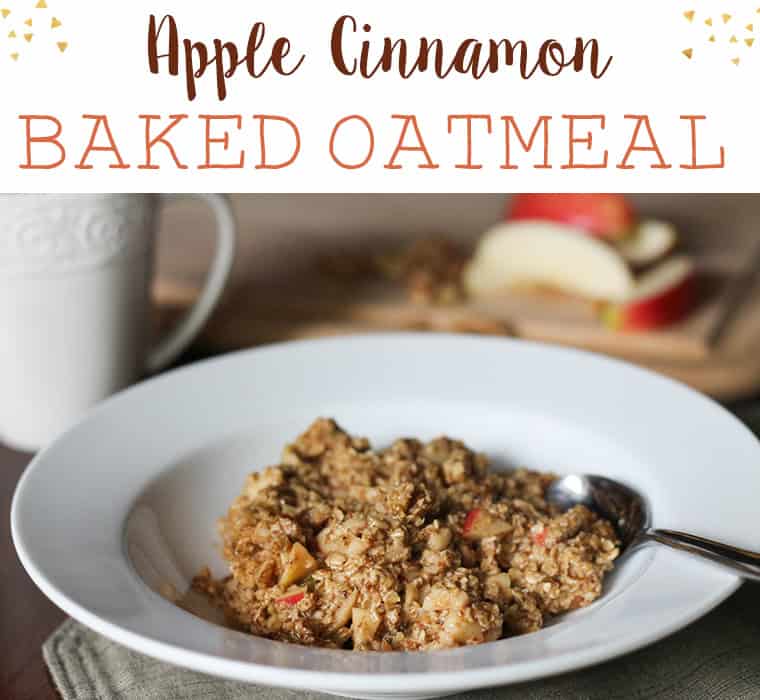 Meet our most popular breakfast recipe on the blog. Pair these with a smoothie from above and you have a perfect breakfast combo to start your day!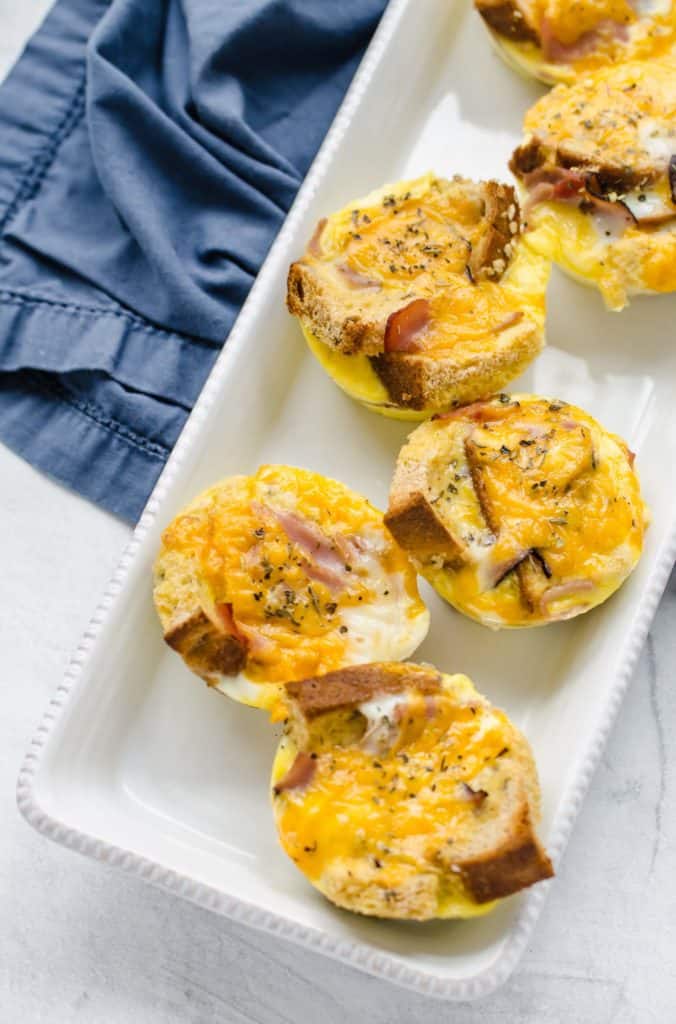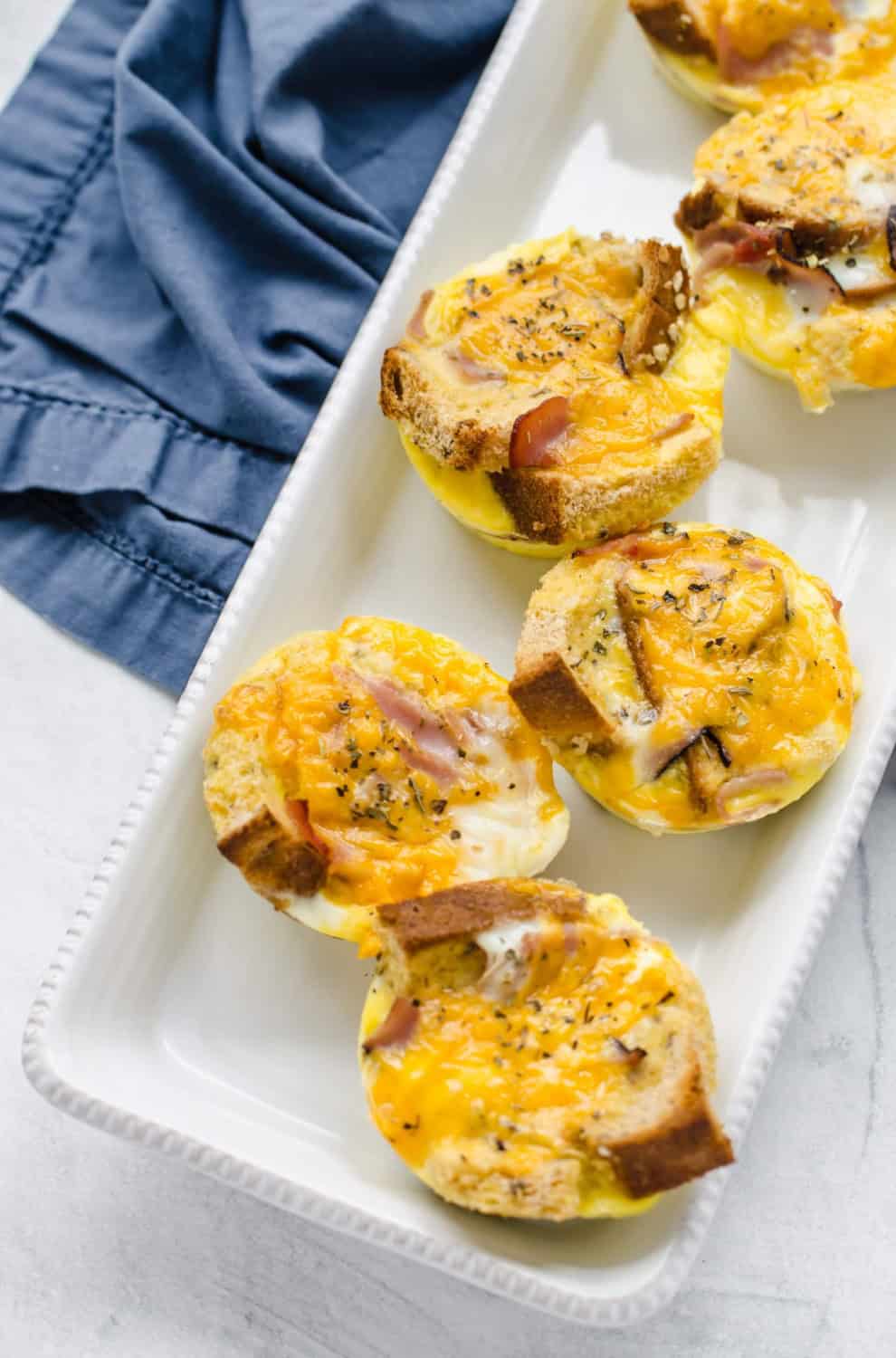 Freezer Tip: Bake according to directions, cool completely, and freeze in a gallon-sized freezer bag. To warm up, wrap a muffin in a moist paper towel and microwave in 30 second increments until warmed through.
Hands down, our favorite pancake recipe around here, well other than the Oatmeal Pancakes. You'd never know it's 100% whole wheat and contains a vegetable (pumpkin) within. By the way, here are 50 more ways to sneak veggies and fruits into kid-favorite foods.
Freezer Tip: Make pancakes in advance and freeze in a freezer gallon-sized bag. To reheat, toast on the defrost setting. You may have to nuke them a little to get them warmed all the way through, as well.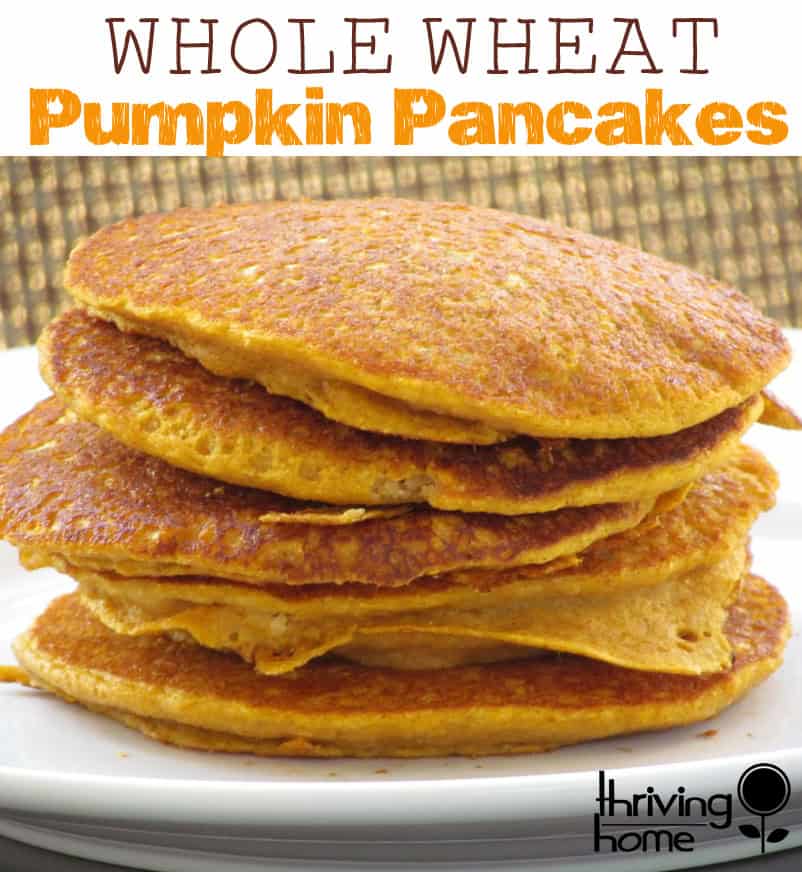 This is my husband's favorite to-go breakfast. He requests that I make these so he can warm them up and take them in the car on his way to work. Again, you're getting whole grains and veggies in this one.
Freezer Tip: Make muffins in advance and freeze in a freezer gallon-sized bag. To reheat, microwave for 1 minute. Rotate and microwave in 30 second increments until warmed through.
These make for another excellent grab-and-go breakfast. Wrap individually in foil and heat in the oven from frozen while you're getting ready in the morning.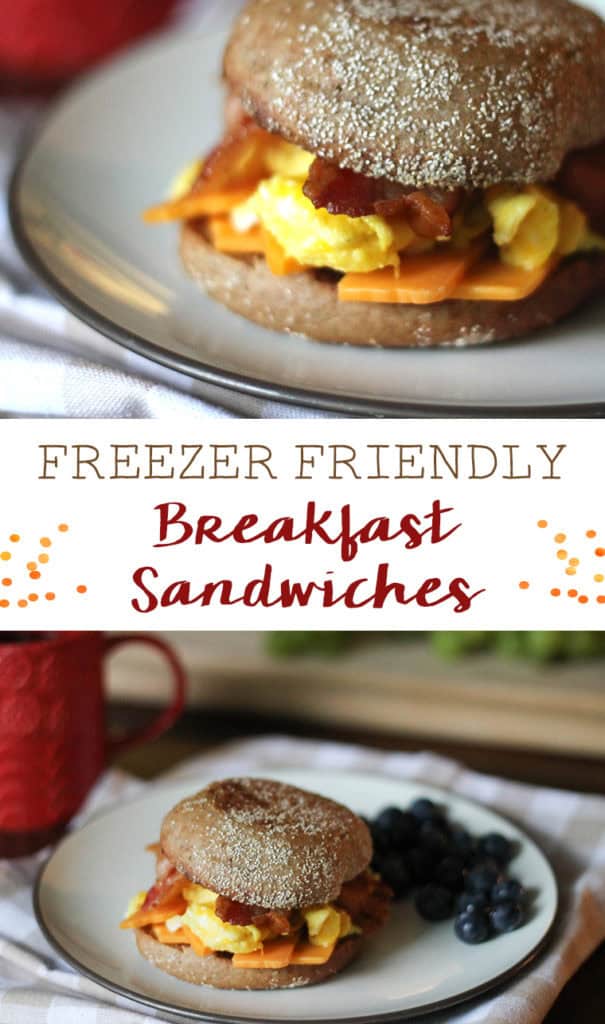 My kids adore these. We usually warm them up a little and then top with cream cheese, a pat of butter, or some peanut butter. What a great way to start your day. Try this Whole Wheat Zucchini Bread for a DELICIOUS and completely whole foods spin on the same concept.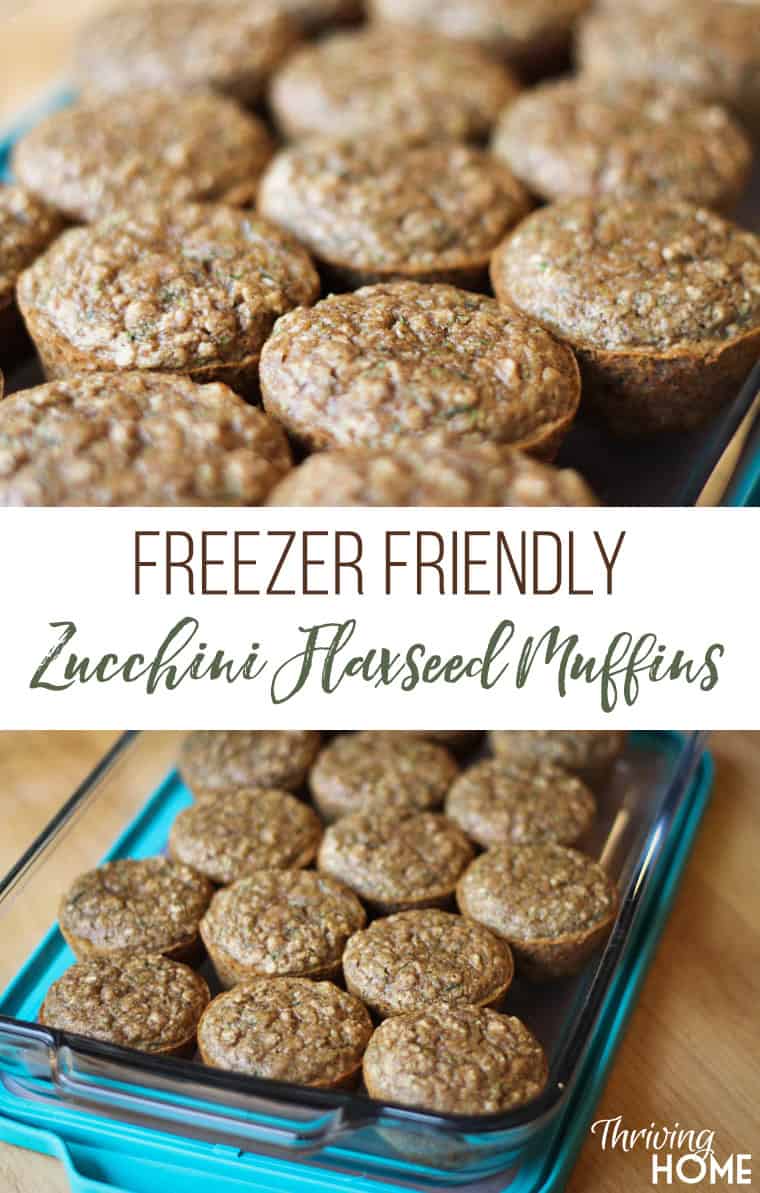 These are such a quick and easy make-ahead breakfast that's full of protein and fiber, but you could also send these cookies as snacks or in a lunch box for your kids. If you want to add in some sneaky veggies, try these tasty Zucchini Chocolate Chip Breakfast Cookies.
Oh-so-good and packed with powerful nutrition, your crew will love these. Be sure to double and freeze because they make for high-quality snacks and even a lunchbox addition, as well. If you like fall flavors, give these favorite Pumpkin Muffins with a Crumble Topping a try, too.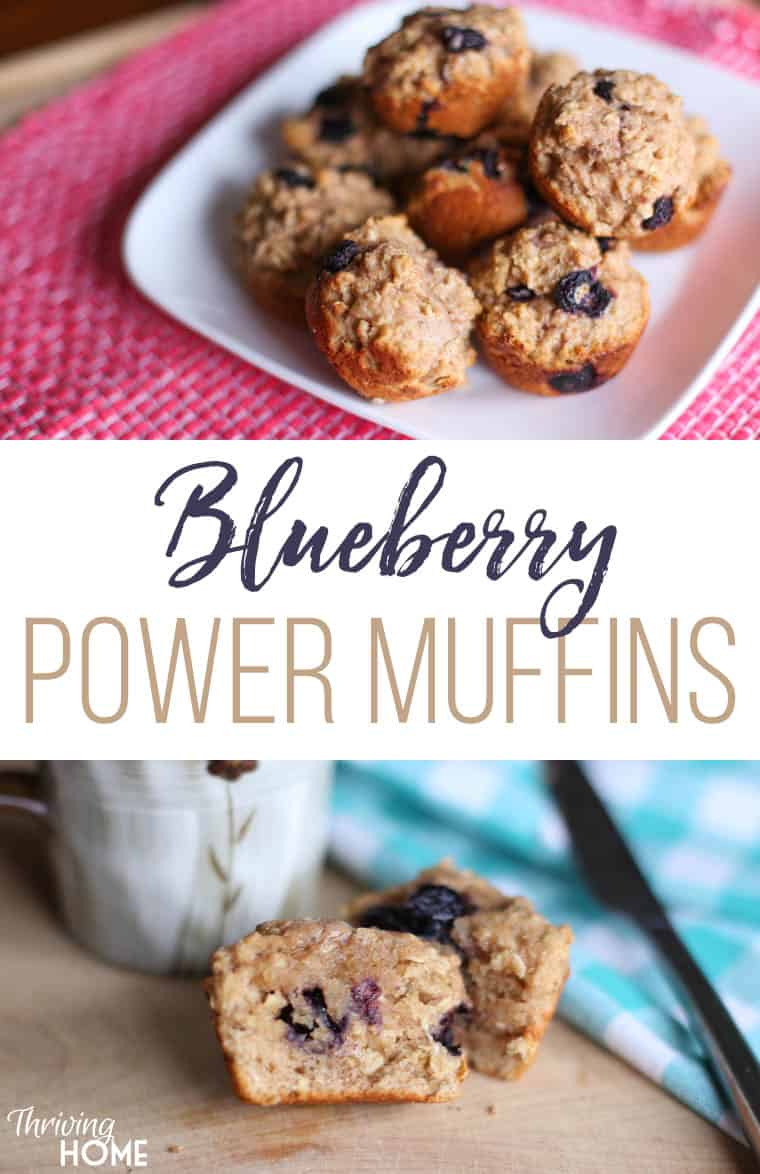 Your Call to Action: Make Just One of These!
A great first step toward a healthier breakfast on busy mornings is to choose just one of these 10 freezer-friendly breakfast recipes. Double it this weekend and freeze at least one batch for later. You will be so happy to send your family members out the door with a full tummy that will last all morning long!
The Best Freezer Meal Resource
Although we love the recipes from our blog like the ones above, we actually spent over a year painstakingly developing, testing, and retesting over 75 new, freezer-friendly recipes (including breakfast!) for our cookbook called From Freezer to Table (Rodale Books).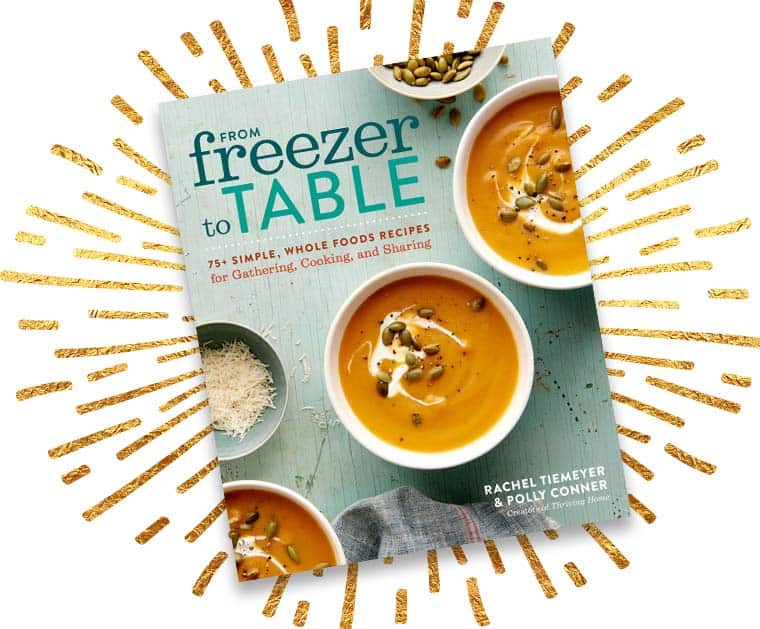 All of the recipes in From Freezer to Table are delicious, made from whole foods, are easy to prepare, and can be made fresh or frozen for later. Plus, every recipe includes freezer meal instructions. Our cookbook is a beautiful resource you will pull out again and again!
We've got tasty whole foods breakfasts that will be waiting for your family on those hurried mornings. The Chocolate Zu-Nana Waffles are a guaranteed kid-favorite…
And Mixed Berry Scones, made with whole wheat and all good-for-you ingredients, will knock your socks off and start your day off right…
Shrimp Curry Bowls might just be my (and my 8-year-old daughter's) favorite recipe in the whole book. Get ready for a Thai party in your mouth…
Last but not least, you'll find family favorites that are quick and easy for weeknights but work just as well for dinner guests. Crispy Chicken with Lemony Butter Sauce is an elegant and mouth-watering meal you'll make again and again…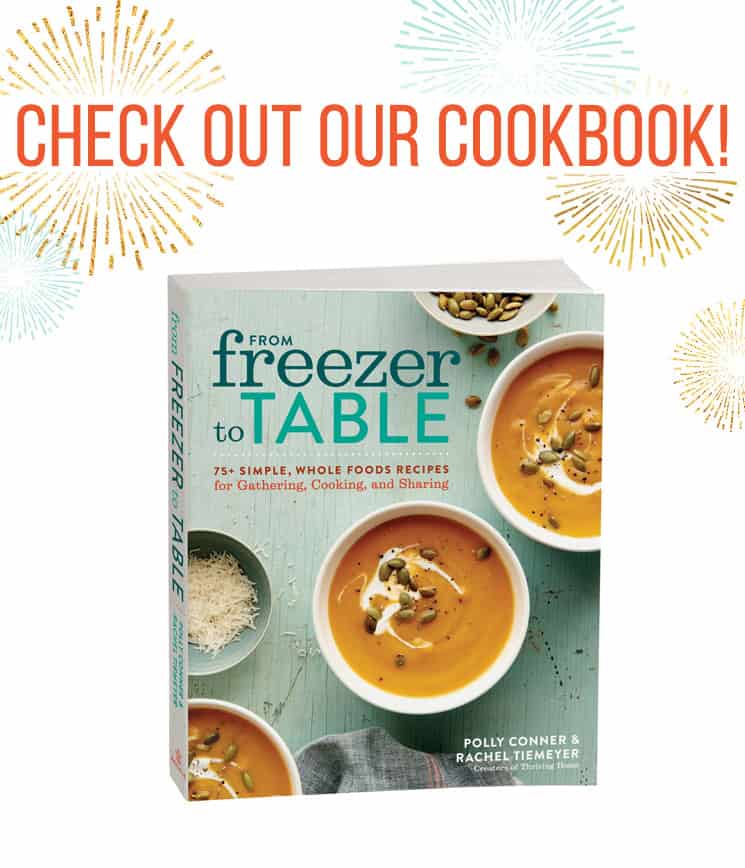 In From Freezer to Table, we also teach you how to make freezer cooking a lifestyle either on your own or with friends, so that you can enjoy healthy, stress-free meals around the table with your loved ones. Order your copy today.
What kind of containers do you store freezer meals in?
Note: We are a participant in the Amazon Services LLC Associates Program, an affiliate advertising program designed to provide a means for us to earn fees by linking to Amazon.com and affiliated sites. Read our full disclosure policy here.
We recommend using a BPA-free container or dish. While it may be easier to buy the disposable Glad ovenware containers, it really makes sense to stock up on some quality, safe dishes that you can bake AND store in. After searching long and hard, we highly recommend and use these containers below. We both have collected a huge stash of them over the years!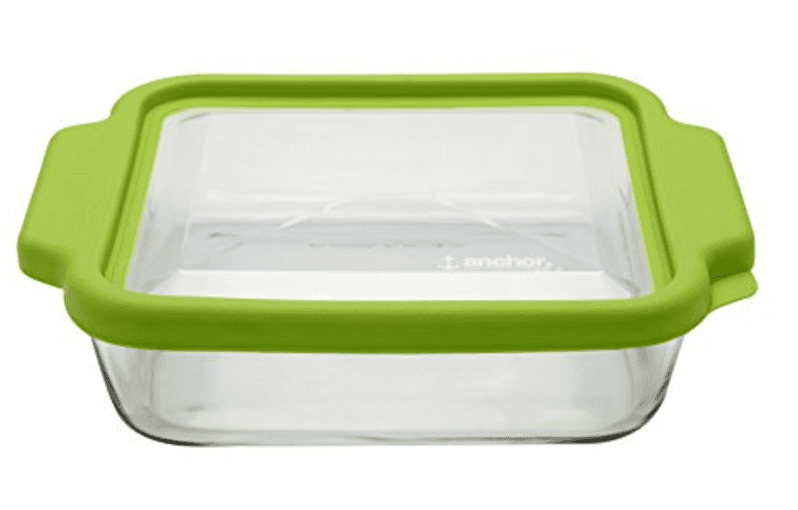 8 inch Square Glass Baking Dish with Lid

3 Quart Glass Baking Dish with Lid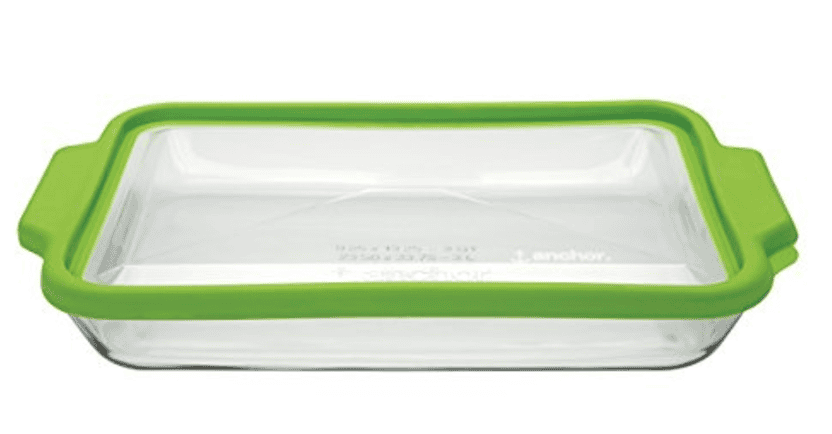 Here is a picture of them in use.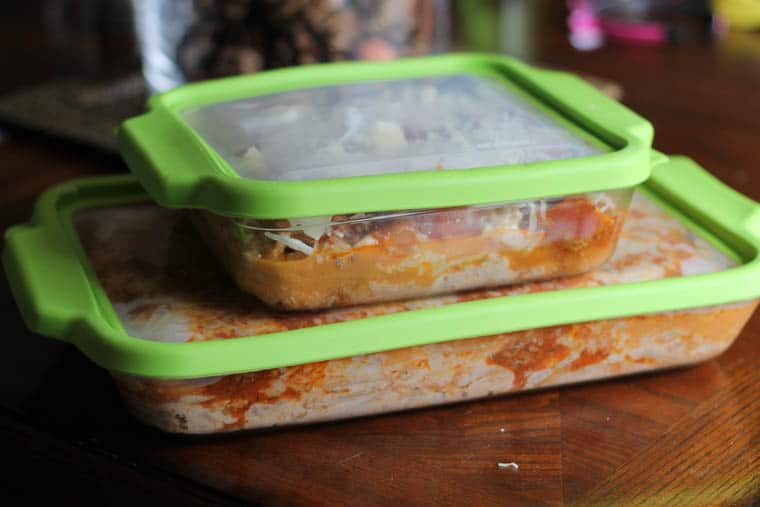 A few reasons I like these:
Glass is a natural, non-porous material.
Glass cookware doubles as food storageware.
Glass is easy to clean and dishwasher safe.
The clear lid allows easy visibility to your food.
Because they are oven and microwave proof, you can cook, heat, and store your food all in one dish.
Flat top allows for easy stacking.
They are VERY affordable.
Help with Family Meal Time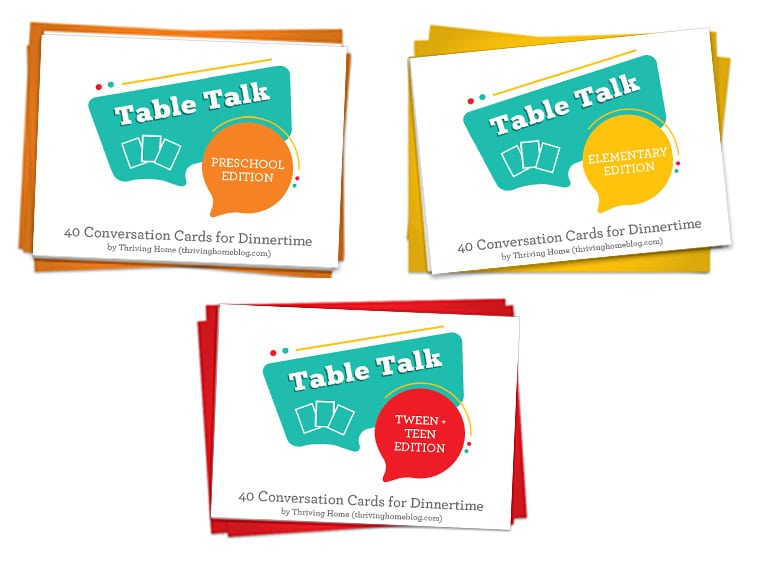 Lastly, if you're recipe hunting, my guess is that you value time with your people around the table. To maximize that precious time you have together, we have created Table Talk Cards. Each set of 40 questions was designed with a specific age group in mind: Preschool, Elementary, or Tweens & Teens. I have no doubt that having these at your dinner table would spark some great conversation. Learn more about Table Talk Cards here!
https://thrivinghomeblog.com/wp-content/uploads/2017/06/Screen-Shot-2017-06-17-at-3.49.34-PM.png
764
774
Rachel Tiemeyer
https://thrivinghomeblog.com/wp-content/uploads/2019/10/thrivinglogo.png
Rachel Tiemeyer
2017-08-16 02:00:00
2019-08-15 08:58:49
10 Healthy, Make Ahead Breakfast Ideas