How to Make Instant Pot Freezer Meals
Prepping meals in bulk and cooking them from frozen in the Instant Pot is the ultimate time-saver. If you can master the art (and yes, it is an art!) of Instant Pot freezer meals, your dinnertime hour will be revolutionized. We have truly pioneered this space of cooking and are thrilled to share everything we've learned on our journey so far.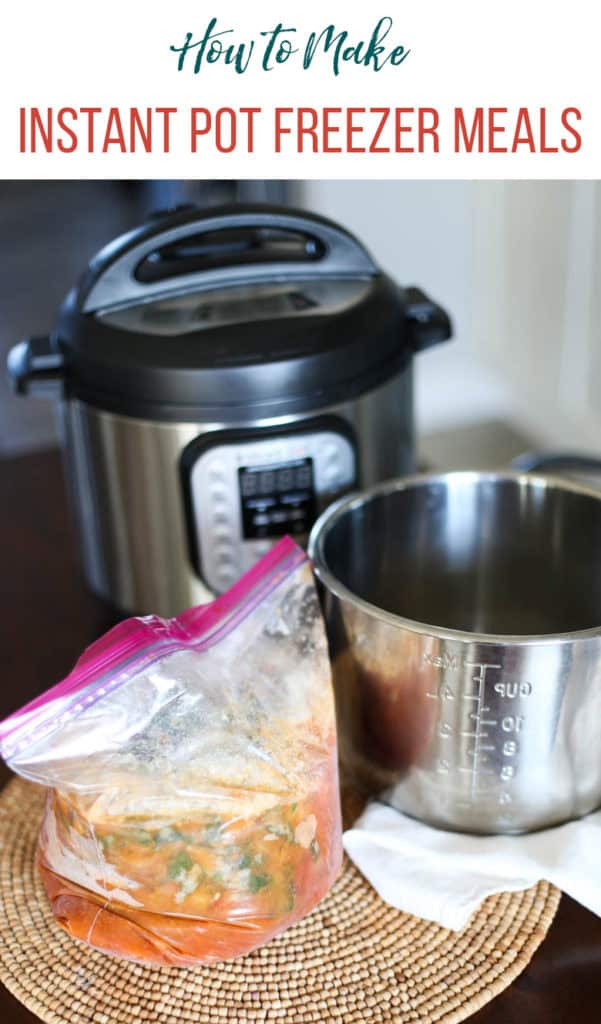 To make this easy to digest, we've chosen to break it down into two parts:
1. How to Prepare Freezer Meals for the Instant Pot
2. How to Cook Freezer Meals in the Instant Pot
How to Make Instant Pot Freezer Meals
Tips on How to Prepare Freezer Meals for the Instant Pot
Find the right recipes. Most recipes that can be made in the slow cooker will work great in the Instant Pot. The difference is, the 6 quart Instant Pot needs at least 1 cup of liquid for the contraption to work. If you have a freezer meal recipe that doesn't have 1 cup of liquid, we recommend adding water or stock to the Instant Pot before cooking it.
Freeze your meals in a circular form. While many are accustomed to freezing meals in a nice flat square shaped freezer bag, this shape won't work when trying to cook a freezer meal in the Instant Pot. It simply won't fit. My preferred method is to freeze the meal in a zip top freezer bag, and place the meal in a bowl (or something that is a round shape). After it's frozen, I snatch my bowl back and leave the meal in the freezer. Then when you want to make your meal, it'll plop right into that Instant Pot!
If possible, don't stack your meat when freezing. We have learned this the hard way. Because the Instant Pot cooks so fast, if meat (especially fast cooking boneless chicken) is stacked, it's really hard for it all to cook evenly. The outside gets WAY done and the instant remains pink as a pig. (Is that a phrase? It is now.)
Large cuts of meat should be cut into small pieces. We're talking pork shoulders and beef roasts. Kind of that same concept above but in order for meat to cook evenly, it's better if it's not in one big chunk. We recommend quartering our pork shoulders and cutting our chuck roasts into 2 inch cubes. It's some work on the front end but worth it. Chicken breast and thighs seem to do fine as they are.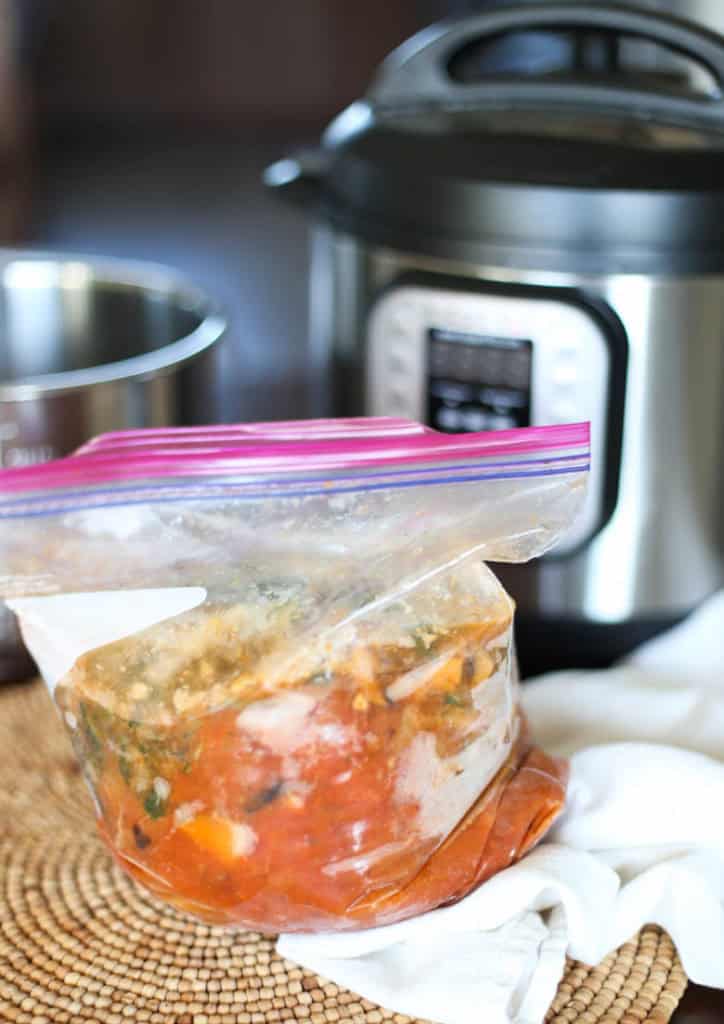 How to Cook Freezer Meals in the Instant Pot
Sauté the meal for 5 minutes before cooking. One trick that we have learned about cooking a freezer meal in the Instant Pot is to let the frozen meal simmer for about 5 minutes. Simply turn on the sauté function, place the meal in there and let it do its dang thing. The point of this is to release some liquid from the frozen meal which will help the Instant Pot come to pressure more quickly.
Allow extra time to come to pressure. I've found that freezer meals take almost twice as long to come to pressure than a thawed meal does. Make sure you allow for that time when prepping or you'll have a hangry family.
Add extra time to cooking (sometimes). I wish there is a one size fits all pattern to freezer meal cooking times in the Instant Pot this but the trend but there just isn't. One trend we see is that the longer it takes a meal to come to pressure, the less additional time you need to add to cook a frozen meal. It seems counterintuitive, I know. You'll just have to trust us on this one.  So for example, in our recipes for a large batch of soup, we don't add any additional cooking time when cooking from frozen. On the flip side, we add 10+ minutes to a small chicken recipe. It's counterintuitive but our tests have confirmed the theory over and over again.
Our Freezer Meal Instant Pot Cooking Times Chart will come out on Wednesday. Stay tuned!
Ready to get started? Swing by and browse all of our Instant Pot recipes in our recipe index. Also, make sure to sign up for our email list so you'll be alerted when our cookbook, From Freezer to Cooker: 75+ Freezer Meals for Slow Cooker and Electric Pressure Cooker releases.
https://thrivinghomeblog.com/wp-content/uploads/2017/11/Screen-Shot-2017-11-18-at-10.02.05-PM.png
576
566
Polly Conner
https://thrivinghomeblog.com/wp-content/uploads/2019/10/thrivinglogo.png
Polly Conner
2018-12-10 09:07:36
2020-11-13 06:47:23
How to Make Instant Pot Freezer Meals