Hospitality Tips and Tricks for Hosting Groups of People
Updated: 11/13/20
This post may contain affiliate or sponsored links. Please read our disclosure policy.
I've often been told that I have "the gift of hospitality." Whether this is true or not, almost anything I learned about hosting groups most likely came from my mother. She is the queen when it comes to hosting groups of people. Growing up, it was not uncommon for there to be 10-15 people at our house most days in the summer. No matter the size of the group, she always managed to keep a tasty drink in our hand and some delicious appetizer or food circulating through the group- not to mention creating a comfortable atmosphere for everyone. While my mom makes hosting groups look easy, there is actually a lot of work and preparation that goes into being a good host.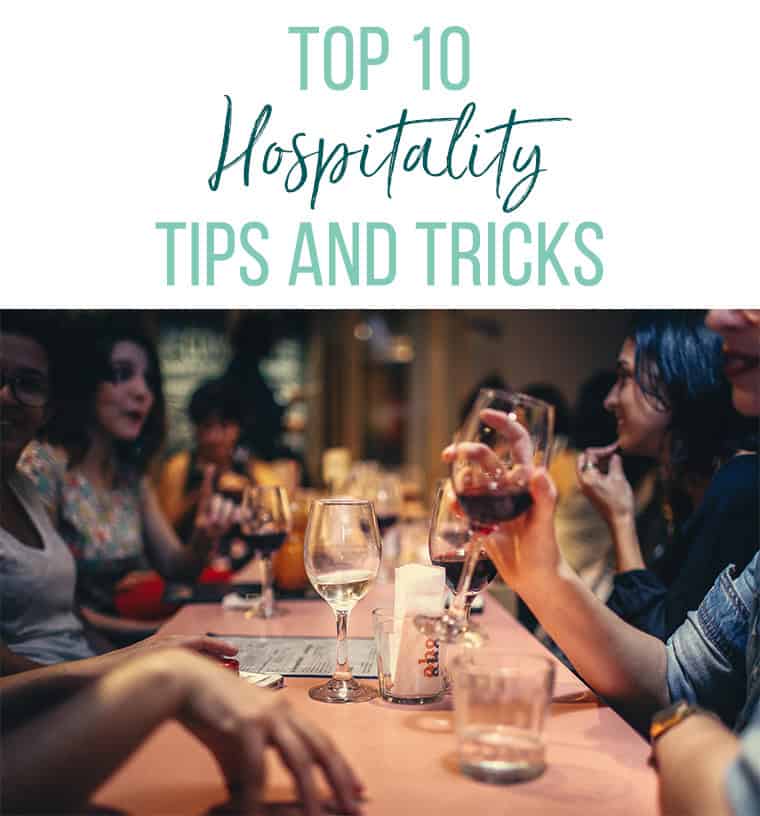 Since I've done my share of hosting groups as well, my mom and I sat down and brainstormed up a list of small but important things to do as a host.
Our Top Ten Hospitality Tips and Tricks for Hosting Groups of People in Your Home
(In no particular order)
1. Create an Inviting Scent
A warm, inviting scent is so important! The smell of a house is something that's easily overlooked but makes a big difference. There are lots of easy things you can do to create a yummy smell.  Light a candle, spray air freshener, bake cookies, or put some apple cider in a pot on the stove. Do one or a few of these 5-10 minutes before your company arrives.
2. Have Munchies Available
Having some type of easy to grab appetizer available gives people something to do and something to gather around. It tells people where to hang out and gives them something in common. It also eases the hungry appetite in order to give more time to socializing instead of furiously cooking to feed starving people!
3. Keep the Company In Mind
Think about who is coming to your house. What foods do they love or hate? Kids coming? What quirks do they have when it comes to their food or drinks? My mom is the best at this. For example, she knows I love fruit salad. She will make a special trip to the store to make sure she has the ingredients for a good fruit salad for me. Not only this, but she does her best to have every person's favorite drink in the fridge. Knowing your crowd can help you not only personalize their table setting but also their food preferences.
4. Play Music
Music eases the atmosphere and makes people feel more comfortable. It provides a topic for conversation as well as fill the silence if needed. You can also personalize this for the people coming to your house.
5. Have Good Lighting
When I say "good" I mean room-appropriate. Light a candle in a dark corner of a room, dim the dining room lights to create an elegant feel, turn on lamps instead of overhead lights, and make sure to turn on your front porch light. You'll have to evaluate what lighting works best for your house but overall I'd say lamps are more inviting than overhead lights. Candles also provide a warm, inviting feel.
6. Always have Spray Whipped Cream in the Fridge

Sounds silly but this is a really great tip! This can be used to jazz up a dessert, top off a coffee, or used as decoration on the side of a dish. This stuff can make any dish look a bit fancier!
7. Do as Many Dishes Before as You Can
Nothing is worse than wrapping up a meal to find the dishwasher full of dirty dishes. By running and emptying a load before people arrive, you can ensure a fast clean up in which others can easily jump in and help with!
8. Pen Up Your Pets
Not everybody loves Fluffy as much as you do. I'll never forget seeing a two-year-old run away screaming bloody murder as my 18 pound dog approached him for a sniff.  Animal people forget that not everyone has the same affection for animals as they do. Not to mention that some may be allergic. It's best to pen up the pooches and kitties when a new group comes to your house.
9. Clean Up Other Rooms
It's pretty common for new people to want to look around your house. (I know I always do when I go to a new house). While it's easy to dump all the clutter into the guest room and shut the door for the evening, keep in mind that newbies may want to poke around. Take some time to tidy up the bedrooms and other spaces. Most likely, they'll be getting some visitors.
10. Have a Plan
In your mind, have a few ideas of something to do after dinner. Sit outside? Fire-pit? Board game? Post-dinner drinks? Don't necessarily announce the plan to the group but just have some suggestions in mind that might keep the group entertained.
Party on!